MOTOCROSS ACTION PRODUCT TEST: AP RACING ORR BRAKE PADS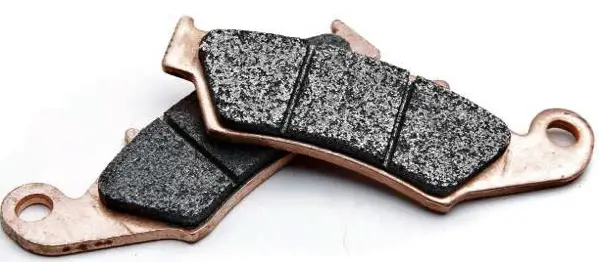 WHAT IS IT? AP Racing's ORR sintered metallic brake pads use material with a high friction coefficient that works over a broad temperature range. ORR is an acronym for Offroad Racing.
WHAT'S IT COST? $35.99 (a pair).

CONTACT? www.apbrakesusa.com or (562) 945-1098.
WHAT STANDS OUT? Here's a list of things that stand out with AP Racing's ORR brake pads.
(1) Friction rating. Brake pads are designated by an A through H friction rating, with H being the highest coefficient number. The ORR pads are designated HH. More friction means more stopping power.
(2) Development. The AP brake pads are designed and manufactured in London, England. Engineers use an inertia dynamometer to examine the friction produced by the brake pads at different operating temperatures, pressures and rubbing speeds. AP Racing developed the ORR pads several years ago, but they have not been available to the American public. Why? The U.S. importer waited for approval from their sponsored race teams to make sure the pads were ready for prime time.
(3) Caveat. We tested the AP Racing brake pads on a 2010 Honda CRF450 against OEM Honda pads. Everyone in the brake business will tell you that Honda's stock pads are very good. Additionally, the MXA wrecking crew has tried lots of different aftermarket brake pads, and we generally prefer OEM pads. The AP ORR pads had their work cut out for them.
(4) Front brake pads. The front AP Racing ORR pads produced a crisper feel on initial engagement than the stockers. The feel remained good, with improved modulation, as we squeezed harder on the brake lever. The biggest difference between the AP and OEM pads was that the AP pads had more grab at the first touch of the lever. They were also easier to break in.

(5) Rear brake pads. With the rear brake pads, we wanted to see how well they resisted overheating (which is very easy to do on a CRF450). One of the downsides of overheating your rear brake pads (apart from squealing and boiling the brake fluid) is that the pads never work as well again. Overall, the MXA wrecking crew didn't find that the feel or modulation of AP's rear brakes was any better than the stock OEM pads, but even though they lost some performance after over-heating, we didn't feel the need to replace them.

(6) Fluid. We used AP Racing PRF 660 fluid with both the stock and AP pads. It has a very high boiling point (608 degrees Fahrenheit).

WHAT'S THE SQUAWK? No complaints about the AP Racing ORR pads. They work well and have excellent durability.

The AP Racing ORR brake pads responded quicker and broke in easier than stock Honda pads. It was a small, gain, but small improvements in brakes can make a big difference in results.