MOTOCROSS ACTION RACING LORE: MIKE BELL EXPLAINS HOW HE WON THE 1980 AMA SUPERCROSS TITLE

"I had several things going for me at the end of 1979 that I believe helped guide me to the 1980 250 Supercross crown. People will probably remember that I was barely edged out of winning the 1979 AMA 500 National title by Danny LaPorte. Danny beat me by three points. Instead of being bummed at the outcome, I vowed to work hard through the off-season and be better in 1980. I trained and raced myself into prime championship shape while other riders went on vacation and took time off.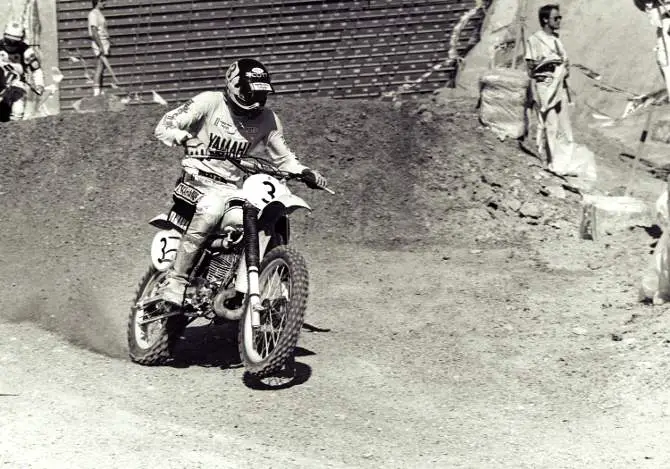 "ALTHOUGH I LOOKED LIKE A MONKEY RIDING A FOOTBALL, I REALIZED THAT I COULD GO WIDE OPEN THROUGH THE WHOOPS. IT WAS AWESOME!"
"Dave Osterman was my mechanic at the time. He and I put in long hours in preparation for the upcoming season. Keith McCarty also played a big role in my development. Keith was wrenching for Bob Hannah, but Bob broke his leg in a water-skiing accident. With Keith out of a rider, he stepped in to help with bike setup and preparation. He even drove me to secret tracks in the desert. It was a really cool time in my racing career.
"It also didn't hurt that I had grown several inches in what seemed like overnight. When I signed my Yamaha contract back in 1977, just before my 20th birthday, I was 6 feet 2 inches tall. In two years, I had shot up another two inches, and I used that height to my advantage. Supercross tracks were becoming more technical, and my long legs helped me go faster through certain sections. Although I looked like a monkey riding a football, I realized that I could go wide open through the whoops. It was awesome! I remember hearing riders complain about how unfair it was because I was so tall. I learned to use my legs as additional suspension.
"We also had a really good bike for the 1980 season. The Supercross series started off, and I was on a roll. I won both nights in Seattle in dominating fashion. Unfortunately, as great as my height was for racing through whoops, it was the eventual reason for my demise. I had nagging knee injuries during 1980, and if it hadn't been for my great doctor, I don't know how I would have gotten through the season.
"Back then, the schedule had several doubleheaders. We would race on Saturday night and then race again on Sunday afternoon. It was pretty grueling. My worst finish came during the second race at New Orleans when I finished ninth. Thankfully, I had enough breathing room to win the 1980 AMA 250 Supercross crown. I won seven main events that season, which stood as a Yamaha record until Jeremy McGrath came along. Everything seemed to click for me in Supercross that year."