MXA TEST RIDER CHRONICLES: GARY JONES
HOW DID YOU BECOME AN MXA TEST RIDER?
After the Mexican peso was devaluated the value of my family's motorcycle company, Ammex, was devastated. I had no job and I had no money. I lost my house and when I was at my lowest Jody said that I could always sleep on his couch. I wanted to go back to racing so I could make some money, but I didn't have any bikes (Ammex was still around, but they were having teething problems). Jody said that I could test bikes for MXA by racing them. That got me back on my feet.
WHAT IS YOUR MOST MEMORABLE MXA MEMORY?
Photo-wise it was when I had a magazine spread photo on the Yamaha YZ490. I had other photos, but I liked that one the most. I loved test riding because we got to do crazy things; jump ravines, do big whips and generally goof off while the photos were being shot. The thing I remember most was that Ketchup Cox, who was the photographer at the time, would say "One more time" every time we did a jump. Then, he would say "One more time" after the next jump. He would say "one more time" about 200 times.
WHO WAS TESTING BIKES AT MXA WITH YOU?
Jody, Ketchup, Al Baker, David Gerig, Lance Moorewood, Larry Brooks and my brother-in-law Clark Jones. When Lance was around we always had a barrel of laughs. That guy would try anything? He had some gnarly crashes right after the flash went off.
WHY DID YOU STOP BEING A TEST RIDER?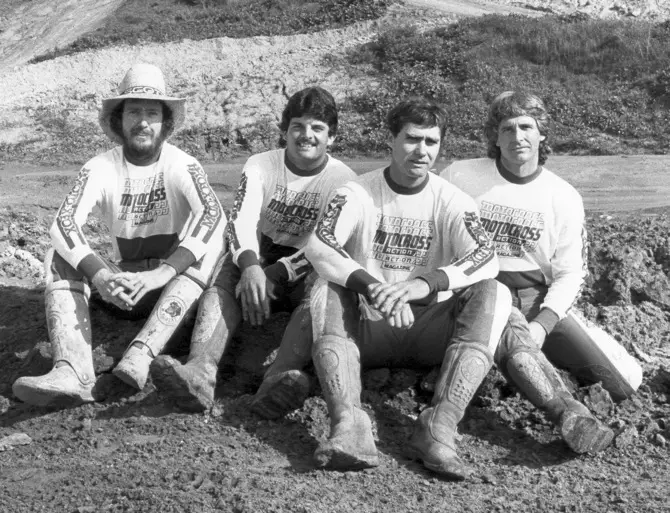 I never stopped. I got put out to pasture when Larry Brooks came along. I moved over to "Dirt Bike" magazine to test offroad bikes for them. I liked the offroad stuff and as I got older I didn't want to do all the crazy stuff that Larry and Lance would do?but I would if they asked me. We're still close. I still hang out with Jody and he still lends me bikes when I need one.