MOTOCROSS ACTION WEEKEND NEWS ROUND-UP: ALL THE MOTOCROSS RESULTS FROM MT. MORRIS, SLOVENIA, CANADA, PORTUGAL, SACRAMENTO; PLUS MUCH MORE
GRAND PRIX OF PORTUGAL: DESALLE FINALLY FINDS THE TOP STEP


Clement Desalle would win the GP of Portugal, but he wouldn't be in the first turn photo. Photo: Ray Archer
250 CLASS:
1. Jeffrey Herlings…1-2
2. Tommy Searle…3-1
3. Jeremy van Horebeek…2-6
4. Max Anstie…10-3
5. Jake Nicholls…6-5
6. Jordi Tixier…4-11
7. Mel Pocock..11-7
8. Romain Febvre…14-8
9. Glenn Coldenhoff…8-15
10. Dylan Ferrandis…29-4
Other notables: 11. Harri Kullas; 13. Arnaud Tonus; 14. Jose Butron; 15. Joel Roelants; 16. Valentin Teillet;17. Alessandro Lupino; 25. Elliott Banks-Browne.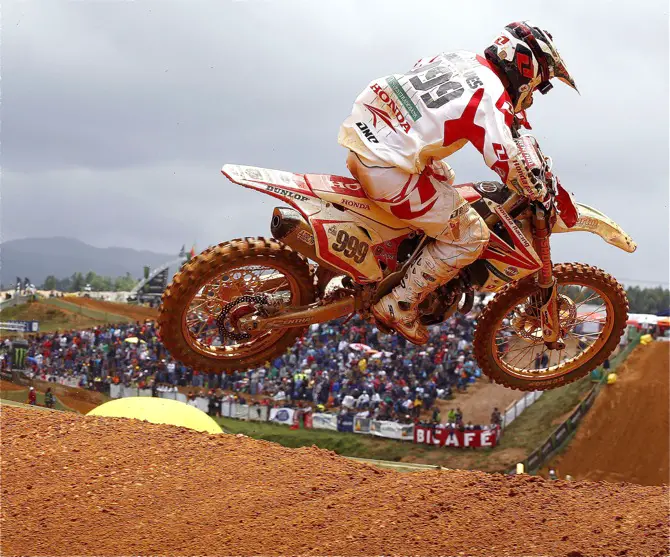 What a day! Rui Goncalves went 15-6 in front of his home crowd.
450 CLASS:
1. Clement Desalle…1-3
2. Gautier Paulin…4-1
3. Tony Cairoli…3-2
4. Christophe Pourcel…2-4
5. Ken de Dycker…5-5
6. Xavier Boog…7-11
7. Rui Goncalves…15-6
8. Jonathan Barragan…6-14
9. Tanel Leok…13-8
10. David Philippaerts…12-9
Other notables: 11. Sebastien Pourcel; 12. Shaun Simpson; 14. Matiss Karro; 15. Davide Guarneri; 16. Evgeny Bobryshev.

Clement Desalle has pulled to within 38 points of Cairoli.
FIM 450 POINTS STANDINGS
1. Tony Cairoli…295
2. Clement Desalle…258
3. Gautier Paulin…255
4. Christophe Pourcel…214
5. Ken DeDycker…211
Other notables: 6. David Philippaerts…190; 7. Xavier Boog…185; 9. Rui Goncalves…156; 10. Tanel Leok…142; 13. Jonathan Barragan…110; 17. Steven Frossard…66.
FIM 250 POINTS STANDINGS
1. Jeffrey Herlings…317
2. Tommy Searle…293
3. Jeremy van Horebeek…268
4. Joel Roelants…204
5. Max Anstie…191
Other notables: 6. Jordi Tixier…187; 7. Jake Nicholls…175; 11. Harri Kullas…123; 16. Michael Leib…69 23. Arnaus Tonus…35.
TAKE A LAP OF THE GRAND PRIX OF PORTUGAL TRACK WITH A PORTUGESE RIDER…RUI GONCALVES

SEE IT HERE! KEN ROCZEN RIDES OVER MALCOLM STEWART'S  FALLEN BIKE

MT. MORRIS 250/450 NATIONAL MOTOCROSS RESULTS


Dungey has a commanding lead with Stewart sitting out the second moto (after getting fifth in moto one). Photo: Hoppenworld
450 CLASS
1. Ryan Dungey…1-1
2. Mike Alessi…2-2
3. Jake Weimer…3-3
4. Andrew Short…4-8
5. Davi Millsaps…9-4
6. Brett Metcalfe…7-5
7. Broc Tickle…6-9
8. Ryan Sipes…12-6
9. Nico Izzi…8-10
10. Michael Byrne…13-7
450 SEASON POINTS
(After 4 of 12 races)
1. Ryan Dungey…186
2. Mike Alessi…144
3. Jake Weimer…141
4. Andrew Short…128
5. James Stewart…116

Ryan Dungey leads Mike Alessi, Jake Weimer (21), Brett Metcalfe (24) and Michael Byrne. By this time, James Stewart was back in his motorhome nursing his wrist. Photo: Hoppenworld
250 CLASS:
1. Eli Tomac…2-1
2. Justin Barcia…1-3
3. Ken Roczen…5-2
4. Blake Baggett…3-5
5. Marvin Musquin…6-4
6. Wil Hahn…4-9
7. Ivan Tedesco…7-10
8. Jason Anderson…13-6
9. Kyle Cunningham…14-7
10. Jessy Nelson…10-11
250 SEASON POINTS
(After 4 of 12 races)
1. Blake Baggett…175
2. Justin Barcia…168
3. Eli Tomac…164
4. Ken Rocaen…158
5. Marvin Musquin…117
MX3 RESULTS: SLOVENIAN WINS IN SLOVENIA


Matthias Walkner, Klemen Gercar and Gunter Schmidinger.
MX3 SLOVENIAN GRAND PRIX RESULTS
1. Klemen Gercar…Hon
2. Matthias Walkner…KTM
3. Gunter Schmidinger…Hon
4. Matevz Irt…Suzuki
5. Antti Pyrhonen…Hon
6. Lukasz Lonka…Hon
7. Martin Michek…KTM
8. Saso Kragelj…Yam
9. Ludvig Soderberg,…Hon
10.  Mykola Pashchynskyi… KTM
MX3 CHAMPIONSHIP POINTS STANDINGS
1. Matthias Walkner….226
2. Gunter Schmidinger…198
3. Klemen Gercar…192
4. Antti Pyrhonen, A…179
5. Martin Michek…169
6. Matevz Irt…155
7. Michael Staufer…135
8. Lukasz Lonka…116
9. Petr Bartos…105
10. Ludvig Soderberg…90
TADDY WINS SACRAMENTO ENDUROCROSS; KEVIN ROOKSTOOL THIRD…NEXT STOP IS THE X-GAMES


Taddy.
SACRAMENTO RESULTS:
1. Taddy Blazusiak
2. Taylor Robert
3. Kevin Rookstool
4. Cory Graffunder
5. Mike Brown
6. Bobby Garrison
7. Cody Webb
8. Gary Sutherlin
9. Destry Abbott
10. Colton Haaker
11. Geoff Aaron
ENDUROCROSS POINTS STANDINGS
1. Taddy Blazusiak…51
2. Colton Haaker…41
3. Taylor Robert…41
4. Kevin Rookstool…33
5. Cody Webb…32
6. Cory Graffunder…32
7. Mike Brown…31
8. Justin Soule…25
9. Destry Abbott…22
10. Gary Sutherlin…21
THE UNLUCKIEST RIDER ON EITHER CIRCUIT


The highlight of Michael's GP career was a second at the Italian 250 GP earlier this season.
American Michael Leib has never actually raced an AMA National and although he competed in several 250 West Supercross races he suffered a concussion and had to sit out for awhile. Then, in a stroke of good luck for him, Zach Osborne, who was racing for the Bike-It Yamaha team in the 250 GPs got hurt and Michael got a chance to fill-in for him. It was a bad break for Osborne, who has signed with Geico Honda to return to the USA next year, but a god break for Leib. Except that apart from a brilliant second place at one GP, Leib's European adventure has been ruined by injuries and illness. And, it has struck again. Leib will not race this weekend's Portuguese Grand Prix because the team thinks he has Epstein Barr. According tot he team, "After several tests and consultations, strong indications point to the twenty year old suffering the initial stages of Epstein Barr virus…the immediate solution to prevent the condition becoming chronic involves rest and avoidance of contact sports.
IN EPISODE 2 OF "YOUNG GUNS" WE GO TO HANGTOWN WITH THE GEICO GANG

CMRC CANADIAN NATIONALS: WHISPERING PINES HEAR THE SOUND OF MATT GOERKE LOUD AND CLEAR


450 CLASS:
1. Matt Goerke…1-1
2. Tyler Medaglia..2-3
3. Bobby Kiniry…3-4
4. Tyler Villopoto…6-5
5. Dusty Klatt…5-6
6. Gavin Gracyk…7-8
7. Morgan Burger…9-7
8. Brock Hoyer..8-10
9. Colton Facciotti…40-2
10. Jason Burke…1–11
450 POINTS STANDINGS
1. Matt Goerke…100
2. Bobby Kiniry…78
3. Tyler Medaglia…72
4. Colton Facciotti…66
5. Tyler Villopoto…59
6. Dusty Klatt…55
7. Kyle Keast…54
8. Gavin Gracyk…51
9. Morgan Burger…40
10. Brock Hoyer…39
250 CLASS:
1. Teddy Maier…1-1
2. Jeremy Medaglia…2-2
3. Topher Ingalls…4-3
4. Kyle Beaton…3-5
5. Dylan Kaelin…6-4
6. Brad Nauditt…5-6
7. Jared Allison…8-7
8. Ross Johnson…7-8
9. Richard Grey…9-10
10. Parker Allison…16-9
250 POINTS STANDINGS
1. Teddy Maier…89
2. Jeremy Medaglia…78
3. Kyle Beaton…73
4. Jared Allison…62
5. Topher Ingalls…58
6. Ross Johnson…54
7. Brad Nauditt…53
8. Parker Allison…49
9. Dylan Kaelin…46
10. Spencer Knowles…37
PC RACING FORKS SKINS: MORE LIFE FOR YOUR SEALS


    WHAT IS IT? PC Racing fork skins are neoprene sleeves that fit over your fork seals to prevent contamination and extend the life of your seals.
    WHAT'S IT COST? $19.95.
    CONTACT? www.pcracingusa.com or (951) 698-4962.
POD MX K300 KNEE BRACE: MORE LIFE FOR YOUR KNEES


    WHAT IS IT? The K300 is the latest offering from Pod MX. This lower-line knee brace uses the same space-age tendon design and proprietary hinge as the more expensive K700?only it's easier on the wallet.
    WHAT'S IT COST? $499.95 (pair), $264.95 (each).
    CONTACT? www.foxhead.com or (888) 369-7223.
KITE WHEELS: THE HOOPS AND HUBS OF THE STARS


    WHAT IS IT? Dubya's new partnership with Kite and Excel has resulted in newly imported Italian hardware.
    WHAT'S IT COST? $699.00 (complete front), $844.00 (complete rear).
    CONTACT? www.dubyausa.com or (877) 773-8292.
BYRNEOS NUT-FLEX PRO TOOL: THREE IN ONE


    WHAT IS IT? This ByrneOs Nut-Flex Pro tool is a well-built, simple, creative, one-tool-does-it-all, 1/4-inch drive wrench designed by a motorcycle racer.
    WHAT'S IT COST? $21.95 (8mm/10mm/12mm or 8mm/10mm/13mm).
    CONTACT? www.byrneos.com.
YOSHIMURA KX250F RS-4D EXHAUST SYSTEM: TWICE PIPES


    WHAT IS IT? It's an exhaust system with two muffler cores. It was only available for Hondas and Suzukis in its 2011 debut year, so the KX250F system is brand new.
    WHAT'S IT COST? $1095.00 (carbon), $1045.00 (titanium).
    CONTACT? www.yoshimura-rd.com or (800) 634-9166.
THE MXA WRECKING CREW'S WEEK…IT'S GOOD TO BE US


Last weekend Dennis Stapleton (shown) and John Basher raced Stage 1 of MXA's WR450 project. This week, two different test riders, to be named just before practice, will be assigned to race the bike and test new parts. The WR450 is a YZ250F aluminum frame with a fuel-injected 2009 YZ450F engine tucked into it. Designed for enduro and cross-country racing, MXA wants to see how good it can be at motocross. The complete test will be in a future issue of MXA?once the project is done.
As always the main players at MXA have had a busy week. John Basher and Dennis Stapleton flew to Millville on Monday for a couple days of testing with the Kawasaki gang on the 2013 KX250F. After Millville Basher flew farther East for this weekend and will not be back home until Monday. Dennis Stapleton came back to SoCal on Thursday to finish up a YZ450F test project. Stapleton, Jody and John Minert will go to REM on Saturday, where they are working on three different projects. Jody spent the week finessing the Yamaha WR450 transformation from enduro bike to a motocross bike (that John Basher started before he had to go East). John Minert is working on reprogramming KTM maps?which has kept him busy at several tracks this week. Stapleton only gets to spend this weekend in SoCal before he flies to the Philippines with Sean Kranyak, who tests for MXA any time we need help. with Stapleton and Kranyak gone around the world, Daryl Eklund will fill-in when 2013 bike testing resumes on Tuesday. Then, the whole cycle starts again next week.

MARTIN DAVALOS TALKS ABOUT HIS AMA NATIONAL PROGRAM

THE RUMORS MUST BE TRUE…CHAD CONFIRMS THAT HE ISN'T SPONSORED BY BEL-RAY ANYMORE


The computer drawing that Chadd Reed's tweeted of his 2013 graphics does not include Bel-Ray.
Chad Reed isn't hiding from the news about Bel-Ray leaving his team for 2013. He tweeted out a photo of the graphics for his 2013 bike…and the Bel-Ray logo is missing from the radiator win (although it looks like there is a small Bel-Ray logo on the rear fender). Chad must have a big sponsor on the hook for next season because the Bel-Ray nut was big money. In a twist, Chad's former team manager, Larry Brook's Chaparral team appears to have gotten a Bel-Ray deal (as Andrew Short's bike sported Bel-Ray logos at Lakewood).
GRAND PRIX SPECS: SIX RACES INTO A 16-RACE SERIES


Tony Cairoli.      Photo: Ray Archer
450 class:
Most 450 wins…………Tony Cairoli (3)
Most 450 podiums…..Tony Cairoli (5)
Most 450 laps led……Tony Cairoli (101)
450 points lead……….Tony Cairoli (39)

Jeffrey Herlings.     Photo: Ray Archer
250 class:
Most 250 wins………..Jeffrey Herlings (4)
Most 250 podiums…..Tommy Searle (5)
Most 250 laps led……Jeffrey Herlings (119)
250 points lead……….Jeffrey Herlings (22)
TWEET-CITY! IF ALEXANDER GRAHAM BELL WAS INTO TYPING



THE NEW DIAMONDBACK MOTOCROSS TRACK TO OPEN ON JUNE 16

The original Diamondback Motocross was opened in 1992 by John Coen and Jeff Dirago, two New England area expert motocross racers.  John's brother is Carlo Coen, multi-time motocross champion. But, the original Diamondback was forced to close its gates a few years ago.  Not able to walk away from the sport he loved, John Coen secured property in East Durham which is located in the majestic Catskills Region of New York.  Set on a property of over 59 acres, Diamondback Motocross was built from the ground up with a fresh set of ideas and a great layout to accommodate riders of all skill levels.
The new Diamondback Motocross is poised to break back into the racing scene when Diamondback Motocross opens its gates for a weekend of riding and racing on Saturday, June 16th. On Sunday the racing will begin and last all day. For more information, directions, class information and pre-registration, please visit www.diamondback-mx.com or call the 24-Hour Race Information Line at (845) 554-8717.
THUNDER VALLEY GO PRO: YOU GOTTA SEE THIS VIDEO JUST TO SEE MIKE ALESSI'S LINE AT 2:15


RICKY CARMICHAEL TO TAKE HIS SHOW ON THE ROAD TO TEACH MX SCHOOLS IN ENGLAND


For more information, prices, flights, food suggestions and brollies email: [email protected]
TEAM KAWASAKI…THE FRENCH VERSION…ALTHOUGH THE RIDERS AREN'T ALL FRENCH


THIS WEEK'S BIRTHDAY BOYS


June 8…Manuel Priem
June 9…Brad Hagseth


June 9…Antonio Balbi
June 10…Ronnie Renner
June 10…Michael Byrne


June 16…Grant Langston
June 12…Randy Hawkins


June 13…Tommy Searle


June 13…Dick Mann
June 14…Keith R. Johnson
June 14…Nick Evennou
June 14…Jeff Gibson
June 14…Jimmy Button
FOR YOUR VIEWING PLEASURE: "THE GREAT OUTDOORS: TEN" DVD


A 90-minute review of the 2011 AMA 250/450 National Championship from the men who brought you The Great Outdoors. This is the 16th video in The Great Outdoors collection. (Although it is only called "Ten" because they aren't counting all the special editions). $24.95 at www.tgomx.com.
AMA NATIONAL SPECS: THREE RACES INTO A 12-RACE SERIES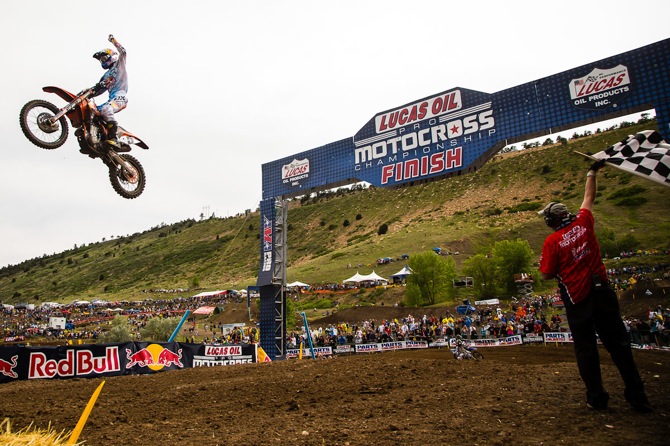 Ryan Dungey.                             Photo: Hoppenworld
450 CLASS:
450 Overall Wins
1. James Stewart…2
2. Ryan Dungey…1
450 Moto Wins
1. James Stewart…4
2. Ryan Dungey…2  
450 Laps Led
1. James Stewart…68
2. Ryan Dungey…29
3. Mike Aless…2
4. Tommy Hahn…1
450 Podiums
1. Ryan Dungey… 3
2. James Stewart…2
3. Mike Alessi…2  
4. Jake Weimer…1
5. Andrew Short…1
250 CLASS:


Justin Barcia.
250 Overall Wins
1. Blake Baggett…1
2. Justin Barcia…1
3. Eli Tomac…1
250 Moto Wins
1. Blake Baggett… 3
2. Eli Tomac…2
3. Justin Barcia…1
250 Laps Led
1. Justin Barcia…30
2. Eli Tomac…26
3. Blake Baggett…23
4. Ken Roczen…12
5. Blake Wharton…6
6. Jessy Nelson…1
7. Phil Nicoletti…1
250 Podiums
1. Blake Baggett… 3
2. Ken Roczen…3
3. Justin Barcia…2  
4. Eli Tomac…1
TV TIMES: WHEN & WHERE TO SEE THE MT. MORRIS 250/450 NATIONAL


If you missed the first showings of the Mt. Morris Nationals, have faith. You can still catch it again. Perhaps you've already learned not to trust the TV listings for the AMA Nationals, but if you haven't this is a good time to start getting skeptical. Obviously shows run-over their allotted times, races get delayed by weather and you might have trouble with your DVR. Either way, these TV times should always be taken with a grain of salt.
Wednesday, June 13…12:00 p.m. (highlight show)…NBC-SN
Friday, June 15…………..3:00 p.m. (second moto re-air)…NBC-SN
(All times Eastern)
12 HOURS OF GLEN HELEN ON JUNE 30…24 HOURS OF PAIN ON JULY 1


For more info go to www.glenhelen.com

MXA NEW PRODUCT: KENDON DUAL RIDE-UP SLR TRAILER

Already known for their innovative Stand-Up motorcycle trailers, Kendon introduces a new ride-up trailer for the heavyweight market. Their new "Dual Ride-Up SRL" trailer makes it possible to ride right on and secure the bike without having to push it up an oldfashioned ramp. Combining convenience with two-up capacity and integrating Kendon's patented trailering technology, this trailer is billed as the best of both worlds. "The market has been asking for a better solution for loading and unloading motorcycles, especially when it comes to the heavyweight touring bikes that are approaching 900 pounds," states Kendon's President Frank Esposito. "With easier loading, the Dual SRL can handle two heavyweight motorcycles with its 2000 pound. load capacity."
The "SRL" acronym stands for "Suspension Reactive Loading." Simply put, SRL eliminates the apex between the ramp and the bed of a conventional trailer when loadingand unloading. The independent torsion suspension on the Kendon trailer eliminates this apex as the suspension compresses and lowers the bed of the trailer during loading and raises back up to towing height once the bike is secured. More information about any of the Kendon Stand-UpTM trailers or lifts can be found at www.KendonUSA.com or by calling (714) 630-7144.
POOR MAN'S GRAND PRIX SERIES! MX3 EXISTS BECAUSE YOUTHSTREAM'S RIDICULOUS ENTRY FEES SHUT OUT THOSE WITHOUT DEEP POCKETS

EVERY RIDER WITH AN AMA NATIONAL NUMBER


Kevin Windham isn't racing the AMA Nationals, but his permanent AMA number is 14. As for Barry Weiss, from "Storage Wars," he's the best dressed motocross fan. Photo: Michael Rigdon
MXA wants to give you an up-to-date list of every rider and his number leading into Mt. Morris 250/450 National weekend. Be forewarned, there are 437 riders on the list (and occasionally the AMA gives a rider two different numbers, but normally straightens it out later).

Mike Alessi's 800 is grandfathered in from the old rule.
2012 AMA NATIONAL NUMBERS
1. Ryan Villopoto (450 MX/SX)
1. Dean Wilson (250 MX)
1. Broc Tickle (250 West?will not be used in 2012)
1. Justin Barcia (250 East)
2. Ryan Villopoto (will not be used in 2012)
3. Mike Brown
4. Available (to former National Champions)
5. Ryan Dungey
6. Available (to former National Champions)
7. James Stewart
8. Available (to former National Champions)
9. Ivan Tedesco
10. Justin Brayton
11. Kyle Chisholm
12. Blake Baggett
13. (Eli Tomac earned this number by elected to run 17 instead)
14. Kevin Windham
15. Dean Wilson
16. John Dowd
17. Eli Tomac
18. Davi Millsaps
19. Kyle Cunningham
20. Justin Barcia
21. Jake Weimer
22. Chad Reed
23. Gareth Swanepoel
24. Brett Metcalfe
25. Broc Tickle
26. Michael Byrne
27. Nick Wey
28. Tyla Rattray
29. Andrew Short
30. Alex Martin
31. Martin Davalos
32. Tommy Hahn
33. Josh Grant
34. Cole Seely
35. Darryn Durham
36. Kyle Regal
37. Malcolm Stewart
38. Marvin Musquin
39. Tye Simmonds
40. Gannon Audette
41. Trey Canard
42. Ricky Dietrich
43. Christian Craig
44. Jason Anderson
45. Nick Paluzzi
46. Les Smith
47. Chris Blose
48. Jimmy Albertson
49. Justin Bogle
50. Nico Izzi
51. Travis Baker
52. Ben Lamay
53. Ryan Sipes
54. Weston Peick
55. Lance Vincent
56. Austin Stroupe
57. Jake Canada
58. Will Hahn
59. Vince Friese
60. Matt Lemoine
61. Austin Howell
62. Travis Sewell
63. Colton Facciotti
64. Matt Boni
65. Ryan Morais
66. Jason Thomas
67. Scott Champion
68. Shane Sewell
69. Jimmy DeCotis
70. Ken Roczen
71. Kevin Rookstool
72. Jarred Browne
73. Josh Clark
74. Tyler Bowers
75. Josh Hill
76. Calle Aspegren
77. Lowell Spangler
78. Tommy Weeck
79. Tyler Medaglia
80. Kyle Keylon
81. Robert Kiniry
82. Justin Sipes
83. Kyle Partridge
84. Killy Rusk
85. Robert Marshall
86. Taylor Futrell
87. Matt Goerke
88. Ben Evans
89. Tyler Bright
90. Bryce Vallee
91. Dalton Carlson
92. Hunter Clements
93. A.J. Catanzaro
94. Cole Siebler
95. Chris Plouffe
96. Kyle Peters
97. Jeremy Medaglia
98. Tye Hames
99. Sean Hackley
100. Josh Hansen
102. Chris Gosselaar
105. Matt Moss
112. Ryan Marmont
117. Kelly Smith
118. Bryar Perry         
119. Max Anstie
124. Ryan Clark
125. Daniel Blair
126. Hunter Hewitt
129. Vernon McKiddie
132. Kyle Beaton
133. Myles Tedder
135. Robert Fitch
136. Jessy Nelson
140. Johnny Moore
143. Michael Horban
145. Travis Smith
149. Casey Hinson
153. Gregory Crater
160. Cole Thompson
161. Todd Carlson
162. Mason Hume
166. Dakota Tedder
170. Michael Leib
171. Cole Siebler
173. Travis Johnson
174. Chase Spears
175. Bruce Rutherford
179. Emil Foldager
180. Doug Leavitt
182. Kyler Jones
186. Sean Borkenhagen
187. Bryce Huffman
192. Cameron Lansing
200. Michael McDade
201. Cameron Rodriquez
202. Tanner Young
204. David Gassin
207. Sean Collier
208. Donald Vawser
211. Tevin Tapia
212. Auston Albers
214. Jason Kueber
215. Broc Armbruster
216. Jared Boothroyd
219. Ryan Rangel
220. Todd Bannister
222. Chris Howell
224. Heath Harrison
225. Tyler McEwen
226. Devin Brassfield
227. Cole Martinez
232. Billy Laninovich
239. Brian Sjogren
241. Derek Anderson
242. Shawn MacDonald
244. Ryan Zimmer
246. Mike Henderson
247. Teddy Parks
251. James Justice
260. Nicholas Myers
261. Jacob Morrison
265. Luke Peters
268. Bryce Shondeck
275. Jeff Gibson
276. John Jelderda
278. Parker Anthony
284. Cody Church
285. Tony Archer
293. Brian Sjogren
296. Trevor Whitmarsh
300. Kurtis Manderscheid
303. Carlos Gonzalez
304. Bradley Ripple
308. Nick Jackson
310. Shane Durham
311. Jesse Rangas
312. Teddy Maier
314. Alex Ray
315. Roy Holt
327. Jeremy Girard
328. Chad Crawford
329. Chad Gores
331. Justin Bunn
333. Cody Mackie
335. Seth Caldwell         
337. Jeremy O'Driscoll
338. Zach Osborne
339. Michael Thacker
344. Derek Currie
346. Brandon Marley
349. Michael Willard
351. Jon-Paul Powell
352. Kevin Markwardt
354. Chris Johnson
357. Jacob Locks
364. John Kemp
370. Drew Yenerich
374. Cody Gilmore
377. Christophe Pourcel
380. Kevin Lepp
382. Preston Thomas
383. Brandon Rangel
384. Carl Schlacht
385. Adam Gulley
386. Aaron Gulley
389. Chris See
393. Daniel Herrlein
394. Tanner Moore
399. Broc Peterson
400. Trevor Ivey
401. Matthew Marden
404. Zack Freeberg
405. Joe Lafalce
406. Ryan Abrigo
407. Adam Chatfield
409. Dillon Huddleston
411. Devon Adair
412. Levi Kilbarger
415. Nicholas Schmidt
423. Brandon Gillespie
429. Richard Rinauro
435. Scott Agostini
438. John Cal Baker
439. Ryan Hughes
440. Lee Witt
443. Jeffrey Mort
446. Frank Lettieri
447. Deven Raper
449. Dakota Kessler
451. Rashidi Kerrison
458. Troy Bettenhausen
459. Conrad Weiland
461. Dave Ginolfi
464. Mitchel Alcorn
466. Kerry Moore
467. Ty Newcome
468. Zach Fettinger
476. Colin Jurin
480. Cory Green
481. Serey Astaykin
496. Andrew King
498. Cody Robbins
501. Scotty Wennerstrom
505. Sean Lipanovich
508. Nick Click
512. Jorge Bujanda
513. Danny Pacini
514. Anthony Roth
516. Brian Foster
522. William Wichers
529. Tylor Hemme
531. Todd Krieg
532. Ricky Renner
533. Gannon Audette
534. Travis Freistat
535. Joey Peters
536. Erik Meusling
537. William McDonough
544. Morgan Burger
546. Kevin Urguhart
548. Broc Schmelyun
549. Billy Kibler
550. Beau Bentley
554. Tyler Livesay
556. Preston Mull
558. Dylan Slusser
564. Jeremy Huddleston
565. Preston Mull
566. Logan Martin
567. Dylan Lane
569. Dylan Ziolkowski
570. Beau Hudson
572. Zach Jaynes
573. Aaron Mare
580. Roberto Castro
583. Tyler Sjoberg
587. Dustin Kendall
588. Jerry Lumsden
589. Joey Olson
595. Evgeny Mikhaylov
599. Ronnie Hapner
606. Ronnie Stewart
608. David Pulley
610. Chris Tracy
611. Mason Glorioso
615. Daniel Aulseybrook
617. Gavin Faith
619. Mark Weishaar
620. Brad Nauditt
621. Vann Martin
622. Sean Jackson
627. Tylor Hemme
629. Shawn Pickett
632. Ramsey Canham
633. Clay Drew
634. Eric Senk
636. Keith Knight
637. William Bleich
639. David Buller
643. Jake Oswald
644. Garret Eckman
646. Derek Overton
647. Parker Eckman
648. Nick Vaughn
651. Cody Nobles
652. Dustin Pipes
655. John Pauk
659. Justin Freund
661. Michael Lang
668. Billy Jurevich
670. Dylan Schmoke
671. Todd Caldwell
672. Seth Rarick
675. Kyle Hussey
684. Justin Kopcak
685. Brett Pike
693. Tucker Saye
694. Chris Spear
696. Tyler Granger
697. Kyle Goerke
680. Tyler Keenom
693. Tucker Saye
699. Michael Clarke
702. Cameron Stone
707. Alex Millican
708. Joe Perron
712. Justin Starling
713. Chad Cook
714. Shawn Rife
715. Phil Nicoletti
717. Broc Streit
718. Matt Schneider
720. Joseph Marburger
722. Adam Enticknap
726. Cody Lackore
727. Rhett Urseth
731. Steve Roman
735. Travis Pitt
740. Daniel Rucker
747. Trevor Carmichael
750. Jared Hicks
752. Bryce Stewart
753. Derek Brewster
754. Tyler Allen
757. Kevin W. Johnson
758. Jason Potter
764. Cody Lee
763. Corey Ahl
765. Michael Giese
767. Matt Sheafor
768. Cole Shondeck
771. Terren O'Dell
772. Robert Noftz
773. Walt Van Olden
774. Preston Tilford
783. Beau Burnett
788. Matt Vonlinger
790. Robert Imondi
792. Bracken Hall
793. Yuta Ikegaya
794. Yoshiki Inagaki
800. Mike Alessi
801. Jeff Alessi
804. Jason Langford
808. Noa Quinabo
812. Luke Vonlinger
816. Rustin Meyer
817. Dustin Pulliam
821. John Moeller     
831. Ryan Smith
845. Brandon Glenn
848. Kendall Mason
854. Landen Powell
855. Jeffrey Shuck
858. Kyle Sidle
862. Ozzy Barbaree
865. Dario Marrazzo
866. Rickard Sandberg
869. Robert Lind
870. Cyrille Coulon
878. Eric McKay
880. Canaan Barrilleaux
884. Kerim Fitzgerald
887. Daniel Sanders
897. Blake Ballard
891. Justin Bogle
902. Jesus Macias
903. Antonio Balbi
906. Killian Auberson
915. Adrien Lopes
917. Drew Thomas
918. Michael Akaydin
919. Shawn Rhinehart
925. Cody Young
927. P.J. Larsen
929. Travis Bell
930. Tom Parsons
941. Angelo Pellegrini
943. Carlos Oros
945. Michael Stryker
951. Tyler Clark
952. Adam Conway
956. Blake Wharton
963. Aviery Hickey
964. Dominque Thury
965. Travis Bright
968. Jackson Richardson
971. Nathan Malyszek
972. Michael Picone
973. Jean Baptiste Marrone
975. Jake Loberg
976. Josh Greco
979. Jonathon Withrow
981. Austin Politelli
983. Michael Riehm
985. Erdenebileg Khaliunbold   
986. Topher Ingalls
992. Jean Ramos
996. Filip Thuresson
997. Linus Sandahl