MOTOCROSS ACTION'S MID-WEEK REPORT: (02/16/11)

By John Basher
PHOTO OF THE WEEK  


     I love the smell of napalm in the morning; or, in this case, napalm at Supercross opening ceremonies. Even while sitting over 100 yards away, my eyebrows were nearly scorched off. It makes for quite a show (the fire, not the scorched eyebrows).

BUYING A 250 FOUR-STROKE? LOOK NO FURTHER

    The MXA wrecking crew prides itself on testing, racing and (sometimes) destroying bikes. We put every new bike through the gauntlet. Once we have done so, we compile all of the valuable information that we have learned through months of testing and disseminate it to you through our shootout.
    On Monday we released our comprehensive 2011 250 Four-Stroke Shootout. If you're looking to buy a new 250F or want a good read, click here.

BECOME A FAN OF MXA ON FACEBOOK!


    If you're a member of Facebook and haven't hit the "Like" button to MXA yet, now is the time! You'll find video and photo updates, as well as breaking news. Plus, you can discuss all matters of motocross with other fans. If that's not enough, we're going to be giving away some of our favorite products…for FREE! Join now by clicking here.
HOUSTON 450 MAIN RECAP:
[Courtesy of SPEED TV]
HOUSTON 250 MAIN RECAP:
[Courtesy of SPEED TV]
HOUSTON AWARDS AND HIGHLIGHTS

Crash of the weekend – There were several bone-crunching crashes at Houston, so it's hard to pick just one. However, James Stewart's rag-doll after landing on an unsuspecting Jason Thomas takes the cake. Which leads me to…

Sponsor of the weekend – James Stewart should probably run an Air Force sticker on his helmet in appreciation for the Air Force track marker that cushioned his landing after clipping Jason Thomas' rear tire. Too bad Thomas wasn't afforded the same cushioning.
Manufacturer of the weekend – Trey Canard's win marked factory Honda's first time atop the 450 Supercross podium in 53 weeks (18 SX mains). Meanwhile, Geico/Honda's Justin Barcia lit the candles for the team's first win this season. Houston was Barcia's third 250 East Supercross win. His previous win came at St. Louis last year. Who finished second? Dean Wilson.
The "Did you see that?" move of the weekend – I wore out my TiVo rewinding Ryan Sipes' take-out of Blake Wharton. Desperate times call for desperate measures, but Sipes must have brain faded when he center-punched Wharton. Last time I checked these two were amicable towards one another. At Houston that friendship turned sour the moment Sipes drilled Wharton off the track.
The Go Getter award – Ryan Villopoto came from way back from the first turn domino effect to finish third. Championships are won on your bad days, and Villopoto turned misfortune into a podium finish. As a result, he's the points leader once again. Bravo, Villo!

The rider with nothing to lose – As strange as it may sound, Ryan Dungey's chain derailing at Anaheim 2 got the elephant off the defending champ's back. With the pressure off, Dungey seemed to ride with the same vigor as last year. Once Ryan puts it on the top step of the box (and he will soon), the Dungey Express will steamroll to more wins and tighten the points gap.

The "Way to go" award – How can you not root for Trey Canard? The 450 rookie isn't only talented on a bike, but he's a great person. It was only a matter of time before Trey won his first Supercross race, and I'm glad to see it come near his home state of Oklahoma. Way to go, Trey!
MINI-VIEW: MIKE LaROCCO

    We caught up with the Geico/Honda team manager to find out how Kevin Windham is doing, Eli Tomac's success, and Justin Barcia's racing tactics.
MXA: How's Kevin Windham doing after his ugly Houston crash?
Mike: He's okay. He's going to be sore, but he hasn't confirmed any real damage to his shoulder.
Will Kevin be racing this weekend in San Diego?
Yes. While he will be banged up quite badly, he'll be racing.
In the first few rounds of the series the team struggled with injuries and lackluster results. Eli Tomac's second place finish in Los Angeles seemed to spark the team's success. Do you agree?
I'd say so. The season has definitely gotten better, and the East coast started off great for us with Justin Barcia winning the opener. We were bummed to lose Wil Hahn at Anaheim. Tomac is our rookie rider, and we looked to Wil as having the best shot at winning the West title. We knew that Eli had the speed. We just needed to get him to believe that he could do it, and he's proven that he's more than capable of winning.

Four out of the five Geico/Honda riders are running the shaggy hair look. Get on the bandwagon, Tomac!
What was the decision making process behind replacing Hahn's vacant spot with Jimmy Decotis?
The team has contractual obligations to have two guys racing on each coast. Jimmy was using Factory Connection suspension and he has been a longtime user of our products. It was really an easy fit. We just bolted his settings on and gave him an opportunity. Plus he's from Massachusetts, which is close to where Factory Connection is located. He was a natural choice.
Do you take a hands-on approach to running the team, or do you let the guys do their own thing?
As far as my tech guys go, they know their positions and their jobs. As far as the riders, I'm more involved with them. I'm at the crossroads right now of doing this job from Indiana. I've exhausted what I'm able to do from Indiana and am considering moving back to California to be more involved with the team.
Is Tomac a good listener when you offer advice and wisdom? Last year you were always doing the track walk with Trey Canard and that seemed to help him out quite a bit.
It's a little different with Eli because he's so close with his dad. I let them do their thing and interject when I feel it's right. In the first couple of races I was more hands off, and as time has gone on I've told him that he has what it takes. As far as his bike settings, he's very good.
    "I don't necessarily try to change Barcia's riding style, but I want him to make better racing decisions. When he's racing he gets caught up in the moment."

Justin Barcia has always had a wide open riding style. In the process he's made a few enemies. Do you ever tell him to calm down?
I don't necessarily try to change his riding style, but I want him to make better racing decisions. When he's racing he gets caught up in the moment. My biggest thing with him is to race forward and not get caught up in everything. He's a better racer than he is at practicing, and I don't worry too much about him, other than having him make the right choices.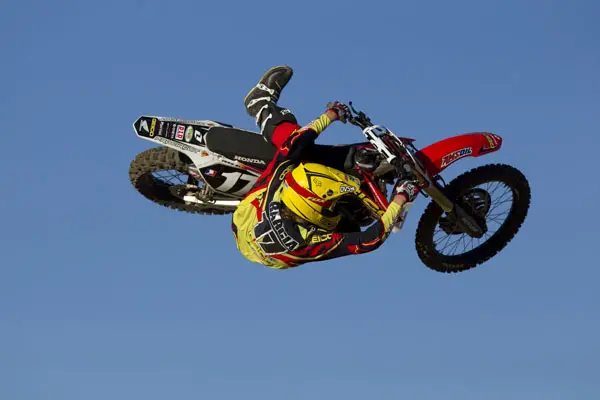 What's the best way to describe Justin Barcia's riding style? This photo says it all.
How is it working with Kevin Windham? He's the veteran rider on the team, whereas all of the other riders are still pretty new to the game.
Kevin is the rider that I end up dealing with the most, because I can totally relate to where he's at in his career. I'm trying to help him with what I remember needing help with as a racer. As for the kids, it's a bit far back in my memory to help them. Plus they don't think as much as Kevin does. I seem to relate with Kevin the most. I try to help him forget all of the things that are going through his mind and just focus on doing the best that he can.
The Geico/Honda team has spent so much time and money on lightening up the race bikes. Have you told Barcia and Blake Wharton that because of their hairstyles they are weighing down the bikes too much? One of them looks like Shaggy and the other has a hairstyle that would make Diana Ross jealous.
[Laughter] No, but maybe that's something that we can look into.
Those guys have wild hair.
They certainly do! But there's personality that goes along with it, so you can't knock them.
SAN DIEGO SUPERCROSS INFORMATION

    First things first. It's probably going to be a mudder. While the spectating might be on the soggy side, it should make for great racing. The Dirt Wurx crew has done a tremendous job in recent mud races to keep the track in decent shape. They'll have their work cut out for them this weekend, because the forecast calls for rain showers straight through Saturday night. In any event, expect a wild night of racing.
Qualcomm Stadium address: 9449 Friars Rd. San Diego, CA
Schedule: Doors open at 12:30 p.m. Main Event starts at 7:00 p.m.
Tickets: www.ticketmaster.com or (800) 745-3000. Tickets also available at participating Yamaha dealers.
Forecast: Rain, high of 58 with a low of 50 and a 70% chance of rain.
Pit passes: Recycle and empty Monster Energy can at the pit entrance from 12:30-6:00 p.m.
T.V. airing: This event will be LIVE Saturday night at 10:30 p.m. EST on SPEED.

NEWS FROM THE ARENACROSS WORLD

 
[Press Release] As the 2011 AMA Arenacross Series makes its way to the halfway point in the championship with this weekend's annual two-night showcase from Reno's Livestock & Events Center, a new face leads the way at the top of the standings. With his third win of the season last weekend in Louisville, Babbitt's Monster Energy/TiLUBE Kawasaki presented by Maxxis' Tyler Bowers took over the championship lead from his rival Jeff Gibson.
     Through six rounds and eight races, both Bowers and Gibson share three wins apiece to lead the series. Additionally, both riders boast seven podium finishes and a worst result of fourth. With such close competition on a weekly basis, the duo's budding rivalry and continually transforming championship battle is shaping up to be one of the most epic title fights in series history.
     By virtue of back-to-back-to-back wins to open the season, Gibson set the early pace and appeared to be on another level from his competitors. However, Bowers' gradual climb is now in full stride and is highlighted by three wins in the last five races.
     "It seems like once Tyler was able to break through and grab that first win, he had the momentum he needed to keep it going," said Miss Arenacross Lindsey Scheltema. "Based on the shift in standings it appears as if Bowers is in position to run away with things, but Gibson has been right behind him every step of the way and is by no means letting Tyler out of his sight."
     This weekend's pair of races from arguably the most unique venue on the AMA Arenacross Series schedule presents the opportunity for Gibson to respond. A larger layout combined with a transition to pacific time zone could present some unforeseen circumstances to alter the championship yet again.
     Last season in Reno, Bowers captured a second-night victory at the Events Center to go along with a runner-up effort on the opening night. It was also a solid weekend for Gibson, who posted third and fourth-place efforts. Both riders will aim to use their past success to their advantage on Friday and Saturday night.
     The two-race west coast swing also signifies the return of the Arenacross Lites Western Regional Championship which will be competing in its third round of the championship. Currently, House of Kawasaki's Chad Cook carries the points lead after a pair of dominating performances at the previous West Region round from Denver. Additionally, female rider and Arenacross Lites rookie Vicki Golden continues her historic run in the class with her second race in the AMA Arenacross Series.
     Advance tickets are available for this weekend's Arenacross at the Livestock & Events Center Box Office, Ticketmaster charge by phone and ticketmaster.com. Tickets cost $2 more the day of the race.
Arenacross Class Points (After Race 8 of 19)
1.Tyler Bowers, Danville, Ky., Kawasaki ? 177
2. Jeff Gibson, Blacklick, Ohio, Honda ? 175
3. Chad Johnson, Rhinelander, Wis., Kawasaki ? 158
4. Cole Siebler, Emmett, Idaho, Ho            nda ? 131
5. Zach Ames, Prospect, Ohio, Honda ? 128
6. Gray Davenport, Lehi, Utah, Kawasaki ? 126
7. Nathan Skaggs, Chillicothe, Ohio, Honda ? 104
8. Kelly Smith, Ludington, Mich., Yamaha ? 91
9. Kevin Johnson, Spring, Texas, Yamaha ? 87
10. Cory Green, Nowata, Okla., Suzuki ? 86
Arenacross 250 Western Regional Points (After Race 3 of 10)
1. Chad Cook, Oklahoma City, Okla., Kawasaki ? 72
2. Tanner Moore, Auburn, Kan., KTM ? 45
3. Aviery Hickey, Decatur, Texas, Kawasaki ? 44
3. Bobby Fitch, Littleton, Colo., Honda ? 44
5. Travis Smith, Lancaster, Calif., Yamaha ? 38
6. Ricky Yorks, Murrieta, Calif., Yamaha ? 29
7. Jeremy Huddleston, Eustace, Texas, KTM ? 27
7. Zachary Jaynes, Princeton, Texas, Yamaha ? 27
9. Cory Green, Nowata, Okla., Suzuki ? 25
10. Tanner Young, Marland, Okla., Yamaha ? 22
Arenacross 250 Eastern Regional Points (After Race 6 of 10)
1. Patrick Massie, Washington Court, Ohio, Honda ? 103
2. Adam Gulley, Jonesburg, Mo., Kawasaki ? 95
3. Steve Mages, Sardinia, Ohio, Kawasaki ? 86
4. Austin Coon, Spencer, W.V., Honda ? 78
5. Tyler Sehr, Belleville, Ill., Honda ? 65
6. Kyle Goerke, Lake Helen, Fla., Suzuki ? 56
7. Scott Zont, Algonquin, Ill., Honda ? 47
8. Austin Primavera, Larue, Ohio, Suzuki ? 43
9. Kyle White, Freeport, Ill., Honda ? 38
10. Kenneth Henry, Ashtabula, Ohio, KTM ? 36
PRESS RELEASE: L.A.SLEEVE ANNOUNCES OWN PISTON LINE


 
    Combining the industry's finest piston making minds, and their six decades of motor building salvation, in association with L.A.SLEEVE, the next great piston is upon us. Introducing, the Los Angeles Piston Company. L.A.SLEEVE has entwined their knowledge with the great race engine builders of yesterday, and today, to come up with what they think will answer the demand of so many, a great piston top MX and ATV professionals can punish for so much longer, at an economic solution the average rider can afford.
     LAPC will offer 2-stroke and 4-stroke piston for most modern dirt bikes and atv's. Unlike their piston making counterparts, LAPC will not create a mass produced market monster. Instead, the LAPC will focus on only today's most popular models for offroad, mx  and atv racing and recreation. While limiting their product line to only popular models, their focus will concentrate at the finer points of piston flaws not being addressed by the big name piston brands.
     LAPC will use their resources in racing to dissect the little things not being addressed by the mass produced piston brands. All LAPC pistons will have enhanced 2618 low silicon, or 4038 high silicon materials as their forgings. Pistons will be coated with their proprietary "ProMalloy" skirt and dome skating surfaces. And, patrons get at no extra charge Pro-Cross Pro-Cool under crown micro machining for uniformed deck thickness.  They're just lightened enough, with spun-bossed and window milling, gas ported (if necessary), and grooved reduction valleys to grab any residual combustion gas not being captured by the initial piston ring defense. And finally, precision honed wrist pin bores are standard for all piston applications.
     Custom pistons will not be offered by the Los Angeles Piston Company. In order to produce a fine line of pistons for the professional rider and race team, yet remain economical for the average weekend warrior, LAPC strategically positions their place among the piston maker elites by not forgetting what creates a lasting relationship among their customers – affordability, quality and service. LAPC will focus their piston line with those users in mind. Piston kits will range in the retail price of $62.00 to $120.00 for 2-strikes, and $78.00 to $205 for 4-strokes.
    The LAPC pistons will be sold exclusively through Niks Distributing and L.A.SLEEVE. To learn more about the Los Angeles Piston Company, please visit www.lasleeve.com  or call 562-945-1098.
PHILLIP NICOLETTI HEADED FOR OZ


Nicoletti filled in for the injured Tommy Searle at KTM last year for a couple races.
American privateer Phil Nicoletti has signed to ride the Australian National Championships for the Aussie version of the Monster Energy Kawasaki team. Nicolletti will ride the 250 class?where his old KTM buddy P.J. Larsen is the Oz Champ. The 22-year-old New Yorker has not been racing in the USA this season, but was eight in the 250 West and 22nd in the 250 National last year), but will move to Australia immediately to get ready for the start of the Australian Nationals in March. Nicoletti will team with Scotsman Billy Mackenzie and Dean Ferris (who will both be on a KX450Fs).
PHOTO OF THE WEEK: PART 2 (LAST WEEK, ACTUALLY)


Do you notice anything wrong with this photo of Kyle Chisholm and Davi Millsaps at A2? Look closely at Kyle's knee. It is inside his left radiator shroud.
THIS WEEKEND AT GLEN HELEN RACEWAY


Glen Helen Raceway, America's playground in Southern California, welcomes two excellent racing series and a day of practice to its tracks this weekend?along with the regular Thursday practice (weather permitting).
The REM Saturday Motocross series continues this weekend on the Glen Helen Back Track. REM Saturday MX is perfect for riders looking to race in a relaxed environment, with a variety of skill levels from beginners to pros, industry insiders to complete newcomers. For more information on the entire REM Saturday Motocross series, check out www.remsatmx.com.
On Sunday there is an SRA Grand Prix. Always one of Glen Helen's most popular racing series, the SRA Grand Prix holds classes for everyone from beginners to experts, pee-wees to seniors, and mini bikes to open class bikes. For more info, including a downloadable entry form and event schedule, head over to www.sragp.com.
There will also be open practice on the USGP track on Saturday from 8 a.m. to 1 p.m. for riders looking to get some practice laps in. For track information, schedules, and special fan promotions, check out Glen Helen Raceway online at www.glenhelen.com.
Upcoming Glen Helen Events:
Feb. 26…Lucas Oil Short Course Offroad Truck Regional
Feb. 27…CMC Golden State Motocross Showdown
Mar. 13…17th Annual HYR Glen Helen Six-Hour Endurance race
Mar. 26-27…Dirt Fest 2011
May 22…National Championship Pro Hillclimb
May 12-13…Amateur Grand Prix Championship
May 14-15…Monster Energy United States Grand Prix