MOTOCROSS ACTION'S MID-WEEK REPORT: (03/01/11)

By John Basher
PHOTO OF THE WEEK: PART 1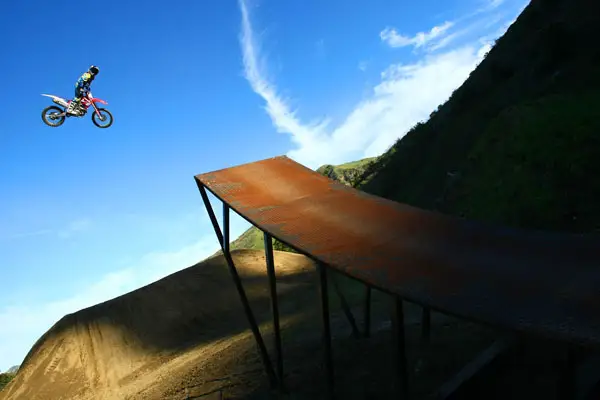 It may seem hard to believe, but Lance Coury actually has the front end of his bike pointed towards the takeoff ramp. The Moto-Gate.com guy can throw down a mean whip. He deserves a spot in the X Games Best Whip contest with moves like this.
DON'T FORGET! DAYTONA SUPERCROSS ON SPEED ON SATURDAY NIGHT


If you live in the land of fruits and nuts it will start at 5:00 p.m. (Pacific Time) on Saturday (two-hour show), if you live somewhere else you will have to do the math yourself.

MINI-VIEW: DEAN WILSON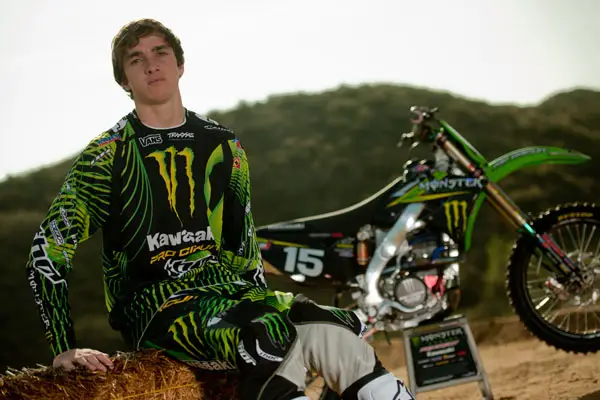 The Pro Circuit/Kawasaki rider earned his first Supercross victory. In his second Supercross season, Wilson is tied for the points lead with Geico/Honda's Justin Barcia. Here's what Dean had to say about his night in Atlanta.
MXA: All in all, it was a good night in Atlanta for you.
Dean: I was really happy with my night. You can't complain when you win. Going into the main event I was confident, because I knew that I could win. The reason I didn't win my heat race was because I spun out of the gate. There were some rocks that I couldn't see in the dirt when I packed my starting spot, which made me spin really badly off the line. I was way back, and I was so angry with how the heat race went. I knew that I had the speed, but I didn't put myself in good position.
What was your plan for the main event?
I figured that if I got a top ten start I'd have a good chance at winning. I made a couple of big mistakes at the beginning of the race, but by lap five or six I started settling down and getting into a good rhythm. I started catching people and moved my way into second. Then [Blake] Wharton fell and gave me the lead. I was just so stoked to get my first Supercross win and hopefully now I can keep it going.
Is your shoulder completely healed?
It's pretty good now. It didn't bother me too much at the Houston opener. The problem was that I wasn't able to prepare the way I wanted to heading into the series. I wasn't quite on par, but that break between Houston and Atlanta really helped me out. I was able to ride more and get my speed up.
    "If you try to race hard but you're not prepared then it won't really work out. I go into every race knowing that I've done everything I could possibly do in preparation for the race."
How difficult was it to cleanly make it through the rhythm section where you would step on to a tabletop and step off right into a corner? Quite a few people had issues with that section all night long.
It was pretty tricky. Stepping on was easy, but stepping off was hard. It went right into a corner, and the dirt was slippery. The dirt was deceiving, because I'm sure that a lot of people thought that the track was tacky, but it wasn't really at all. Wharton crashed there. I don't think he got his bike all of the way over the step off portion and he lost his front end. That was a shame for him.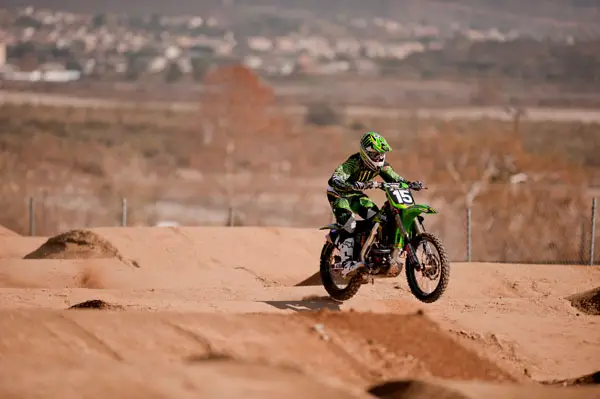 I can tell that you're brimming with confidence, especially after the win.
I'm feeling good. This is my second year racing Supercross, and the experience has helped me out quite a bit. I've been putting in a lot of work, and preparing gives you confidence. If you try to race hard but you're not prepared then it won't really work out. I go into every race knowing that I've done everything I could possibly do in preparation for the race.
Are you making any major changes to your KX250F, or are you set with your settings?
I haven't made any big changes to the bike. The bike is really good. My mechanic, Paul, has it dialed. Bones has the suspension working well, and Mitch has the engine running really fast. The bike is amazing!
    "It was definitely like a [Justin] Barcia pass. Reed cut the corner really tight. The thing is that Reed did it on the last lap when he was going for the win. "
What are your thoughts on Daytona?
I'm excited for it! My first ever podium finish was last year at Daytona, when I finished third. It was one of my favorite tracks last year, and I'm looking to do well there this weekend.
It's accurate to compare the 250 East class to a pack of wolves. Your competition is aggressive and hungry to win. As you're mounting a pass do you approach each rider differently?
I know from racing them how they ride. Some will try to clean me out, and others I can trust. I know what to look out for. I don't really worry about what someone else is going to do on the track though. I'm just out there riding my bike the best that I can.
Did you get a chance to watch the 450 race?
Oh yeah! I was a super fan. I was jumping up and down as the guys were battling. When Stewart and Reed went down the crowd was electric. It was so crazy to be in the stadium when that race was going on.
What did you think of Reed's pickup pass on Stewart?
It was definitely like a [Justin] Barcia pass. Reed cut the corner really tight. The thing is that Reed did it on the last lap when he was going for the win. I'm not really opinionated on the crash. I do know that it was exciting! It was definitely a good night of racing in Atlanta.
REMINDER: BECOME A FAN OF MXA ON FACEBOOK

    With up-to-the-minute industry news, new photos and videos, and opportunities to talk with fellow moto heads, if you haven't become a fan of MXA on Facebook then hit the "Like" button! It's free and it's fun. What other reasons do you need? Click here to become a fan.
MILES FOR MIRACLES: HELP MAKE A DIFFERENCE


    Eleven days ago Jimmy Button and a pack of other road bicyclists departed from San Diego in a quest bound for Daytona Beach, Florida. Covering some 2428 miles, the group is riding to raise funding for spinal cord research. Their goal is to reach one million dollars.
    Eleven years ago Button was temporarily paralyzed, and even today he hasn't fully recovered. It's extremely admirable that Jimmy is cycling across the country – a feat that wouldn't be easy for anyone. It's especially difficult for the likable former factory Yamaha rider, as he has suffers from maladies caused by the crash.
    Please help Jimmy in raising funding for spinal cord research by donating to his cause. To learn more about the Miles For Miracles ride, visit www.milesformiraclestoday.com. I caught up with Jimmy began his cross-country voyage.
MXA: Jimmy, where did you come up with the idea to bicycle across the country and raise funding for spinal cord research?
Jimmy: I've been blessed to be able to regain most of the feeling in my body, but here I was not doing anything to make a difference. I called my old trainer, Cory Warf, and asked him if there was any way for me to ride a bicycle across the country. His reply was, ?There's absolutely no way right now. You could if you got super serious and trained for a year, but it's going to be a big mountain to climb.' I told Cory that I was determined to do it. He agreed to do the ride with me if it ever came to it. The very next day the spin bike came out of the closet and I began training. That was over a year ago.
Looking back on your racing career, you were very successful. Not only did you win races, but you traveled abroad and you were one of the first riders to race a modern four-stroke.
As a racer I was very blessed. I had an outstanding amateur career and went pro. I was able to get on the podium in my very first Supercross race. I had a bunch of wins on a 125 in Supercross. Unfortunately I never go that elusive Supercross wins. I finished second a lot of times behind Jeremy [McGrath], just as a lot of other riders did. I won outdoor Nationals, raced the GPs in Europe, and had a great time.
How was it to race that first production Yamaha YZ400F?
Before that time the best four-stroke was an outdated hunk of iron that Scott Summers raced offroad. I never rode the works OW model that Doug Henry raced in 1997. I rode a works production bike, and it was tough.
How have Supercross tracks changed since you raced?
Back when I raced the tracks were slow compared to how they are today. They were also more technical. Four-strokes changed the way of racing. Now the tracks have to be faster to benefit four-strokes.
How did you become a sports agent?
One of my sponsors, Bell helmets, provided an opportunity for me. At the same time I started a small agency. I eventually sold out to Wasserman Media Group. These days I work primarily as an agent.
Which riders do you look after?
I personally look after Blake Baggett, Tyla Rattray, Ian Trettel, Max Anstie, Josh Hill, Nate Adams, Adam Jones, and Indy Car racer J.D. Hildebrand. Our company as a whole looks after Chad Reed and Travis Pastrana. We're also the largest agency in Major League Baseball, and we are involved in many different sports.
Thanks for your time, Jimmy. Good luck in your adventure!
Thanks, John.
COLE SEELY GETS A PROMOTION TO TEAM HONDA TO REPLACE JOSH GRANT


Cole Seely at A2.
Cole Seely will replace the injured Josh Grant as Trey Canard's teammate starting at the Indianapolis Supercross.
 
Troy Lee Designs team manager Tyler Keefe said, "This is a great opportunity for Cole. He's an amazing person who works hard. I think his time on the 450 will elevate his racing knowledge. This is the stuff dreams are made of. Cole deserves this opportunity and the Troy Lee Designs/Lucas Oil/Honda team is behind him 100 percent.
Cole Seely said, "Erik Kehoe called me to ask what I was doing during the 250 West break. I thought he was just calling to chat, so I told him I was going be doing some outdoor testing and drifting my car a little if I had some spare time. When he asked me if I wanted to ride Josh's bike, my heart almost jumped out of my chest. This is the opportunity you always dream of as a little kid. I called Tyler and Troy and they were pumped for me too. This is awesome. I rode the bike with Trey last week and I rode well. I'm looking forward to Indy." 
TRENDING TOPICS IN SUPERCROSS

James Stewart and Chad Reed – They hate each other. They love each other. Now? It's looking ugly.
Larry Brooks – Is he or isn't he the L&M/Yamaha team manager? Good question. Let me answer with a question of my own. Have Roger DeCoster or Erik Kehoe missed a race unannounced?
Justin Barcia's wrist – According to his Twitter account, the wrist is doing better. I hope so. He's going to need it for a rough Daytona track.
Blake Wharton's front end – Blake broke up with his Geico/Honda CRF250 front end just before Atlanta. You could tell that it was a messy breakup. Hopefully they have worked out their differences.
Ken Roczen's Daytona debut – I saw him spinning laps at Glen Helen last Thursday. Incredible rider. His corner speed is ridiculous. A top five finish isn't out of the question in the 450 class on his 350.
Atlanta fans – The Atlanta faithful should be given two Supercross races. The place was sold out, plus some!
CHECK OUT THE RICKY CARMICHAEL DESIGNED DAYTONA TRACK

    Ricky Carmichael designed this weekend's Daytona Supercross track. The biggest change from years past is that the start has been moved and faces directly at the stands. The reasoning? Ricky said, "I wanted to change it up a bit but still give the fans the best view of the start so we will be bringing it straight to you!" To see the track and hear more about what RC had to say, click here.
IF YOU WILL BE IN DAYTONA ON FRIDAY

MY FAVORITE TWEET OF THE WEEK


    After the Atlanta melee Internet message boards have been going off about Chad Reed and James Stewart. On Twitter, where riders share their personal thoughts on everything (and I do mean everything), Chad Reed had this to say about the block pass/pickup pass/take-out:

MINI-VIEW: TWOTWO MOTORSPORTS' DAVE OSTERMAN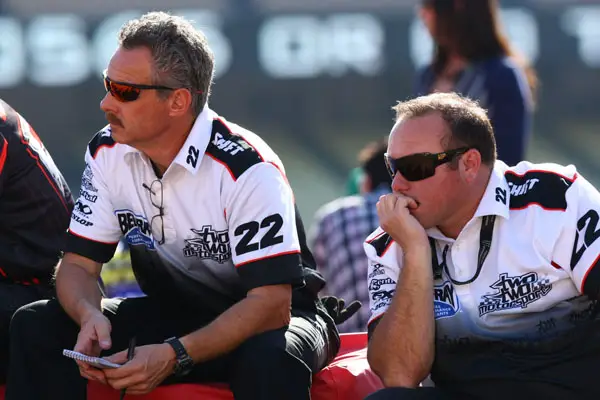 After Atlanta, where tempers flared and paint was traded, I thought it would be interesting to hear what Chad Reed's team manager, Dave Osterman, had to say. Dave didn't stop at the Reed/Stewart incident. He discussed his thoughts on the blue flag, the first turn, and Chad's privateer status. Osterman is a good guy who wears his heart on his sleeve. Whether you agree with his opinions or not, you should still hear him out.
MXA: Everyone is talking about the Reed/Stewart incident, but before we get there I'd like to ask your thoughts on lappers.
Dave: Lappers are a big issue. I respect everyone that lines up to the gate, but once you work for a guy that's a podium guy, like Chad Reed, I realized that every podium guy has a right to ride to their full potential. It seems like there are so many different meanings of the blue flag. Recently I've been getting hardened on the lapper situation. I'd like to use the analogy of people driving down the road and there's an ambulance approaching them from behind. There's one thing that you're supposed to do, and that's to get out of the way. In a car you'll physically stop on the road, and I'm not saying that a rider should actually stop on the track, but they need to get out of the way in a hurry. When the top guys are going through the pack the slower guys need to get out of the way, because a lot of the tracks this year have had one main fast line. There's enough real estate on the track to get out of the way.
How quickly should a lapper get out of the way?
This past weekend there was a certain guy who wouldn't get out of the way of Chad Reed. I wanted to ask him, ?At what point did you think that you should have gotten out of the way? You had multiple blue flags waving at you, yet you chose to stay in the main line.' The blue flag needs clarification every week at the rider's meeting. At what point should a rider move? I'm of the belief that a lapped rider should get out of the way as soon as they see that first blue flag. You can't tell me as a rider that you can't hear another engine coming up on you quickly. You know that a faster rider is coming through, and that you need to get out of the way. When the freight train comes by, you need to move. Reed doesn't hold that person responsible, but if he hadn't dealt with that lapper then that deal with James Stewart probably never would have happened. A lot of the tracks are one line. The top five guys can easily work up to tenth in the field. The blue flag guys were doing a phenomenal job in Atlanta, but the riders aren't heeding the blue flag.
    "When you look at a lot of the modern tracks, sometimes I think that Feld looks at the racers and the track like the gladiators and lions. When you have a tight first turn it leads to carnage. What do they think is going to happen?"
There are a lot of problems stemming from the first turn.
You learn things in life. I double knot my shoes because I don't want my laces to come loose. I'm anal, and I think that the Supercross track builders need to be anal. When you look at a lot of the modern tracks, sometimes I think that Feld looks at the racers and the track like the gladiators and lions. When you have a tight first turn it leads to carnage. What do they think is going to happen? Whatever happened to the word curve? They need to make a nice arc into the first turn, instead of a tight turn that bottles up. In Houston all of the riders after the track walk were saying that the first turn was dangerous, yet nothing was done about it. That's the tragedy.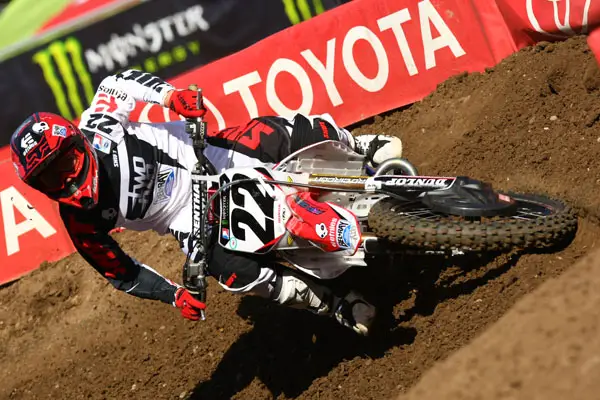 Is Chad Reed a dirty rider? You make the call.
Does it seem like the track builders are making starts that promote potential hazards?
I feel that way. You always think that when there's a problem with the first turn that they will learn and fix it the following week. Well we're halfway through the series and nothing has been done about the starts. They always have some reason. I would think that they would want everyone to get through cleanly so that there's a good race. When the top ten riders are saying that the first turns are dangerous it means that there's a problem. The tracks need to be exciting, but they should also be safe.
Would the move that Chad put on James Stewart be considered dirty riding?
People will say that I'm partial to Chad because I'm working with him. I've seen so many dirty moves by riders over the years, and I've also seen clean passes. Chad gained a lot of love over the weekend, but also a lot of hate. I've seen all of the pictures and film. I've spoken with Chad one-on-one, and in my mind he put a quintessential block pass on Stewart. If all of the haters could see through the hate they would realize that there wasn't any contact initially. Chad was turning, and as he turned there was a decision to be made by the other guy [Stewart]. It reminds me of the Trey Canard/Ryan Villopoto deal in 2008 when Trey won the East coast title. That was a classic block pass that Trey put on Ryan, but there were a lot of haters that thought he cleaned Villopoto out. I'm not trying to change anybody's thoughts on the incident. However, to me it was a classic block pass move.
Would you consider Chad to be a privateer?
You could literally buy what Chad is racing on. Even if we have a few items that are unobtainable, most of those items are designed for greater durability to hold up to the rigors of Supercross. They wouldn't make a difference to the normal guy. That speaks volumes for Chad as a rider.
Thanks for your time, Dave.
Thanks, John.
PHOTO OF THE WEEK: PART 2


    Swiss freestyle rider Mat Rebeaud catches the last rays of light out in Piru, California, while hanging upside down 50 feet above the ground. All in a day's work.
PRESS RELEASE: MOTO-GATE GIVEAWAY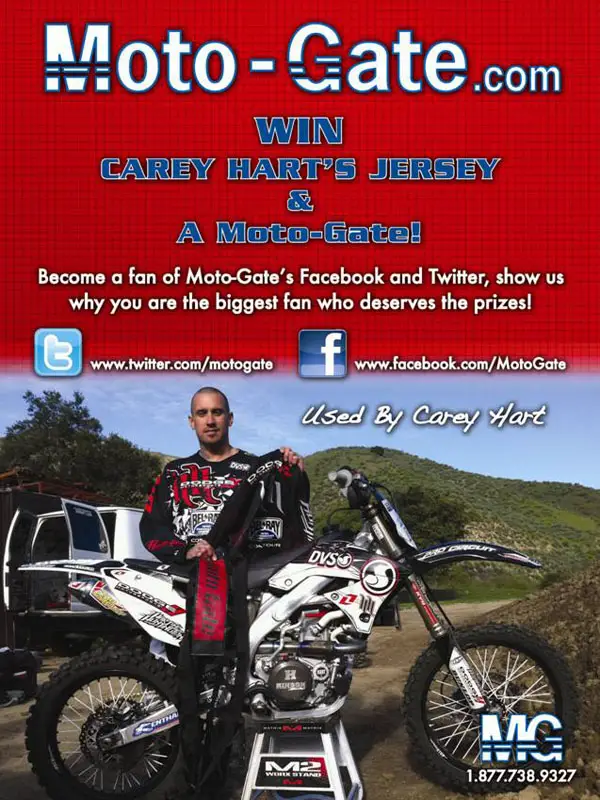 THE KTM X-BOW HAS ARRIVED IN NORTH AMERICA


KTM doesn't waste time making mommy vans or four-door sedans. Nope, they go for the gusto with the Cross Bow (X-Bow) sports racer.
From the British Racing Group: After years of motorsport success and admiration by the motoring press in Europe, the KTM X-Bow (pronounced Cross-Bow) is finally available in North America. Available in; Street, Clubsport, Superlight and GT4 trim levels, the X-Bow is ready to take your driving experience to the next level, no matter what the venue. Featuring a durable Audi-sourced direct-injection 2.0 liter, turbocharged four-cylinder engine; the X-Bow is capable of 0-60 sprints in less than 4 seconds and over 30 MPG. Not impressed? Check that dental work because the X-Bow has the ability to stop from 60 MPH in only 99 feet thanks to the standard Brembo braking system.
British Racing Group is proud to be the North American dealer for the X-Bow. We are extending our wealth of knowledge and experience in sports car and motorsport sales and support to KTM with full sales, service, track prep and parts sales for our clients. Vehicles are available for ordering immediately. Deliveries begin April of 2011. To submit your interest and receive a custom tailored purchase proposal from one of our client relation specialists, contact us toll free in the USA at (855) 274-5000. You can also submit your interest by email at [email protected]. For more info go to www.britishracinggroup.com.
ARE YOUR READY? ONE MONTH UNTIL THE 2011 WORLD TWO-STROKE CHAMPIONSHIP

TRIANGLE CYCLES TO HANDLE YAMAHA RACE SUPPORT IN THE SOUTHEAST
Triangle Cycles from Durham, North Carolina, and Triangle Cycles North in Danville, Virginia, will be supporting Yamaha riders with Technical Assistance and replacement parts at premier Amateur Motocross events in the SE, starting at the upcoming "Thor Spring Classic" event at Mill Creek Raceway in Pell City, Alabama, on March 9 thru 14. Triangle Cycles joins a Team of Dealers that consists of: North County Yamaha, Thousand Oaks Powersports and Rock River Powersports each of which has a proven history in Amateur Motocross and will continue to assist all Yamaha riders to reach their racing goals.
"Triangle Cycles has a proven history that covers all aspects of both Motorcycle and ATV racing. Their addition clearly strengthens our Trackside Support Team," said Donnie Luce, Amateur motocross and Off Road coordinator for Yamaha Motor Corporation, "and we look forward to working with them to deliver the highest level of support for all Yamaha riders in the South East."
"Yamaha has been a supporter of Amateur racing for such a long time and we are excited to become a part of this great program. Amateur racing is the heartbeat of our dealership; it brings excitement and teamwork to our employees at Triangle Cycles. We love how amateur motocross racing brings families together in such a competitive and challenging yet supported environment. We will have two highly qualified technicians, Robbie Deal and Tommy Handy, who both grew up racing and know and understand what it takes to be successful. Brian Crofoot will be our event coordinator and parts sales person. O'Neal Tickle and I will be there to help with service and support," said Rusty Reynolds, owner of Triangle Cycles and Triangle Cycles North. The Triangle Cycles Racing crew looks forward to seeing everyone at Mill Creek Raceway.
STEFFI LAIER & LIVIA LANCELOT RACE WITH THE MEN AT VALENCE PRESEASON MOTOCROSS
Steffi Laier at Valence, France.                                             Photo: Ray Archer

Steffi Laier and Livia Lancelot both signed up in the 250 class to race with the men at an important pre-season motocross in Valence, France, last week. The men in the field included Tonus Arnaud, Nicholas Aubin, Mattis Karro, Jordi Tixier, Elliott Banks and Joel Roelants. Laier, the current FIM Women's World Champion, finished the day with a 10-20 and ended up 17th overall. Lancelot went 16-15 for 18th. There were 25 riders in the Valence 250 class. Livia and Steffi deserve credit for looking to up their game for the 2011 FIM Women's Championship (which start in Bulgaria in April).
Steffi Laier.                                          Photo: Ray Archer
This is a bold move and reminiscent of the great Sue Fish?who got her AMA Pro license and entered AMA Nationals back in 1976 and 1977.
MUC-OFF LINE OF "ADRENALINE-FUELED" MOTORCYCLE CARE PRODUCTS COMES TO THE U.S.


Muc-Off, the intriguingly-named line of high-quality "adrenaline-fueled" motorcycle and ATV care products from the U.K. is now available in the U.S.. The line is imported under an exclusive partnership agreement by Deltona Corporation of Deland, Florida, manufacturers of the very-popular Deltran Battery Tender line of smart battery chargers.
An international success in 24 countries, Muc-Off's depth of Powersports passion and involvement includes sponsorship of Bike It Cosworth Yamaha's World MXGP team (with top American, Zach Osborne), and the Rizla Suzuki MotoGP team. Muc-Off's uniqueness is that, for a product line as effective as it reportedly is, the company takes particular pride in its "respect for the environment." Depending on product and application, Muc-Off products are fully biodegradable, carbon-fiber safe, water-soluble, and all-weather effective. The line is officially approved by such names as Troy Lee Designs, Scott, X-Lite, and Cannondale.
The complete Muc-Off bike and ATV line (there are also ones for fine autos, off-road racers, and bicycles) includes Muc-Off Biodegradable Motorcycle Cleaner, Bike Spray, Foam Fresh (to clean and freshen helmet liners, boots, and body armor), Eyewear & Goggle Cleaner, Eyewear and Goggle Optix Cleaner Pack, unique Chain Doc Easy-Care chain cleaning system, Quick Drying Chain Cleaner, Biodegradable De-Greaser, and Wunder Shine Carnauba & Fluoropolymer Wax, and Leather Wipes, as well as Muc-Off Dirty Work Wipes for cleaning hands and tools.
To complement the cleaning products, Muc-Off also offers its Chenille Microfiber Wash Mitt, Premium Microfiber Cloth, Soft Washing and Detailing brushes, Two-Prong Brush for hard-to-reach places, Wheel & Component Brush, and the Claw Brush for dashboards, radiators, grills and air vents.
For the retail trade, the Biodegradable Motorcycle Cleaner is available in shop-sized 5- and 25-liter sizes. Additionally, there is a selection of uniquely visual POP Displays, including a stand that actually glows in the dark. Full details and information can be found at www.muc-offUSA.com. Distributor and dealer information can be had by contacting: Muc-Off USA, Deltona Corporation, 801 International Speedway Blvd., Deland, Florida, 32724; (877)-456-7901.

ANOTHER OWNER ABANDONS RIVERFRONT PARK MOTOCROSS TRACK
That's the river on the left.

According to Nancy Pasternack at the Appeal-Democrat: The new operator of a once-successful motocross track in Marysville, California, has abandoned the facility, leaving the city empty-handed for the second time in a year. Todd H. Nelson of Loomis, California, signed a contract for the track known as Riverfront Park five months ago. The contract was similar to one forfeited by his predecessor several months earlier. The $120,000-per-year agreement allowed for one deferred quarterly payment on the understanding that Nelson would make some $30,000 in improvements to the property. Those were still not underway when his first payment of $60,000 came due in January.
Nelson failed to respond to a 10-day notice sent by the city early in February for violating the terms of the contract. Public works personnel noticed over the weekend that the facility had been shut down. "They've apparently pulled up stakes," said City Manager Steve Casey. Nelson could not be reached for comment. His financial troubles, familiar to most in the business of Northern California motocross, preceded him in his Marysville venture. Nelson had planned to build a $109 million motocross complex in Placer County near Thunder Valley Casino. But the project failed to materialize in the wake of the recession, and Nelson's holdings are currently in Chapter 7 ? liquidation ? bankruptcy. Among his creditors is Blue Lake Rancheria, a tribe-owned economic development corporation in Humboldt County, to which he owes nearly $7 million.
But in September, when Marysville officials were considering bidders for their Riverfront Park contract, Nelson's bid of $120,000 appealed to them. "It's prudent for the city to get as much money as it can," Casey said of the City Council vote to approve Nelson's bid. Awarding the contract to Nelson, "may have been a mistake in retrospect," he said. The next highest bid was for roughly half of what Nelson promised, and came from Yuba City businessman Tony Milner of Honda/Yamaha Sports Center. "We thought Tony's bid was high," said Carl Allison, owner of Twin Cities Motorsports in Marysville. He and other motocross aficionados were more than a little surprised, he said, when they learned what Nelson had bid. "We came to support Tony. We thought it was best to keep it (the operation) local," Allison said of his presence at the meeting when the vote took place.
Scott Davis, who still operates another motocross track in town, had been unable to make payments as per his own $120,000-per-year contract on the Riverfront Park property. As a result, he had terminated his 10-year agreement only three years in, opening up the track for other bidders. Davis has said he will not speak to the Appeal-Democrat. He also declined to be interviewed by Chico writer Aaron Hansel for an article posted on his Vision-mx.com, a website devoted to Northern California motocross news, and which featured several area motocross notables.
In that article, Nelson answered a question about how he would manage the Marysville contract in light of his ongoing financial troubles in Placer County. "Consistent operation of the facility as a multiple track park venue that has retail and food sales components will more than cover the bills," Nelson said of Riverfront Park.
According to Allison, the expectation that Nelson could meet the terms of the Marysville contract was unrealistic. "Guys nowadays don't have the money to spend on this," he said of the sport. "They spend it now on gas and on food. Everything got pretty much got cut in half," he said of motocross-related profits during the recession. "That's why the city doesn't get paid ? because the head count is way down." Also, he said, because city officials ignored the expertise of locals who are in the motocross business. "They weren't even listening to us," he said of the bidding battle in September. "They went right for the big dollar signs."
The track had been run locally for decades before Davis outbid the former operator in 2007, and had been popular throughout the region. Riverfront Park saw hundreds of riders every day that it was open, according to Allison. A combination of the bad economy and new, higher fees imposed by Davis, he said, led to the track's demise. "But the hard core guys still need a place to practice," Allison said. "If a guy was reasonable, it (the track) would draw a lot of riders back."
What's "reasonable" for riders, and what the city needs to charge an operator to make a contract worthwhile, said Casey, may be mutually exclusive numbers. The years before Scott Davis were not profitable years on the city's end. "We weren't making anything on it before then," he said. Marysville would do well, said Allison, to settle on more modest returns in the future, and beware of deals from the likes of Davis and Nelson. "These guys have been promising the city way too much money," he said.