MOTOCROSS ACTION'S MID-WEEK REPORT: (03/09/11)

MXA INTERVIEW: ELI TOMAC

Eli prepping for a podium speech.
It's a year for fast Supercross rookies in the 250 West Coast Series. The foreigners of World GP fame in Tyla Rattray and Ken Roczen have stolen the rookie spotlight at times with spectacular whips, spectacular crashes and a few podium finishes. But, sitting third in the point standings and notching a race win under his belt, Eli Tomac, from Cortez, Colorado USA has the last laugh right now. Eli flew back to home and started riding outdoors at the first part of his Supercross break. We called him up for a report.
MXA: Tell us us about all the highlights of your season so far.
Eli: Well, obviously the biggest highlight was the San Diego race. I made my work easy by getting the holeshot, obviously you don't want to start in the pack of the pack when there is mud. I've really got the ball with four podiums in my last four weekends of racing. I've been pretty stoked on that, I just wish I would have gotten better starts at the beginning of the season. But, those races are done, I can't make any excuses.
Do you consider yourself a good mud rider? How often is it muddy where you're from in Colorado?
I seem to ride pretty well in the mud, and I don't get too nervous about it. It's not like I like it, I don't know if anyone really wants their moto to be in the mud, but I'm not afraid of it and I definitely think that helps when I'm out there racing.

From outdoors, you already know what it's like to win a race early in your career as a rookie. How does winning a race change your mind set?
I think it took some pressure off of me. Actually the best thing for me was getting on the podium in LA. I kind of broke down after that race. I had a monkey on my back, having not been on the podium since Hangtown and that ticked me off. I knew I was a better rider than what I was doing those first two rounds. Then the win just caps it off for me.



Eli airing it out in LA.
You've also have some good battles. What have been your highlights of close racing?
Anaheim 2 was a blast, I'd say it was one of my best racing moments ever. Roczen and I were going at it, and then I gave a little stab at Hanny [Josh Hansen] but he got me right back. That was definitely one of my most fun, favorite races.

What has been your low points, do you have any sore spots?
I really haven't had too many issues. I banged my finger up just a couple weeks before Anaheim 1 and had to get a couple stitches in my finger, but I would say that has been the only real low point. Other than that, just Anaheim 1, the race itself. It really got me fired up to do better and get on the podium. I knew I was better than a tenth place rider. I got a bad start and was riding like a girl, in the middle of the pack, but that really helped my get going.

Railing the sand section at A2.
As a rookie, what has been the major things you have learned, and areas you focus on to improve?
The best thing I've learned, I guess, is the whole racing part of the race. [Laughter] Anaheim 2 was a really good learning race for me because I was just going balls to the wall for the first seven laps and up until I passed Hanny. After that, I just kind of blew myself out. It's kind of a live and learn thing. I just need to maybe tone it down a bit when I'm battling like that. I definitely think I get a little too excited when I'm in the heat of the battle. I'd say that's the biggest thing for me right now, to calm down a little bit when I'm actually racing.
Is anything else cool happening behind the scenes?
I've been riding a 450 for outdoor training a little bit. It's the first time I've ridden one of those. That thing has been a blast, and it has been fun switching it up from Supercross to outdoors a little bit. I think the 450 will be good for my overall strength, just hanging onto that thing on my moto days. Up here in Colorado, the higher elevation makes the bikes slower, and a 250 is like a 125. So, I think the 450 is good for me here in Colorado.
Thanks Eli, want to thank any sponsors?
Geico Honda and the whole team has totally backed me this year, they have been awesome, I gotta give it up for them.

IAN TRETTEL MEDICAL UPDATE FROM HIS FAMILY


Ian Trettel.

On behalf of the entire Trettel Family, thank you all so much for your support and concern for Ian in this very difficult time. I am going to keep this brief and to the point, again without compromising our families privacy but doing what we think Ian would want us to do right now. However, you can expect an official family statement to be released in the next day.
Ian remains in a medically-induced coma to protect him from the ill effects of post-traumatic brain swelling. On Monday afternoon he underwent a surgical procedure to allow his brain additional room to expand until the swelling resolves; the bleed in the right side of his brain is also stable and unchanged. This morning his condition was stable and the surgery appears to have been largely successful. Now we all just have to wait and stay hopeful.
The ICU staff at Halifax continues to monitor all of his vital signs and adjust his moment-to-moment care as needed. At this time it remains essential for Ian to be in a quiet and calm environment so that his brain can rest, and we are doing our best to respect that need. As I have said before, we remain very positive but cautiously optimistic as Ian's road ahead will be long and difficult. It is far too early to think about a prognosis but we have good reason to be hopeful.
Your continued support and thoughts are so greatly appreciated. Stay positive everybody and let's get Ian through this!
– Joe Trettel Jr., on behalf of the entire Trettel Family.
PRESS RELEASE: YOUTHSTREAM'S EXCLUSIVE RIGHTS EUROPEAN MOTOCROSS CHAMPIONSHIPS DEAL

Giuseppe Luongo and Vincenzo Mazzi

Following the great cooperation and mutual satisfaction developed during the past years of partnership, UEM, following the decision of the Management Council on March 2nd, 2011, and Youthstream have signed a long term agreement concerning the exclusive rights of all the Motocross European Championships.
Mr. Vincenzo Mazzi, President of the UEM stated: ?The Management Council welcomed this agreement with a lot of interest because it will help to make way for an economical autonomy. Relations with Youthstream have always been rich of satisfaction. With this contract we are working on giving more value to our cooperation in the interest of riders and Federations.'
Mr. Giuseppe Luongo believes this a very important step for the future of Motocross in Europe and said, ?80% of all the business linked to the Motocross World Championship is based in Europe and for this reason, as has already happened in many major sports like football and athletics, etc, we have to develop the European Championship and give more value to the European title. In the meantime we will continue developing the 125 2 stroke and EMX2 Championships which are already very successful.
Youthstream and UEM are also working together on a project called ?save the young talent.' This program will support young riders coming from the European Championship to enter in top teams and help them have the right support so that they are able to grow.'
Mr. Luongo continued by saying, ?We are working on giving more value to the Motocross of European Nations (MXOEN) and from 2012 we would like to see all the National teams participating with their top riders. And on top of that a new ?European Champions League' is being created with all the top European riders from the World and European Championships coming together in a unique event to compete for the European Champions title. Naturally, these events will be organized with the Youthstream standards in partnership with UEM on the best circuits in Europe and with full TV and media coverage.
BREAK OUT THE RUSTY, BUT TRUSTY IRON: THE WORLD TWO-STROKE CHAMPIONSHIP IS THREE WEEKS AWAY

The classes for the April 3, 2011, World Two-Stroke Championship will be 50, 65 and 85. The 125, 250 and Open classes will have Novice, Intemediate and Expert classes. Vets will be broken down into Over-30, Over-40 and Over-50 (with Novice, Intermediate and Expert classes in all age divisions).
The $4500 Pro class will be a run-what-ya-brung class. Obviously KTM and Husqvarna will be fielding riders in the Pro class, while Doug Dubach plans to represent Yamaha. For more info go to www.glenhelen.com.
MXA INTERVIEW: BROC TICKLE


Broc's consistency has kept him close to the points leader.
Broc Tickle is only three points down on Josh Hansen in the 250F West Coast Supercross Standings. We ran into Broc outdoor testing at Glen Helen, and got a status report.

MXA: What have been the highlights of you season?
Broc: It started out really good. I had two good races in a row. Then we went to LA and I missed the podium by doing something silly. I am just taking everything in and learning every weekend. Definitely, the highlight of my season so far is my win in Oakland. I think I'm doing a pretty good job of being consistent. I'm still in the hunt for the championship. Now, here we are on our seven week break doing some outdoor testing and I'm really working hard, I want to win this thing. I?ve been working hard my whole career and my whole life to do this, and this has been a dream. Hopefully I can just keep doing what I have been doing and capitalize on other people's mistakes and be there at the end.
What did you do that was silly at LA?

I tried to pass Tomac, I did pass him actually. Then I left the door open and he brought me really wide. I went from third to second, and then all the way back to fourth all in one corner on the last lap. I was frustrated after that race. Then we went to Oakland and I won that one. I definitely want to win more. That's why I'm here, and that's why Mitch gave me this opportunity first of all, to win. Hopefully I can keep doing what I'm doing, stay consistent and be on the podium.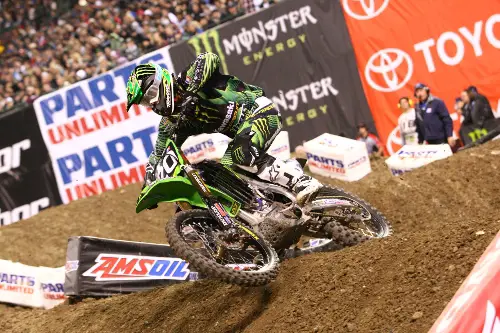 In uniform, it can be tough to tell teammates apart at a glance. Tickle is number 20.

So, the team is out here testing for outdoors and today is Rattray's day. What are you going to focus on, on your day?
I'm just getting back into it. I took last week off, just to kind of get re-grouped and situated, and this week I started back up with training and riding outdoors. It's going good, I'm taking it slow right now on the bike. But off the bike I'm training pretty hard. I'm going to try to get some good training in so I can get in better and better shape and have time to recover before we start racing again.
How different is outdoor motocross and Supercross for you physically? Do you train differently?

Outdoors is just gnarly. It's two long motos, so it's more about endurance and staying steady. Right now I'm doing speed work off the bike, keeping my intensity up. When it comes to outdoors you just want to be strong and be ready at the end of the moto, because that's where it counts.

Broc was happy to land the Pro Circuit ride, and is making the best of it.
What settings on the bike will you focus on tuning?

Just getting my setup for the suspension. It's my first year on the team, so we just kind of got some stuff together and put it on there for now. It's working good as it is, and we still have a lot of testing to do. So, before outdoors we'll have it dialed and we'll be ready for Hangtown when it comes.
How different will your outdoor engine be?

I think the motor might be the same. Gearing might be different. I don't really ask questions, I just get on the bike and ride it. It feels good the way is now, I think it's going to be a great outdoor bike and it is a great indoor bike. It's going to show its true power in outdoors, for sure.
Is there anything else you want to share?
Everybody on the team is so supportive. Everything is here for me, and if I need something they'll get it to me. My job is just to work hard off the bike, be ready for the races and do the best I can.
PHOTO OF THE WEEK (IF THIS WAS 1976)


On March 6, Tony DiStefano (1) won the Daytona Supercross. That was March 6, 1976. We have no idea where Gary Jones (behind the checkered flag) is coming from, but that was the year that he raced his own motorcycle brand. ..not just a as a privateer, but a privateer with his own motorcycle company. His jersey says "Jones-Islo," but the motorcycle would eventually be called an Ammex.

ZERO MOTORCYCLES FOUNDER LEAVING THE ELECTRIC MOTORCYCLE COMPANY



According to the Business Journal, Zero Motorcycle founder Neil Saiki (who started the company under the name Electricross) is leaving the company. Zero says that he plans to enter the Igor I. Sikorski Human Powered Heliocopter Competition. Zero Motorcycles will be a corporate sponsor of Saiki's entry to the competition.
"Founding Zero was exciting, fun and a lot of hard work. At this point, I think it is well established. I'm extremely proud of the team we've assembled to carry Zero into the future. I can now move on to pursuing the dream of building a human powered flying machine," says Saiki.
Saiki's departure from Zero Motorcycles had been rumored earlier. Over the past year, Zero has hired several industry veterans such as offroad racing legend Scot Harden and former Buell engineer Abe Askenazi. www.zeromotorcycles.com.
KAWASAKI HAS A PRETTY GOOD WEEK, TO PUT IT MILDLY
You probably knew about green machines of Ryan Villopoto and Blake Baggett. The Factory Kawaski and Pro Circuit Kawasaki riders each took the "W" in their respective classes at Daytona.  Here what some other guys did with similar KXFs:
PRESS RELEASE: TYLER BOWERS POWERS OUT FIVE IN A ROW


Tyler Bowers.

Babbitt's Monster Energy TiLube Kawasaki's Tyler Bowers continued with his winning ways with his fifth consecutive and seventh total victory of the 2011 AMA Arenacross series at Intrust Bank Arena in Wichita, Kansas. Chad Johnson nearly had the win over his teammate, but finished just behind in second. Gray Davenport led half the race before finishing in fourth. It was a monumental evening for the team as they won every race they lined up for whether it was the heat race, dash for cash, or the main event.
PRESS RELEASE: JUSTIN SOULE AND TAYLOR ROBERT ARE THE BEST IN THE DESERT

Soule and Robert.
Monster Energy Kawasaki's Taylor Robert and Justin Soule teamed up in Laughlin, California to take the win at the Best in the Desert race. They rode with expert skill on the challenging course and crushed the competition. Soule started off the race in the technical loop and Robert would finish it in the second, faster loop. It took a solid team effort, and after almost four hours of grueling desert racing the duo came out on top, winning by more than six minutes. Kawasaki also took the runner-up position with Bobby Garrison and Shane Esposito on their Kawasaki KX450F.
PRESS RELEASE: DESTRY ABBOTT LANDS ANOTHER PODIUM IN EL CENTRO

Destry Abbot has been in the game for a long time and still hauls.

Monster Energy Kawasaki's Destry Abbott headed south to the boarder-town of El Centro, California, where he finished on the podium during the third round of the AMA National Hare & Hound series. Known as one of the fastest courses in the series, the course in El Centro threw various obstacles at the racers, from giant Sahara-like sand dunes to recreational riders. Abbott got off to a good start and maintained a fast pace throughout the myriad of obstacles to finish in third place. Kawasaki's Jacob Argubright and Justin Morrow came in behind Abbott, finishing fourth and fifth, respectively.
WHERE HAS LUDO BEEN? WE TRACK DOWN LUDO BOINNARD


Ludo with his new product line.                          Photos courtesy of Ludo Boinnard

MXA's buddy Ludo Boinnard has been out of the motocross scene ever since selling One Industries and Tag Metals (for a reported $22,000,000). After the last two years Ludo has been sending us emails hinting at his latest project. He hasn't been racing because of a broken collarbone. Hereis Ludo's new project. Ludo has started two companies in the ski industry, SnoFab and Klint skiis.


Klint is the newest all-mountain ski company, rooted in progressive design and independence. Klint has a collection of eight styles of progressive all-mountain skis geared towards the versatile freeskiing experience, from big mountain powder, park shredding and everyday cruising.

Ludo at the Pharoah's Rally.
Ludo has led a varied life, apart from being a successful French Enduro racer, Ludo moved to America and became the Braking importer. He sold that and started One Industries, later adding Tag Metals. He continues to race motocross on his off weekends and is addicted to Rally racing, including the Pharoah's Rally and Paris-Dakar.
HUSQVARNA HIRES SHARON RICHARDS

Husqvarna Motorcycles NA continues its rapid expansion by adding 12-year veteran of  Kawasaki's Team Green Program Sharon Richards to the team. "These dynamic moves reinforce BMW's strong commitment to the Husqvarna brand and strategically position it for success in the highly competitive off-road motorcycle industry," says National Marketing Manager Corey Eastman. "Sharon will be a great addition to the Husqvarna family." In her new role with Husqvarna North America will be Marketing Coordinator, "But she will really be doing everything, from overseeing our amateur race efforts to marketing and communications," said eastman Corey.
Sharon joins National Sales Manager Revelle Harrison (formerly at KTM) and After Sales Manager Andy Jefferson (former AMA Pro racer) to make for an impressive management team at Husqvarna North America." Sharon can be reached at: [email protected]

NEW PRODUCT: LIMITED EDITION FOX RETRO RACEWEAR
Did you like the retro gear that Fox Team riders wore this weekend at the Daytona Supercross? You probably figured it was just one-off stuff that Fox made only for the pros. Not this time! You can purchase the LE Retro Racewear, the same gear sets as worn by Dungey, Barcia, Wharton & Roczen, today.
Visit www.foxhead.com/daytonadealers/ for a stocking dealer list and racewear details.
TEAM SAN MANUEL RACING HAS A NEW WEBSITE & LOGO: WHICH ONE IS IT?
 

Go to www.sanmanuelracing.com to find out. the other logos are an agricultrual company, two-stroke motocross.com, a maintenance company, a german car racing team, a media company and a total sports management company.

NEW PRODUCT: K&N YZ450F AIR FILTER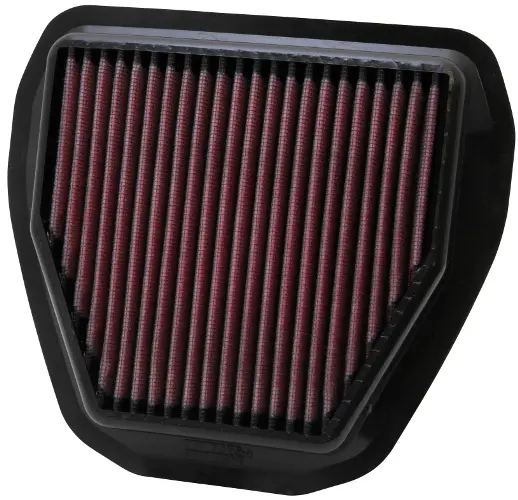 "K&N's new YA-4510 High-Flow Air Filter developed specifically for Yamaha's NEW YZ450F is designed to provide low restriction, resulting in increased throttle-response, horsepower and torque.  The deep 7/8 inch pleated "XD" media provides a large filtration area offering high-flow, long service intervals and excellent filtration.  This filter is designed to slide directly into the OE Air Filter Assembly without any fitting or cutting required.  Being that the K&N has a built-in back-fire screen, you can remove your possibly restrictive stock backfire screen without any worries.  The injection molded Urethane frame offers a pliable sealing bead ensuring a precise, application specific fit and extra long life.  K&N High-Flow Air Filters have been made in the USA for over 40 years."
K&N's Key Features:
Deep 7/8″ pleats provide a large surface area, long service intervals and excellent filtration
Designed to lower air-flow restriction & increase performance
Coated aluminum mesh doubles as built-In back-fire screen
Pliable, durable Urethane application specific sealing bead
No Fuel-Management Modifications necessary
 Washable, Reusable, Pre-Oiled & Ready for installation
Made in the USA for over 40 years
One-Year Limited Warranty
CHRISTINI TO BUILD ITS OWN BIKES & ONE OF THEM IS A 300cc TWO-STROKE


Christini's unique and proven two-wheel-drive system.

Christini plans to build its own all-wheel-drive motorcycles (and not use Japanese bikes as donors for frames or engines): a $895 450 model and a $8995 300cc two-stroke featuring a Gas Gas 300 engine. The new Christini AWD models are priced and configured to compete in the market head-to-head with products offered by the major Honda, Yamaha, Suzuki, Kawasaki and KTM. Each unit will be assembled in Philadelphia facility with frames and AWD drive system components designed by Christini and supplied by established industry manufacturers.

Steve Christini.
Steve Christini said, "We have been planning the launch of our own branded AWD factory models for years and believe the new price points will provide the opportunity for every motorcycle enthusiast to experience the quality and improved benefit of AWD." Previously, Christini has sold custom all-wheel-drive models using modified Honda and KTM factory frames. Individuals interested in reserving one of the limited 2012 launch year models should contact the company at (215) 351-9895.


Christini 300 two-stroke AWD.
The 450 will have a twin-spar aluminum frame, five-speed transmission, electric and kick start, and is based on the 2008 Honda CRF450X. In fact, the bolt patterns on the chassis, engine and components are carbon copies of the CRF-X. As for the 300, it has a Gas Gas engine, hydraulic clutch, PDS rear shock, steel frame, five-speed tranny, and 2.8 gallon gas tank.

INDIANAPOLIS SUPERCROSS INFO
Supercross heads to Indianapolis, Indiana, on Saturday, March 12, 2011. The doors open for practice and qualifying at 12:30PM and the main event starts at 7:00PM. The Lucas Oil Stadium is a 63,000-seat, retractable roof, multi-purpose facility. Home to the Colts, the stadium is configured for Football, making the track a rectangular layout. Visit www.supercrossonline.com/Tracks.aspx for a fancy track map.

Ticket Prices are:
VIP Experience – $75 (Includes one ticket to the event and a private autograph session with the top riders from 3:00PM to 4:00PM the day of the show.)
Club – $45
Gold Circle – $35
Mid-Level – $25
Treadhead – $10
(All tickets $5 more day of show. All tickets subject to a $2 Facility Fee.)

Get Tickets at the Lucas Oil Stadium Box Office, all Ticketmaster Outlets, online at www.ticketmaster.com, or charge by phone at (800) 745-3000.
For more info about the Lucas Oil Stadium, visit www.lucasoilstadium.com
DO DIRT BIKES CAUSE TOO MUCH DAMAGE TO STADIUMS?

You have heard about, and likely been affected by plenty of battles concerning designated wilderness areas, and motocross tracks (private and commercial) that have struggled with encroaching houses and environmental concerns. There is also opposition to some stadium events, which recently came to light when a small wave of negative comments followed the new Supercross Venue in Los Angeles. Some complaints focused on cost, some on destruction of the field, and some people were just plain offended at the desecration of sacred baseball ground. These issues aren't isolated to US stadium events or even our hemisphere, as this story from www.abc.net.au/sport shows. If you didn't know about all the other profitable Monster Truck and Supercross events, you might think that future Supercross tracks will consist of freestyle ramps.

MANAGEMENT SAYS AUSTRALIAN STADIUM WON'T BE DAMAGED BY MOTOCROSS EVENT
The chief executive officer of Hunter Venues says he is confident the turf at EnergyAustralia Stadium will not be affected by an extreme motocross event being held there this weekend. New turf had to be laid in November last year at a cost of $1 million after a motorcross event ripped up the playing surface. Two Newcastle Jets games had to be relocated as a result of the damage.

Mark Zundans from Hunter Venues says the event on March 12, which is three weeks before the Knights' first home game, is completely different to last year's event. "It's a very different type of event," he said. "This event bases itself on pre-fabricated ramps and scaffolding structures and matting, rather than tons of dirt being placed on boards on the surface, so we are very comfortable with the process and we have been liaising with the production crew a lot more so we are entirely aware of what's going to happen and we have a turf protection policy in place."

Mr Zundans says there is a clause in the contract with the company holding the event ensuring it pays for any damage to the turf. "This is a show that has a proven track record at several venues," he said. "Of course we are going to make sure that everything is done to mitigate any risk that is associated with bumping the event in and obviously out. "Also, there are strong enough clauses within the agreement for any damages that are caused."
NEW PRODUCT: FLY PIVOTAL ROOST GUARD

PRESS RELEASE: EXPECT MORE FMF SWAG
La Jolla Group ("LJG"), the world's premier multi-brand apparel licensing company, today announced a global license agreement with renowned motorcycle and exhaust manufacturer, FMF Racing.  As part of the agreement, LJG will oversee the expansion of an FMF apparel collection focused on core and specialty action sports and moto distribution, and extending the current line of men's and women's apparel including t-shirts, sweatshirts, riding jackets, hats and other accessories.  LJG will also support and expand FMF's athlete roster, currently anchored by some of the world's best athletes in Supercross, Motocross, Off-road, Freestyle MX, and Road Racing.
For more info vist www.lajollagroup.com, or www.fmfracing.com
RACE ON THE BEACH: HAVASU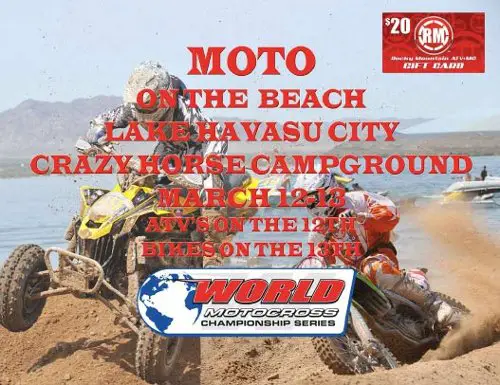 For more info visit www.worcsracing.com