MOTOCROSS ACTION'S MID-WEEK REPORT: (03/16/12)

By John Minert

MXA MINIVIEW: KYLE CUNNINGHAM


Kyle.


Before the 250F East Coast Series began, we predicted that Star/Valli/Rockstar Yamaha rider Kyle Cunningham would be in contention for race wins and the championship, but injury has reared it's ugly head. We caught Kyle after his afternoon workout (which was after physical therapy) to find out exactly which pieces of the puzzle has and which ones he's putting together.

MXA: Can you give us any pro tips on good exercises for motocross racers?
Kyle: I guess I really just do whatever my trainer, Mark says. We do a lot of high-heart rate cardio, depending on the time of the year. Other times we might do some heavy lifting, trying to put some weight on, but right now it's about maintaining where we are at.

You started the East Coast Series with a poor finish in Texas, what happened?
We had some struggles in practice when we changed the bike setup a bit and got off the path. For the night show we went back to where I had been on previous practice days and the bike felt good. I rode a smooth consistent heat race to put myself in the main with a good gate pick. I went into the first corner in about sixth I think and I got together with Bagget a little bit and it locked my front brake up when I hit him. It sent me over the bars. I went from doing about twenty-five miles an hour into the first corners to zero and on being on my head. Not the greatest way to start. We wanted to get out of there with some solid points, be in the hunt, and be healthy. I guess I got lucky in the big picture because my head was fine, my Scott helmet did it's job. But, I hurt my wrist and I've been trying to work through that the last couple weeks.

What happened in the next two races in Georgia and Missouri?
Atlanta went alright. We ended up seventh and we had a crash in the main. I had a decent, mid-pack start. I was pretty bummed on the result, it could have been better, but on the previous Monday, my doctor and I didn't know if I would be able to race the following weekend. I spent three days in the doctor's office that week doing therapy for two hours each day, trying to get enough movement in it to race. I got out to the test track that Thursday and spent about five minutes doing starts and then loaded my gear back up and head to Atlanta for the weekend. So considering everything, it wasn't a bad result.
It was kind of the same thing last weekend. My wrist still hurt a lot, but we pushed through it. We got a bad start in the heat and had to play catch up to put it in the main. Then, I had a really terrible start in the main, I think there was only one or two people behind me going into the first corner. I rode hard for fifteen laps and made some passes on some good people and finished eighth. Even though the result wasn't better, I felt like I rode a lot better than I did at Atlanta.

What's the routine now?
I did a little bit of start testing yesterday out at the test track and worked with the bike a little bit trying to figure out what we can do to get me out of the gate. I went back to Doctor P's today [Tuesday] and I'll be back tomorrow as well. Right now we're trying to train and I haven't been able to ride as much. It's a bummer to spend four months preparing for the East Coast, staying healthy and then end up getting hurt at the first round. Right now it's about trying to keep the wrist good and make the races on the weekends. That's the most important thing for me. I'm able to ride a little bit more during the week with each passing race.

"This weekend the plan is show up and get out of the gate well and if I do that, I think I'll be able to show what I can really do."
Daytona has the reputation for always being the gnarliest track, is the wrist going to be ready for this weekend?
I think so. People have asked me if I'm in survival mode or if I'm trying to salvage points or whatever. But if I wasn't healthy enough to be out there, do my job and finish where I want to finish, I wouldn't race. I've gone to every race with my expectations high, wanting to be on the podium and win races. That's what I'm going to keep fighting for whether my wrist is hurt or not. If it wasn't for Doctor P and Jeff Brewer at Allsport Dynamics getting me a wrist brace, I wouldn't have been out there at Atlanta and who knows about St. Louis. I have to really thank those to people for helping get back out there.

You have been a YZ250F guy for a while, how does your current bike compare to previous years?
That's the biggest thing right now, the bike. My bike was awesome last year, and Brad [Hoffman, the Engine Technician], Cosworth and the Pro Circuit pipes we have this year… everyone has really stepped up to make it even better. We're still with Enzo Suspension this year and we have some new components there. We were wondering about fuel injection coming into this model, but for me, the bike is so good why even worry about fuel injection or anything like that. They've done a good job on development I think it showed last year with guys like Sipes, Swanie and me. We have put a lot work into it, and it's one of the best Lites bikes on the track. We just have to get out there and get some starts. Hopefully the changes we made this week will show this weekend at Daytona.

How has the Valli and Star team partnership worked out this year?
With all the guys on the team now, it's a huge thing. There's a lot of input from everyone and they are working hard to make it a good program. I feel like it was already good and they are doing a great job to make it better. I already got to work with Chad Lanza in 2010 when I rode for Valli Motorsports and I had my relationship with Bobby Regan from last year so it's cool to get to work with two team owners who aren't only team owners, but who are friends. It's like a big family-program. I got to keep my same mechanic Andy. We just need to keep being out there and fighting for good results, and keep doing what we need to do.
During the outdoors last year, what really helped was when I started to get good starts and put myself out front early and put myself in contention. This weekend the plan is show up and get out of the gate well…if I do that, I think I'll be able to show what I can really do.
BEN LAMAY'S CHECKS IN TO TELL EVERYBODY ABOUT HIS CONDITION AFTER HIS ST. LOUIS CRASH
"Hey guys, just wanted to give everyone an update on me. I went to the doctors today and got checked out, looks like from that crash I have a concussion and a small fracture in my hand. The actual waiting time is still unknown but I'm hoping to be back for Toronto or Houston. I want to be ready when I come back, so I'm not gonna rush it… I just wanna say thank you to Bell helmets for the awesome safety and support."

NOTICE TO REM GLEN HELEN RACERS! COME IN THE LEFT SIDE OF THE GLEN HELEN FRONT GATE THIS SATURDAY, MARCH 10


Glen Helen will be a busy place on Saturday, March 10?with an REM motocross, Yamaha Quad Series and Lucas Oil Regional Offroad event all on the same day. The circumstances at the front gate mean that REM racers will get the fast lane by coming down the left side.

The Yamaha Quad Series will be on the front track on Saturday and Sunday, March 10-11, and the Lucas Oil Regional Offroad Truck Series will be on the offroad truck track on Saturday also.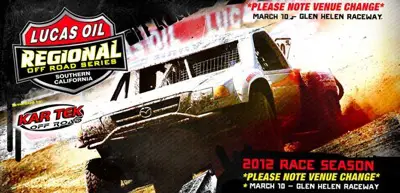 To make things go smoother, the REM Motocross racers should plan to enter the track on the left (exit) side of the Glen Helen front gate. For more info go to www.glenhelen.com
MXA MINIVIEW: KURT ROOD


Kurt is the MX Racing Coordinator of the Factory Kawasaki race team. He oversees the race team's testing and testing reports, keeps the teams parts inventory up, and helps out at the races. Ryan Villopoto is looking mighty comfortable on his KX450F this season and Jake Weimer has been mixing it up with the top guys in his first real 450 Supercross season, and we thought Kurt would have special insight the development of their factory rides and how the team helped get their riders to where they are this season.

MXA: How does testing with Ryan and Jake work pre-season versus mid-season?
Kurt: If we have an issue, we have them come out here to test, or we may go to Florida. Closer to the Easter break we start getting down to outdoor testing with them. We try to weed out as much as we can with our R&D test rider beforehand, try to get a decent base and then have them come out and fine tune it from that point. We are starting to do our outdoor testing now. We start by using R&D's test rider, Travis Murphy, to get an early start on all that stuff.
We always have new stuff that we want to try out mid-season and that's why we utilize Travis. We can try new stuff and get a direction without going straight to Ryan and Jake and wasting their time with something they may not be interested in testing. Right now Ryan is in contention for the Supercross title and Jake is focused as well. If we can get get a head start it will put us in a better place for outdoors because there isn't not a lot of time after Supercross before the first race.

Weimer demonstrates the proper 'look ahead of the turn' technique.
We have heard that you guys have been focusing a lot on lightweight components recently, do you have any new featherweight parts?
We're always trying to lighten the bike. Right now we've got a lot of new little fasteners that we have made out of either aluminum or titanium. And there's some carbon fiber items. We're always trying to whittle always at things, but we've gotten to a point where there isn't much left to whittle away at. I would guess that about seventy-five or eighty percent of it is made in-house here. It's really nice to have a great machinist and a CNC machine to do everything right here. If you present him with an idea he can have it to you in a week or maybe sooner, depending on how detailed it is.

Aside from basic settings, how similar are Jake and Ryan's bikes?
They're pretty close. Their engine setups are almost the same. As far as suspension, maybe just a few clicker positions, but not a huge difference. When we had James Stewart and Tim Ferry, they had very different riding styles and they would set their bikes up quite a bit different, with suspension, triple clamp offset and all that kind of stuff. Jake and Ryan are pretty similar even though Ryan tends to steer more with the rear of the bike, similar setups.

Kawasaki's testing system must be good, because this guy look very comfortable on his bike.
What do you think is the main reason why Villopoto is on top of the points right now?
I think it's his fitness and his confidence. I think that when he overcame a lot of adversity to win the championship last year it was a big learning experience for him. He's got so much confidence and knowledge now that he's in a much better place. We have a better bike than last year and has it working really well. I think that for him, the whole package has come together. You can't really pinpoint one thing but there's a combination of things working in his favor right now.
NMA WORLD MINI GRAND PRIX ONLINE ENTRY DEADLINE IS MONDAY, MARCH 12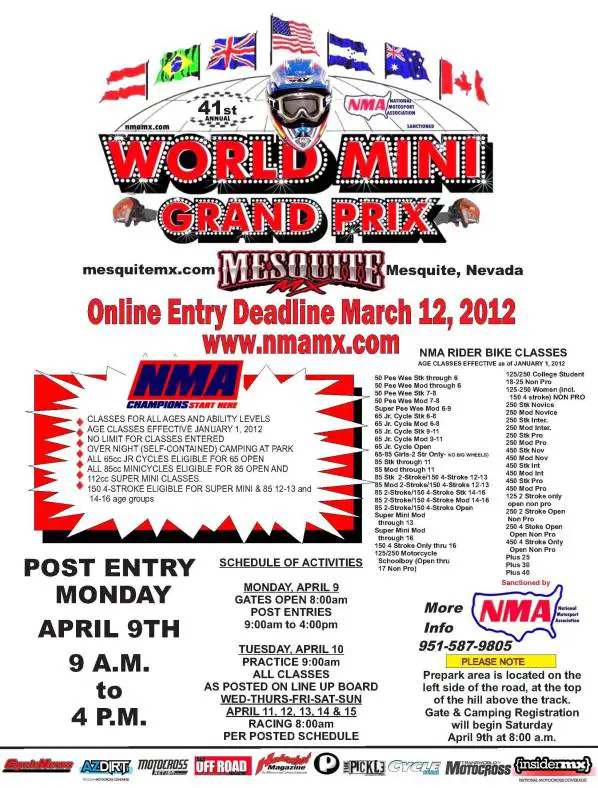 For more info go to www.nmamx.com

JAMES STEWART GETS A TERRIBLE START, HITS JOSH HANSEN'S REAR WHEEL, FALLS DOWN AND THEN FIGHTS HIS WAY BACK UP TO DAVI & SHAKES K-DUB'S HAND

HART & "HUNTING" FOR A NEW RIDER


Three of these four bikes are sidelined for the time being. Photo: Dodge SRX

Carey Hart's Dodge team is down to one rider after Kyle Partridge was injured in St. Louis. Partridge suffered a severely lacerated sole of his foot and a broken neck. Previously the H&H team lost Ivan Tedesco and Josh Hill to injuries. That leaves the four-man Dodge-sponsored team down to Josh Hansen.
Finding a fill-in rider at this point in the season is difficult. First, H&H can't get any rider who has an existing deal (unless that rider's sponsors agree to release him). Plus, H&H needs a Kawasaki rider. When you look at the top 15 riders…all have deals. And, H&H's injured riders are doing better than most of the riders outside of the top 20. Partridge is 17th and Tedesco, who only raced three events, is 20th. Josh Hansen currently sits in 11th overall in points (after a disastrous St. Louis race where he was 20th).
In most cases, although we are not privy to H&H's Dodge contract, you have to field a team to get paid…and there is often a minimum number of riders that have to be on the track or you start losing sponsorship dollars?which is why fill-in riders are more common than they were back in the old days.
MARK BORZAK'S BROC HEPLER DRAWING


MXA gets a wide selection of drawings, paintings and art work about motocross, but one of favorite artists is Mark Borzak. Here is his latest work?a tribute to Broc Hepler.
HONDA'S 2012 TRACKSIDE SUPPORT PROGRAM: SINCE MORE VETS BUY HONDA'S THAN KIDS WOULDN'T THE "WORLD VET CHAMPIONSHIP" MAKE MORE SENSE?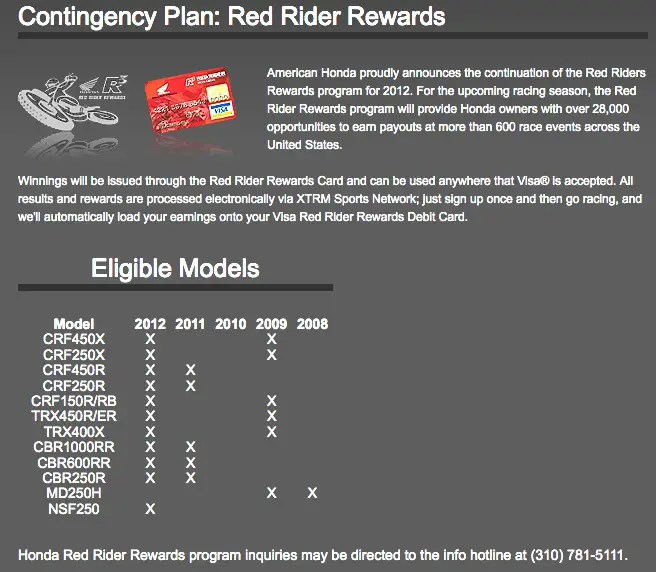 American Honda proudly announces its Amateur Trackside Motocross support program for the 2012 season. This year's program will provide support to all Honda racers at the following events:
1. Daytona Amateur Supercross
2. World Mini Grand Prix
3. Hangtown Amateur Motocross
4. Loretta Lynn's Amateur Motocross Championships
5. Branson Motocross
6. Mini Olympics
"We are really excited to once again provide national-caliber technical support to Honda amateur racers regardless of their racing classification or age," said Ray Conway, Honda Race Director, Motorcycle Sports. "With a mix of National Championship races and regional events scheduled, we can provide assistance to Honda riders who wouldn't otherwise get such assistance." This trackside support program follows the announcement of Honda's 2012 Red Riders Reward program, where Honda owners have more than 28,000 opportunities to earn payouts at more than 600 race events across the United States. For program details and a list of all eligible units, visit www.HondaRedRiders.com.
2012 HONDA MOTOCROSS CONTINGENCY PROGRAM FOR 2011-2012 CRFS

Honda has announced its contingency program for 2012. It includes AMA Supercross, AMA National, WMX Nationals, Major Amateur Nationals and a wide variety of local series.
Eligible motorcycles are 2011-2012 CRF450 and CRF250 (and 2012-only CRF150s). You must be the registered owner of the CRF. There must be a six-inch Honda logo on each side of the front fender. The bikes must be standard Honda colors. Competitors must enroll in the Red Riders Reward Program (and file an IRS W-9 form). Contingency will be paid in the form of a Red Rider Rewards Debit Card (which can be used where VISA is accepted). Factory and support team riders are not eligible for this contingency program?they typically sign contracts with $100,000 win bonuses and $1,000,000 championships bonuses.
450 SUPERCROSS / 450 NATIONAL PAYOUTS
1. $10,000
2. $5000
3. $4000
4. $2000
5. $1000
6. $900
7. $800
8. $750
9. $700
10. $650
250 SUPERCROSS / 250 NATIONAL PAYOUTS
1. $10,000
2. $4000
3. $2000
4. $1000
5. $900
6. $800
7. $750
8. $700
9. $650
10. $600
WMX WOMEN'S NATIONALS PAYOUTS
1. $2000
2. $750
3. $500
4. $250
5. $100
NMA WORLD MINI GP / NMA GRAND NATIONAL CHAMPIONSHIP / MINI O's /GNC FINAL /THOR SPRING CLASSIC PAYOUTS
1. $400
2. $300
3. $200
LORETTA LYNN AMA AMATEUR NATIONALS PAYOUTS
1. $1000
2. $500
3. $300
4. $200
5. $100
All of the contingency paying races are listed on the www.Hondaredriders.com website. To find out more (or enroll) go to www.xtrm.com/contingency/honda/index.asp
LUCAS OIL RE-UPS FOR THE AMA 250/450 NATIONAL MOTOCROSS CHAMPIONSHIPS


Lucas Oil will continue to be the sponsor of the AMA 250/450 National Motocross Championships?after signing a multi-year deal. Thanks to television broadcasts produced by Lucas Oil's production arm, the 2012 season will have over 58 hours of original race programming airing across NBC and NBC Sports Network, including 10 hours of live racing.
Coinciding with Lucas Oil's multi-year extension, Alli Sports and MX Sports are presenting a larger series rebranding effort, which includes new and updated series logos, and overall look. The new initiative will be seen throughout the entire season ? at the races, on the web, and on-air.
CITY OF LAKE ELSINORE SUED FOR $4,000,000 OVER LAKE ELSINORE MOTOCROSS PARK


This lawsuit has nothing to do with the current operators of the Lake Elsinore track.
According to The North County Times: A husband and wife who formerly operated a popular motocross park in Lake Elsinore have sued the city, alleging officials treated them unfairly and hindered them from selling their business. Randy Jay Hiner and Brandi Tara Hiner filed a complaint last week in Riverside Superior Court accusing Lake Elsinore officials of depriving them of their rights to due process under state law and federal law, and of intentionally interfering with an economic advantage.
City authorities were involved in a decade-long dispute with the Hiners over their permit to operate the track they opened in 1998 and the extensive requirements that accompanied the permit. Planning officials contended that the Hiners never got into compliance, despite repeated requests. The operators asserted that the city kept changing the rules?especially on the issue of whether their permit had a time limit and automatically expired.
As is legally required, the Hiners filed the lawsuit after the city rejected a claim they had submitted for damages. Their claim asked more than $4 million, which is what Hiner said he lost as a result of trying to meet permit requirements and losing the business deal. Read more: www.nctimes.com/news/local/lake-elsinore/lake-elsinore-ex-motocross-operators-sue-city/article_df32cda9-6c97-5519-8866-485982c0dc06.html#ixzz1oHXsy6Y8
MXA'S WORLD TWO-STROKE CHAMPIONSHIP ARMADA GEARING UP FOR APRIL 1 RACE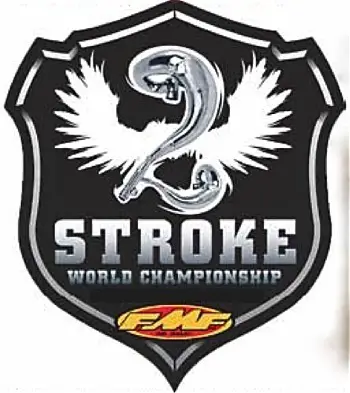 The MXA wrecking crew is preparing for the April 1 MTA World Two-Stroke Championship at Glen Helen. The race takes place on an off-weekend from the AMA Supercross series. The main events are on Sunday, but there is a special two-stroke practice on Saturday from 8:00 a.m. to 2:00 p.m. There is no membership required and the Pro purse is $4500 for the run-what-ya-brung Pro class (Ryan Hughes almost won it last year on a YZ144). The event is sponsored by MTA, FMF and L.A. Sleeve. In other big news?Glen Helen will build a totally new track for the World Two-Stroke race. Here is a quick look at the 7 bikes that the MXA gang will be racing. For more info go to www.glenhelen.com


2012 Yamaha YZ125.


2012 Husqvarna CR125.


2012 KTM 125SX.


2012 KTM 150SX.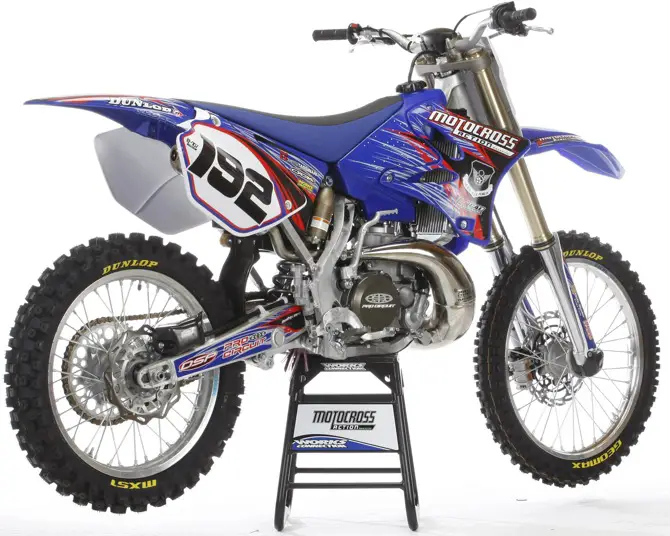 2012 Yamaha YZ250.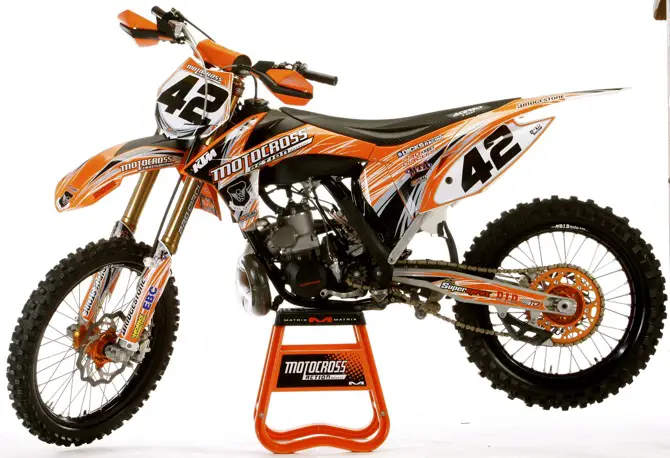 2012 KTM 250SX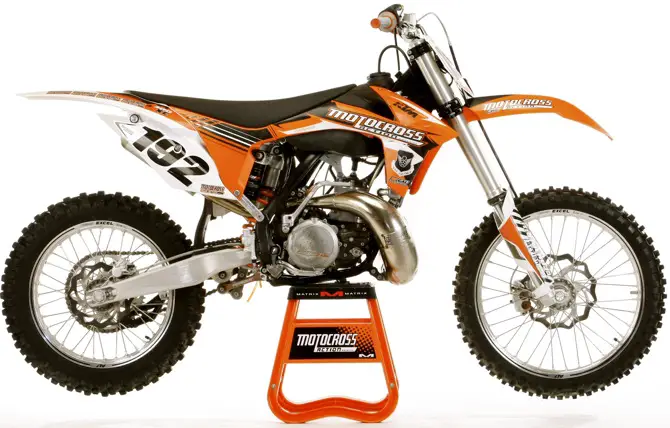 2012 KTM 300XC.
DAYTONA IS LIVE ON SPEED ON SATURDAY AT 7:30 (IF YOU LIVE IN BEVERLY HILLS ADJACENT): THE REST OF YOU WILL HAVE TO DO THE MATH



Here is a list of things that the management of your couch won't ban?but Daytona Motor Speedway will.
1. Firearms, fireworks and items restricted by Local, State and Federal laws.
2. Hard sided coolers, thermos, freezer/ice packets and insulated cups of any size.
3. No strollers
4. No glass containers
5. No umbrellas
6. No skateboards
7. No pets (trained assistance animals for disabled guests are welcome).
Just in case, your household management wants to put restriction on your TV watching, here is a quick video from Joie Chitwood III to explain what Daytona will allow?hopefully, your management team will be more flexible.
GUESS WHO RAN INTO WHO IN ST.LOUIS?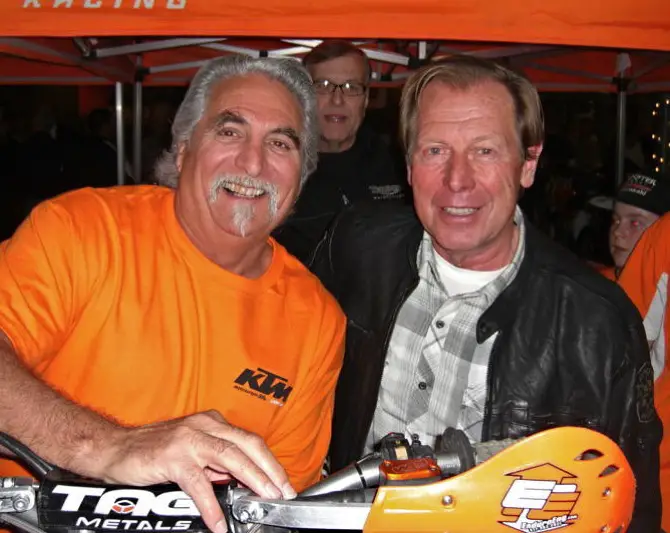 The answer? Partly and The Man. Bad Brad and Rog. Hard to believe it was 31 years ago that these two last raced each other. Craig Mueller shot the photo of Brad Lackey and Roger DeCoster at the St.Louis pre-race party.
HOW ELI TOMAC SETS HIS GEICO HONDA SET UP FOR THE AMA SUPERCROSS SERIES

FIRST SHOTS FIRED IN SCOTTISH CIVIL WAR: SUDDENLY, PEOPLE WANT TO RACE IN SCOTLAND


Scotland has a very active motocross community and has produced some of the very best UK racers, not the least of which is Dean Wilson, but for 2012, Scottish motocross split into two sanctioning bodies?the SACU and the SMXF. The SMXF (Scottish Motocross Federation) is the breakaway group that reportedly got the support of many Scottish ACU supporters and six Scottish motocross clubs. The SMXF and the SACU (affiliated with the British ACU) will hold separate National Championships.
The first to hold a round was the SACU when they attracted some British National Championship contenders to Commerton Farm near St Andrews. The SMXF will hold their first round on March 18 in Tain.
RESULTS: ROUND ONE OF SACU CHAMPIONSHIP
450 class
1. Matiss Karro…KTM)
2. Ross Rutherford…Hon
3. Jamie Law…KTM
4. Daniel Hutchinson…KTM
5. Gavin Robertson…KTM
250 class
1. Mel Pocock…Yam
2. Stuart Edmonds…Suz
3. Bradley Pocock…Hon
4. Michael McCammond…Hon
5. Fraser Wakeford….Yam
OLDIE BUT A GOODIE! ROY HOLT PUTS HIMSELF ON THE MAP AT ROARING KNOB
Okay, we admit that Pennsylvania's Roy Holt didn't put himself or Roaring Knob on the map, but for this one instant in 2009 the Monroeville, Pennsylvania, rider and Markleysburg, Pennsvlvania, track shined.

MXA PRODUCT SPOTLIGHT: MOTION PRO MAGNETIC PARTS TRAY


This large, all-purpose, magnetic tray is ideal for keeping track of loose fasteners and other small parts. It holds nuts and bolts, but can also be attached to any metal surface (like the side of your toolbox for later use). It measures 9.5 x 5.5 inches and is 1-inch deep. The retail price is $17.99. For more info go to www.motionpro.com
CALVMX VINTAGE RACE AT MILESTONE RACEWAY THIS SUNDAY, MAY 6



CalVMX will be at Milestone Raceway this Sunday, March 6. There will be classes for all bikes from Vintage to Modern are available. Also, open to all riders is a Special XR75/80 class(aka "XR Challenge"). Gates open at 6:30am with free coffee and Treats in the morning and Lunch at noon. Come see why CalVMX is Southern California's largest and best Vintage and Post-Vintage MX Club. This will be a CalVMX and AHRMA Southwest points race?and you don't have to be a member to race. Visit www.calvmx.net for detail.
DUBYA TO SPONSOR SUZUKI AMATEUR TEAM IN 2012

Dubya USA has partnered with the 2012 Suzuki amateur program to provide wheel and sprocket components for the 2012 motocross season. "Supporting amateur motocross is very important to us at Dubya," said Dubya founder Kristin White Anderson. "We see it as a way for us to give back to the community that supports us." For more information about Dubya USA and its products, visit their website at www.dubyausa.com.

NEW PRODUCT: RUSH DOUBLE JOINTED RAMPS
Rush Packable Ramps fold in half like so many other ramps on the market, but then they do something unique. It appears that the ladder rungs have hinges on each side that allow the ramp to collapse and occupy even less volume. Designed for ATVs and UTVs, the ramps are wide and rated for a ton of weight (literally). The bad news is that since they were designed for ATVs and UTVs they are currently only sold in pairs (for $350). You can go in for halves with a buddy, or call/email and complain like we did, here's the info: (800) 345-6007, Email: [email protected], Website: www.rushramps.com



NEW VIRGINIA LAW AGAINST MOTORCYCLE DISCRIMINATION


AMA Press Release: In a victory for motorcyclists, Virginia is the latest state to bar motorcycle-only checkpoints, the American Motorcyclist Association (AMA) reports. On Feb. 28, Virginia Gov. Bob McDonnell signed into law H.B. 187, which was introduced by Delegate C. Todd Gilbert (R-Shenandoah). The new law, which takes effect July 1, prohibits law enforcement agencies from establishing checkpoints where the only vehicles subject to inspection are motorcycles.
The measure was introduced after the Arlington County Police Department set up a motorcycle-only checkpoint during the Rolling Thunder ride on May 28, 2011, that brings awareness to prisoner of war/missing in action (POW/MIA) issues. Similar laws have been enacted in New Hampshire and North Carolina. "Officials say they set up these motorcycle-only checkpoints to pull over motorcyclists to check for safety violations," said Rick Podliska, a Virginia resident and AMA deputy director of government relations. "But if officials are really concerned about motorcyclists' safety, then they need to stop discriminating against us with these checkpoints and start supporting programs that prevent motorcycle crashes, such as rider safety training and driver awareness programs." The AMA opposes motorcycle-only checkpoints and has been tracking the discriminatory practice since it first appeared in New York several years ago.

GO PRO'S ST. LOUIS VIDEO: THE FANCY VERSION
Every week, Go Pro quickly releases individual rider and race highlights after the Supercross event, but it takes them a few days to edit and release the more creative and fancier version. Here is the St. Louis video.