MOTOCROSS ACTION'S MID-WEEK REPORT (03/30/11)

By John Basher  
PHOTO OF THE WEEK
    I thought that it was going to be a challenge picking the photo of the week. It was, until James Stewart decided to impersonate a police officer and pull over three off-duty cops. Oops. Bubba was booked, had his mug shot taken, and made big news. It's a big no-no to impersonate a police officer and ranks as a felony. Above is his police photo.
    What does this all mean for Stewart? Jail time? Community service? A depleting fan base? Lost sponsorships? The jury is out…but everyone can agree that it was a dumb idea for James to impersonate a police officer.
TWEET OF THE WEEK



    Say it ain't so, Dean Wilson…he was actually just complaining about flight delays.
WEIGHING IN ON THE SUPERCROSS SERIES


In the course of three weeks Ryan Villopoto has gone from a 26 point lead to down by three points. The end of March has not been kind to RV2.
    Two weeks ago I wrote about how Ryan Villopoto was in control of his own destiny for the 2011 Monster Energy AMA Supercross title. I also talked about how he could basically finish second at every remaining round and still take the championship. In fact RV did control his own destiny, but thankfully, forthe sake of the Supercross series (and for the fans and media), Villopoto has tanked the last two races. It's crazy how quickly the shape of the series has changed in two races. RV has gone from a 26 point lead over James Stewart to a three-point deficit over Chad Reed. Say what?!

If I told you after Phoenix that Chad Reed would be leading the points chase after round 12 would you have believed me? Reed has done a tremendous job with his own team.
    Not only that, but perhaps the most unlikely rider of "The Big Five," Chad Reed leads the series with five rounds to go. Mr. Privateer has used consistency to chip away at the lead. Reed has maintained consistency all season long, but at the beginning of the year he was typically a fifth place guy. However, after his San Diego win the two-time champ found his stride. Since round seven Chad has finished on the podium every weekend.

The defending champ is back! Will he win again and tighten up the points gap?
    Hypothetically, if the first six rounds were erased and the series started at San Diego then the points leader would be…Ryan Dungey! The defending champion would hold a 18-point lead over Chad Reed, and a huge 48 point lead over Ryan Villopoto. However, that isn't the case. Even with Dungey's DNF at Anaheim 2 he is only eight points out behind Reed.

When he's not on the ground or impersonating a police officer James Stewart is pretty dang good on a bike. He has been his own worst enemy.
    And what about James Stewart? According to the vague press releases from the team James is ready to fight for the title and won't quit. That's great. I feel bad for his body, because it has been bent up worse than a pretzel. As for his run-in with Ryan Villopoto at Toronto, it looked like a racing accident to me. Then again, Stewart has a lot of "racing accidents." I wonder what the press release is going to say about Stewart's arrest in impersonating a police officer…I wonder if there is going to be a press release!

With five rounds to go, Trey Canard still has a chance at the title. Very cool.
    Who is going to win the 2011 Supercross title? Your guess is as good as mine. Reed has consistency, Dungey has better consistency, Villopoto has speed (and the most wins), Stewart is the fastest (but most wreckless), and Trey Canard has a shot if he keeps winning. What I do know is that this Supercross series has been the most exciting that I've ever seen. With five rounds left the top five contenders are within striking distance.
Average points per round for each rider:
Chad Reed – 19.67
Ryan Villopoto – 19.42
Ryan Dungey – 19.00
James Stewart – 18.00
Trey Canard – 17.83
Andrew Short – 13.25
Justin Brayton – 11.42
Kevin Windham – 11.17
Davi Millsaps – 10.67
Nick Wey – 9.08
MINI-VIEW: NICK WEY

MXA: Do you follow Internet message boards?
Nick: I don't pay attention to what has been written on message boards. Maybe I would if there was someone talking about me, but I'm not doing anything that people would talk about me. I try to be respectful and I'm a determined racer, so I don't understand why people would write negative things about me.
How do you find motivation to still go out and practice so frequently for the races?
I try to stick to things that I know are making me better. I make goals for each day so that I can improve my riding. When I go to the track I have someone with a stopwatch monitoring my times so that I don't get lazy. I don't race simply to race. I race because I want to be successful. That drive keeps me motivated. I'm a competitor.
Is it a challenge to adapt to a new motorcycle?
As far as just getting on another bike and riding it there's no big issue. However, once you take that bike and race it at a top level it's a whole different deal. In a race I'm at the maximum of my comfort level, so being familiar with the bike is a huge deal. Switching bike manufacturers every year is not ideal for me, but change is going to happen. Moving to the Valli Motorsports team this year was a great choice, and I'm learning more about the Yamaha YZ450F every weekend.
You're a pretty funny guy. How would you describe your personality?
I'm outgoing and I like to have a good time at the races. I'm always excited to come back to the races and give it my best, which is why I'm usually a happy guy. I like to joke around and keep things lighthearted. I'm also competitive.
50 WORD ARENACROSS SERIES UPDATE
    With three rounds to go in the series, Tyler Bowers has been kicking the absolute tar out of his competition. He had an eight-race win streak until Kelly Smith (remember him?) won this past weekend. Bowers leads Jeff Gibson by 38 points. Bowers will probably again win the title.

50 WORD GNCC SERIES UPDATE
    With three rounds in the books, Suzuki's Josh Strang is finding his winning form. He won this past weekend and has a three-point advantage over KTM's Charlie Mullins. Yamaha's Paul Whibley sits third. If you think GNCC racing is simple, think again. Three hours of racing ain't easy!
TWO QUESTIONS WITH DAVI MILLSAPS



MXA: Why did you decide to sign with the JGR team?
Davi: They're a great team and are extremely willing to help me. I really get along well with the team, and I absolutely love the Yamaha YZ450F. It was a good move for my career. We're working very hard to get everything aligned so that I can return to winning form.
You're a big guy. Is your height an advantage or disadvantage?
It's a disadvantage. My legs are always getting caught in ruts, and when that happens I almost get ripped off the back of the bike. My long legs are good for the whoops, but pretty much everywhere else they cause problems.
THOUGHTS ON WINNING, BY RICKY JOHNSON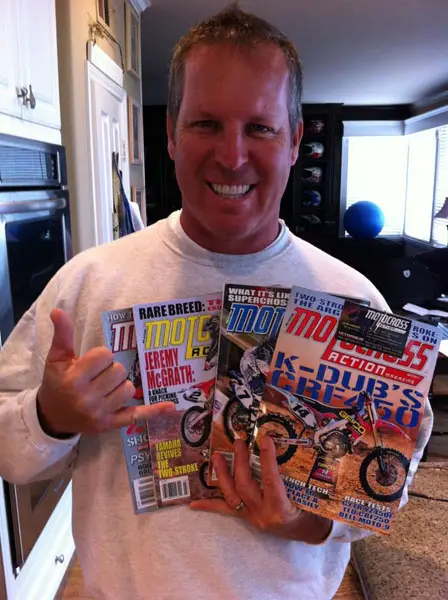 Yeah, RJ is a fan of MXA. Sweet!
    "Once someone gets a taste of winning, even if it's from luck, they get a wave of confidence. Take a look at John Dowd and Doug Henry. They were two average guys that were good in the sand. Then there was a fluke storm at Hangtown one year and they both won. A lot of guys didn't even survive. After that both of those guys started going fast, because they believed that they could win. Doug Henry went on to win National Championships, and so did John Dowd. Heck, Dowd was old! He should have been retiring at his age, but instead he went faster. When you win, regardless of how the win came, it changes who you are by making you a more confident person. Now it's not just a vision, but instead an attainable goal." 
VIDEOS:
    Check out these two videos from Ride Engineering. Very cool stuff.

 

 
COOL OPPORTUNITY: PROFESSIONAL FLAGGER!
    Have you seen this on our website? If you're interested in being a flagger at the Glen Helen USGP, check this out:
    The 250/450  World Motocross Championships are coming to Glen Helen Raceway on May 14-15. REM's Frank Thomason is in charge of finding qualified and serious flaggers for the two-day Grand Prix.
    The USGP will need 75 corner workers (flagmen) to staff the race on both days. This job does not pay, but you will have a good time, get closer to the race than anyone there and perhaps help keep a rider safe from injury. It is a chance to be part of American motocross history.
    Thomason hopes that the flaggers from the past couple years will return to help make the event a big success (and they have years of experience), but there will be openings.
    If you are interested, send an email to Frank Thomason at [email protected]. You will need to be available for both days.
KTM ANNOUNCES TWO NEW ADVENTURE RALLIES
[Press Release]  Make plans to join KTM staff and enthusiasts for the 8th Annual KTM Adventure Rider Rally offered in two locations for 2011. The first KTM Adventure Rider Rally will be held in picturesque Mill Hall, Pennsylvania on June 3-5, 2011. A second opportunity to join the fun will be given on September 16-18, 2011 when the rally moves to scenic Lake Tahoe, Nevada. 
    For the past seven years, KTM has hosted its rally in multiple locations switching from east to west coast events. This year in hopes of finding locations that satisfy riders nationally KTM has chosen both an east and west coast location.
    These events provide riders of all skill levels an opportunity to ride with and learn from adventurers from all over the world. The KTM Adventure Rider Rally is designed for KTM 640, 690, 950 and 990 Adventure and Enduro owners but is open to all brands of street legal motorcycles.
    The KTM Adventure Rider Rally is entering its eighth year as the only national festival for KTM owners and enthusiasts. This year's rally offers unbelievable adventure riding opportunities. The Mill Hall Rally will run in conjunction with the 21st Annual Durty Dabbers KTM/AMA National Dual Sport Trail Riding Series event. Registration for the KTM Adventure Rider Rally automatically registers riders for the KTM/AMA National Dual Sport Trail Riding Series ride. The Tahoe event begins in the heart of Lake Tahoe and covers terrain around and above the beautiful lake.
    Participants will learn from KTM experts as they cover a technical overview of the Adventure in between jam-packed days of dual-sport riding. In addition, KTM will host free demo rides to all participants aboard the KTM street line of motorcycles. Select meals are included throughout the three-day event. Please see the registration form for more details. Both events include appearances from KTM professional athletes as well as Saturday awards night, games and more. 
    Clear your schedule and pre-register to receive a reduced rate at $125 per person and receive a free event T-shirt. This price does not include bike or lodging. KTM has reserved group rates at select hotels in the event areas. More info on the group rates and host hotels can be found on the event registration sheet.
    For more information on the KTM Adventure Rider Rally please call (951) 600-8007 or click here. Get your entry in now!
PHOTO OF THE WEEK…IF IT WAS 1980


With the 2011 USGP at Glen Helen only five weeks away, its time to flashback 31 years to the amazing crowd at the 1980 Carlsbad USGP. That's Danny LaPorte sailing down Devil's Drop?surrounded by a sea of fans.
VIDEO CAMERA BUILT INTO A SET OF GOGGLES



The Liquid Image Impact Series HD is a motocross/off-road goggle with an integrated HD camera for "True POV" footage. The goggle contains a 136-degree (full field of view) wide angle lens to capture all the action while riding Motocross, ATV or Downhill Biking. The hands free unit has a 5.0 MP (2560 x 1920) camera mode and a video mode that records HD720P video (1280×720) at a rate up to 30 frames per second with audio. The Impact Series HD can hold a Micro SD/SDHC Card up to 32 GB. A 4GB Micro SDHC card is included.  With the use of a micro SD/SDHC card, the camera is capable of recording thousands of photos or hours of HD video. Files may be downloaded to a computer through the High Speed USB/RCA cable provided, or through a Micro SD/SDHC card. The retail price is  $250.00. Get yours now at www.motomutts.com