MOTOCROSS ACTION'S MID-WEEK REPORT: (04/04/12)
By John Basher
FIRST THINGS FIRST…CONGRATS RV1!



TWEET OF THE WEEK


Kevin Windham writes his pal (and fellow couch potato) Chad Reed. As for that crash in Houston…

K-Dub slammed so hard that, if you look closely, his bar pad flew off. Heal up, Kevin!
MINI-VIEW: TREY CANARD


Trey missed the Anaheim opener because he broke his collarbone a few weeks before the season started. He returned at Phoenix (above) and finished seventh. The next round, at Los Angeles, was when catastrophe occurred. 
MXA: First off, I wanted to let you know that we haven't forgotten about you. I wanted to see how you are doing.
Trey: Thanks man. Everything is going well. When you haven't been in the scene really you kind of feel like you've vanished off the face of the earth. It's good to hear from some people. I feel good. I had surgery last week to get some old hardware out. My recovery is so long for my back that I figured that I should get some stuff out while I have plenty of time to heal up. There's really no rush.
It might seem confusing to some people, because while you broke your back, people have seen you at various functions, such as the Daytona Supercross. Maybe there was this perception that you really aren't injured that badly.
I don't even understand the severity of it. When I looked back to the week that I was in the hospital and think about all that has gone on I get a bit of a reality check. I broke my back. That's not a small injury. It's a dangerous thing, especially when you think about the spinal chord. It's going to take a long time to heal from something like that. It's weird, because I walked out of the hospital and I went to some races. I feel pretty good, but it's just a matter of healing time. It's a long recovery because of the fusion process. I've learned that I can't function very well with metal inside of me. When I look back at what it could have been compared to how things ended up is pretty amazing.

Trey suffered from two broken femurs in 2011. He was hoping to rebound in 2012 and was looking promising.
Do you remember any part of the day in Los Angeles?
Yeah, I remember all day. The last thing I remember is going up the face of the triple, downsiding, and then waking up in the ambulance. It's pretty amazing what your body can do as far as blocking out trauma. Some things are best when they are forgotten.
I'm a proponent of neck protection, and to me it looked like that neck brace really saved you from greater injury. Do you feel the same way?
Yes. Me personally, I'm very thankful that I was wearing it. He [Ryan Morais] landed square on my head. Everyone has seen the pictures and the video. To see my head end up in my lap and to see that nothing was wrong with the tissue or structurally was pretty amazing. He basically frame cased my head. I don't know if we can say that the Leatt cures neck injuries, because I don't think that's the case, but I can say that was the perfect situation for a neck brace to work. It did its job 100 percent. I'm thankful that I wore the Leatt, and although I can't say for sure, I believe things could have been a lot different had I not been wearing it.

Here's the start of the main event at L.A. Shortly after this picture was taken Trey will go up the inside of the first turn and snag a Tuffblox cover, causing him to double the triple. You know the rest of the unfortunate story.
You have a lot of time on your hands while healing from injury. Hopefully the mind doesn't wander too much. How do you stay motivated to have an end goal, such as returning to racing or even just getting back on a motorcycle?
I'm just thankful, really. I'm thankful to be alive, and thankful to still be getting opportunities to race. Lord willing that will happen next year. I don't see any reason to think that it won't happen. Being thankful overshadows any negative thoughts. My passion for the sport is still there. Having that passion creates a sense of optimism and that glass is half full type of mentality. At times my mind has wandered. I wonder if this is it for me and I wonder what my sponsors are thinking. Is anyone really going to want to invest in me again? However, I can say that my mind is in a good place.
How has your faith helped you overcome trying times?
It has been huge. Nothing can really put that into words. While I've been injured my faith has given me a chance to not dwell on not being able to race. I get bummed at times when I can't be at the races, but it's given me the chance to stay motivated. Also, I have hope, which gives me a sense of courage and persistence to keep moving forward. My faith has been huge.
What is it about this year's Supercross series and injuries? What do you think attributes to the injuries?
Motorcycles aren't dangerous, but riders are. We're constantly trying to get faster and push past our limits. I feel that there was a sense of urgency before the season started to be ready and hang it out. The 2011 Supercross series was an amazing season. This year was supposed to be even better. Everyone, from the people that were up front last year, to the people that wanted to be up front, was so willing to go for broke. That has created a lot of injuries. Riders wanted to be a part of this series and to win, but it has caused quite a few major crashes.  
Heal up, Trey. Where might we see you again?
I plan on going to Salt Lake City, Las Vegas, and then Hangtown. See you there.
LET'S ALL PULL TOGETHER TO SAVE A RIDING AREA: MAKE BEAUMONT HILLS, CALIFORNIA, A LEGAL OHV PARK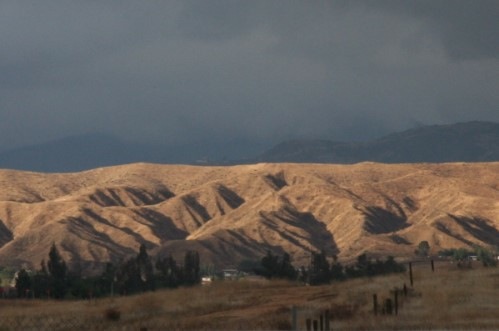 All you gotta do is click on the link and fill out the petition
www.ipetitions.com/petition/beaumonthillsohv/
DOWN SOUTH WITH MARTIN DAVALOS

SEAN HACKLEY CRASH SEQUENCE
The Munn Racing KTM rider had a nasty spill in the whoops the first lap of his 250 heat race in Houston. Apparently Hackley broke a few bones in his back. I hope he gets better. Here's the sequence of events that transpired.

MINI-VIEW: KYLE LEWIS


Kyle Lewis talks moto with Broc Tickle. Hand signals are a must for getting the point across.
    Retired Pro racers often follow one of two paths once they hang up their leathers: stay ingrained in the sport or flee the scene. Thankfully Kyle Lewis chose to stay involved in motocross. A multi-time Japanese National Champion and one heck of a holeshot king, Lewis is currently working with several racers while also working with an oil company. After spotting "Lucky" at Glen Helen this past week I couldn't resist finding out what he's doing.
MXA: What have you been doing since you retired?
Kyle: I'm working with the company, Kal-Gard. I own part of the company. The owner brought me on at the end of my career. That involved into more things with the company. I looked at other avenues as an occupation. I didn't really retire, but I stepped into another job.
Is it difficult making the transition from professional racer to business man?
At first I was relieved. I didn't have to travel every weekend. However, I have a whole new view on the sport. It's a lot of work for the behind the scenes guys. I've thought about all the sponsors that helped the Moto XXX team and I didn't realize all that they did. I actually wanted to take out an advertisement in all the magazines and say, ?First off, I'm sorry [laughter]. And second, thank you for sticking with me.' Now I'm on the other side of the fence and I see all that goes into racing.
While out at Glen Helen last week I noticed that you're training several up-and-coming racers, as well as Broc Tickle. How did that all come about?
I've always been helping a couple young kids in the neighborhood where I live. I got the itch to be back around motocross. I ended up taking on an Arenacross guy, Travis Smith. I also work with a really fast Intermediate, Tanner Sawyer. I'm working with Chris See, a fast kid that we're trying to get ready for the Hangtown National. I did work with Kyle Cunningham at the end of my racing career. I helped him a little bit, but then he moved down to the Temecula area, so that didn't work out. Now I'm working with Broc Tickle. I started working with him about a month ago. I'm trying to get him better at racing. You were out there watching him practice, and it was pretty amazing to see how fast he was going.

Broc Tickle absolutely rips around a test track. Kyle Lewis is trying to get Broc to turn up the heat when he's racing.
Yes, Broc was flying. I've never seen him ride that fast on a 450 before, race situations included.
Yeah, exactly. The trick is to get him to race like he practices. A lot of people would be surprised if they saw him going that fast. He would definitely be up towards the front and fighting for a podium spot. Broc doesn't need to make any major changes to his riding, just a tweak here and there. I haven't figured it out yet. We're working on getting him up front. He's in really good shape, so that's not an issue. We'll get it figured out. I learn new things every day that I work with these guys. I don't think I know everything, but I've put my time in with racing and working on my own program when I was a Pro.
I noticed that you were hobbling around. What's the deal there?
This last year I broke my wrist while racing in the Philippines. I came out of retirement and crashed over there. It wasn't good. Then four weeks ago I snapped my left Achilles tendon. I'm back on the injured list!
How often do you reflect on your career and think about the experiences that you've had?
There's not a day that goes by that I don't think about it. Racing was my life for nearly 30 years. I started racing when I was nine years old, and I finished when I was 38. I started riding when I was five. It's cool to work with riders now, because it keeps my head in the game. I had great times. I met you and your brother. That was a bonus [laughter].
Yeah, you were probably one of the very first Professional racers that I ever met.
I think that you and your brother, Mike, were in the Moto XXX truck every weekend hanging out. As a racer I had a lot of fun. I had a good run.
Thanks for your time, Kyle. Good luck with coaching, the oil business and healing up.
Thanks John. I'll see you soon, I'm sure.
FOX BRIGADE VIDEO


Click on the image above to view the video.
 
    In this new video, Fox catches up with some of our elite AM riders (Fox Brigade) from the Spring Nationals. Featured riders include: Matt Bisceglia, Austin Forkner, Jennifer Burton, Andrew Silverstein, Ethan & Alex Mann & Vann Martin.
 
MINI-VIEW: RANDAL MAHONEY

    What is the common bond between motocross and…pickles? Randal Mahoney! "Big Nasty" as he's known throughout the paddock, wrenches for Nick Wey on the MotoSport.com/TiLube/Foremost Insurance team. He's also an entrepreneur and pickle connoisseur. Randal and his brother own Mandingo Pickles (I'm sure you remember Ryan Villopoto mentioning them last year after winning a Supercross). Find out what Randal has to say about wrenching for Nick Wey, traveling around the country, and being involved in the pickle business.
MXA: How do your responsibilities shift on a weekend when your rider, Nick Wey, isn't racing?
Randal: Since we have Justin Sipes, I do what I can to help Scott [Justin's mechanic] and take any unnecessary pressure off Scott. I also keep the truck clean, run around the pits getting any parts that Scott might need, and I go into the stands and watch practice.
Nick has a long history of being very picky, very selective, about his bike setup. Before he got hurt, was Nick still making big changes to his bike even as late as it is in the season?
I've known Nick for a long time. We're both from Michigan. When I ride, which I do just for fun, I'm kind of the same way that Nick is about setup. I'm also very picky. I feel for him. If Nick isn't feeling comfortable then I'm totally cool working to get everything clicking for him. Nick has been around a long time. He has been on good equipment, and he knows what changes will do what to the bike. It's not like he complains about something but doesn't have an answer. If he wants to change a part on the bike then he has reasons as to why he wants to change that part, and also what the result will be. Racing is Nick's profession, and I'm here to do whatever I can to help him do his best.

Nick Wey has missed the past three rounds due to injury, but he's supposed to return soon.
You're not only a mechanic, but also a truck driver. You and Scott share driving responsibilities, going from one race to the next in the MotoSport.com/TiLube/Foremost Insurance truck. What's it like living on the road?
The biggest benefit of being the truck driver, on top of being a mechanic, is not having to be in the shop every day dealing with the practice bikes. Nick rides a lot, and he goes through a lot of parts [laughter]. I've always enjoyed traveling. I like being on the road and seeing different parts of the country. It's pretty neat to be on our own time and schedule things out as we see fit. As long as we get the race bikes ready and get to the next weekend's race then we're all good.
What do you during the week?
Depending on where the next race will be determines everything. If we're driving somewhere where the weather might not be nice, like going from Daytona to Indianapolis, we'll work on the bikes after Daytona and get the truck straightened out. Most of the races are a full day's drive, if not two days away, so we devote a couple of days to traveling. There's no sense in killing ourselves and pulling all-nighters in order to get to the race. We work it out where we pull into town on Thursday night. We'll shop for groceries and wash the truck. On Friday morning we park in the pits and get everything set up. On Saturday we race, and then start the whole process all over again.
Who takes care of Nick's practice bikes?
Nick is pretty handy. He changes his own tires, changes his oil, clutch, and air filter. If he wants to test things while I'm on the road, such as suspension, he can change triple clamps, forks, and shocks without a problem. He gets it done.
How did you become a mechanic?
I aspired to be a racer, but it was a steep learning curve. My parents weren't super into my racing. They were just trying to get by, so if the bike broke they weren't going to pay for it to get fixed. I had to pay for it myself. It was when I worked on my bike that I got really interested in how motorcycles worked. I liked the mechanical and engineering side of things. I knew some guys that were racing professionally, so I helped them when they raced Nationals. I kept meeting people, and that turned into wrenching for some Arenacross riders and even did quad racing for a year. Then Nick needed a hand, and ever since then we have been working together. We're good friends, and he has my back.

Michigan's own Mandingo pickles!
You're an enterprising guy. You even started your own pickle business, called Mandingo pickles. How in the world did you get into selling pickles?
The pickle recipes are from our family. We've always made pickles. A few years ago I thought I had a job lined up to wrench for a Supercross rider, but it fell through at the last second. By the time I called teams and inquired about a job the spots were filled. My brother was a union labor representative. He quit that and didn't have anything going. As a joke, we were trying to figure out how we were going to make a living. We thought it would be fun to sell the pickles we had made, and everyone really like the product. We started promoting the pickles through motocross, because that's our passion. With three dollars for a marketing budget we made it happen. People are really receptive to the product, so we're making more and more pickles.
These aren't just any normal pickle, are they?
The original marketing idea was used for Bloody Mary's. That's why we cut them into spears. The pickles are all natural. We don't use any crazy preservatives or anything bad. They are a healthy snack that is low-carb and fat free. The pickles are good for you.
Where can people go to order a jar of Mandingo pickles?
People can go to www.mandingopickles.com or visit our Facebook page at www.facebook.com/mandingopickles.
WILL YOU PLEASE "LIKE" US?

    
    Do you have a profile on Facebook? Of course you do. Then why don't you visit MXA's Facebook page and click the "like" button. By following MXA you can get a stream of updates, photos, videos and happenings. I think you'll be happy with what you find. Check it out by clicking here.
A TEAM THAT DESERVES MORE RECOGNITION…

    This weekend Phil Nicoletti and Alex Martin finished fifth and sixth, respectively, at Houston. Jeff Gibson had an off-weekend, but the trio make up the Eleven10 Mods Honda team. A privateer effort, the Eleven10 Mods guys are again making waves this year (last year they sponsored Darryn Durham). Owner Chad Sanner knows how to pick riders.  
DON'T YOU JUST LOVE THE SOUND OF TWO-STROKES?

MINI-VIEW: GARY SUTHERLIN

    Every once in a while I get the opportunity to talk with a true diamond in the rough?a racer that I've overlooked but am so thankful to meet afterward. Gary Sutherlin is one such guy. A WORCS and Endurocross racer, Gary has an intriguing and captivating story about how he got to where he is. Wrenching for a top WORCS racer and then working in oil fields, Sutherlin decided to make a go at racing, all while helping raise a young daughter.
    This past weekend Gary, on a whim, raced the Two-Stroke World Championship on a 2003 KX250?a bike that he had purchased only days before. I spoke with Gary about his past, present and future.
MXA: Gary, I see that you ride for Kawasaki in the WORCS series, but you're not on a team. What gives?
I have an in-house deal with Kawasaki, where they give me bikes and parts. I work on my own bikes and do my own motors. I'm doing it all, but I have support through Kawasaki and Ty Davis. I'm not exactly on a team though. That's where Ty Davis, of Zip-Ty Racing, stepped in and helped me out. Ty told me that no matter what bike I was on he would support me. I rode for Ty in 2009 on Husqvarna, but I didn't get a full program in with him, because I was working a full-time job at the time. This year I actually have a sponsor in Bakersfield that is paying me to go race. I'd like to thank Wes at NTS for helping me out. That allowed me to quit my full-time job and focus solely on racing. That's why my results have been better.
What were you doing as a full-time job?
I lived in Phoenix for six years. I used to be Ricky Dietrich's mechanic, and then I started working construction by doing glass work. Then I moved to Bakersfield. My fiancee, Sherri Cruz, and I had a little baby girl around the time of X Games this past year. She's from Bakersfield, so I moved there to be with her. I got a job working in the oil fields for about five months, and that was horrible horrible work! I'm thankful that, especially given the economy, one of my sponsors stepped up and is paying me a small salary to race motorcycles. It has been a huge blessing being able to do it.
Why the decision to race the Two-Stroke World Championship this past weekend?
That was just a weird thing, I guess! Ty and I were sitting around this past Tuesday talking. Ty had Bobby Garrison and Jamie Lanza ride Husqvarna's the past two years of the race, and he thought I should race the event. I didn't have any other race going on this past weekend, but I also didn't have a two-stroke. Ty told me to get on the phone and try to find someone that would be willing to let me borrow a bike. Anybody that knows me understands that I thrash bikes. I'm not very kind to bikes. Well, we got to thinking about it a little more, and I had a little savings stashed away. I decided that it would be better off buying a bike. Tuesday night we found a 2003 Kawasaki KX250 on Craigslist for $1900. It was at this little motorcycle shop. I called them up and offered $1400. They agreed, and on Wednesday morning I picked the bike up. Ty and I stripped the bike down that afternoon. We put my KX450F front end with the Marzocchi forks, and I revalved the shock. Ty called up Pro Circuit and got me a pipe. I didn't touch the top end or clutch or anything!

Would you buy a two-stroke on Wednesday, ride it for a few minutes, and then race on it a few days later? Gary Sutherlin did. Props to him!
How much time did you get on the KX250 before racing it on Sunday?
I rode it for maybe a few small motos on Thursday afternoon at Glen Helen. That's when we got the bike done. I put maybe an hour on the bike. It was a total last-minute deal.
You did really well for not having much time on the bike. Finishing third overall must have met your expectations. Did you have fun?
We opted to run an MX11 rear tire. It's like a paddle tire. At Glen Helen the track crew always rips the dirt really deep, so that's why I chose it. The problem is that the start is on concrete, and you can't spin the tire very well. Everyone was laughing at me, but I figured things out for the second moto. I backed up on the gate and got a good drive off the pad. I ended up getting the holeshot, and that really helped me out. I got good starts in both motos. That tire helped a lot. There were a lot of people going really fast. It was a good race, although I couldn't believe all the stuff that went on before the start of the second moto.
You were able to see what was going on between Vince Friese and a member of the Michael Leib crew?
Yeah, I was sitting right next to them. I couldn't believe what was going on. No matter who says who is right, Vince was out of line. He was the one that started it, and he should have been the bigger person and said, ?You know what? We'll talk about this after the race.' It's not the way to conduct yourself, especially in front of all those people. It worked out for me, though, because I got bumped up to a podium position.
Where do you race next?
I'm getting ready for the WORCS race at Speedworld. I'm alsostarting to test for Endurocross, which begins on May 4th in Las Vegas.
Great talking with you, Gary. You have quite a unique racing story. Good luck to you in your racing, and congratulations on having a baby.
Thanks, John. See you in Vegas.  
INSIDE THE HELMET OF BLAKE WHARTON

THE MYSTERY OF KEN DE DYCKER SOLVED


Big Ken will replace Max Nagl at Team KTM…starting this weekend.
Last Saturday, Ken De Dycker and LS Honda Racing reached, what they claimed, was a mutual agreement to part company. At this point, LS Honda only has Jonathan Barragan left on their team with four days to go before the first GP. There was no reason given for De Dycker's sudden departure from the team he raced for in 2011. It was a mystery.
It is not a mystery anymore. KTM announced on Tuesday that Ken De Dycker would join the Red Bull KTM Factory Racing team as a fill-in rider for the injured 450 rider Max Nagl (who will miss at least the first five rounds). KTM claims that when they heard that De Dycker was leaving LS Honda that they made "a spontaneous decision…to offer him the possibility to compete in the first five rounds." Obviously, the length of De Dycker's time at Team KTM will depend on how well he does in the first five races.
DANIEL BLAIR'S HEARTFELT ANNOUNCEMENT: WE RESPECT DANIEL FOR MAKING A VERY PRIVATE DECISION PUBLIC


Daniel at the Houston Supercross.
"Last February I broke my femur and my back at Anaheim. I remember laying in ICU and I promised myself and my family I would never race Supercross again. It killed me to know that an injury is what ended my career. But at that time, it was the right choice. Lucky for me I got an opportunity to race a few Supercrosses this year and Saturday night I made the 450 Main, a major accomplishment. After a long drive last night, with many thoughts on my mind, I have decided to end my Supercross career. I have the closure I needed and I can finally move on with pride and dignity. I look forward to telling my son someday that his daddy ended his career in accomplishment, and not because of a crash." Daniel Blair
AMA MOTORCYCLE HALL OF FAME ANNOUNCES 2012 HOF NOMINEES


In the coming weeks, six new members representing the AMA Motorcycle Hall of Fame Class of 2012 will be elected from these nominees ? three from non-competition categories and three from competition categories. The 2012 AMA Motorcycle Hall of Fame nominees are as follows (alphabetically):
   Mark Buckner – Motorcycle rights advocate.
   Rod Bush – Racer, KTM employee and AMA Board of Directors member.
   Derek "Nobby" Clark — Factory road race mechanic.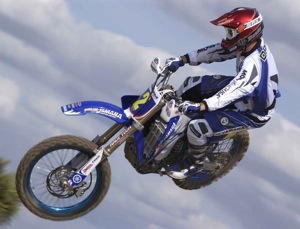 Ty Davis – 125 West Supercross champion, ISDE gold medalist and Baja 1000 winner.
   Skip Eaken – AMA Grand National Dirt Track tuner.

 
   Jimmy Ellis – AMA Supercross champion.


   Sue Fish – Pioneering women's motocross pro.
   Louis Gerencer – National Hillclimb champion and president of the Hillclimbers Association.
   Charles Gustafson Sr – Chief engineer at Indian.
   Tommy Hays – Grand National dirt track TT racer.
   Jack Johnson – Baja 1000 winner and ISDE Gold medalist.

 
   Ron Lechien – 1985 125 National Motocross champion and USGP winner.
   Bob Leppan – 2007 land speed record for production bikes.
   John Long – road racer.
   Dennis Mahan – Tuner and the first U.S Motocross des Nations team manager.
   Rob Muzzy – Engine builder/tuner, crew chief, team owner in AMA roadracing.
   Don Pink – Dominant 1940s racer.
   Randy Renfrow –  AMA National road racing champion.
   Jarno Saarinen – Finnish world champion road racing champion and Daytona 200 winner.
   Brian Slark – Rickman and Cheney importer.



   Rodney Smith -AMA Cross Country, Hare Scrambles and Enduro and ISDE winner.
   Gloria Struck – Motor Maids member since 1946.
   Charlie Vincent – 1960s off-road competitor and ISDT gold medalist.
   Lance Weil – Road racer, and the founder of Rickey Racer.
   Al Wilcox – AMA flagger for 50 years.
   Gene Wirwahn – AMA's government relations champion
The Hall of Fame class of 2012 will be announced this summer, and the new members will be formally inducted into the Hall of Fame at a gala ceremony on Nov. 16 at the Red Rock Casino, Resort & Spa in Las Vegas, Nevada, during the AMA Legends Weekend. Ticket information will be announced soon at MotorcycleMuseum.org.
HONDA SIGNS A SECOND WOMEN FOR THE WMX SERIES
Ashley Fiolek will be joined by Sakaya Kaneshiro as the second rider on Team Muscle Milk Honda's women's team. See the video below if you don't know who Sayaka Kaneshiro is…and we're pretty sure that you don't.

YAMAHA DEALER SERIES STARTS ON APRIL 29 AT GLEN HELEN


Thanks to the support from Yamaha, the Dealer Series is in its 20th year.  With this series, each race counts toward the point total, not just the overall finish.  That makes the results of each class a very important aspect of the Championship. The series is geared for the entire family; after the races you can often find the competition huddled around the same BBQ bench racing and having a great time.  Get involved with this series and help your favorite dealer win the Yamaha Dealer Series Championship!
   2012 YAMAHA DEALER SERIES SCHEDULE:
   Round 1…April 29
   Round 2…May 20
   Round 3…June 3
   Round 4…June 10
GRAND PRIX INTRO: KTM'S GP TEAM PRESEASON VIDEO…FOUR DAYS UNTIL THE FIRST GRAND PRIX

SEE HOW THE OTHER HALF LIVES! BRITISH MOTOCROSS CHAMPIONSHIP AT CANADA HEIGHTS IN KENT, ENGLAND

SEE HOW THE OTHER HALF LIVES! AUSTRALIAN MOTOCROSS CHAMPIONSHIP AT CONONDALE, QUEENSLAND