MOTOCROSS ACTION'S MID-WEEK REPORT: (04/18/12)

FROM THE FRONT LINES…AND BEHIND THE SCENES

If you want to take a shot at keeping track of Ryan Villopoto's great season, you can do the math this way. Every victory earns him a reported $100,000 bonus from Kawasaki. He has nine wins so far in 2012. Thus, $900,000. Every Championship earns Ryan a $1,000,000 bonus. The tally for 2012 (between race and Championships bonuses) is currently $1,900,000. If he wins the AMA 450 National Championship, he will make another one million dollar bonus…and there is an additional bonus in most factory rider contracts that pays a third million for winning two Championships in a single year. Plus, last year Villopoto won the Monster Million in Las Vegas…which paid $1,000,000. None of this takes into account his Kawasaki salary, clothing deals or associated sponsors…plus their weekly win and Championship bonuses.
Thanks to a little bit of NASCAR strategy, Travis Pastrana is guaranteed that he will be in the field for his NASCAR Nationwide debut in Richmond on April 27. Typically, a rookie with no points has to "Go or go home"?which means they have to qualify on speed, but Pastrana's team owner Michael Waltrip made a deal to join forces with the RAB Racing team (which has one of the guaranteed 35 starting slots in the 43-car field). The RAB number 9 car was raced by Kenny Wallace before and has a guaranteed spot. It will now become Travis' number 99 car (not 199)…and Travis will get in the race regardless of how slow or fast he is in timed qualifying.
Washougal owner Ralph Huffman has been in the hospital over the past week for surgery, but is recovering and should be coming home soon.
Livia Lancelot is an opponent of the way the FIM handles Women's motocross and only races a couple events a year to rub it in to Giuseppe Luongo. For 2012 she raced round one in Valkenswaard because it was paired with all the other classes (MX1, MX2, MX3 and WMX) and then she raced the second round because it was in her home country (France), but immediately after winning that race she announced that she wasn't racing any more events because she was going to prepare for the X Games (she thinks that is the most important Women's race in the world).
The Bulgarian Grand Prix is this weekend. It has both the 250 and 450 GP classes, plus the 125cc two-stroke class (called UEM EMX125…not a very nice sounding name).
British/Scottish GP rider Billy Mackenzie left England to start a new life in Australia a few years ago. Mackenzie hasn't set the world on fire Down Under, but he has been a contender on occasion. But, at the second round of the Aussie National Championships, the same round that claimed Ben Townley, the Scot got hurt and will now miss three to four months. Mackenzie suffered a torn scaphoid ligament. The Australian Kawasaki team may have to turn to the USA to find a fill-in rider. Lots of luck with finding an American rider who isn't injured.
As for Ben Townley, he will need at least four month to recover from his hip injury. In medical terms Ben suffered a femoral head associated acetabular rim fracture, which required open reduction and internal fixation with lag screws and a bone anchor.
Glen Helen is preparing for its traditional May event, only this year it isn't an AMA National or FIM Grand Prix, but instead will be round two of the Red Bull X-Fighters series on May 12. Red Bull will start transforming the REM pits and the lower portion of the REM race track into a freestyle arena starting after this weekend's events. Red Bull says that they expect the X-Fighters to bring 20,000 spectators to Glen Helen. For more info go to www.glenhelen.com
Motonews, which used to be a pay subscriber motocross forum, is now free to former subscribers. For more info go to www.motonews.com
Amid all the hokey rumors about Stewart to Suzuki, JGR to sign Andrew Short and McBrooks team to fold there will always be a kernel of truth…but what is it? These rumors, started by a lonely fat guy in his basement in Des Moines, have the power to hurt (people and businesses). And, given that they are rarely true it does little good when they are refuted a week or two later. Why not just wait for the official announcement or the inevitable twitter leak before making wild claims. If Stewart leaves JGR it will go against his signed contract (and end his NASCAR hopes). Do you think a former NFL coach and NASCAR team owner hasn't dealt with contracts and petulant stars before? If Suzuki signs Bubba it will shock Suzuki's accountant who will have to find money that obviously doesn't exist since Suzuki dumped its team on Yoshimura and fired its team employees this year. Maybe Red Bull would like to put their money into a team for Stewart…but they already have KTM. If Andrew Short goes to JGR it means that James isn't doing the Nationals and if James isn't doing the AMA Nationals it means that his career is on the downward path in a big way (since he is barely doing the Supercross series). Remember Bubba started this season saying his only interest was in catching Jeremy McGrath's 72 win Supercross record. James won two races this year…and at that pace will catch Jeremy in about 15 years. If the Larry Brooks/Jeremy McGrath team folds, which they say won't happen, it isn't good because it means economy is so poor that good teams can't find good sponsors.
Dean Wilson will not be riding the Motocross des Nations for Team Great Britain in 2012. The ACU, Abbott to the AMA's Costello, said that it cost too much money to pay for Dean, who is Scottish, to race for the team. Not only have they dissed Dean, but they fired previous team manager Steve Dixon for spending too much money. Maybe Dean could pay his own way…or even better, the Scots could become an FIM affiliate and field their own team. In the past most of the British team has been from Scotland anyway.
Congrats to Justin Barcia on his 2012 AMA 250 East Regional Supercross Championship…and welcome to the 450 Supercross class in 2013. Barcia is justs one of a small handful of riders who will have to move out of the 250 Supercross classes for 2013. Remember, riders are not forced to leave the 250 Nationals because it is a true-to-life National Championships. And, if the AMA and Feld combined the 250 East/West into one series, the 250 riders would not be bound by the pointing out rules…because it too would be a true-to-life Championship…as opposed to a regional support class.
As for Barcia, it is assumed that Team Honda will hire him for 2013. Does that mean a three-man team at Honda (Canard, Brayton and Barcia)? Or will one of those riders be farmed out to a satellite team like Geico (hopefully with his works bike)? Or will one rider have to go? Would it be Brayton, who is attached to the Muslce Milk sponsorship, or Canard, who can't get a season under his belt without getting hurt, but is blazing fast? Time will tell.
Have you heard about the Thailand Grand Prix in 2013? Luongo's world-wide search for sanction fee money will soon lead the FIM Grand Prix teams into bankruptcy after trips to Mexico, Brazil, Thailand and annouNced plans for one other Asian and one other South American GP in 2013.
Ivan Tedesco came back to the Supercross series last weekend after missing most of the season with injury, but it was a brief return. Tedesco will miss Seattle to get more prep time in. In the meantime, Tyler Bowers will become the umpteenth fill-in rider for Hart & Huntington at Seattle?where he will join Kyle Regal another fill-in rider as the Dodge team. The original H&H team was Josh Hill, Ivan Tedesco, Kyle Partridge and Josh Hansen. None of those four are healthy at the moment. Maybe one of those riders would like to go to Australia when they heal up.
AUSTIN POLITELLI: MAKING IT IN THE BIGS


For a privateer like Austin, the hardest part about racing is getting to the races.

MXA: What's on you pro resume so far?
Austin: Last year I did the Canadian outdoors, the whole series. I still did Loretta's and got second there. I ended up third in the Championship in Canada. I had two DNFs and that hurt me. I went to Germany and did the last two rounds there in Munich and Dortmund. In Munich I got third and in Dortmund I won five out of six motos. Then I came home and got ready for the East Coast Supercross.
Why did you you choose to do the East coast rounds?
I had a deal lined up to do the West series, but I didn't feel 100% ready. Hammer Nutrition helped me out, as well as Lyle from CHP, with money for flights. I decided to do the East Coast rounds so I would have more time to get ready and it's been working out fine.
MXA: Tell us about your ride.
My bike is really good. Frenchie at C4 MX did the motor. I got to do some suspension testing with Graham Brough. It's been pretty good, but I think it can still be better and hopefully I'll get to do Some more testing before Vegas. I run Yoshimura pipes and Dunlop tires. Everything has been really good. Also, thanks to Scott, Bell Helmets and Unit clothing.
How did you do at each round?
My first round was Dallas. I didn't qualify in my heat, so I went to the LCQ and got second. In the main I pumped up really bad and had to just ride. I'm surprised I got 13th. Going into Atlanta I felt good and qualified better there. In the main I was running 12th or 13th when I fell and threw it away. I had two races where I didn't make the main event. New Orleans was good, qualified sixth in my heat and finished ninth in the main.

In addition to 250 East, Austin has raced in Canada and Germany.
Tell us about your best finish at New Orleans.
Yeah, New Orleans was my best finish, but it was actually a bad day leading up to the race. The night before, something happened to our hotel reservation, so I ended up sleeping in the rental car and only getting four hours or sleep. In the first timed practice I was so tired I pulled off. In the next one I threw down a couple laps and qualified tenth. I rested up for the night show and got sixth in my heat. In the main I got a so-so start and worked my way up to ninth. It was good.
Is riding Supercross what you expected? Were there any surprises?
No, not really. I kind of saw what it was like going to Anaheim walking around the pits. I think I knew what to expect. The biggest challenge is probably trying to find flights for the races, because they are so expensive. Getting there is the hard part.
Your current deal is only for Supercross?
Yeah, I have nothing going right now, I'm working on getting an outdoor deal. Hopefully I can do good at Vegas. Hopefully people seen my results and I can get some help for outdoors. I want to the 450 class at Salt Lake City just to keep riding and racing. Hopefully I can find a 450, if not, I'll ride my 250 in the 450 class.
TAKE A LAP OF NEW ORLEANS WITH DAVI MILLSAPS

THE ANNOUNCER CAN CURSE YOU…DAVI MILLSAPS CRASH

BID ON DAVID KNIGHT AND KEVIN WINDHAM HELMETS AND SUPPORT RESEARCH AT CHILDREN'S HOSPITALS


K-Dub's lid.
MX for Children is pleased to announce Helmets for Hydro III, their 3rd helmet auction benefiting hydrocephalus research at leading Children's Hospitals including: Toronto's SickKids, Seattle Children's, Utah's Primary Children's, Children's Hospital of Alabama, St. Louis Children's, Pittsburgh Children's and Houston's Texas Children's Hospital. The auction begins on April 17, 2012 on eBay. "This is only the second helmet I have ever given away to be auctioned as I keep most of my old ones or swap them with other races as I collect them, so it is very rare to own a genuine David Knight helmet" stated David Knight, World Enduro Champion and KTM factory rider.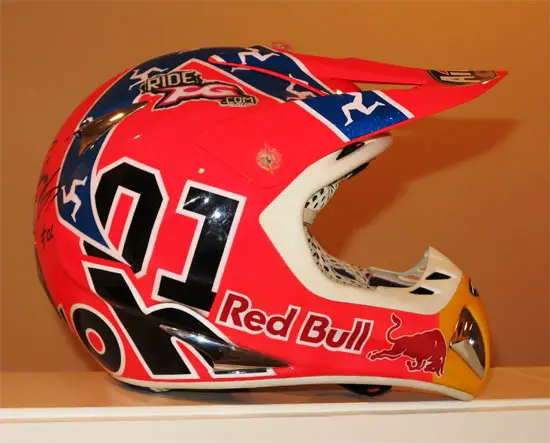 Genuine David Knight helmets a very rare, but you could own one.
Supercross stars such as Brett Metcalfe, Justin Brayton, and Matt Lemoine have personally signed and donated helmets for this auction helping to continue to raise funds for hydrocephalus research — the #1 cause of brain surgery in children which affects one million people in the United States.
MX for Children has raised more than $500,000 for children's hospitals in North American since it was founded in 2006. In 2011 MX for Children was honored by Feld Motorsports with their annual Humanitarian Award. Fundraisers are motivated to help children by advancing research for hydrocephalus — the #1 cause of brain surgery for kids. MX for Children supported hospitals, recognized as some of the world's foremost pediatric health-care institutions, are dedicated to advancing children's health through the integration of patient care, research, and education in several cities on the Supercross circuit. For more information, visit www.mxforchildren.org or contact MX for Children at i[email protected]
THE SOUND OF TIDDLERS! THE DUTCH LOVE THEIR 125 TWO-STROKES…AS THE DUTCH 125 CHAMPIONSHIPS SHOWS

GODSPEED TERRY PRATT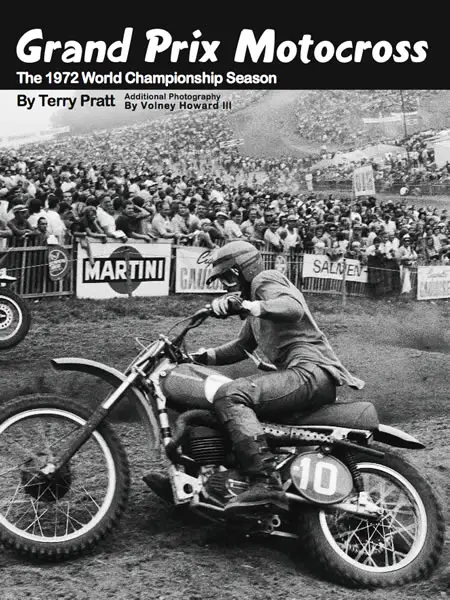 The following is from Terry Pratt's family…
The legendary motorcycle industry icon Terry Pratt, age 67, died in peace surrounded by family at his home in Westminster, California on Sunday evening, April 15, 2012. The cause of death was complications from pancreatic and liver cancer.
Born in 1945 in Red Mountain, California, Terry lived and graduated from high school in Boron. Coinciding with his service in the Army in Europe (1966-68) and Army Reserves (1968-72), Terry worked at as a European MX correspondent covering the World Championship Motocross Grand Prix series for a number of publications, including Cycle News. In the late 70s, he worked for Hester Communications on their Bicycle Dealer Showcase trade magazine. Terry returned to Cycle News as an advertising manager starting in 1979, providing a vital role generating revenue and developing relationships for America's Weekly Motorcycle Newspaper for over 32 years. He recently worked for Topping Events, helping with PR and sponsorship sales for their popular vintage motorcycle swap meets.
Terry was an active member of the National Rifle Association, American Motorcyclist Association, and AHRMA (American Historic Racing Motorcycle Association). During his motorcycle racing heyday, Terry was a winning +40 / +50 competitor in the CMC Trans-Cal and Golden State Series, and the CVRG (which eventually evolved into AHRMA in 1986 where he sat on the committee that formulated the original rules for vintage motocross). Terry went on to win many Regional and National Championship titles in the vintage bike classes on historic brands such as CZ and BSA's. Terry also enjoyed trail and dual sport riding on his vintage bikes (primarily his restored Triumph models), and rode the historic Barstow-to-Vegas Dual Sport event many times taking the "oldest bike" award. His last race, and one of his proudest moments, was racing his personally restored & modified BSA at the return of the Catalina Grand Prix in 2010.
One of Terry's most lasting and prominent legacies will certainly be the book he co-authored with Volney Howard III, called "Grand Prix Motocross", a high-quality coffee table publication documenting the seminal 1972 MXGP World Championship season with Terry's sharp illustrative photography and insightful historical descriptions, which captured the momentous changes happening at that time in motorcycle sports.
Survivors include his mother Barbara, younger sister Shelley Keller-Gage, niece Brianna Gage, and nephew Sagen Gage living in Boron; niece Jennifer Keller living in Albuquerque, NM; and niece Julie Keller living in Lancaster. Terry was preceded in death by his father John H. Pratt, and brother William John Pratt. Information and details on visitation hours, memorial services, burial ceremony, and memorial contributions will be released soon.
SCOTT GOGGLE PREP TIP WITH JP REDDY
Don't you hate it when dirt bounces around in your goggles, distracting your focus and threatening to get into you eyes? Well, there's a cheap fix, and Scott's JP Reddy shows you how it's done.

NEW PRODUCT: YOU CAN PERSONALIZE YOUR SPROCKET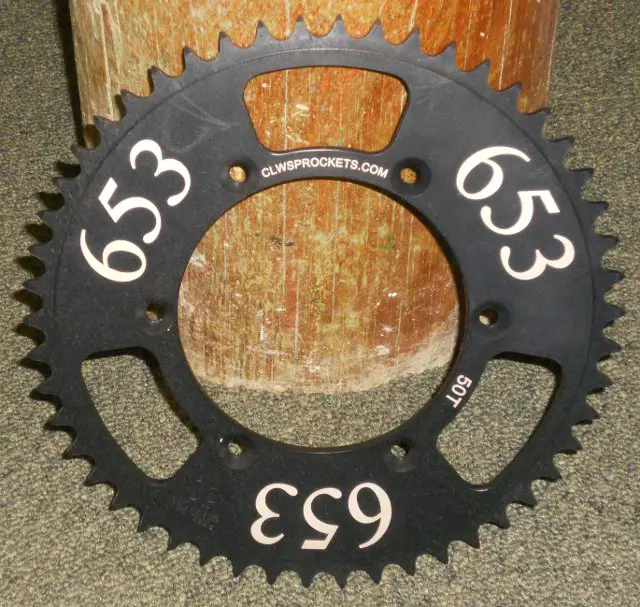 CLW will engrave your three digit race number or three letter initials on a Honda, Yamaha, Kawasaki or Suzuki rear sprocket of your size choice. The sprockets are black anodized with silver lettering and are made from 7075-T6 aluminum. To order or get more info visit www.clwsprockets.com or call 860 448-9547.
GRAND PRIX WOMEN IN FRANCE FOR ROUND 2: LIVIA LANCELOT WINS AND THEN SAYS SHE WON'T RACE WITH YOUTHSTREAM ANYMORE

ALLI SPORTS AND MOUNTAIN DEW ANNOUNCE 2012 SCHEDULE


Alli Sports, a division of the NBC Sports Group, today announced a four-year renewal of their partnership with Mountain Dew, along with the 2012 schedule for the new Dew Tour. Alli Sports, together with Mountain Dew, who has been the tour title partner since its inception, is reshaping the Dew Tour to showcase action sports in three large-scale, premium and ?grand-slam' style events. Leveraging the resources of the NBC Sports Group, which acquired 100% of Alli Sports last year, the new Beach, City, Mountain tour model will better serve the needs of the athletes and action sports community. The three premium events will boast expanded television programming and digital strategy across NBC, NBC Sports Network, nbcsports.com and allisports.com, as well as hyper-local promotional and programming opportunities through the NBC Sports Group's owned stations and regional sports networks. At the event level, each stop will include expanded and new sports and disciplines, and an enhanced on-site experience featuring more live music and a new "Dew Tour Experience," bringing all aspects of action sports culture to life throughout the five-day festivals.
"The action sports landscape has grown and changed dramatically since we launched the Dew Tour in 2005. The multi-stop series format was what the industry wanted and needed then. The Dew Tour changed the industry forever, taking the sports to a whole new level. The new Dew Tour, which will include three major events across Beach, City and Mountain venues, represents what the athletes and industry want and need today," said Wade Martin President & CEO Alli Sports. "We believe our partnership with Mountain Dew represents one of the most unique, integrated relationships between brand and property in all of sports. This partnership extension and the new approach we created for the Dew Tour together with Mountain Dew, the athletes and the industry, truly underscores that."
"Dew Tour continues to work hand-in-hand with the athletes. They asked for a platform that would elevate their sports and we worked with Alli to deliver that," said Brett O'Brien, Vice President of Marketing, Mountain Dew. "With the new Dew Tour, we are working to ensure that we evolve along with the action sports community. With input from the athletes, we're developing a platform that answers their call for fewer, bigger, better events."
Spanning the country August through December, the 2012 Dew Tour schedule will include returns to Ocean City, Md. and Breckenridge Ski Resort, with a debut event in San Francisco on the West coast. The Dew Tour will integrate the character of each stop into the overall feel of the event, capitalizing on impactful Beach, City and Mountain backdrops as each of the three events will draw inspiration from the host city to create its own identity.
The schedule is:
Beach: Ocean City, Md. August 16-19
City: San Francisco, Calif. October 18-21 Mountain: Breckenridge, Colo. December 13-16

THE A,B,Cs AND E OF ETHANOL BY GOLD EAGLE CO


Click Here to see the ABCs and E of Ethanol.
While awareness of ethanol has increased over the past decade, many still don't quite understand what it is and how it affects their car and small engine equipment like lawnmowers and motorcycles. To help educate consumers a bit more on ethanol, Gold Eagle Co. recently created a very user-friendly tool that provides valuable information on ethanol-blended fuels. The tool shares some background history about ethanol and also assesses the pros and cons of the biofuel.

Some tips and information that can be found in the Gold Eagle tool include:
The A,B,Cs and E of ethanol
The difference between E10, E15 and E85
How to maximize gasoline with ethanol
How to know if your car is capable of using ethanol
The pros and cons you should know before using the biofuel
Future usage and production statistics
In addition to learning the A,B,Cs and E of ethanol, consumers should also educate themselves on other ways to help protect their engines. Adding a fuel treatment like STA-BIL Ethanol Treatment, to their tank, can help enhance engine functionality and improve overall performance. For more info visit www.goldeagle.com

KEN ROCZEN AT GLEN HELEN: "SOMETIMES YOU NEED LUCK TO WIN"

LUONGO'S GRAND PRIX AMERICAN TV DEAL IS SMOKE AND MIRRORS


In a big press announcement Giuseppe Luongo claimed that the GP's had worldwide coverage, including the USA. Giuseppe Luongo said: "Youthstream's main goal is to make the maximum effort for the promotion of the FIM Motocross World Championship and the development of the television and media coverage world wide…and after long negotiations we are very proud to reach important markets like USA with Speed."
THIS ISN'T ACCURATE
When Luongo says "markets like USA with Speed." That isn't accurate. The GP's will not be on Speed TV. Instead they will be on the lowly Speed2 channel. Speed2 is not a broadcast channel and no one in the USA can turn on their TV and see the World Motocross Championships on Speed TV. Nada. No way. Can't be done. Why not? Because Speed2 is a internet-only broadband channel and it is disingenuous of Luongo to say "Speed" when he really means "Speed 2." All combined Luongo's Speed2 deal could reach as many as 35 million households (out of the 100 million households served by the top 25 cable TV providers), so you have to wonder why he didn't just report the true numbers instead of implying that the World Championships were on broadcast U.S. TV.
Here is the trick: Speed2 is not available to everyone in the USA, but only to those people who have a cable TV deal with one of five cable systems (Bright House, Cablevision, Cox, Dish and Time Warner Cable). If you have one of these cable providers Speed2 is free of charge (if you are already a Speed channel subscriber). Just so you know, people who get their cable TV via Charter, Comcast, AT&T, Qwest, Viacom, FIOS, Suddenlink, Mediacom, Insight, Cable One, NewWave, WiseOpenWest and many others cannot get the FIM World Motocross Championships in any shape or form.