MOTOCROSS ACTION'S MID-WEEK REPORT: (04/20/11)
PHOTO OF THE WEEK


Roczen's turn-down whips are spectacular.

MXA INTERVIEW: KRISTIAN KIBBY


Kristian.

MXA: What is some of the cutting-edge technology that you have been working with lately?
Christian: I honestly didn't come out of high school with a high degree of computer skills. With the inception of fuel injection on motocross bikes today, I'm teaching myself a lot of stuff on the way, and becoming more and more familiar. If I don't know how to do something on the team it's my job to find out who knows how to do it and align ourselves with the right people. If we don't have the knowledge within the team, I choose who we want to help us. I can't speak highly enough of the guys at Vortex ignitions. I've been working a lot with them and I'm responsible for all the mapping. The amount of adjustability we have is amazing, there are infinite settings we can work on, and it's not as straightforward as everyone would have you believe. A small change to the bike might result in more mapping changes than you think. I'm enjoying working with that and working with other suppliers and learning. I'm not an engineer, and I'm not a metallurgist, but you absorb a lot of info about different coatings, different processes, different materials, a lot of the science. A lot of high-end, F1 type parts are trickling down into motocross engines. There are plenty of companies that supply to the motocross world that have a background in some pretty high-end motorsports and are bringing technology into this sport that's really interesting.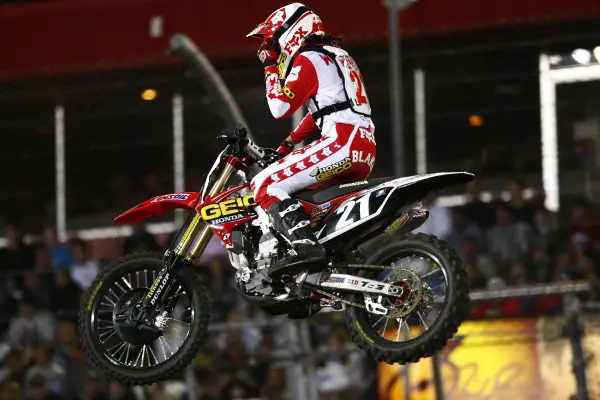 Kibby works hard to develop a report with riders like Blake Wharton.
Do you guys get many factory parts?
We do have access to a lot of stuff, but the funny thing is, the factories are building more and more things in the USA using information from Japan. Honda may have information or a blueprint from Japan of a part that they recommend. If you want to get five of them made it might be costly, but if you want to get 20 of them you can amortize that cost. So, there are many instances where Honda and ourselves, will join forces, combine our orders and commission a run of the same part to be used. This is all stuff I didn't know 10 years ago, but you're paying a lot for materials, design, tooling, and set up. But, once you start spitting out parts at the same time and have things built for the next two years, it helps everybody.

With the current economy are budgets tighter?
The prominence of Geico Honda has been escalating in turn is. Yes, there have been tough times, but we have been fortunate enough to continue building and growing our team and attracting outside sponsorship dollars. We started getting better and better with results, so our budget has been slowly growing as well. We're not drastically affected, but last year was definitely a year where we made sure we weren't wasting anything and we kind of tightened our belts. Last year was a rough one, but things have been looking up this year.

Kibby explains why Barica's locked right wrist isn't a problem.
Does Justin Barcia's bike have special durability needs because of the way he rides?
No, all of our guy's engines are the same. The rev limit thing is happening in the air where there's very little load on the motor. It sounds horrendous because you're cutting spark. If you were to take the rev limiter out of everyone's bike, Justin might be able to cause more damage than what other riders could do. But that limiter is there, obviously to limit. So, at that selected limit no damage occurs. It just makes a noise that everyone identifies with. You can spin an engine on a SpinTron, and the main thing you're looking at it with four strokes is piston speed. Excessive piston speed is going to cause problems with the cylinder liner, and possibly the crankshaft or cause of valve float. But that rev limiter is set well before any damage is occurring. It's funny, I look at message boards from time to time. I'd love to be able to invite people into the shop and educate them and show them what's going on. I'd love to take a bike out next to the shop and put a clock on it, hold it on the limiter and put it on YouTube.There really is no issue. I'd like to see what would happen what with that virally. I know something would eventually break. I don't know if I have the budget to sacrifice those pieces are now.

Windham's Geico Honda must be fast, but also handle abuse.
What is going on behind the scenes?
We have a pretty good program going on right now. Some of the other manufacturers had a really strong presence in amateurs and they have a large talent pool to choose from, sponsoring a whole host of younger guys turning pro. We made a big push to select a younger guy ahead of time. Our goal is not necessarily to go out and kick butt in amateurs but to get to know a rider before the they join our Pro ranks. With Canard and everyone coming in after him, Wharton and the rest, when they showed up at their first Pro race, they were already a well oiled machine. We knew each other, we were comfortable around each other, we knew what they wanted, and how to work with them. There are a lot of behind-the-scenes stuff where I visited one of the amateur nationals and visited our next guy, Justin Bogul. When we get to a Supercross race where there is a limited amount of time to work between practice sessions, I have a better rapport with riders and we can better communicate what they are asking the bike to do, and what they are asking for the team to provide. Then the are replacements riders. I go to the track with Dacotis and try to help them out. It's not like were only at the practice track on Thursday before we fly to Supercross. Were trying to put in time with our guys months and even years before you see them at the pro level. It was 12 months before Trey canard showed up at East Coast Supercross, I was down there in the 40 degree weather at Mini-O's, when a lot of guys were back in California at the Supercross track. A lot of guys asked 'what are you going down there for?' It was a long-term goal but I think played really well, doing that inbetween testing with our Supercross guys.

If you had to speculate, what do you think the next big piece bike technology will be in the motocross world?
I'm just going to speculate that it might be some sort of variable cam timing that would broaden the power spread and make the bike operate over a wider range. The traditional layout of the bikes could change. Now, you set the engine in it and set the gas tank on top of it, and that's that. The motocross chassis, with where the shock absorber is positioned, and where you carry the fuel… there are limitations on all of that. If we didn't have the engine at all we can build a better chassis, and if we didn't have chassis we could build a better engine. You have to move the shock over to let the engine breathe a little bit, but if you didn't have to let the engine breath, you could position the shock better. Yamaha is trying to reorganize where they position everything, I can see more stuff happening with the overall relationship between the chassis and the power plant.

WHAT IF JAMES WINS THE LAST TWO RACES? WHAT IF CHAD DOES? WHAT IF?


James Stewart (7) has become a wheelie maniac off the starts. He needs to keep it down for the next two weeks, get holeshots and try to win without any drama (is that possible?).

The "what if " game is awesome because by the time the "what if…" become the "what was…" nobody remembers that none of the "what ifs" actually came true. But, what if James Stewart won the next two AMA Supercross races (Salt Lake City and Vegas)…would he win the 2011 Supercross Championship?
JAMES CHANCES: James is 9 points behind Ryan Villopoto, so if James wins the next two races he will win the Supercross title if…
…Ryan Villopoto finish third or worse in both races (which would be at least a ten point swing for Stewart). If Ryan Villopoto goes 2-3 behind a Stewart double victory, James will lose the crown by one point to Ryan Villopoto.
…if James wins the next two races (and Villopoto has major trouble), we will beat Chad Reed and Ryan Dungey for the title regardless of where they finish behind him.

Chad is the closest to Ryan Villopoto in points…six back.
CHAD'S CHANCES: Chad is six points behind Ryan Villopoto. If Chad wins the next two races he will win the Supercross Championship…
…if Ryan Villopoto does worse than second in either race. But, if Ryan goes 2-2 behind Chad's 1-1, they will tie on points and Ryan Villopoto will be the Champion because he has more Supercross wins than Chad.

Ryan Dungey is only 7 points behind points leader Villopoto, but the difference between six and seven points is big.
RYAN DUNGEY'S CHANCES: Ryan Dungey is 7 points behind Villopoto. If Dungey wins the next two races, he will win the Supercross Championship…
….if Ryan Villopoto does worse than 2-2. The difference between first and second is three points, thus a 2-2 by Villopoto will lose him six points over a rider who goes 1-1. And with Dungey 7 points back, he needs Villopoto to get worse than second at one of the two races.
BEYOND THE MATH: Obviously the point's lottery starts to get crazier if a rider finishes 4th in a moto…and with only four riders (Chad, Ryan I, James and Ryan II) vying for the title, someone will have to finish fourth twice.

This is the most important man in Supercross…Kevin Windham. He can decide who becomes the 2011 Champion.
THE WILD CARD: With Trey Canard out of the mix, James Stewart was in a big hole leading into Seattle (16 points back), he needed to win Seattle and have Canard finish second..thus denying Ryan I, Ryan II and Chad of some valuable points The loss of Trey hurt Bubba worse than anyone else. Luckily, it rained in Seattle and the Rain Meister, Kevin Windham, came to Stewart's aid and finished second. Thanks to K-Dub, Stewart gained points and is only 9 points back and is still in the game.

Everyone in the top four misses Trey Canard. Since Trey was fifth in points, his main role to play in the final couple rounds was to either win races and steal points or get between the guy who won and his chasers. Ryan I, Ryan II, Chad and Bubba wanted Trey to be healthy.
BUBBA'S BEST HOPE: Stewart's only hope, apart from winning both motos and bad luck happening to the three men who have more points than him, is that it rains or snows or hails in Salt Lake City. If that happens, then Kevin Windham becomes the spoiler again. If it doesn't rain, Kevin most likely won't be able to split the Big Four on a dry track. So Bubba needs to pray for rain.
Everyone else needs to avoid the big mistake, get a holeshot and run away (by the way, the Salt Lake City track map, shows another right-hand first turn). A win by Villopoto in Salt lake City would almost be the end of the road for Chad Reed, James Stewart and Ryan Dungey…because it would allow Villopoto to cruise into Vegas with at least a nine-point lead over his chasers. And nine points means that RV could finish as far back as fifth in Vegas and still win the title.

Would you rather have the pressure of being six points ahead or six points behind. Don't be silly, Ryan Villopoto is happy with where he is.
WHAT ABOUT A TAKE-OUT MOVE: For those who think that James Stewart needs to take-out Ryan Villopoto to insure a win, that would require all the cards in the deck to line up perfectly. In truth, James needs to holeshot and run away. He doesn't have time to waste lying in wait for his prey…that is the game that Chad Reed played in Vegas a few years ago and it hurt his reputation and it didn't work.
In the interest of their good names, take-out moves are both risky (in that sometimes the guy you take out falls on your bike and you both go down…and foolish because James Stewart (with his recent bad press for impersonating a police officer) and Chad Reed (for his past questionable moves in a title chase) are working on fixing their images, not damaging them more.
With no race this coming weekend, the "what if" game will only get more intense.

DOUG "DOCTOR D" DUBACH RIDING SCHOOL RIDING TIPS


Doug.
We sent an MXA rider to Doug Dubach's Riding School for a refresher, but figured it wasn't fair to horde all the knowledge. So, we acquired some starting tips from "Doctor D" himself to share, and give a sneek peek at the class. The last set of tips from Dubach concerned selecting your gate and ensuring the best possible start. Now turn your focus toward preparing yourself to launch out of your gate. For more information and to sign up, check out www.dubachracing.com.

Type of Starting Pad
Dirt Starting Pad: On dirt starting areas, it's best to fill in any kind of rut behind the gate to make a smooth transition across the bar to keep the front tire from lifting up. Make sure to use good loamy/heavy dirt to fill in the rut and pack it down tight. If there is only loose dirt available, then don't fill in the rut, instead, clean it out and only fill in the front 12 to 18 inches to smooth out any bump going over the gate.
Cement Starting Pad: On cement you will sit further back than you would on a dirt start more in the middle of the seat with your body straight up. You're trying to be dead weight on the bikes (minimum pressure on your feet). Remember, do not sit too far back, because all cement starts eventually hit dirt and pulling yourself forward from too far back will cause the front of the bike to come up. Cement will vary in grip, so the best way to get a "feel" for the pad your on, is to do what I call "dry hops".
Tire selection: While track conditions certainly play a large role in selecting your tire, the first few feet out of the gate are the most vital part of the race and giving up even inches will have a huge impact on the outcome of your race. Example; I will run an intermediate tire at a sand track that has a cement gate, because I would rather get the holeshot and race with a little less straight line traction than get a 18th place start and have more straight line grip.


The classes are limited to ten riders to ensure plenty of one-on-one time.

Ready to Launch
Body Position: On high grip starts, you really need to be a part of the bike "locked in", your elbows need to be in a "pull up" location, not "elbows up" that's for cornering. Sit in the forward most part of the valley in you seat, right where the front of the slope meets the flat section.

Put your feet down: I start with both feet down; it keeps me centered on the bike and the bike at 90 degrees to the ground. Many people have success with starting with one foot down, it just adds another challenge to get the bike from the 2 to 3 degree angle (leaning over enough to balance on one foot), back upright while dealing with all the challenges of getting out of the gate straight.
Throttle Position: The throttle needs to be steady when you're waiting for the gate to drop. The RPM will vary from the size bike to the grip of the starting pad. Typically, a 250F will require a higher RPM due to its inertial mass (how much energy the spinning engine has), whereas a 450 has more inertial mass so the RPM will be lower. The higher traction the pad is the higher the RPM will need to be, the more slippery, the lower the RPM.

The class is open to riders of all skills, disciplines and sexes.
Clutch Engagement: You want your clutch starting to engage just a bit (just enough that the bike wants to creep forward) in your final focus just before the gate drops. This shortens the delay from when you want to go and when your bike moves.
Front brake: It is best not to use the front brake. Your bike will likely try to creep forward a little when you are at the slight engagement stage just before the gate drops, you should be able to keep the bike still by letting the foot pegs rest into the back of your boots. If the surface is downhill and you can't keep the bike back, then you may have to bring in the front bake. Keep this to a minimum, if you have a lot of front brake on and too much clutch engagement, you will feel the back of the bike start to rise up from chain torque, when you finally release the brake to go, the rear will sink/return from its raised state and potentially create a wheelie.
LUONGO REVERSES HIS DIRECTION ON TV COVERAGE: THE GP'S WILL BE ON MOTORS TV IN EUROLAND AFTER ALL

Youthstream can spin the debacle of their Grand Prix TV coverage package anyway they want, but less than two weeks ago, Motors TV (Europe's racing TV channel) announced that due to a disagreement with Youthstream that they would not be carrying the GPs this year. They vaguely referred to Luongo's plan to start his own internet-based TV channel (called MX-Life) and because of this Motors TV was forced to abandon its plans to cover the FIM World Motocross Championship. According to Motors TV, this decision was made because Youthstream, made the last-minute decision to market only the series' TV rights, excluding any other media. Since Motors TV would be unable to exploit any motocross images on its alternative media platforms, it, "due to circumstances completely outside of its control," ended its multi-year partnership with Youthstream.
Then, Luongo's MX-Life internet show turned into a disaster?as paid subscriber were left stranded without anything to watch. Youthstream agreed to refund the per race cost to subscribers, but it was evident that the first week's mistakes would haunt MX-Life for the foreseeable future as there was no platform for sponsors (both series and team sponsors) to get their names out to the public. Now, suddenly, Youthstream has announced that the FIM World Motocross Championship will return to Motors TV?wth a three-year contract.
Frederic Viger, Head of Programming at Motors TV said, "After the disappointment of our contract not being renewed and the first Grand Prix of the season not being broadcast on television last weekend, Motors TV is delighted that Youthstream has accepted that it wasn't feasible to lose Motors TV and its 20 million subscribers. As proof, the partnership with the Motocross World Championship has been renewed for three years until the end of 2013."
Giuseppe Luongo said (what we can only assumed would be sheepishly), "Youthstream is delighted to have finalized an agreement with Motors TV for 2011, 2012 and 2013, which will see the FIM Motocross MX1 and MX2 World Championships continuing to be broadcast live and with repeats, highlights and news. We thank Motors TV, motorsport's leading pan-European television station, who has been one of our main broadcasters for the past three years and who has supported the development of the FIM Motocross World Championship.
As for MX-LIFE, Luongo says that it will continue, but who's going to pay for what's free (and live) on Motors TV?

MXA INTERVIEW: COLE SEELY


Left to right, TLD's Christian Craig, Cole Seely and Travis Baker.
Because he is a former MXA photo/test rider and all-around good guy, we like to see Cole Seely do well at the races. Naturally, we called him up to say congratulations after winning his heat and the main event at Seattle Supercross this weekend, and naturally we tried to find out just how practice on a 450 was his secret to success.

MXA: How did you prepare for Seattle?
Cole: Going into the weekend I was kind of expecting it to be a mud race, because the way the weather looked, it was raining all week. I didn't know exactly what to expect for track conditions, but I knew from racing in past years that it was going to be deep, soft dirt. Coming off riding 450s and some of the East Coast tracks definitely helped me prepare for that. I can't think Honda enough for giving me the opportunity, I gained a lot of experience from it..
Can you go into more detail about how the 450 helped your riding?
It's a bigger bike and the races are more laps, so it definitely helped my conditioning. I feel like Seattle is kind of an East Coast style rack, as far as how the ruts form and how soft dirt is. Indy and Toronto really helped me get ready for those conditions. I feel like I can handle the 250 a lot easier now.

Seely is one of the best in the biz at whips.
On your last race on the 450, you had a crash. How badly were you hurt?
I didn't get hurt too bad, I just got together with somebody in the whoops right before the finish line. I went over the bars, and had a pretty bad pile-up. The bike landed on my back, and bruised my lower back. I moved my legs to make sure nothing was broken, but I was in so much pain. It was like a really bad Charlie-horse. So, I just layed there until the pain went away before I got up.

Did you have to take any time off from riding?
I didn't do anything out of the ordinary, I took my normal two days off after a race. I started riding again the next Tuesday. I felt fine, I was just a little bruised up. Everyone thought I got knocked out because I didn't move, but I was just in a lot of pain.

What were the most challenging aspects of the Seattle track?
The ruts were the most challenging. Mostly, I was just trying to keep my form and keep my technique for the whole 15 laps like I've been practicing. With the track being the way it was, it was a lot harder and a lot more tiring to keep my form in my technique where it needed to be.

The dirt at Seattle was not like this.
Were you dragging your footpegs a lot?
Yeah, I think a lot of people were. In practice, there were a lot of close calls over some of the triples because people were dragging their foot pegs off of the list and it kind of slows you up. I didn't have any close calls because I was dragging my foot pegs, but I almost crashed in the main because the ruts were so deep. The woops were pretty crazy if you got a look at them. There were deep, deep breaths all the way across. I just kind of found of my line, leaned back and went for it every lap. It was almost a luck type of thing. I tried not to look too close in front of my front wheel. That can kind of mess you up, and psych you out.

What happened during the race?
I thought those guys were right behind me, my mechanic didn't give me any indication, and he didn't want to because he knew I would slow down if he told me I had a gap. I was kind of freaking out every time I came to a lapper or made any mistake, thinking that those guys were going to pass me. I looked behind me on lap 10 and saw that I had a little bit of a lead and backed it down a little bit. There was no real fast line, just ruts across the whole track. Sometimes lappers would be in my line and I would have to switch it up for one lap. That made it a little difficult, but I got through it.

Sponsors to thank?
I'd like to thank my team, Troy Lee designs Lucas oil Honda and all the sponsors who have been with me this season. Pro Circuit, Alpinestars, Fatlace. Fatlace is a car, and car culture company that does apparel, and they are really into driftining and stuff. Adidas and Silly Bandz too, I can't forget to thank those guys.
CHAPLIN KAWASAKI TEAM FALLS APART? WESTON PEICK DROPS OUT


Weston Peick.
When Chaplin Kawasaki rider Gavin Gracyk got injured, top AMA Supercross privateer Weston Peick was signed on to anchor the new team during the AMA 250/450 Nationals. Peick would have joined Les Smith, while John Dowd would race selected Nationals and help the team with training and coaching. But, word from Weston's father, Louie Peick, is that Weston is out of the team already. Peick is currently available and looking for an AMA National ride. Peick says that team manager Phil Alderton was the problem, but there has been no official word from Chaplin Kawasaki's principle players, which include Kenny Germain, Brian Berry, Alex Adams and Kenny Ives, on the team's future following this setback. Chaplin Kawasaki's web site is www.chaplinkawasaki.com.
MIKE ALESSI TWEETS TO ANDREW SHORT ABOUT HIS HONDA ACTION FIGURE

"Hey @AndrewShortMX29 I think there is something wrong here."
MXA INTERVIEW: CHUCK STEAHLY


Chuck.
Chuck Steahly came from his Oregon headquarters to spend this week Socal. The MXA crew has enjoyed Steahly flywheel weights on many applications through the years. He has some exciting new developments in the company, so we took the opportunity to chat with him and get all the info.
MXA: How did you get into dirt bikes and the dirt bike business?
Chuck: I got the motorcycle bug when I was 15, and got my first motorcycle at 16. After graduating high school I went to the motorcycle mechanics Institute in Daytona Florida because I knew that I wanted to be in the dirt bike industry. I worked as a motorcycle mechanic and service manager for about 15 years and then I saw an opportunity to start my own business doing flywheel weights back in the 80s when there really wasn't any flywheel businesses out there. I saw a need for it. People converting motor cross bikes to trail enduro.
At that time, did people have to weld on makeshift weights?
Yes, there was a company that was welding on weights, where you had to send your flywheel in and have it welded on. I thought a better way to do it would be to make a bolt on weight. So that's what we got into.
What were some of your earliest designs, and how did they progress?
Actually, we got a patent on a way of fastening a flywheel back in the 80s. We are still using the same design on a lot of the banks now, although with the new four stroke 30 ignition area has become so compact that there isn't really room to attach it the way we used to do it. So, we're getting into new technologies of attaching flywheel weights right now.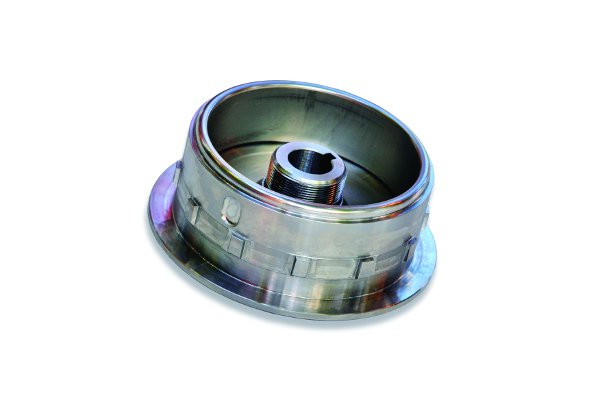 Steahly's CRF450 flywheel.

Can you talk about it, or is the R&D top-secret stuff?
I'm not sure if it's a secret or not. We're experimenting attaching flywheels with a high temperature epoxy right now. A lot of people do press on flywheels, but that is not something a guy can install by himself. That's why we're experimenting with high temperature epoxy, and developing a kit where the customer can install it himself..
We also do suspension, which is kind of new to us, we just started with a year ago. We are also a distributor for enduro engineering, and that is new to us too. NV2 is the name of the suspension business. NV2 is some sort of physics formula, I don't know what it means. My son Derek is the suspension guy, and has a degree in physics. It has something to do with hydraulics. Derek cause of other early just like me, I brought him up on minibikes. He has been to the six days four times with four finishes. He has been state cross country champion a few times in Oregon, so he's a really good writer, and he earned a degree in physics in college and opened up his suspension business after that.
Because of the nature of flywheels, some people may think that you are an offroad-only company.
It's interesting how flywheels aren't really accepted in motocross yet in my opinion. But they could really be an asset to a lot of riders. A lot of riders would go faster if they used flywheels, especially on certain tracks. Having a smoother and easier-to-use power delivery wears you out less. It allows you to run smoother instead of erratic, it allows you to put the power to the ground instead of creating wheel-spin. The most aggressive riders wouldn't benefit unless their engines were super hopped-up, but most riders definitely would benefit. It doesn't cost overall power, it just changes the way the power comes in. It makes the revs come in a little slower, so it isn't quite as zippy but it allows that power to be easier to use.
THE AUSTRALIAN SUPERCROSS SERIES IS DEAD…NO, IT ISN'T!

Rumors circulated through Australian news sites last week that the Australian Supercross series was on its death bed. To quell the rumors, Global Action Sports, the promoters of the Australian Super X Series, released a statement:
"Following the recent posting in error of draft Board Minutes on the Motorcycling Australia website….Global Action Sports would like to release the following statement regarding the exciting future of the Monster Energy Super X series….
"The Global Action Sports team was always aware that to achieve its vision for the sport in this country (Australia) would require substantial investment and that part of this would include ups and downs in ticket sales as the series develops. The company has invested very significant sums in Super X to date and will continue to do so to ensure the growth of supercross in Australia…2010 was a challenging year financially for the series due to a number of factors beyond Global Action Sports' control, including rain at every round, and as a result Global Action Sports has undertaken an internal restructuring including voluntarily liquidating one of its companies within the Super X division…
"New Super X General Manager, Kevin Williams, is very excited about this year's (2011) calendar which will be announced shortly…In the meantime, the partnership between Super X and Chad Reed in the Super X series has concluded…"
PHOTO OF THE WEEK (IF THE WEEK WAS 30 YEARS AGO)


Jim Gibson excavates Saddleback on MXA's 1981 Honda CR250.
Back in 1981, the MXA wrecking crew was busy testing the 1981 Honda CR250. The ?81 CR250 was the first water-cooled 250 motocross bike and it was first to ever have a front number plate that aimed upwards instead of forwards. We took factory Honda rider Jim Gibson along with us to Saddleback for the photo shoot and he did some amazing berms shots (getting so low that roost obscured the front number plate?which scooped dirt into his lap).
WHAT DID WE THINK OF THE 1981 HONDA CR250?


Here are selected quotes from the test in the May 1981 issue of MXA:
"The biggest hindrance to the Honda's handling is its weight. It is completely feasible that the Honda power would be better, the suspension would be more assuring, and the handling would be perfecto if the Honda CR250 didn't hit the race track at over 240 pounds. It may look red, sleek and slim, but underneath all that plastic lies a Moby Dick of a bike."
"The tranny was less than perfect. From the third race on, the Honda popped out of third gear with alarming regularity."
"The head pipe hangs down below the frame rails where it exits the cylinder. Our head pipe looked like an accordion."
"This is biggie! The frame broke directly behind the rear upright. Our 1981 Honda CR125 had cracked in the same location, but the quarter-liter Honda nearly broke in half."
"Clutch slippage was a problem with the Honda CR250, which became more of a hindrance by the necessity of using the plates to keep the red water-pumper pulling out of corners. We solved the problem the old-fashioned way. We gathered up six spark plugs, removed the clutch springs and dropped the washers off the spark plugs down under the clutch springs."
WANNA BE A HIGH-ROLLER: GET A USGP SKYBOX VIEWING AREA


Glen Helen Raceway is offering premium skybox accommodations for the 2011 Monster Energy Grand Prix of the United States on May 14-15. The skyboxes will be located along the elevated REM parking area, and will offer a commanding view of the entire track. What better way to enjoy the only 250/450/Vet World Motocross Championship stop in the U.S.A. than in the comfort and luxury of a private skybox? Each Skybox comes with security and accompanying guest credentials for total privacy and is in a central location to provide easy access to all of the weekend's attractions.
There are three different Skybox packages being offered for this year's grand prix: Single (10'x20′), Double (10'x40′) and Triple (10'x60′) boxes. Each package features a variety of optional extras like catered food, water and soft drink coolers and a fully stocked bar with bartender.

Single Skybox prices: The Single Skybox is priced at $2500 and has a capacity of 25 people. This package includes 25 Sky Club VIP Passes. These passes include general admission, preferred parking and Skybox credentials.
Double Skybox prices: The 10'x40′ Double Skybox is priced at $3000 and accommodates 50 people. This package includes 50 Sky Club VIP Passes, good for general admission, preferred parking and Skybox credentials. The Double Skybox offers a few food and drink options as well.
Triple Skybox prices: The 10'x60′ Triple Skybox is priced at $4500 and holds up to 75 people. This package includes 75 Sky Club VIP Passes, which provide general admission, preferred parking and Skybox credentials.
For more information visit www.glenhelen.com/race-info/2011-usgp/skybox-information. For reservations, options or questions contact Brant Russell of Acorn Woods Communications at (714) 960-5500 or Lori Bryant of Glen Helen Raceway at (909) 384-9342.

IT'S NOT MOTOCROSS, BUT THEN WE DON'T KNOW WHAT IT IS


The Scorpion P6 not really a motorcycle…and it sure isn't a car, but under U.S. laws, the three-wheeled Scorpion P6 reverse-trike is officially a motorcycle for licensing and driving purposes. Which means that it doesn't need bumpers, air bags or other car foof?thus it is a single-seat car that you have to wear a helmet to ride in.

It goes from 0 to 60 in a claimed 3.5 seconds with its 600cc Kawasaki engine. Built in the mold of the Caterham Super 7, Ariel Atom, KTM X-Bow and Campagna T-Rex. It costs $29,900. For more info and an explanation of what it is, go to www.scorpionmotorsports.com

SNAPSHOTS FROM WORCS AT CAHUILLA CREEK
It's good practice and good fun to mix it up and change the regular race routine once in a while. The easiest way is to change it up is with 45 minutes to one hour seasonal or SRA Grand Prixs. These races have many positive points:
-You can show up with motocross equipment, without a big gas tank or other offroad necessities.
-The length is good endurance training while maintaining a fairly high intensity.
-The courses are long, diverse and include motocross and well as more technical sections
-You only do one race, so there is no waiting around for your second moto.
WORCS has a new one-hour race format, which places it in this category for the pros as well as the Joes. The series organizers made the move, among other reasons to promote closer battles in the races. The strategy seemed to work out on Saturday's race at Cahuilla, as the top guys jockeyed for positions in the top five throughout the race. After our own race, we drug our weary bodies around the Cahuilla course and took some snapshots. Even though it was difficult to lift the camera, we were glad we did it, because the race was exciting.
For more info visit www.worcsracing.com

The WORCS field.

Garrison romped out to a big holeshot in the first race.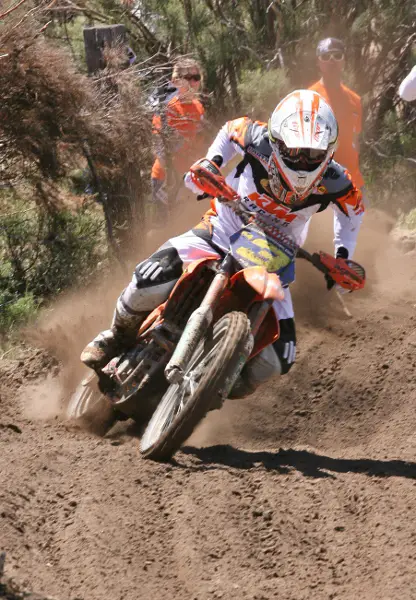 Mike Brown is fit. He charged the entire race.

Ryno's aggression led to crashes in the technical pro sections. It set him back.

Caselli demonstrates this steep drop, which was immediately followed by the jump below.

Dietrich uses the rock lip to jump a big ditch.

Robby Bell airs it out.

Caselli passing Garrison late in the race.
Top finishers:
Mike Brown, #3, 1-3
Kurt Casselli, #1, 2-2
Justin Soule, #4 3-4
Ricky Dietrich, #539, 4-1
Bobby Garrison #6, 5-6