MOTOCROSS ACTION'S MID-WEEK REPORT: (04/27/11)
MOTOCROSS ACTION'S MID-WEEK REPORT
By John Basher
PHOTO OF THE WEEK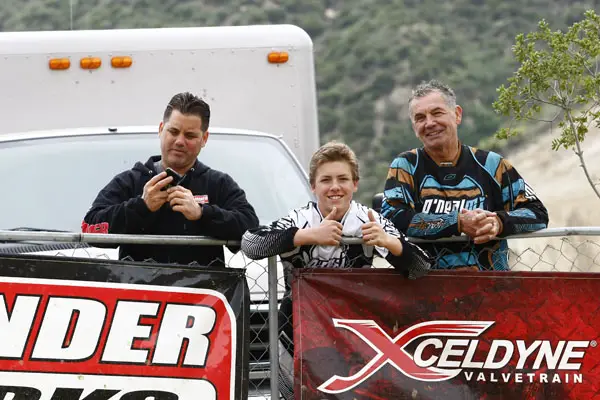 Jim O'Neal (far right), of O'Neal Racing, is an icon in motocross. He launched Jim O'Neal Distributing Inc. in 1970, selling Preston Petty fenders, and then moved into motocross gear and hard parts. Even after all these years Jim still races. O'Neal showed up to REM and raced this past weekend. He won, and his grandchildren, Braden and Preston, also won motos. The O'Neal legacy continues. 
MINI-VIEW: JOSH STRANG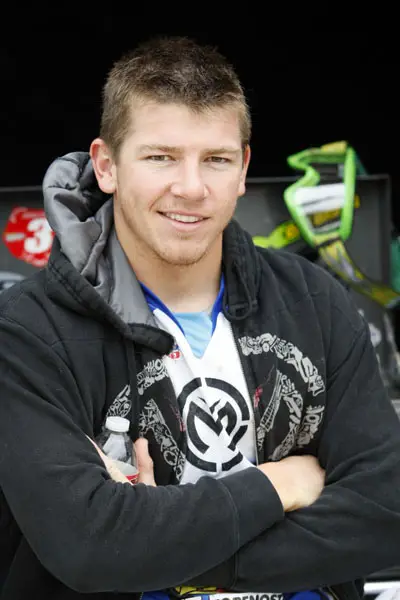 Strang has a lot to smile about. He's only two points back in the GNCC chase, and he's one heck of a motocross racer.
 
    Grand National Cross Country series defending champion Josh Strang is a familiar face at many Southern California motocross tracks, which is rather odd. Why? Strang races three-hour events on the East coast, but he spends the majority of his time on the West coast. When he's not racing the GNCC series he can be found racing at REM – a weekly outing for the MXA wrecking crew. I caught up with the Suzuki factory ace at Glen Helen to find out more about him. 
MXA: Josh, your accent is a dead giveaway that you're not from around these parts. Where are you from?
Josh: I'm originally from a little country town in Australia. My parents own a motorcycle shop back there, and that's how I got into riding and racing. Towards the end of 2006 I found an interest in riding offroad, and that's when I decided that I wanted to race the GNCC series here in America. I did that for a year, and then I was signed by factory Suzuki the following year.
Why did you decide to focus your attention on GNCC?
It seemed like something that I could be good at. I had done a few long distance enduro races before and I enjoyed them. There is an offroad series back in Australia, but it's not very big. I do love motocross, but you sit around all day waiting to ride, especially at the big amateur events. I'm about riding.
What made you take the leap to come race in the U.S. and leave all that you know at home?
I knew that I had to get a contract to come over and race in the U.S., because otherwise I wouldn't have been able to afford to live here. The first year I came over here I did two races out of my own pocket, and thankfully Suzuki signed me. That was way back in 2007, so I've been racing in the U.S. for five years. I live in California full-time and fly back East to race. The only time I go back home is during Christmas.

Two weekends ago Strang was eight-bike lengths from lapping the field during a 30-minute moto. This past weekend he was out front again.
It's unorthodox for a GNCC racer to live on the West coast, mainly because every single GNCC event is on the East. Why live in California?
The industry is in Southern California. For me it's the smartest thing for my career. I want to make a name for myself out here. I did live back East for a little while, and it helped with my training and technique. However, I like living in California.
A lot of motocross enthusiasts might not know what GNCC racing is. Please explain the sport the best way that you can.
GNCC is the Grand National Cross Country series. Each event is a three-hour race through the woods on an 11-mile or so course. We end up doing six or seven laps, and it gets pretty gnarly! There are a bunch of guys that race on the course before we do, so by the time the pro's race the course is chewed up and rough. I enjoy GNCC racing, although sometimes I wonder why I do enjoy it so much. The races are difficult and murder on your bike and body.
It seems that offroad racing is becoming more popular and it's also reaching a younger demographic.
For sure. Right now there are quite a few Pro young guys, like Charlie Mullins, Cory Buttrick, Kailub Russell and myself. More people are starting to take notice and see that offroad isn't just for old guys.
    "Last year I raced the Red Bud National, and it was tougher for me to race two 30 minute motos than race a GNCC, because of the intensity."
How do you approach a three-hour GNCC race? Are you attacking the course the entire time, or do you settle into a pace?
The intensity is lower than what you would find at a motocross race. For the three hours I'm probably going 80 to 90 percent the entire time. Most people can race fast for an hour, but in the second hour is the determining factor. I can gap guys by a minute a lap during the second hour if they aren't prepared. I will say that last year I raced the Red Bud National, and it was tougher for me to race two 30 minute motos than race a GNCC, because of the intensity. You're going wide open for 30 minutes and it's not easy.
In motocross the track changes, but not nearly as much as a GNCC course does after one lap.
It's crazy! Sometimes you'll come to a tight and technical trail section, and then there will be a massive mud bog that you could get stuck in for a few minutes.
Are you racing any of the Nationals this year?
I'd like to, but I have to see what my boss says [laughter]. I enjoy racing the Nationals.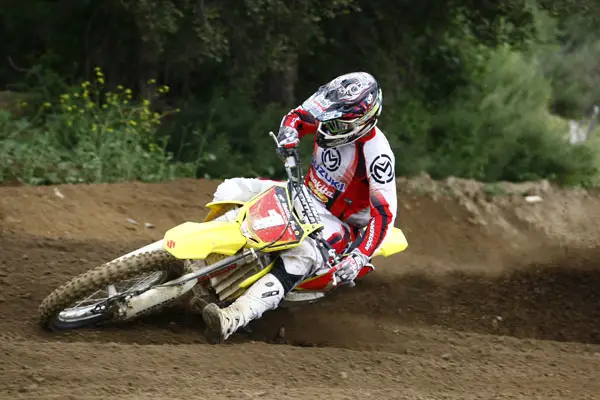 Ryan Dungey isn't the only factory Suzuki rider running the red number one plate. Strang is the defending GNCC champ.
You've been racing at REM the past few weekends, and it's cool because they hold 30 minute motos for the Pro class. When you race those 30 minute motos does it seems like you're just warming up when the white flag waves?
It depends. At a National I was dead tired after 30 minutes, but at REM the races are kind of like a warm up. I get my heart rate up, but I could take a few minute break and go right back out and do it again.
Have you been following the Supercross series?
Oh yeah! It has been very interesting. I'm hoping that either Ryan Dungey or Chad Reed win. I'm pulling for Reed because he's a fellow Aussie, and Dungey because he's a fellow Suzuki guy. I'm kind of interested in Supercross now because the season has been so exciting.
Thanks for your time, Josh.
Thank you.
WHERE'S CHRISTOPHE POURCEL HEADED?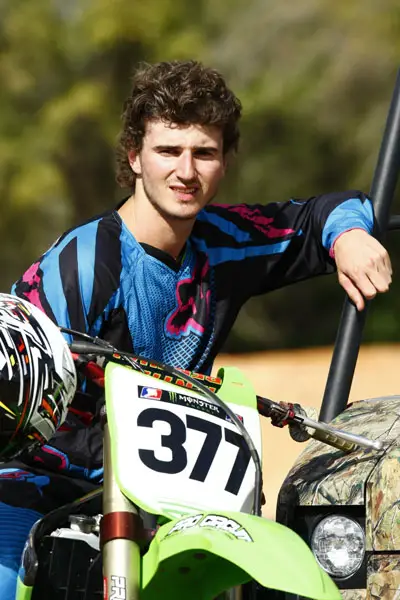 Do you remember this man? You should.

    The question of the week is, ?Who will Christophe Pourcel sign with for the Lucas Oil Nationals?' Suddenly now that the Supercross season is winding out the Pourcel banter is off the charts. The forgotten man a month ago, Pourcel is hot news these days. To me it's kind of funny to hear all the chatter, because I'm surprised that so many people overlooked him. Yes, it's easy to forget about a rider that sat out the entire Supercross season while so much is going on indoors. But seriously? Pourcel is a force to be reckoned with and (mark my words) an instant title contender when he comes back.
    After the Daytona Supercross I headed out to Christophe's Florida estate for an interview and photo shoot (which you can find in the June issue of MXA). Pourcel was putting down hot laps and looked more impressive on his Mitch Payton-built KX450F than on the 250F that I'm used to seeing him on. At that point he didn't have a deal inked. Two months later and Christophe is on the brink of signing a deal. From what I've heard the Frenchman has tried out just about every race bike and has several options. Last week he tried a Valli Motorsports Yamaha and Geico Honda CRF450.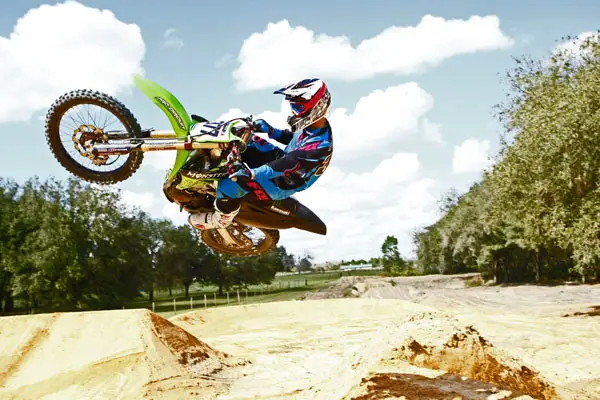 Here's hoping that #377 will be on the gate at Hangtown in less than a month.
    So where's Christophe Pourcel headed? It's a tough call. Honda won't have a serious contender for quite some time outdoors (until Trey Canard and Josh Grant come back, and depending on whether Chad Reed races outdoors). I would think that Honda would want Pourcel on the Geico Honda team. There's also Valli Yamaha to think about. Valli, a Pro Circuit-back team, would be a good fit for Christophe. Mitch Payton has remained loyal to Pourcel, and I'm sure that Christophe is looking to return the favor (since Mitch is a big player in the Valli Yamaha bikes). As of right now Pourcel isn't signed. Here's hoping something comes to pass soon enough.
SALT LAKE CITY FORECAST


The forecast from yesterday showed snow. Is Salt Lake City going to be another Kevin Windham schooling?
    For everything you need to know about attending the Salt Lake City Supercross, click here.
PRESS RELEASE: MATRIX CONCEPTS OFFERS INTRODUCTORY PRICE ON NEW POP-UP CANOPY

    In an effort to introduce our new Pop-Up Canopy we are offering a special introductory offer at $274.95. This is a one-time offer, with 45% off the suggested retail price. Offer is only good in U.S.A. from www.matrixracingproducts.com only with a limit of 2 per a customer. Expires on May 31, 2011.
RACE CALENDAR: COUNTING DOWN THE DAYS…
10 days…until the AMA Supercross 450, 250 East and 250 West titles are decided at the Las Vegas Supercross finale. It's going to be a mind-blowing event. Three riders will be crowned on one night, and there's also the 250 East/West shootout. Can Stewart claw his way back, will Villopoto hold onto his lead, or will Dungey and Reed make a run? If you're not going to be in the stands among the drunken fools, make sure to watch it live on the tube.
18 days …until the Glen Helen U.S. Grand Prix. Expect to find Cairoli, Roczen, Musquin, Short, Alessi, Desalle, Frossard, Osborne, Leib, Nagl, and possible Villopoto at the second annual USGP.
24 days …until the Lucas Oil AMA National opener at Hangtown. Who will be there? Expect to see Villopoto, Dungey, Stewart, Pourcel, Barcia, Wilson, Tickle, Tomac, and the rest of the boys in action outdoors.
38 days. ..until Nitro Circus Live comes to the MGM Grand Garden Arena in Las Vegas. Watch Travis Pastrana and crew backflip on motorcycles, bicycles, tricycles, skateboards, and probably grocery carts knowing them. It's going to be insane, and yes, it's in Vegas. Watch out! For more information, visit www.nitrocircuslive.com.
PRESS RELEASE: DELTRAN INTRODUCES SOLAR-POWERED BATTERY CHARGER/MAINTAINERS


    Portable units charge batteries in remote places or situations; exclusive controller prevents overcharging
    Deltran Corporation, makers of the top-selling line of Deltran Battery Tender advanced battery chargers, has introduced three unique new solar-powered battery charger/maintainers for those times and places where your battery needs help and there's no plug-in power source.
    They are "100% portable" and fit "a multitude" of applications, like motorcycle, RV, marine, auto, ATV and off-road, even ranch and shelter?"any place or situation in which a battery needs to be either charged or maintained but there are no usable electrical power sources." Deltran says its solar panel chargers are the only ones available with built-in Battery Tender three-step automatic microprocessor controller that prevents overcharging.
    The units come in three sizes: the 5-watt/270 mAmp panel weighs just three pounds and measures 13.25″ x 16″ x 1″; the 10-watt/540 mAmp panel weighs 5.5 pounds at 16″ x 29″ x 1″; and the 15-watt/830 mAmp unit is eight pounds and measures 16″ x 38″ x 1″. They have a 12-volt nominal current, are reverse-polarity protected, spark proof and waterproof, have a temperature-compensation sensor, and come with a full five-year warranty.
    Suggested retail prices are $79.95 for the 5-watt panel, $109.95 for the 10-watt, and $149.95 for the 15-watt.
    In addition, a separate Battery Tender Solar Controller unit is also available that allows conversion of an existing solar panel to a solar charger using Battery Tender's "Super Smart Charging Algorithm." It has a usable input range between 5-45 watts. MSRP is $26.95.
    For more information, please contact your nearest Deltran retailer and ask them to contact Parts Unlimited. Or go to www.batterytender.com, or contact Deltran directly at: Deltran Corporation, 801 International Speedway Blvd., Deland, FL, 32724; phone: (877) 456-7901.

IVAN TEDESCO IS OUT: HE'S GOT A BUM LABRUM


Ivan when his labrum was working 100 percent.

This is Ivan Tedesco's Twitter feed about his injury and his surgery. He will not be racing at Salt Lake City or Las Vegas.
ivan tedesco:
Getting hip surgery next week and then knee surgery two weeks after that. Gonna be a rough couple months.
ivan tedesco:
Add another surgery to the list. I tore the labrum and a ligament in my hip at St. Louis SX.
ivan tedesco:
For everyone that's asking what a labrum is? I can't explain. I googled it myself to figure it out.
BAD NEWS ON THE CATALINA GP FACEBOOK PAGE


"This morning Tuesday, April 19th, Catalina Island's City Manager and Fire Chief, Steven Hoefs, informed Vinnie Mandzak, promoter of the 2010 Catalina Grand Prix, that the Santa Catalina Island Company's board of directors declined to hold another motorcycle race in December of 2011." 
Don't get too disturbed yet; this is all part of the dance (last year the race was on and off several times). If anyone can work it out, Vinnie can. According to the City Manager, the Catalina GP weekend was the island's fourth largest income generating weekend?plus it happened in the dead of winter when the island has few, if any, tourists.
TONY C. GETS A TWO-YEAR EXTENSION AT KTM


Tony's new wheels.       Ray Archer

Stefan Pierer, KTM CEO, announced at the Dutch GP that Tony Cairoli has signed a two-year extension to his GP contract and will stay with KTM through 2013. Cairoli said, "KTM is the best team and we had the opportunity to sign for two more years; it is important to have stability."
WANT TO RACE THE USGP VET WORLD CUP? LISTEN UP


You haven't lived until you blasted through Glen Helen's 45-degree banked Talladega first turn with 39 other maniacs.

Riders over the age of 40 who want to ride the FIM Vet World Cup race at the Glen Helen USGP on May 14-15?must sign up with the AMA. Don't waste time with the AMA website or trying to fill out the forms on there?because they will just confuse you by the fact that what you need is either not there or hard to find (what did you expect from the AMA?).
Instead, call the AMA and ask for Jane Caston. She can see you through all the extra foof that the AMA has added to the process (it should be noted that the FIM is more than willing to let American Vet riders race the race without jumping through any hoops, which means that all the hoops are from the AMA). Call Jane Caston at (614) 856-1910, ext. 1278.
The Vet World Cup started this last weekend in Holland and Mats Nilsson went 1-1. Last year Nilsson was third at the USGP…he was beaten by Doug Dubach and Kiwi Darryll King. The top ten at last year's USGP Vet World Cup were Doug Dubach, Darryll King, Mats Nilsson, Kurt Nicoll, Pascal Bal, Ty Davis, Victor Sheldon, Drey Dircks, Erwin Hendrikx and Christophe Lheriteau. Other notable riders were Jeff Matiasevich (14th), Matt Tedder (15th), Chuck Sun (16th), Ed Foedish (17th), Clark Jones (25th), Paul Krause (26th), Trey Jorski (31st), Joe Root (32nd) and Terry Fowler (33rd). The Vet World Cup riders will race one moto on Saturday and their second moto on Sunday.
2011 XR75 WORLD CHAMPIONSHIP IN WALLERAWANG ON OCTOBER 21-23


Unlike most of the whiners in the Old World, MXA has no trouble with the Aussies naming their Honda XR75 race the "XR75 World Championships." They can call it that because they invented the idea, they are enterprising enough to hold the race and the riders that show up for it will be the Champs?that is the way it works (regardless of what a bunch Euros think) and should the Euros co-opt the idea (co-opt means steal) and hold their own XR75 race?they can call it the "XR75 World Cup" or something else, but not the "XR75 World Championship" because that name belongs to the Aussies. Which leads us to the 2011 "XR75 World Championship" in Wallerawang, NSW, Australia, on October 21-23, 2011.
Where is Wallerawang? It is a small town in New South Wales, Australia. It is located 14 km northwest of Lithgow, Australia. Which leads to the natural question of?where is Lithgow? We don't know, but the nearest city that anyone who lives beyond yelling distance from the Wallerawang Power Station knows is Sydney, which is 155 km away. For more info on the event, but barely more, go to www.facebook.com/pages/XR75-World-Champs-2011/151685298183757?ref=mf
JEREMY VAN HOREBEEK OUT OF 250 GP's FOR A COUPLE OF MONTHS: HE'S JUST THE LATEST


Jeremy and his wounded wing.           Ray Archer

KTM rider Jeremy Van Horebeek dislocated his shoulder at a Belgian National two weeks ago. He had his shoulder operated on, but must undergo two months of rehab to build the strength back. Van Horebeek joins Matiss Karro (broken leg), Valentin Teillet (broken shoulder blade)has a cracked shoulder, Jake Nicholls (broken ankle) and Michael Leib (concussion). Leib is the only rider to make the USGP on May 15.
ARAI UPDATES ITS SITUATION IN REGARDS TO THE JAPANESE EARTHQUAKE



Arai Americas has released a statement about its parent company's situation after last month's devastating earthquake and tsunami.
Arai Helmets' headquarters are in Omiya, Japan, in the Saitama prefecture, about 45 minutes northwest of Tokyo. This is approximately 200 miles southwest of the Miyagi prefecture, sight of the catastrophe's major impact. A company spokesman said that while a few of Arai's factories sustained minor damage, none of its employees were injured. Arai's operations and production are going forward, subject only to occasional delays from controlled power outages to conserve electricity, although those have lessened in recent weeks as the situation becomes somewhat more stabilized. The only other reported effect are some shortages of a few of the materials used in production, although Arai said it that it has sources to fill the need for the time being, and is getting very good cooperation from its regular suppliers whose priority is to do their best to help the company.
Mr. Michio Arai, president and son of the company founder, singled out America for special thanks. "Let me express my cordial thanks to the people of the United States. Our TV showed helicopters of US troops being welcomed by refugees of the disaster, bringing supplies of food, goods, and aid. They were very nice and warm scenes to see. Thank you."
ENDUROCROSS MAKES IT TO THE X GAMES: MAKES YOU WONDER WHAT HAS BEEN DROPPED



Press release: ESPN will kick off its 17th annual action sports competition in Los Angeles from July 28-31, 2011, and will debut the new discipline of Enduro X, as well as the first-ever rally street circuit running through the downtown area. In its ninth year in LA, X Games 17 will feature more than 200 athletes at competition venues and event spaces including Staples Center and Nokia Theatre L.A. Live in an effort to further consolidate events to one area and better enable fans to catch all the X Games action from downtown Los Angeles.
Enduro X will feature both men's and women's disciplines, showcasing riders' talent on an all-terrain obstacle course. Riders will race through sand, mud, logs, rocks and other terrain features in a blend of motocross racing and traditional Enduro, battling not only each other but also the challenging course for their shot at X Games gold. The new addition will be one of eight Moto X competitions taking place inside Staples Center, while the downtown Los Angeles street circuit will offer a unique and exciting setting for the disciplines of Rally Car Racing on Saturday and RallyCross on Sunday. "Having RallyCross at last year's X Games was a huge step for the sport, but racing through city streets is how motorsport began," said three-time X Games rally gold medalist Tanner Foust. "Being in the car, ripping through streets, cranking the handbrake through intersections while door-to-door and jumping next to buildings is going to be truly epic! I can't wait!" ESPN, ESPN2 and ABC will combine to telecast 25 hours of live X Games 17 competition.
WANT A BRAND-NEW NEVER BEEN STARTED 1981 SUZUKI RM125? ONE EXISTS?BUT THERE IS A CATCH



A never started 1981 RM125, in almost perfect condition, appeared on eBay this week. It is being offered for a starting bid of $3400 (bidding will close Thursday night). Here is what the seller had to say.
"New 1981 Suzuki RM125 located in Tokyo, Japan. This bike is new never had gas in it. The nubs on the tires are still there. The only bad point is there is some damage to the seat and rear fender 'see pictures.' There is also some sun fading on the front and rear fenders. Some infomation on motorcycles sold in Japan, the bikes come to the dealers here uncrated and they don't have the 17 number/letter vin numbers like the USA models. I can ship the bike to Long Beach, California in one of our containers going there. Price for this will be approximately $800.00. I can also crate and ship the bike worldwide no problem. Bike is sold as is, so ask questions before you bid. Payment must be a bank wire transfer to our company bank account here in Japan."
cgi.ebay.com/ebaymotors/NEW-1981-Suzuki-RM125-AHRMA-RM125X-Rare-Vintage-MX-/200600589937?pt=US_motorcycles&hash=item2eb4ba1671#ht_17792wt_1026
THE AMATEUR SCHEDULE FOR THE 2011 AMA 250/450 NATIONALS


There will be Amateur days in conjunction with almost round of this summer's Lucas Oil AMA Pro Motocross Championship. The 2011 Amateur Day schedule kicks off on Thursday, May 19, during the opening weekend of the season at the Rockstar Energy Hangtown Motocross Classic in Rancho Cordova, California. It should be noted that these are not all amateur races?some are practice days only and some are not held on the actual National track. Pala is not listed on the schedule for a National race weekend amateur day.
AMA NATIONAL AMATEUR DAYS SCHEDULE
May 19-22…Hangtown…Thursday, Friday, Sunday (Minis)
May 27-30…Freestone…Friday, Sunday, Monday (All at Amateur Track)
June 10-12…High Point…Friday, Sunday
June 17-18…Budds Creek…Friday (Pro Track and Night Supercross), Saturday (Night Supercross), Sunday (Pro Track)
June 26…Thunder Valley…Sunday (Practice)
June 30 – July 3…Red Bud…Thursday (Practice), Friday (All Day/Pro Track), Saturday (Night), Sunday (Amateur Track)
July 14-17…Spring Creek…Thursday (Practice), Friday, Sunday (Practice)
July 21-22…Washougal…Thursday, Friday
Aug 12-14…Unadilla…Friday, Sunday (All at Amateur Track)
Aug 28…Moto-X 338…Sunday (Practice)
Sept 2-4…Steel City…Friday, Sunday
Riders should check with each specific track for specific list of classes and schedules, which are subject to change.
MALCOLM SMITH PARKING LOT SALE THIS WEEKEND