MOTOCROSS ACTION'S MID-WEEK REPORT (05/11/11)
MOTOCROSS ACTION'S MID-WEEK REPORT
By John Basher
PHOTO OF THE WEEK  


    The rider numbers will have changed, but the story line remains – the Nationals are almost here! Hangtown is the beginning of the AMA outdoor series, which means that motocross (also known as real racing) is only ten days away. The slate has been wiped clean. Let the games begin!
 
THE LATEST ON CHAD REED & HIS (POSSIBLE) OUTDOOR ADVENTURE
    I'm friendly with TwoTwo Motorsports' Dave Osterman (yes, the same Dave O. that was given the "Supercross Team Manager of the Year" award). Dave and I talk on a fairly regular basis, and lately I've been pestering him on whether his rider, Chad Reed, will race the Nationals. He wouldn't say a peep, other than to express the team's commitment to the Supercross series.
    This morning I spoke with Dave and he informed me that the team is moving forward in preparation for the Nationals. As he said, "We're going through the motions as if we are going to race outdoors." He wouldn't confirm that Reed will race the Nationals, but the team is preparing as if Reed were. Confused? I'm going to go out on a limb and say that Chad Reed will race the Nationals. And why wouldn't he race? Chad has what it takes to win the outdoor title, and he can continue to boost his image. It would be great to see Chad Reed race outdoors, plain and simple.
MINI-VIEW: CHRISTOPHE POURCEL


    It's official – Christophe Pourcel will be racing the 450 Nationals this summer! It's exciting, because Pourcel should be a front runner and vie for the outdoor crown. The amiable Frenchman signed with the MotoConcepts/Yamaha team, and was seen testing his new bike this past Thursday at Glen Helen. I called Christophe up to see how testing was going.
MXA: How is testing going on the Yamaha YZ450F?
Christophe: It has been really good. We tested all last week. The motor is perfect. We wanted something smooth for me, and we finally found a setting that we're all very happy with. About the suspension, we're still trying to do some testing this week to find the best setup for me.
What's it like working with MotoConcepts team manager David Vuillemin?
Things have been going really really good. Going to this team was my choice, and I was talking to David a lot before I signed with MotoConcepts. I think that David can help me a lot on the track and on the bike. I'm really happy about that. It's super exciting to be with this team.
What were the reasons as to why you chose to sign with MotoConcepts?
I was talking to DV [David Vuillemin], and the team seemed really good. I spoke with the boss from MotoConcepts, Mike Genova, and he was very nice to me. They made me a offer that was a good deal. They told me that I could choose my own gear and kind of have my own deal going. That was nice. I also wanted to ride for a smaller team.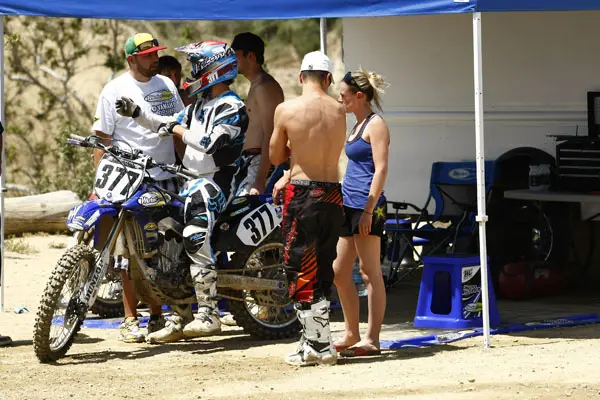 Christophe talking with MotoConcepts team manager, David Vuillemin. I'm going to go out on a limb and say that they are speaking French. The two seem to have formed a nice relationship.
Why did you want to ride for a smaller team?
I have to come back and race, and I wanted to have something small. That way I can focus more on trying to do my best. I think MotoConcepts can provide that atmosphere.
Do you have a gear deal nailed down yet?
You would have to talk to my agent, Russ [Stratton]. He's in charge of all that. [Note: Pourcel hadn't signed a gear contract as of Tuesday afternoon].
Are you still testing here in California, or are you back home in Florida?
I'm here in California. I'll be staying out here testing until next month. Then I go back to Florida. I want to keep testing and working on the bike to find the best setup for me. Once we have everything good to go the team is going to ship bikes and stuff to my place in Florida.

Look for the #377 on the line at Hangtown!
Would you say that the Yamaha YZ450F compliments your riding style?
Yeah, we found something really good for me on the motor. I was really surprised with the performance of the bike the first time I tried it. That's why I wanted to go with Yamaha. The motor is super smooth, and it was something that I was looking for.
Thanks for your time, Christophe. See you on the line at Hangtown!
No problem. Thank you.
SUPERCROSS AFTER THE FACT: RATING THE TOP FIVE 450 RIDERS

RV will trade in his signature number two for number one come January 7th, 2012.
1. Ryan Villopoto (338 points): In a way, it shouldn't come as much of a surprise that Ryan Villopoto won the 450 crown. Despite two years of with injuries, the Monster/Kawasaki rider asserted himself as a player in Supercross. Last year he battled Ryan Dungey most of the season until a gruesome crash at St. Louis knocked him out of contention. This season Villopoto led the points most of the way, although a hiccup at Jacksonville gave everyone else hope when he coughed up 25 points. It was false hope for Reed, Dungey and Stewart. The fact that he won the title despite failing to qualify for a main event only adds to his accomplishments this year. Two other riders in the top ten in points failed to qualify for races, and both of them (Trey Canard and Justin Brayton) missed races because of injuries. Outside of the DNQ at Jacksonville, Ryan's worst race came the next round at Toronto. Aside from those two slip-ups RV2 finished on the podium 12 times in 17 races. Respect should always be given to the champion, but Ryan deserves a standing ovation. He didn't waver in the face of competition. He remained healthy. And, because of these things, he is the champion. Congratulations!

Reed didn't win the war, but he earned street cred for fielding his own team and finishing second. Way to go, TwoTwo!
2. Chad Reed (334 points): Before the season began Chad Reed didn't have a ride. So, instead of retiring, the Aussie formed his own team. Reed hired some of the top names in the business, bought a semi, and went racing. Chad looked a bit shaky at the first three rounds when he failed to finish on the podium. Just as people started doubting the TwoTwo Motorsports owner he landed on the box at Oakland. Then he won at San Diego. The series really started heating up for Reed at Atlanta, when he and James Stewart came together on the last lap. The Reed train derailed at Dallas when he struggled all day long and only managed eighth. In that one race he lost nine points to Villopoto. After Chad won the Vegas finale he finished four points back in the championship. It was a shoulda, coulda, woulda year for Reed (and Ryan Dungey, James Stewart, and Trey Canard). If its any consolation, Reed won the Bret Michaels "Rock Hard Ride Hard" award, earned the Monster Energy Supercross "Team of the Year" award, and his team manager, Dave Osterman, won the "Team Manager of the Year" award.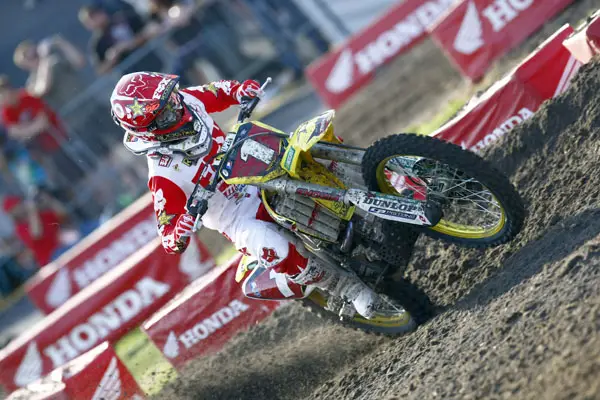 There's no denying that Ryan Dungey was fast in Supercross, but he couldn't get 'er done when it mattered most. And then there was that chain issue…
3. Ryan Dungey (328 points): Before the series began many people predicted that Ryan Dungey would defend his Supercross title in 2011. After an incredible 2010 season it was hard to bet against Dungey. But when Ryan didn't chalk up a win after the first round…or the fifth round…or the tenth round…talk switched from whether Dungey could win the title to whether he could even win a race. It came together for Ryan at Toronto. Unfortunately for Dungey it was his only win of the series. I thought that Ryan's racing strategy of playing it smart and safe would change after his chain derailed at Anaheim 2. After all, he was buried in the point standings and had nothing to lose. A fire was lit underneath his Fox leathers at Houston, but he was edged out by Trey Canard. As the series progressed Dungey rode with poise and consistency, but at times he needed to have a more aggressive racing strategy. Ryan had the speed to take the title, but he couldn't chip away at the leaders when it mattered most.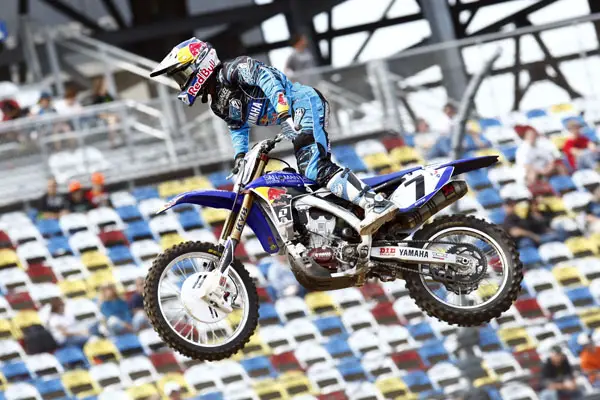 "Bumper" Bubba Stewart, known for his bumper bike escapades, was blazing fast this season. However, he crashed far too often.
4. James Stewart (301 points): Without Bubba the 2011 Supercross series wouldn't have been touted as the "Most exciting Supercross series ever." James provided a blooper reel that could take up a 30-minute TV slot, and that's what made everyone sit on the edge of their seat. James Stewart is the fastest man in Supercross, there's no denying that, and there's no argument about Bubba being the rider most likely to crash at any given moment. At the preseason press conference Stewart was questioned about his checkers or wreckers approach to racing. James admitted that he was planning on calming down and taking it race by race. Through five rounds it seemed as if Stewart was following that plan, but then a crash in Houston came…and San Diego…and Atlanta…and Daytona…and Jacksonville…ad nauseum. The crashes left James back in the points chase. Instead of playing it cool, Stewart flipped the switch and rode like a crazed man. It worked at a few races (St. Louis and Seattle), but backfired at others (Jacksonville and Salt Lake City). His Las Vegas tumble was salt in a gaping wound. James Stewart won five Supercross races this season, but years from now people will remember his bone crushing crashes and his off-track arrest more than those wins.  



Watch out for this kid in 2012.
5. Trey Canard (255 points): All I can say is, watch out for Trey Canard in 2012! The rookie factory Honda rider was a ball of fire this year, having won three main events. Inconsistency stymied his chance at the title, and an outdoor practice crash ultimately deflated his opportunity at the 450 Supercross crown, but not before Canard proved himself among the top riders. Trey isn't just a great Supercross rider – he's one of the top five guys in the class. Trey is going to have to shake his injury-prone reputation, and it's possible…just look at Ryan Villopoto.
MINI-VIEW: COLE SEELY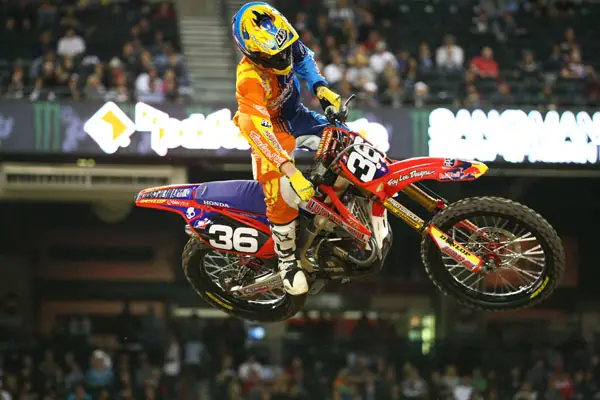 Lucas Oil/Troy Lee Designs/Honda rider Cole Seely has had quite a year. He won two 250 West Supercross races, did a little moonlighting on the factory Honda 450 squad, and finished fourth overall in the 250 West. At Las Vegas the second year TLD rider crashed while leading the main event and got caught up in the Broc Tickle/Eli Tomac championship battle. Skeptics have been quick to judge Cole's riding, saying that he was a road block for Eli Tomac and let his friend, Broc Tickle, by. I called Cole up to hear his thoughts on the Supercross series, and Las Vegas in particular.  

MXA: How would you rate your Supercross season?
Cole: I'd rate it an eight or nine, especially compared to last year. I felt like I rode really well and I got some good results. I'm very happy with my Supercross series.
Not only did you win two 250 West main events this year, but you did so in different conditions. The Los Angeles track was in great shape, while Seattle was rutted and moist. That shows a lot of depth in your riding.
I work hard to do well on all track conditions, because you never know what the weather will be like. I had some back luck at a few races, but all in all I thought I rode pretty well all season long.
What was your plan going into Vegas? You weren't in title contention.
I wanted to get out there and battle for positions. I got off to a pretty good start. Ken Roczen crashed while leading, and so he handed me the position. The lap before he crashed I felt like I was getting into a good groove. Once I went around him I thought I had the main event wrapped up. Unfortunately I cased the triple before the finish line and went over the bars. A lot of people probably don't understand how much it hurt me and my bike. I was banged up and the front end of my bike was completely crooked. I wish that I could have put everything on pause so that I could catch my breath and straighten the bike out, but obviously that's not how it works. From there on out I tried to race as hard as I could, but the whoops were so difficult for me. Every time my front wheel left the ground I'd try to turn the bars straight, but I didn't really know what straight was. The bike would go to the right, and I struggled the rest of the main. Unfortunately I let Cunningham, Tomac and Tickle catch up to me. I feel like if my front end was straight those guys never would have been able to catch me. It's a bummer, but that's racing.

Cole won two 250 West races this year. He's a front runner for the title next year.
You were one of a few 250 guys to jump the triple before the finish line. How technical was that jump?
In practice the jump wasn't too bad. As the night wore on the tacky dirt washed off the surface. The landing was like dusty cement, because it was super slippery.
    "I didn't want to cause drama. With three laps to go I moved over for Tomac. He passed me, but then he doubled the triple. The last three laps of the main he doubled the triple. That's not my fault."
It's unfortunate that you crashed, because then you fell back and got wrapped up in the points battle. I'm sure you've heard nay sayers point to you as the reason that Eli Tomac didn't win the 250 West title. What do you have to say about that?
I've read race reports online, and it's a bunch of crap. Kyle Cunningham and I were racing for position so that we could get on the podium. I didn't want to cause drama. With three laps to go I moved over for Tomac. He passed me, but then he doubled the triple. The last three laps of the main he doubled the triple. That's not my fault. I gave him room to put a wheel on me and stuff me if he wanted to, but instead he went inside and doubled the triple. I don't know why people are saying that I was trying to hold up Tomac so that Tickle could win. We're all out there racing to do the best that we can.
Was it physically grueling having so little time to recover between the 250 West main and the East/West shootout?
Oh yeah! It was pretty crazy. I was so bummed out with the way the West main went, because I thought I had the win. Going into the shootout I was worried about my endurance, but I pulled through and rode pretty well.
You've been known more as a Supercross rider, but you capped off last season with a podium finish at Pala. How do you approach the Nationals?
I'm excited. Racing the outdoors is becoming more and more fun for me. I can't wait to go race 12 rounds and see what I can do. I've improved my focus, but sometimes my A.D.D. kicks in.
Thanks for your time, Cole. Good luck at Hangtown and beyond.
Thanks, John.
TAKE A LAP AROUND THE GLEN HELEN USGP TRACK

MARK BLACKWELL NAMED TO THE ZERO ELECTRIC MOTORCYCLES
    Mark Blackwell, 1971 AMA 500 National Champion and Team Suzuki manager, has vast experience in not only racing, but he held various positions in the industry, from jobs with Suzuki and Husqvarna to Vice President and General Manager of Victory Motorcycles. In addition to his new responsibilities with Zero Motorcycles, Blackwell remains an executive of Polaris Industries.
    Mark Blackwell says: "I am delighted to join the Board of Zero Motorcycles. I have tracked the progress of the company from afar and been impressed with its growing product line and its increasingly well-established brand, channel, and supply chain. I look forward to helping the company grow in the coming years and advising its team of talented, industry-experienced executives."
    Aflalo Guimaraes (Managing Director of the Invus Group, LLC, and Zero board member) says: "My colleagues and I have known Mark for a while and we greatly value his industry insight, knowledge of motorcycles, and years of managerial expertise. "We are excited Mark has elected to join the Board of the company and we know his contributions and talents will make an enormous impact on our business moving forward. We look forward to a close and productive relationship with him."
USGP INFORMATION: WHAT YOU NEED TO KNOW



The MX1 class blasts off.
…Glen Helen is the third round of the FIM Motocross World Championship.
…The MX1 (450), MX2 (250) and Veterans (Doug Dubach and friends) will be racing on Sunday.
…Antonio Cairoli (MX1) and Marvin Musquin (MX2) won the Glen Helen race last year. Both will be back this year.
…In the MX1 class, there will be ten Americans slated to race. Clayton Miller, Weston Peick, Michael Sleeter, Caleb Gosselaar, Christian Craig, Sean Borkenhagen, Sean Collier, Lee Witt, Dennis Stapleton and Mike Alessi will represent the USA.

Antonio Cairoli (222) and Mike Alessi (800) battled tooth and nail last year. Will their rivalry continue this weekend?
…Americans racing the MX2 class this weekend will be Sean Lipanovich, Tevin Tapia, Scott Champion, Myles Tedder, Dakota Tedder, Michael Leib, Zach Osborne, Michael Thacker, Travis Baker, and Joey Rossi.
…Look for eight Americans in the VMX (Vet race) class: Doug Dubach, Kevin Barda, Chuck Sun, Tim Hickerson, Lorry Jackson, Matt Tedder, Edgar Foedish and Shawn Wynn.
…The weather forecast for Sunday calls for partly cloudy skies with a high of 69 degrees and a low of 50. There is a 10% chance of rain. This is unseasonably cool for the middle of May in SoCal.
…There will be 22 countries represented at the USGP this year: Germany, Estonia, Spain, Belgium, France, Italy, Netherlands, Great Britain, Russia, USA, Austria, Finland, Latvia, Sweden, Portugal, Switzerland, Philippines, Czechoslovakia, Bulgaria, Brazil, Zimbabwe, and Denmark.

Behold the power and speed of Glen Helen's banked first turn.
…If you can't attend the race, view the live results here: http://www.motocrossmx1.com/liveresframe.aspx
…Or, watch the race live online by clicking here: http://www.mx-life.tv/. It costs 2.99 Euros to watch the GP.
…Steven Frossard (85 points) leads the standings in the MX1 class, followed by Max Nagl (80), Clement Desalle (78), Antonio Cairoli (72) and David Philippaerts (63).
…Ken Roczen (94 points) leads the standings in the MX2 class, followed by Jeffrey Herlings (86), Tommy Searle (84), Arnaud Tonus (67), and Gautier Paulin (65).
…The Marty Moates cup is back again this year. The award, which is in honor of American motocross legend Marty Moates, is given to the top finishing American at the USGP this weekend. Along with acknowlegement is a trophy and $5000 check (Lucas Oil is sponsoring the award). Zach Osborne won the cup last year.
…For tickets, visit www.glenhelen.com. An adult four-day pass is $50. All passes include a pit pass. Parking is $10.  
…Take a look at the Glen Helen USGP track map below. As always, there will be huge hill climbs and big jumps mixed with technical sections and the famed Talladega first turn.

PRODUCTS: RIDE ENGINEERING'S NEW KTM ACCESSORIES
    Ride Engineering has been working hard on establishing a line of KTM accessories similar to what we offer for the four Japanese brands. Using all the knowledge accumulated over the years from racing and testing with professional race teams and privateers, these new KTM hard parts have surpassed all our expectations for quality, design and function. KTM's own off-road team has tested and adopted several of our products, helping Mike Brown win the 3rd round of WORCS at Cahuilla Creek. Further testing is now being done with KTM of Canada's professional motocross team.
* Billet Triple Clamp set, $479.90, offsets available 19, 20.5, 22mm, colors: orange or black
* Rubber Mounted Bar Mount, $99.95, fits Ride Eng. or stock KTM triple clamps, silver only
* Showa Stabilizer Mounting Kit, $149.95, fits Ride Eng. or stock KTM triple clamps, silver only
* Showa Steering Dampener, $225
* Lowering Link, $219.95, lowers bike 5.5mm, orange only
* Billet Engine Kill or Starter Switch, $49.95, colors black or silver
* Brembo Master Cylinder Cover, $26.95, orange only
* Billet Flush-mount Oil Cap, $21.95, orange only
* Billet Ignition Plug, $29.95, orange only
* Rear Master Cylinder Cover, $24.95, orange only
    For detailed information on each product visit www.ride-engineering.com or call 800-805-1516
PRODUCT: MATRIX CONCEPTS M10 FACTORY MAT INTRODUCTORY PRICE


    The M10 Mat has been used and tested all season by many top Factory Supercross Teams. In an effort to introduce the M10 Factory Mat, Matrix Concepts is offering a special introductory offer at $99.95. This is a one-time offer, with $30.00 off the suggested retail price. Offer is only good in U.S.A. from www.matrixracingproducts.com only, expires on May 31, 2011. No other promotions or discounts can be applied.
PRODUCT: THE KTM MOTO-GATE IS NOW IN STOCK


Click on the photo above to visit Moto-Gate.
ALPINESTARS SUMMER PARKING LOT SALE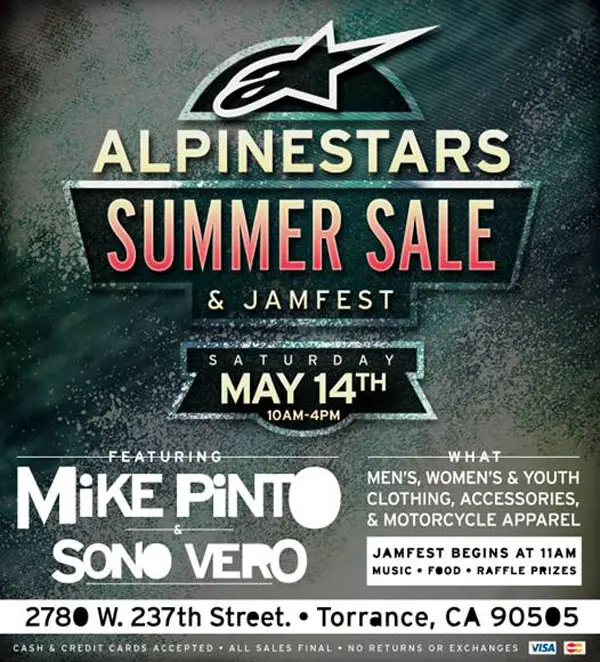 It's time for Alpinestars Annual Summer Parking Lot Sale and Jamfest! On sale will be deeply discounted men's, women's and youth clothing, accessories, and motorcycle apparel. Mike Pinto and local band Sono Vero will be providing tunes all day long while you shop! Bigmista's BBQ will be on-site to feed hungry shoppers. Don't miss your shot to win one of many raffle prizes! The sale goes from 10AM ? 4PM. We hope to see you all there!
PRODUCT: DUBYA USA IS OFFERING A SWEET DEAL


Dubya USA Offering Free Talon Sprockets with Wheelset Purchase Through May 31st
    Orange, Calif. – Dubya USA, the exclusive importer and distributor of Talon hubs and sprockets, is running a special offer for the month of May. The offer includes a free set of Talon sprockets with the purchase of any wheelset made in the month of May.
    
    Dubya USA is the exclusive importer of Talon hubs and sprockets, and is looking to bring the highest quality wheelsets and components to American consumers. All wheelsets are laced to either Excel or DID rims using quality Bulldog spokes.
    
    The Dubya USA website is currently under construction, but will feature an interactive wheelset-building function that will allow customers to create customized wheelsets and order them directly from a single source. Pre-made wheelsets are also available right off the shelf. Dubya provides one-day turnaround on all custom wheelsets, complete support and service, and a friendly and experienced staff available to fulfill any needs.
    
    For more information or to place an order, please call (714) 279-0200. Dubya USA offers professional caliber wheels to riders of every level, from pro racer to casual enthusiast. Call now to purchase your Dubya wheelset and receive free Talon sprockets. Hurry, the offer is only good during the month of May.
    
    Visit www.dubyausa.com or follow us on Facebook at http://www.facebook.com/pages/Dubya-USA/220953361254438.