MOTOCROSS ACTION'S MID-WEEK REPORT: (05/18/11)
MXA INTERVIEW: ROGER DECOSTER


Technically he's a Euro, but as the U.S. KTM and MXdN team manager, Roger DeCoster represents USA at the USGP.
MXA: What is your role at the USGP?
Roger: KTM has a very big presence in the GPs in recent years. I'm here helping them with our infrastructure that we have established in the US, to make it a little bit easier for them. We also have Marvin, who was racing his first race after his surgery. For us, it's good to have an event before the Nationals with Marvin Musquin, because he has not raced outdoors since Des Nations last year. And, it is good to help our GP team. I need a lot of help when I go to Europe with the Americans for the des Nations. The Europeans have always been good about helping us when we over there and I'd like to keep it going.

The USGP served as an important warmup to the AMA series for Musquin.
Is there an opportunity to learn from collaboration with the GP guys at this race?
With the bikes, we have so much communication with the factory. We pretty much communicate with the factory on a daily basis. So, we are aware of everything that they are running and they are aware of what we are running. We have a good communications with the technical in Austria. From that standpoint, there's not much to do there. Since we have not done any outdoors yet, it's good for me to see what the bikes looks like on an outdoor track. By the way, the Glen Helen track is really nice, it's a real Grand Prix track… a real motocross track.

Hopefully, Jeffery Herlings will come to US full-time someday. He is young and blazing fast.
How difficult is this event logistically compared to other rounds in the series?
For us it was difficult because it's my first year with KTM and we have tried to upgrade everything on the team. Everybody has been working like crazy with Supercross and trying to get ready for the nationals. We have a new transporter that we take each weekend, there's always a lot of work with those things, it's like building a house almost. With all of this going on, it puts a lot of pressure on us to get ready for this event. But, it will make us that much better for next week when we have our first national, if we have some part we want to try today or whatever.
GONE BEFORE THE FIRST ROUND: STEWIE WE HARDLY KNEW YOU


James.
James Stewart never said he was going to race the AMA Nationals…well, he said he was going to ride four…and that he was going to pay for it out of his own pocket…but he never said which four…yeah, he did say the first four, but he didn't say when the first four would start…and he could have meant 2012. No matter because Bubba announced on his website that he won't be racing the AMA Nationals…at least not Hangtown. Here is what Stewart had to say…take it for what it's worth.
"Everyone witnessed the way I struggled during the Supercross series this year and while I'd like to race this weekend, we just aren't ready," Stewart said.  "I hope fans will understand.  The decision has been very hard to make, but we won't race till we're ready." The team will continue to evaluate the remainder of the 2011 schedule before any decision is made regarding what events they will participate in.

PRESS RELEASE: TEAM OHLINS USA INTRODUCES ITS THREE 2011 AMA PRO MX RACERS

AJ, (330)Garrett (687) and Michael (699).
Team Ohlins USA is taking "The Original Gold" back to the dirt of its off-road roots, competing in the 2011 Lucas Oil AMA Pro Motocross Championship with three of the hottest young guns in America: Michael Clarke, Garret Toth, and recently signed A.J. Catanzaro. The first event for Team Ohlins USA is June 11 at High Point Raceway in Mount Morris, Pennsylvania.
 
A native of Palm Harbor, Florida, Michael Clarke, #699, has wins already this year in Round 1 and 2 of the Florida Winter AM Series that took place in January at Gatorback and Dade City. At each event Clarke earned the overall in the Open A class, once with two wins and once with a win and second-place finish. Garret Toth, #687, of Harrisburg, Pennsylvania, has won three Branson titles and in 2008 took third at Loretta Lynn's in the Schoolboy 2 class. Hailing from Portland, Connecticut, #330, A.J. Catanzaro is the 2010 250 West Arenacross champion, earning that title with the most wins, at three, and a points total of 197, which is 37 more than his nearest competitor.

A.J. Catanzaro is an Arenacross guy.
Team Ohlins USA principal, Ohlins USA Off Road Manager, Stacey Berger, said, "We're fortunate to have secured such great talent for our initial effort of our own racing team. Already during testing these three have shown how dedicated they are to improving their skills and learning how to provide us with feedback so we can help them go even faster. Our anticipation for the season is hard to keep in check. We can't wait to get out there into competition. We've already learned a lot that'll help us assist every rider using our products." The team is competing on the latest version of the Yamaha YZ450F, winner of numerous magazine shootouts for best dirt bike of the year. The bikes are maintained by the expert skills of Nick Burns, Timo Salonen, Steve Dumond, and Tim Wilkie, and the suspension needs are taken care by Stacey Berger and Marty Lange.
Team Ohlins USA is supported by: Triangle Cycles of Danville, Virginia; Yamaha; GYTR; MX1 West; Acerbis; Ariete; Yoshimura; Kenda Tire; No Toil; Shoei Helmets; Langston Racing Academy, which has been instrumental in providing top-level training for the riders; HIT Center (High Intensity Training) of Jacksonville.
MXA INTERVIEW: TYLER KEEFE
Team Manager of Lucas Oil/Troy Lee Designs Honda


Tyler.
MXA: Tell us about the team's involvement with the USGP?
Tyler: We're went to the USGP with Christian Craig and Travis Baker. We wanted to get them a little pre-practice before going to Hangtown. Troy had a big dealer meeting here, so I figured it would be a good race for the dealers to come out and watch. Troy has a pretty cool hospitality area on the hill, and it's pretty close to our shop, so why not. I wasn't really predicting the rain, so that was a little extra work in getting ready for Hangtown, but we have a good group of guys so we'll got it done. They are actually running their practice bikes in the USGP, so the mechanics will have to get the race bikes ready for Hangtown and prep the practice bikes. They will pull it off.

What are some of the differences between this world GP and AMA events?
You park Thursday, tech is Friday. We had to have the riders come to sign for the team to get their passes?which was a little bit of a pain. It's a pretty long event. Saturday we had two practices and a qualifying heat. We had a qualifying practice for qualifying the gate pic for the qualifying race. In America we have a one-day event which is nice. You get in and you get out. It feels like we've been here all week. Some aspects are good, though. They are really professional. Everything happens at a set time. When the clock strikes the scheduled time, they are on the track.


Roost and crashing left Baker plastered with Glen Helen mud.
What things were you looking at, preparing for AMA outdoors?
We want to see how the bikes would hold up for the duration of the motos. We want to make sure that the suspension feels good and that the guys are comfortable out there and have no complaints. Cole Seely isn't racing this weekend. Since he rode the 450 during the West Coast break in Supercross, he is a little bit behind on outdoor testing. He chose not to race this event, which is fine. It's good for Christian to have a race to get under his belt before Hangtown, he hasn't raced for a long time.

What do you expect from your guys and outdoors?
Travis is really fit and strong and I think he shines outdoors. I think Cole will turn a lot of heads this year outdoors. He has a lot of confidence from Supercross. Christian has a ton of natural talent and he'll be good as well. I think the 450 calms him down a little bit, he can use the power when he needs it. I think he rides a bit more relaxed, which is good.

Cristian got 450cc race practice at the USGP. It seemed to fit him well.
How does your job change from Supercross to outdoors?
A lot of the guys will only be in the shop for a short amount of time during the week. We fly in on Sunday, and I fly out on Wednesday to the next race. I have to make sure that they are all set, and if that means I have to fly out to the track one-day with the riders I'll do that. Mainly, I'm just helping the guys.they work their butts off, and I try to make their lives a bit easier so they make my life easy.

KEN ROCZEN SAYS THAT WINNING AT GLEN HELEN WAS A "HOME WIN"


He may have seemed a little squirrelly in Supercross, but Roczen has been solid at the first four GPs. 
 
After 17-year-old German sensation Ken Roczen won the USGP at Glen Helen (not to mention the Las Vegas Supercross the week before) he said, "I like to consider this as one of my home races now that I have been living in California. It feels great to get a win here for my European team, but to also have my American team celebrate with me."
MATRIX WANTS YOU TO CELEBRATE WITH RYAN V


Go to www.matrixproducts.com/champ11 to find out more.
MXA MINIVIEW: HARRY NOLTE
Technical Manager of CLS/Pro Circuit Kawasaki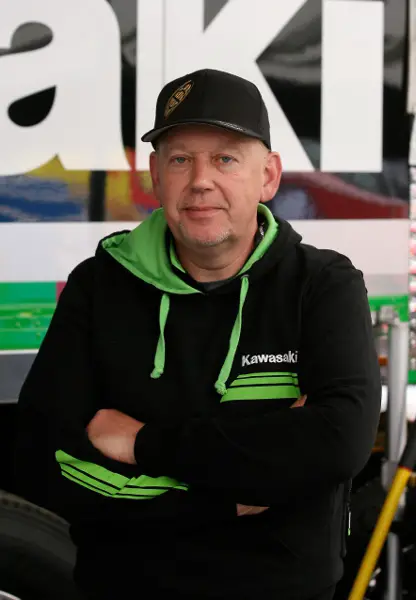 Nolte.
MXA: Can you make some comparisons between the racing in Europe and the US?
Harry: I think that with the riders it is exactly the same, but the conditions are very different. Especially now for us with the noise. The requirements have come down a lot this year for Europe. It's tough, but we can do it. I think it's a good for the sport also to reduce the noise.

Meeting sound isn't about simply putting on a different muffler is it?
It's everything. The bike for sure gets warmer and you have to change the whole package.

Tommy Searle.
Can you tell us about the team and your season so far?
We have three riders: Tommy Searle, Max Anstie and Ben Townely. With Tommy, it goes like planned. We want to do good here so we can stay in the hunt for the championship. With Max, I'm expecting top five. It was a little bit unlucky in Holland in the second heat. The bike was not running good the first lap. With Ben, we all know what happened. He should be back for France, but he is doing really well the moment. I think he can do top five again in France.
How does this race fit into the series for you?
For us, it's not so bad. Mitch is helping us out really, really good. For Brazil, we are like anybody else, working out of a light case and that's how it is. But we're used to it. You have to be organized when you go there. It would be better if it was the other way around and the last race was here, but that's how it is.

PRESS RELEASE: SUNSTAR FREE SHIPPING PROMOTION


From now through the end of this month, all orders placed on our website, www.sunstarmc.com, of at least $100 will receive free shipping! The supercross season finale at Las Vegas
last weekend saw the Sunstar-backed DNA Shred Stix Star Yamaha race team on the podium in all three 250 class main events with Ryan Sipes finishing second in the East main and first in the East/West shootout and Kyle Cunningham making his first podium of the year with a hard charging third in the West main event.
Sunstar's 2011 product line covers all of your drive train needs from replacement steel sprockets, lightweight Works aluminum rear sprockets (hard anodized or black anodized), the
heavy duty, super light stainless steel Works Z off road sprocket and a full line of motorcycle chains ? please visit the website and use our online catalog to check what's available for your
application and for photos & product information. The Star Yamaha program uses Sunstar's new black anodized Works Triplestar Aluminum sprockets and Powerdrive countershaft sprockets.
Be sure to check us out & ?like' our Facebook page! www.facebook.com/pages/Sunstar-Sprockets/152658507057
PRESS RELEASE: MXGMR.COM PRESENTS: MX VS. ATV: ALIVE TOURNAMENTS!


As most of you are aware, MX vs. ATV: Alive has officially been launched. THQ Digital Studios: Phoenix has done an excellent job bringing us all a new game to get crazy on. We would like to thank THQ for continuing the MX vs. ATV franchise and yet again, making another great game based on the sport we love most. MxGMR has been running tournaments for MX vs. ATV games online for years now. We have seen many great modifications to the MX vs. ATV titles over the years. The improvements in Alive have greatly enhanced the experience for MX gamers. THQ have done a great job at refining the online play to provide close, bar-banging races without many of the glitches experienced in the past.
 
We will be running MX vs. ATV: Alive tournaments beginning Monday, May 16, 2011 at MxGMR.Com Racing will be tight, fast, crazy and even more fun than previous MX vs. ATV games. Be sure to get signed up so you don't miss out on any of the action! See you at the gate. Bring your A-game!
SEBASTIEN TORTELLI AND NICOL?S ESPA¥A SERRANO TO PROMOTE MEXICAN GP FOR 2012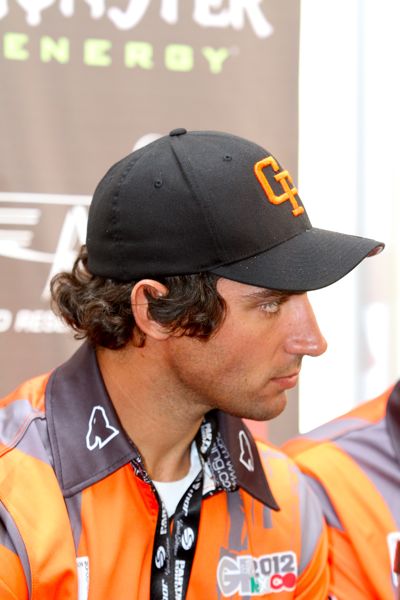 Seb.
The announcement was made at a press conference at the USGP, there will be a Mexican GP in 2012. Here is some of what Sebastian had to say.
"We are working very hard to get organized and to do the new GP. I hope you like the new Des Dations in Mexico. I guarantee you that when you go there it will be nice and hot, so it will be a nice change from this year's USGP. We organized a race last year that was a World Championship race where Stefan Everts and a few Americans came. The race was more of a vet race and for friendly racing. The race was in Guadalajara, which is in southern Mexico. The GP location is not decided at this time. We have three options. In the next few months we will decide the real location of the race. Nico knows all the states in Mexico. We're picking a safe place for the racing. We don't want to have a mess up happen out there. If you go to a bad area things can be bad, you need to know where you're going. If you go to LA in the wrong part of town you may get shot, too. The goal for us is to have a safe place and have the perfect area so everyone can be happy and we can all fly into an international airport so it's convenient for everybody. Mexico is a nice place and it won't be too far from the beach so maybe some guys can go to the beach between the two."
AND THERE IS MORE TORTELLI NEWS: TEXAS MOTOCROSS CAMP

MXA INTERVIEW: MARTINO BIANCHI
Sport Activity Coordinator of Husqvarna


Martino.
MXA: Can you tell us about the race team this year and how it has progressed?
 
Martino: This year is an important step ahead for us. We decided to jump into MX2. In the last three years, we were in MX3 in the European championship. This year we decided it was time to go forward and take a big step. So, we hired Ricci Team, who was the Yamaha factory team for 15 years. For us, this year is just the first year and gaining experience. Our target is 10 to 15th place. We hired Lupino, who placed about 14 in the championship last year. We hired American Michael Leib. Unfortunately, he had a big concussion in the Italian championship. He is still out of the season, but he was really fast. The bike is improving and we're working a lot on the bike. We are transferring the know-how from the factory bike to the production bike. The 2012 production TC250 will have the same cylinder head that we are running. We make about 5 horsepower more than the production bike, so that's good. We understand from the riders that the bike is very good to ride. The weight is really good. We know that we have to improve in terms of power. This is something that we are working on. This is a 3 to 5 years program with MX2. This is the first step, next year we would like to be a little more aggressive in terms of results, and then see how it's going after that.
MXA: How is it going so far this year?
This is the third race of the season. We had the best results in Bulgaria where Lupino was 11th. Michael didn't show up. We had a lot of expectation on Michael because in practice and in racing he was faster than Lupino and also really motivated. But we're unlucky. At Glen Helen, Lupino finished 14th and 15th. Not so bad, but it could be much better. The top 10 guys are really fast, but 12th or 13th, we can achieve that result. Step-by-step.
The factory bikes look really good. We are happy how the team did the bikes with a lot of carbon fiber, a lot of nice adjustments. I think people really like these kinds of bikes. They look really factory. In terms of chassis, frame and suspension we are really happy. We have a good relationship with Kayaba. They're giving us factory support. Next year's product will be complete with Kayaba suspension front and rear, no more Sachs, so so that's a big step ahead. We have two guys from the company who are following the racing team day by day. We have a test team in the company that is working on the bike day by day who is transferring knowledge to the racing team. Let's hope that Leib is coming back soon. We hope to have him back for France, so we have a complete team set up so we have more results from them.
HUSQVARNA NORTH AMERICA HAS A NEW WEB SITE


Husqvarna has committed some serious resources to the North American marketplace. Starting with a $12 million contingency plan, Husky has more than doubled its investment in parts and accessories to serve Husqvarna dealers and customers alike. This level of investment continues with the launch of a specific website for the United States. "New model info, brochures, sales promotions, contingency awards, and complete US specific product information are now available at www.husqvarna-motorcyclesna.com," explains Corey Eastman, Husqvarna NA's National Marketing Manager.
"We will also be using the website as a true communications tool," adds Corey. "Everything from a dealer locator to the latest news from Husqvarna and the magazine tests of our motorcycles is available at the site, as well as some fun stuff including Team Husqvarna race bios, photo galleries and links to our social media outreach at Facebook and Twitter." This launch is just the tip of the iceberg when it comes to all the behind the scenes efforts Husqvarna's new management team has been making.
For more info go to www.husqvarna-motorcyclesna.com

BRISTOL CORE "LOCAL HERO AWARD" FOR THE AMA NATIONALS



Canandaigua, New York-based exhaust packing materials manufacturer Bristol Core plans to recognize hard working privateer riders at the 2011 AMA 250/450 Natioanls  by handing over a check for $275 to the fastest lap time that doesn't qualify for the  program…in essence the 41st rider after timed qualifying. After each round of the 2011 Lucas Oil Motocross Championship the $275 award will alternate between each class with the Hangtown award going to a 250 rider. For more info go to www.BristolCore.com.
PRESS RELEASE: NATIONAL MOTOCROSS TV COVERAGE DISSECTION
You can watch most of the motos, but you'll have to jump around from NBC Sports, SPEED and FUEL TV, between motos



MX Sports Pro Racing and Alli, the Alliance of Action  Sports announce today the 2011 Lucas Oil AMA Pro Motocross Championship  will enjoy exclusive coverage across NBC Sports, SPEED and FUEL TV, with  60 hours of original programming, including 28 hours of live coverage. The domestic broadcasts will reach more than 120 million viewers across  the three networks. NBC Sports' coverage is spread over three months, including a pair of live  broadcasts. NBC's third season of Motocross broadcasts begin with the  Rockstar Energy High Point National June 12, continuing with the  Rockstar Energy RedBud National on July 2 and the Rockstar Energy Unadilla National on August 13.
As  a longtime supporter of the Lucas Oil AMA Pro Motocross Championship, Speed will once again carry significant coverage for 2011 with 21 hours  of programming. The network will showcase every final moto of the 250 Class Championship, in addition to two live broadcasts of the Peterson CAT Washougal National on July 23, and the season-ending Pala Motocross National on September 10.
"We  are proud to continue our strong relationship with both NBC and Speed," said MX Sports Pro Racing Vice President Davey Coombs. "They have been  incredible partners for the past two seasons and their support has  helped American Motocross reach millions of fans in the U.S. and around  the world. Now with the addition of Fuel TV this season, we are even more excited about what the future will hold."
The  Lucas Oil AMA Pro Motocross Championship adds Fuel TV to the broadcast  family for 2011, with more than 39 hours of total coverage on the network. Fuel TV will bring Motocross fans 24 hours of live programming,  allowing them the chance to watch the stars of the 250 and 450 classes  go bar-to-bar during the opening moto from each race. In addition, Fuel  TV will also air 12 weekly one-hour highlight shows, plus a season preview, midseason and recap shows.
The series' widely-popular online coverage will continue as well, allowing enthusiasts to log onto the official website of the Lucas Oil AMA Pro  Motocross Championship to catch all the opening-moto action at www.allisports.com/motocross.
"Every moto enthusiast now has the opportunity to be a part of the entire day  of racing, whether they choose to watch the television broadcast or the  live stream, or a combination of the two," said Mark Carter, GM of Strategic Partnerships for Alli Sports. "We're providing more robust coverage this season, and giving our fans a choice of how they watch moto racing. This is a huge step forward for the sport."
THE TV SCHEDULE:


Saturday's Rockstar Energy Hangtown National, the opening round of the 2011 Lucas  Oil AMA Pro Motocross Championship, can be seen beginning at 4 p.m. EST on Fuel TV, with coverage of the opening 250- and 450-Class motos. Remaining broadcasts of the final motos of each class will air  back-to-back on Speed this Sunday, May 22, beginning at 11 a.m. EST.
     
2011 Lucas Oil AMA Pro Motocross Championship TV Broadcast Schedule
2011 Pre-Season Show
19-May Fuel TV……10:00 p.m. Season Preview
20-May
1:00 a.m.
20-May
4:00 a.m.
Rockstar Energy Hangtown National
21-May Fuel TV……4:00 p.m. 250/450 First Motos
22-May Speed……11:00 a.m. 450 Second Moto
22-May Speed……12:00 p.m. 250 Second Moto
26-May Fuel TV……10:00 p.m. Highlight Show
Rockstar Energy Freestone National
28-May Fuel TV……2:00 p.m. 250/450 First Motos
28-May Speed……10:00 p.m. 450 Second Moto
28-May Speed……11:00 p.m. 250 Second Moto
2-Jun Fuel TV……10:00 p.m. Highlight Show
Rockstar Energy High Point National
11-Jun Fuel TV……1:00 p.m. 250/450 First Motos
11-Jun Speed……10:00 p.m. 250 Second Moto
12-Jun NBC Sports……4:00 p.m. 450 Second Moto
16-Jun Fuel TV……10:00 p.m. Highlight Show
MotoTees.comBudds Creek National
18-Jun Fuel TV……1:00 p.m. 250/450 First Motos
18-Jun Speed……10:00 p.m. 450 Second Moto
18-Jun Speed……11:00 p.m. 250 Second Moto
23-Jun Fuel TV……10:00 p.m. Highlight Show
Toyota Trucks Thunder Valley National
25-Jun Fuel TV……3:00 p.m. 250/450 First Motos
25-Jun Speed……11:30 p.m. 450 Second Moto
26-Jun Speed……2:00 p.m. 250 Second Moto
30-Jun Fuel TV……10:00 p.m. Highlight Show
Rockstar Energy Red Bud National
2-Jul Fuel TV……1:00 p.m. 250/450 First Motos
2-Jul NBC Sports……5:00 p.m. 450 Second Moto
2-Jul Speed……10:00 p.m. 250 Second Moto
7-Jul Fuel TV……10:00 p.m. Highlight Show
Spring Creek Motocross  National
16-Jul Fuel TV……2:00 p.m. 250/450 First Motos
16-Jul Speed……11:00 p.m. 450 Second Moto
17-Jul Speed……6:00 p.m. 250 Second Moto
21-Jul Fuel TV……10:00 p.m. Highlight Show
Peterson CAT Washougal National
23-Jul Fuel TV……4:00 p.m. 250/450 First Motos
23-Jul Speed……7:00 p.m. 450 Second Moto
23-Jul Speed……8:00 p.m. 250 Second Moto
28-Jul Fuel TV……10:00 p.m. Highlight Show
Mid-Season Review Show
11-Aug Fuel TV……10:00 p.m. Mid-Season Recap
Rockstar Energy Unadilla  National
13-Aug Fuel TV……12:30 p.m. 250/450 First Motos
13-Aug NBC Sports……3:00 p.m. 450 Second Moto
13-Aug Speed……9:00 p.m. 250 Second Moto
18-Aug Fuel TV……10:00 p.m. Highlight Show
Rockstar Energy Southwick  National
27-Aug Fuel TV……1:00 p.m. 250/450 First Motos
27-Aug Speed……10:00 p.m. 450 Second Moto
27-Aug Speed……11:00 p.m. 250 Second Moto
1-Sep Fuel TV……10:00 p.m. Highlight Show
Steel City Motocross National
3-Sep Fuel TV……1:00 p.m. 250/450 First Motos
3-Sep Speed……8:00 p.m. 450 Second Moto
3-Sep Speed……9:00 p.m. 250 Second Moto
8-Sep Fuel TV……10:00 p.m. Highlight Show
Pala Motocross National
10-Sep Fuel TV……4:00 p.m. 250/450 First Motos
10-Sep Speed……7:00 p.m. 450 Second Moto
10-Sep Speed…… 8:00 p.m. 250 Second Moto
15-Sep Fuel TV……10:00 p.m. Highlight Show
2011 Season Highlight Show
22-Sep Fuel TV……10:00 p.m. Season Recap