MOTOCROSS ACTION'S MID-WEEK REPORT: (05/24/10)
MOTOCROSS ACTION MID-WEEK REPORT
By John Basher
PHOTO OF THE WEEK

Chad Reed doesn't consider the 2011 KTM 350SXF a real bike, but it sure looked real to me when Mike Alessi holeshot and lead wire to wire in the second moto at Hangtown! Alessi seemed to struggle in the first moto, but he came out swinging in moto two. Look for Mikey boy at the Glen Helen USGP this weekend, where he will go up against another KTM 350SXF, piloted by Antonio Cairoli.
PHOTO OF THE WEEK, PART 2

Speaking of Alessi, take a look at Mike's scowl before the start of the second moto. Did someone go through his entire ancestral line and smack them all in their faces? Mike looks mean. It must work though, because he holeshot. Maybe more riders will sport jail-worthy mugs on the starting line in the future.
MINI-VIEW: BEN TOWNLEY


A few weeks ago Troy Lee Designs/Honda rider Ben Townley and I had a bit of a misunderstanding. Although I don't want to delve into it again, let me just say that we cleared the air at Hangtown.
Speaking of Hangtown, Townley made his return to the National scene by finishing 6-7 for sixth overall. It was a solid start for the Kiwi. He has aspirations of winning the 450 title, as well as the Glen Helen USGP this weekend. I caught up with Ben as he was busily preparing for Glen Helen.
MXA: So are we friends again?
Ben: [Laughter] Yeah, we're good. I thought we cleared the air at Hangtown?
We did, but I'm just checking. I'd like to talk about the Hangtown track. I've heard several riders complain about how the Hangtown track was one-lined. What are your thoughts?
I wouldn't say that the track only had one line, but I thought it was quite tight, especially in the section after the first hill. What made the track seem one-lined was that there were multiple lines coming into the turns, but there weren't many lines coming out of the turns. I don't know if the track crew had an issue with watering the track too much or not discing the dirt up enough. I just found that several lines would come together at the exit of the turns.
"I don't think most people would know at Hangtown that before that race I had spent six weeks on the couch. Obviously the cooler weather this last weekend played into my favor a little bit."
It must have felt pretty good to be back racing the Nationals after dealing with so many injuries.
Oh yeah, it was really exciting. It was an awesome feeling! I was just happy to be out there, and I think the excitement overrode the nerves a little bit. I was more nervous at the World Four-Stroke Championship at Glen Helen the week before than I was at Hangtown. Racing the Nationals is something that I've wanted to come back and do now for so long. The time away has done me good, and I am feeling pretty good.
Are you still trying to race back into shape after dealing with that terrible injury a few months ago?
Yeah, I'm still very much behind the eight ball. I still have a long way to go, but I'm very fortunate that I had put in a really solid seven week program. I was on the last week of the program before I went to Europe, and I built up a really good foundation for racing. I lost a little bit of endurance, but I have since put in a lot of motos and training sessions. The last three weeks I've been concentrating on getting back on the bike. I wanted to get my bike set up as best as I could, because obviously we lost a lot of testing time with my setback. I would say that things have been going really well. I don't think most people would know at Hangtown that before that race I had spent six weeks on the couch. Obviously the cooler weather this last weekend played into my favor a little bit.
You nailed two pretty solid starts at Hangtown and rode up front for quite a while. Were you happy with your results?
The funny thing is that I'm not really happy with the starts I got. It's one of those things where no matter how much I practiced, with me being away for so long, I'm not really used to racing. I found that once I got into the groove of racing, I discovered that there were a few things that were off with my bike setup. I tried to change a few things with my technique and riding position when I was preparing for my return to the Nationals, but those things didn't translate very well when I raced. I put in a lot of work over the past six months, but several techniques didn't work for me. We changed a lot between motos, as much as we could, and it seemed to help in the second moto. At the end of the day, I don't think the results show how I rode. I'm just happy to feel better and better every single time that I ride the bike. We'll continue to get better.
Speaking of riding the bike, you're slated to race the USGP this weekend. That should be a great test and building block for improving your racing endurance.
When Troy Lee and Bob and David brought the race up to me, I knew that it was great for me to be out there racing against some the best guys in the world. Plus, it's great for me to get more racing time in. It should be really good. Hopefully the race will be good for me and I'll have a good weekend. I enjoy Glen Helen on race day with the way it's prepared. Hopefully they don't have that stupid triple step-up jump there, though.
Thanks for your time, Ben. See you this weekend.
No worries.
HANGTOWN PHOTO OUT-TAKES


With Trey Canard's usual mechanic, "Big B" missing Hangtown, Kevin Windham's wrench, Brian Calma fulfilled the wrenching duties. It was nice to see Brian finally out in the sunlight! Now let's get K-Dub outdoors.

In his first 450 National, Ryan Dungey had a day that he would probably rather forget. Dungey went 10-6 for eighth overall. Expect RD to return to form at Texas.

Wil Hahn holeshot the second moto, but Blake Baggett and Drew Gosselaar went down in an ugly heap, causing the race to be red flagged. After they lined the 250 riders up, Hahn again was fastest to the first turn. That's very impressive!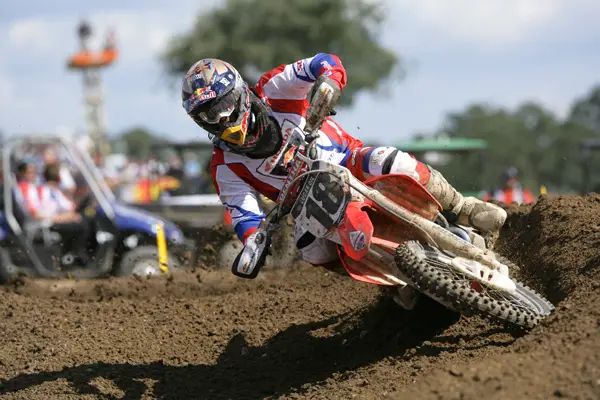 Davi Millsaps hasn't been shy in the past about disliking the Nationals. However, did "Duke" turn over a new leaf? He looked great at Hangtown, finishing third overall.

In what might be his last year on the Monster/Pro Circuit/Kawasaki team, Tyla Rattray needs to convince Mitch Payton to resign him. 8-16 moto scores aren't going to get it done. Come on, "Styla!" Kick the tires and light the fires.

What's wrong with this picture? Mike Alessi (far right) holeshot 39 other riders with a 100cc advantage over him. The big wigs at KTM should pat themselves on the back (Mike should as well).

Despite all of the buzz about the KTM 350SXF, Chad Reed winning the 450 overall, the great weather at Hangtown, and Ryan Dungey's struggles, rookie Eli Tomac's win in as many tries took the cake. Eli is the real deal.
MINI-VIEW: ALLAN BROWN

Ti Lube/Brown Motorsports owner/team manager/engine builder Allan Brown is obviously a man of many hats. When he's not pumping out precious ponies for his supported riders, Allan is busy looking for team sponsors. Brown hired Nick Wey before the Supercross season, but things haven't exactly gone as planned. Wey has gone back and forth between the Ti Lube/Brown Motorsports privateer team and the Monster Energy/Kawasaki factory team several times now. Nick filled in for Chad Reed when he was injured during Supercross, and now Wey is taking the place of Ryan Villopoto outdoors.
Allan turned his attention towards Ben Evans for the Nationals – a promising young rider making the transition to the 450 class. I caught up with Brown to talk about the Nationals, as well as the USGP this weekend.
MXA: The rider that you're helping for the Nationals, Ben Evans, went 29-22 for 25th overall at Hangtown. Although the results won't show it, Ben was riding really well. He should be a top 15 guy. What happened?
Allan: Our expectations were 10th to 15th for Hangtown. We thought that it was a reasonable goal. In the first moto he started about 28th. He came around on the second lap and battled with a ton of guys. On the last lap a rock got into the countershaft sprocket and stalled the bike. He had to pull the chain backwards to unkink it so that he could finish the moto. In the second moto he got a better start and was in about 15th. In the second corner he washed out the front end and went down. He was basically dead last and charged forward, eventually finishing 22nd.
"Economically it's easier to be competitive on a 450. Ben's riding style is very smooth and it suits the 450 better."
Why did he move up to the 450 class after racing the 250 Nationals in the past?
He moved up to the 450 class for a few reasons. Economically it's easier to be competitive on a 450. Ben's riding style is very smooth and it suits the 450 better. He's not a very aggressive rider, which is necessary on the 250. He likes the Kawasaki KX450F and it suits him well. It's a bigger motorcycle and he's taller than the average pro motocross racer. He's only 20 years old, and when he fills in he's going to be a pretty good sized guy.

Ti Lube/Brown Motorsports rider Ben Evans is trying to make a dent in the 450 Nationals. He won't be lacking horsepower.
Originally you were slated to have Nick Wey on the Ti Lube/Brown Motorsports team for Supercross, but what about the Nationals?
From the beginning Nick was supposed to race both Supercross and the Nationals. For most of our sponsors we asked them for a budget for Supercross. We told them that we fully intended on racing motocross. However, we were seeking additional funding from our sponsors for motocross. As we all know, Nick ended up having the opportunity to fill in for Ryan Villopoto on the Monster Energy/Kawasaki team.
How did the Ben Evans outdoor deal formulate?
I worked with Ben during the offseason last year. He had the opportunity to race for the BBMX team in Supercross. They had never planned on doing motocross, so Ben asked me if I could help him out. We rounded up what we could. With Ti Lube and Joe, we were able to get a budget to work with. Ben's trying to be the most professional privateer on the track.

Check out the graphics that Antonio Balbi will be racing with at the USGP this weekend.
Word around the pits is that you're helping out a few riders at the USGP this weekend at Glen Helen. Who are you working with?
I'll be working with Antonio Balbi. He's racing full-time in Brazil this year, but he was really interested in racing the USGP. I'm building him a bike for the race. I'll have my semi out there for him to pit out of, and he's really excited about the race. We'll see how he does. He likes racing at Glen Helen. Also, one of my ex-riders, Juss Laansoo from Estonia, was planning on racing the entire National series. However, he broke his leg while preparing for the Nationals and is still sidelined. He has a couple of friends coming over to race the Vet FIM GP. We'll be building some bikes for those guys. Ultimately there will be a total of three riders under the awning. Their names are Reio Engman (#201) and Tonu Lill (#33).
Thank you for your time. Good luck this weekend, as well as the remainder of the Nationals with Ben Evans.
Thanks, and for those who are attending the USGP, make sure to swing by the Ti Lube/Brown Motorsports semi!
EVERYTHING YOU NEED TO KNOW ABOUT THE GLEN HELEN U.S. GRAND PRIX THIS WEEKEND
California's historic USGP at Glen Helen Raceway on May 29-30 marks the return of the top European riders coming to race in America?here is an info sheet.
HISTORY: The 500cc USGP was last contested back on April 5, 1992. The 1992 race was promoted by Roger DeCoster, who hosted the race in 1990, 1991 and 1992, and was won by Jean-Michel Bayle (who swept the old three-moto format). Bayle had to run down Jeff "Chicken" Matiasevich, Honda-mounted Billy Liles and Georges Jobe from Belgium.

MACHINERY: Obviously the big draw at Glen Helen will be Mike Alessi and Tony Cairoli and their KTM 350SXF's, but Glen Helen will also be the U.S. debut of the Aprilia twin (piloted by Josh Coppins). Additionally, TM will makes its U.S. professional motocross debut (although the Italian-built bikes once raced an AMA National when the AMA officials thought that the riders had misspelled "KTM." It wasn't until the race was over the AMA realized that they had allowed non-homolugated bikes to race). The TM will be ridden by French rider Anthony Boissiere. And, Cedric Soubeyras is reportedly going to try to race a KTM two-stroke in the 450 class.
TRACK: The Glen Helen Grand Prix track will feature all of Glen Helen's famous features, including Mt. Saint Helen, the Saddleback hump, Mt. Whitney and the Triple-Step-Up. There are also a lot of new wrinkles, including a fly-away jump over Yamaha Hill (made famous at a local practice session when a local rider stopped at the top and Ben Townley jumped over him) and tighter and steeper Talladega first turn (which will be used on every lap). Glen Helen has installed a two-story mechanics building for the Grand Prix mechanics that you have to see to believe. In a strange note, the Glen Helen Grand Prix track is the exact track that would have been used at the canceled Glen Helen National.
PARKING: There is motorcycle, handicap and public parking right next to the track (and overflow parking at the Sheriff's driving facility). This is the closest parking and it costs $10. The smart fans park at Blockbuster, Hyundai, San Manuel, the US Festival Pavilion (or whatever it is called now). Parking is free in this grassy lot (and is where the locals park). It is accessed off the 15 Freeway.
STARTING TIME: The usual late arriving SoCal crowd needs to be aware that the Glen Helen Grand Prix's first GP moto will start at 12:00 (noon). AMA Nationals start at 1:00 pm, but the GP will start one hour earlier (and the Vet race is at 11:00 am).
AIRSHOW: As part of the opening ceremonies, there will be an aerobatic show just before the drop of the gate for the first moto on Sunday. Aerobatic pilot Doug Jardine will fly his Russian-built Sukhoi to thrill the crowd.
PARTY AT MALCOLM'S HOUSE: On Friday, May 28, Riverside's Malcolm Smith Motorsports is hosting the 2010 United States Grand Prix Fan Experience in conjunction with Red Bull and KFROG radio. This unique event will provide fans an opportunity to meet all of the top MX1 and MX2 GP stars from Europe, as well as mingle with American MX heroes, including Chuck Sun, Ricky Johnson, Broc Glover and Jeff "Chicken" Matiasevich. The fan festivities start at 5:30 pm with an appearance by the Red Bull KTM team, including defending World MX1 Champion Antonio Cairoli, Germany's Max Nagl, Great Britain's Tommy Searle and America's own Mike Alessi.
MARTY MOATES MEMORIAL: Speaking of history, the return of the USGP to Southern California marks the 30th anniversary of an American first winning the USGP. San Diego's Marty Moates piloted his privateer LOP Yamaha to victory over the seemingly invincible MX racers from Europe at the old Carlsbad track. The world premiere of "Carlsbad USGP 1980: The Movie" will take place at The Speckels Theatre in San Diego next month. USGP fans can go to www.carlsbadUSGPmovie.com for film premiere details.
THE POSTER AND THE TOWELS: Famed motorsports painter Troy Lee created the event poster. There will also be 5000 of the ever-popular Glen Helen Moto Towels (sponsored by MTA) handed out to fans in order to help remember this date in history. There will also be a special lap of honor in tribute to Marty Moates as Doug Dubach takes to the track on the #23 LOP Yamaha.
LUONGO VERSUS FELDKAMP BET: In the spirit of international competition, Glen Helen's Bud Feldkamp has created the "USGP World Cup" as a personal challenge to Youthstream's boss Guiseppe Luongo. If an American wins the USGP, Bud keeps the trophy cup and Guiseppe has to give him a motorcycle. Bud says that he is partial to a new Ducati. Meanwhile, if one of the Grand Prix regulars wins, the cup and a new Harley-Davidson goes to Luongo. "No catch," laughs Bud. "I will give him any model of Harley he wants, so long as it is 1/16 scale."
LONG-TERM CONTRACT: Feldkamp has also signed a deal with Luongo and the Federation Internationale de Motocyclisme to bring the race back to Glen Helen for the next five years.
MOTOCROSS DES NATIONS: The 2013 MXDN will be held at Glen Helen.
1970 TRANS-AMA CHAMPION: The race director for FIM World Motocross Championships is Dave Nicoll. Don't recognize the name? Dave Nicoll won the very first major series between U.S. and European riders on a BSA. Nicoll won the 1970 Trans-AMA series. Racing against the likes of Jeff Smith, Joel Robert and a young Brad Lackey, Nicoll was consistent, although he didn't win a single round of the eight-round series, but took the crown on points. Now, in his late 60s, Nicoll is excited to be heading back to America where he will work at the 2010 USGP. Plus, his son Kurt will be racing at Glen Helen in the Vet Cup.
PIT PASSES: Glen Helen will have no time limit on its USGP pit passes. The pits will open up at 10:00 in the morning (both Saturday and Sunday) and they will stay open until 6:00 pm. You never have to leave…you can park yourself next to the 2011 KTM 350SXF and stay there until the KTM team gives it to you so you will go away. A two-day pit pass is $30.
TICKETS: Tickets for the USGP are available at www.glenhelen.com, at participating local Yamaha dealers and at the gate on race day.
SATURDAY TIMETABLE: Veterans Free Practice 9:25 am; MX2 Free Practice 10:00 am; MX1 Free Practice 10:45 am; Veterans Time Practice 1:00 pm; MX2 Pre Qualifying Practice 1:35 pm; MX1 Pre Qualifying Practice 2:20 pm; Veterans Race first moto 3:15 pm; MX2 Qualifying Race 4:05 pm; MX1 Qualifying Race 4:55 om.
SUNDAY TIMETABLE: Veterans warm up 8:30 am; MX2 warm up 9:00 am; MX1 warm up 9:30 am; Veterans Race second moto 11:15 am; MX2 Grand Prix moto one 12:10 pm; MX1 Grand Prix moto one 1:10 pm; MX2 Grand Prix moto two 3:03 pm; MX1 Grand Prix moto two 4:03 pm.
GP RIDERS AND NUMBERS:


Weston Peick will be part of the U.S. contingent trying to beat the GP regulars. If you remember, Peick cut his teeth at the Glen Helen National last year, turning quite a few heads with his top ten result.
MX1 (450)
2…..Max Nagl (D) Red Bull KTM
4…..Kevin Strijbos (B) Beursfoon Suzuki
6…..Josh Coppins (NZ) Aprilia
8…..Gareth Swanepoel (SA) CAS Monster Honda
9…..Ken De Dycker (B) Monster Ricci Yamaha
10…..Anthony Boissiere (F) TM
11…..Steve Ramon (B) Rockstar Teka Suzuki
12…..Bobby Garrison (US) Zip-Ty Husqvarna
14…..Marc de Reuver (NL) Beursfoon Suzuki
19…..David Philippaerts (I) Monster Rinaldi Yamaha
22…..Rui Goncalves (P) Red Bull KTM
25…..Clement Desalle (B) Rockstar Teka Suzuki
34…..Trent Pugmire (US) Kawasaki
35…..Matt Goerke (US) Motoconcepts Yamaha
38…..Yentel Martens (B) JM Nestaan KTM
39…..Davide Guarneri (I) LS Honda
40…..Tanel Leok (EW) LS Honda
46…..Ryan Sipes (US) Motoconcepts Yamaha
52…..Matthias Walkner (A) Hillinger KTM
55…..Kyle Chisholm (US) Motoconcepts Yamaha
58…..Weston Peick (US) Rock River Yamaha
74…..Ivo Steinbergs (LV) Latvia Elksni Honda
75…..Kevin Wouts (B) Sturm Kawasaki
90…..Sebastien Pourcel (F) KRT Kawasaki
101…..Ben Townley (NZ) TLD Lucas Oils Honda
105…..Ryan Hughes (US) Ryno Organics Honda
120…..Cedric Soubeyras (F) Sarholz KTM
121…..Xavier Boog (F) KRT Kawasaki
139…..Ricky Dietrich (US) Monster Energy Kawasaki
152…..Antonio Balbi (BR) Tilube Brown Kawasaki
184…..Dennis Stapleton (US) MXA Honda
204…..David Gassin (US) Mach1 Yamaha
222…..Antonio Cairoli (I) Red Bull KTM
331…..Nico Aubin (F) Rockstar Bud Kawasaki
616…..Kyle Phenix (US) Yamaha
702…..Jimmy Albertson (US) Martin Honda
762…..Justin Soule (US) Monster Energy Kawasaki
771…..Devin Watson (US) Kawasaki
777…..Evgeny Bobryshev (Rus) CAS Monster Honda
800…..Mike Alessi (US) J"germeister KTM
???…..Grant Langston (SoA) Yamaha

DNA Shred Stix Star Yamaha rider Broc Tickle will add a "0" to his number plates. He is one of the top American riders that will try to beat "Movin" Marvin and teenage sensations Jeff Herlings and Ken Roczen.
MX2 (250)
1…….Marvin Musquin (F) Red Bull KTM
11…..Shaun Simpson (GB) Red Bull KTM
19…..Petr Smitka (CZ) Sarholz KTM
21…..Gautier Paulin (F) Monster Rinaldi Yamaha
23…..Arnaud Tonus (CH) Teka Suzuki
29…..Michael Thacker (US) Latvia Elksni Honda
31…..Henry Huang (Puerto Rico) Honda
34…..Joel Roelants (B) JM Nestaan KTM
37…..Valentin Teillet (F) HDI KTM
39…..Josh Greco (US) Suzuki
45…..Jake Nicholls (GB) HM Plant Red Bull KTM UK
61…..Vince Friese (US) Motoconcepts Yamaha
77…..Alessandro Lupino (I) Monster Ricci Yamaha
89…..Jeremy Van Horebeek (B) Pro Circuit Kawasaki
91…..Matiss Karro (LV) MVR-D Suzuki
92…..Alex Battig (I) Martin Honda
94…..Ken Roczen (D) Teka Suzuki
111…..Jeff Herlings (NL) Red Bull KTM
119…..Mel Pocock (GB) Bike It Cosworth Yamaha
133…..Myles Tedder (US) Tedder Kawasaki
148…..Max Anstie (GB) DNA Shred Stix Star Yamaha
151…..Harri Kullas (SF) Monster Gariboldi Yamaha
160…..Dakota Tedder (US) Tedder Kawasaki
170…..Michael Leib (US) Rockstar Bud Kawasaki
183…..Steven Frossard (F) CLS Pro Circuit Kawasaki
191…..Tommy Searle (GB) FMF KTM
200…..Broc Tickle (US) DNA Shred Stix Star Yamaha
202…..Loic Larrieu (F) Monster Ricci Yamaha
335…..Dennis Verbruggen (B) JM Nestaan KTM
338…..Zach Osborne (US) Bike It Cosworth Yamaha
577…..Martin Davalos (Ecu) DNA Shred Stix Star Yamaha
585…..Travis Baker (US) Motoconcepts Yamaha
824…..Nick Kouwenberg (NL) Jumbo TvE Yamaha
871…..Jared Minor (US) Honda
VET CUP (OVER-40)
1. Matts Nilsson (Yam)…Swe
7. Pete Murray (Yam)…USA
8. Kurt Nicoll (KYM)…GB
9. Darryll King (Yam)…NZL
15. Doug Dubach (Yam)…USA
16. John Dowd (Kaw)…USA
17. Joaquim Sunol (Kaw)…Spa
19. Pascal Bal (Suz)…Bel
20. Manilo Giache (Kaw)…Ita
28. Phil Lewis (Suz)…GB
32. Christophe Lheriteau (Kaw)…Fra
40. Rich Taylor (Suz)…USA
41. Roman Heinrich (TM)…Cze
44. Mehrdad Moradi (Hon)…Iran
49. Scott Sargent (Suz)…USA
50. Jeff Matiasevich (Kaw)…USA
51. Terry Fowler (Suz)…USA
52. Tim Hickerson (Kaw)…USA
58. Drey Dircks (Hon)…USA
59. Ty Davis (Hus)…USA
60. Fred Hatch (KTM)…USA
61. Clark Jones (Yam)…USA
62. Roberto Meroli (KTM)…Ita
63. Chuck Sun (KTM)…USA
65. Erwin Hendrickx (Hon)…Hol
66. Xavier Costa Agusti (KTM)…Spa
67. Gordon Ward (Kaw)…USA
78. Joe Root (Kaw)…USA
199. Matt Tedder (Kaw)…USA
227. David Fontes (Hon)…USA
326. Ed Foedish (Kaw)…USA
449. Koos Dykstra (Hon)…Hol
611. Shawn Wynne (Hon)…USA
835. Paul Krause (KTM)…USA
951. Greg Lafave (Yam)…USA
For more info about the USGP, tickets, times, parking, etc, go to www.glenhelen.com.
MINI-VIEW: DEAN WILSON

Monster/Pro Circuit/Kawasaki rider Dean Wilson made his National debut this past weekend. Although rookie Eli Tomac caught most of the attention, Wilson had a rather successful day, finishing 10-4 for sixth overall.
You might remember that a few months ago Dean got stuck up in Canada (his home country) due to an expired Visa. Although he missed a few East coast Supercross races, he came back and turned quite a few heads indoors. Now outdoors, he's hoping to do more of the same. Thankfully for Dean, there aren't any Canadian stops on the AMA National circuit.
MXA: So, Dean, have you made any trips to Canada lately?
Dean: [Laughter] No. Absolutely not! I'm not going there for a while.
What did you do while you were stuck up there?
No. I didn't have any fun at all. Every day I would go to the gym and wait for a phone call that my sports visa was processed and coming to me. It was a waiting game. I didn't do much.
A lot of people might not realize it, but Hangtown was your very first National. You definitely had the speed to finish top five overall, but you seemed to struggle, particularly in the first moto. What happened?
Hangtown was pretty rough for me. I went in there with high expectations because I was feeling really good on the bike. In the first moto I got a good start and came away fifth. I moved into fourth, but in the first lap the track was slippery and I lost the front end. By the time I got up I was around 20th. I pushed forward and got into ninth about halfway through the race. Then I crashed again, so I got up and finished 10th.
"It was nice to have Christophe Pourcel behind me, but I knew that he was going to be sneaky in those last two laps. He rode around me on the outside of a turn on the last lap! I couldn't believe it."
Your second moto score was much better.
Absolutely, but I still wasn't happy with my finish. In the second moto I got fifth off the start and moved up to third. I had Christophe Pourcel behind me the whole race, and unfortunately he passed me on the last lap. It was good to work the bugs out and learn how the whole system works in the Nationals. I'm looking forward to Texas.
You did a great job of staying in front of Christophe for most of the second moto. Were you happy in any way that you were running in front of him for so long?
It felt pretty good. I was right up there with Eli Tomac and Trey Canard in the beginning. Those guys were going fast, but I wasn't quite up to their speed the second moto, so I went the speed that I knew I could do the whole moto. I have a couple of weeks to work towards getting my speed up. Still, it was cool to have Christophe behind me. He would push me forward, and every time he would get close, I'd make a push. It was nice to have him behind me, but I knew that he was going to be sneaky in those last two laps. He rode around me on the outside of a turn on the last lap! I couldn't believe it. That's okay though, because I walked away with some good points.
What's the one thing you need to improve on?
I need to work on my sprints. Really what I learned at Hangtown is that you have to go as fast as you can in the first timed practice session, because after that the track gets rougher and slower. I didn't go fast in the first practice, so I had to try hard in the second practice and couldn't get a very good time.
Thank you for your time, Dean. Stay away from Canada for a while!
[Laughter] You got it.
LAP TIMES: WHO WAS FASTEST AT HANGTOWN?
It's obvious that those with the fastest lap times win the motos. Hangtown proved that idea, but it doesn't always work out that way. After all, the slower and consistent tortoise beat the hare to the finish line.
From what I could gather, there were several times that caught me by surprise. First, Justin Barcia was the second fastest 250 rider, yet he finished fifth overall (5-7 moto scores). Also, second moto 450 winner Mike Alessi logged his fastest lap of the day during the second moto (third fastest out of everyone with a 2:15.130). Other 450 riders that logged faster second motos than first motos were Kyle Regal and Andrew Short. Four out of the top ten fastest times were logged by 250 riders, yet the 450 class had a smoother track to work with. The Hangtown track crew cleaned up a few minor sections (notably the start straight), but with a rougher track the 250 riders were still able to reach warp speeds. And out of the top 25 lap times, 14 belonged to 250 riders.

Chad Reed was fastest at Hangtown. He and Davi Millsaps were the only riders to dip into the 2:14 range.
(Bold denotes a 250 rider)
1. Chad Reed – 2:14.591
2. Davi Millsaps – 2:14.806
3. Mike Alessi – 2:15.130 – (moto 2)
4. Josh Grant – 2:15.479
5. Eli Tomac – 2:15.490
6. Justin Barcia – 2:15.785
7. Brett Metcalfe – 2:15.827
8. Christophe Pourcel – 2:15.992
9. Ben Townley – 2:16.116
10. Trey Canard – 2:16.211
11. Broc Tickle – 2:16.292
12. Ken DeDycker – 2:16.535
13. Wil Hahn – 2:16.598
14. Blake Wharton – 2:16.686
15. Ryan Dungey – 2:16.887
16. Jake Weimer – 2:16.952
17. Blake Baggett – 2:16.993
18. Ryan Sipes – 2:17.027
19. Tyla Rattray – 2:17.067
20. Dean Wilson – 2:17.155
21. Tommy Searle – 2:17.235
22. Darryn Durham – 2:17.676
23. Kyle Regal – 2:17.750 – (moto 2)
24. Cole Seely – 2:17.771
25. Andrew Short – 2:17.802 – (moto 2)
PRESS RELEASE: AFMXA TO UNVEIL PALA RACEWAY TRAINING FACILITY, ANNOUNCE NATIONWIDE FREESTYLE MOTO AMATEUR SERIES
Irvine, CA — AFMXA, the organization aimed at promoting and protecting the sport of freestyle motocross, is set to officially celebrate its state-of-the-art training center at Pala Raceway in Pala, Calif. and a five-city amateur series that will open the sport to participants and fans throughout the country.
The introduction of the AFMXA's training facility at Pala Raceway will be open to the public on Friday, June 18, and feature free food, music and jump demos from a host of freestyle moto riders. Designed by freestyle motocross legend and Metal Mulisha founder, Brian Deegan, the training facility includes a jump park, foam pit, wall ride and ramp-to-dirt jumps.
The event will also announce a number of amateur freestyle moto camps that will take place at the facility starting in July and continue throughout the year. All AFMXA members will be in attendance at the Pala Raceway unveil event, including Mike Metzger, Nate Adams, Ronnie Faisst and Jeremy Stenberg. Additional attendees include corporate sponsors from Pala Raceway and members of the Pala tribe.
"We are delighted to welcome freestyle moto riders and fans to this awesome facility," said Leah Steiger, Executive Director, AFMXA. "The guys at Pala, Ryan Oullette and Kirk Chandler, have always shared our vision and supported us all the way, so this was a natural fit when we started talking about the jump park and amateur camps. They see the bigger picture and understand that, collectively, we can make a difference in this sport."
"Pala Raceway is committed to building a safe and fun riding environment for all disciplines of motocross riding," said Ryan Ouellette, President of Pala Raceway. "Part of motocross is the element of Freestyle Motocross and these FMX riders are going to try these tricks one way or the other. It's better to have it in a controlled environment at Pala Raceway with the help of AFMXA's safety standards, their trained instructors, and with on-site emergency medical technicians in place to help make these tricks safer and help build the next generation of the sport."
The AFMXA Jump Park will include several ramp to dirt jumps, ranging from 55 feet to 120 feet, a foam pit, wall ride, and other features that will be added as the park matures. The AFMXA will also be hosting Moto Camps where amateur freestyle riders can come and ride the same ramps that the AFMXA Riders train on for their contests.
The AFMXA is also proud to reveal dates and locations of its first-ever nationwide Amateur Series*, a travelling showcase designed to spread freestyle moto around the country and encourage participants to support the sport through the AFMXA. Kicking off Memorial Day Weekend in Houston, the AFMXA Amateur Series will make a total of 4 stops across the country before concluding with the AFMXA Nationals at Pala Raceway in November.
According to Freestyle Moto X Games gold medalist and AFMXA member Chuck Carothers, the AFMXA Amateur Series is an ideal opportunity to help grow the sport of freestyle motocross and gain further awareness for the needs of new riders.
"With this competition series, we want to help the up-and-coming riders and make sure that freestyle motocross will be around for a very long time," said Carothers. "What better way to do this than partner with the AFMXA and be a part of the first-ever amateur Moto X series."
Upcoming 2010 AFMXA event schedule:
Friday, June 18
AFMXA Jump Park & Camps – Grand Opening
Pala, California
Pala Raceway
Amateur Series* (4 stops and Nationals)
May 29-30 Houston, Texas
3 Palms Track
Producer of event – Chuck Carothers (X Games Gold Medalist, FMX)
August 7
Southern California
TBD
Producer of event – AFMXA
August 28
Dodd City, Texas
Pinn-IT Bash
Producer of event – Clint Esposito – FMX East
September 4
Casey, Illinois
Lincoln Trail
Producer of event – Clint Esposito – FMX East
November 14
Pala, California
AFMXA Nationals / FMX Awards Show
Producer of event – AFMXA
*Series details: Open to amateur/pro-am riders. Sign up online at www.freestyleMTX.com or go to www.AFMXA.com. AFMXA information available at all tour stops.
PRESS RELEASE: FMF TO OFFER SUPPORT AT THE 2010 GLEN HELEN USGP
FMF Racing is known for it's first class rider and event support. Traveling to over 100 events per year FMF will be on hand at the 2010 USGP to help all riders in the Veteran MX World Cup as well as the USGP. Sound is a very instrumental part in the sport of motocross and bringing awareness and being on the forefront of sound is a very crucial element for us at FMF Racing. "With land closure affecting our sport we want to make sure we are supporting the riders that support us, so FMF will be in attendance with our sound equipment to support any riders in need of assistance." Director of Marketing Donny Emler Jr.
FMF Racing is also excited to welcome the return of long time FMF athlete and a world class rider Ryan Hughes to the starting gate of the 2010 USGP. " I feel really strong and excited to get back on the line this weekend. I've always had a great time racing the GP series in Europe so I'm excited they are coming US bound" Ryan Hughes. On top of Ryan Hughes FMF will have FMF/KTM's Tommy Searle, and Mike Alessi along with KTM UK rider Jake Nicholls and former US Multi CHAMP # 8 Grant Langston.
PRESS RELEASE: KTM AND CHAMP FACTORY ANNOUNCE U.S. MOTO TOUR SCHEDULE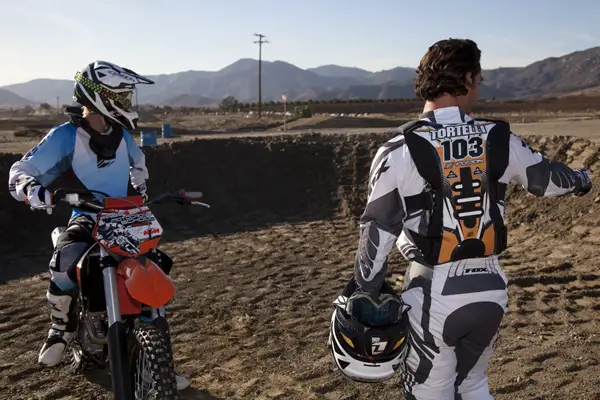 Murrieta, CA ? KTM and Champ Factory Motocross Schools are proud to announce a 5-stop Moto Tour across the United States conducted by 2-time World Champion Sebastien Tortelli. The KTM Moto Tour will consist of 5 two-day MX camps where Tortelli will personally instruct each class giving one-on-one attention to fine tune each rider's individual skills. The first day of the school will give Tortelli and opportunity to review each rider and cover the basics in motocross training, while the second day allows riders a chance to display what they have learned. There will be 15 spots available for each tour date.
Riders must bring their own bike for the school but will be allowed to demo the new 2011 KTM SX models, including the new 350 SX-F, at the end of each day. The cost of the two-day school is $400. To find out more about the schools or to sign-up please contact Sebastien Tortelli at [email protected] or by phone at: (951) 232-9847.
KTM and Champ Factory Moto Tour Schedule:
Pala Raceway ? Pala, CA ? June 14-15, 2010 ? www.palaraceway.com
Mountain View MX Park ? Sandy, OR ? June 21-22, 2010 ? www.mtnviewmx.com
Log Road ? Coldwater, MI ? June 30-July 1, 201 ? www.logroadmx.com
Mill Creek ? Pell City, AL ? September 13-14, 2010 ? www.millcreekmotocross.com
Oak Hill MX ? Decatur, TX ? September 20-21, 2010 ? www.oakhillmx.com