MOTOCROSS ACTION'S MID-WEEK REPORT: (05/25/11)

By John Basher
PHOTO OF THE WEEK: PART 1


It's nice to see Kevin Windham beyond the realm of stadiums and fluorescent lights. He's filling in for Trey Canard, but let's hope that he races all 12 Nationals this summer.
MINI-VIEW: DEREK BRUSH

Derek Brush is the wrench behind Pro Circuit/Kawasaki rider Josh Hansen. Although the racing has headed outdoors and the Supercross series is in the books, it's hard not to look back and think, ?What if?' What if Ryan Dungey's chain hadn't derailed at Anaheim 2? What if James Stewart hadn't crashed out at Jacksonville? And, in the case of Derek Brush, what if Josh Hansen hadn't crashed and broke his hand in practice at A2? We'll never know. That one specific race spelled disaster for Hansen and his championship hopes. I caught up with Derek after the series was over to discuss the roller coaster ride that the pairing went through.
MXA: Josh started his 250 West campaign with a bang.
Derek: The Supercross series started off awesome. Hanny had a great opening to the year. He was really headstrong. He and I both thought going to any track that we were the baddest dudes there. We'd laugh when we saw someone else put up the fastest qualifying lap in Supercross practice. He'd cruise into the mechanics area and we'd talk about it. Then he would go out and lay down the fastest lap. We were definitely on our high horse! We were positive about the series and how we would do.
Did you feel like the 250 West was your championship to lose?
Yeah, we felt invincible. I don't want to come off sounded big headed, but we were confident in our program. Everything was going really smoothly. Then all of a sudden the train derailed. Josh went over the bars at Anaheim 2 and broke his hand, and it was all because his foot came off going through the whoops. That was the culprit. To be perfectly honest, when I saw him crash I thought that we were done for the season. At that point we weren't even thinking about the championship. We were just trying to win the most races and be consistent. At A2 Josh Hansen showed me who he was as a person. I've had a lot of riders that have gotten hurt, and every single one of them at a certain point lost their confidence. I could tell that the crash affected him, but for Josh to go out and win despite two broken fingers surprised the heck out of me. It really opened my eyes to who he was as a racer.

Josh Hansen was off to a quick start in the 250 West.
Luckily Josh had a week off to rest his hand before San Diego.
Josh rode one time between Anaheim 2 and San Diego, but it can't even be called riding. At Pro Circuit there's a wash bay with a curb that lines the wash bay. He jumped the curb coming into the bay and going out of it. I swear that is the only riding that he did! He told me, ?I'm going to go jump the curb. That way I can feel how good I am for Supercross.' After that he said that he could race San Diego. I put a ton of grip tape on the bike so he could clamp on with his legs and not have to use his arms very much.
And then there was San Diego…
San Diego went bad. He got a bad start and finished sixth. However, there was a long break in the 250 West. We thought that we were in the clear. He took his time off, and he was slowly rebuilding. I felt confident enough that we still had control of the 250 West. Then he went down again and re-injured his hand at Seattle. When he crashed there he actually dislocated both of his knuckles. The plate in his hand kept the bones mostly in place. Doctor Bodnar said that If he didn't have that plate in his hand then he would have broken four bones. After that second crash we both realized that we lost our opportunity to win the title.
How did you keep Josh motivated to continue racing through the pain?
It was tough. At Salt Lake City I was trying to keep him going. I know that Mitch [Payton] was telling him similar things, but Josh freaked out. He tried so hard to get into first place, but it wasn't happening. Plus the weather was cold, which wasn't good. Las Vegas was even worse. It stunk because the series started at an all-time high, but then it went downhill fast.

This photo was taken only minutes before Josh broke his hand at Anaheim 2. Up to that point he was well in control of the 250 West.
Did you make any major changes to the bike throughout the series?
Actually, about midseason Josh decided to move the handlebars. He has always run his bars a tad forward from neutral, but he rotated them back a little bit. That was a huge deal. He felt that it helped him cornering and in straight line stability. Other than that we didn't make any setting changes.
Do you know what Josh has planned for next season?
I believe that he's still eligible to race in the 250 class for two more years. I do not know if he's going to race a 250 or 450. I think he's going to race some off-season races on the big bike.
It's been announced that Hansen will once again take part in the X Games, only not in Supercross, since that event has been canceled.
Josh will be doing Best Whip, and he got invited to do Step-Up. He also might do some announcing. We're going to go to Australia to do some 450 Supercross races so that he can keep riding this summer.
Will you personally be wrenching at any Nationals?
No, I won't be working with any specific rider. I might do a few of the Nationals to help out some of the mechanics, but I'll be more of a helping hand.
CALLED UP: LES SMITH TO SUBSTITUTE AT JGRMX
Smith will Substitute for the Injured Justin Brayton at Freestone Raceway

[Press Release] Les Smith will race the vacant Muscle/Milk/Toyota/JGRMX Team YZ450F of Justin Brayton while Brayton recovers from an ankle injury. Smith will debut with the team this Saturday, May 28 at Freestone Raceway in Wortham, Tex. Smith will continue with the team until Brayton returns to racing, which is expected to be within a few weeks.
"I am beside myself, I never have had an opportunity like this," said the elated Smith. "The guys are asking me things I have never been asked, like what kind of seat do you like? How do you like this? How do you want that? I have always just rode what I was given. I really want to capitalize on this and do the best I can," he added.
Smith, a North Carolina based privateer was an easy choice for the team. "Les is a hard working guy who unexpectedly lost a ride with another team before the season started," said Muscle Milk/Toyota/JGRMX Team manager Jeremy Albrecht. "He's local, and he is a customer of our retail suspension service so we already have dyno charts of his current settings. We can just match our works parts to his graphs and we should be very close on short notice," continued Albrecht.
FREESTONE WEATHER FORECAST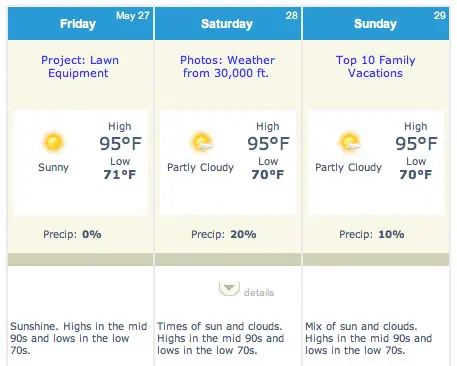 I THINK, I THINK, I THINK…

I think…that Chad Reed has been the biggest surprise of 2011. Left without a ride after last year, Reed seemed to be hung out to dry by teams that no longer wanted his services. After leaving Yamaha, switching to Suzuki and staying a year, and then jumping ship to Kawasaki for a dismal season, bridges seemed to be burned to the ground. His TwoTwo Motorsports idea was sheer brilliance. Chad is a changed man in the sense that he looks much more relaxed among the media and his peers. I honestly didn't expect Chad to win the Hangtown National opener. He wouldn't commit to the Nationals until after Las Vegas, and focusing solely on the 450 Supercross title only meant that he was behind the eight ball for outdoor preparation. However, Reed surprised us all once again. He rode in championship form. Will it continue? I think we've all learned that you shouldn't bet against Chad Reed.

I think…I can't wait to see how Ryan Villopoto will do this weekend. He was visibly under the weather at Hangtown, and it showed. I've never seen RV back ?er down like he did in the second moto after settling into the third. He didn't sound too happy with the track conditions, and his sickness only magnified his distaste. Even though the Freestone circuit will be hammered by high heat, a healthy Villopoto will be a dangerous Villopoto. The weather won't be the only thing heating up this weekend.

I think…one race doesn't necessarily indicate the outcome of an entire series. Take a look back at Ryan Dungey's results at the Hangtown opener last year. They were dismal, to say the least. Then Dungey won nine Nationals in a row. I find it hard to believe that a single rider will win that many races this year, but stranger things have happened.

I think…it was weird to see Christophe Pourcel still not have deals done. Sure, he's on MotoConcepts Yamaha and has an O'Neal gear deal with Scott goggles, but what about his boots and helmet? At Hangtown he sported a sticker-less Troy Lee Designs helmet with Gaerne boots in first practice, but he switched to Alpinestars Tech 8 boots for the second practice and motos. Mind you, he used black duct tape to cover the Alpinestars logos on the boots. Strange. Maybe this weekend he'll have everything set in place. Hopefully he becomes more comfortable on the bike, because he struggled on the rough Hangtown track. I'm pulling for him, because he's actually a pretty cool guy.

I think…that it was hilarious that Pourcel showed up to the the starting line without a jersey on, while everyone else was all geared up and ready to go. As shortly as a few minutes before the 450 class went out for their sighting lap Christophe was chilling out like the race wasn't about to start for another half hour. He didn't sense urgency while everyone else was sitting on their bikes anxiously waiting for the gate to drop. It was unusual.

I think…it's a bummer that Mike Alessi, the fastest qualifier of the day, crashed out before the motos even started. Mike took a trip over the bars in the second qualifier and sustained his second concussion in two weeks. That doesn't bode well for the KTM star, as he was recovering from a nasty spill at the Las Vegas Supercross. I commend the Asterisk medical crew for stepping up and preventing Mike from racing Hangtown or Freestone. He should make his return at Mt. Morris.

I think…KTM better be burning the midnight oil trying to solve the problems with Andrew Short's race bike. Smoke was billowing out of the 350SXF in both motos. Andrew limped the bike home to ninth in the first moto, but the KTM gave up the ghost early in the second moto.

I think…Hangtown belonged to Blake Baggett. No other rider the whole day was as dominant as Blake. Although he didn't win the first moto, he set some of the fastest lap times of the moto on the remaining laps – right when the track was at its roughest. The writing was on the wall that Baggett was going to win the second moto even before the gate dropped. Interestingly enough, about a week before the series kicked off the Pro Circuit/Kawasaki boys were out testing at Competitive Edge. Blake was absolutely scorching around the track to the point that the mechanics had to tell him to slow down. How crazy is that?!
I think…it really stinks to shoot a National with a cold. I had battling with sickness all last week, and my cold reared its ugly head Friday afternoon. My nose became Niagara Falls. Shooting photos while blowing my nose proved to be difficult, but at least the DayQuil helped. I was hopped up on the cold remedy and aimlessly walking around on the infield of the Hangtown track with tissue paper jammed in my booger collector all day. Lame.

I think…that I feel sorry for Dean Wilson. On Monday I spoke with Pro Circuit's Bones Bacon, and he asked how my weekend was. I told him about my cold, to which he blamed me for getting Dean Wilson sick. Preposterous! I didn't speak to Dean all day. I bet he got the cold from flying by the thousand of excited fans at Hangtown. The turnout for the first National was great, and the crowd was really into the racing.

I think…if someone put a gun to my head and I had to pick two front runners for the 250 National title I'd be sweating bullets. There's Blake Baggett, Dean Wilson, Tyla Rattray, Eli Tomac, Justin Barcia, Marvin Musquin, Broc Tickle, Gareth Swanepoel, Ryan Sipes…the list goes on and on. It's going to be an exciting summer.
I think…if you're going to Freestone for round two you should probably drink lots of water, wear sunscreen, wear light clothes, and find any bit of shade that you can. It's going to be hot in Texas. How hot? Mapquest is calling for a high of 95 degrees and a low of only 70 with about 60% humidity.
STEVE McQUEEN'S 1971 HUSKY 400 SELLS FOR….WAIT FOR IT…$144,500


The bike of the man who is the definition of cool.
Auction house Bonhams & Butterfiled sold the Steve McQueen's 1971 Husqvarna 400 Cross motorcycle – a machine identical to the one he famously rode shirtless on the cover of Sports Illustrated – for a new world record at an estimate-shattering price of $144,500. The Bonhams sale of Collectors' Motorcycles and Related Memorabilia took place on Saturday, May 14, at the Quail Lodge in Carmel Valley, California. As well as the McQueen Husqvarna and many items of memorabilia, there was also exquisite machinery from BMW for sale, including a 1925 R 32. This early and very rare motorcycle from the Bavarian Motor Works would become the blueprint for all subsequent BMWs. It sold for $139,000 – what is believed to be a new world record for the model.
PHOTO OF THE WEEK: PART 2


The silly season will be in full swing soon enough, but mark two names off the list. Ryan Sipes and Kyle Cunningham have re-signed with the DNA Shred Stix Star Racing team for 2012. The two riders signed letters of intent between practice sessions at Hangtown. That's Star Racing owner Bobby Regan shaking hands with Ryan Sipes.
IN CASE YOU HAVEN'T SEEN THE 2012 BIKES YET…
Click on the image of each bike to find out more information on each 2012 model.
2012 Kawasaki KX450F


2012 Honda CRF450

2012 KTM 450SXF

2012 KTM 350SXF

2012 Kawasaki KX250F

2012 Honda CRF250

2012 KTM 250SXF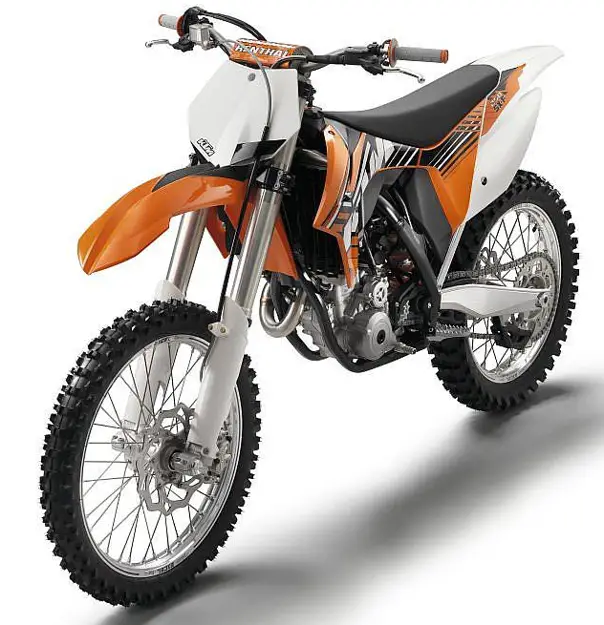 A MESSAGE TO YELLOW STAKES

Dear Yellow Stakes,

You think it's hilarious to gang up with your identical brothers, hang out in corners, and clutter my photographs at the Nationals. It's not cute or the least bit funny. And because of it I despise you. Sure, you look innocent and all, but your bright yellow coloring is an eye sore.
You think your job is to mark the boundaries of the track, but that's absolutely ridiculous. Just this past weekend I saw riders cut inside of you, run you over, and completely disregard your so-called boundaries. Ha! So, instead you stick there in the soil and litter my photographs. If I go to a National and never see you again it will be too soon.
Signed,

A perturbed motocross photographer
SUNSTAR VIDEO: ALEXAH PEARSON'S HANGTOWN
Alexah's Hangtown – Sunstar from bike spray on Vimeo.
WORKS CONNECTION 2011 CASUAL T-SHIRT COLLECTION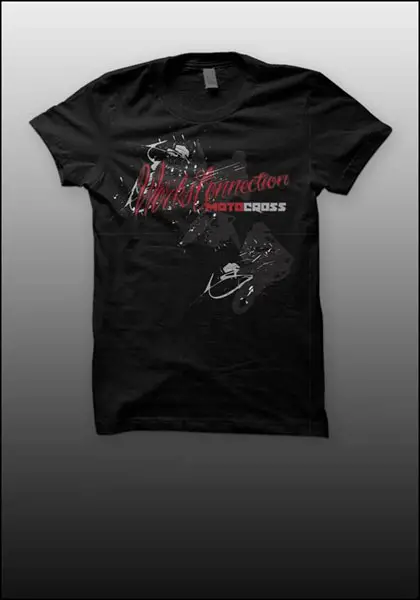 ú Ten new custom silk-screened designs
ú 100% Cotton
ú Preshrunk for accurate sizing
ú Designed and printed in the USA
ú In stock and ready for delivery

RETAIL – $19.95 to $24.95
Visit Works Connection on the web at www.worksconnection.com
PRODUCT SPOTLIGHT: ALPINESTARS A-10 CHEST PROTECTOR

[Press Release] The A-10 Chest Protector was developed through extensive testing by a team comprised of Alpinestars innovative engineers and top athletes. Utilizing protection principles developed for the Bionic Back Protector, Alpinestars was able to create a product to protect both back and chest while working in conjunction with Alpinestars Bionic Neck Support.
The A-10 Chest Protector is lightweight and extremely comfortable for all the protection that it provides. The A-10 Chest Protector is made up of high impact resistant materials that offer protection through anatomically accurate shoulder cups, an integrated back protector, an removable chest plate. Dual density molding allows the A-10 to better conform to the body providing a perfect fit for every rider. The outer shell is fully adjustable and is comprised of materials that allow for excellent airflow. An added feature of the A-10 is the removable, washable liner for easy cleaning or replacement, to extend the life of the product. For more information, please visit www.alpinestars.com.
SoCAL VINTAGE MX CLASS ON JUNE 11 AT BARONA OAKS


For more info go to www.socalmxclassic.com
HONDA R&D's BARRY CHINEN MEMORIAL RIDE DAY AT RACETOWN 395 ON THURSDAY, MAY 26