MOTOCROSS ACTION'S MID-WEEK REPORT: (06/07/12)

MXA INTERVIEW MIKE LAROCCO


Iron Mike.
The Geico Powersports Honda team is very strong this season. They claimed both regional Supercross titles and have carried the momentum outdoors. We called up team manager Mike LaRocco to the inside perspective on the team's success from someone who has been there and done that.
MXA: Would you tell us about the race in Colorado last weekend?
Mike: It was good race for us. It's been a little difficult because we have two guys who are doing well, and we have won the last two weekends and yet we're still losing points. Other than that, things are going pretty good. This weekend Barcia got two good starts and made things easy on himself, while Tomac got bad starts and things hard for himself.Those guys have been trading weekends like that.

With Tomac coming into his home race and doing so well the weekend before, did you think the results would be the other way around between the two?
Yeah, probably. Eli rides pretty well there. But with the starts, it's hard to bet against Justin because he usually puts himself in a good position. Justin was also pretty bummed out about not winning when Eli won, and that fuels the fire a little bit. Tomac still rode well. Other than Baggett's mid-race sprint that he does, Eli rode well and had the speed to win. He just didn't pass as well.

Barica holeshot Hangtown. Justin Bogle (58) did well but discovered that outdoors was too rough on a nagging knee injury.
How does that competitiveness between teammates come into play?
It's actually kind of nice right now, having two guys that have tasted success this year, they've both won titles. I kind feel like there's this unspoken thing where neither wants the other to out-do him. This is Justin's last year in the class and really wants to get both titles. I know that speed-wise, Eli is capable of winning the championship, I think he does too. So, they both believe they should be winning. It's a good thing to have, guys pushing each other for the win.
What has made the difference for Barcia this year after struggling on the 250 last year outdoors?
We have delivered those guys a much more rider-friendly bike. Everyone on the team has worked hard to make the bikes less-abusive and physically demanding to ride. I have a hunch that that is good part of it. The guys had success in Supercross and confidence is high. When you put everything together, he's going pretty good.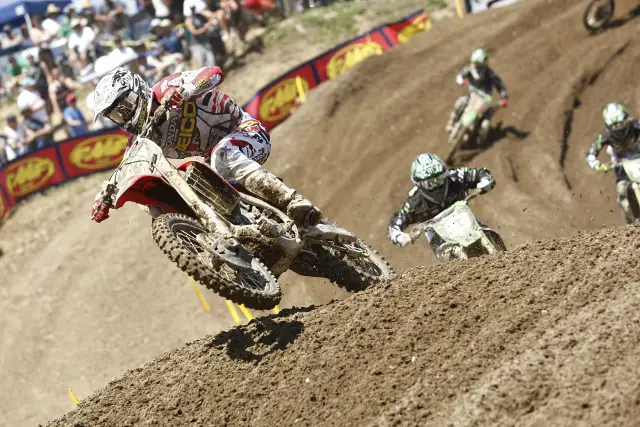 Eli Tomac has shown that he'll be a serious threat to the championship.
Wil Hahn has shown a lot of potential too.
Wil has been riding good and putting the time in. He's been struggling a bit with finding his speed early in the races. Last week he put himself in a good position off the start, but I felt like it took him a while to get settled in, and that he started running a stronger pace toward the end of the race than the initial sprint. I think he's close to where he belongs. I think he should be a top-five guy and he's just going to take a bit of ironing out to get consistent.
What's going on behind the scenes with the team to cause all the success.
We have good resources to work with. Ziggy from Factory Connection has got me some great resources and all my guys spend plenty of time testing and putting in the effort and it's paying off.
Talk about Tomac's performance at Texas, what set him apart there?
That was just one those things. I watched him at Hangtown and his speed was good, but he dropped off his pace about 25 minutes into the moto. I was kind of bummed because that was one area that we really focused on getting better at. Then he turned around the following weekend and rode two perfect motos and stayed strong the whole time. So I'm not really sure what happened. The ball was all in his court because we didn't do many changes to the bike. He just got it together.

LaRocco: "I think [Wil] should be a top-five guy and he's just going to take a bit of ironing out to get consistent."

What is the fitness level and training of these guys compared to you in your heyday?
It's different. Everything now is a little more calculated, and everyone focuses a lot on on recovery. Back in the day, I had the mentality that the week should be harder than the weekend and the race day should be the easy day. These guys are working hard and doing what they need to do, but I feel like their mentality is a little bit different because a lot of guys are focused on recovery and staying fresh. It's a long season, with five Nationals back-to-back. I'm not saying that there is anything wrong with doing it this way, I'm just pointing out the difference.
Why does it seem like there are more injuries these days?
I think that the speeds are higher and if you go down while going faster you're more likely to get hurt. The bikes are better, easier to ride and easier to maintain speed on. I think that is part of it too, but a lot of it is just that guys are hanging it out. Things are bound to happen, it's a dangerous sport and unfortunately it's part of the game. I'd like to see fewer injuries, but I'm not sure how that would happen in the immediate future.
STEVE FROSSARD'S BRAVE EXPERIMENT HAS COME TO THE INEVITABLE END


Steven Frossard.
Yamaha Grand Prix rider Steven Frossard has given up his brave attempt to race the 2012 FIM 450 World Championships without his ACL ligament. Frossard hurt his knee at round two in Bulgaria and immediately had surgery to remove his Anterior Crusciate Ligament (ACL). Then, he tried to race five days later in Italy (but was stymied when thieves stole his special knee brace on race morning). He again tried to race the Mexican and Brazilian GPs, but had several pain issues. Last weekend he raced the Grand Prix of France and finished 7th overall. After France he felt that the pain in the knee was not getting any better and he risked getting further injured by not putting his leg down in right hand turns. After a scan this Monday, doctors found that he had also torn his meniscus.
Frossard felt that it would be smarter have Dr. Bertrand Sonnery-Cottet of the Jean Mermoz hospital in Lyon, France, rebuild the knee immediately. Frossard will have the ligament replaced with other material from his lower leg. Frossard will need four months of rehab before he can begin training again.
TAKE A LAP OF THE MT. MORRIS TRACK WITH THE GREEN ARROW! HOW MANY COLORS ARE THERE? WE NEED A MATCH RACE

TWEET CITY! KEEPING GRANNY OUT OF THE LOOP


MXA NEW PRODUCT INTRO: WORKS CONNECTION SUPERLITE TITANIUM FOOTPEGS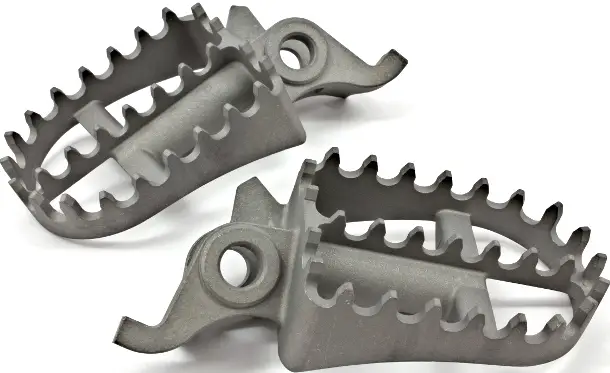 Here are the bullet points on Works Connection's new ti pegs:
    One piece cast 6AL-4V Titanium construction yields superior strength and lighter weight than welded Ti pegs
    55mm wide platform with triple cleat design for improved impact dispersion
    Open cleat feature to minimize mud buildup
    Raised outer teeth for additional grip
    Up to a half pound weight savings over stock
    Available for late model CRF, KXF, KTM and YZF motorcycles
    Made in the USA
    Retail: $219.95
For more info visit www.worksconnection.com or (800) 349-1475.
PHOTO OF THE WEEK…HALL OF FAME EDITION


In a high honor, Women's National Motocross Champion Sue Fish will be inducted into the AMA Hall of Fame later this year. Sue didn't just race against other women, she raced against the men.

DO THE RIDE THING: VIDEO CONTEST



To enter, kids create a 15 seconds and under, 30 seconds and under or 60 seconds and under  video/PSA, upload it to YouTube, and submit an entry form on the ASI website. For official video content requirements, contest rules and entry forms, visit atvsafety.org, dirtbikeschool.org, and/or riderfund.org. There will be three winners in each of the three age categories: 6-10, 11-14, and 15-18 and in two product categories ATV and dirt bike. 1st Place winners earn $500, 2nd Place is $300, and 3rd Place is $200. Plus, all age and product categories are eligible to win the $2500 Grand Prize. There are 19 prizes which total $8500.
The All-Terrain Vehicle Safety Institute develops rider training programs and promotes the safe and responsible use of ATVs. The ASI works to reduce crashes and injuries resulting from improper ATV use. Formed in 1988, the ASI is a not-for-profit division of the Specialty Vehicle Institute of America. For safety information or to enroll in the ATV RiderCourseSM nearest you, visit www.atvsafety.org or call (800) 887-2887.
RIDE WITH JESSY NELSON AT THUNDER VALLEY! YELLOW MARKERS? WE DON'T NEED NO STINKIN' YELLOW MARKERS (OR HAYBALES FOR THAT MATTER)

MXA NEW PRODUCT: RIDE ENGINEERING OVERSIZE BRAKE KIT


Ride Engineering has added Over-sized Rotor Kits to their list of high quality performance products. They chose the Galfer Wave Rotor because its made of a particular stainless/iron alloy that all the factory teams have raced with at one time or another, and not all aftermarket discs are made of the proper blend of iron and stainless steel for optimum braking performance. This full floating system is made to last and offers approximately a 20% increase in stopping power. Weighing in at about four ounces more than the stock, non-floating rotor with no additional weight added by our precision machined hanger bracket.
TEAM PETERSON AT N.A.H.A. HILLCLIMB: HEAD-TO-HEAD VERTICAL SPRINTS

DUBYA SIGNS KTM & YAMAHA CANADA TO RUN TALON CARBON HUBS


Talon Carbon hub.

Dubya has teamed up with Red Bull/KTM Canada and Rockstar Yamaha Canada for the 2012 CMRC Motocross National Championships.
Red Bull/KTM Canada riders Dusty Klatt, Colton Facciotti and Jeremy Medaglia will be using Dubya's Talon/D.I.D wheelsets for the 2012 season, which feature a Talon Carbon Hub at the center, laced to D.I.D's ultra-strong ST-X rim.
Rockstar Yamaha riders Richard Grey and Bobby Kiniry will also be making use of the Talon Carbon Hub, but have instead opted to lace theirs to an Excel A60 rim. All of Dubya's wheelsets are assembled by hand. "Were very excited to be working with Dubya for 2012," said Rockstar Yamaha Team Owner Andre Laurin. "They build the best wheelsets available, and we look forward to representing them as they expand into Canada." To find out more about these and other Dubya products available in Canada, visit www.dubya.ca.
SEE IT NOW! THE BRITISH TWO-STROKE CHAMPIONSHIP (FOR THE TWO-STROKE FAITHFUL)

MOTUL'S MC CARE MAINTENANCE AND CARE PRODUCTS FOR YOUR BIKE

Motul has announced the launch of MC Care? a comprehensive line of care and maintenance products specifically formulated for motorcycle, ATV and powersports users. Motul MC Care includes 18 products (nine that arebrand  new), which revolutionize the way you care for your motorcycle.
 
MC Care is coded in four different categories, the items in each category then numbered for ease-of-use and reordering (for example, "M4" for new Hands Clean):
 
   A ? Air Filter Maintenance (Filter Clean, Filter Oil and new Filter Oil Spray.)
   C ? Chain Maintenance (Chain Clean, Chain Lube Road/Off-Road/Factory Line for sport bikes, and new Chain Paste.)
 
   E ? External Care (Moto Wash, Wash & Wax, Shine & Go, new Insect Remover, new Scratch Remover, new Chrome & Aluminum Polish, and new Perfect Seat.)
   M ? Motorcyclist & Equipment Care (new Helmet Clean, new Perfect Leather and new Hands Clean.)
 
To learn more about the new MC Care line from Motul, contact your Motul dealer, or go online at www.motul.com

WORCS RACING GOES TO UTAH ON JUNE 22-24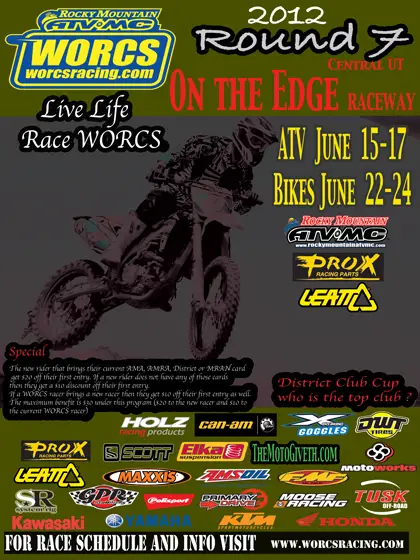 GARETH SWANEPOEL: NO SPRING CHICKEN, THIS SOUTH AFRICAN IS COMING OFF OF INJURY

WANT TO TEST RIDE A 2013 KTM? HERE ARE YOUR 13 BEST CHANCES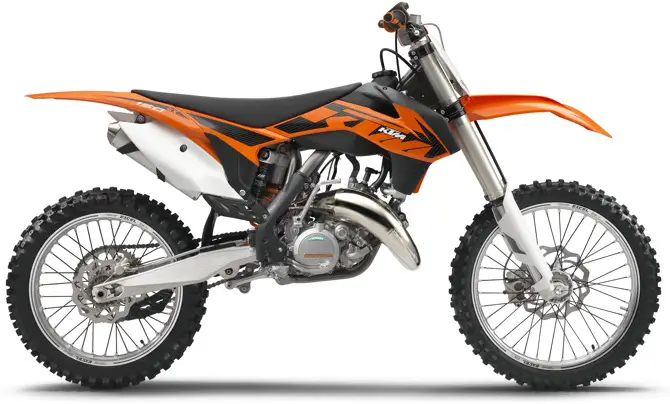 You can get a test ride on the 2013 KTM 150SX two-stroke, but first you have to check in with your KTM dealer.
KTM will offer riders 13 chances to test ride the 2013 KTM SX models at different tracks across the U.S. All 2013 KTM SX model motorcycles will be available to test at each stop.
June 29…Prairie City OHV Park, CA  
July 9…Glen Helen Raceway, CA  
August 12…Red Bud MX, MI
August 20…Winchester Speed Park, NH
August 27…Area 51, NY  
September 10…Owyhee Motorcycle Club, ID
September 17…Washougal MX Park, WA  
September 24…Throttle 215, UT  
October 1…Thunder Valley MX Park, CO
October 6…Spring Creek MX Park, MN  
November 9…3 Palms Action Sports Park, TX  
November 17…Thundercross MX Park, FL  
November 20…Gatorback MX Park, FL
Interested participants must obtain a pass from their local KTM dealership in order to participant. Participants must be 18 years of age or older and have a valid photo ID in order to participate. All riders must also come prepared with the appropriate riding gear, including: a DOT approved helmet, jersey, riding pants, gloves, goggles and boots. For more information please visit your local KTM dealer.
YOU CAN NEVER GET TOO MUCH OF THE 2013 HONDA CRF450…OR CAN YOU?

PHOTO OF THE WEEK…STEVEN TOKARSKI EDITION


Vance & Hines rider Steven Tokarski shows how flexible a rider can be when the conditions call for it. Photo: Dan Alamangos