MOTOCROSS ACTION'S MID-WEEK REPORT: (07/02/11)

MXA INTERVIEW: CHAD SANNER


Chad Sanner is the man behind Darryn Durham's engine.
After five rounds, it's clear that Darryn Durham's excellent starts and time spent running up front hasn't been a fluke. After jumping out to another great start on Lakewood's power-draining start straight in the first moto, we decided to talk to Eleven10 Mods engine builder, Chad Sanner, about Darryn's race package, and his involvement in the outdoor series.
MXA: What riders are you involved with this year?
Chad: We do Justin Sipes' stuff, Ryan's little brother. We do Michael Akaydin's bikes, and he qualifies often. We do Matt Vonlinger. Jimmy Povolny, when he rides. Bryar Perry, and Shane Durham, Darren's little brother. A kid who qualified at High Point, Dylan Slusser. A few of the top amateur guys are Daniel Baker, Matt Biscegleia, Steven Gretchen and Beau Hudson. A kid by the name of Zack Williams; no one has really heard of him yet, but he has been doing really well in Schoolboy, and will probably be a known name by the end of Loretta's this year. We do the Factory KTM of Canada's motors this year. They are doing pretty well up there, they got second and third in the 250 class this weekend, and Medaglia won a moto this year. In Supercross we did Tim Shea's Team, Shea Racing, with riders Vernon McKiddie, Casey Hinson and Austin Howell. We actually did four motors, but the other guy was hurt and didn't ride. Others include Steve Roman, Shane Durham, Frank Letteri and Mike Mcdade.

Durham proved he could contend for moto wins at High Point.
That's a lot of work, not counting regular customers! How big is your staff and shop, to get it done?
We have seven guys working with us right now. It would be really tough dealing with customers even if we didn't have the race team right now because before the race team and Darryn, even before the Honda of Troy deal last year, we we're growing way too fast. It was really hard. I started out in half of a garage, in my basement, actually. We moved into a 4000 square foot building this year, to accommodate a shop and a race shop, and it's really full. We have expanded fast, so the customer situation is trying anyway. It's just so hard to learn the business side of things so quickly. When you do good work in this industry, everyone knows about about it really fast. When it was just me, I quickly got way too much work on my hands. To find good quality help is really hard too, but now we have really good guys and it's getting better and better. Up until this year, the race team was kind of the back-burner thing. We helped Darryn as much as we could and took him racing. But going into outdoors this year, we knew he was going to be there to win. Now we're putting him in front of customers. It has to be done, because we can't go to the races unprepared. At the beginning of the week we do everything for him, and at the end of the week we do the customer stuff. So, if something happens, we can order parts. We had always put the customer first, we never wanted to hear 'Oh, your just all-about the race team,' because it's really not that way. Now, there's too much responsibility with Darryn to put it off. That's been the tough part.
Tells us about Darryn's race package, and your thoughts on how it's being compared to Pro Circuit, Geico and the top teams?
I feel like his bike is very competitive with those guys. We may be in a box truck, but I spare no expense on his bike. There's a lot of kids who are on what people say are really good teams who can only wish that they could have a race bike like Darryn's practice bike. Darryn's practice bike has a full titanium bolt kit, Brembo brakes front and rear, kit suspension and a full-race spec motor. Most teams, everywhere I've been, don't get a full-race spec motor, they get a scaled-back version, that's a little more reliable. Darryn is riding for practice what he races on. It's a little bit different situation than what people think. We go to the races in a box truck because it's cheaper, and we spend the money on the bike. That's the number one important thing, so when we get there he can compete with those guys. If people could get really close to the bike, they would be surprised. It's not a privateer bike, it's sick. With all that said, it's been trying. With a semi comes more employees and less work. That's been our biggest problem right now. On our budget, which is none; just what I bring to the table and do what I can for him; we can't afford three or four more guys. That's what we need to make things flow smoothly for him. It's good and bad.  He has really good equipment, but I'd love to have an actual team of people to make things smooth. That's where our team isn't really a team. But when it comes down to the equipment, to get on a couple of the other bikes is going to be a step back for him.

Eleven10 Mods "spares no expense" on Durham's engine.
Can somebody call you up and order Darryn Durham's engine package?
Yes, we have actually had people call up and order full bike builds, from the tires to the handlebars. From fender tip to fender tip, we'll do it for you. It's costs me a lot, my cost to build his bike…you'd be surprised. But if somebody wants it, and wants to spend the money, I'll build an identical replica of what he races on.  
Is there anything else we didn't cover?
I did the whole Troy deal last year, and when that fell apart I was committed to Darryn. I know it was going to be tough, but I didn't want to let him go. Before Darryn is my rider, he's my friend. If and when Darryn is gone next year on another team, I will be cheering for him. I want the kid to do good more than anyone else. I started this program with him this year because I didn't want to see him lose what he gained last year in experience. I knew that he was capable of doing what he is doing. He was capable last year, but it's really tough. We were a little more prepared and I think that made the difference for him.
JAKE CANADA GETS REWARDED FOR LAST WEEK'S TOP TEN: GETS A MOTOCONCEPTS GIG


Three weeks ago Jake was racing at REM. Now he's got a ride for the the Nationals.
From David Vuillemin: MotoConcepts Racing is pleased to announce the addition of Jake Canada and Ben Lamay to their race team. Kyle Chisholm is sidelined and still recovering from his infamous crash in Houston where he bruised a lung. He is still having problems breathing and getting 100% healthy so he will sit out some races to continue to recover. MotoConcepts decided to give a chance to two deserving privateers that are doing good in the AMA Motocross Nationals this year. "We, at MotoConcepts, are all about racing and are excited to give a chance to privateers who are showing heart, speed and dedication with limited support" says owner Mike Genova.
"Jake Canada showed up in Lakewood and surprised a lot of people with a ninth overall, myself included" states David Vuillemin, MotoConcepts Team Manager. "Ben Lamay has been getting consistent results and is in 16th in the stacked 450 class. When we decided that Kyle Chisholm needed some time off to heal up, Mike Genova and I decided to go ahead and find riders who needed help. I am confidant we can help Jake and Ben with our equipment and knowledge. Jake and Ben will make their debut this Saturday at the Red Bud National. Make sure to cheer for our three MotoConcepts riders, Tommy Hahn, Jake Canada and Ben Lamay. Let them hear you scream the famous "Reeeedd Buuuuudd" when they pass you by!"
TWEET PEEK: KEVIN IS ALL IN FOR THE AMA NATIONALS

COMING TO AMERICA: 2012 HUSABERG TE125, TE250 & TE300 TWO-STROKES WILL BE SOLD IN THE USA.


2012 Husaberg TE125 is headed for the USA.
Last year Husaberg started selling two-stroke enduro bikes, but not for the U.S. market. According to Husaberg, they will sell the two-strokes in the USA in 2012. For 2012, Husaberg will be 100 percent enduro (which means that they have dropped their Supermoto bikes). Husaberg will also open up access to the brand with the addition of a new model, the Husaberg TE125.


2012 Husaberg TE125 engine (with special Husaberg clutch cover).
Last year Husaberg introduced the 2011 TE250 and TE300 two-strokes and, in an attempt, to attract even more two-stroke fans, Husaberg new TE125 features closed-cartridge forks, machined triple clamps, translucent 11-liter tank and KTM 125XC engine. The look of the 2012 Husabergs has been refreshed, not only by new graphics, but also by translucent fuel tanks, yellow frames, stock hand guards and frame protectors. The rear suspension on the three Husaberg two-strokes is a no-link, PDS system.


2012 Husaberg TE300 with electric start.
The big-bore, electric-start, two-stroke TE250 and TE300 models receive a new Moto Tassinari reed valve block for better throttle response and the TE300 also features a new cylinder for increased bottom-end power. The standard on-the-fly ignition switch is replaced in 2012 by a new, smaller version so far only available from Husaberg's accessory division. The 2012 Husaberg two-strokes are made by KTM…to the point of being PDS-equipped KTM's with yellow frames and Husaberg plastic.
KAWASAKI'S REID NORDIN PROMOTED TO GRAND POOBAH


Reid Nordin.
Kawasaki announced that Reid Nordin, a 25-year veteran of the company, and the current manager of Kawasaki's Team Green amateur racing program, has also been named to manage all of the company's professional racing programs, effective immediately. Nordin, who becomes senior race team manager, will continue to oversee the amateur program. Mike Fisher will continue to manage field activities for the Kawasaki professional motocross/Supercross effort.
Prior to taking over the Team Green program in 2001, Nordin, who was formerly an active off-road racer, had served as a test development technician in Kawasaki's Research & Development group and had also been an off-road supervisor with the Team Green program. Kawasaki's amateur program has been a proving ground for many of the nation's top off-road racing talent. The list of successful professionals that have come from Team Green is long, including three of the most recognized racers currently on the professional circuit, Ryan Villopoto, Blake Baggett and Dean Wilson. "I've had the privilege to work with numerous riders as they were growing into their professional careers," said Nordin. "This will be an interesting and challenging transition for me, and I'm looking forward to keeping Monster Energy Kawasaki on the podium."
SAD NEWS ABOUT TIM NORTON & DANE LEIMBACH


Dane Leimbach was one of the squad of Penton riders that dominated American offroad riding in the 1970s.

From Jack Penton: Five-time ISDE gold Medal winner Dane Leimbach was diagnosed some time ago with Aphasia and has been steadily losing the ability to talk and comprehend written communication. Very recently the doctors have retested Dane and it is with great sadness that we have been told that the original diagnosis was incorrect and that Dane has ALS (Lou Gehrig's disease). The symptoms we have seen progressing over the last year are not confined to Aphasia as originally thought but are sadly the progression of ALS, which has no known cure. Dane has touched so many lives in a very positive way. Dane is the nephew of John Penton and cousin to the Penton boys, father and grandfather. Dane has worked, raced and lived motorcycling from his youth. He has raced the biggest races in the world and helped design the motorcycles we ride and the parts that go on them. You may not know Dane but there is a good chance you have been touched by his contribution to motorcycling.

Tim Norton at Glen Helen's REM races.
Tim Norton is a local SoCal racer and the Key Account Specialist of Superfeet Insoles. Tim was in perfect health…until he went to the doctor recently and was diagnosed with a health issue. The prognosis is unknown, but Tim has excellent medical care. Many motocross fans know Tim Norton as the rider that owned the first-ever KTM 350SXF (when HT Racing built several prototype mules to prove the viability of the mid-size four-stroke concept)


Tim Norton's KTM 350SXF was the first-ever 350 KTM.
Our hopes and prayers go out to Dane and Tim.
MXA INTERVIEW: OSCAR WIRDEMAN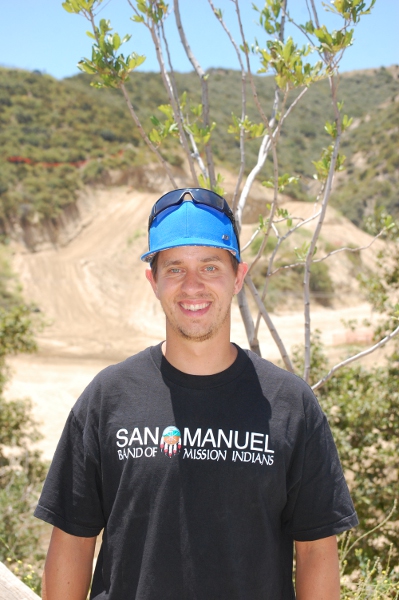 Oscar.

When is James Stewart going to race? What really happened during Supercross. What's he doing? Stewart's mechanic, Oscar Wirdeman, was out at the track testing, but not with Stewart. We asked the pro-wrench for the 411.

MXA: How did the Supercross season go from your point of view?
Oscar: We had a pretty crazy Supercross season. There were unbelievable highs and a bunch of lows. Everybody knows that he was the fastest, but we had misfortunes, and a couple of big crashes. It was a roller coaster the whole season. For everyone, though, it was kind of crazy.

Did you guys try a lot of different bike settings through the season?
He was pretty steady. We had a pretty good base setting in the beginning. In the middle of the series we changed some things. With around five races to go in the series, we kind of went back to where we started. The race that stands out to me was Daytona, because he was three seconds a lap faster than anybody else. Even after his crash he was still going gnarly fast. It was big for him to even finish that race. I think he gained a lot of fans, and a lot of respect.

It seems that under the lights is the only place to see Stewart race this year.
There was some speculation about why James was washing out in turns. What's your take?
It's always a compromise. If you only set your bike up for whoops, the thing's not going to turn. If you only set it up for step-offs, it's not going to work in other sections. It's always a compromise, and maybe sometimes we went too much on the cornering side of things and lost performance in other areas. Especially with James, because when it comes to a race situation, he can lift his game unbelievably. He goes so much faster.

So, his practice setting is drastically different than his race setting because he steps it up?
Yes He will step it up as far as he has to, basically. He needs the bike to give him a big safety margin, so he can do that. And that's hard to come up with, for sure.
Tell us about getting ready for outdoors, and the decision for James to race or not.
We are a Supercross-only team. Since the team started in 2006 we have only done Supercross. This year, there was talk about racing outdoors, but not from the team. Our budgets and our contracts are for Supercross-only, and they have always been.

We thought that Stewart announced plan to do the first four rounds?
There was talk about it, but after the Supercross season, he had a couple of big crashes and it was an intense series. James had to heal his body and rest up. He wasn't ready to go [to outdoor racing]. You can't go just for fun; you have to go when you are ready. Then it's not fun anymore.

So, there's no talk of doing any Nationals this season?
In the near future I don't think so. Everyone is surprised that we're not doing the outdoors this year, but for the last five years we have been a Supercross-only team.

TSM (Team San Manuel) seeks extra R&D for Stewart's bike in Tim Ferry.
Why are you testing with Tim Ferry?
We just got him on board to work with him in preparation for the next Supercross season and test the bike. Racers, like James, don't want to test too much. So, starting with Timmy, we can try anything we want. This is only our second day of testing. We are starting in motocross; it's easier and safer for everyone. We're basically trying to get a good base for the 2012 Supercross season. It's still early, so we're just getting him used to our Yamaha, doing some basic suspension things and learning his language. So when Tim says how the bike works, we know what he means, and can understand his language. We will basically cover everything, but right now we are focusing on suspension, getting comfortable, and working our way toward Supercross.
What's the schedule going to be as far as James testing?
I think we are doing the Monster Cup in October, so we will probably start testing in August or September.

Will you go to his house in Florida, or will James come to California?
We will go back and forth. Right now he has been taking it a little bit easy at home, resting up and stuff. We will go back to Florida, and he will come here a little bit.
 
TIGER LACEY, DANIEL BLAIR AND DENNIS STAPLETON SWEEP PHILIPPINE MOTOCROSS CHAMPIONSHIP


MXA's Dennis Stapleton enjoys the life of a globe-trotting pro, but he still has to be back in time for the next MXA test session.
Tiger Lacey led a dominant show by American riders in the sixth leg of the Enersel Forte Philippine Motocross Series in Tubod, Lanao del Norte, Philippines, this past weekend. Lacey won both motos, while Blair went 2-2. The Iloilo, Philippines, round champion, MXA's Dennis Stapleton made it a 1-2-3 finish for the U.S. riders as he went 3-3-3 at the challenging circuit outside the Mindanao Civic Center. With a crowd of around 3000 cheering him on, multi-titled Filipino champion Glenn Aguilar secured fourth spot behind the Americans and won the local Pro Open championship with a 1-1 in front of Kimboy Pineda and Bornog Magsonong. The event was sponsored by the Enersel-Forte vitamin syrup, Therasil lozenges, Bridgestone tires and World Boxing Champion Manny Pacquiao. The event was held as a tribute to the four-time Philippine Superbike road race champion Maico Buncio, 22, who died in a freak accident at the Clark Speedway circuit last month.
PHOTO OF THE WEEK…IF THE WEEK WAS IN 1980


The rider is Danny LaPorte. The track is Carlsbad. The jump is Devil's Drop. The event is the USGP. The year is 1980. The crowd is massive…and close.
WILL THE "AYERS & SON PAVING COMPANY" KNOCK DOWN THE DROP-OFFS NEXT?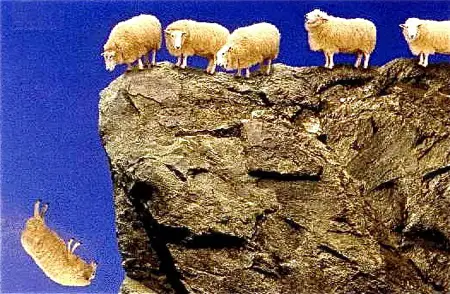 Getting in a mule with Dr. Bodnar or John Ayers is more dangerous than Friday night out with Jason Lawrence.

MX Sports' John Ayers, most famous as the man who implemented the hated "smooth track concept" by grading Millville, Southwick and Budds Creek, took just-recovered Team Honda rider Josh Grant for a ride around the Thunder Valley National track on Friday in his side-by-side quad. Ayers then proceeded to cartwheel over a drop-off, sending Josh Grant to the hospital. Luckily, Grant was released in time to race on Saturday, where he hurt his good knee. Josh is currently waiting for his MRI results. This is not the first time that a track official has cartwheeled over a drop-off. The Asterisk track doctor, John Bodnar, did it last year at Red Bud.
TWEET PEEK: JOSH GRANT TO RACE RED BUD
MORE LAKE ELSINORE MX PARK RUMORS


The city of Lake Elsinore was made famous in the movie "On Any Sunday."
According to the Lake Elsinore/Wildomar Patch news website Vision Quest Enterprises owner Gio Nanci has signed a 15-year lease on the old Lake Elsinore Motocross Park on Cereal Street (but we've heard this kind of rumor before). Nanci said he and other Vision Quest Enterprises partners are meeting with the City of Lake Elsinore Thursday to discuss details on what needs to be done to bring the park up to code. Gio Nanci doesn't race says that he plans "to spend about $500,000" to get the park up to standards, Nanci said. Lake Elsinore Planning Technician Agustin Resendiz confirmed that Vision Quest is meeting with the city, but said talks are informal at this initial stage. Several groups have tried to open the track again, including one headed by Jeremy McGrath and Karl Scanlon…but all have failed to come to terms with the city. The track has been closed for over a year after then-park operator Randy Hiner failed to meet city permit conditions.
MILESTONE?THE CRIME CAPITOL OF THE MOTOCROSS WORLD


In what has become an almost a weekly occurrence at SoCal's Milestone motocross track, thieves have hit again. It wasn't that long ago that John Basher had his camera equipment stolen, then Dean Wilson's dad had his wallet taken, and on and on and on. Something is not right at this place…Here is the latest report from TWMX photographer Kyle Cowling on VitalMX.
"Curious if anybody was at Milestone on Monday? I was there working with Hamblin, and it seems that I am the latest victim of theft at Milestone. Somebody broke into my truck and stole my camera bag, which has over $6000 in photo/video equipment in it. Camera body, four lenses, five memory cards, full Senneheiser audio setup, and a few other small things. I locked my truck each time I went out, but they must of had some sort of wedge kit, because they left some scratch marks near the door handle. I've filled a claim with my auto insurance company, but feeling very helpless and sick to my stomach. Am hoping somebody saw something. Thanks, everyone.? Kyle Cowling."
YOUR CHANCE TO HELP DESTRY ABBOTT REPRESENT THE USA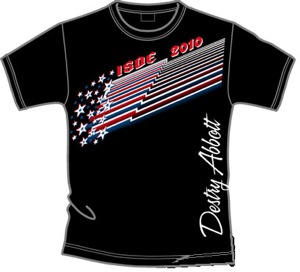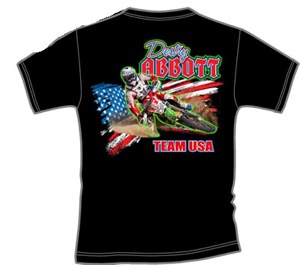 From Destry Abbott: "I'm selling my ISDE t-shirts for $10 to help for my Finland trip! To offset some of the cost, I need to sell the rest of my 2010 T-shirts to help raise money for the ISDE. I am also charging $5 for shipping of your entire order. I can only do this per order, not on multiple different orders, so order all your stuff at one time! I'd also like to thank Monster Energy Kawasaki for all their hard work preparing our bikes, parts, etc. to ship. It's a very time consuming and expensive event and they were indispensable in helping our Kawasaki riders prepare for this trip. My mechanic Jonny also worked very hard building my KLX450. Great Job! To order go to www.destryabbott.com
IS HONDA AIMING FOR THE BAJA 1000? PARIS DAKAR? OR JUST TROPHY TRUCKS?


Honda Performance Development is located 50 feet away from the palatial MXA towers.
"From Honda Performance Development: "Both Honda Performance Development (HPD) entries at the 2011 Pikes Peak International Hillclimb made successful runs Sunday, as the racing division of American Honda Motor Co., Inc.,made its first foray in the "Race to the Clouds" with both a one-off HPD Desert Pilot and a production-based B-Spec Rally Fit. The HPD Desert Pilot features a power train co-developed by the engineers at HPD and the California Race & Rally team. Driven by veteran off-road racer Gavin Skilton, the Pilot completed the 12.42-mile run up the Pikes Peak course in 15 minutes, 37 seconds to finish eighth in the "Open" class. This marked the racing debut of the Desert Pilot, a single-seat, tube-framed racer powered by a mid-engine, production-based Honda V-6; with replica Honda Pilot bodywork.  Developed for off-road racing, the Desert Pilot was entered into the historic hillclimb as a shakedown in preparation for entry in Class 6 Trophy Truck events later this summer."
MEANWHILE, IN OTHER MOTORCYCLE-RELATED CAR NEWS…


The winged wonder of Monster Tajima.

While Honda was getting its feet wet, Suzuki's 61-year-old Nobuhiro 'Monster' Tajima won his sixth consecutive Pikes Peak International Hill Climb and became the first man to break the ten-minute barrier. Tajima went up the mountain in 9 minutes, 51.278 seconds. Tajima drove twin turbocharged Suzuki V6. The surface of the hillclimb has been changed from almost entirely gravel to almost entirely asphalt. Currently, less than a quarter of the event is run on unpaved road and the remaining three miles will be paved prior to next year's event. Hence although Tajima's record now stands, the 61-year-old will never be able to wrest the mantle of the best drive up the dangerous mountain road from Rod Millen, who in 1994 clocked a time of 10:04.06 on a surface that was almost entirely dirt.
NEW PRODUCT RELEASE: R&D RACING'S INNOVATOR THROTTLE BODY


Feature Bullet points:
*CNC MACHINED
*BILLET ALUMINUM
*SHAFT-LESS DESIGN
*NO BUTTERFLY RESTRICTION
*OFFSET TRACTION CONTROL VALVE
*BILLET BRASS TC VALVE
*TRACTION CONTROL
*PROGRESSIVE THROTTLE FEEL
*IMPROVED VELOCITY
*MAXIMIZED FLOW CHARACTERISTICS
*EASY BOLT ON
In a world of pivot shafts and butterfly valve technology, R&D's new Innovator is a stand alone product. Innovator is a breakthrough in throttle body design. A completely new and unique idea, controllable throttle progression, increased velocity and maximum flow all in one truly innovative design.
Free Flow
Ultra high flow design, a simple shaft-less throttle body design. Utilizing 90ø of a circle, our new valve design goes from a full closed to a full open position gradually, delivering for the first time a real progressive throttle effect.
Sine Factor
The Sine effect produces an ever expanding flow area, the Sine effect has now delivered real throttle progression with the simplicity of a single moving part.

WISECO PROMOTION


Wiseco is running a promotion right now to give away a flex fit hat/promo pack (worth $50) if you buy $200 from www.wiseco.com.
 
MOTOWORKS' EXHAUST DISCOUNT PRICE DEAL

Motoworks Exhaust, maker of the high performance SR4 Exhaust system, is announcing a new pricing index now available to the general public. The new pricing structure will allow consumers to purchase Motoworks high performance exhaust systems at or below previous dealer and distributor prices. Complete pricing details are available on the Motoworks website but average savings is over 30% off previous retail pricing. Their popular SR4 G2 full exhaust, available for all major high performance 450cc ATV's and Motorcycles, is now just $399.95 with the new pricing structure.
The new pricing is also available on all previous SR4 Systems and Slip-ons, the SR4 Carbon Fiber Exhaust as well as Motoworks' complete line of UTV exhausts.
Motoworks Racing is a high performance motorcycle, ATV and UTV exhaust manufacturer. All Motoworks SR4 Exhaust Systems are dyno and track tested to provide maximum performance. Constructed from aircraft quality T-304 stainless steel and 6063- T4 aluminum, Motoworks exhausts are championship proven and they are currently leading the points battle in the ATV World Offroad Championship series as well as the AMA ATV National Series.
Visit www.Motoworks.comfor complete pricing and ordering information.

RED BUD NATIONAL INFO, DAY BY DAY



The next exciting AMA outdoor race is Saturday, but the fun starts today. What better way to spend an Independence Day Holiday? Here's what will happen each day and how much you'll pay.
Wednesday
You can head to 13638 North Redbud Trail, Buchanan, Michigan 49107, arrive at 6pm to midnight, and set up camp. Wednesday through Sunday tickets cost $70, Kids are $35, and camping is $75 per vehicle.
Thursday
There is amateur practice on the pro track. Ticket through Sunday is $65.
Friday
There is amateur racing on the pro track, with an amateur night race on the lighted night track. Tickets through Sunday are $55. Kids are $30.
Saturday
This the Pro day. The pro women will also race. There will be an amateur race on the night track in the evening, and fireworks in true Independence Day fashion. Saturday-only tickets are $40, Saturday and Sunday tickets are $50. You can visit the pro pits on Saturday from 9am to12pm, if you purchase a $15 ticket.  
Sunday
Sunday-only tickets are $10 for amateur racing on the pro track.
For more info and to buy tickets, visit www.redbudmx.comor call (269)-695-6405
UNFOUNDED RUMOR MILL
Contract time for 2012 is drawing near, and that means the rumors are flying. Riders, teams and factories are shopping around, but they are very secretive. The following rumors are all completely false…and if they are true it's an accident. If you throw enough mud at a wall, some will eventually stick. It's fun to speculate, so here is the latest from the grapevine (from which the rumor mongers swing).

Without L&M's contract, James Stewart may be considering a switch to Suzuki (on the other hand, he may be staying at Yamaha).
Ryan Dungey may be considering switching to KTM and his old mentor Roger DeCoster?that is if you don't believe the Honda rumors.
Mike Alessi would like to start his own team…riding Suzukis. No, make that Yamahas, but he would be willing to ride Hondas. One thing for sure, KTM is out.
Pro Circuit may be considering a switch to Yamahas, although the logo-less FMF-equipped 450 team may rekindle the green relationship with Pro Circuit. Mitch is loyal to Kawasaki and won't change on a whim.
Team Kawasaki could return to Pro Circuit or they could run works pipes from Japan…or they could have some other pipe company build bikes to their specs…or maybe they will go to Akrapovic. Who did we leave out?
There is a rumor that there might be sound testing at an AMA National sometime this year…but it hasn't happened yet. One thing for sure…everyone has passed the non-existent tests so far, so the rules are working.
Chad Reed may want to add a second rider to his team for 2012 (he says he does). He barely had enough money to add himself to his team this year…To become a two-man team, with a real contender as a teammate, Chad needs more sponsorship money, a promise of factory equipment and a couple hundy-thou from a factory to make this happen. Honda is his best shot and the "New Chad" has become a super salesman that might be able to sell the package.
Darryn Durham might be considering Rockstar Suzuki for 2012 (this is because he was seen testing a Rockstar RM-Z250 earlier this week).
The once-successful duo of Larry Brooks (no longer with Stewart's Team) and Jeremy McGrath may be considering forming a Honda-mounted race team together. All it takes to line up a new team is years of experience (which Larry has) and a big-bucks sponsor. No one has been as successful at finding new sponsors than Larry. It should be noted that even though Larry has been an MXA test rider since he was 15-years-old we have never asked him what went down between him and Stewarts. If he wants to tell us, he will…and if he doesn't want to tell us, it doesn't do any good to ask.