MOTOCROSS ACTION'S MID-WEEK REPORT (07/04/12)

By John Basher
HAPPY FOURTH OF JULY! GOD BLESS AMERICA!


    I hope that you have a great Fourth of July celebration!
PHOTO OF THE WEEK


Dennis Stapleton at work.
    MXA test rider Dennis Stapleton is involved in many things. He travels around the world racing (Dennis was in the Philippines last week and flew back to test with MXA for one day before going to Ohio for another MXA test before flying back for yet another test yesterday at Comp Edge. He's home for a week or so before gong to Holland). Dennis builds race bikes for clients in his spare time. And, as you can see, he pulverizes berms when it's called for. Here, he is riding MXA's 2013 KTM 350SXF and sporting all-new Fly gear. Stapleton tries to move the tectonic plates.
VOTE FOR RYAN VILLOPOTO FOR ESPN'S MALE ACTION SPORTS ATHLETE OF THE YEAR
    Help RV beat Kelly Slater, Shaun White and Travis Rice!

    Monster Energy Kawasaki's Ryan Villopoto needs your help to be named ESPN's Male Action Sports Athlete of the Year. Villopoto earned a lot of hardware over the past year including the 2011 AMA Supercross and AMA Motocross titles as well as claiming the 2012 AMA Supercross Championship. Make sure to support the sport of motocross and Vote for Villopoto at http://es.pn/Mt8ECg
MINI-VIEW: WIL HAHN – PLAYING CATCH-UP


Wil Hahn.
MXA: How would you rate your outdoor season?
Wil: For what I had in mind for the opening five rounds, I'm right where I want to be. Of course I want to be closer to the front guys, and lately I have been picking it up. I did really good in a moto at High Point, and I want to improve on that. I'd like to latch on to the top guys as much as I can, and finish every round. At the end of the season I'd like to be top five in the point standings. I feel that I need to rebuild myself.
What exactly do you need in order to rebuild yourself?
More than anything, I need to stay on my bike. Nothing makes up for good seat time. I need to be at the races every weekend and enjoy it. I've found that I don't lose a ton of speed when I'm injured, but I do lose that edge. I'm talking about trusting the bike, because it makes me a little gun-shy when I crash.
In an effort to get more seat time and comfort are you riding more frequently than in years past?
Not really, no. I've been putting more quality riding in. I've backed it down during the week. I'm riding less than in years past, but my body is staying really fresh. That's a big thing.
A lot of people might not understand that a top Pro, such as yourself, isn't pounding out motos every single day of the week.
Absolutely! The weekends take so much out of me, and I'm not just talking about the racing part of it. Having to travel to the East coast, especially from California, is tough. I race all day on Saturday, and then I'm up at 5:00 a.m. on Sunday morning and catching a flight back home. More than anything I'm focused on being fresh during the weekends.

Wil working on raw speed.
What's the biggest hurdle that you'll need to get over in order to battle up front?
It's all about raw speed. In the first couple of laps of every moto those guys [Baggett, Barcia, Tomac and Roczen] are so fast! It's not that they are slow after that point, but their sprint speed is amazing. I need to break away with them and latch on for as long as I can.
Was it difficult for you to be gone five weekends in a row and racing throughout the country?
It's tough. Five straight outdoor races is a bit grueling, especially with the travel. During the break I went home and spent a little bit of time with my family, which was really nice. Then I flew out to California and hopped on my bike, because I have some catching up to do on my competitors. I didn't have the whole Supercross series under my belt, so it has been a matter of getting back that speed.
I'm sure you can attest to the benefits of staying healthy through Supercross and carrying that confidence and momentum outdoors.
Oh yeah! It's such a confidence boost, but more than anything it's important to race Supercross because then you maintain that racing edge. Being at the drop of the gate every weekend and keeping that intensity is huge.
Today you're out at Competitive Edge and you're testing a few settings. At any point during the season will testing stop for you?
Testing is never-ending, especially with the Geico guys. They're striving to make advancements to the bike every day, and I'm more than happy to try out new things. Today they made some changes to the front brake and suspension. I'm excited to try these changes at Red Bud this weekend.
As for Red Bud, what are your thoughts on the track?
I love Red Bud. It's one of my favorite Nationals of the year. The fans are always crazy and having a good time. As for my expectations, I want to get two awesome starts and get a top five overall. I haven't done it yet this year, so that's my plan.
SILLY SEASON RUMORS


    It's that time of year! The Silly Season is upon us, meaning that rumors are flying about who's going where, and for how much. I typically don't concern myself too much with the silly season for the same reason that I don't watch TMZ. Honestly, I'm not all that interested in gossip about riders shopping their services around the pit paddock. Eventually the truth will come out at Anaheim 1 anyway. However, it's human nature to want to be on the inner circle of information. In order to try and satiate your desires for silly season rumors I'll disseminate the gossip that I've heard. Is it true? Who knows! But I will say that it came from several reliable sources (who, although reliable, have been wrong before). Take this speculation with a grain of salt.
    Dean Wilson, still recovering from shoulder surgery to his right side, is apparently going to get his left shoulder operated on also during his time off. Dean is interested in a 450 ride, even though he didn't point out of the 250 class. The news is that Wilson has four offers on the table (JGR, KTM and TwoTwo Motorsports might be three of the four), and Dean is asking for big money. Conventional wisdom is that Reed's TwoTwo team might not have the money, KTM might not have the money and that JGR does have the money. However, Dean could always return to the 250 class for the Pro Circuit team if he can't get the deal he wants.

Will Mitch and Martin Davalos be a pair? Yes they will.
    Pro Circuit Kawasaki will more than likely field Blake Baggett and Darryn Durham for next year. Dean Wilson is in limbo, since he wants to be on a 450. The big news is that Martin Davalos will be on the powerhouse team. The one remaining open spot might go to a top amateur rider, such as Dylan Epstein or Justin Hill. Time will tell.

Will Davi go from Suzuki to Honda to Yamaha and back to Suzuki? Yes he will.
    Davi Millsaps will be on the Rockstar/Suzuki team. Don't confuse Rockstar/Suzuki with the factory-backed Yoshimura/Suzuki team that has James Stewart already signed.
    Apparently Ryan Villopoto has several offers, but he's not saying much. Obviously Kawasaki is front runner, but Honda might be in the mix. I expect Villopoto to get big money, because the guy deserves it.
    KTM will stick with Marvin Musquin, the already signed Ken Roczen, and of course Ryan Dungey. Apparently KTM is looking for a second 450 rider. How they have enough money to field another rider is beyond me. Hey Roger, I'm available!
    Christophe Pourcel might want back in the U.S. and could be talking with Jeff Ward Racing. That would be a good fit.
    Geico Honda will be full to the brim with riders – Eli Tomac, Wil Hahn, Justin Bogle, Zach Bell, Zach Osborne and Kevin Windham. There have been rumors that Team Honda would move Trey Canard back to the Geico team from Muscle Milk Honda? But…..
    Justin Brayton could be out at Muscle Milk Honda after this season. I figured that Brayton would be on the factory team again next year, especially since I heard that Brayton brought Muscle Milk to the team. Apparently the protein shake company and Honda have a stand-alone contract. It shows what I know.
    Hart & Huntington and Ricky Carmichael are joining forces. The team name could be Hart & Huntington/Carmichael, and they will be on Suzuki's. Josh Hansen still has a year to go on his contract, but everyone else on the team is up. My guess is that Carmichael will get factory support from Suzuki. No word on what type of tattoo Ricky will be sporting next year.
MATRIX CONCEPTS DOMINATES MAMMOTH MOTOCROSS


 
    Matrix Concepts' Team riders take 1st in 450 Pro, 250 Pro, Vet Pro 30-Plus, and a podium sweep in the Super Mini class. Matrix would also like to congratulate all Team Matrix riders who made it out to Mammoth, to find out more race information on Mammoth Motocross, please visit www.facebook.com/matrixconcepts or to find out more about becoming a part of Team Matrix, please visit www.MatrixRacingProducts.com.
Super Mini Class:
    1st – Justin Hoeft
    2nd – Mark Worth
    3rd – Adam Cianciarulo
450 Pro:
    1st – Dillan Epstein
250 Pro:
    1st – Joey Savatgy
Vet Pro 30-Plus:
    1st – Ryan Hughes
For more information on Matrix Concepts products, visit: MatrixRacingProducts.com   
MINI-VIEW: MARVIN MUSQUIN – IN SEARCH OF THE PODIUM


Movin Marv.
MXA: How would you rate your outdoor season?
Marvin: Well, it's not going how I expected. My goal was to be on the podium or better, but at the moment I haven't made a podium yet. I'm the fifth guy in the championship, but there's a group of four guys in front of me that are going really fast. I'm behind them by pretty far, but I'm getting better. I'm not happy with my season because I'm not on the podium.
How is it racing with the top four?
It's very intense. Baggett, Barcia and Roczen were faster than Ryan Dungey at Budds Creek, which was pretty amazing. I'm just trying my best. I got injured right before the Nationals began, and I was happy just to be on the gate at Hangtown. I had surgery not even 15 days before Hangtown, which is crazy.
What's it going to take for you to land on the podium?
I'm working on my intensity and speed. I'm trying to be faster at the end of the motos. Budds Creek was better, and in the second moto I was behind Roczen. He was faster than I was, but I stayed in second place for a few laps. That was as good thing, but then Baggett and Tomac passed me. With more strength in my mind I can stay with the group.

Pushing harder than in Europe.
Didn't you push that intensity when you raced in Europe?
In Europe I was leading races and I wasn't pushing as hard as I have to here in the U.S. Over here there is more intensity and the guys are a little bit faster here than in Europe. I do think that Tommy Searle and Jeffrey Herlings would be fast here. However, I never pushed that hard in Europe. I need to work on my intensity.
Do you feel any pressure in regards to battling with and beating your teammate, Ken Roczen?
I think it's good to have Kenny on the team. He's really fast and he's doing well outdoors. I want to do better than him, so it's good. I don't feel pressure. It has more to do with motivation. For the moment he's in front of me, but I think I can get up to where he's at.
What's it like working with Roger DeCoster?
Roger has really helped me. His wife also helps me with nutrition. When I'm sick I call him. He always has really good advice. Roger is the man, you know? He's really famous. He worked with Ricky Carmichael. Now he works with Ryan Dungey, and Dungey is the new Carmichael. I'm part of the team, and it's great. I'm always learning and he tries to give me advice every weekend and on testing days. I get better and better with Roger around.
What have you heard about Red Bud?
I've heard good things about the track. I do know that everybody says, ?Reeeeeeeeedddddddddd Buuuuuuuuuddddddddd!' I'm excited to go there and have fun. I've heard about LaRocco's Leap. I'm not sure if I can do it with the 250, but we'll see. It's always fun to ride new tracks. It's tough because I only have two 15-minute practice sessions to get everything figured out before the racing, but I can learn.
KAWASAKI'S 2013 KX250F VIDEO
    Kawasaki's marketing team captured action and spit out a video from the 2013 Kawasaki KX250F introduction at Millville. You'll see me in there for a split second (so don't blink), as well as MXA tester Dennis Stapleton. More importantly, you'll see Jeff Emig wearing new Shift gear that harks back to 1997 when "Emigo's" wore black camo.
RETURNING TO GRACELAND

    I'm stoked out of my mind to attend the Red Bud National this weekend. I haven't been to this National in several years, although I did get the opportunity to ride the track last year for the 2012 Kawasaki KX450F introduction. No, I didn't jump LaRocco's Leap (I'm smarter than that), but I did enjoy every minute shredding up the choice terra firma. Epic doesn't begin to describe that track.
    It's only natural for me to love Red Bud. The track has one of the most famed obstacles in all of motocross, with the namesake of my favorite rider growing up. Mike LaRocco is one bad moto man, even now that he's retired. Going to Red Bud to me is like some Elvis Presley freak going to Graceland. The very fibers of the Buchanan, Michigan loam were sewn by "Iron" Mike. It's just too bad that LaRocco has taken out a restraining order on me. Just kidding! Or am I?
    If you see some tall lanky guy with spiky hair wearing a hideous beige photo vest walking through the infield this weekend, shout out a big "Reeeeeeeeeeddddddd Buuuuuuuuuudddddddddd!" I'll probably even take a photo of you; that is, if I'm not slunk in the shade after wilting like a flower from the predicted temperature of 90 degrees with 60-percent humidity. Awesome.    
    
MAXIMA CMMC MINI NATIONALS FEATURING MINI MADNESS 10 AT BARONA OAKS THIS WEEKEND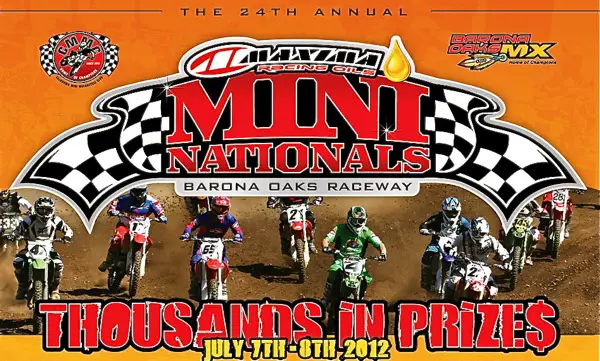 Press release: The California Mini Motorcycle Club (CMMC) is proud to present the 24th annual Maxima CMMC Mini Nationals featuring Mini Madness 10 at scenic Barona Oaks MX Park on July 7?8, 2012. Rich in racing history and lucrative for pro competitors, the Maxima CMMC Mini Nationals take place over two full days on professionally prepared race tracks, creating one of Southern California's top motocross events of the year.
    More than just racing format and tracks make this event special. "CMMC's nonprofit organization status allows us to really focus on giving back to our Mini Nationals participants," explains CMMC event and marketing coordinator Shawn Ruth. "Nearly every resource acquired by the CMMC is returned to our riders in some way or another. This year will be no exception!" From kids racing for the first time on the Pee Wee track to Beginners, Novice, Intermediate and Pro riders competing on the main track, every amateur rider will go home with a prize from the famous Maxima CMMC Mini Nationals prize tent.
    Pro riders who participate will receive genuine VIP treatment, as a $1,500 purse + 100% Payback in each pro class will have them leaving with smiles on their faces and cash in their pocket. Past champions of this prestigious event include Jeremy McGrath, Ricky Johnson, Ron Lechien, Scott Burnworth, Ryan Hughes, Mike Craig, Tommy Clowers, Billy Laninovich and, most recently, Dean Wilson.
    Making the weekend even better, Mini Madness 10, the hugely popular pit-bike race, will be held Saturday afternoon on Barona Oaks' Mini Track. This race welcomes riders of ages and skill levels on four-stroke pit bikes from 50c to 150cc. If you like action packed racing, this is it!
MXA'S 2013 KAWASAKI KX450F VIDEO

TEAM HONDA MUSCLE MILK IS GOING PATRIOTIC


    Team Honda Muscle Milk's Justin Brayton will don patriotic themed gear at Round 6 of the 2012 Lucas Oil AMA Pro Motocross race at Red Bud on Saturday, July 7 for the Fourth of July holiday weekend race. Brayton's patriotic gear will include custom red, white and blue fork guards and a custom painted helmet. The patriotic design will help raise awareness for the Muscle Milk Recovery Grant Program which will provide up to $250,000 in grants to help rebuild and revitalize high school athletic programs around the country.  
    "I always love racing at Red Bud because it's cool to see how the fans get into the Fourth of July weekend," said Brayton. "It's really cool to support the Muscle Milk Recovery Grant Program. Going to high school in Iowa you see how big high school sports are, so I definitely understand the importance."    
    The Muscle Milk Recovery Grant Program will award up to $25,000 per submission to programs that show a financial hardship outlined in the application process.  Applicants must be at least 14 years old and can nominate the high school of their choice on the Muscle Milk Facebook page (www.facebook.com/musclemilk) where they will be required to submit a written statement outlining their program's needs, provide photos that support their request and will have the option to upload a video link to help further tell their story. Submissions will be accepted through November 20, 2012 and recipients will be notified in January 2013. In conjunction with the launch of the Muscle Milk Recovery Grant Program, Muscle Milk also debuted limited edition packaging that includes a red, white and blue theme. A portion of sales from the patriotic packaging will go toward funding the Recovery Grant Program. For more information on the Muscle Milk Recovery Grant Program, please visit www.facebook.com/musclemilk.
TEAM HONDA'S SAYAKA KANESHIRO INJURED


Sayaka.
    Team Honda Muscle Milk's Sayaka Kaneshiro was involved in a practice accident on Wednesday, June 27, while preparing for the 2012 X-Games, sustaining injuries to both wrists and an ankle. Kaneshiro underwent successful surgery on Thursday, June 28, but the injuries she sustained will ultimately knock her out of the Women's Motocross Championship for the rest of the 2012 season. Kaneshiro is currently sitting third in points after posting some of her career-best finishes this season. She finished third in moto two at Thunder Valley, and grabbed her first-ever overall podium finish at High Point with a third place finish.