MOTOCROSS ACTION'S MID-WEEK REPORT: (07/09/10)

By the MXA wrecking crew
PHOTO OF THE WEEK: PART 1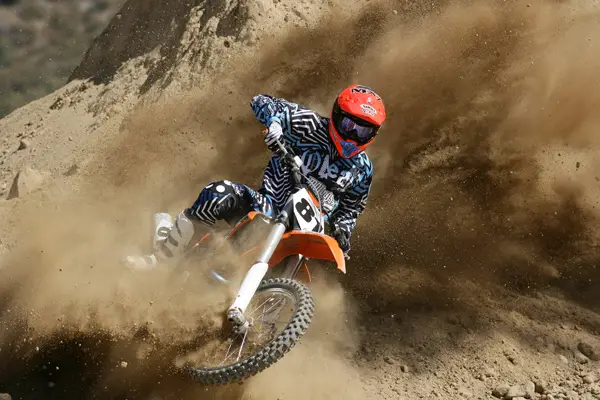 The wrecking crew has been busy testing a growing fleet of 2011 motocross bikes for comprehensive reviews in the pages of MXA. Be sure to pick up the September issue for a test on the 2011 KTM 350SXF. As for the October issue, read up on the 2011 KTM 450SXF (shown here) and the fuel-injected Kawasaki KX250F. Photo by John Basher.
MXA TEST RIDER LOG


How does the MXA test crew keep track of all the changes that they make during a test session? They write them down, but not on paper. These are the notes from one day with the KTM 350SXF.
2011 AMA SUPERCROSS SERIES SCHEDULE
Date…………Venue……………City
January 8…Angel Stadium…Anaheim, CA
January 15…Chase Field…Phoenix, AZ
January 22…Dodger Stadium…Los Angeles, CA
January 29…Oakland-Alameda City Stadium…Oakland, CA
February 5…Angel Stadium…Anaheim, CA
February 12…Reliant Stadium…Houston,TX
February 19…Qualcomm Stadium…San Diego, CA
February 26…Georgia Dome…Atlanta, GA
March 5…Speedway…Daytona, FL
March 12…Lucas Oil Stadium…Indianapolis, IN
March 19…Municipal Stadium… Jacksonville, FL
March 26…Rogers Centre…Toronto, CAN
April 2…Cowboys Stadium…Arlington, TX
April 9…Edward Jones Dome…St. Louis, MO
April 16…Qwest Field…Seattle, WA
April 30…Rice-Eccles Stadium…Salt Lake City, UT
May 7…Sam Boyd Stadium…Las Vegas, NV
2011 FIM GRAND PRIX SCHEDULE
Date…….Venue………Country
May 15…Broadford…Australia
May 29…TBA…Netherlands
June 5…TBA…Great Britain
June 19…Teutschenthal…Germany
June 26…Kegums…Latvia
July 3…Uddevalla…Sweden
July 17…Bellpuig…Spain
July 24…Agueda…Portugal
August 7…Lommel…Belgium
August 14…Loket…Czech Republic
August 28…Campo Grande…Brazil
Sept. 11…Glen Helen…USA
Sept. 18…TBA…USA
Oct. 96…Sevilevo…Bulgaria
Oct. 16…TBA…Italy

DERBI DH 2.0: THE GRANDEUR OF THE MINIMUM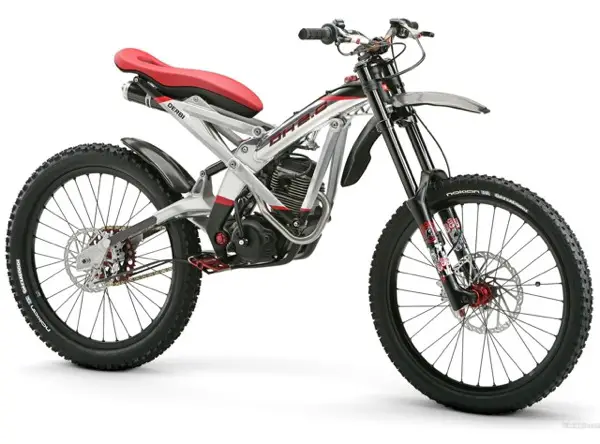 The gasoline is hidden in the top tube.
      Although barely known in American, except for a brief and minimal motocross foray in the late 1970s, Spanish manufacturer Derbi is totally unknown to USA racers. Few people know that three-time 250 National Champion Tony DiStefano was the American Derbi importer in the 1970s, bringing in mostly mopeds, but he did import two Derbi motocross bikes. In Europe Derbi is most famous for its 50cc and 125cc road racers.


The wheels are both 26-inch downhill wheels and the total weight is under 100 pounds.
      Derbi has always been an innovative company and the new Derbi DH 2.0 takes the motorcycle to the minimum to achieve the maximum. The DH 2.0 gets its name from mountain biking (DH = Downhill 2.0). In spite of its minimalism, the new Derbi DH 2.0 is high-tech with its aluminum frame and integrated gas tank. The forks are 38mm upside-down units and an air shock supports the monoshock rear suspension. There are disc brakes, a carbon fiber skid plate and a single cylinder, four-stroke, 96.2cc engine, complete with automatic transmission and a carbon fiber silencer (hidden under the seat). Claimed horsepower is 8. Derbi's goal with the DH 2.0 prototype is to bring a new group of young riders into the sport. It has yet to see production.

      For more info go to www.derbi.com
THE (POTENTIALLY FABLED) STORIES, THROUGH THE WORDS OF TONY D.
By John Basher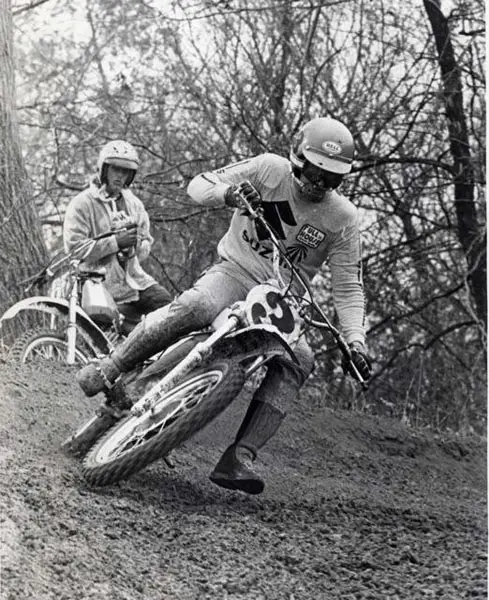 Three -time AMA 250 National Champion Tony DiStefano is a man of many stories, both real and somewhat blurred by time. How do I know? I was enthralled while listening to Tony D's wild stories when I chatted with him at the Budds Creek National, but afterwards I was left scratching my head. Did those happenings really, well…happen? Only later while talking to Jody (who was at every single event that Tony D talked about with me) did I discovered, to my joy, that the stories are mostly true, but Tony sometimes blends one event into another (then stops the story and starts over). The years, the races, and the characters might not always be exact, but Tony still tells one heck of a great story. Read on…
ON THE FANS AT HIGH POINT…
    "I needed a third in the first moto to win the title on year at High Point. I was just going to settle for third place, win the title, and be safe. However, the fans were yelling and screaming my name by the starting line, because I was really the only guy from the east coast. Suddenly the fence broke, and all of the people toppled over each other. It was crazy!"
ON THE TIME HE SENT A SPECTATOR TO THE HOSPITAL…
    "In Delta, Ohio, one year I crashed and some guy jumped over the fence to help me, but I was afraid that the AMA would nail me for an outside assistance penalty, so I punched the guy in the ribs to get him away. I ended up breaking a few of his ribs, and he had to go to the hospital! The reason I fell was because Jimmy Weinert took me down. Before that race I was sidelined with a broken thumb, so when I came back in Ohio I was still on the mend. The ?Jammer' jammed me, and I fell down. I re-broke my thumb when I punched the spectator in the ribs."
ON BREAKING HIS SHOCK…
    "You know how everyone made a big deal about the heat at Freestone this year? In 1975 I remember that it was 105 degrees at Lake Whitney, Texas. It was so hot! Kent Howerton was a Texas boy. In the first moto I holeshot. I was leading for quite a while, but then I fell and Howerton ran me over. I didn't think much of it, and finished second place.
    "In the second moto it was so hot that people were using hoses on the racers to cool them off. While other racers were having that done to them, I wasn't interested in getting covered in water. Well, I noticed that Howerton would get sprayed, and every time it happened he would pull his tear-offs. Once I saw that he pulled all of his tear-offs I passed him and thought that it would be an easy win, since he wouldn't be able to see. Then my shock broke. When Howerton ran over me in the first moto he managed to ruin one of my rear shocks. I nursed the bike home the last half of the moto, but I didn't win. "
ON BREAKING HIS TRIPLE CLAMPS…
    "I passed Pierre Karsmakers for the lead at the Dallas Supercross one year. I thought my handlebars came down, but that was the year that the front ends were breaking off the factory Suzuki's, because they used titanium steerer tubes. The problem was that works bikes were very light and as the suspension got more and more travel, the loads increased on the parts. The forks broke off of Roger DeCoster's, Danny LaPorte's and my works Suzuki's in a six-month period."
ON ROGER DeCOSTER…
    "I wouldn't say that I could beat Roger DeCoster flat out, but a race is a race (and I did beat him at three Trans-AMA events in 1975). At one race in the 500 class at a Trans-AMA, DeCoster came up to me and asked if I could pull over for him if I was leading. I told him that I would do whatever he wanted, because he's Roger DeCoster! I would clean his gear if he asked me. Well, I was running up front, and I slowed down to let him by. It was a bad move, because once I slowed down I couldn't pick my pace back up.
    Roger DeCoster was the man. The Europeans were so much better than the Americans back then. DeCoster came to the U.S., goofed around, and still beat everyone. After a few years it got harder for the Europeans, and that's when the Americans began to dominate the Nationals."
A MESSAGE FROM THE SULTANATE OF OMAN

Hello MXA,
     Greetings from the other side of the world! Yes, we like our motocross here in the Sultanate of Oman too, and, of course, most of the country is a wide open motorcycle heaven. Enjoy this photographic proof that catching a rear tire at speed at the end of the whoop section can have a few undesirable consequences. Fortunately, the somersaulting Ahmed Al Hosni (aka Crazy Ahmed) wasn't hurt except for a few bruises and seeing a few stars (or should I say constellations). It goes without saying that he doesn't remember a thing. Gabriel Oreamuno (99) has more than a front row seat and is demonstrating some nice body English as he passes by. Visit our up-and-coming club website at www.omanmx.com. The photo credits go to our defacto club photographer and fellow rider Adrian Charlie New. I get MXA delivered way over here and have enjoyed your magazine for over 35 years!
    Richard Russell (#615 RM250)
    Two-stroke diehard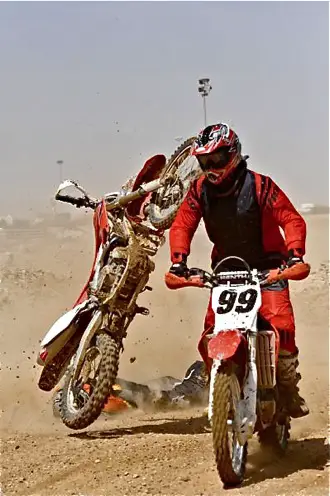 RUMOR OR TRUTH? HMMM…


Wil Hahn to Geico Powersports/Honda next year? That's the latest buzz.
WHAT I LEARNED AT RED BUD…
By John Basher

Trey Canard went from dazed to happy days in the course of two motos at Red Bud.
    Trey Canard finally got his. Oh, how sweet it was for Trey in Michigan! Finally, after suffering a broken femur (2008 at Washougal) and a fractured wrist (2009 at High Point), Canard reached the top step of the podium outdoors for the first time in his National career. Of course the win was deserved (isn't every win deserved?), but it was made all that much better because Canard has overcome tremendous adversity. Next year he will move up to the 450 class (factory Honda is what everyone has heard). I'm glad to see that he finally got his first win before stepping up and racing with the big boys.
    As we count down the Nationals until the series finale at Pala, top riders continue to drop like flies. The entire Rockstar/Canidae/Suzuki team was sidelined with injuries after Lakewood. Team manager Bill Keefe had to act fast, so he drafted privateer Jarred Browne to fill Tommy Hahn's spot. Browne ended up 18th overall at Red Bud. Also on the injured list is: Davi Millsaps, Ivan Tedesco, Jake Moss, Tommy Searle, Ryan Villopoto and Wil Hahn.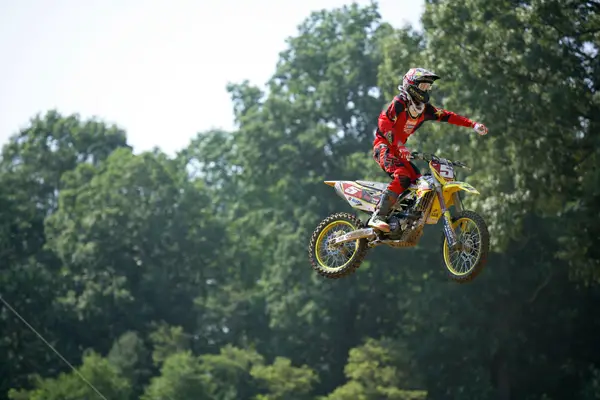 Ryan Dungey is going to run out of fingers to count National wins with.
    Ryan Dungey won again…and the beat goes on. He is the most complete racer since Ricky Carmichael. Think about it. James Stewart went 24-0 in the 2008 Nationals, but that was after sitting out the Supercross series. Chad Reed won the 2009 motocross title, but Bubba won the Supercross series. Ryan Dungey hasn't won the 2010 National series yet, but it's really only a matter of time. If he does win, it will be a storybook ending to an unreal 450 rookie season. If you another MXDN Chamberlain Trophy to his resume at the end of the year?that will be the makings of a movie script. Ryan Dungey is the new master of all things moto.
    I learned that with Red Bud in the books, it means that at the next National (Millville) the world will see Kevin Windham return to the 450 Nationals! He has been riding a fair amount, but with only a few short weeks to prepare, I would be very surprised to see him win right off the bat. Heck, I'd be shocked to see anyone put it to Ryan Dungey at his home track of Millville. Still, crowd favorite and always a popular pick for the win, K-Dub will make waves outdoors.
FIRST LOOK! 2011 HUSABERG TWO-STROKE: YES! TWO-STROKE


Let's not kid around. The 2011 Husaberg is really a KTM with different plastic.

It may look familiar, but anything that increases the number of two-stroke options is a good thing. Looking all the world like a blue-and-yellow version of the KTM 250/300XC, the 2011 Husaberg TE250 and TE300 enduro bikes represent Husaberg's long-awaited entry into the two-stroke market.
    
Forks: 48mm, closed cartridge forks, WP forks (straight from the new Austrian WP factory) grace the front end.
Shock: The rear suspension is a no-link WP PDS DCC shock with 300m of travel.
Gearbox: The TE250/300 has a six-speed gearbox (don't be surprised when KTM announces that their 2011 XC models have six-speed gearboxes also).
Weight: The claimed weight is 226 pounds.

The electric-start two-stroke also has a kick starter as a back-up.
Starter: There is both a kickstarter and and electric starter (powered by a 12v-3ah battery).
Ignition: There is a handlebar mounted switch that enables individual adjustment of the engine characteristics.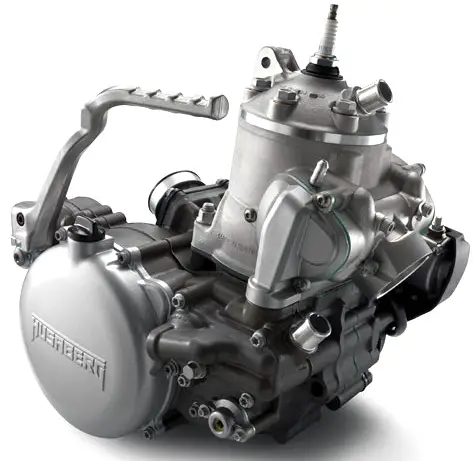 The clutch cover says "Husaberg," but the cylinder says "Made in Austria."
Engines: The Husaberg, reed-valve, power-valve, two-stroke engine will be available in both 249cc and 293cc versions (fueled by 36mm Keihin PWK carbs).
Fuel capacity: The gas tank holds 2.9 gallons (11 liters).
What no one has mentioned to this point, including us, is that it is very unlikely that the Husaberg TE250/300 will be sold in the USA. For more info go to www.husaberg.com/Enduro.9.6.html

JAMES STEWART'S MOST RECENT TWEETS (AND WHY RIDER'S SHOULDN'T USE TWITTER)
July 4: replying to David Vuillemin tweet:
    I'm in the process of wrking my buns of steel off to come back. This week I'll kno more of a date when.
July 2: Answering why some photos of him riding had the Number One plate:  
    Oh and the reason the number one plate is on is because i didnt have any 7 plates at that time. So sry if i disrespected anyone
July 2: Posting a whip photo on twitpic:
    This is my new Best Whip Trick
July 2: Posting a whip photo on twitpic:
    Starting to get my whip back
July 1: On watching Michael Jackson "This Is It" movie:
    Watchin MJ this is it. But house hunters is coming on in 16 mins so about to do some channel surfing between House hunters,espnews and golf
June 30: Responding to questions about when he is going to race:
    I'm not upset at anyone from asking me about when I'm gna race but everyone Needs to realize that no one wants to be out there more then me.
June 30: Talking about racing Dungey:
    I honestly can't wait to race him again. He's kicking butt and I love the challenge of racing him. I love any challenge to be honest.
June 30: On his AMA National timetable:
    So if I'm ready in 2 weeks then I'll be back, if I'm ready in 2 months, then I'll be back. plan is to race the end of the outdoors. Period!  
June 30: On his return to racing:
    And everyone asking me about coming back racing…. Yes I'm coming back AS SOON AS I am ready to race. I just started riding last week

June 27: Posting a twitpic:
    Had the best day in five months!!!! And this is Why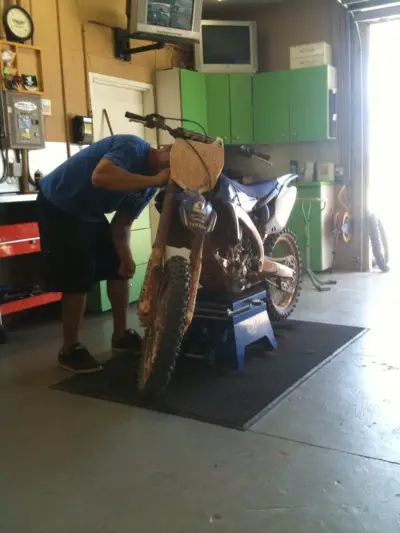 June 27: Answering questions about racing again:
    And yes when i feel like im ready to Race, I'll be at a national. Remember its not like i'm at home just chillin bc i want 2, Ive been hurt 
June 12: James on coming back:
    I'm ready to get back out there so I can WIN! Oh it's gonna be fun when I'm back.
PHOTO OF THE WEEK: PART 2

    Brian Deegan has been busy racing offroad trucks, preparing for Speed and Style at the X Games, and he has also been dabbling in NASCAR. The hard work shows through the "General" of the Metal Mulisha's whips. Photo by John Basher.
PRESS RELEASE: RENEGADE RACING FUEL AVAILABLE
    Honda of Troy/Kilbarger Racing has Renegade Fuel available at the Nationals for $37.00 a gallon plus tax and is sold in five gallon pails.  Stop by the semi, visit www.eleven10mods.com, or call (724) 562-8877 for more information.
PRESS RELEASE: FACTION MX 2010 YZ450F SILICONE HOSE KITS


    The NEW Faction MX silicone hose kit for the 2010 YZF450 eliminates the Y-fitting attached to the water pump cover and replaces it with a single billet connection; eliminating excessive hose clamps and offering a more direct path for coolant flow.  By replacing the stock metal hose fitting with a straight billet connection and incorporating the hoses into a "Y"-type design, coolant flow and aesthetics are greatly increased.  This design also makes removing and installing radiators much simpler. Retail price on this kit is $165.00
    Faction MX "Y" type silicone hoses add function and style to your bike by reducing cumbersome connections and fittings while providing a more durable material to protect your bikes coolant system.  Our hoses can withstand temperatures up to 420o F and reduce ozone and UV deterioration. This hose kit is being used by MotoConcepts Yamaha, Grant Langston, Valli Yamaha and others.
    Please visit factionmx.com for more information on the product. Feel free to email for a catalog and pricing.
PRESS RELEASE: YAMALUBE AIR FILTER OIL & CLEANER KIT

    Anyone that has spent a day on dusty trails and then taken a look at their air filter can attest that the foamy exterior is likely covered in dirt and debris. Still, cleaning and oiling foam air filters is the most overlooked maintenance issue that motorcycle and ATV technicians see today, and neglect often leads to expensive engine repairs.
    Although effective, mineral foam oil requires solvents for cleaning. Solvents are harmful to the environment and require a sealed container for transportation if you want to clean your air filter during an event or at your favorite riding area.
    To solve that problem, Yamalube is introducing the Yamalube Biodegradable Foam Air Filter Oil & Cleaner Kit that only requires water for cleaning and can be poured on the ground without hurting the environment. This makes cleaning and oiling foam air filters easy and environmentally safe.
    The kit contains dirt-grabbing, water-resistant, super-tacky filter oil and a non-alcohol-based heavy duty, concentrated detergent specifically design to clean foam air filters treated with this oil. Yamalube Biodegradable Air Filter Oil can only be washed out with Yamalube Biodegradable Foam Air Filter Cleaner and water.
    The Yamalube Biodegradable Foam Air Filter Oil & Cleaner Kit is available at Yamaha dealers nationwide. Retail price: $15.79.