MOTOCROSS ACTION'S MID-WEEK REPORT: (07/21/10)
MOTOCROSS ACTION MID-WEEK REPORT
By John Basher
PHOTO OF THE WEEK  


    It was insanely cool to see Kevin Windham holeshot the first moto at Millville after basically coming off the couch (or maybe off the boat would be more appropriate). Can he win a race before the series concludes?
MINI-VIEW: KEVIN WINDHAM

    Would you be surprised that Kevin Windham raced his first 450 National since 2007 this weekend at Millville? Maybe. How about the fact that although Millville is Ryan "Pride of Belle Plaine" Dungey country, K-Dub received much of the fan fare? Probably not. Okay, well how about this one: in the first moto he holeshot and held first place for seven laps? It was an occurrence that few people would have predicted, including Windham. As the darkening clouds loomed over a Millville circuit that saw Kevin go 5-4 for fourth place, I met up with the chatty Red Bull/Honda fill-in rider.    
MXA: Kevin, were you happy with your return to racing?   
Kevin: Oh yeah. It was surprisingly a good day at Millville. It was hotter than I thought it would be. I looked at the weather a week ago and the meteorologist said that it was going to be a high of 82 degrees. He was a little off on his guess!
Where did you expect to finish overall at Millville?
I had no clue. I had almost an anxiety over me, because I didn't know where I was going to end up in the results. The last time I raced with anybody of this caliber outdoors was in 2007, other than the 250 races last year, which were more of a joke than anything. I just wanted to know where I was at, but then I got the holeshot in the first moto! It was one of those double edge sword situations. I led for probably about 15 minutes, but then I hit a violent wall and went into shock for a few laps. Then I was able to pick my speed back up and maintain that pace until the end of the moto.
    "The crowd treated me amazingly well. I felt like I received the same reception at Millville that I got at 2003 when I made my racing return at Glen Helen. Here I am in Ryan Dungey's backyard, and yet the fans are cheering pretty loudly for me."

K-Dub leads point's leader Ryan Dungey in the first moto at Millville. It was a welcome sight for the fans.
Before the start of the second moto I joked with you on the line that you should get the holeshot and stay up front, to which you joked back that you lobbied for a 15 minute long second moto. Had your body recovered before the second moto began?
Yeah, I didn't feel too bad, actually. I got a pretty good start and I felt more in tune with my bike. In the first moto I don't think I even took a breath until probably lap four! Still, it was a really good time being back racing the Nationals. The crowd treated me amazingly well. I felt like I received the same reception at Millville that I got at 2003 when I made my racing return at Glen Helen. Here I am in Ryan Dungey's backyard, and yet the fans are cheering pretty loudly for me. I heard them screaming, but then I started hearing bells in my head from getting too tired and loopy. At least now I know where I'm at. I'm going to race myself into shape, and the Honda/Red Bull Racing team has been great to work with. It's been a pretty effortless transition from the Geico Powersports/Honda team. There's a bond between the two teams, which is nice.
How does racing two 30 minute plus two lap motos compare to wake boarding on your lake in Mississippi?
[Laughter] Everybody has asked me that question. I had almost ten weeks off from racing, and it was a lot of fun hanging out. Still, there was a part of me that was ready to get back to racing. Coming back was a good deal for me, and it was also a good deal for Honda. The fans have given me a welcome reception, and I'm happy about that.
You mentioned that you didn't know where you stood in the pecking order of the 450 class. Did you achieve your goals for the day?
My goal was to finish inside the top five, and I did that. It was totally worth my while. I'm in really good spirits heading to Washougal and I can't wait to race this weekend.
What did you tell yourself while you were leading that first moto?
My head was a box with nothing in it. There wasn't anything that I was doing to give me longevity through the moto. I was just going! I didn't take a breath for the longest time. Although I didn't pump up, I could only sustain the pace I was riding for so long because I was stuck in the moment. It was really an outer body experience. I knew that Dungey was behind me, but I realized that he was making a few mistakes. But when the anchor came out it was heavy! It stopped me pretty hard.
Generally when you hit the wall that hard in the first moto it's hard to recover and do well the second moto, yet you managed to be up front once again.
Somehow my body responded well to the exhaustion. I think I surprised a lot of people by that. I wasn't surprised with the pace, but instead the depth of field in the class. I was on the board in the second practice and had a good time, but then on the last lap a bunch of guys threw out a glory lap and qualified up near the top. Dungey was a half second faster than everyone, but then second through eighth was a couple of tenths off one another. I was pleasantly surprised that I could hang with the pace. By no means was I the fastest guy, but I have room to grow for the remaining races.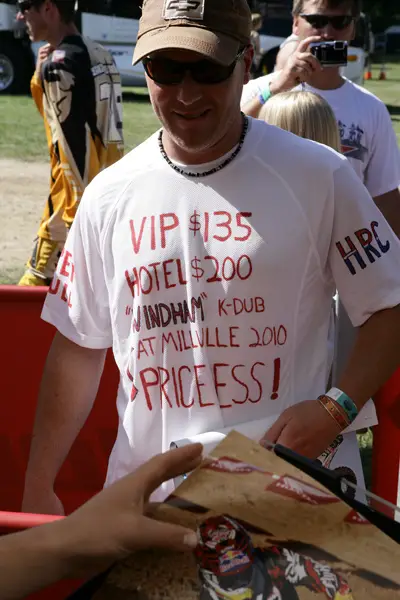 There were many fans happy to see Windham return to the racing fold. This guy was particularly stoked.
Coming up you have two of your favorite tracks, with Washougal and Unadilla, but you also have your least favorite, at Southwick.
It's a funny thing about Southwick. The last lap that I completed at Southwick in 2007 I swore that there was no way that I would ever do that race again for less than a million dollars. It turns out that I'm doing it for a little bit less than a million dollars (laughter). I'm totally joking on that, of course. I'm having fun racing and I'm going to take it all in stride. I'm looking forward to seeing my good friends, like the Henry's and the Dowd's, at Southwick. As that track is a thorn in my side, because I've left there with a few concussions and DNF's, I've also done quite well. Southwick will be my survival weekend.
    "I've been active, but none of that stuff matters when you grip a motorcycle. It doesn't matter how far you can run, because it's all about being on the bike."
How much time did you have to get ready for Millville?
I had three weeks to prepare, but I had commitment with MSR and some of my other sponsors leading up to Millville. Then I had a week of testing with the Red Bull/Honda team, but I was behind where I wanted to be for this race. I think that I could have tried really hard to prepare for Millville, but I would have ended up over preparing myself. As a result, I would have been more tired than if I came straight off the couch. Right now I'm trying to find a happy medium and read my body when it's telling me signs. I'm not in as good of shape as I need to be, but I'm decent enough.
I take it that you didn't get very many days of testing in.
I had two days of testing. It was crammed in my schedule. I was flying all over the country the last couple of weeks, and to be honest with you I only rode two motos the whole week before Millville. My time was spent burning up the airways. This week I plan on riding and training a little more, and if I can get through Washougal then there will be a good break for me to build up my stamina before Unadilla. I've been active, but none of that stuff matters when you grip a motorcycle. It doesn't matter how far you can run, because it's all about being on the bike.
What's your plan for the remainder of the Nationals? Will you be racing clear through the Pala finale in California?
Yes, that's the idea. I don't think that Davi Millsaps is coming back this year, so I'll be filling in for him.
Thanks for your time, K-Dub. Good luck the rest of the series.
No problem. Thank you.
PHOTO OF THE WEEK: PART 2

    Pro Circuit/Kawasaki rider Dean Wilson has something in common with Janet Jackson. No, "Deano" can't sing like Jackson, but he has learned to deal with wardrobe malfunctions. Here he races with droopy drawers in the second moto at Millville.

PRESS RELEASE: TAMER, LOUD MOUTH, WISECO, MECHANIX WEAR & LEO VINCE OFFER SUPPORT AT PONCA
    Press release: Tamer Inc, the patent holder of the Tamer Holeshot Hookup starting devices, will be trackside at the Ponca City Amateur National all next week.  We will have product for support of all our Amateur sponsored riders and product to sell to customers at awesome price discounts. The Tamer rig will have racer support and sales for the following companies: Tamer Billet MX with their complete line of Tamer Holeshot Hookup starting devices including the single button system and the double button system allowing you a choice for track conditions. Loud Mouth MX, the hottest air intake system on the market today, with sales and racer product support. Wiseco, the premier manufacturer with top end kits, gasket kits, valve train components, clutch packs and complete clutch components. Mechanix Wear gloves in stock with hot, new styles including the women's trick camo glove. LeoVince exhausts, electronics and their newest line of carbon fiber components.
GATE PREP WITH PAUL PEREBIJNOS
    Dean Wilson's mechanic, Paul Perebijnos, takes gate preparation seriously. It's really quite an art form for Paul, as he tills, digs and massages the dirt for Wilson. Dedication would describe Perebijnos' effort. Perhaps he was a farmer in a former life? Below we show you Paul's gate prepping techniques.
DIG DEEP:


    Paul digs up the loose dirt around the area where the gate drops and puts it in a pile.
SCOOP IT UP:


    Instead of keeping the loose dirt in the metal trough, Paul scoops it up…
DISPOSAL:


    …and throws the excess dirt over to the next gate, which will soon be occupied by Tommy Searle (note the boots in the background).
SAYONARA:


    An action photo of Paul pitching the dirt away. Now that's quite a berm shot.
FINISHING TOUCHES:


    Paul makes sure that the dirt before the gate is on the same level as the metal crossbar. After this he stomps down the dirt with his Alpinestars pit bike boots, while Wilson (108) looks on and questions whether his pants will actually stay up this moto. They won't.
MINI-VIEW: KYLE REGAL

    Privateer Kyle Regal is just that – a privateer. He's not on any supported team. He pays his own way to the races. And, while many people are thinking this, it's not actually true that Kyle is getting backdoor works parts from factory Honda. Nope. Kyle Regal is a legitimate privateer. So when he fell twice in the second moto at Millville and blew the doors off of Red/Bull Honda boys Andrew Short (very shocking) and Kevin Windham (not as shocking, considering that K-Dub was getting his racing legs back), spectators were left scratching their heads and saying "Who dat?" If you don't know who Regal is or didn't watch him slay much of his competition at Millville (or Freestone), here's a proper introduction.   
MXA: Kyle, you finished on the podium twice so far this season. Are you happy with your results?
Kyle: There have been lots of ups and downs. I didn't get points at one race [note: High point], which hurt me in the overall standings. I got two podiums and a couple of top tens so far. I'm just trying to get as many points as I can so that I will be up front at the end of the series.
 
Are you surprised with your podium finishes? That sounds bad, because I'm sure you don't doubt yourself, but it has to be at least a bit shocking to finish so far up front.
I'm not really too surprised about the results. I finished fourth last year in a couple of motos. I had big plans coming into this year as far as getting on the podium. I did it twice now, so I'm pretty pumped on that.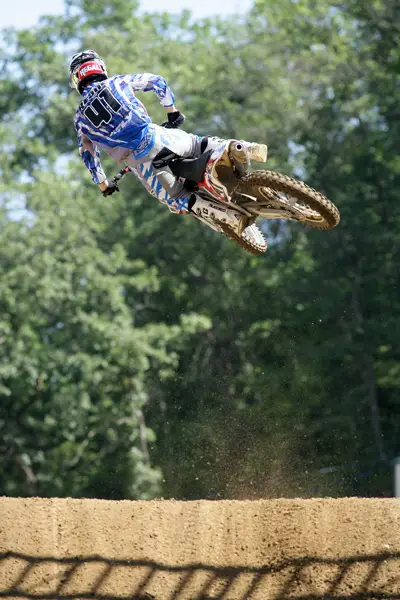 The privateer put on a stunning display of riding in the second moto at Millville.
Take us through the first moto.
In the first moto I started 13th. I ended up finishing eighth, which was terrible. I felt like crap. We tried changing a few things on the bike after practice, but we went in the wrong direction. Before the second moto we went in the opposite direction of the first moto and it really paid off. We went to a different tire on the front, and that helped a ton. I finished second with a 10th place start, and I crashed twice!
How did you manage to finish second while crashing twice?
I made a lot of passes pretty quickly. I made most of my passes through the sand whoops. That section was definitely strong for me. I got into third and was there for a lap. I tipped it over in the sand in between the whoop sections. It's kind of weird, because I crashed in the same place last year. I was bummed, but then I got back up and going. Then I crashed again when I took an outside line that pushed off the side of the track and I went over the bars. I got up and dug deep. That's how I ended up second.
    "I'd like to be on the yellow bike over there [pointing to the Makita/Suzuki factory team], because the bike is really good. I rode Suzuki's as an amateur and I loved the bikes."
How is it that you're so fast through the sand whoops?
I actually have a set of big whoops at my house that I always practice on. It seems like I made all of my passes in Texas through the sand whoops. It takes a lot of strength to go through them fast each and every lap, and I believe that I have the strength.
Everybody is buzzing about how you should get an opportunity to be on a factory team for next year. Have you been getting a lot of phone calls from teams?
To be honest, I don't really deal with that. Someone else takes care of that for me. I plan on being with a factory team next year. I like where I'm at now and I'm going to remain as a privateer for the rest of the season. I'd like to be on the yellow bike over there [pointing to the Makita/Suzuki factory team], because the bike is really good. I rode Suzuki's as an amateur and I loved the bikes. Hopefully I end up somewhere good.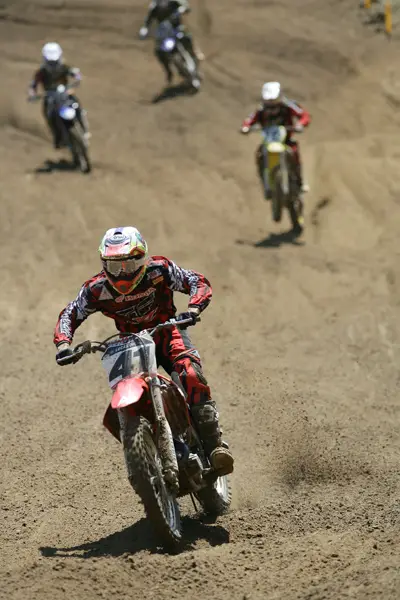 Will Regal land a factory deal for 2011? Time will tell.
Is American Honda helping you with any factory equipment?
No. They are helping me out with bikes and a parts allowance. That helps me out big as a privateer. I am not getting any factory parts at all.
How do you deal with being in a situation where you go the wrong way with bike setup and still have to race as hard as you can for 35 minutes?
It's a struggle. I dropped lap times huge in the first moto at Millville. I rode super tight and the front end was all over the place. We tried using a different tire, but it was the wrong one. We even had issues with fork setup. So we went back and Jim Lewis at Merge Racing helped us decide which way to go. Everything worked out great for the second moto.
Finally, who would you like to thank?
I would like to thank American Honda, Merge Racing, Fly, Western Powersports, Jo Jo Clothing, Gaerne, Asterisk, Arai, Oakley, Pirelli, Honda Pro Oils, Renthal, Sunstar, and everyone else that I forgot to thank.
DENNIS STAPLETON'S EUROPEAN ADVENTURES CONTINUE
    MXA's Dennis Stapleton has logged more frequent flier miles in the past year than all of the MXA editors combined (and that isn't easy given that this week alone one MXA editor is headed for Italy, another will be making two consecutive criss-crosses from West to East). MXA's in-house professional racer often gets invited to compete in faraway lands against European riders with more vowels in their names than consonants. This past weekend Stapleton traveled to Holland to race the ZwarteCross (English for "Black Motocross"). Described as "a mixture of sports, music, camping and a lot of bizarre stunts. It took a few years before it grew to be the greatest music festival of eastern Holland and the greatest motor-cycle cross event of Holland. All tastes are catered for: music, market, fair, theatre, camping facilities, activities for juveniles, and fun stunts. In 2009 there were more than 130.000 visitors at the 'Black MotoCross'."
    Take a look at some of the weird and wild happenings from ZwarteCross this past weekend. MX2 top gun Jeffrey Herlings won the event, and Stapleton finished sixth. To learn more about this event, please visit www.zwartecross.nl/en/.

Dennis Stapleton (right) schmoozes with Jeffrey Herlings.

Now THAT'S a vehicle!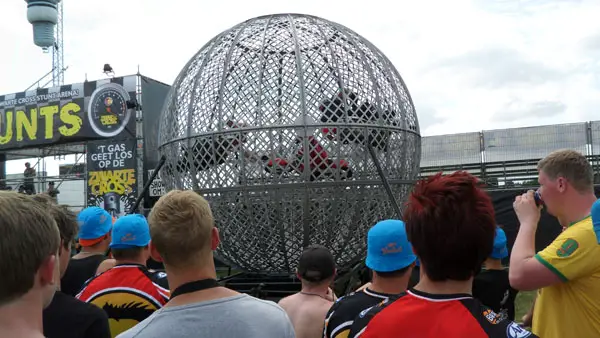 Yes, they even had three guys riding motorcycles inside a cage. Dutch people know how to have a good time.

There's nothing quite like smoky burnouts on a stage in front of 150,000 screaming fans.
ZwarteCross Results:
1) Jeffrey Herlings
2) Bart Conen
3) William Saris
4) Maurice Klijn
5) Daimler Eijsink
6) Dennis Stapleton
7) Eric Leijtens
8) Marcus Lee Soper
9) Andries Dijns
10) Johnny Bosmans
PRESS RELEASE: ACERBIS CHAIN GUIDE BLOCK


    The Acerbis Chain Guide Block easily replaces the original product and ensures durablity and high resistance to shock and wear from the chain. Made of PA6, it is made of two parts that allow installation without disassembling the chain. Available in black for Honda, Suzuki, Kawaski and Yamaha, the Chain Guide Block is offered at a retail price of $69.95.
    Features include:
    * 100% PA6
    * Highly resistant to shock and chain wear
    * Made of 2 pieces, allowing to be mounted without removing the chain
    * In the event of collision or contact with roost, material won't bend
    * Weight: 200 grams
    For more information, visit www.acerbis.com or call (800) 659-1440.
MINI-VIEW: TIM FERRY

    Over the course of his long and illustrious career, Tim Ferry has gained a legion of fans, won races, and even captured a regional Supercross championship. His most impressive years, at least in my mind, were in 2007 and 2008 as part of the factory Kawasaki team. Well in his 30s, "Red Dog" was still finishing on the podium and winning races (Washougal in ?07). He was also an integral part of Team USA's wins at the MXDN in 2007 and 2008. However, Ferry never managed to heal up completely after demolishing his foot at Daytona last year, which is why he announced his retirement recently. I caught up with him at Millville when he wasn't helping Trey Canard.
MXA: Tim, why did you decide to retire now?
Tim: It really boiled down to my foot not being healthy. I can't race 100 percent like I did in 2007 and 2008. Retirement was just the right time for me. My foot is still bothering me quite a bit. Actually I wasn't going to say anything, but once I started coming to the races everybody was asking me questions. That's when I decided to make the announcement official, and I feel a whole lot better now that it's out in the open.
Was it a decision that weighed heavily on your mind every day leading up to the announcement?
I didn't truly know for about six to eight months, but in the recent months I realized that it was the right choice. Now I can turn the page and move on from racing. I have been working with Trey [Canard] since after the Freestone National. Things have been going very well. The kid has a lot of talent and heart. It has been challenging to learn something new. I have a lot of experience, but it can be hard to translate everything into words. At the same time, I'm very excited.

Tim Ferry has been helping Trey Canard (above) since after Freestone. The proof is in the pudding that the duo are a winning combination.
How are you helping Trey?
Right now the main thing is that I'm getting him prepared to race on the weekends. That way he will be able to show up to each race 100 percent so that he can put his best effort in. We all know that he's really fast. He won a 250 Supercross title and he absolutely killed it on a 450 in Supercross this year, but he was lacking being completely fresh and ready to race on the weekends. You can have all of the science in the world, but without someone in your corner who has been in your shoes it's hard to know what works. Only a rider can know what it feels like after two grueling motos in the heat. I try to give him my knowledge and experiences, and so far it seems to be helping him.
Are you going to expand your services to other riders?
I don't know. I'm going to work with him through the summer and see where that goes. If everything works out with him and he's satisfied, then that's great. If not, then there won't be any hard feelings. I'm not pressing to do anything. I don't have to do this job. It's just an opportunity that presented itself really because of Trey.
    "I would say that most riders don't have enough confidence in their riding and their ability. As a rider I would second guess myself so much, but really professional riders are the best at what they do. Nobody around them is as good as them or they would be riding the bike."
How is it being on the other side of the gate, especially after racing for so many years?
It's very different. Every race is a learning experience for me. I don't think that I'm going to get used to coming to the races and not racing for quite some time. As a racer I was always the priority over everybody that traveled with me. It was most important that I was able to eat, sleep and get myself ready for the race. Now I'm helping somebody who is the top priority. It's weird, because now I don't need to get to sleep early or eat at specific times. It's actually kind of nice not being the priority, because there isn't any pressure on me!

Ferry was a superb professional racer. Here, he shreds apart a Glen Helen berm in 2008.
What's the biggest mistake that most professional riders make?
I would say that most riders don't have enough confidence in their riding and their ability. As a rider I would second guess myself so much, but really professional riders are the best at what they do. Nobody around them is as good as them or they would be riding the bike. If some of these guys had more confidence in themselves they would go a lot further, as long as they're doing the right things. I see that a few of the top riders second guess themselves every weekend. They will be the fastest in practice, but then they will struggle during the race. You wonder why so many guys that have the talent struggle racing. There are so many things that people don't realize that go into racing. It can be overwhelming at times.
Have you been doing much riding since you retired?
I've been doinga little. I haven't been doing as much as I'd like to, but that's not the priority anymore. I am a recreational rider. I don't pound out the motos, and it's much more enjoyable. If I don't ride as much as I want to then it's not a big deal. I will ride at least two days a week, if not more. Sometimes I go a week without riding, but then I want to come out of my skin, so I'll hop on the bike.  
WHAT I LEARNED AT MILLVILLE

    Andrew Short is the new Mr. Holeshot. He nailed the second moto start, bringing his holeshot total up to seven for the year (that's half of all the starts so far this year). Shorty has displaced Mike "350" Alessi as the holeshot king.
    Speaking of Alessi, what's up with #800? Inside sources claim that Mike is burned out on racing and has over-trained himself into the ground. Since the USGP Alessi has struggled with starts and running the pace up front. If I were Alessi I'd take some time off after Washougal, fly to Hawaii, and reenact a Corona commercial for a week or so.
    I'm surprised that so many top riders get tired and run out of steam. Isn't being a professional racer considered a job? A carpenter doesn't call it quits because it's too hot to lay carpet. So why can a racer suck wind at the end of a moto when it's his job to prepare himself all week for the weekend? In any other world people would lose their jobs. A few names will be on the chopping block after Pala.
 
    The Millville fans are passionate people. Attendance wasn't as high as in past years, but still the Minnesotans came out to support motocross. They also spiked up alcohol sales in the region. I bet there were a lot of sunburned and hung over people returning to work on Monday morning.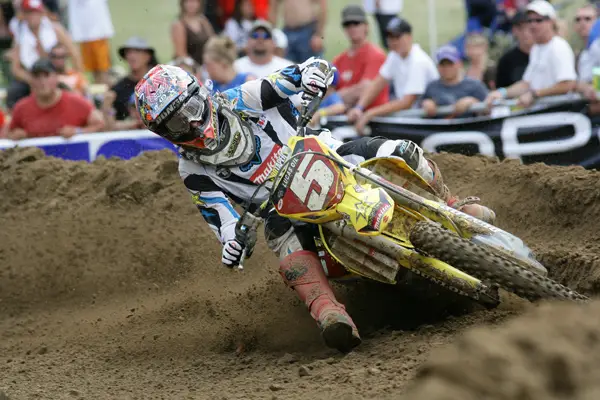 No one is going to beat Ryan Dungey for the 450 National Championship, although I'm inclined to believe that Kevin Windham may give him a run for the win at Washougal and Unadilla. And apparently James Stewart is returning for the last four Nationals. That ought to be exciting.
    Who should be on Team USA for the Motocross des Nations? If I had a vote (which I don't) the three Americans going would be Ryan Dungey, Trey Canard and Andrew Short. Dungey and Canard are the obvious choices, and Colorado native Short will put in a smashing effort at his home track. In my mind the only other possible choices would be James Stewart (if he slaughters everyone in the last four races) and Kevin Windham (if he can get his stamina up and win at least two Nationals). Will Team USA win with Dungey, Canard and Short? Of course!
 
MINI-VIEW: ELI TOMAC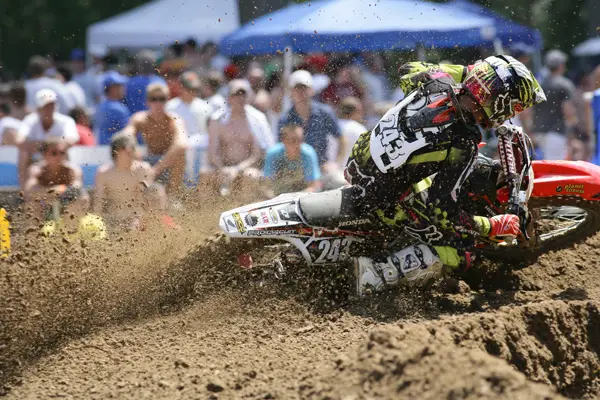 With the fury of a stampeding bull at Pamplona, rookie sensation Eli Tomac smashed through the 250 class in his debut at Hangtown and won the overall. It was historic. It was incredible. It was the kiss of death.
    Say whaaaat? After ascending to the top and surpassing expectations, the only way Tomac could go was down. The following race at Freestone Tomac would have reached further mythical proportions had he won (which he was in the position to do), but the Texas heat cooked him like bacon in a frying pan. What followed over the next four races Tomac's worst nightmare: rookie struggles, poor results, and lack of endurance. I caught up with Eli following his 13-11 performance for 11th overall at Millville.    
MXA: How would you rate your season?
Eli: If I had to put a number to it, on a one to ten scale I'd give my season a six-and-a-half right now. The first moto at Millville I got a mid pack start, and it really stunk. I got stuck in the pace of those guys, and then I got really hot again. I think that I'm going to go down to Florida within the next week to get acclimated to the hot weather. It's getting ridiculous that I'm having so much trouble with the heat. I know that I have the speed. I just can't perform because my body shuts down.
I saw that behind the team semi there was an inflatable pool to help cool you off after the race. Does that help?
Well I jumped in the pool between motos, but the water was so cold that I almost passed out because of the shock. I was really dizzy, and it almost took me an hour to really feel normal again. I was totally out of it. I even went to Asterisk to have my blood pressure checked, but everything was fine.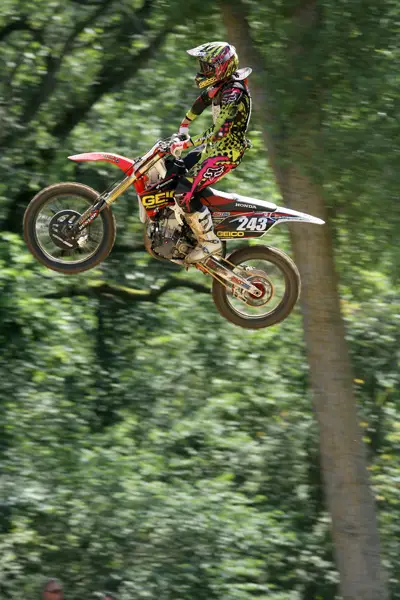 Tomac is learning what it takes to be a professional racer.
What happened in the second moto?
In the second moto I almost holeshot. I was super pumped! I ran up near the front for five or six laps, and it felt really good. I got my speed back, but then I started to get hot again before it rained. I went back a little bit, and then once it rained I fell over and lost two spots. Then I settled in to the pace, but [Christophe] Pourcel passed me on the last few laps.
    "It's really setting in that I'm a pro motocross racer. In the first few races I just went out and pinned it. Now I'm starting to climb back up the ladder and get in the groove."
How many weeks did it take you to fully recuperate from cooking yourself at Freestone?
It took at least two rounds for my physical strength to get back, and my starts have been balling me up. It's really setting in that I'm a pro motocross racer. In the first few races I just went out and pinned it. Now I'm starting to climb back up the ladder and get in the groove. I just need to keep getting better. Although my results don't show it, I'm getting stronger in the second motos.
How do you deal with the heat? Is there a point where you can prepare too much for hot weather?
You can definitely overdo it, but I'm to the point where I'm sick of getting hot. Obviously I'm not acclimated, so I think that I have to go down to Florida, stay at Ben Townley's house, and prepare myself.
What's the top thing that you've learned as a pro?
It's not easy! At the first race I made it feel easy, but it was a lot tougher than I thought. Racing as a professional is gnarly.
MINI-VIEW: BRIAN DEEGAN


Brian Deegan poses with his son, Haiden.
    Brian Deegan is one of those people that everyone has an opinion about. Some are proponents of his crazy antics, while others consider him a menace. Regardless, Deegan is a marketing whiz and one heck of a talented athlete. I met up with him at his Mulisha compound while he was preparing for the X Games.
MXA: What has been the crowning achievement of your career?
Brian: I have three of them. The main one was when I won the 125 Supercross. That allowed me to quit racing, because I reached my goal. My second achievement was being the first guy to land the 360. Then my final achievement was crashing, almost dying, and coming back a year later to the same jump at Winter X and winning the gold medal. Those are the three things that stand out.
    "I told myself that if I could get the opportunity to race NASCAR then I would take it. I'm going to try and focus on it to see if I can make it to NASCAR. If I can do that then I can tell myself that I've done it all."
Your PR department informed us that you're going to try your skills in stock car racing. How did that come about?
I had an opportunity offered me to race stock cars. I look at motorsports and it's so crazy when you grow up racing a dirt bike. To me, that was my whole world. I wanted the chance to race on a factory team. Then I ventured off outside of that world and realized that there were a whole lot of other things going on. That's when I realized that NASCAR is the top of the food chain for motorsports, period. I told myself that if I could get the opportunity to race NASCAR then I would take it. I'm going to try and focus on it to see if I can make it to NASCAR. If I can do that then I can tell myself that I've done it all.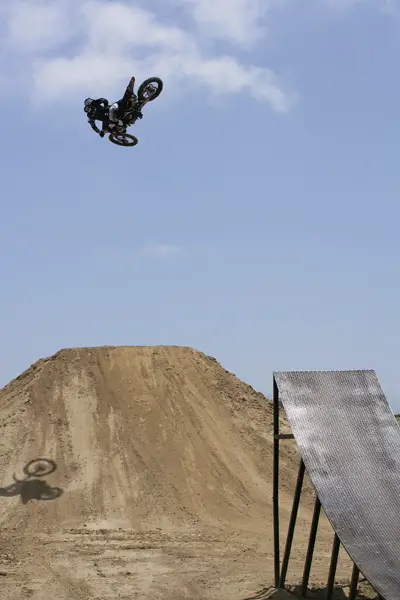 Always a racer, Deegan still can lay down a clean whip.
Will you continue on with your offroad truck racing venture?
I'm still going to be racing the short course offroad trucks in the Lucas Oil series. I'm trying to win the championship again, and then next year I'll probably move up to the Pro-4 truck, which is a bigger and faster truck. I like doing it because it's fun and I get a ton of media coverage out of it.
Who do you predict will be the next big freestyle riders in the sport?
The main guy that will be a big deal in the next couple of years is Jackson Strong. He's 18 years old and he does a front flip. We're putting a lot of effort behind him. I see a lot of traits in Jackson that Jeremy Lusk had. There are some other guys out there. This sport needs an amateur program, because without it there's no future. Not everyone can afford ramps and property. There's also Levi Sherwood and Lance Coury.
How often do your friends come and ride at your place?
There are guys here riding every day. I have a guest house right next to the garage that overseas riders stay in. I feel that I have the ultimate training facility. It's a huge benefit for guys to come here and ride. We build winners out of here, and that's been my goal. I explain to these guys how to be successful and fast track it to the top.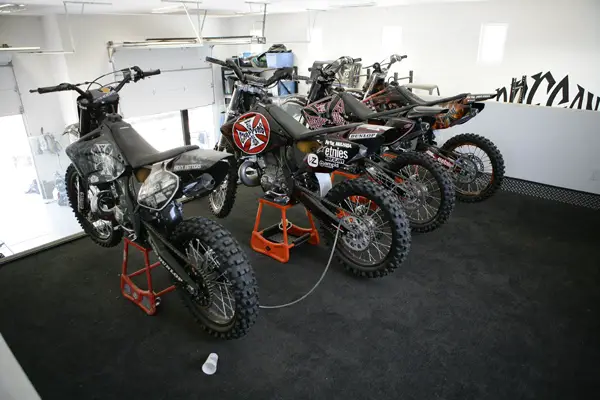 Behold Deegan's prized possessions – CR250's that he competed with and won on. They stay locked up in his garage/workshop.
Does retirement from freestyle motocross ever enter your mind?
I probably should have been retired by now, but I still do it because I love it. The guys come over to my house and ride. It makes me want to ride, and I feel like there's mutual respect there. There's no better guy to run a freestyle motocross-based company than someone who actually rides and gets it. Maybe I'll ride two or three more years, and by then I could be racing NASCAR. Who knows.   
Would you ever want to have your own race team?
Yeah, absolutely. I've had serious talks about doing my own Supercross team. I almost did it last year, but one of the main sponsors fell through. I tend to think that it's something that's going to happen eventually.
How are you able to mentally overcome the hurdles related to freestyle, particularly involving life threatening injuries? Heck, you have almost died three times!
Sitting in a hospital multiple times, I've thought to myself, ?Okay, everyone left the hospital and I'm still here. The trick that I was going to do sounded cool at the time, but now I'm laying here trying to recover.' When you're on the high you're doing tricks that make the sponsors happy and the fans go crazy, but then when you crash everyone goes home. It's the brutal reality of the sport slamming me down. But I wouldn't do it if I didn't love it.
PHOTO OF THE WEEK: PART 3

    What's going on in this photo? Dean Wilson and Tyla Rattray (from left) share a laugh, while Christophe Pourcel daydreams of something. Maybe cheese? Superman? Paris? Who knows.
PRESS RELEASE: NOVIK GLOVES GET A GRIP ON AUSTRALIA
         Novik Gloves is very proud to announce that the brand continues to grow, and has officially now gone international.  As of July 15, 2010, Novik Gloves has secured exclusive distribution rights with Airstyle Imports in Australia, for both gloves as well as apparel, effective immediately. 
        Airstyle Imports has been in the importation/distribution industry for over 8 years now and are the leading FMX and motocross importer in Australia.  Currently and previously distributing such brands as Hart & Huntington, Metal Mulisha, FMF Clothing, Fleshgear, MotoXXX, and many others!  Airstyle Imports also has a great affiliation with many of the top athletes in the country in Australia, and together with Novik, plan on developing a strategic program to actively promote the company image, including sponsorship of some top level riders. 
        Trak Wallis of Airstyle Imports has this to say about the new relationship, "This year is going to be an exciting year for us at Airstyle Imports, and we love now having Novik Gloves as part of our family." 
      Novik Gloves is very excited about the partnership with Airstyle Imports, and certainly looking forward to the future.  Both companies are very progressive and will make a great team.
       For more information on Airstyle Imports go to: www.airstyleimports.com.au
     For more information on Novik Gloves go to:  www.novikgloves.com
PRESS RELEASE: STEADYMATE BY KINEDYNE ANNOUNCES AVAILABILITY IN THE U.S.A.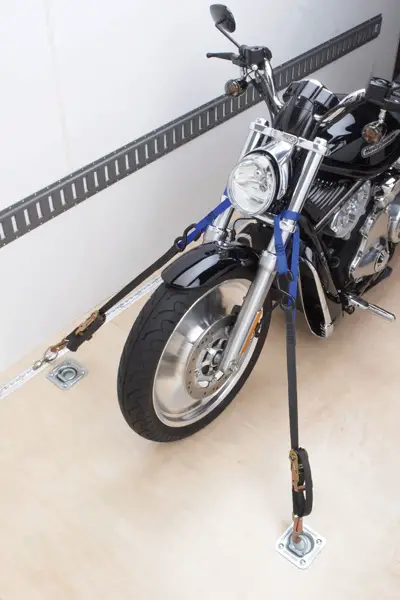 The wait is finally over. The premium Tie-Down line for power sports enthusiasts in Canada for over five years, Steadymate by Kinedyne, is now readily available to the U.S. consumer. The catalog featuring Steadymate's world-class products became available July 1st, 2010.
    "We have been eager to present the Steadymate? product line to American consumers for some time now," said Larry Harrison, Vice President of Sales & Marketing, Kinedyne Corporation. "Our research showed that there was no recognizable brand in the market place and no true four-season solution that also dealt with trailers and pick-up trucks."
Steadymate by Kinedyne wants to remind recreational vehicle owners that safety in transit is just as important as safety in the water and on the trails. All built beyond compliant, Steadymate is sure to meet all tie-down needs:
    Cinchtite tie-downs and accessories for motorcycles, ATVs and snowmobiles in transit are the most-trusted tie-downs on the market; with a wide variety of web sizes and working load limits, they're as strong as you need them to be.
    Transom Trappers I, II and III ensure safe transport of your boat or personal watercraft, allowing owners to rest easy when their water toys are trailered.
The Snowmobile/ATV Tow Strap is a must-have in every snowmobiler and four-wheeler's tool kit. Slush, deep powder and mud will be no match for ATV and snowmobile riders when equipped with this rescue strap.
    Securing scooters, mopeds, cruisers, motorcycles, dirt and sport bikes both in transit and in the shop has never been easier with the quick-install, kickstand-free Wheel Chock; its straight support design even allows for a one-person tie down operation.
    In addition to an array of tie-downs, Steadymate also offers securement point kits, track kits, cargo bars, pick-up truck nets and a variety of other products to ease and assist with recreational vehicle tying-down; truly a one-stop shop for all cargo securement needs.
    "It's time for American power sports enthusiasts to discover what many have already come to know: the unrivalled quality and sophistication of Steadymate products," said Dorothy Creighton, Steadymate Product Manager.
     Please visit: http://www.steadymate.com