MOTOCROSS ACTION'S MID-WEEK REPORT: (08/10/11)
By John Minert
MXA INTERVIEW: CHAD REED


Chad carbs up with some rice for a practice moto.
Chad Reed's quick remount and moto finish was impressive after such a spectacular crash at Millville. It was no surprise to fans that Chad was a bit off the pace the following weekend, surely still feeling  he aches and pains of his solo flight across Minnesota. After two weekends off, we talked to Chad to get a status report, and see if he is healthy and ready to try and reclaim that red number plate.  
MXA: After your gnarly crash at Millville, how sore were you at Washougal the next weekend?
Chad: I was sore, especially my left hip and groin. I was struggling to put my left foot out. Putting it out was actually easy, but bringing it back hurt a lot. But that was just pain and in the moment you can get through it. I also hit my head pretty hard and I couldn't function at that speed. I was three seconds off the pace, but I was maxed out. I felt like I was going a million miles an hour. It was just one of those days where you have to suck it up and limit the damage is much as possible. We knew there was a two week break to heal up and get prepared and come back strong.
For the average guy, it's really difficult to come around and jump a double after crashing over it. How do you do it?
At that point, I think you're still in shock. I will admit that the first time I came around there again I slowed down a little bit and took caution. Immediately after that, the race line started to form away from where I crashed. There was a hole there, but you really couldn't see it. It must've been bad enough that other people were feeling it because the race line turned away from it. Once the race line turned away from it, I was fine. I was winded, I rang my bell a little bit and I was in shock, thinking 'what just happened?' It wasn't an everyday crash, and it wasn't a crash you would generally walk away from. I was really really lucky.

Reed says that's he's a hundred percent healthy and ready to race Unadilla this weekend.
What did you do with your two weekends off?
I pretty much just took my rider's hat off and put my team owner's hat on. I've been busy trying to organize things, and I just needed time away. It's that time of the season where fatigue kind of sets in; and then adding the crash on top of that… I wanted to be smart and take some time to regroup. I've been back and forth from California working on some projects for next year with the team.

Are you considering bringing on other riders?
I would love to bring on another rider or riders. It's definitely the long-term goal. It all comes down to budget at this point. I'm not making a salary. I'm not making any money out of this. Next year I will be in the hole close to a million bucks. At 29-years-old with a family, a wife and a child, you gotta be smart on your choices. I've been fortunate over the years to be able to put some money away, but we are digging into that. I don't have the motivation to keep doing that for much longer, so we are looking to take care that. So, that's what we're doing, bashing on doors looking for sponsors.

Chad's a lone-soldier this year, but if he can round up the sponsorship, he'll hire another Twotwo Motorsports rider for 2012.
Where are you at in the point standings for the championship and what is your attitude about the championship chase?
Unfortunately after Washougal we dropped from the points lead to third. I am nine points behind Villopoto in the lead and eight behind Dungey in second. It sucks to be nine points down. I felt like I was at a point in the season where I was really coming into my own. I was strong, and I won the first moto at Millville. I could have extended my lead out to upwards of 26 points, so that hurts a little bit, knowing you had that potential. But when you look at the crash and the seriousness of it, you're just glad that you're still here and still in the fight. I always said that winning this championship is going to take winning races. That applies now more than ever. It was time to regroup the past two weeks. We will come out strong this weekend, then we have another break. Then we have three in a row. The Ryans are strong; they are two of the gnarliest dudes I've raced and I respect them a lot. I will just keep my head down and try not to make any mistakes. I'll try to win races, and when I can't do that, just be in a position to not lose a whole lot of points. I think it's going to be a good end of the season. I think we can pull it off. I'm back to hundred percent so we'll see what we can do.

ARE YOU READY FOR THE 2011 WORLD VET MOTOCROSS CHAMPIONSHIP? IT'S COMING ON NOVEMBER 5-6


The longest running, most prestigious and biggest Vet race in the world is coming to Glen Helen Raceway on November 5-6. This will be the 27th year for the World Vet Championship, originally sponsored by White Brothers, the World Vet is currently run under the auspices of motorcycle parts distributor MTA. This is one Vet race where they don't have trouble filling the gates with old guys.
There are classes for riders Over-25, Over-30, Over-35, Over-40, Over-45, Over 50, Over-60 and Over-70 (and the classes are divided up into Novice, Intermediate and Expert skill divisions). There are two Pro classes. The Over-40 Pros will fight for a big purse on Saturday, while the Over-30 Pros will race on Sunday. The two-day format allows riders from other countries and states (there were riders from over 18 different countries last year) to race on Saturday as a chance to learn the track before the Sunday Championship races. The Over-40 Pros only race on Saturday (although there is an Over-40 Expert class on Sunday).
Ryan Hughes is the current Over-30 World Vet Champion. Doug Dubach is the Over-40 Champion. Pete DeGraaf is the Over-50 Champion and Bill Maxim is the Over-60 Champion.  You can register now. Online entry is only $40 (post entry is $45). For more info on the 2011 MTA World Vet Championships go to www.glenhelen.com.
JUSTIN BARCIA TO REPLACE CANARD, WHO REPLACED WINDHAM, WHO REPLACED GRANT, WHO REPLACED CANARD…OR SOMETHING LIKE THAT


Justin will have to move to 450 Supercross in 2013, so he might as well get some practice.

Press release: American Honda is pleased to announce that GEICO Honda rider Justin Barcia will ride for the American Honda Racing team and race a factor y Honda-prepared CRF450R at the remaining four rounds in the 2011 AMA Motocross Championship.
"I'm so grateful to have this oppor tunity to ride the Honda CRF450R in the 450 class," said Barcia. "I can't thank GEICO Honda team owners Rick Zielfelder and Jeff Majkrzak enough for allowing me to take advantage of this oppor tunity. I raced the CRF450R to the overall win at the Bercy Supercross last year and I felt great competing on the bike, so I'm excited to now get the chance to race several rounds in the Motocross series on it. I'm also really looking forward to working with the factory Honda team. I feel I've grown a lot as a professional racer over the past three years and this whole experience is only going to help me develop my skills even more."
American Honda Racing Team Manager Erik Kehoe welcomes Barcia to the Honda starting line-up. "Justin has been a par t of the Honda family for many years now, having entered the professional ranks through Honda's amateur support program," said Kehoe. "He has a lot of experience racing Honda motorcycles and he's earned a lot of success in both his amateur and professional careers. Trey Canard showcased his talents aboard the factory-prepared Honda CRF450R last year when he filled in for six Supercross rounds, and obviously that was a significant career opportunity for him, while Cole Seely enjoyed racing several Supercrosses with the team this year. We are pleased to work with Honda-supported teams and give the younger Honda riders the chance to gain valuable experience riding for the factory team when opportunities arise."

NEW PRODUCT: CLYINDER WORKS YZ468F BIG BORE KIT


Is a 450 really enough power? Well, not for Cylinder Works and their new YZF468 big-bore kit. This kit is completely stealth and bolts right in. It comes with a new cylinder matched with a Vertex Piston kit and full top-end gaskets. These kits are great for YZF450 owners who just want more power from their YZF450. The complete Cylinder-Works YZF468 big-bore kit is only $599.95. It fits 2010 to 2012 YZ450Fs and the part number is 21005-K01. For more info visit www.cylinder-works.com or call (515) 251-4070
JULIEN BILL WINS FIM MX3 WORLD CHAMPIONSHIP…WHAT'S THAT?…YOU MIGHT WELL ASK


Julien Bill.

It is hard to explain what the MX3 World Championship is because it isn't what it once was. The MX3 Championship was built from the remnants of the old 500cc World Championship, but it has no comparison to the glory days of the 500 World Championship series of DeCoster, Mikkola, Everts, Geboers or Malherbe. It was formed in 2004  when the 125cc Championship was changed to 250cc four-strokes (MX2) and the original 250 Championship went to 450cc four-strokes (MX1). Since the 500 class was eliminated, the FIM started the MX3 class as a place where the big-bore 600cc four-strokes and 500cc two-strokes could race (since they were too large for the MX1's 450cc limit). It might have seemed like a good idea at the time, but it wasn't. In short order the factories stopped building big-bore two-strokes and over-size four-strokes and the purpose of the class was neutered. Today, it is just another 450cc class?for the riders who can't afford the high-price of MX1 and for countries that can't get on the MX1/MX2 circuit.
Last year the class was abolished (and was going to be replaced by a World Amateur series), but a last minute reprieve saved it. We don't know why it was saved, but this year it was a very low-key affair…and the dumping ground of the Women's World Championship (after Youthstream deemed them not interesting enough for the MX1/MX2 series). Swiss rider Julien Bill, who has considerable experience in MX1, won the 2011 MX3 title by 62 points over France's Milko Potisek. Bill is the first-ever World Motocross Champion from Switzerland.
FINAL STANDINGS: 2011 MX3 WORLD CHAMPIONSHIP
1. Julien Bill (Swi)…359  
2. Milko Potisek (Fra)…297  
3. Martin Michek (Cze)…287
4. Antti Pyrhonen (Fin)…255  
5. Martin Zerava (Cze)…202  
6. Marco Maddii (Ita)…183  
7. Michael Staufer (Aut)…177  
8. Petr Michalec (Cze)…122
9. Saso Kragelj (Slo)…106  
10. Marko Kovalainen (Fin)…82
PAST MX3 WORLD CHAMPIONS
2004 …Yves Demaria (Fra)
2005 …Sven Breugelmans (Bel)
2006 …Yves Demaria (Fra)
2007 …Yves Demaria (Fra)
2008 …Sven Breugelmans (Bel)
2009 …Pierre Renet (Fra)
2010 …Carlos Campano (Spa)
2011 …Julien Bill (Swi)
HOW TO GET SPONSORED! THE MAN WHO PICKS 'EM TELLS US WHAT HE LOOKS FOR


Pat Alexander is American Suzuki's Manager of Amateur Race Support. He's in charge of scouting out the fast young guns to represent the yellow brand, so we asked Pat to tell the best way to get to motocross stardom.

MXA: What tips would you give an amateur who wants to get noticed?
Pat: Mainly, stay consistent. Try not to get hurt throughout the season, and get good results. Going to school helps a lot. Get your education and also get some results and will be looking at you.

Is traveling around the country to big amateur races over-emphasized, or is it important for an up and comer?
It's important for the kids who want to be a motocross champion. If you are just having fun racing there is no need.
What tips would you give someone who is and trying to be the next big thing, but trying to get some help and some contingency?
You should get with his local dealer and work with him. He should work at getting a good name in his local area and progress from there. As things have been going lately in the motocross industry, one of the manufacturers will choose you to be a regional area rider or a dealer will support you for that region.
IS THIS THE FIRST $1,000,000 MOTORCYCLE?


Bonham's will auction off a very rare 1954 AJS E95 Porcupine at the Pebble Beach Car Week held at the Quail Lodge in Carmel, California, on August 18-19. In light of the fact that Steve McQueen's 1971 Husqvarna 400 Cross recently fetched $144,000 at a Bonham's auction, the AJS may set an all-time sales record for a motorcycle. The current record paid for a vintage motorcycle is $520,00 for a 1915 Cyclone Board Track racer in 2008.
The Porcupine, named because of the spiked cooling fins on the year before's model (1953), could well get bids anywhere from $750,000 to $1,000,000. This bike was in the British National Motorcycle Museum for 20 years before going up for auction. Hold on to that old Hodaka Super Rat…it could be worth something.
PRO CIRCUIT CARBON FIBER THROTTLE POSITION SENSOR GUARD


Pro Circuit's 2011/2012 Kawasaki KX250F throttle position sensor (TPS) guard is designed to protect the stock throttle position sensor in the event of a crash, harmful roost or water spray that can be encountered while out riding. The extremely lightweight and durable carbon fiber guard is manufactured out of Toray T300-2×2 carbon twill and is ergonomically designed to eliminate any interference with the rider. The kit includes all necessary hardware for installation, including a machined 7075 aluminum collar and replacement-mounting bolt.The retail price is $86.95 from www.procircuit.com.
CONTROVERSIAL WOMEN'S WORLD CHAMPIONSHIP COMES TO AN ABRUPT END


Steffi Laier.                                                                             Photo: Ray Archer

The FIM Women's World Motocross Championship was a disaster in 2011. First, there was the demotion from a support race at the MX1/MX2 GPs to the lowly MX3 series, next came the high-profile protest and boycott by WMX star Livia Lancelot and finally, the series had it final two rounds canceled and came to an abrupt end in France last weekend.
KTM-sponsored Steffi Laier came into the final round of the shortened FIM Women's World Motocross Championship with a 15-point lead over Italian Chiara Fontanesi. After Fontanesi won the first moto with Laier second and Larissa Papenmeier third, the points narrow to 12 with one moto to go. Laier, the defending World Champion, holeshot the second moto, but Chiara Fontanesi passed her and went on to take the moto win. Without help from the other girls, Fontanesi's bravado 1-1 performance would be for naught, but none of the other women could maintain Laier's pace in second place. One minute behind Steffi Laier was Natalie Kane?who got third in the moto. In the end, Laier won her third straight Championship by nine points.
"I am World Champion again this year. It is my third time in a row to do this. I would like it to continue, but I have a lot of work to do as Chiara is also very fast and hungry for the title of 2012. Thanks to all of my sponsors and especially a big thank you to my team manager. Without his help this championship title would not been possible."
FINAL STANDINGS 21011 WOMEN'S WORLD CHAMPIONSHIP
1. Steffi Laier (Ger)…307
2. Chiara Fontanesi (Ita)…298
3. Larissa Papenmeier (Ger)…248
4. Britt van der Wekken (Hol)…199
5. Sara Pettersson (Swe)…175
6. Marielle De Mo (Hol)…158
7. Anne Borchers (Ger)…158
8. Joanna Miller (Pol)…129
9. Francesca Nocera (Ita)…124
10. Virginie Germond (Swi) …115
PAST WOMEN'S WORLD CHAMPIONS
2005 …Stephanie Laier (Ger)
2006 …Katherine Prumm (NZ)
2007 ….Katherine Prumm (NZ)
2008 …Livia Lancelot (Fra)
2009 …Stephanie Laier (Ger)
2010 …Stephanie Laier (Ger)
2010 …Stephanie Laier (Ger)

DUBYA USA TO DISTRIBUTE GALFER OFFROAD BRAKE PRODUCTS


Dubya USA will begin distributing Galfer USA's complete line of high performance off-road brake products. Galfer's products include their patented Wave rotors, custom brake lines, and high performance brake pads. Galfer's products are designed for the track, using feedback from pro racers like Rockstar Energy Suzuki's Martin Davalos, Ryan Morais, Nick Paluzzi and Jason Anderson.
"Dubya USA is looking forward to distributing a quality product like Galfer Brakes to our customers," states John Anderson of DUBYA USA. "We will be able to offer our customers the race proven Tsunami Off-Road Wave Rotors, Oversize Wave Rotor and Standard Wave rotor along with the Fixed Wave rear rotors. The nice thing is that we can offer Brakes for every skill level. Galfer offers a complete line of brake lines and pads as well, so we can offer our customers a complete Talon Wheelset Package. We worked with Sandro many years ago at White Brothers and we look forward to a long relationship with the Galfer Group." For more information on Dubya sales and specials, check out their website at www.dubyausa.com.
FORMER AUSTRALIAN MOTOCROSS CHAMPION ARRESTED FOR MURDER…SORT OF



According to newspaper reports, Anthony Stewart Bagley was arrested for the murder of Colin Lutherborrow in Australia. Bagley told the police that he was the 1989, 1990, 1992 and 1994 Australian Motocross Champion (and was sponsored by Honda and Kawasaki). This will come as news to actual Champions Eddie Warren (1989 Champion), Craig Dack (1990 Champion) and Kim Ashkenazi (1992 and 1994 Champion).
In shades of Vanilla Ice, who also claimed to be a National Motocross Champion, we are not saying that Mr. Bagley didn't race a motorcycle at some point, but he was never the Australia National Motocross Champion.
TEAM FRANCE'S DESTINY IS AT THE 'DES NATIONS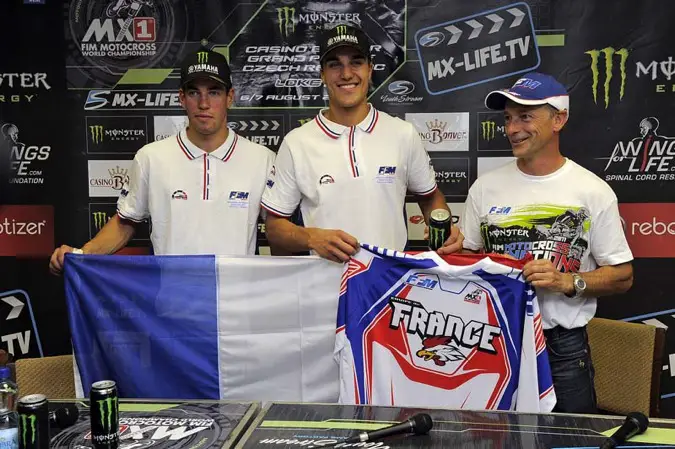 The French team manager says that he will replace a named rider if another French rider steps up before the MXDN. This is an olive branch to Christophe Pourcel.
When MXA was hanging out with Roger DeCoster last Thursday, we ask him who he thought would be Team USA's toughest competition at the MXDN. Roger said, "France." This weekend, the French team for the Motocross des Nations (nobody but marketing men call it the Motocross of Nations) was announced. It will be Steven Frossard, Marvin Musquin and Gautier Paulin. Team manager Olivier Robert said that everybody was very motivated to put in a good performance on their home soil. Steven Frossard will ride the 450 class, Marvin Musquin will ride the 250 class and Gautier Paulin will ride the 450 class also, but he will pretend riding something called the "Open Class." The 65th FIM Motocross des Nations will take place in Saint Jean d'Angely, France, on September 18.
JOSH LICHTLE BENEFIT RIDE DAY AT MICHIGAN'S VALLEY MOTOCROSS ON AUGUST 11


Josh Lichtle (811).
In honor of Josh Litchle, Michigan's Valley Motocross track will be holding a benefit ride day called "Ride with Wings" on August 11, 2011, in order to celebrate Josh's memory, as well as raise funds for the new 811 Foundation for Proactive Injury Prevention. The 811 Foundation was started by Josh's brother Billy Lichtle, following Josh's death on July 4th, 2011. Sadly, Josh passed away after suffering the effects of hyperthermia and heat stroke while racing the Lucas Oil AMA Pro Motocross Championship at RedBud MX in Buchanan, Michigan.
The event will feature events inspired by Josh such as; a one-footer contest, holeshot elimination contest, pit bike races, and 5-lap motos. Valley Motocross will also have a silent auction and raffle prizes supported by these sponsors: Believe Clothing Co., Courtyard by Marriot in Auburn Hills, Ithacadirtdevils.com, J-jo's Market of Midland, Defye Clothing, The Buckle of Okemos, Jim Martin Chevrolet of Alma, michigansportpilotrepair.com, Bentley GFX, Bay Cycle, Central Motorsports, C and S Sports Center, O'Neal Motocross, and Leatt Brace.  All proceeds from the event will go to support the 811 Foundation and its mission for proactive injury prevention.
To find out more about the "Ride with Wings" Josh Lichtle Benefit at Valley Motocross, go to www.valleymotocross.com. To find out more about the 811 Foundation and its effort to increase rider safety awareness, please visit www.godspeed811.com

NEW PRODUCT: MATRIX CONCEPTS M10 FACTORY HONDA MAT


The M10 Mat has been used and tested all season by many top Factory Supercross and Outdoor Teams. The 3FT X 7FT M10 Factory mat is designed to keep parts clean and out of the dirt, and if you drop a part it will land on a soft surface. The Matrix Concepts Factory Mat is offered in red, blue, yellow, green, and grey. Matrix Concepts also offers the Honda Factory M10 Mat to the public in red and black. For more info visit www.matrixracingproducts.com
DUTCH NAME MOTOCROSS DES NATIONS TEAM..WELL, TWO-THIRDS OF IT AT LEAST


Donny Bastemeijer on the top step of the Lommel EMX2 race with Michael van Wezel and Kenny Vandueren flanking him.
Dutch MXDN team manager Leon Giesbers has announced the Dutch Team for the Motocross des Nations. Jeffrey Herlings will ride the "so-called Open class" on a KTM 350F, Marc de Reuver will ride the 450 class and and Donny Bastemeijer will race the 250 class.
Who is Donny Bastemeijer? Good question. He is not a GP rider, but instead was an 85cc contender when he and Jeffrey Herlings raced in the Junior Worlds. In 2011 Bastemeijer is racing the 250cc EMX2 European Championship. Over the six races, Bastemeijer won in the sand at Lommel, was third in Spain, fourth in Portugal, 11th in Latvia, 12th in Holland and finished 35th at the French race (held at the track that the MXDN will be held at in September). The pressure will be immense for the untested young rider.
ADAM CIANCIARULO SIGNS FIVE-YEAR DEAL WITH PRO CIRCUIT TEAM


Adam Cianciarulo.                                                                                                         Photo: DC Shoes
Minicycle Champion Adam Cianciarulo has signed a five-year agreement with the Monster Energy Pro Circuit Kawasaki Team to assure that he will have a spot on the team after puberty. Cianciarulo was born in 1996?which was the year that Davi Millsaps, Cole Seely and Mike Alessi were racing Pee-Wees, James Stewart was on a 65 and Justin Buckelew was the 85cc hero.
2011 LORETTA LYNN CHAMPIONS


Of the 39 race classes held at the 2011 Red Bull-sponsored Loretta Lynn Amateur Nationals approximately 20 percent of the winners were from California. The class winners from California (9), Texas (6) and Florida (5) accounted for 50 percent of the total victories. Modern amateur riders are basically professional racers (with salaries, travel expenses, hotels and bonuses). With the money flowing in, the attention has turned away from the minicycle classes towards the big bike classes. And since the rise of Ryan Dungey and Eli Tomac from the Intermediate (B) ranks, the Expert (A) riders only attract attention if they show potential for the AMA National ranks. On a side note: The son of former AMA 125 West Supercross Willy Surratt won the 250 Novice (C) class this year.
250 Intermediate (B) Stock
1. Justin Hill
2. Zach Bell
3. Cole Thompson
250 Intermediate (B) Modified
1. Thomas Covington
2. Blake Savage
3. Zach Williams
450 Intermediate (B) Stock
1. Cole Thompson
2. Jeremy Martin
3. Cody Silver
450 Intermediate (B) Modified
1. Justin Summers
2. Blake Savage
3. Conner Elliott
Over-35
1. Clark Stiles
2. Keith Johnson
3. James Povolny
Over-40
1. Keith Johnson
2. Dennis Bourque
3. Gaylon Dickson
Over-50
1. Scott Shipley
2. Matt Tedder
3. Don Bonnicksen
250 (A) Expert
1. Kyle Peters
2. Justin Bogle
3. Jessy Nelson
450 (A) Expert
1. Justin Bogle
2. Jacob Hayes
3. Jessy Nelson
"MX VS ATV" VIDEO GAME COULD BE DEAD…AS IF THE LAST VERSION DIDN'T KILL IT ALREADY

According to Industry Gamers: On Tuesday THQ announced some sweeping changes to its business. The publisher is realigning its internal studios system and moving away from the licensed kids and movies-based titles it's been known for. Additionally, the company has decided "not to actively pursue further development of the MX vs. ATV franchise at this time." This follows news from only a few weeks back when THQ also discontinued its Red Faction franchise.
It's not clear if that means MX vs. ATV is officially dead, but, regardless, the move means that THQ has also closed two studios in Australia, and shut down a development team at the company's Phoenix location. THQ is still maintaining its Quality Assurance team in Phoenix, however. All told, the actions by THQ will result in about 200 layoffs, and THQ is offering affected employees the opportunity to apply for other positions within the company.