MOTOCROSS ACTION'S MID-WEEK REPORT: (10/13/10)
MOTOCROSS ACTION'S MID-WEEK REPORT 
PHOTO OF THE WEEK: PART 1


Yesterday the MXA wrecking crew rode the 2011 Yamaha for the first time. Yamaha held their introduction at the awesomely prepared Racetown 395 motocross track near Adelanto, California. The 2011 YZ450F received a very small number of updates, but it wasn't any less fun to ride. MXA tester Dennis Stapleton shows John Basher that the linkage bolts are still tight.
FIRST PICS! ANTONIO CAIROLI'S PRIVATE SUPERCROSS TRACK IN ITALY
450 World Champion Tony Cairoli seems to be serious about racing some Supercross events in 2011. This is a surprise because most 450 Euro riders stay away from American Supercross?not so with the Grand Prix 250 riders. Tony has built his own Supercross track in Italy to practice on. He started riding on it yesterday in preparation for the Bercy Supercross…which is an Arenacross by USA standards. Here are the first photos of the layout.


STEVE WISE'S SCARY HAIRY RIDE


Steve Wise (12) and Danny LaPorte (7) at Hangtown in 1977.
Former Team Honda rider and AMA Hall of Fame member Steve Wise sent this email to his fellow pilot Jody Weisel today:
"My son & I were flying in my plane to the Dallas Cowboy football game Sunday morning. With the weather cool and crisp, the cruise at 7500 ft was smooth. We were clipping along around 200 mph having a great time listening to music, talking and laughing, then all of a sudden – bang, bang, bang, clack, clack, clack.
The motor had thrown a rod through the crank case and went completely out of balance. The plane was vibrating and shaking violently and the smell of burnt oil had seeped into the cockpit. Watching oil spew over the windshield was very unnerving, to say the least. A fire at 7500 ft is not good and with oil leaking on a hot motor, my thoughts were to get on the ground ASAP. For a few seconds I was really shook up and couldn't remember how to turn the stereo off or even pull back the power, but I quickly regained my composure as I radioed Houston Center, 'Mayday, this is Bonanza 83 Quebec, we have an emergency. We're going down.' Everything was happening so fast and it became way more intense. Houston Center was trying to help, but it was really hard to listen with all that was going on. They gave me an identifier to a private airport that we tried looking for, but it wouldn't come up on my GPS. I found out later, I needed to add one more letter.

Steve's Bonanza.
"As I pushed the "Nearest Airport" button on my Garmin GPS. I'll never forget the reading – 17.3 miles at 021 degrees. I banked directly to that heading and while continuing to descend I thought about how I would ditch her in an open field along a small highway so people could see us & help. I've heard about pilots landing on a highway, but not one like this that had many power lines I could clearly see. With the motor vibrating and barely running, it felt surreal as I informed Houston Center we were going to try and make it to T-20 (Gonzales, Texas). As we were getting low, I told Jonathan to look out for the many towers we have in Texas. He was a real trooper and really helped me. He never panicked and we both had a real peace by now and just prayed and hoped to make it to the small town airport for an emergency landing. The wheels first touched about half way down the runway on my downwind final. I still had way too much of air speed and it felt like I forced the plane to the ground and as the wheels bounced I had the brakes locked, skidding toward the end before bringing her to a stop.
We made it! Needless to say, Jonathan and I had one exciting Sunday morning. He has been taking flying lessons, so he was fortunate to not only of practiced an emergency, but now he's participated in one! All I can say is – LOL!!! I thank the Lord for His provision and mercy, the FAA & my instructors for teaching me emergency procedures and my RR & MX racing experience that taught me not to panic under intense life threatening situations & to hang on until the last minute. I'm glad Jonathan and I are here to say "God Bless Ya'll."
Steve Wise
JIMMY BUTTON TO CYCLE ACROSS AMERICA FOR CHARITY

Jimmy Button and his former trainer Cory Worf will be riding bicycles 2428 miles from San Diego, Calfiornia, to Daytona Beach, Florida, to raise money for spinal cord research. In January 2000, when Jimmy was paralyze in a San Diego Supecross practice crash, Cory was his personal trainer. Jimmy sustained a pinched spinal cord in the C-2 to C-6 region of his neck, leaving him paralyzed from the neck down. After many months of rehabilitation Jimmy was able to regain movement and be one of the very fortunate few to recover from these types of injuries. During this time, Cory was ever present in the long rehab process.
Now, ten years later Jimmy and Cory are teaming up to ride bicycles from the place of his accident to Daytona International Speedway to raise money for those people that are not so fortunate after suffering a spinal cord injury. At approximately 2428 miles and averaging 60 miles per day, the ride is expected to take nearly two months. Go to www.milesformiraclestoday.com for more info.
A RIDER SUPPORT MANAGER TELLS YOU HOW TO AVOID THE MOST COMMON SPONSORSHIP MISTAKES
Every company of any size has a dedicated rider support manger. This person's job is to select a group of riders to represent the products of the company he works for. As a rider support manager for one of the bigger companies in the industry, I'm going to share my thoughts on resume season (although I'm not going to tell you my name or the company I work for).
 
Think about it. In a three-month period, I handle over 5,000 paper and electronic resumes. In those three months, if I manage to dedicate half my working hours to looking at resumes, that gives me just three minutes per resume (and when you subtract the minute or so that it takes to enter the data in the computer, that leaves the applicant with slightly over 60 seconds to get his message across to me).
In that one minute, I don't want to have to search your seven pages of information to get the "must have" details. Thus, I have a "loser" pile next to my desk. The loser pile is made up of the resumes that I don't think I have the time to work through?riding skill aside. The loser pile is the resumes I receive with no return address, no phone number or no e-mail address (the return address on the envelope does not qualify, because I throw the envelope in the trash immediately). These resumes have every thing in them but the most important thing? contact information! At the end of the resume season, I review the loser pile, find the best and most professional resume, and hang it on my wall. I still don't know how to find the rider who sent it, but I admire the handiwork of what I call "the biggest loser."
Before I tell you what a rider support manager wants to see, let me tell you what a support manager doesn't want to see.
    (1) We don't want to know about the sport of motocross. We have that covered. It's what we do. It's our life.
    (2) We don't want to know how many people of what age and demographic watch Supercross on TV. Plus, if you are on TV, then we already know who you are. If you aren't on TV, don't try to make us think that you are.
Let's get to the gist of it. Assuming you have clearly listed your name, address, phone number and e-mail address at the top of page one, you are off to a good start. I will most likely make you an offer of support based purely on the fact that I know who you are. Next, I will scan down the resume to see what brand of bike you race. This is important, as I need to know if my company has products for you to use.
The most interesting part of every resume is the racing results. Not only am I looking at what class you race and how well you do, but also how consistent your racing program is. If I'm going to offer a spot to you, I'm going to want to get bang for my buck–meaning track time. 
For each result you list, I want to know the date, the track, the class you raced (don't lie or be vague) and your overall finish in each class. I don't need to know who was in the class or any excuses. I just want an honest idea of the level of rider you are and to be able to quickly search my database of results to validate what you claim. 
There are just two more things I like to see in your resume: (1) A list of all the sponsors you currently have. (2) A photo of you riding, and a photo of you sitting on your bike. Why do I want these two additional bits of info? Simple. If you list Thor as a sponsor and send me a photo of a bike festooned with Fox stickers (or you're wearing Fox gear), then I have a pretty good idea of your idea of sponsorship. I use the sponsor list you provide and the pictures you send to judge how seriously you take sponsorship.
Once the resumes are all reviewed and my support program is full, I will contact each accepted rider and make him an offer for varying levels of support. The only people I can't make an offer to are the ones in the loser pile.    
A LIST OF COMPANIES LOOKING TO SPONSOR YOU; YES, YOU!
Don't miss out on over a million dollars in sponsorship and contingency. These companies want to help you, but first you have to help yourself.
WORKS CONNECTION:
    Works Connection is currently accepting rider resumes for the 2011 season. Deadline to apply is 12/31/10. Works Connection's Rider Support Program is in its 20th year and is actively looking for riders to join the program. Become a part of the race support program that includes Ryan Dungey, the 2010 Supercross and Motocross Champion. Support levels range from Beginner up through the National level. The program accepts riders of all disciplines including, but not limited to, Motocross, Supercross, Off-road, Flat Track, Hill climb, Supermoto, Speedway, Endurocross, Trials, ATV and action sport athletes. Apply for your sponsorship at http://www.hookit.com/members/works01/
 
RENTHAL:
    Renthal has officially opened up their Amateur Rider Support program for 2011.  2011 will see Renthal's 23rd year of their amateur support program in the USA which has seen so many of the sport's elite stars come up through. To apply for sponsorship with Renthal, you must visit our dedicated sponsorship website at www.renthalsupport.com, which allows you to upload all your information directly from our support site and attach a resume in Word or PDF format.  For those riders who are a member of the Hookit website, you can visit our homepage at http://www.hookit.com/members/renthal/home/ for up to date information and news. For more information please contact: E-mail: [email protected] Website: www.renthalsupport.com
HINSON:
    Hinson Clutch Components, the leader in high performance clutches for off-road motorcycles and ATVs, is now accepting rider support resumes for the 2011 racing season. Apply for sponsorship at www.hookit.com/members/hinson, or email your resume to [email protected]. The open period for applications is September 1 ? November 30, 2010.
PIT POSSE & OUTLAW RACING:
    Pit Posse Motorsports is now accepting applications for its 2011 amateur rider support program. Applications submission expires 12/31/10. 2010 has been a banner year for Pit Posse riders. With the likes of Cooper Webb and Zack Freeberg in the amateur ranks and Trey Canard and Justin Barcia in the pro ranks, Pit Posse is proud to have these brilliant riders as a part of their riding stable. With a lot of hard work, an amazing support team and of course, Pit Posse tools, parts and accessories, these riders are set for success. If you think you've got what it takes to be a part of the Pit Posse movement, send all the necessary info to us through Hookit.com. Opportunities are limited to possibly become a part of our team, so act now. The Pit Posse crew is looking forward to 2011! Let us know whether or not you think you've got what it takes!
AP RACING:
    AP Brakes has opened their Rider support Program. Just Send the following info to [email protected]. In the email or resume include the following: Name, Race series you were a part of in 2010, 2010 results, Bike manufacture, Your favorite food and how many push-ups you can do.
WISECO:
    Wiseco is now accepting resumes for its Racer Support Program! This program provides assistance for racers riding motorcycles, ATVs, snowmobiles, and PWC's.  To submit a resume, please visit http://www.wiseco.com/RacerSupport.aspx to see all the details. Acceptance dates are August 1 through November 1, 2010.
TWIN AIR:
    Twin Air is now accepting resumes for the upcoming 2011 race season, and we want you as our rider!  To apply for sponsorship submit a resume to us through one of the following methods: Sponsorhouse, MX Sponsor or mail us a hardcopy to:
    Twin Air USA
    Attn: Rider Support
    410 E Walnut St. #2
    Perkasie, PA 18944
MOTOREX USA:
    Motorex USA will be accepting rider resumes for the 2011 racing season starting September 1st through November 31st.  Resumes can be mailed, emailed or faxed to:
    Motorex USA
    Attn: Race Support
    900 Mendelssohn Ave N.
    Golden Valley, MN 55427
    Fax 763-746-1431
    [email protected]
O'NEAL:
    O'NealL MX is proud to announce the opening of the 2011 Sponsorship Season. This will be O'Neal's 41st  year in business and we look forward to adding new and exciting Motocross, ATV, and Freestyle riders of all skill levels to our sponsorship family. Applications will be accepted from Aug.19th  until Dec. 31st 2010.  You can apply through: hookit.com, mxsponsor.com, mxresultz.com, xtrm.com and directly through your rider representative at:
    O'NEAL
    Chris Honnold – Rider Support
    685 Cochran St.
    Simi Valley, CA 93065
    e-mail- [email protected]
    fax- 805-426-3301
DUNLOP:
    Dunlop Tires is proud to announce its 2011 Team Dunlop support programs for youth-oriented online community members. For 2011, Dunlop is already planning special promotions, and is currently accepting rider resumes until December 20th, 2010 to become a member of the Team Dunlop amateur support racing squad in 2011. To be a part of Team Dunlop, one of the nation's premier rider support programs visit the Team Dunlop online community at www.TeamDunlop.com. The Team Dunlop community is powered by Hookit.com. Current members of Hookit.comare encouraged to join the Team Dunlop community to take advantage of these special opportunities.
FACTORY EFFEX:
    Factory Effex has recently made the push to enter the highly competitive aftermarket wheel and rim business with its all new high end wheels sets and wheel accessories. "Factory Effex is considered a world brand leader in decorative parts for off-road motorcycles and ATVs, and with our recent success when introducing the MAG series complete wheel sets, we are also focused on offering a top quality replacement rim that can be used with all late model standard and aftermarket hubs" says Kris Jaeckin, Factory Effex Rider Support Manager. "To get more of our rims to the market and pair them up with some of the best racers throughout a variety of series and events in 2011, we have formed a contingency plan worth more than $400k to support the effort. It's as easy as visiting us online and completing your contingency application form to start earning FX rim contingency."  The program starts now and ends late 2011; to learn more about this exciting opportunity, visit us online at www.factoryeffex.com, or by calling Kris at 661-255-5611, extension 114.
ANSWER RACING:
    Answer Racing is pleased to announce the opening of our 2011 sponsorship program. For 2011,  Answer will be joining forces with today's largest Mmotocross only sponsorship website, MXSponsor.com.  To be a part of the Answer Racing team alongside James Stewart, Michael Byrne, Kyle Cunningham, Darryn Durham and Malcolm Stewart, riders are encouraged to send resumes electronically through MXSponsor.com, a fast and easy way to examine athletes for sponsorship. This is your chance to be a member of the same team that has graduated successful riders to the pros such as Ryan Dungey, Darryn Durham, Travis Baker and Kyle Regal, among others. To learn more about Answer Racing and to see all of our 2010 line up of gear, please visit Answerracing.com or check us out on our social sites: Facebook.com/Answerracing, twitter.com/Answerracing or http://www.mxsponsor.com/companies/answer-racing/
    How to Submit a Resume to Answer Racing: To submit a sponsorship resume to Answer Racing, riders need to sign up, free, at www.MXSponsor.com. Once here, riders can build their online profile, upload action photos and videos, post race results and submit their profile resume to nearly 200 motocross companies. MXSponsor.com is the fastest and easiest way to be sponsored in the motocross industry and is the exclusive sponsorship partner of Answer Racing.
PRO TAPER:
    Pro Taper is proud to announce that they have teamed up with MXSponsor.comto streamline their 2011 sponsorship program.  PT is looking for riders of all skill levels and bike sizes to add to the growing team.  Resumes will be accepted from now until October 31st through the three avenues listed below.  Riders are encouraged to utilize MXSponsor.com's electronic resume process, as it is a fast and easy way to get all of the necessary information to our rider support crew.
    Resumes can be sent one of three ways; please do not submit multiple requests.
    1. Sign up for your free MXSponsor.com account and log on to mxsponsor.com/companies/pro-taper/ to apply.  When signing up use promotional code TR11 to receive 10% off of your account, and to be prioritized for sponsorship with this brand.
    2. Email to: [email protected]
    3. Postal mail to:
    Pro Taper
    Attn. Rider Support
    1055 Montecito Dr.
    Corona, CA 92879  * Please note a valid email address is required to apply for sponsorship this season. For more information on Pro Taper's sponsorship program please log on to our website and click the "Rider Support" tab.
DEAN WILSON TO TEACH MOTOCROSS SCHOOL…IN ENGLAND THIS WEEKEND


Dean the teacher.
Dean Wilson will teamed up with one of the UK's finest motocross training schools, Flockhart MX, to teach British riders the secrets of motocross. Dean will be assisting all the attendees in fine tuning their riding skills. There will be two separate training days available which will take place this coming Friday 15th and Saturday 16th October 2010. The Friday Event will be held at the Fenton MX Track between 9 a.m. and 4 p.m. The Saturday event will take place at Tinto Moto Park and will be split into a morning session for smaller capacity bikes up to 150cc four strokes and will run from 9 a.m. until 1 p.m. and the afternoon session will be be for 125cc two-stroke and big four-strokes and will run from 1 p.m. until 5 p.m. The costs are: Friday (Full Day) œ150 or Saturday (Half Day) œ99.
FIM MINIMUM WEIGHT, GP PRACTICE AND DATE CONFLICT RULE CHANGES FOR 2011


Starting in 2011, the minimum weight for a 125cc two-stroke will be 88 kg (193.6 pounds), while a 250 four-stroke will drop to 95 kg (209 pounds). The 250 four-stroke weight limit in 2010 was 98 kg (215.6 pounds). It should also be noted that GP bikes will be weighed with no more than one liter of fuel in the tank (previously they were weighed empty of fuel). At no point during the race weekend will the bike ever be allowed to fall below the minimum weight limit, but there will be a 1% tolerance in the minimum weight for fluid loss in post-race weigh ins. All 450 bikes must weigh 102 kg (224 pounds).

The FIM weighs every bike at Tech inspection.
Additionally, the rule that prohibited riders from practicing at a Grand Prix track within 30 days of its GP date (without prior permission from the FIM) has been dropped for 2011.
On another note, the FIM has vowed to synchronize the dates of all MX1, MX2 and MX3 World Championships dates so that more weekends will be left open on the calendar for local and National events. The 2011 FIM World Motocross calendar must be released by October 18, 2010. The FIM requests that the National Federations respect the dates of the 2011 FIM Motocross World Championship calendars and not schedule National events in the same country to allow riders to participate in the various championships. It should be noted that MX Sports, the organizer of the AMA National Championships, is not a National Federation and thus is not bound to comply with such a request. The AMA Nationals are not actually AMA events (the AMA in Ohio is the FIM-recognized National Federation). The AMA Nationals are DMG events that are hosted on the licensed "AMA Pro Racing" umbrella. AMA Pro Racing is not the same as the AMA. Got that?
FIRST LOOK! 2011 TM MOTORCYCLES; TWO-STROKES GALORE


2011 TM Racing 144 MX will have a 56mm x58.2mm bore and stroke. It gets a Keihin carb, VForce reed, two-map ignition switch, Marzocchi forks, Ohlins shock and 270mm Braking front brake. The 125 version has a 54mm x 54.5mm bore and stroke.
Italian manufacturer TM has released photos and specs for their 2011 line. Most noticeable is that TM will offer two-strokes models in 125cc, 144cc, 250cc and 300cc displacements. The 2001 engines will receive revised transfer timing, a new CDI program with different advance values and new carburetor settings. The big news for 2011 in the two-stroke department is the 300cc engine which has been treated to a new cylinder and cylinder head which features new transfer and exhaust port timing, a new combustion chamber shape and squish band measurements.
As for the four-strokes, the big news is electronic fuel injection. The all new 250cc four-stroke engine also receives a new chill-caste cylinder head and die-cast ignition and clutch covers, these new die cast covers are lighter in weight, increase heat dissipation and improve the aesthetics of the engine. New ECU programming complements revised camshaft timing. The 450cc four-stroke engine gets an altered con-rod and piston pairing as well as a re-worked cylinder head. The EFI system features a conventional plastic gas tank with the fuel pump and necessary filtration units mounted onto a removable base plate.

2011 TM Racing 300 MX has a 72mm x 72mm bore and stroke, VForce reed, Keihin carb, twomap ignition switch and is also avilable in a 66.4mm x 72mm 250cc version.
All of the 2011 models will receive a new plastic color change on the rear quarters, a new decal package and a new swingarm design. A Brembo hydraulic clutch master cylinder is now fitted to all models in the range. For more info go to www.tmracingmotorcycles.com
NEW AMA NATIONAL NUMBER RULES FOR 2011


Ryan Dungey's permanent number is 5 (which he selected after winning the 2009 250 National Championship), but since he is number one in 450 Supercross and 450 Nationals, he won't have to run anything but "1" in 2011.
One of the best rules of recent years came last year when the AMA announced that if a rider earned the number one plate, he had to run it. Now for 2011 the rule might be expanded to say that if you earn any number in the top 99, you have to run it. No more picking your old amateur number…if you are National number 54, you must run 54…not 338. This is the right of the sanctioning body and although some riders may not like it…the AMA does have a points system (of sorts) that determines riders numbers. The AMA has the right to make the riders in their series run the numbers assigned to them. If this rule is implement would not effect Ben Townley (101), Mike Alessi (800) and Christophe Pourcel (377) because they have permanent numbers and are free to chose any number they want.
In other news, permanent numbers which are currently assigned to any rider who has made the top ten in total points for a season or wins a National Championship may be harder to keep in the future. Currently, riders get to keep their personal number as long as they earn one point in subsequent seasons. It was recently announced that in order to keep a career number in the future, a rider will have to earn 25 points to retain it for the following year.
2011 AMA NATIONAL SUPERCROSS & MOTOCROSS NUMBERS
1…..Ryan Dungey (450 Supercross/450 motocross)   
1…..Trey Canard (250 motocross)
1…..Jake Weimer (250 West Supercross)
1…..Christophe Pourcel (250 East Supercross)
2…..Ryan Villopoto (permanent #)  
3…..Mike Brown (permanent #)  
5…..Ryan Dungey (permanent #)
6…..available to an AMA Champion
7…..James Stewart (permanent #)  
9…..Ivan Tedesco (permanent #)  
10…Justin Brayton (new permanent #)  
11…Kyle Chisholm (new permanent #)  
12…Tommy Hahn
13…Heath Voss (permanent #)  
14…Kevin Windham (permanent #)  
15…Dean Wilson (new permanent #)  
16…John Dowd (permanent #)  
17…Justin Barcia
18…David Millsaps (permanent #)  
19…Eli Tomac
20…Broc Tickle
21…Blake Wharton
22…Chad Reed (permanent #)  
23…Martin Davalos
24…Brett Metcalfe (permanent #)  
25…Ryan Sipes
26…Michael Byrne (permanent #)  
27…Nick Wey (permanent #)  
28…Tyla Rattray (new permanent #)  
29…Andrew Short (permanent #)  
30…Kyle Regal
31…Wil Hahn
32…Jake Weimer
33…Josh Grant (permanent #)  
34…Dan Reardon
35…Kyle Cunningham
36…Cole Seely
37…Darryn Durham
38…Chris Blose
39…Matt Goerke
40…Tommy Searle
41…Trey Canard (new permanent #)  
42…Nico Izzi
43…Weston Peick
44…Les Smith
45…Vince Friese
46…Alex Martin
47…Jason Thomas
48…Matt Lemoine
49…Ben Evans
50…Matt Boni
51…Steven Clarke
52…Max Anstie
53…Jarred Browne
54…Jason Lawrence
55…Tommy Weeck
56…Phillip Nicoletti
57…Blake Baggett
58…Travis Baker
59…Matt Moss
60…Killy Rusk
61…Austin Howell
62…Robert Kiniry
63…Justin Keeney
64…Derek Anderson
65…Hunter Hewitt
66…James DeCotis
67…Travis Sewell
68…Michael Willard
69…Heath Harrison
70…Tevin Tapia
71…Ryan Morais
72…Nicholas Paluzzi
73…Topher Ingalls
74…Austin Stroupe
75…Josh Hill (permanent #)  
76…Kyle Partridge
77…Ian Trettel
78…Sean Borkenhagen
79…Chris Johnson
80…Troy Adams
81…Robby Marshall
82…Shane Sewell
83…Shane Durham
84…Josh Demuth
85…Ryan Clark
86…Jacob Morrison
87…Drew Yenerich
88…Jeff Gibson
89…Taylor Futrell
90…Terren Odell
91…Josh Clark
92…Taylor Robert
93…Hunter Clements
94…Ricky Renner
95…Tyler Medaglia
96…Lowell Spangler
97…Kyle Summers
98…Bobby Bonds
99…Ryan Abrigo
101…Ben Townley (permanent #)  
377…Christophe Pourcel (permanent #)  
800…Mike Alessi (permanent #) 
 
RICCI RACING SAYS GOODBYE TO YAMAHA AND HELLO TO HUSQVARNA


The  Ricci Husqvarna team will debut the first Husky in GP motocross in years.
Only one day after the official announcement that they were leaving Yamaha, the Italian based Ricci Racing Team has signed an agreement to run the factory Husqvarna 250 Grand Prix team. Ricci Racing has reportedly contracted Michael Leib and Alessandro Lupino to race for the team in the 250 World Championships. In a funny note, Michael Leib has never raced an AMA National in his young life, but has somehow managed to landed two Grand Prix deals.
Yamaha Motor Europe announced just one day earlier that the  Japanese manufacturer and the Ricci Racing Team had ended their relationship. The Ricci Yamaha team finished second in the 2005 250 World Championships with the late Andrew Mcfarlane at the controls of their YZ250F. The team had five 250 GP victories with Davide Guarneri, Nicolas Aubin and Andrew Mcfarlane. Ricci has also picked up numerous podium trophies with riders Alessio Chiodi, Andrea Bartolini and Loic Larrieu. In 2010 they had their very first 450 GP success with Ken De Dycker's double moto triumph at the Germany Grand Prix. "It was a difficult decision because we have been with Yamaha for a long time but we now have something new to try in Grand Prix racing," said Ricci.
PHOTO OF THE WEEK: PART 2


Would you trust three of your closest buddies to rail a dusty turn alongside of you? Believe it or not, none of these riders went down (in this photo, at least). From left to right?the MXA test riders are Pete Maly, Al Baker, Dick Miller and the Baz at Carlsbad Raceway.
DONNIE HANSEN MOTOCROSS SCHOOL AT GLEN HELEN ON NOVEMBER 4-5 (BEFORE THE WORLD VET CHAMPIONSHIP)


Click on www.DHMA.com to find out more.

2011 AMA 250/450 NATIONALS TO BE SHOWN GLOBALLY

Press release: U.S. extreme sports producer and distributor Apparent Gravity Media (AGM) has bagged global rights to the Lucas Oil AMA Motocross Championship Series. From the start of the 2011 racing season, AGM will offer two hours of live coverage per event via a dedicated international high definition feed, with English-language commentary. In the U.S., the races will air on NBC Sports and Speed Channel. The Championship Series is part of the Alli (Alliance of Action Sports) roster, which is jointly owned by NBC Sports and MTV Networks. George Krieger, president of AGM, said the Saturday telecasts should be particularly appealing to European broadcasters because the AMA Motocross property is so strong and AGM can provide live prime time racing. In addition to its live coverage, AGM is offering an international highlight series focusing on the championship. The 15 one-hour episodes will provide an overview of each event plus pre-, mid- and post-season shows.
PHOTO OF THE WEEK: PART 3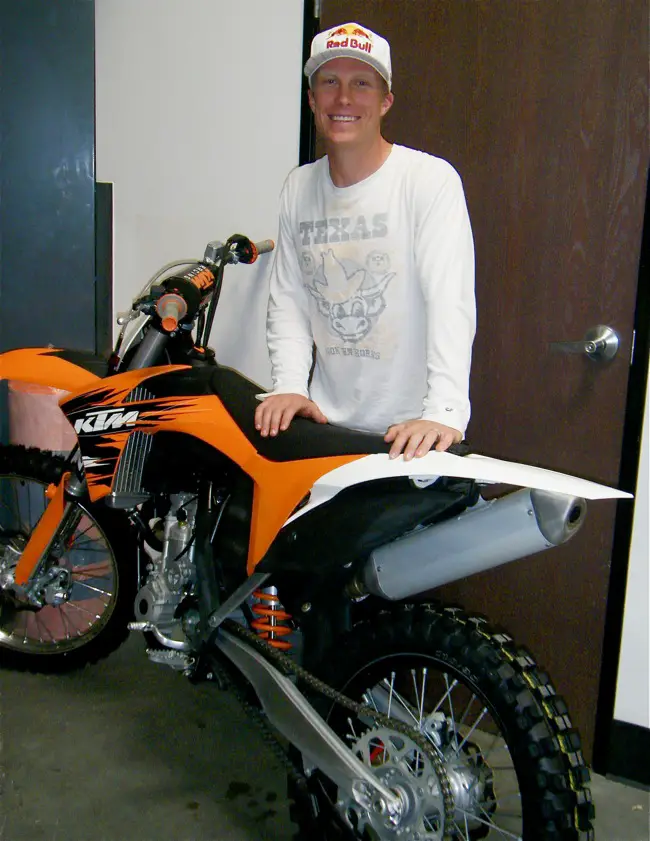 Andrew Short's TwitPic of his first day at the KTM offices in Temecula, California.