MOTOCROSS ACTION'S MID-WEEK REPORT: (10/17/12)
By John Basher
VIDEO OF THE WEEK: FELIX IS THE MAN!
Per Redbullusa.com: "Felix Baumgartner made history Sunday when he jumped from a space capsule 128,097 feet above the Earth and free fell at Mach 1.24 (834 mph). Baumgartner became the first person to break the sound barrier in free fall before landing safely in the New Mexico desert. The 43-year-old Austrian pilot and skydiver broke two other records Sunday: the highest free fall and highest manned balloon flight."
MINI-VIEW: CHAD REED

TwoTwo Motorsports team owner/racer Chad Reed is making his return to the racing fold this weekend at the Monster Energy Cup. You'll probably remember Reedy's terrible crash in mid-February at Dallas. Since then he's been healing up, wrangling up sponsors and playing dad (he and his wife, Ellie, recently welcomed their second child to the Reed family). With just a few days until one of the biggest off-season races of the year, I spoke with Chad about his goals for the Monster Cup, as well as his upcoming trip to Australia.
MXA: It has been eight long months since you last raced Supercross, but you'll be back in action this weekend at the Monster Energy Cup. Why choose to race this weekend in Las Vegas?
Chad: Not only have I been away from racing, but we have a whole new bike. It's a race with a lot of money on the line, but realistically I'm not thinking about winning that money [the million dollar bonus]. The goal is to get some good testing and race time in on the new bike. Mentally it will be nice to get back out there and go through the motions. I want to get back in the hot seat, as they say. It's not a typical race, because it's not the start of the season. My family and I planned on going back to Australia, since it's the time of year when we get to travel home. It's important to go to Australia, because with the birth of our daughter no one back there has met her. However, with the Monster Cup being moved up five days compared to last year, it worked out that I could race the event.
What is your goal for this weekend?
To say that I'm 100% and ready to go win three races and take home the million dollars this weekend is very unrealistic. That would be putting way too much pressure on myself. The focus is on getting back into racing and get valuable testing in. There's no substitute for going racing. You can do a million laps at your practice track and feel like you're ready, but there's nothing quite like getting out there when the gate drops and you're around 19 other guys.
What have you been up to lately?
Most of my time has been spent trying to get new sponsors and get the money flowing so that the budget will be taken care of. That will take the weight off my shoulders and put food on the table for the family. I also have 12 employees to take care of on the race team. I can say that we're definitely a lot better off than we have ever been, and TwoTwo Motorsports is here to stay. That's the plan. I feel like with the sponsors that we're going to launch, both this weekend and also at the beginning of 2013, people are going to be excited. It'll be good for the sport.
When do you head to Australia, and were you always intending on racing a few of the Australian Supercross races?
We'll go there shortly after the Monster Cup. Once I committed 100% to the Monster Cup, Ellie and I booked our tickets to Australia. We booked them without even knowing when the Australian Supercross series dates were going to fall on our trip. I plan on going to the MotoGP race in Australia [note: the penultimate round will be held at Phillip Island on October 28]. I'm a huge MotoGP fan, and it's also Casey Stoner's last race in Australia. He's going for six wins in a row, so it will be nice to see history being made. And, more than likely I would have flown to the Supercross race there to watch, so it make sense to get more race time in. It's a new series and it's not the same series that I was involved with a few years ago, but I wish it well and hope that it succeeds. I'll try to do my part, and if I play a role in bringing more fans to the races then everybody wins.
Logistically it must be challenging to race those rounds in Australia.
Yeah, it's easy to make plans, but it's hard to execute everything. For us, everything has shifted into 2013 bikes, but we really don't have a lot of bikes or parts right now. It puts us in a situation where we're spread pretty thin. Bikes and parts were already shipped to Australia. I'm going to be down there for a month, so I need two bikes. Not only that, but I need three engines, in case anything goes wrong, and also three sets of suspension, tires, and everything else that goes along with it. It's a massive ordeal! I think about how simple things used to be. When I traveled I'd take a set of suspension, a pipe and silencer, and handlebars. It's not like that anymore!
You've mentioned that you've had some time riding the 2013 Honda CRF450. Were you able to take some of ?12 parts and put them on the new bike?
The 2013 bike is all-new, so a lot of the parts don't actually fit. We're lucky enough that we can change engines. We've put ?12 engines in ?13 bikes, but there are modifications that need to be made. With the way the new transmission is beefed up and wider, the countershaft sprocket sits differently, so it requires a different rear wheel. With that said, there are definitely a few things that we have to do to accommodate a 2012 engine in the new bike. It's not a perfect world. We wish we could use ?13 bikes and ?13 parts, but we just don't have enough to go around right now. We're piecing together what we can.
I was talking with [team manager] Dave Osterman this summer about what he was up to, and he was really chomping at the bit to get back racing. Now it sounds like the TwoTwo Motorsports team is busier than ever. How's everyone on the team adjusting to the increased work load?
There's a lot going on for sure! To put it into perspective, we've gone from zero to 60 miles an hour in a day. It has been crazy. That's kind of how it goes, though. There will be some down time, and then all of a sudden you're full steam ahead. I've noticed that when I have down time and nothing is really going on I don't hear from anybody [presumably the media]. Then as soon as I'm back and going again everybody wants to pull me one way or another. It's overwhelming at times. It's a massive load on me. I have to constantly work to find a balance between the race team, my family, the kids and my wife. Everybody wants a piece of my time. Day after day, it's one of those balances that I look for.
I won't take up any more of your time, Chad. Good luck this weekend.
Thanks, John.
VIDEO ALERT: DAVI MILLSAPS ON THE NEW ?ZOOK

MONSTER ENERGY CUP PAYOUT

Hey, have you heard that there's a race this weekend? In Las Vegas? And that the winner of all three main events could end up with a cool $1 million? Oh, so you have heard about the Monster Energy Cup at Sam Boyd Stadium. Yes, it's a very intriguing race. Last year Ryan Villopoto, the man of 2011, capped off his amazing run with the Monster million dollar bonus. He made the field look silly on his way to winning every main event, but that's because the competition was weak in comparison to what we'll see on Saturday. With Chad Reed, Ryan Dungey (who is now familiar with his KTM), Justin Barcia and several potential surprises (although James Stewart tweeted that he's out for this weekend), RV is going to have a tougher time winning the loot.
That doesn't mean that I'm betting against Villopoto. Sure, he blew his knee out at Seattle and missed 15 races (two Supercross, 12 Nationals and I automatically counted him in for the Motocross des Nations team). Ricky Carmichael also blew his knee out in Supercross, and he didn't return to the races worse for the wear. Villopoto looks dialed and hungry to line up again. Given his motivation to defend the Monster Cup win from last year, as well as anticipation to show everyone that he's still as fast as a scalded cat, RV will be ready to go.
Is the Monster Energy Cup worth the trouble for the Pro riders? It depends on the person. You could win $1 million, or the $100,000 overall, or you could finish 40th and earn $500. There's a steep drop-off in payout from third place to tenth (exactly $15,000). Money might not be the biggest motivating factor for quite a few of the riders. Take Ryan Dungey, for example. Last year he only had a few days on the KTM 450SXF before he opted to race the MEC. He didn't win, but he got paid $35,000 (by finishing second overall) for an evening's worth of race testing. Not too shabby. Below is the MEC purse payout:
MONSTER CUP PAYOUT
1. $100,000
2. $35,000
3. $20,000
4. $15,000
5. $10,000
6. $9,000
7. $8,000
8. $7,000
9. $6,000
10. $5,000
11. $4,000
12. $3,100
13. $2,500
14. $2,350
15. $2,150
16. $2,000
17. $1,900
18. $1,800
19. $1,700
20. $1,600
21. $1,500
22. $1,400
23 thru 40. $500
Total Payout: $250,000
MORE MEC NEWS: IT'S AIRING LIVE!

Feld Motor Sports announced that the second-annual Monster Energy Cup, from Las Vegas' Sam Boyd Stadium, will be broadcast to 124 countries around the globe and live domestically on SPEED Saturday, October 20 at 7:00 p.m. PST. SPEED will provide the broadcast to an additional 45 countries and territories outside of the U.S., including Canada and South America. ESPN International will broadcast the race live ? for the first time ever ? to 78 countries in Australia, the Middle East and Africa. Check local listings for exact time and channel.

"The Monster Energy Cup will showcase the sport's top racers in a way that has never been done before – on an international television stage to 124 countries, most of which will be live," said Ken Hudgens, COO, Feld Motor Sports. "Our expansion past North America with the live broadcast in Australia, the Middle East and Africa is a huge step forward in making the Monster Energy Cup one of motorsports' elite properties while highlighting the riders, teams, and sponsors on a world stage. The sport has seen an influx of international riders and we are especially pleased to bring the Monster Energy Cup live to Australia."

The 2012 Monster Energy Cup features an all-new track design inspired by five-time Supercross Class Champion Ricky Carmichael. The Carmichael-inspired track design will consist of supercross and motocross obstacles unlike any other racetrack design in the world. New to this year's track will be a 200′ banked sweeping turn that will be built in the stands, two 11 rider starting gates split by 220′ before they converge at the apex of the 300′ start straight and the joker lane that riders will have to race through at least once during laps 2-10. After racing through these sections of the track, fans will be treated to equally exciting racing lanes that are built into the Monster Energy Fan Zone, which is located outside of the stadium. The Monster Energy Cup posts a $250,000 purse with the winner walking away with a $100,000 check, and any rider that wins all three Main Events will take home $1 million.
MXA'S 2013 450 SHOOTOUT VIDEO

ATTENTION 2013 HONDA CRF450 OWNERS! DUBYA WHEELS NOW AVAILABLE


Dubya USA has been working in partnership with Talon and Kite to bring you the ultimate in aftermarket wheels and wheel components for the newly redesigned 2013 Honda CRF450R, and is now offering Talon and Kite hubs and wheel sets for the latest iteration of Honda's 450 motocross machine.
The 2013 Honda CRF450R utilizes an all-new rear hub design, and 2013 CRF450R owners should be aware that the rear hubs for 2012 and earlier CRF models are not compatible with the new version. For more technical details, contact Dubya at (714) 279-0200. All Dubya wheels begin with a genuine Talon or Kite hub, which is then laced to a D.I.D or Excel rim by one of Dubya's experienced wheel builders in their Orange, California production facility. Pro motocross, supercross, freestyle, desert and supermoto riders around the world depend on the strength and performance of Dubya wheels, and now that performance is available for your new CRF450R. To see the complete list of Talon and Kite pre-made or custom wheel set options available from Dubya, visit their website at www.dubyausa.com, or download their catalog app from the itunes app store at https://itunes.apple.com/us/app/dubya/id501993969?mt=8.
NEW THREADS: RACE TECH ROOST HOODY

Race Tech is excited to announce the newest addition to their casual apparel line. Race Tech's Roost Hoody give riders the opportunity to represent the moto lifestyle and the Race Tech brand wherever they go. Sizes available from Youth Small to Adult XXL for a low $29.99 retail pricetag. Visit racetech.com to see the full line of Race Tech casual wear. For more information about Race Tech's products, seminars and rider support program, please visit racetech.com or call our friendly sales staff at: (951)279-6655. To apply for Race Tech Rider Support, click here.
WHAT'S GOING ON IN THE TWITTERSPHERE?


Cole Seely is stoked out of his mind to be riding again.

Jimmy Albertson is selling his steed.

Adam Cianciarulo is amped for this weekend.

Dean Wilson's hands went through the meat grinder.
NEW THREADS: MY RACE NUMBER CUSTOM HOODY


Get a Shirt with Your Name and Number On It! Personalized Products for Racers, Pit crews, Race teams, Mom, Dad, Kids and More! The price is $24.99 to $49.99. To order, please visit www.myracenumber.com.
RICK RICHARDS AND BRYCE HALL: SAME MOVE, DIFFERENT OUTCOME


Rick Richards put his rear wheel over a berm at REM Glen Helen…and went on to finish third overall.

Bryce Hall put his rear wheel over a berm at Rio Bravo… and moments later crashed.
Hi MXA,
As I was reading this weekend's REM Race Report when I got to the photo of Rick Richards, it was like deja vu all over again. The photo of Rick Richards was almost identical to the one taken of my son Bryce Hall at Rio Bravo on October 6. Unfortunately, Bryce didn't fare as well as Rick. When Bryce's wheel came back over the berm, he lost control, was thrown off to the left, hit a tree, and went down into about a 10-foot gulley.
He broke both arms and fractured his pelvis in two places. He's going to be in a wheelchair for a little while, but is doing quite well, and already wishing he could ride.
Sloan Hall
Kingwood, Texas
HAVE YOU GOT $20,000 FOR A USED 250 TWO-STROKE?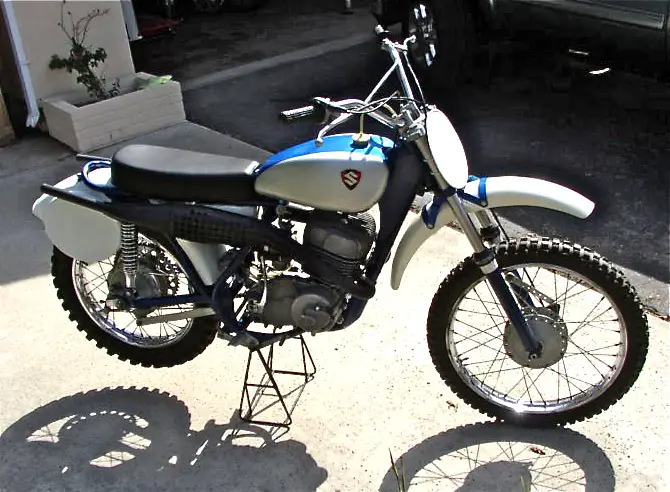 Listed on eBay as a 1967 RH250, but most likely a 1968 TM250, This is considered one of the ten most collectable motocross bikes ever made by museum curator Tom White.
The 1968 Suzuki TM250 was the first official Japanese motocross bike. In 1966 the Suzuki factory sent two engineers and a road racer to Europe to begin developing a motocross bike. Though a single cylinder and a twin were tested, they soon settled on a single cylinder design that was heavily influenced by the 1965 CZ Twin Port 250 model.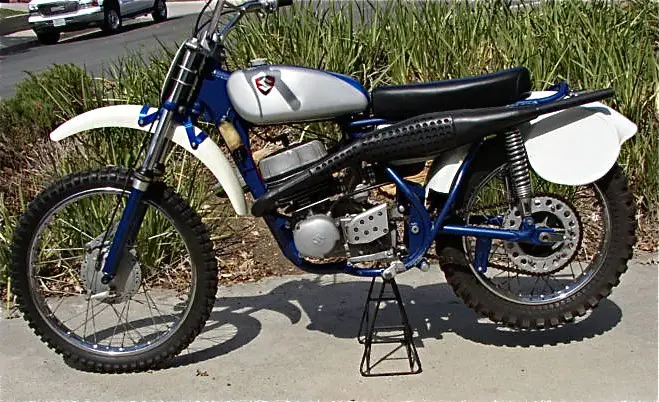 Early GP results were dismal, but Suzuki came back with an improved machine in 1967 dubbed the RH67. The power was peaky and handling was sub-par to the European built machines from Husqvarna and CZ. Despite this, the factory decided to build 200 production bikes based on the RH67 of which 65 came to America.
The TM250 as it was called was raced in America by riders Preston Petty, Walt Axthelm, and Gary Conrad with some success. The TM was sold with a complete parts kit that included pistons, rings, replacement clutch parts, gearing, and carburetor jetting. Estimated value of a perfect 1968 TM250 is approximately $20,000, which is why the current $10,000 bid has not been accepted.