MOTOCROSS ACTION'S MID-WEEK REPORT: (10/19/11)
MOTOCROSS ACTION'S MID-WEEK REPORT
By John Basher
PHOTO OF THE WEEK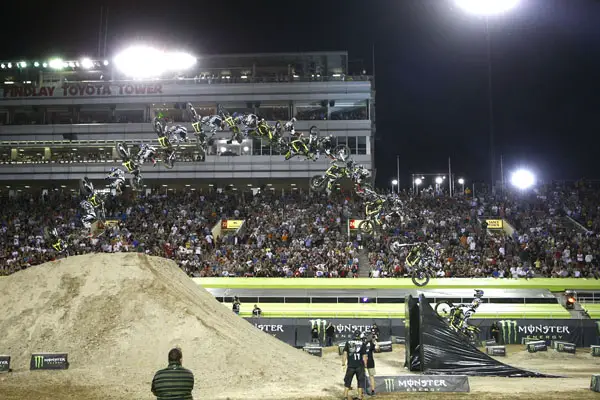 Kyle Loza almost pulled off the very first bike flip, called the "Scarecrow." Almost. Photo: John Basher. 
MONSTER ENERGY CUP: THE AFTERMATH


    The idea of the Monster Energy Cup is pretty neat, and the fans seemed to buy into the concept, as the stands were very full for a first-time effort. I figured it would be difficult getting fans to watch the "outside" portion of the track (that is, the section outside of Sam Boyd Stadium). True to form, no one really wanted to miss the majority of the action (which was inside the venue). It also didn't help that the outside section was fenced off, leaving very little spectator viewing. Next year (and yes, Feld Entertainment has already inked a deal for October 20, 2012) hopefully the course is more conducive to fan viewing beyond the stadium.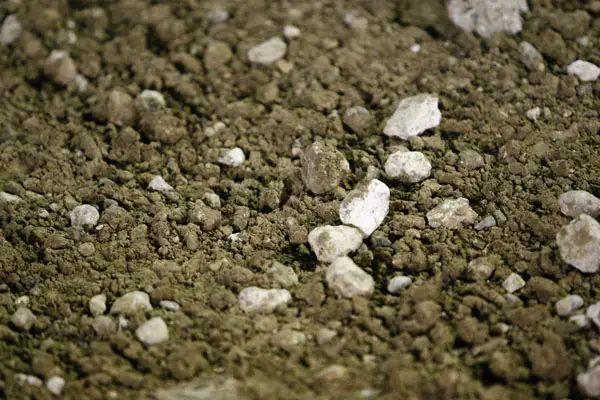 The dirt was horrible. Maybe there was a discount on soil at the local rock quarry, because the dirt was littered with more rocks than what is found at Unadilla. Yes, it was that bad. Riders complained about the poor soil composition, and every practice session and race more rocks would come up out of the ground. Several riders (most notably Broc Tickle, Jake Weimer, Jimmy Albertson, and Eli Tomac) elected to wear hand guards.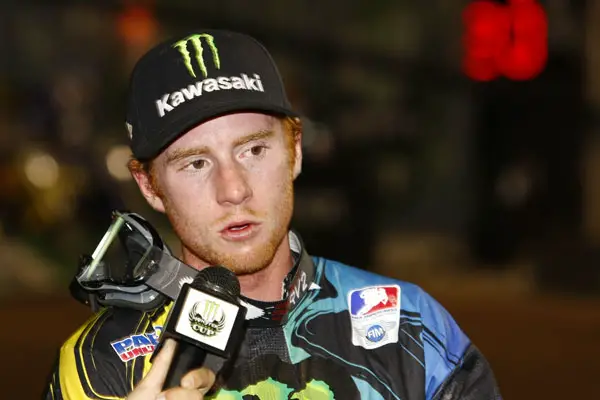 Is it just me, or did Ryan Villopoto sound like winning the Monster Million was no big deal? C'mon, the guy capped off the most complete racing season ever by winning a million bucks. I would have been jumping up and down like a tween at a Justin Bieber concert. Here's what Ryan said after the race, and what I would have said if I were in Villopoto's shoes:
    What Ryan said in a post-race interview: "It's pretty unreal. I'm happy we were able to pull it off. To back it up next year would be hard, so if we do, it would be great. I can't thank my team enough for this amazing victory."
    What Ryan should have said in his post-race interview: "Holy [expletive] [expletive]! I just won a million dollars! For a day's worth of work! Take that, all you people that said that being a professional motocross racer was a bad financial decision! Ha! I'm going to Disneyland, not to ride the rides, but to buy Space Mountain and put a Monster logo on the actual mountain. Yes, I rule!" Or something along those lines.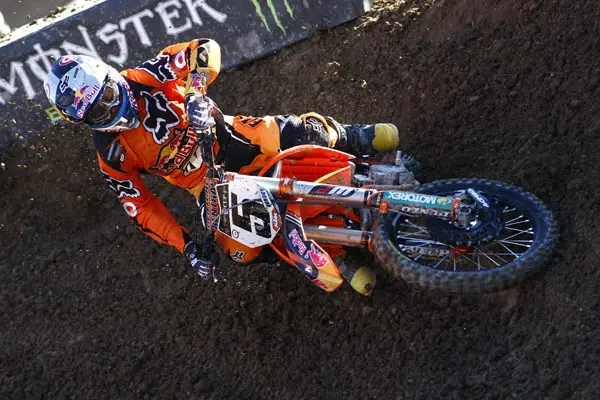 Racers race, plain and simple. It was cool that Ryan Dungey chose to race the MEC. Of course it wasn't an optimal position for Dungey to be in (believe it or not, racers are vulnerable), but it will be a huge benefit for Ryan and KTM come Anaheim 1. Those with bloated expectations would have figured Dungey to run with Ryan Villopoto, but let's be serious. Dungey has practically been racing a Suzuki since he came out of the womb and switched to an unfamiliar brand only two weeks before the race, while Villopoto was on familiar equipment. Kudos to Dungey for signing up and keeping Villopoto (somewhat) honest en route to the million dollar bonus. On a side note, I'd be real interested to hear the exchange of words between RV and RD before the final main event. The two engaged in a short conversation, and then both laughed. Very interesting.

    What did the MEC prove? More than what everyone knows (Ryan Villopoto is the front runner for the 2012 Supercross title), Vegas showed that it's a good thing that there are still a few months left before the season starts up. Mike Alessi (800) will have time to work on his indoor skills, while Ben Townley will try to firm up a ride. Justin Brayton didn't look very comfortable on the Muscle Milk/Honda, and Kevin Windham had a horrendous day. The clock is ticking down until Anaheim 1, which is much closer than anyone thinks.
MINI-VIEW: ANDREW SHORT

    Andrew Short has had a difficult 2011 season. After switching to the Red Bull/KTM team last off-season, Shorty chose to race the 350SXF both indoors and out. Andrew showed glimpses of brilliance, but he never seemed to gel with the KTM. A late season practice crash left him with two broken elbows and a broken left wrist.
    I gave Shorty a call to see how he was doing and find out his new deal with the Larry Brooks/Jeremy McGrath Honda team.
MXA: Andrew, when will you begin riding again?
Andrew: I'm hoping to start riding hard around November 1st. I haven't been able to ride yet since my injuries. I'm just finishing up a mini vacation in Colorado. While at home I was able to base train and ride my bicycle, but I'm really looking forward to getting some calluses on my hands and ride again. It's going to be a tough struggle, but I should be good to go come November.
Are you all healed up from the practice crash?
The elbows and my left wrist seem really good. You never actually know if there's any lingering pain until you get on the motorcycle and go fast down a whooped out straightaway. That will be the true test, but I feel healthy. The recovery has gone really well, and so has the therapy. I hope to start training again. I have my sights locked in for January 7th [Anaheim 1].
What was the cause of your crash?
I'd rather not talk about it. It was one of those things where I was out testing and things didn't go well. I'll leave it at that.
Why did you make the decision to sign with the Larry Brooks/Jeremy McGrath team?
I had a great relationship with Honda for a long time, and to partner with them again is cool for me. I know what I'm getting from the team, and I'm glad to be part of their family again. Also, I'm excited to work with Larry and Jeremy. McGrath was my childhood hero, so it will be cool to go racing with him.
Why decide to part ways with KTM?
KTM is a great team and they have a lot of great personnel. As a company they're really cool. For me, I'm trying to get to the highest level and surround myself with people that can help me get to the next step. I believe that Larry and Jeremy offer something that will benefit me. I'm looking forward to seeing where everything goes. Racing is a business. I'm not getting any younger, and I want to put myself in a position where I can win races. I've got to dream big, and in order to do so I have to put myself in a good place. Where I'm headed is the best place for me.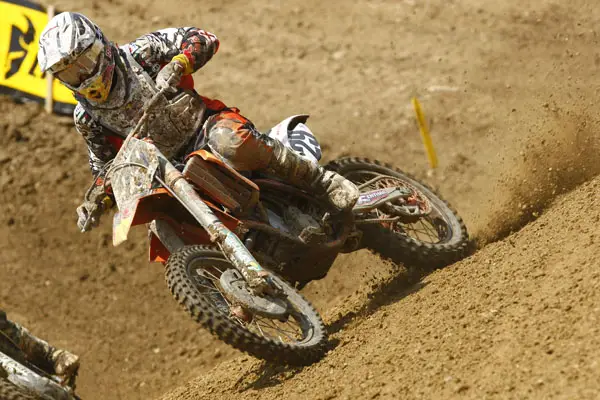 I've been guilty of asking you this question several times before, but does it drive you crazy when people ask you whether you're going to win a 450 race?
It used to really tick me off. It wore on me, because I work so hard. Mentally that's what I strive for, and soon enough it becomes a cancer where you always focus on the negative things. I want to capitalize on my strengths while working on my weaknesses. I need to worry about what I can control, and let the rest be what it is. That's life, and it's all about how you respond to things. The goal is to win.
Being on McGrath's team, you're really going to need to learn how to do a nac-nac.
[Laughter] Well Ken Roczen says that I ride like an old man and I don't even know how to scrub a bike! I'll have to learn something new.
Thanks for your time, Andrew. It will nice seeing you back on a bike and healthy.
Thank you. I'm very excited for next season.
TWEET OF THE WEEK

TWO MUST-RACE EVENTS ON THE HORIZON
    In the next month two major motocross races will be held in Southern California. They are so big, in fact, that if you live out of state it would be a perfect excuse to escape the snow and inclement weather and travel to (hopefully) sunny SoCal. Depending on your age, you can have the opportunity to win a championship, race in a team setting, and go head to head with the world's top racers. What events am I referring to? Read on and find out:

    (1) MTA World Vet Championship: The annual race is a must-do for anyone over the age of 30. Held at Glen Helen, the track features the same hills that were used for the Grand Prix and National. It's one heck of a track, and the preparation is always excellent.
    Perhaps the biggest draw is the opportunity to win a championship in an age group (after all, it is a "World" championship), but it's also a great weekend to spend time with fellow racers. The two-day event will be held on November 5-6. For more information, visit www.glenhelen.com.

    (2) Day In The Dirt: The 14th running of this race brings out some of the fastest riders on the planet, past or present, to do battle on a Grand Prix style course. Held from November 25-27, it's a blast to camp overnight and be among your friends and fellow competitors. There are classes for women, mini bikes, teams, and every level of rider. Entries sell out quickly, so be sure to lock in a spot. For more information, visit www.adayinthedirt.com.
PRESS RELEASE COMMENT OF THE WEEK
Courtesy of Alessi Racing Newsletter:
    "Mike Alessi DID NOT GIVE THE MIDDLE FINGER to  ryan dungey in main event # 3 …he did however point at him with a gesture of passionate racing !"
PIVOT WORKS KTM 50 WHEEL BEARINGS


[Press Release]
    ATTN: KTM 50 owners Pivot Works now has wheel bearing kits for these popular machines!  KTM owners have screamed loud enough that we answered the call and have front and wheel bearing kits for about every KTM 50 from 1998-2012.   The complete kits range in price from only $8.95 to $14.95 so, a great value with the trusted Pivot Works name and quality!
    For more info, visit www.pivotworks.com or call (515) 402-8000.
YAMAHA ANNOUNCES YZ & WR CONTINGENCY PROGRAM
    Yamaha Motor Corporation, USA is proud to announce its YZ & WR Contingency program for the upcoming 2012 race season.
    In its fourth decade, Yamaha's contingency program has always been designed to support and recognize those individuals who chose to go to the starting line aboard a Yamaha offroad motorcycle. For 2012 the program is growing with more events in key regions and states. Whether you spend your time racing Motocross, Supercross, Off-Road, Enduro, Hare Scrambles, Grand Prix or Flat Track, Yamaha's contingency program has you covered. All 2011 or 2012 YZ and WR models are eligible for Yamaha's 2012 program.
    For more up-to-date information and how-to register for the more than $3 Million Dollars that are up for grabs as part of the 2012 YZ/WR Contingency program please visit Yamaha's official website at http://www.yamaha-motor.com/yzwrcontingency starting December 1, 2011. Here you can find detailed event, race and individual payouts. The program period runs from January 1, 2012 thru November 30, 2012.
WORKS CONNECTION 2012 HONDA CRF450R RADIATOR BRACES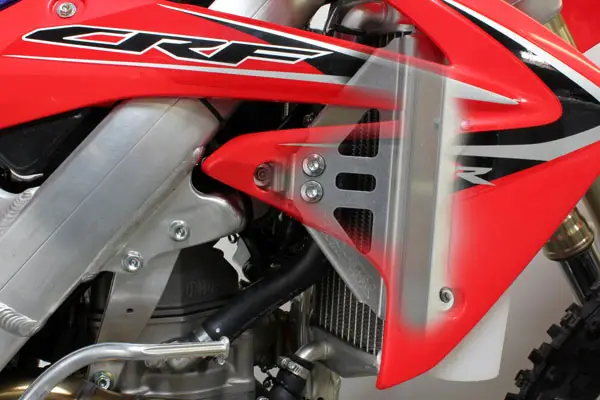 * CNC'd and formed .080 gauge aircraft grade 5052 aluminum
* Reinforces radiators to help prevent costly radiator replacement
* CNC'd billet bracket system incorporates rubber vibration isolators
* Lightweight, custom fit, tuck in cleanly behind radiator shrouds
* EZ install with all mounting hardware included
* Made in the USA
 
Company Name…Works Connection
Product Name…2012 HONDA CRF450R Radiator Braces
Retail…$69.95/pair
Part Number…18-704
Website…www.worksconnection.com
Contact…[email protected]
Phone number…800 349-1475
NON-ELECTRIC ELECTRIC BIKE: KTM FREERIDE 350 FOUR-STROKE TRAIL BIKE


The 2013 KTM Freeride 350 four-stroke trail bike.
If you remember the launch of the first KTM Freeride, it was billed as an electric offroad bike. Now, it turns out that there might be a whole family of KTM Freeride bikes. Including the KTM Freeride E-SX (an electric-powered motocross bike), KTM Freeride E-EXC (and electric-powered enduro bike) and the KTM Freeride 350.

The $10,000 Freeride E-SX concept electric bike.
The Freeride 350 broke cover this week. It reportedly weighs 218 pounds and is equipped with a detuned 350cc, fuel-injected, four-stroke engine with twin mufflers (and electric start). The exhaust runs under the engine and then up to mufflers on both sides. Reported horsepower is 24 compared to the 350SXF's 47 horsepower. The frame is a spin-off of the electric Freeride's aluminum backbone design (with a chromoly head tube and frame cradle) and the gas tank holds a little over a gallon of gas. The mpg from the detuned engine could be impressive. The bike will be unveiled at the Milan Show.
MAN WINS MOTOCROSS RACE AND IT COSTS HIM $23,000


Here comes the judge.
According to the London Mirror: A 20-year-old man, who claimed that he could not walk, and had claimed disability benefits from the British government was filmed by investigators racing motocross. The rider, Jake Preston, claimed to have a rare condition called Syringomyelia and was getting $160 a week in benefits. Records show that Preston had fraudulently pocketed $23,775 since 2007. He pleaded guilty to the charge of failing to notify the Pensions department of a change in his circumstance and an improvement in his condition. Preston, who was diagnosed with the condition as a child, said through his lawyer that there was "no dishonesty" and that he had been told not let the condition ruin his life, so competing in motocross was one way of battling through the pain. His defense is that the paperwork was filled out several years ago, and honestly by his mother, when he was severely disabled?and he never updated it. Preston was ordered to complete 250 hours of unpaid work in the community. The court was told that he is able to do light duties. He must also pay $235 in court costs and repay the full $23,775 that he claimed.
RYNO INSTITUTE COMING TO WORLD VET CHAMPIONSHIP: SCHOOL ON WEDNESDAY, NOVEMBER 2
The Ryno Institute, one of America's premier motocross schools, will be holding a single day of instruction by legendary motocross instructor Ryan Hughes on the world famous USGP track at Glen Helen Raceway on November 2. The Ryno Institute program covers everything that racers looking to step up their game will need to know, including riding techniques, fitness and conditioning. The school will also be a great way for vet class racers to warm up for the MTA World Vet Championships on November 5-6! Racers interested in signing up for the Ryno Institute at Glen Helen Raceway can find more information at www.rynoinstitute.com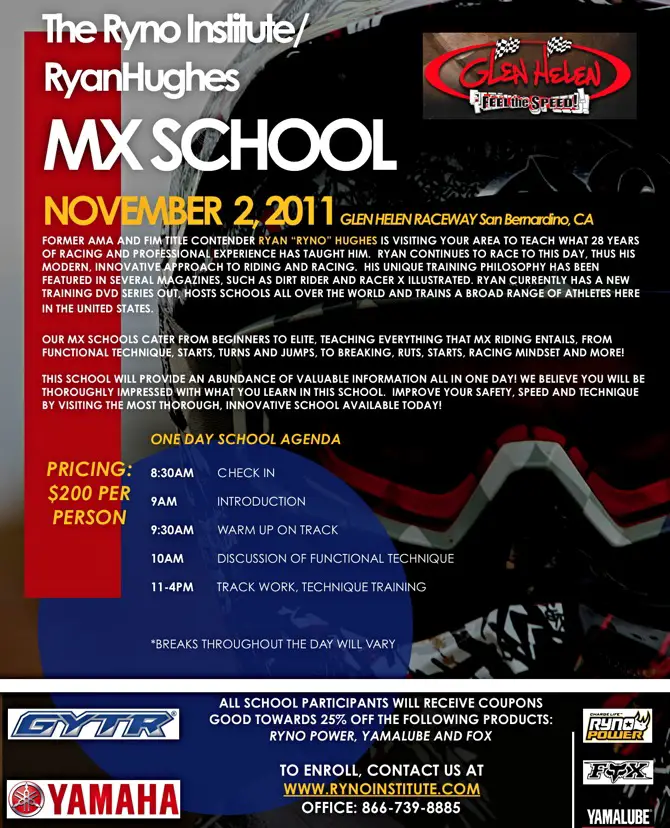 TRAVIS PASTRANA TO RACE ROC IN DUSSLEDORF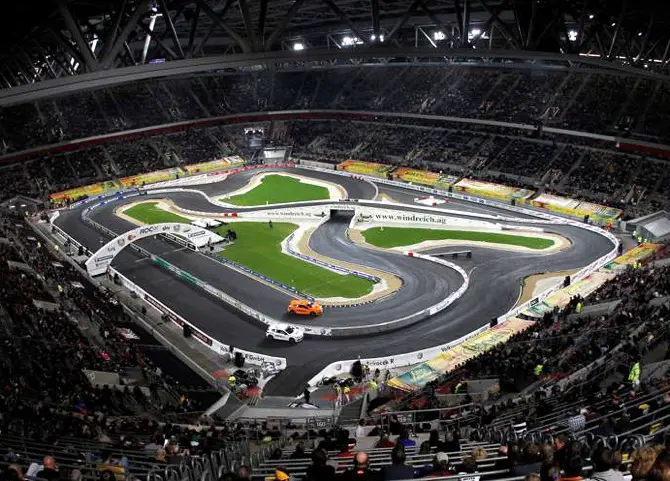 Race of Champions course.
Travis Pastrana has signed-up for this year's Race of Champions auto race in Dussledorf's Esprit Arena in December. Travis has been out of action since breaking his ankle at the X Games. The Race Of Champions is an annual end-of-season competition that brings together the world's greatest drivers and riders from all motorsports disciplines ? including Formula 1, world rally, touring cars, Le Mans and the X-Games ? and pitches them head-to-head in identical machinery on a specially constructed parallel track. Confirmed racers so far are Michael Schumacher, Sebastian Vettel and Jenson Button.
KIMI RAIKKONEN SIGNS DEAN FERRIS FOR GP TEAM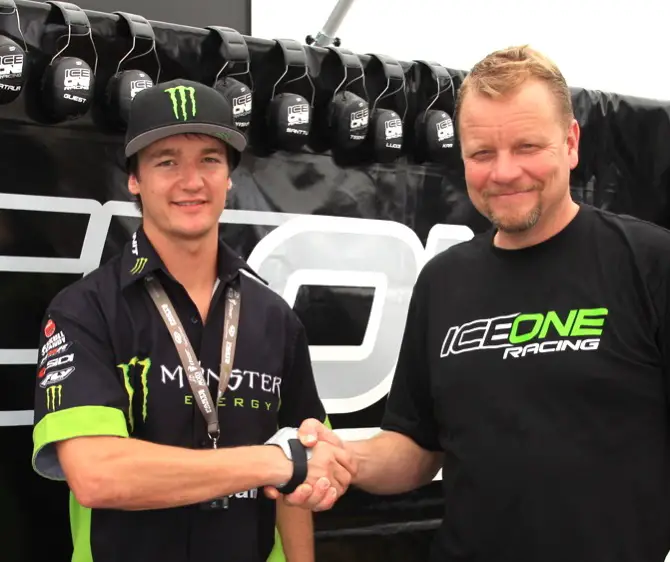 Dean Ferris with ICE-1 team manager Kari Tiainen.
The Kimi Raikkonen-backed ICE-1 Kawasaki team has signed 21-year-old Australian Dean Ferris for the 2012 450 World Championship season. This will be Ferris first full season the GPs (although he did a couple rounds in the past). Ferris was leading the Australian 450 Championship is past year until a torn thumb ligament put him out of the running (and he is still wearing a brace). "I am really excited about joining ICE-1 Racing," said Ferris. "It is a relatively new team in the World Championships, but the guys in the team are really experienced and know what it takes to win races.
Kimi Raikkonen said, "In the 2011 season we gave support to Finnish riders because young talent needs to be supported and we wanted to be a part of giving the Finnish Champions a chance. We feel the same way with Dean also. He's a great rider  and we want to see how far he can go."
HAS HIGHLAND BEEN SAVED FROM THE BONE YARD?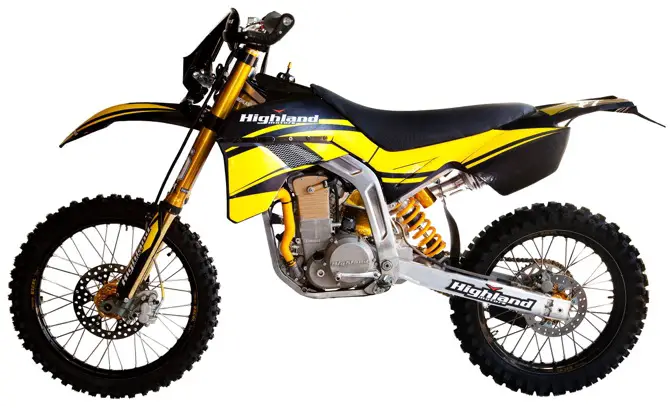 Is Highland back on track…maybe. But maybe it will become a cruiser manufacturer.

Oklahoma dirt bike manufacturer U.S. Highland went into a tailspin after three senior executives were killed in a plane crash in July of 2010. Last January, the Mounds, Oklahoma, plant was shuttered and the company looked DOA. Suddenly, U.S. Highland is back. Robert Harris has been named chairman of the board. Harris, created the Elite Fighting Federation which promoted mixed martial arts events. Additionally, the new CFO is John Fitzpatrick, the former CEO of the  Indian Motorcycle Company (one of several ill-fated attempts to bring back the Indian brand). Fitzpatrick left Harley-Davidson to take over the reformation of Indian Motorcycles in Gilroy, California.
With Fitzpatrick on board, it is assumed that Highland will try to produce big street bikes. It is, however, reported that the company is developing a fuel-injected V-Twin and 350cc, 450cc and 507cc singles for release late in 2012.
RUSSIA GETS A GP IN 2012: MEXICO? THAILAND?


"We will bury you," said Russian team manager Nikita Khrushchev.
Youthstream president Giuseppe Luongo announced last week that Russia has signed a four-year deal to host a Grand Prix (this goes along with the Mexican and Thai GPs that were previously announced). "The MX1/MX2 Grand Prix of Russia is another significant step for the evolution of the FIM Motocross World Championship. Russia is the biggest country in the world and has one of the most important markets. The economy in Russia is rapidly growing as is the motorcycle market industry. With the financial crash in Europe and USA, to develop our Championship and to find new revenue it's imperative to go to growing markets and Russia is one of the first, and we have to continue with Asia, Middle East and South America where we are already present. The future of our sport is tightly linked to the economy, therefore it's important to follow the worldwide market evolution."
Vladimir Gudkov, chairman of the Investment Trade Bank which is funding the Russian GP said, "Implementation of large-scale international tournaments and world championships in Russia will certainly provide a new impulse to development of popular sports in our country. In the framework of social responsibility of business we always encourage significant sport and social projects. One of these projects is construction and modernization of technical sports centre in Semigorje, able to host world-scale competitions. Healthy lifestyle, popularization of physical culture and sport, success of our sportsmen at the international level – all that means higher image of our country, our deserved pride and a pledge of health of our nation."
FREE SHOWA RIDE DAY NEXT FRIDAY!