MOTOCROSS ACTION'S MID-WEEK REPORT: (11/07/10)
By John Basher
PHOTO OF THE WEEK: PART 1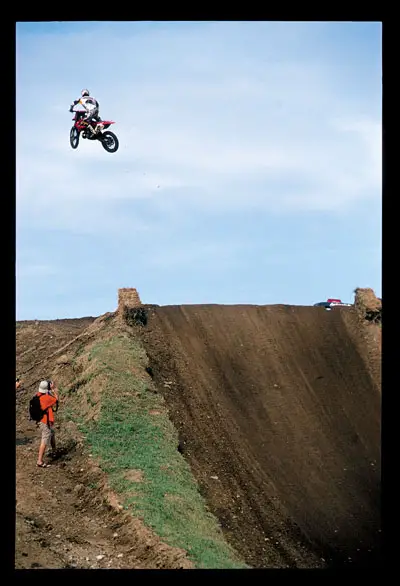 Ricky Carmichael. LaRocco's Leap. 2004. Perfect season. Awesome! Now Ricky is racing in the Camping World Truck Series, working his way towards NASCAR, and he's on the list for most popular driver. Vote for him by clicking here.
MXA MINI-VIEW: BOB HANNAH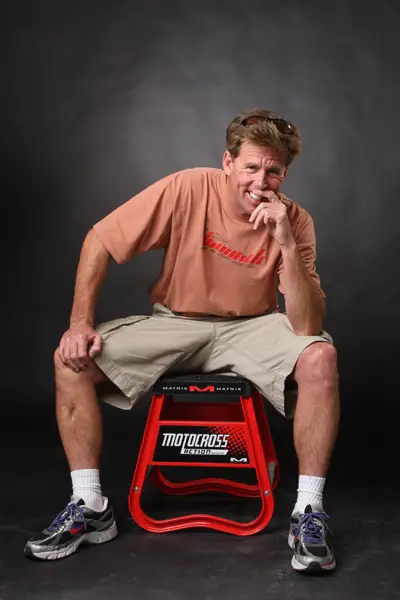 This man needs no introduction. He's controversial. He's interesting. He's funny. And, he provides very good insight.
 
MXA: What are you doing in Southern California?
Bob: My partner and I flew two Bush planes down here to take to Long Beach for an AOPA convention. It's comparable to the Indianapolis trade show. We're going to show a couple of planes down there. I'm also helping Eddie Cole from Matrix with some advertising shoots.
So your life is full of flying these days?
Yeah, I'm flying, bicycle riding and staying home in Idaho. That's all I want in my life. I'm way too busy at work right now. There's more work than I know what to do with. We do a lot of advertising with the company, so a lot of people know us. I heard a year ago that 50 percent of the airplane dealers would be broke by now, but we're actually up.
Have you been following any of the happenings in motocross lately?
Nope. I haven't followed it at all. You're going to have a hard time getting anything out of me!
Ok, well let's say that you're Chad Reed and you're starting your own team…
Wait a second. I thought that he was quitting racing. Isn't that what he's doing?
Now he says that he's going to have his own team next year, racing both Supercross and the Nationals. It's good to have him back on the starting line and equally good that he's supposedly going racing outdoors. What are your thoughts on Reed's decision?
I think it's good that he's doing a whole year. I can't imagine any sponsor being happy with a rider that does a Supercross only deal. If I was riding I wouldn't do Supercross only. Racing both indoors and outdoors is good for the sport. I'm thinking that Yamaha would hate it, but they let James Stewart get away with it.
As a racer, were you preferential to one form of racing over another?
I didn't care. As a racer I liked to race. What I don't get is that nowadays many of the top racers make so much money and they just don't care. If Bubba made $200,000 a year then he would have to race outdoors to make more money, but he makes so much money that he just doesn't care about the outdoors.

Hannah on a Honda.
Do you ever wish that you could race in this era, as opposed to the 1970s and ?80s?
No, although the money sure is nice now! That would be the only reason that I would want to race now. However, I made good money in the day. I'm glad that I rode when I did. It was still fun back then. I think that a lot of these riders don't know what it was like racing back then. I hear that at Supercross races Stewart's camp hands out 100 tickets to sign autographs. I think that's ridiculous! When the races were over I always tried to stay until the last guy that wanted an autograph got one. That was my rule. I didn't hand out tickets! That's crap! When I heard that teams hand out a select number of tickets for autographs I puked. I thought to myself, ?Give me a break!' I'm not trying to throw Stewart under the bus, but anybody that does that is full of crap. That's sick. I stood for four or five hours after a Supercross race in Houston, until well after midnight, and I signed nearly 2000 autographs. Now 100 autographs? Ha! Maybe that's why I had loyal fans. When I rode around the track the fans clapped. They didn't say to each other, ?Oh man, I almost got an autograph from that jerk, but I didn't get a ticket!' I guess the guys make so much money now that they don't care about the fans.
Is there any current rider that you think emulates you on the bike, or has a similar personality?
Let's hope not! We don't need another personality like mine. The rider might get black balled! I don't know many of the riders anymore. Most of the guys hide in their motor homes, so I don't get to see them. I tried to get an autograph a while back, but they already gave 100 out [laughter]. It's all very political now. I think that some riders want to speak out and say what's on their mind, but they don't want to. I really don't think that the times have changed very much. The fans haven't changed. The only thing is that the riders have changed. People tell me that if I was riding now I wouldn't be able to get away with the things I did back when I raced. Bologna! I would be able to get away with everything that I ever did.
Does that include the time you were in a dispute with Yamaha and wore a Bob Hannah jersey instead of the Yamaha jersey?
Oh yeah. There's no doubt in my mind. If I was winning then nobody would say squat about it. The teams let these guys get away with murder, but I don't know why. I remember some controversy about me signing autographs on some part of a fan's anatomy and drinking beer after a race at the end of my career. The head guy at Suzuki asked me if more people liked what I was doing or more people disliked what I was doing. I told him that more people liked it, so he said, ?Continue on.' That's all he wanted to hear. He told me that if I was going to drink beer then I should put it in a cup. Of course I was of legal drinking age.

Hannah towards the end of his career (sans beer can and Sharpie).
So you think that the riders have changed?
Yeah, now it's more of a rock and roll style. There are motor homes, big money, and they don't like to mingle. Maybe they are just too busy or something. It's not the same as the old days. However, there were guys like that in the old days. There were guys that cleared out of the track right after the race. Say I have 50 percent of the fans and Marty Smith has 50 percent of the fans. After a big GP race in Ohio I'm the last guy there signing autographs, but he gets in his car and left right away. In turn 10 percent of his fans that hated me would become my fans because we talk and I sign an autograph for them. I would drag them away. In a sense we had guys like that in those days, but I benefitted from it. What's interesting is that when I quit racing I missed the fan interaction more than the racing itself.
Bob, it's always great to talk to you. Thanks for your time.
No problem.
MINI-VIEW: ALLAN BROWN


Allan Brown, circa 2006, back when he was steering the Moto XXX ship. Now he's the team manager at Star Racing Yamaha.
    Allan Brown is the new team manager at Star Racing Yamaha, which we consider a very good thing. Brown has an overwhelming amount of experience in the industry, having fielded his own team (Moto XXX), working with riders (Tim Ferry and Kyle Lewis, just to name a few), and even building race engines. Star Racing owner Bobby Regan found a diamond in the rough this off-season. For 2011 the Star Racing Yamaha team is fielding Kyle Cunningham, Ryan Sipes, Gannon Audette and Gareth Swanepoel. We gave Allan Brown a ring to find out about his new team.
MXA: Allan, please talk about your new gig.
Allan: Bobby Regan approached me at the Motocross des Nations at the end of September. He was looking for more help on the management side and asked me if I might be interested in a position. We talked about it over a period of a few weeks, and then I pulled the trigger and became the Star Racing Yamaha team manager. There wasn't anything more to it, really.
There has to be more to the story. What was the carrot that was dangling in front of your nose?
Bobby and I have talked a bunch over the years. His team has been around since 2002, and I don't think that people really know that the team has been around for that long. Back when I was running the Moto XXX team he always asked me how I was able to run the team, since there wasn't a big budget or a ton of support. I had to do a balancing act of results versus budget. When he approached me about the job he asked me if I was ready to go racing with a budget where I didn't have to necessarily scrape by. I told him that I wanted to go racing and sleep soundly without wondering how I was going to pay the bills at the end of the month. He offered me the opportunity to be the team manager, and I'm excited.
After the Moto XXX team folded, you bounced around the industry for two years. What exactly did you do during that time?
After the economy went to crap and I wasn't able to go racing at the same level as I could in 2008, I began to focus on doing performance engine modifications for customers on the retail side. I also approached one of the sponsors that we had from the Moto XXX team, Ti Lube, and they still wanted to be involved in racing. In 2009 we did a small 250 West coast Supercross team with Ben Evans and Alex Martin. Then this year the team wanted to be a little higher profile, so we got together with Nick Wey and Team Babbitt's Kawasaki. Ti Lube partnered up with Babbitt's Kawasaki Arenacross team and in turn Team Babbitt's gave us support to take Nick Wey racing. Nick rode quite well and ended up on the Monster/Kawasaki factory team, which made things somewhat confusing.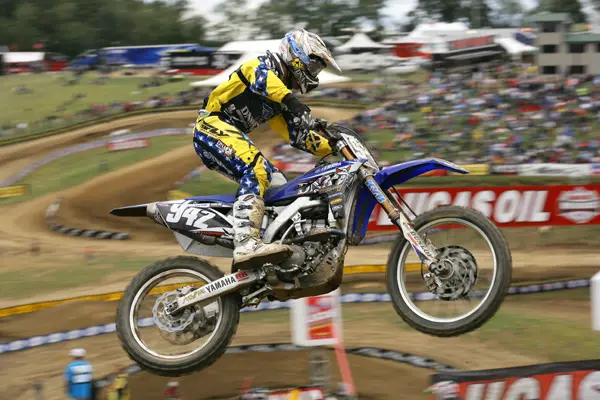 Gareth Swanepoel is a new face on the U.S. racing scene. The South African showed serious promise towards the end of the 250 Nationals, and Star Racing Yamaha owner Bobby Regan rewarded him with a ride.
It must have been difficult losing your only rider to another team early in the season. How did the team sponsors handle the situation?
I gathered up as much support as I could before the season began, and Ti Lube talked about possibly having two riders. Nick [Wey] was very adamant about having a team built around him and only him. We agreed with Nick, but we essentially put all of our eggs in one basket. Nick did a great job of promoting the team and his sponsors, but it was still a hard deal to lose him. We tried to fulfill our obligations to the sponsors. Fortunately most of our sponsors were very understanding. Nick went to bat as much as he could with the media and his fans by thanking his sponsors and promoting those that didn't conflict with the factory Kawasaki deal. Some of the financial sponsors wanted to make a reduction in their support, but for the most part it worked out as well as it possibly could have.
As you previously mentioned, now that you're a team manager and don't have financial obligations, you should probably sleep better at night.
There's weight off my shoulders, because I'm not financially responsible for the team. I'm an employee earning a salary at Star Racing, but I do have other responsibilities that are stressful. I have obligations to produce results. Bobby Regan, with his Star Yamaha team, already has a pretty good program. In Supercross last year they got three podiums and one win, but Bobby wants to improve on that by mixing it up with the Factory Connection and Pro Circuit teams. The pressure is there on that side, but at least I don't have to worry about how I'm going to pay the bills.
Do you have any prior experience working with the four riders that Star Racing signed before they brought you on board?
I have very little experience working with them. I know the veteran 250 racers, Kyle Cunningham and Ryan Sipes, and I expect them to be in the hunt for wins and possibly championships. Then there are two rookies to the Supercross class, Gareth Swanepoel and Gannon Audette, who I haven't worked with before.
Can you provide background information on Swanepoel and Audette?
I will provide as much information as I can. Swanepoel is 25 years old, and he's from South Africa. He has raced the FIM World GP series for quite a few years now, and he was looking to come race in America. Gareth raced the last three Nationals and scored a couple of top ten finishes, so Bobby gave him a shot. Gannon Audette just finished racing the A class at Loretta's, racing guys like Jason Anderson. He was mixing it up with the other top guys, and Bobby gave him a chance.
Kyle Cunningham and Ryan Sipes both have serious potential racing in the 450 class. Will you put those two in the 450 class, or will all four riders be in the 250 class during the Supercross series?
Everyone will be on a Yamaha YZ250F. There's no real plan to have a 450 rider. Star Racing is the Yamaha supported 250 team. Yamaha helps us with some development; however, Brad has done all the technical things on the team since it started. He has some really good engine settings and bike setup stuff. Like I said before, the team is already pretty good. They just haven't ever been able to break out and win championships. That's what we want.

Ryan Sipes has all of the potential in the world, and hopefully Allan Brown can draw the results out of Sipes that everyone knows that he's capable of attaining. After racing a 450 outdoors, Ryan will be back on a 250.
Everything seems to be going well for you, but recently you suffered a very unusual eye injury. What exactly happened?
I enjoy riding dirt bikes. I was out riding offroad trails with some friends about a month and a half ago. We stopped to clear some trail, and as I was doing it I broke a branch off a dead pine tree with my foot. A thorn or something flew up from the branch and went in my eye. I didn't think anything of it, but the object hit me really hard right smack dab in the center of my eye. I flushed my eye out as best as I could, and it obscured my vision, but I continued riding. The next morning I woke up and my eye wasn't doing any better, but it was a Sunday morning, we were pretty far away from home, and I wanted to ride.
Don't say that you just tried to forget about it and continued riding another day.
Oh yeah [laughter]. When I went to drive home on Sunday night I couldn't even drive. I couldn't focus on the road and my depth perception was off. A buddy drove home, and the next morning I couldn't see out of my eye and went to the hospital. I had a really gnarly infection, and they put me on some pretty crazy antibiotics since they didn't know what the problem was. For four days straight they were pumping me with all kinds of things. Then my eye started to clear up, so they let me go home. It's now healed up and the infection is gone. My eye is going to make it, but the lens is broken. The doctor described it like when you get a stone chip in your windshield and the crack gets worse and worse. It's called a cataract. Now I have a bad cataract in my lens, and I'm scheduled for a lens transplant in a month so that I can regain vision in my eye. The biggest thing was the infection, because I let it go for 48 hours. The doctors were afraid that I was going to lose my eye. It was gnarly.
That's insane! Please heal up. Good luck with your new team managerial role, and more importantly, good luck getting your eye back to where it should be.
Thanks for the call.
OFFROAD NEWS: WORCS RACING ANNOUNCES PRO MAIN EVENT FORMAT CHANGE
WORCS Racing is excited to announce a Pro Main Event format change. In 2011, there will be two races per weekend for the pros. One on Saturday and one on Sunday at noon. Each paying full points and pro pay as well.  The races will be 1 hour plus 1 lap on some of the toughest off road courses out there. Both pro events will be combined for an overall round winner with Sunday's event being the deciding factor for tie breakers. This new format change will be very exciting for the spectators and the fastest racers in off road racing will be looking to go even faster. Hot pits and pit strategy will be vitally important since most bikes need fuel right at the 1 hour point.  Due to the variety of WORCS race tracks, race lengths will vary between 1 hour and 8 Minutes to the longest at 1 hour and 26 minutes.  A bonus item for the Pro Class is a new pro payout schedule designed to pay deeper into the field so the privateer Pro can chase the title all year long as well. There will be a $500 top privateer award at each round ($250 per day); so when a privateer does well, they will get paid handsomely.  There will also be a top privateer of the year cash bonus in the amount of $1000.
 Exciting changes are in store for the highly competitive Pro 2's!  Pro2 & Pro2 Lights racing is where the future Pros hone their skills. 
The Format for Pro2: Top 12 racers from the 450A class and the top 12 from the Open A class. The Pro 2 class will earn weekend trophies and the prestigious WORCS National Championship.
The Format for Pro2 Lights: Top six Pro 2 lights will be allowed to qualify from both the 250F A class and the 125A Sport class for a total of 12 entrants. The Pro 2 Lights will earn weekend trophies and the prestigious WORCS National Championship. In addition, one drop will be allowed in the Pro2 and Pro2 Lights for 2011
New Pro Format Promo video, click here.
PICTORIAL PERSPECTIVE ON HOW TO WIN
For some, winning a moto is the easiest thing in the world. Line up, go when the gate drops, and lead from wire to wire. For other riders, the possibility is that of walking on the moon. For Ryan Hughes at the World Vet Championship this past weekend, he was part of the former group. Below is a pictorial perspective on how Ryan Hughes won the 30 Pro class.
STEP 1


Notice how calm, cool and collected Hughes is on the starting line. His gate is swept so well that you could probably eat off the concrete. There's no chance that he will spin off the pad. Why? Ryno has confidence. He is also set up with a straight line to the first turn. Very smart.
STEP 2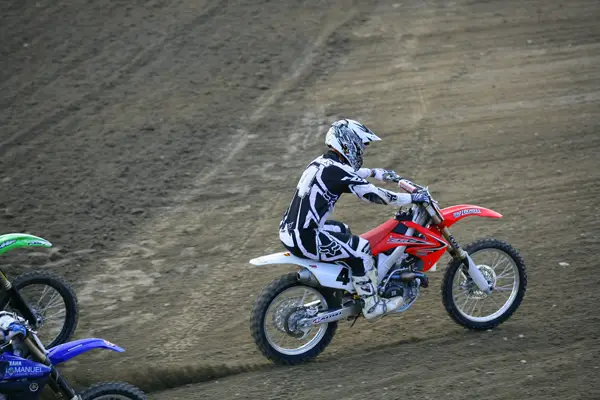 Hughes was always a fairly good starter in his professional days of racing. He hasn't lost the technique, as this photo illustrates. Nearly 100 feet out of the gate Ryan already has a bike length lead over his competition. Getting a massive jump allowed Ryno to control the field as everyone filed into the banked Talladega first turn.
STEP 3


With 16 other Pro class riders in tow, Ryan powers through the first turn. What's interesting is that Hughes didn't ride an exotic bike with trick engine work or suspension. Instead he borrowed our CRF450, covered up the #8 so that he could run his favorite number (#4), and slapped on an FMF exhaust.
STEP 4


By the beginning of the second lap of the 30 minute moto Ryan sprinted out to a straightaway lead. He immediately demoralized his competition, leaving everyone else to fight for second. Once Hughes padded his lead he backed his speed down to a comfortable gap. In turn he saved energy for the second moto (which he also won).
STEP 5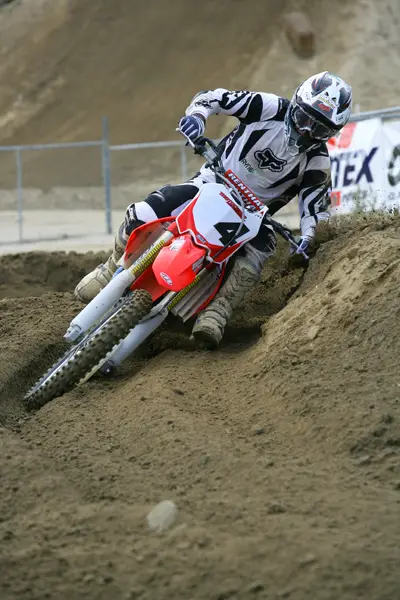 Corners, corners, corners. That's what really matters in motocross. Glen Helen had several larger jumps, but a race is not won or lost because of a few jumps (unless we're talking about Supercross). Ryan focused on corner speed and line selection, often switching up lines while looking for a smoother and more direct path. How cool is it that Ryan's lean angle is so steep that he's actually dragging bar along the embankment? And that, ladies and gentleman, is how Ryan Hughes won his third World Vet Championship title.  
PRESS RELEASE: KYLE REGAL RE-SIGNS WITH FLY RACING

FLY Racing is proud to announce Kyle Regal has signed an agreement that will see him continue to wear FLY Racing racewear in 2011. Regal, who will race in the 450 class in AMA Supercross and selected Outdoor MX in 2011 with L & M Racing, will wear FLY Racing's Evolution and Kinetic racewear lines.
"I'm very happy to be a part of the FLY Racing team and I'm really looking forward to the upcoming year with everyone involved," said Regal about his renewed contract with FLY Racing.
Craig Shoemaker, Owner of FLY Racing, is also thrilled about the continued agreement with Kyle Regal:  "We're excited to continue supporting Kyle. He's shown that he has the speed, fitness, and mental toughness to run at the front of the 450 pack. We expect big things from Kyle and wish him the best of luck in 2011."
Look for the #30 of Kyle Regal when he lines up at the gate at round one of the 2011 Supercross series.   For more information, and to view its exciting 2011 line-up of racewear, helmets, casual wear and hard parts, visit FLYRacing.com.  Find FLY Racing on Facebook, Follow FLY Racing on Twitter, or Watch FLY Racing on You Tube.
PRESS RELEASE: AMSOIL SIGNS ON AS OFFICIAL AND EXCLUSIVE OIL OF MONSTER ENERGY SUPERCROSS
 
Feld Motor Sports announced that AMSOIL, based in Superior, Wis., signed a multi-year agreement to be the official and exclusive oil of Monster Energy Supercross, an FIM World Championship, that begins January 8, 2011 at Angel Stadium in Anaheim, Calif.
 
The three-year agreement marks the company's first partnership with the Monster Energy Supercross championship. AMSOIL began sponsoring motorcycle racing in 1999 and their dedication to showcase their industry-leading synthetic lubricants to the legions of Monster Energy Supercross fans is the next step in their commitment to racing.
 
"The Monster Energy Supercross sponsorship helps solidify our presence in the motorcycle market," said AMSOIL Race Program Manager Jeremy Meyer.  "Supercross brings exceptional television coverage, competition and a dedicated fan base week-in and week-out.  Their fans demand a high-quality product at the track and AMSOIL has an excellent opportunity to showcase almost 40 years of quality products."
 
In addition to their on-site presence at the 2011 Monster Energy Supercross championship, AMSOIL will be featured on the CBS Sports and SPEED television package with more the 90 hours of programming.
 
"AMSOIL's rich, 40-year heritage has provided the perfect springboard to their involvement in supercross racing for more than a decade," said Todd Jendro, senior director of operations, Feld Motor Sports. "Throughout the years they have created a relationship with top supercross racer Kevin Windham, and their support to the world's largest indoor, off-road motorcycling racing championship signifies their commitment to excellence. Feld Motor Sports is proud to welcome AMSOIL to our family of sponsors of Monster Energy Supercross"
PHOTO OF THE WEEK: PART 2


    Carey Hart runs a Supercross team (Ivan Tedesco and Chris Blose are on the team for 2011), is married to singer Pink, and runs a huge tattoo shop in Las Vegas. Despite all of his obligations he still finds time to ride freestyle motocross. Here he goes back to his roots with a Superman Seat Grab out at Wyvern Ranch last week.