MOTOCROSS ACTION'S MID-WEEK REPORT: (11/16/11)
By John Minert
MXA INTERVIEW: ERIK KEHOE
The Factory Honda Team has a new title sponsor, a new ride, a rider recovering from a broken leg and a new satellite team on the Honda brand. We talked with team manager Erik Kehoe to get a status report on the 2012 team and to find out the Factory team's role with the emergence of more satellite teams in the last two years.



It may be the off-season, but Erik Kehoe is hard at work preparing for Team Honda Muscle Milk's 2012 assault.

MXA: Tell us about the 2012 team.
Erik: Brayton and Canard will be on the Muscle Milk Honda Team and we're really excited. Trey is only recently back on the bike, but he hadn't lost much fitness. He had been keeping his training and his cardio going in unique ways because he wasn't been able to ride or put weight on his leg for a while. He just recently got released to ride again. He's taking it one step at a time, I'm looking forward to his full recovery.

What are some of those unique training methods?
He has taken up swimming and he has been doing that a lot more. As for his unique ways, I don't know that he would want to divulge all of them. He's a very determined athlete. I think that one of the reasons Honda is so proud to have him represent the brand. He's a true ambassador and a champion. In his goals, he has a lot of ways of focusing his effort to become a champion. He's really looking forward to next year.

Trey is creative with his fitness, training with a broken leg. He is also creative on the bike with sweet fender-slappers.
Trey is so upbeat, what it's like working with him?
That's one of the things, and it's the same with Justin Brayton coming on board. Both of those guys are very hard-working, determined, respectful guys. We're very very proud to have them represent Team Honda Muscle Milk, the new title sponsor. I think we have some great guys that kids can look up to. It's going to be a good season, and it's going to be fun.

What have you learned about Brayton so far?
I've trained with him a little bit on mountain bikes. I've seen him in action when he rode the Monster Energy Cup in Vegas. He didn't have much time on the bike, but he showed how determined he is. He is really determined to take his program to the next level and he has been working hard at it. With his program, combined with some things in our program that we can help with, it can take him to the next level.

Will there be any team infrastructure changes or improvements for 2012?
We're always striving to improve things a little bit. We've got a great staff working with us this year. The infrastructure is very similar. The biggest change is the additional teams that are using our equipment. We're helping out Chad Reed, of course. He will be back on board Hondas with TwoTwo Motosports. Andrew Short will also be back on board Hondas with the newly formed McGrath/Brooks led team. And Kevin Windham with the Geico Powersports team. He's focused on being the veteran and making some improvements on his program too. So it's going to be an interesting year. We have a great dynamic of guys and a wide variety and it's going to be fun.

He will keep the Muscle Milk decals, but Justin Brayton will be on a Factory Honda for 2012.
What's the dynamic of having all these satellite teams now and what's your role?
Each one of these teams has put together a great program. Chad has shown this year that he put together a strong, dedicated team with great technicians and great staff. Jeremy [McGrath] and Larry [Brooks] both have experience [building teams] in the past. They are assembling a team around Andrew Short. Our role in this is going to be on the equipment side. We've got our team staff with Dan Bently and Shane Drew working on our engine development and chassis development. It's going to be an interesting time. We're going to have more riders to get more feedback and help develop our equipment moving forward. We'll have twice as much feedback coming in to make things better for the future. Our role will be communicating and helping them with their equipment, making sure it's at the best possible level. When it comes doing to being on the starting line, may the best man win, because all those guys will all be good equipment. Hopefully we can win some races and win a championship next year.

We like running into you at the local tracks. Is the pro off-season your riding season?
Yeah. This off-season I'm not doing too much riding, I have a pretty busy schedule so no Day in the Dirt or anything for me. I usually do a a couple races a year in October, November, December. I'll have to skip some of those races this year and come back and do Day in the Dirt next year.
MONTE McCOY MEMORIAL SERVICE THIS SATURDAY IN ST. PETE


Monte McCoy.

Memorial services for Monte McCoy will be held Saturday, November 19, 2011 from 1:00 pm to 3:00 pm at the:
   Pasadena Baptist Church.
   635 64th St. S.,
   St. Petersburg, Florida 33707
   (727) 345-6042
For more info go to www.montemccoy.net
MOTOCROSS ACTION NEWS WIRE: MISCELLANEOUS STUFF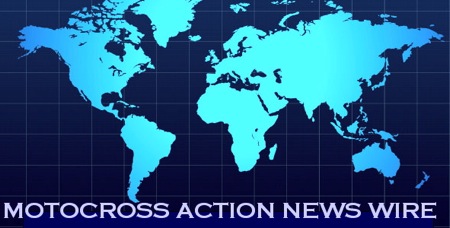 Ben Townley: Australia's www.fullnoise.com is reporting that Ben Townley will most likely sign with the Carlton Dry Honda team to race the 2012 Australian National Motocross Championships…and then race the AMA Nationals for the Troy Lee Designs team.
Golf course motocross: In Bermuda, the grounds keeper at the Paget golf course tried to stop two men from riding dirt bikes on the greens. When he stopped one of the riders the rider assaulted him. He received minor injuries and the police are looking for a six-foot two- inch, 200 pound, black man in a T-shirt and black pants.
Davi Millsaps: Although Davi tweeted the news over a week ago, Joe Gibbs sent out the official announcement that they had re-signed Davi Millsaps for their 2012 team. Millsaps will join James Stewart on Yamaha YZ450F's.
Genova Supercross: Chad Reed and Justin Barcia are the only AMA riders signed up for this weekend's Genova Supercross (and Reed has to add an "A" to his number 22?probably with duct tape because 22 in Europe is Dylan Ferrandis).
Women's Motocross: Livia Lancelot explained why she will not race the FIM Women's Motocross Championship any more, "The new schedule is not good for the girls. In the past the women were racing with the MX1 and MX2 series, so for a team it was not too difficult to insert a woman to their program. This year most of the races are with the MX3 series; you travel in many countries, you need another van, you have not so much press covering the series and that's an expensive program. With my partners we decided to go the X Games rather than the GP's." Obviously, Livia doesn't know how often the X Games drops events on the spur of the moment.
Brian Deegan: Brian Deegan will join Travis Pastrana at the Dusselldorf Race of Champions auto race on December 3-4. The Race Of Champions is an annual end-of-season competition that gathers the world's greatest drivers from F1, world rally, touring cars and Le Mans. The drivers battle head-to-head in identical machinery on a specially constructed parallel track. It does seem odd that the two-man American team is made up of motocross racers. Don't we have any Indy, NASCAR or Sprint car drivers who want to race. So, far 14 drivers have committed to the race, including Sebastien Vettel, Michael Schumacher, Mattias Ekstrom, Jenson Button, Timo Glock, Vitaly Petrov and Tom Kristensen. For more info go to www.raceofchampions.com.
Suzuki MotoGP team: Is Suzuki pulling out? No word from Suzuki, but Suzuki missed an important deadline to announce its entry into the 2012 MotoGP series. Additionally, Rizla Suzuki team boos Paul Denning sent out an email to team members saying that Suzuki "was pulling out of MotoGP" road racing. Finally, 2011 Suzuki MotoGP rider Alvaro Bautista signed a contract to race for Gresini Honda next year. If Suzuki leaves world road racing, that only leaves Honda, Ducati and Yamaha on the 2012 grid.
AMA Motorcycle Hall of Fame: The AMA Hall of fame Induction Ceremony is this weekend at the Red Rock Casino in Las Vegas. The AMA marketing department went into overdrive as a list of the corporate sponsors in this AMA press release will prove; "The AMA Visa Card Motorcycle Hall of Fame Induction Ceremony, presented by KTM, is part of the 2011 AMA Visa Card Legends & Champions weekend. In addition to the Hall of Fame induction ceremony on Nov. 18, the Motorcycle Hall of Fame Dave Mungenast Memorial Concours d'Elegance takes place on Nov. 19. The bike show features some of the country's most impressive original and restored classic motorcycles. Closing out the weekend is the AMA Visa Card by Capital One Racing Championship Banquet on Nov. 20, where amateur AMA Racing champions of all ages will be recognized for their 2011 accomplishments."

SHERCO EVOLT ELECTRIC ENDURO BIKE: WATER-COOLING, CLUTCH & GEARBOX


By combining the clutch, transmission and gearbox from an internal combustion engine to an electric motor, Sherco has enhanced the capabilities of an all-electric bike.
 
The small European Sherco company, the name comes from Sherpa and Bultaco combined, has gotten a leg up in the brave new world of electric dirt bikes. The Sherco Evolt was shown for the first time at the Milan Motorcycle Show and featured an electric motor that was water-cooled, connected to a clutch and with a two-speed gearbox (to maximize power and range). Sherco says that by water-cooling their electric motor they can increased battery range by 30 minutes.

The clutch is for shifting between the two-gear transmission.
Additionally, the two-speed gearbox allows not only for an normal power, but also tighter gearing for trail sections and low-speed work. The Evolt is placed in the standard chromoly Sherco 250SE chassis.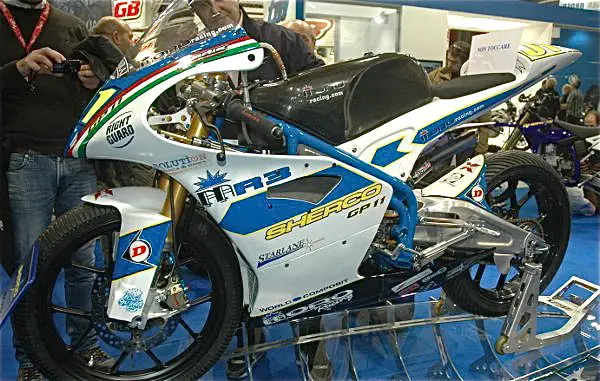 Sherco is working on a Moto3, 250cc, single cylinder road racer. Sherco MR3 GP11 was developed by former Aprilia technician Franco Moro (MR stands for Moro Racing). The bike was raced in 2011 by Alessio Cappella.
Claimed Evolt horsepower is 35 horsepower with a 220-pound dry weight (without the unnecessary gas). The forks are 48mm Sachs OR forks, while the shock is a WP.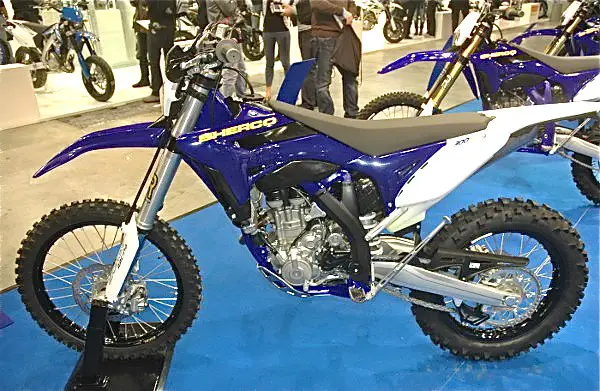 Sherco also makes four different displacement four-strokes for offroad use. This the 290cc Sherco SE 300i. It is fuel injected (by Magnetti Marelli). Sherco also makes 250, 450 and 510cc versions.


Even though Sherco's name comes from a combination of Spanish trials bike names, Sherco has factories in France and Spain.
BIMOTO BBX300: THAT IS NOT A KTM OR GAS GAS ENGINE, SO WHAT IS IT?



High-end road bike boutique builder Bimoto showed a 300cc two-stroke dirt bike at the 2011 Milan Show last week?the BBX300. The most interesting part of the chromoly-framed Bimoto BBX300 was the two-stroke engine. What is it? Did Bimoto build it? Is it a Gas Gas engine? A KTM?

The power valve is electronic, the electric starter is in front of and under the crank and the water pump is internal.
The engine is a Jotagas (JTG) design, built by the newly formed company based in Aragon, Spain. JTG wants to build their own trials and offroad bikes, with the help of seven-time World Trials Champion Jordi Tarres and enduro racer Miki Arpa. Since JTG is not ready with its line of bikes, it is assumed that they agreed to sell their engine to Bimoto for their prototype 300cc BBX.

The JTG two-stroke engine.
The engine has a 72mm x 72mm bore and stroke and is fueled by a 38mm Keihin PWK carb (with TPS). The engine has an electronic power valve along with an electric starter that is neatly tucked in under the front of the engine cases. The water pump is also internal, which means that you can work on the clutch or other side cases parts without draining the coolant. The transmission is a six-speed.
WOULD YOU LIKE A FANTIC CABALLERO 125 TWO-STROKE? TOUGH LUCK


The Fantic Caballero Cross 125 comes with Nissin brakes, Michelin Starcross tires, Excel rims, Moto Tassinari reed block and a 38mm Keihin PWK.
Fantic made a big splash at the Milan Show with the Caballero Cross 125. Equipped with a liquid-cooled 124cc two-stroke engine, that Fantic Caballero cuts and interesting swath with its chromoly girder-style frame. The front suspension is Marzocchi, while the rear shock is an Ohlins. Fantic makes 50cc, 125cc, 200cc, 250cc and 300cc two-stroke offroad bikes.


Although a conventional looking 125 in layout, the dual-tube, chromoly, girder frame gives the Fantic a touch of the exotic.
Fantic Motor is an Italian manufacturer that started making bikes in 1968. Fantic enjoyed its greatest success in observed trials with several world titles. There is no Fantic importer for the USA.
2012 AMA 250/450 NATIONAL TO BE SHOWN ON VERSUS: VERSUS TO DISAPPEAR


MX Sports Pro Racing and Alli Sports, a division of the NBC Sports Group, announced today that NBC Sports and NBC Sports Network (renamed from VERSUS on Jan. 2) will be the new broadcast home for the 2012 Lucas Oil AMA Pro Motocross Championship. The broadcast partnership will feature three live hours on NBC Sports and 21 hours of race programming on the NBC Sports Network, with 11 hours live.
The 2012 season expects to continue the upward trend the series has experienced since MX Sports Pro Racing and Alli Sports became partners in 2009. Since that time, motocross has enjoyed unprecedented growth with fans, and has seen its television audience nearly quadruple in just three years. This new partnership comes on the heels of a highly successful 2011 season that reached the largest overall motocross audience through television, digital and on-site viewers in the sport's 40-year history. In 2011 the series saw a 36 percent increase year-over-year in domestic television viewership, along with a 50 percent increase in overall website traffic.
"NBC Sports and the NBC Sports Network are the perfect broadcast partners for the Lucas Oil AMA Pro Motocross Championship," said MX Sports Pro Racing President Davey Coombs. "We look forward to engaging motocross' strong and devoted fan-base via the various broadcast and digital platforms available through our relationship with Alli Sports. Our work together over the past three years has done a tremendous amount to grow the sport and we're excited to build on it with the expanded television partnership with the NBC Sports Group."
With the move to the NBC Sports Group, Alli Sports will have greater flexibility to offer complete packages to sponsors that include media assets, series sponsorship opportunities, as well as more live hours, better programming windows and the ability to cross-promote the series across various networks and platforms.
"The new television package not only provides new opportunities for our fans, but allows us to better support both our current and future business partners with more robust and flexible sponsorship packages," said Alli Sports President Wade Martin. "The Series has seen amazing growth on all levels and the new television package is another big step."
"The Lucas Oil AMA Pro Motocross Championships is a terrific programming property for the NBC Sports Group, particularly due to its popularity in young male demographics," said Rob Simmelkjaer, Senior Vice President at NBC Sports. "It will serve as an important part of our action sports strategy going forward."

TCX'S JOSH WHITAKER INTRODUCES THE NEW 1.1 BOOT
TCX went through some changes and is looking to get back in the motocross boot game in a big way in 2012. We got to sit down with some of the TCX folks and take a look at their new moto boots. Here's what TCX's Josh Whitaker told us.


The new Pro 1.1 has memory foam in the ankle to conform around the foot.
MXA: Can you tell us about the company's history?
Oxtar was the original brand. There were some legal battles about the name and they decided to change the name to TCX. The official name change took place in 2007. They had a distribution partner that they were working with in the United States. They moved away from that partner to sell direct and they have been selling direct to the dealer-base ever since. They have been supplying dealer with a high-margin, high-quality product ever since. TCX started off with a high-tech product at an affordable price. At the $449 price point for the Pro 2.1 you get a list of features that your $500 and $600 boots have.

Tell us about the new boot.
We just introduced the Pro 1.1. It's a mid-level boot at $279. It's feature-rich for the $279 dollar price point. It's much like it's big brother, the Pro 2.1. It's got a lot of technology and engineering behind it to make the safest, most comfortable and best priced boot you can make. The 2.1 will be available in February. We're just getting our samples now, and we're pretty excited about this price point.

What did you offer before the 1.1?
We had a boot called the Dune. The Dune was a $129 entry-level boot. Instead of keeping that boot, we added more features, brought in some more technical advantages and bumped up the price point to the $279 mark. It's a non-bootie boot, and a great boot at another price point with different features. One of the great things about the Pro 1.1 is it's memory foam. Around the ankle area is a memory foam, kind of like the mattresses. It gets the boot to really fit around your foot and maintains comfort. We did a lot of testing with that foam base and it really gives you that customized boot feel. Everyone's ankle is a little bit different, and it really breaks in for you. We have used the technology already on the road race side, and it has been successful.
What are the updates to the 2.1?
For 2012 the only update is a buckle package with extended buckles and different colors. The basic foundation of the boot will stay the same. We focus on the 1.1, which is an all new boot, created from scratch.

Are these boot made in Italy?
Every boot in the TCX line is originally designed in Italy. Some are made in Italy and some are built out of Europe. Some manufacturing is done in Romania, but I'm not sure which lines come from there, Italy or the Asian side.

Which are wearing the boot?
Taddy Blazusiak is a great guy who has been wearing TCX for a long time. Nick Wey has been in TCX a long time too. Cyril Despres and Marc Coma from the European side. Last year we had Malcolm Stewart. We are focusing more on "A" riders at the local and amateur level.
JIM McNEIL MEMORIAL SERVICE TODAY AT 4:00


James Ryan McNeil: 1979-2011.

Glendale, Arizona, freestyle motocross rider Jim McNeil's funeral service will be held on Wednesday, November 16th from 4:00 p.m. to 6:00 p.m. at CCV-Christ's Church of the Valley. The address is 7007 W. Happy Valley Rd. Peoria, AZ 85382 and will be held from 4 p.m. to 6 p.m. All friends and family are welcome and are encouraged to attend.

KEEP IT CLEAN! BRAKES,PLASTIC, TIRES, HANDS AND YOUR COMPLETE BIKE


For more information go to www.1pt7.com
TWIN AIR AT THE TURKEY DAY MINI O'S




Twin Air products will be available to racers competing in the 2011 Winter National Olympics in Gainesville, FL. Twin Air will be represented by Revolve Racing during the week of the National Olympics. As riders finish out their 2011 amateur national season, Twin air realize how important this race is to everyone involved and want to provide the best filtration products on the market. Twin Air will be on hand to supply the industry leading filter, pre-oiled for your convenience.
All riders are invited to visit the Revolve Racing booth to check out the latest from Twin Air. From air filters to air box covers to oil fFilters, Twin Air has all the filtration products you need to achieve maximum performance and protection. For more information on this promo event, please contact Twin Air USA at [email protected] or (800) 749-2890 or Revolve Racing at www.revolveracing.com or (877) 897-1966.
26TH ANNUAL DEATH VALLEY GOLF CLASSIC – DECEMBER 2, 2011


You need a seven iron just to pitch your ball up to sea level in Death Valley.

Glen Helen Raceway is proud to support the 26th Annual Death Valley Golf Classic scheduled to take place on Friday, December 2, 2011 at the famous Death Valley Ranch Golf Course (284 feet below sea level?the world's lowest golf course). This tournament is a fundraiser providing scholarships through the 128CM Scholarship Fund (www.128CM.org). This fund was created in honor of those lives that were tragically cut short in a plane accident on March 22nd, 2009 in Butte, Montana. Thanks to the generous support at last year's event, we were able to donate over $35,000 to Loma Linda University School of Medicine and Lodi SDA Elementary School. Glen Helen is putting up a Brand New 2012 KTM 450SXF for a Hole-in-One Challenge. For more info go to www.128CM.org.
TROY LEE GETS A NOTRE DAME LETTERMAN'S JACKET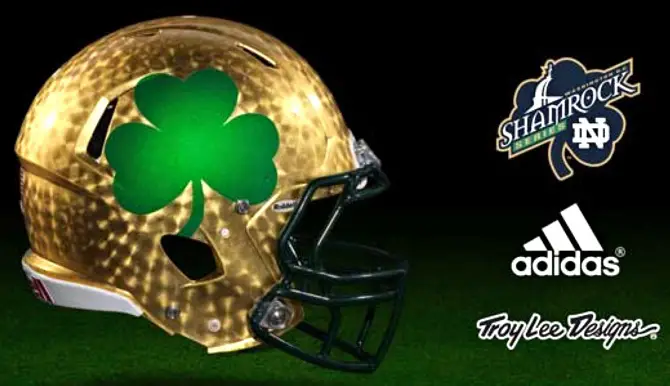 The University of Notre Dame celebrated its Shamrock Series football matchup last Saturday against the University of Maryland, by wearing helmets specially designed and painted by Troy Lee Designs.
The Shamrock Series is the new term delegated to the off-site game played by the Notre Dame football team each year. For this year's game each football season, the Irish deviate from the norm by having their helmets painted by the famous motocross designer. The helmets were covered in 24-carat gold leaf.

THE COLOSSUS OF RAMPS: THE BIG BOY III


Motocross is supposed to the "extreme sport" of motorcycling, but this gives the term a whole new meaning. It's not a motocross-specific product, but we had to post this press release pic when we saw this guy driving his three-wheeler into the truck. Discount Ramps is bound and determined to offer a ramp to meet every possible need. Case in point, the Big Boy III is available in an eight-foot version for $599.99, nine-foot version for $659.99, ten-foot version for $739.99, and 12-foot version for $899.99.
Unless you and you're buddies want to be able to ride three bikes into the back of your truck at the same time, you probably don't need a Big Boy III, but believe us, Discount Ramps has the perfect ramp to suit your needs on their website, along with plenty more contraptions to browse through. Visit www.DiscountRamps.com or call (888) 651-3431 for more info.

SHIFTING GEARS IN THE DUNES AT GLAMIS WITH HANSEN, HILL, EMIG AND RICHMOND
The dunes, like those at Glamis, might as well be on a different planet because it's a different world on a dirt bike. For a motocross track-rat it's not only good practice to learn to ride in the deep sand, but it can also be a really fun change of pace during an off-weekend or the off-season. Josh Hansen, Josh Hill, Myles Richmond & Jeff Emig make us want to head out and play in the sand too in this SHIFT gear promo video.
NEW PRODUCT: PATRIOT EXHAUST SYSTEMS


Here the need-to-know bullet points about this new brand of exhaust.
-The company has been private labeling pipes for other companies for many years. Now they are bringing their own brand to market. They offer a complete range of slip-on and full systems for all the major dirt bike brands, as well as some ATVs, Utility and Side by Side vehicles. All systems are completely stainless steel, there are no rivets and each system comes with an extra packing kit.
The system are priced very low. They vary depending on the model, but for an example, a KTM 350 slip-on costs $249.95, while a full system costs $399.95. For more info or to order, visit www.patroitracingexhaust.com or (714) 777-3278.

MADISON, WISCONSIN, ARENACROSS RESULTS


Team Babbitt's Monster Energy Kawasaki owned the podium Tyler Bowers Chad Johnson and Josh Demuth also happen to be Matrix Concepts riders.
Arenacross 450 Class Results
1. Tyler Bowers, Danville, Ky., Kawasaki 
2. Chad Johnson, Rhinelander, Wis., Kawasaki 
3. Josh Demuth, North Richland Hills, Texas, Kawasaki 
4. Kelly Smith, Ludington, Mich., KTM 
5. Jeff Gibson, Blacklick, Ohio, Honda 
6. Travis Sewell, Westville, Ind., KTM 
7. Zach Ames, Prospect, Ohio, Kawasaki 
8. Willy Browning, Pleasantville, Ohio, KTM  
9. Tyler Bright, Hamer, S.C., KTM 
10. Nathan Skaggs, Chillicothe, Ohio, Honda 
Arenacross 250 Class Results
1. Willy Browning, Pleasantville, Ohio, KTM 
2. Michael Willard, Newark, Ohio, KTM 
3. Steven Mages, Sardinia, Ohio, Kawasaki 
4. Travis Sewell, Westville, Ind., KTM 
5. T.J. Phillips, New Castle, Pa., Kawasaki 
6. Chad Cook, Oklahoma City, Okla., Kawasaki  
7. Dave Ginolfi, Lake Hopatlong, N.J., KTM 
8. Aaron Gulley, Jonesburg, Mo., Kawasaki 
9. Patrick Massie, Washington Court House, Ohio, Honda 
10. Sean Lipanovich, Tallahassee, Fla., Suzuki 
Arenacross 450 Points (After Race 5 of 19)
1. Jeff Gibson, Blacklick, Ohio, Honda ? 104 
2. Josh Demuth, North Richland Hills, Texas, Kawasaki ? 98  
3. Tyler Bowers, Danville, Ky., Kawasaki ? 97 
4. Chad Johnson, Rhinelander, Wis., Kawasaki ? 84 
5. Kelly Smith, Ludington, Mich., KTM ? 77 
6. Nathan Skaggs, Chillicothe, Ohio, Honda ? 72  
7. Tyler Bright, Hamer, S.C., KTM ? 56  
8. Zach Ames, Prospect, Ohio, Kawasaki ? 55 
9. Willy Browning, Pleasantville, Ohio, KTM ? 50  
10. Kurt McCabe, Marion, Iowa, Honda ? 46 
Eastern Regional Arenacross 250 Class Points (After Race 4 of 10)
1. Michael McDade, Indiana, Pa., Kawasaki ? 70  
2. Michael Willard, Newark, Ohio, KTM ? 69 
3. Dave Ginolfi, Lake Hopatlong, N.J., KTM ? 64 
4. Travis Sewell, Westfield, Ind., KTM ? 59 
5. Steven Mages, Sardinia, Ohio, Kawasaki ? 54 
6. T.J. Phillips, New Castle, Pa., Kawasaki ? 44 
7. Sean Lipanovich, Tallahassee, Fla., Suzuki ? 34  
8. Kevin Johnson, Spring, Texas, KTM ? 34  
9. Maxx Malatia, Itasca, Ill., Honda ? 34 
10. Cody Robbins, Huntersville, N.C., Kawasaki ? 33