MOTOCROSS ACTION'S MID-WEEK REPORT: (11/29/11)

By John Basher
PHOTO OF THE WEEK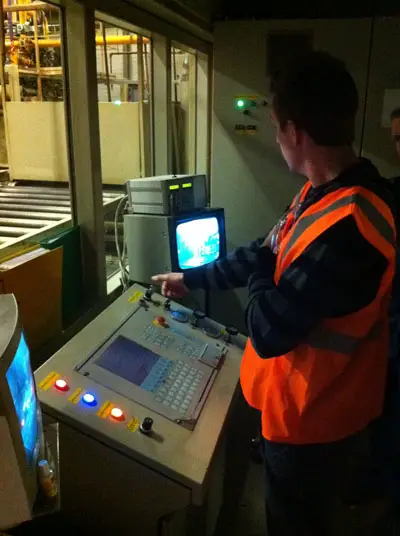 Last week I hopped on a jet plane bound for the Netherlands. It wasn't one of those "Yes Man" type moments, but instead a purposeful trip to tour the Twin Air and Moto-Master facilities. I had a great time taking in the sights (windmills) and sounds (pressing the button on the reticulation machine). To learn more about reticulation and what it means you'll have to wait until the February 2012 issue (it's actually very neat). Trust me, it's worth the wait (or you could always Google it).  
MINI-VIEW: MIKE GOSSELAAR



    Mike "Goose" Gosselaar has wrenched for the likes of Ricky Carmichael, Ryan Dungey and Chad Reed. The last of these three champions, Reed, hired the master wrench a few weeks ago to be a part of the TwoTwo Motorsports team. I rang up Mike to find out more information on the deal.
MXA: What is your role on Chad Reed's team?
Mike: I do a little bit of everything. I had read on a press release that Chad had me down as the Technical Director. It involves being around Chad with testing, working at the shop, and being involved with the guys at Honda. I'm a team player on a team. I'm trying to help get the job done.
Are you still spinning wrenches?
Oh yeah. I told Chad up front that I wanted to work on bikes. If Chad had signed a second rider then I would probably be working with that rider. I take a hands-on approach and like to get my fingers in everything. It's good to stay current in all of the technology.
Speaking of technology, is it difficult getting used to working on a different bike after having worked on a Suzuki for several years?
Not really. It doesn't take too long getting used to a new bike. It's a good challenge for me. After a while you get into a routine with a bike, and everything becomes second nature. It's good to have a challenge where you have to think about every single step that you take while working on the bike.
Why did you decide to work for TwoTwo Motorsports?
Chad called me, and it was perfect timing. I didn't really have many other offers going. I was going to call Chad and see what direction he was going with his team. It just so happened to work out that he called me and said that he was really hoping to expand the whole program in 2013. He also said that he had a complete deal with American Honda, having basically the same equipment as any other rider on the factory Honda team. He thought that I would be a perfect match for the team. I'm so thankful that he contacted me, because I was really getting worried about what I was going to do for 2012.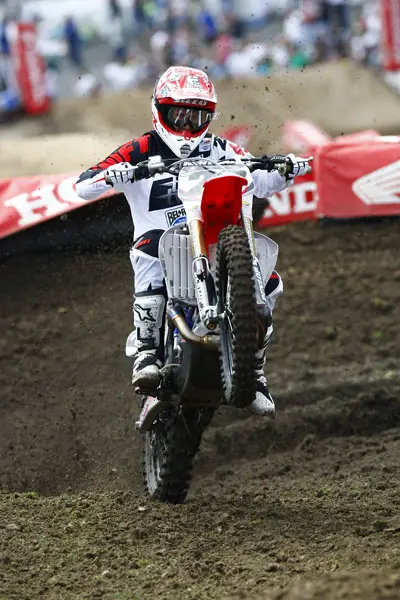 Goose and Skippy, together in 2012.
Is Lars Lindstrom still Reedy's mechanic?
Yes. Nothing has changed. Chad has just added more personnel. You have to have a lot of team personnel when down the road you're going to field more than one rider. Now we have an American Honda deal, and we have also been sourcing more things from the outside, which requires more people.
How did things end between you and Ryan Dungey?
Things ended really well. There weren't any problems at all. The Suzuki guys were also very good to me. They let me know up front that I should be looking for a different place to settle down, and I'm thankful for that. It gave me the opportunity to look around and see what was out there. I was treated well at Suzuki for many years. It's exactly how it was leaving Honda. When you develop a good work rapport with a company for so long and then you leave it can be difficult. However, now I have a new challenge. It's great to be here with Chad.
So far so good for you. Since you've been on the team Chad has been undefeated!
[Laughter] Yes, we had a really good weekend in Genoa. We had been testing for two weeks straight before that race, and we changed a few things on the bike. We got the bike into the shop, washed it, and took it apart. The next day we took the whole bike with us to Italy and went racing. Nothing beats racing. You can test all that you want, but when you put the bike in a race condition then things show up. Weaknesses, as well as strengths, show up.
Having worked together in 2009, had you and Chad maintained a friendship when you parted ways?
We kept in touch. Chad actually offered me a job last year, but I turned him down. He wasn't sure what he was doing with his team, but he wanted me to work for him no matter what he was doing! He was willing to hire me, but I couldn't do that as a friend. He told me that I was looking at it all wrong. I needed to think of it as a business deal instead of a friendship deal, but I couldn't do that to him. Chad and I have had a great relationship since we started working together. Before that, he was a formidable enemy [laughter].
Congratulations on the new gig, Goose.
Thanks. See you soon.
CHRISTMAS IS NEAR…


You could be one of these lucky people!
    More accurately, Black Friday is near. Which means that you better warm up the credit card. If you're like me you'll hide out all day while millions of Americans blow their salaries on the newest technology, smelliest perfumes, latest fashions, and hottest toys (remember the Tickle Me Elmo tirade a few years ago?). And, these people will be fighting through massive lines in stores and on roads. Undoubtedly quite a few Youtube clips will pop up showing acts of violence and rage in parking lots. Tis the season!
    I've never camped out in front of a Best Buy overnight, nor have I gotten up well before the rooster crows in an effort to make out on sweet deals. It's not complacency, but rather intelligence. The horror stories I've heard from my friends about their experiences make me cringe. So instead I sleep in and enjoy my day off. What a concept!
    If you must do your shopping on Black Friday, then might I suggest doing so in your pajamas? It makes sense to click a few buttons and order your favorite merchandise over the World Wide Web instead of getting into fist fights over the last iPad. I'll probably heed my own advice and hop online after I come out of the turkey coma to buy gifts for my loved ones. My resolution is to get all of my shopping done well before the biggest shopping day of the year for men?December 24th.
    I'm a firm believer that no good deed should go unnoticed. If you make serious headway on your Christmas shopping, then why not reward yourself? That's what I would do. If you're in that position to spend a few bucks on yourself, then I recommend the following items. Why? After reflecting on what makes my life easier before, during and after riding, I couldn't imagine life without these items.

Have tie-downs, will travel.

Pro Taper Tie-Downs ($34.99): The swiveling carabiniere makes all the difference in the world. These tie-downs don't slip out of the fasteners in your truck, and the wide straps provide maximum grip. I've had a set in the back of my truck for nearly two years and they keep on doing their job, without failure. To buy them, click here.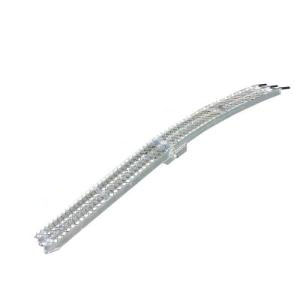 Trust me, your friends will only laugh at you for a little while.

ATV loading ramp: The last time I thought ATVs were cool was when I was little and couldn't figure out how to work the clutch on my dirt bike. Let's just say that as I learned I grew wise. Having said that, nothing beats a wide crossbeam loading ramp. It makes loading your bike as easy as pumpkin pie. I promise that your friends won't laugh at you for having an ATV loading ramp, especially after they ask to borrow it. Several companies sell very good ATV ramps. Pick your poison. Just don't buy one that's the width of your truck liner, because it's a pain to pack in the back of your truck. Opt for something that's just over a foot wide.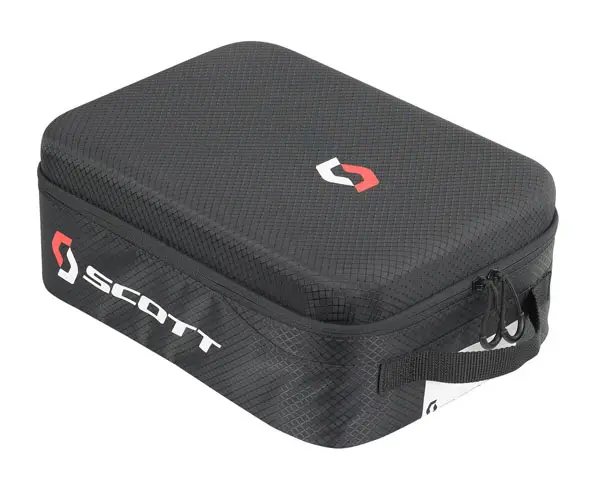 A modern day Robin Hood would have one of these (it's a quiver, get it?).

Scott Goggle Case: If you race motocross then you know the importance of goggle preparation. The tear-offs have to positioned just right, and of course they must remain clean and dry until they're ready for use. Sometimes a goggle bag simply won't do. If you're in that boat, then invest in the Scott Goggle Case. It can hold up to five pairs of goggles, along with spare lenses, tear-offs and goggle accouterments. The hard case is durable and keeps your stash of goggles safe. Click here for more information.

Made for the track, work place or even the club!
Fox Racing Concept Shoe ($59.99-$90.00): What, you didn't think that Fox Racing made shoes? They do, and the shoes are very good. My favorite is the Concept. I've been field testing it for years at various motocross and Supercross tracks throughout the world. These shoes are made for walking, thanks to the cushioned shock absorbing airbag in the heel area. I have put a pair of shoes through the wash cycle several times, and they keep on keeping on. Also important is the fact that the shoes look good. Heck, you can wear them to the club! For more information, click here.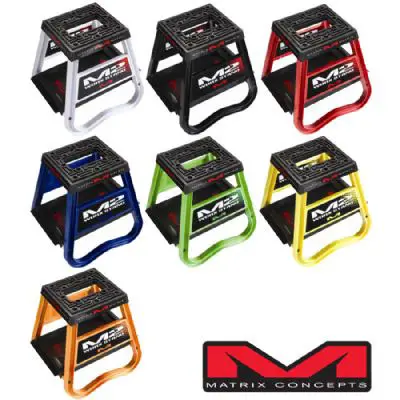 Not only does it hold your bike, but it looks good while doing so. Support feet not shown.

Matrix Racing M2 Worx Stand ($109.95): Matrix has made several revisions to their M2 Worx bike stand since it was introduced. The material is now stronger, and they have added support feet for a more secure base. Matrix offers nearly every color stand under the sun, and you can even get the sides personalized by DeCal Works. Matrix includes a tray for storing tools while working on the bike. The PVC rubber top keeps the bike firmly in place, and it's also replaceable. It is, as Borat would say, "Very nice!" To buy the stand, click here.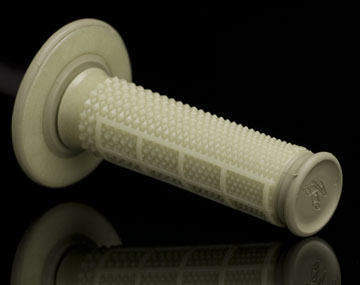 No, they're not bulletproof.

Renthal Kevlar Grips: My buddy, Dennis Stapleton, always rolls his eyes when I'm installing Renthal Kevlar grips on a bike that I'm about to ride. It's not because he dislikes the grips, but because I love the grips so much! They have a nice circumference (not too thick or too thin). The Kevlar grips are half waffle?with or without traction diamonds?that is constructed with a dual compound design. I also like that the grip can last a long time. This is a grip for the masses. That means you. For more information, click here.
GREETINGS FROM KUWAIT
    Speaking of Dennis Stapleton, the chief MXA photo/test rider has been in Kuwait and Dubai for the past few weeks racing and teaching the locals how to ride motocross. Never afraid to travel and see the world, Dennis has been filling us in on his voyage. It doesn't end in the Middle East. Stapleton is in the Netherlands as I write this. As far as I know he's coming back to the U.S. soon, and then he hops right back on a plane with MXA Assistant Editor John Minert. The two are headed to the Philippines to race and possibly hang out with Manny Pacquiao.
    Check out these shots of Dennis doing "work." Stapleton included this note, "I'd like to thank K&S Kuwait for helping me out with the bike and the gear since I lost most of my gear on the trip."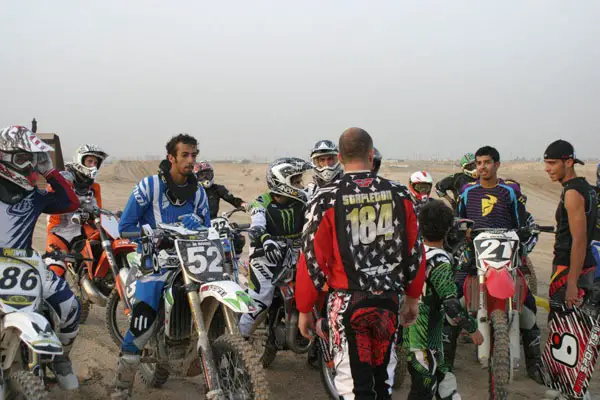 Dennis spreads the good word of motocross.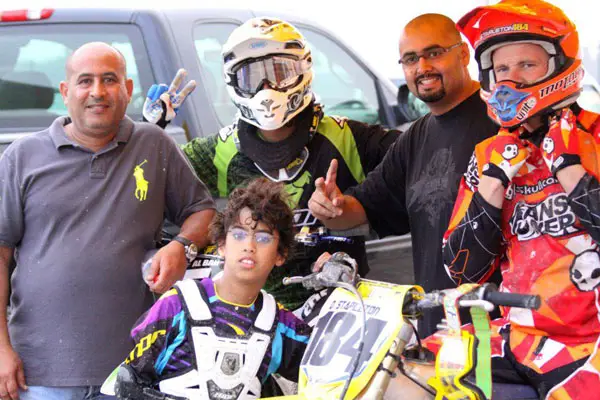 Hanging out with the locals.

Where's Waldo? Dennis is smack dab in the middle of all the action.

What other magazine travels around the world to race on a fairly regular basis? The MXA helmet is making the rounds!
NEW ALPINESTARS COMMERCIAL

MINI-VIEW: JAMIE DOBB
By: Zap

James Dobb and Randy Mamola.
If there's one thing that marks my every visit to the sprawling Milan Motorcycle show, it's to try and meet up with as many friendly (English speaking) faces as I can to get their take on what was important to see in the hundreds of aisles overflowing with two-wheeled exotics. As I was jostling past one booth filled with racing mopeds and long legged models, in the corner of my eye I spotted 2001 125cc World Champion Jamie Dobb. The Englishman was in the middle of conversation with American road racing hero Randy Mamola (right), when I interrupted to say hello.

Cagiva mounted James Dobb (64) got his first American press when he was still a 125 Intermediate (bottom left).
As Mamola was just on his way to a meeting at the Alpinestars booth, Jamie had time to talk, but not before informing Mamola (and reminding me) that I was responsible for giving him his first U.S. press coverage way back in 1987 when MXA ran a photo of him from the Lake Madera round of the CMC Golden State Series (above). In the years following his Golden State stint, Dobb stayed in America and rode for Pro Circuit and Honda of Troy before heading back to Europe where he would claim his long sought after World Title. In the years since he retired, the friendly Brit has remained active in the sport on both sides of the Atlantic as an agent for up and coming riders (currently Tommy Searle).
MXA: What's the deal with Searle? How content was he with his stint in America?
Jamie: He's doing well, resting up a bit now, but ready for the new season. He went to the States with a good outlook, but it was a sticky situation with KTM at the time. I think if he was there now with DeCoster we'd all be seeing a different result. I have to say, it's great to see that KTM has gotten the U.S. operation sorted out.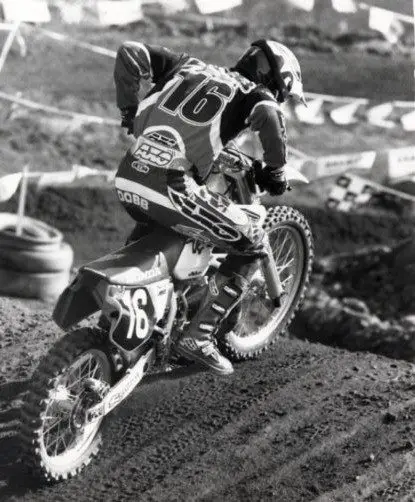 Dobb during his Honda of Troy days.
What was your experience in America like?
Well, there was the early years there when we first met at that Golden State Series race and then later in the mid-?90's when I first rode for the Pro Circuit team ('93-'94). I can tell you this, Mitch taught me a lot. I went into that team still a boy, but I came out a man ? he was like a real father figure to me. It was tough though. At first I was only making $500 a race and I remember I would always make myself available to test with Kawasaki because the mechanics would always bring out food to eat where the Pro Circuit guys never brought food. They would all go to Carl's Jr. to eat and I didn't have the money to spend on food. I was eating a lot of Top Ramen back then! I have to say though that those were the days that taught me most about how to be a World Champion. After I rode for Pro Circuit I went to Honda of Troy – I liked my time in America, but I wish I could've won won more than just one National.
What's your take on the competitiveness between the American and European riders?
I think the level is a lot closer than ever before. I mean, yeah sure, if you only measure it by the Motocross des Nations it doesn't look that way, but the Americans come there with a single aim ? it doesn't take a rocket scientist to figure that out. I think outside of that one race the overall competitiveness is closer. I think it would be cool to see the old Trans-AMA series come back where the Yanks and Euros would go at it outdoors. It's too bad there's not a GP in America…maybe one solution would be to have two of them, one sponsored by Monster and one by Red Bull.

Jamie (right) shares some Motocross des Nations glory with fellow Brits; Rob Herring and Paul Malin.

How do you compare those days and your own effort with the riders today?
I know that I didn't get a factory ride until I was 20 and so many kids are picking up rides much younger now. My first GP bike was a full production bike and the bike that Tommy is on is full factory.
You didn't claim that world title until, as you say, you were "late in your career." What tips would you have for the kids coming up today?
The bottom line is that you get out of it what you put into it. Look at Ricky Carmichael. He wasn't as talented as James Stewart, but he worked harder to win and that's what he ended up doing. You need talent, but talent alone won't beat the guy who is a hard worker. Also, you can't say enough about the role that Aldon Baker played in his program ? and I mean, just look at what's become of Ryan Villopoto now that he's working with Aldon, too. Those guys are 24/7 – there's no doubt that discipline is key. You need to surround yourself with good, honest people and a really qualified trainer. A fit ex-racer is not the same thing as a trainer who has studied for the job. I mean, you don't go see a dentist for a broken leg!

Jamie raced in both the 125 and 250 GP series before retiring in 2002.

Do you miss racing?
I don't miss the Monday through Friday part of it, but I miss that half hour before the race starts when you know you've done everything you can to do your best and you're ready to race and succeed.
JIMMY WEINERT TRAINING FACILITY MOVES TO CRYSTAL COAST, NORTH CAROLIONA


The Jimmy Weinert Training Facility has moved  from the Hamer, South Carolina to Maysville, North Carolina (at the former Crystal Coast MX Park). Crystal Coast currently consists of 118 acres of land with existing cabins along with a bath house. The facility also has 26 water and electric RV hook-ups and plans to create more. Jim is working on building a new shop for bike storage and maintenance along with a new gym with a variety of fitness equipment. Jammin' Jimmy saw an opportunity to purchase the facility at Crystal Coast and couldn't turn down the offer. "I was searching to have a place that I could call my own and we found it at Crystal Coast," says Jim.
JWTF plans to open the facility on January 1, 2012. It will offer open riding seven days a week from 10:00 a.m. to 5:00 p.m. at $20 per day. Jim will also hold classes Monday through Friday at $495 per week or $1200 per month. For more info go to www.weinerttrainingfacility.com
WANNA RACE BAD ENOUGH TO RACE ON THE MORNING OF NEW YEAR'S EVE? WE HAVE A RACE FOR YOU


For more info go to www.remsatmx.com
SUZUKI & VOLKSWAGEN DEAL DISSOLVES IN ACRIMONY


We had so looked forward to this proposed 2013 VW/Suzuki machine.
In 2009 Volkswagen took a 20 percent stake in the Suzuki. Under the deal, Volkswagen would get access to Suzuki's small-displacement engines and high-profile Indian division, while the Suzuki would get access to VW's engine technology and larger-car know-how. It was a rocky partnership that never got off on the right foot. Plus, it didn't seem that either party miked the deal after they signed it. Then, over the past month both Suzuki and VW have issued press releases essentially bad mouthing their supposed partner. Last week Suzuki announced that it was terminating the poartnership and wouldlike to get its 199.9 percent of stake back from the Germans (and of course they would return VW's money). Suzuki CEO Osamu Suzuki said, "In the absence of VW's cooperation and given its failure to do what was agreed, there is no basis for the partnership to continue. With the cessation of the partnership there is also no basis for VW to hold on to Suzuki's shares."
SECOND ANNUAL JEAGHER LA FOUNTAINE RIDE DAY ON FRIDAY AT GLEN HELEN


PanicRev Ministries is proud once again to be partnering with the LaFountaine family to bring you the second annual JL59 Ride Day. The ride day is a time for the motocross community to come together, celebrate life, and remember a lost friend, Jeagher LaFounatine. We hope you can join us Friday November 25th, 2011 at Glen Helen Raceway! Gates open at 9:00am; we are looking forward to seeing everyone there!
 
The day will include an autograph session, raffle, prizes, food, memorial lap, balloon launch, and riding on one of the premier tracks in Southern California. A huge thanks goes out to our event sponsors: PanicRev, Glen Helen, One, ARMA, Rocket Exhaust, Schmidt Performance, Spy, Astrisk, Hinson Race, We All Ride, Mechanic Organic, Split Designs, Anytime Fitness, and John Burr. For further information please visit www.panicrev.org
SEE IT HERE! 2012 AMA SUPERCROSS TV SCHEDULE



Oh yeah, all the times are Eastern, which means that people in Dallas, Phoenix and Los Angeles will have to do some math by adding or subtracting various hours, accounting for Daylight Savings Time, and usingthe Greenwich correction factor (set on the mean scale versus the average scale) and any police car chases that may run over into that time slot.
Air Date……..Venue……………Network…………….Time
Dec. 25………. Preview Show……..CBS………………..2:00 p.m.
January 7…….Angel Stadium……..Speed TV (Live)…10:00 p.m.
January 14…. Phoenix………………Speed TV (Live)….9:30 p.m.
January 22…..Dodger Stadium……CBS…………………Noon
January 29…..Oakland……………..CBS…………………Noon
February 5……Angel Stadium……..CBS…………………Noon
February 11…..San Diego………….Speed TV (Live)…10:30 p.m.
February 18…..Dallas……………… Speed TV (Live)…9:30p.m.
February 25….Georgia Dome………Speed TV (Live)…7:30 p.m.
February 26….Supercross Special…CBS………………..Noon
March 3……….St. Louis…………….Speed TV (Live)….9:30 p.m.
Matrch 10……..Daytona…………… Speed TV (Live)…TBD
March 17…….. Indianapolis……….Speed TV (Live)….7:30 p.m.
March 24………Toronto……………..Speed TV (Live)…7:30 p.m.
April 1…………Houston……………..CBS………………..Noon
April 15………. New Orleans……….CBS………………..Noon
April 21……… Seattle………………Speed TV (Live)…10:30 p.m.
April 29……….Salt Lake City………CBS…………………Noon
May 5…………Las Vegas……………Speed TV (Live)…10:00 p.m.
May 6……….. Season Review……..CBS…………………Noon
PRO CIRCUIT'S NEW MAGNETIC LAUNCH CONTROL DEVICE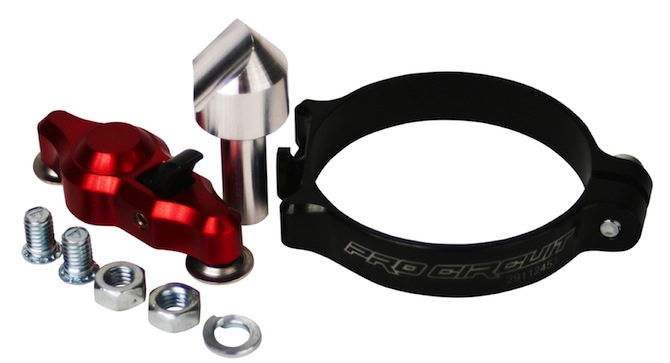 The new Pro Circuit Launch Control device has been revamped with rider experience in mind. When engaged, the Pro Circuit Launch Control device will help compress the forks on a consumer's bike down from the normal position. Utilizing the Pro Circuit Launch Control, more load is being placed on the front end instead of the rear, lessening the chance of a wheelie out of the gate.
The next generation in start devices, the Pro Circuit Launch Control features a springless design that delivers positive engagement and consistent release. The newly designed start trigger eases the setting and disengaging process, and helps to simplify installation of the entire kit. Every Pro Circuit Launch Control device is CNC-machined exclusively from aircraft-grade aluminum for a lightweight improvement to every racer's bike. The retail price is $109.95 at www.procircuit.com.
 
UNBELIEVABLE STORY: BLIND MAN LEARNS HOW TO JUMP A DIRT BIKE

[Press Release]
Hello all,
 
I wanted to show you part 1 of a documentary about English musician Matt Wadsworth, and his quest to jump a motorbike 100 feet. The task is made much harder by the fact he was born blind.
Luckily he's borrowed some eyes belonging to a guy named Micky Dymond, and together they're achieving something that's never been done before. As you'll see in the film, Matt is already clearing 50 to 55 feet.
 
Here's the link: http://www.youtube.com/watch#!v=mEyDXG70rNk
 
What we're witnessing here is amazing, but the project is only half finished.
 
Micky Dymond and Brenda Lyons, as well as Ronnie Williams and Brian Manley, have all put countless hours into training Matt and sculpting the jump.
 
Kristen, Joe, Andy, and the whole crew at Competitive Edge in Hesperia have gone above and beyond to support the team.
 
Troy Lee kicked in all the gear you saw in the video, and the folks at Leatte provided the neck brace. Alan Brown has loaned Micky his Honda, no questions asked.  And Paul Livingston provided the headsets that allow Matt and Micky to communicate.
 
Everything else — travel, track rental, training costs — Matt has paid for out of his own pocket. With the stakes going up day by day, he needs to focus on bike balance, not his bank balance.
 
The team has worked so hard to get this far. Now they need support from the whole community to reach their goal by Christmas and break the world record.
 
If you're inspired by Matt's story, there's one simple thing you can do.
 
Point everyone you can to Matt's blog. That's where the video is posted, and that's where he's collecting donations to cover the final month before jump day: http://www.makingthejump.com/
 
You can also contact Matt directly through his blog. (Watching him use a computer is a whole other trip!) Micky I'm sure you know how to reach. And if you have any questions about the film itself, I'll do my best to answer them.
 
Thanks for your time,
Kai
PLAYING IN THE SANDBOX: HANNY, HILL, MILES & FRO GO TO GLAMIS

ALIX & BELL RUN DUBYA USA WHEELSETS AT MINI O'S



    KTM Orange Brigade racers Dakota Alix and Chase Bell will be running some new wheelsets from Dubya USA at the Thor Winter National Olympics in Gainesville, FL. Dakota will be using Dubya's Kite/D.I.D wheelsets, while Chase will be running Talon/Excel sets.
    "We are very proud to be working with the KTM Orange Brigade," said Dubya USA's John Anderson. "Amateur riders like Chase and Dakota are the future of our sport, and we want to support amateur racers like them as much as we can. Look for Dubya wheelsets on all Orange Brigade bikes in 2012!"
    Each of Dubya USA's Talon/Excel and Kite/D.I.D wheelsets start with a high performance hub from Talon or Kite, which is then laced to a D.I.D or Excel rim by one of Dubya's experienced wheel builders in their shop in Orange, Calif. The result is a pro-quality wheel that will deliver pro-level performance, while standing up to even the toughest abuse.
    KTM's Orange Brigade is a dominant force in amateur motocross, thanks in part to future champions like Chase and Dakota. To get the latest updates on the Orange Brigade's results during this week's racing, you can follow them on twitter at www.twitter.com/ktmusa.
    For more information about Dubya USA's custom wheelsets, head over to http://dubyausa.com/products/wheel-sets/custom-wheelsets. To get the latest updates on Dubya USA products, like them on facebook at www.facebook.com/dubyausa, or follow them on twitter at www.twitter.com/dubyausa.