MOTOCROSS ACTION'S MID-WEEK REPORT: (12/02/10)

MXA INTERVIEW: RYAN HUGHES

Ryan Hughes is an enterprising man who has stayed in the motocross industry in a number of ways. His latest blip on the radar was at the MTA World Vet Championship Race at Glen Helen, where he left no questions about being the fastest 30 plus guy. Since Ryan borrowed our bike to race it, we were able to corner him and gain some of the wisdom of a very experienced motocross veteran.
MXA: Tell us about your development work with the original CRF450.
Ryan: I went to Europe for a couple years and I was planning to finish my career out there. I had a little trouble with a sponsor getting paid, but luckily I got paid. American Honda offered me a job development testing with the CRF450. I said yeah, of course. I could stay home, work on development testing and just focus on outdoors. There was a lot of trick stuff and it was cool to be on a completely different style of bike. I didn't ride it correctly, though. The bike had its flaws (being in development), I had my flaws with technique, and it added up to a poor season with a lot of crashes.
MXA: What techniques did you have to modify?
Ryan: You have to ride a four-stroke differently than two-stroke because of the power delivery and what the bikes are capable of now. If you watch Bubba, Chad, Dungey and the current guys riding Supercross  and then compare it a video tape of Supercross when Jeremy McGrath was riding you will see a massive difference–not because the riders are better, but because the machinery is different. You have to hang onto the bike the right way and be one with the bike in the right areas. There are many little things four-strokes ask for and you can see it in some of the top riders. That's why some of the best riders have been the best for a while. They can go fast because their technique allows it. Your speed is only as good as your technique allows.
Hughes maintains his technique throughout a long moto.
MXA: What areas on the bike were specifically targeted?
Ryan: It's been about ten years, so I don't remember much. The bike had a certain feel that is still the same. For some reason you know when you are riding a Honda. Now, the bike turns better it's lighter, the power is usable, it gets better traction. The biggest things I ran up against was that the bike was heavy and didn't turn very well. I would try to get to the inside line, miss it, try for the middle, miss it and say 'oh well' and pin it around the outside.

MXA: During that next season you had a bunch of injuries and had to consider retirement.
Ryan: Yeah, that season I had a bunch of head injuries. It may have been a rash decision, but I decided I'd had enough and decided to retire. I had a Lloyd's of London policy and I was going to take it, but the weekend I was in the hospital hurt, 9-11 happened and Lloyds of London got killed with claims. It turned out, that when I filled out the report, I failed to mention one of the concussions I had had. They said they weren't going to give me my policy, just my last year's return and that's it. So, I did some training schools and then got a test ride with KTM and started training Billy Laninovich. I found out that I was about two or three seconds a lap faster than their team outdoors. The offered me a ride for '03, and I took it. For me, I was the best thing in the world that I didn't get that policy because I had so many great experiences afterward. It was definitely a blessing in my book. I like to look at the positive side  of things to see how I can progress myself and learn, because that's what life is all about. Not just staying even.

Ryno leaped out to a bike-length lead right out of the gate at the World Vet Championship.
MXA: You also have many good technique tips to improve rider safety, how did that come about?
Ryan: Probably just because I hurt myself more than anybody [laughs]. Everybody wants to go faster and faster and that all anybody teaches but nobody has pinpointed how to be safe on a motocycle. Yeah you can smooth the track to try and make it safer, but that just means these guys will be able to ride over their head. You can make the bikes better, with better handling and smoother power delivery, but that will just allow someone who isn't capable of going that fast ride over their head. You can wear all the safety gear and still get hurt. I've worn knee braces and hurt my knee. I've worn boots and broken my ankle. I've worn helmets and had about fifteen concussions and a broken jaw. Safety equipment helps but you also have to take responsibility within yourself. Ask yourself, how do you feed the machine that rides the machine? How do you ride the motorcycle and is your technique sound? How are you training? Are you training for what the motorcycle is asking of you? Are you training for flexibility for when you do hit the ground? I tell my guys that we're going to train to win and we're going to train to crash. It's going to happen, and few people are ready for it. We have these machines that Bubba Stewart can go as fast as he can possibly go on, and the same machine was just sold to little Johnny who just got ten thousand dollars from his grandma. I think this a problem in our sport, because the bikes are capable of amazing things, but the riders on them aren't. I think we're getting a lot of injuries because nobody is taking it into their own hands.
MXA: Can you give us any more specific tips?
Ryan: If you use equipment that causes you to use improper technique on a motorcycle, and a lot of equipment does, than you aren't helping the cause to stay safe. If you pay attention to what you are doing, even if you aren't doing it my way, you are helping the cause. What is your mindset when you are at the track? I see myself as paying different roles. When I'm at the track, I'm a racer. The physical side can be on the track, but the mental side can be on the bank account, in the boss's office or arguing with the wife. These things are important to pay attention to, and all these things I'm talking about I didn't do in my career and I got hurt a lot, so it's coming from experience. I watch Dungey, and Ricky and Chad and the top guys. I examine what they are doing and why it works for them and try it myself so that I know from experience things to pay close attention to.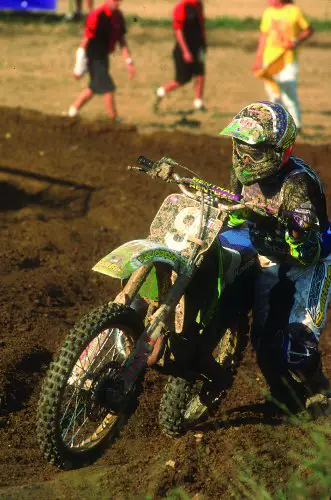 You have to cheer for a guy who pushes his bike across the finish.
MXA: In the last few years you have had several different ventures, what is the status of these?
Ryan: My track was closed down. I absolutely loved the place, but I just didn't have the income and support from the community. Not by handouts, but people coming to ride. It came to a point where it was causing me and my wife stress and unhappiness. So, we got rid of it, and things are much better. Rynorganics is still going in a bunch of little spas and couple stores and some riders are on it. The supplements we have come out with have really taken off and made a spark in this industry because when they tried or product people actually felt something and it's not just a gimmick or a stomach ache from not having a quality product. My training is my bread and butter and it's picking up every year. Unfortunately, our sport is in a little low spot, but I have rally car drivers, freestyle guys, motocrossers and other people on the books too. Altogether, it's stuff I love to do.

MXA: You went to London recently, what was that about?
Ryan: I have been training Ken Block for the WRC season this year. In the last couple months I went to Germany, France, Spain and England, coming back home for a couple weeks in between each round. I also followed Ken to Turkey, Mexico and around the United States. I do a lot of traveling with my school, and do a lot of stuff in South America. I do a lot of flying. I don't want to help just one person I want to help a million people. I love what I do and I love seeing people progress, whether it someone who just does it for fun and wants to get a little better or someone who wants to be the best in the world. The golden rule at my gym is that you come with the same passion I have and leave with the same passion. If you have that it's going to click.
MXA: Is there anyone you want to thank?
Ryan: I'd like to thank my wife Jennifer, my son Evander and my daughter Rilley for allowing their dad to travel around the world and do what he does, and of course my mom. And, the people who have stuck behind me in the sport and my sponsors, Fox, Ryno Power, Ryno Organics, Maxima, Renthal, Dunlop.
GLEN HELEN TO HOST THE 17TH ANNUAL YAMAHA CALIFORNIA STATE PRO/AM CHAMPIONSHIP ON DECEMBER 11-12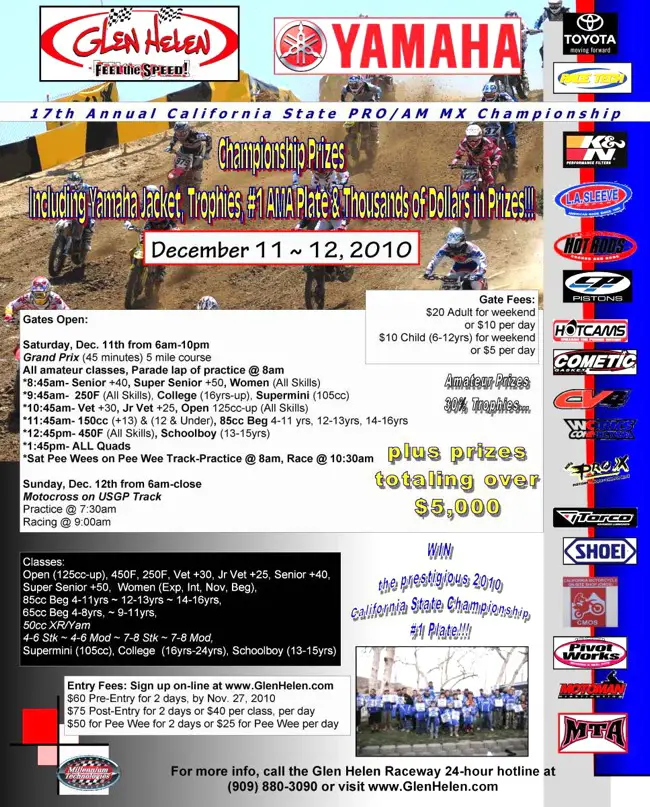 December 11th and 12th mark the 17th running of the Yamaha California State Pro/AM Championships at Glen Helen Raceway. The race is a unique, two-day event that combines Grand Prix racing and Motocross. As the last big amateur event of 2010 at Glen Helen Raceway, racers of all ages and skill levels come together to race for the prestigious California State Championship number one plate in their respective classes.
The race is split up into a two-day format. Starting at 8:45AM on Saturday is the first race of the weekend – the Grand Prix race. Held on a specially designed course that takes riders throughout the amazing Glen Helen Raceway facility, the Grand Prix races bring excitement and fun and are always a favorite amongst competitors.
The second part of the Yamaha California State Pro/AM Championships is a traditional motocross race that takes place on Sunday. Held on Glen Helen's famed USGP track, the same track that some of the fastest racers in the world compete on, the motocross racing consists of two motos and starts at 9:00AM.
Champions will be decided based on the combined scores from both days of racing. The champions in each class will be rewarded with the number one plate, as well as shirts and prizes from Yamaha and other sponsors totaling over $5,000. From Pee Wee to Senior, there's a class for everyone. And with two-day pre-entry fees only $60 ($50 for Pee Wee racers) for two days of racing and $20 weekend gate fees for adults/$10 weekend gate fees for children 6-12 years old, Glen Helen Raceway is making it easy to experience great racing and great times. For more information, head to www.GlenHelen.com.
2010 RED BULL  MOTOCROSS OF NATIONS DVD OUT NOW


 
As more than 30 teams from around the world gathered for the 2010 Red Bull Motocross des Nations, the hot question was "can anyone beat the USA?" Now fans can watch the full drama of the 64th MX des Nations with the Official Review on DVD, new from Duke. This is the action-packed, comprehensive review of one of the most gripping international Motocross showdowns ever seen. Viewers witness the dirt-spitting, high-jumping drama from all three motos as the greatest MX riders on Earth go head-to-head for the pride of their nations. The Official Review includes a chance meet the stars of the leading teams, watch the build-up, enjoy qualifying and get a guide to the Thunder Valley Motocross Park course courtesy of Paul Malin and MX great Josh Coppins, carrying a helmet- mounted camera.
 
But the MX des Nations is all about action, and the Official Review is absolutely packed with the most important highlights. The DVD features a star-studded line-up, with World and National Champions featuring in the MX1, MX2 and Open classes, letting viewers enjoy hard-charging dirtbike racing between Antonio Cairoli, Marvin Musquin, Ryan Dungey, Zack Osborne, Steve Ramon, Clement
Desalle, Ken Roczen, Max Nagl, Andrew Short, Trey Canard and many more.
 
America had dominated the event for the past five years, and with the 2010 Motocross of Nations in the team's own backyard ? Lakewood, Colorado ? breaking its supremacy was going to be tough. On paper, the USA should have dominated, but as the gate dropped for the third and final race the American's trailed their German rivals by six points, while Belgium and Britain remained in hot contention for podium places. Viewers will be on the edge of their seats as the riders charge for the holeshot, and leaping out of them as the 2010 Red Bull Motocross des Nations delivers one of the most nail-biting finales of all time.
 
2010 Red Bull Motocross of Nations is Out Now on DVD, priced at $34.95 and will be available from www.DukeVideoUSA.com.
WHAT'S IN A VIET-NAME? THE BATTLE OF WHO OWNS WHAT IN THE MOTOCYCLE WORLD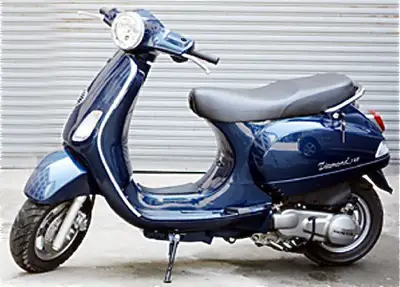 The Vinashin Blue Diamond scooter has implication for the future.

The eyes of motorcycle manufacturers worldwide are on Vietnam over a dispute of whether Honda's name was used illegally by a local company to boost sales. The scooter, put out by a subsidiary of state-owned shipbuilder Vinashin, has set off a heated debate regarding design patents and the origin of its engine. Italian scooter company, Piaggio (Vespa), and Japanese giant Honda are at the heart of the battle.
Vu Manh Ha, general director of Vinashin Motor, said that the Vinashin Diamond Blue scooter uses a modern engine produced by the Sundiro Honda Motorcycle Co in China. Meanwhile, Honda of Vietnam insists that the engine was not manufactured by any branches of the Japanese company around the world, and certainly not by Sundiro Honda specifically. Honda of Vietnam also said it is the only company that has the right to produce and distribute Honda engines and motorcycles in the country. But the engine is not the only question that comes up in the ongoing controversy surrounding the Diamond Blue. There have also been concerns over design patent infringement as the scooter is a definite look-alike of the popular Vespa LX model.
Diamond Blue retails in Vietnam at around VND50 million (US $2560) while a Vespa LX costs around $4000.

Is it a Honda or isn't it?
Vinashin Motos claims the design was provided by a Chinese company and Vinashin Motor has not violated any regulations.  What has started as a dispute over a 125cc scooter could have implications for manufacturers of motorcycles of all sizes. Honda had won approval for authorities in Vietnam to stop all sales of the controversial motorcycle, but it appears to be too late. The company is sold out after introducing the model in September 2010.
"At the moment, we don't have any Diamond Blues for sale because we have sold them all," said an anonymous salesman for Vinashin Motors, "We have sold more than 2000 Diamond Blue scooters. Even if Honda sues us and wins, we will reimburse our customers." The incident has brought together competing motorcycle manufacturers. In the paperwork filed to stop the sale of the disputed motorcycle, chairman of Piaggio (Vespa) Vietnam signed alongside the representative for Honda?noting that Piaggio isn't considering legal action over the matter because it never registered a copyright for its Vespa LX design in Vietnam.
Any legal action by Honda is on hold as the company investigates whether the engines in question were manufactured by a Honda licensee. If that is the case Vinashin Motor would have the right to advertise them as such without the Honda's permission under a 'parallel importation' in international intellectual-property trade law. But the incident could be considered a ?worst-case scenario' for the multitude of motorcycle manufacturers not only rushing to put their product in showrooms around the world, but also with the foreign manufacturing facilities of their motorcycles. Any such future incidents could leave BMW, Harley-Davidson, Ducati or even Victory Motorcycles facing a rash of potential pirates.
ARE YOU READY FOR THE NEW SUZUKI? SORT OF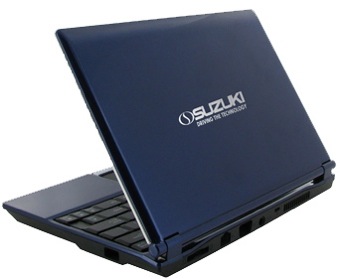 It may look like Suzuki has a new model out, but not that Suzuki. Singapore-based Suzuki Technology Private Limited calls itself a "value for money" brand, and released the new Neutron 1002 QNi. It has a 10.2 inch display, a 1.66GHz Intel Atom N450 processor, 1GB of RAM, and a 160GB hard drive. It supports 802.11b/g WiFi and Bluetooth 2.1 and has a 1.3MP webcam and 5 hour battery. The company is not related to Suzuki Motorcycles.
KTM TURNS ITS BUSINESS AROUND AND REWARDS ITS EXECS


KTM CEO Stefan Pierer.

KTM renewed chief executive Stefan Pierer's contract  ahead of schedule. Pierer will stay on board as chief executive until the end of 2015. KTM also said that Friedrich Roithner will become its CFO on 1 January 2011. The businessman already holds the same position in KTM co-owner Cross Industries AG. It was also announced that Patrick Prgger will leave the KTM board by the end of this year.
The company, which is quoted on the Vienna Stock Exchange (WBAG), said it expected annual earnings before interest and taxes (Ebit) to range between 28 and 29 million Euros. KTM only recently entered the road to recovery. The company suffered losses of 56.7 million Euros in the fourth quarter of the 2008/2009 business year. KTM laid off more than 450 employees throughout the 2008/2009 business year before hiring around 100 over the past few months when the number of orders climbed once more. The company currently employs around 1600 staff.
Meanwhile, Indian automobile producer Bajaj Auto said it increased its interest in KTM by 2.41 per cent to a total of 38.08 percent. The Pune, India-based company is currently cooperating with KTM in manufacturing a new range of motorbikes.
BEL-RAY TRIES TO REGAIN ITS LOST MOTO MOJO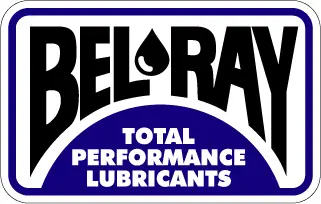 Bel-Ray has announced its sponsorship of the Dodge/Hart and Huntington Supercross team. The two-rider team consists of Chris Blose and Ivan Tedesco. "We are thrilled to work alongside Carey Hart and the Hart and Huntington race team. Hart and his team represent a level of fire and determination within the sport that we've long admired, "said Bel-Ray Company Chief Operating Officer Jennifer Liquori. Bel-Ray is also the sponsor of Chad Reed's two-two Motorsports team. For more info go to www.Bel-Ray.com.
AUSTIN HOWELL, CASEY HINSON, JASON LANGFORD, RICKY RENNER, VERNON MCKIDDLE & KEVIN TAPAIA MAKE UP TEAM VIOLATION 1



Not only does this team have the longest name in the sport (Team Violation1.com/Shea Racing/Travis/National Switchgear powered by Munn Racing KTM), but they have a ful roster of riders. Team V1SRTNSMRKTM will field the largest KTM-supported program in the 2011 Monster Energy AMA Supercross series. The team will compete in both the West Region and East Region Lites rounds with six athletes beginning at the series opener in Anaheim on January 8 and concluding at the final round in Las Vegas on May 7. The 250 West riders are Austin Howell, Casey Hinson and Jason Langford. The 250 East riders are Tevin Tapia, Ricky Renner and Vernon McKiddie.
"We are excited to have the resources to support six talented Lites (he meant to say 250) riders who can compete in the main events," said Tim Shea, team manager. "This is possible due to our primary sponsors Violation Goggles, National Switchgear and Travisa, and certainly the factory support of KTM through Munn Racing. We are honored to be the largest KTM supported team and expect to fulfill the "Ready to Race" moniker by competing for main event finishes in AMA Supercross Lites (by which he means the AMA 250 Supercross class)." Keep posted to the team at www.sheamoto.com  
IS THE BUELL DIRT BIKE BACK ON THE FRONT BURNER?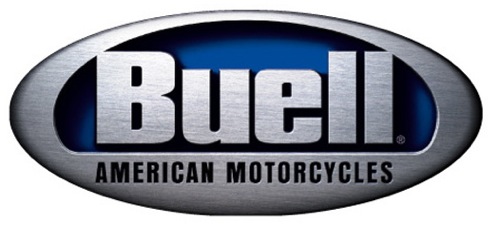 Back in 2007 the street bike world was atwitter with news that designer Erik Buell might be building a 450cc motocross bike. Unfortunately, that project died and project manager Dave Oisterman was let go. Buell fell on hard times in 2009 and was cut loose from its Harley-Davidson parent company (even though it was selling around 8000 street bikes a year). Buell reformed his company?even though Harley still owns the name "Buell." Future Buell projects might be tagged as EBRs (Eric Buell Racing).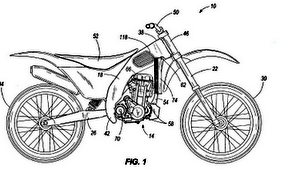 According to rumors (and an Italian website interview with Erik at www.motoonline.com), Erik Buell hasn't given up on the dirt bike. He is looking for funding to restart the 450cc motocross bike project. He wants to use a Rotax engine mounted in an aluminum frame (that will hold the gasoline). No photos exist, with the exception of a Buell patent drawing.
NOT MOTOCROSS, BUT INTERESTING: BETA 400RR, 450RR & 520RR


Beta 450RR.

Beta is best known for trials bikes, but they do offer a full line of enduro, cross-country and street-legal dual-sport bikes. The most interesting thing about the Beta's is their own proprietary four-stroke engines. The Keihin carb-equipped bikes come with four-valve heads, Kokusan ignitions, six-speed trannies, 50mm Marzocchi forks, Sachs shock and 260mm floating Braking Wave front rotor. For more info go to www.americanbeta.com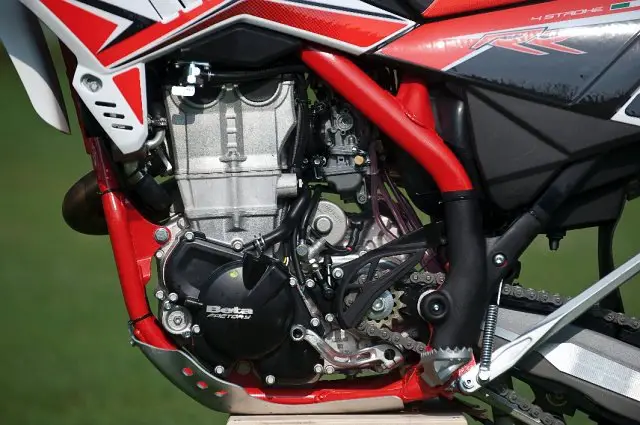 Beta 520 engine.

Beta 400RR.
AGV HELMETS RETURNS TO AMERICAN MOTOCROSS WITH THE NEW AX-8


AGV AX-8 Spyder.                             AGV AX-8 White.                          AGV AX-8 Kaleidoscope.
After celebrating its return to the off-road and motocross markets in early 2010 with the release of its thermoplastic resin MT-X helmet, AGV expands its off-road products family with a new motocross helmet?the high-end AX-8. With its carbon-Kevlar-fiber shell, the AX-8 was developed over the past two years in close collaboration with Travis Pastrana, Davi Millsaps, David Philippaerts and Gautier Paulin. The AX-8 brings AGV back into the world of dirt with an original design and highly technical characteristics.
The AGV shell is made of carbon, Kevlar and fiberglass in order to keep the weight low while ensuring the maximum safety. The AX-8 comes in three shell sizes which, combine with various inner liner combination of cheek-pads and crown-pads allow for a size run ranging XXS to XXXL. Like all AGV helmets, the AX-8 was created, developed and tested in-house in Italy where AGV has all the machinery and engineering needed to achieve safety performances higher than the minimums needed to reach all certification standards. The helmet weighs at an average of 1350 grams and is DOT and ECE2205 certified for the US market. For more information, please visit us at www.agv.com
Lately, we have been excited about two AME products that we have never seen before. The first are heated grips, which could be invaluable in the cold. The second is a firmer compound grip that Bob and AME made for MXA by special request and that some testers love. We called Bob to get all the info and find out how and when the average guy can get his hands on this stuff.
MXA: What were you testing today?
Bob: Today I was testing out mountain bike heated grips, which are currently available. They are battery operated. We have ATV heated grip available for thumb throttles, but we are still finishing the motorcycle twist throttle kit. Unfortunately, the product development got pushed back because we had to take care of some Harley-Davidson commitments first. We're hoping to have the twist throttle stuff ready for New Years', so we can take advantage of the last couple months of winter.
MXA: Tell us about the dirt bike heated grips.
Bob: Initially, the offroad heated grip kit will have a wiring harness and remote switches that will hook up to your 12-volt system. So, for offroad bikes it will be fine, but for moto bikes there won't be a source for power. We'll probably offer the grip with a different program and run it off a battery similar to our mountain bike setup. A guy would Velcro the battery to the triple clamp or somewhere in that area so he could go ride in the cold. Theoffroad grip monitors the battery. If the battery is being charged, the grip will stay on. If the bike is off, the grip will shut itself off in ten minutes so it won't run down the battery. The grips will have six levels of heat ranging from about 95 degrees to about 135 degrees. The will be really simple to install. The left grip will just slide on and lock with a clamp. The throttle grip will be molded right on the sleeve and then you can attach the proper throttle cam for you bike. We are also going to sell the same grip non-heated. When you want to change heated to non-heated, you just have to open you throttle housing, pull the heated grip off and replace it with the non heated grip. The splines will lock in place and you don't even have to remove the throttle cable to do it. You can do a complete grip change in five minutes without glue or anything.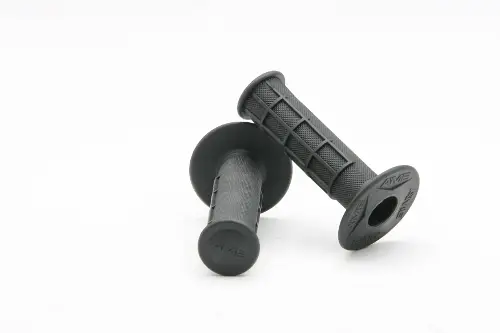 Want special, medium/firm compound AME grips like we have? Make a request to your dealer or AME.
MXA: What will be the cost?
Bob: For the standard offroad kit with the remote switches and the harness and everything will probably be about $135. The grips will be replaceable at a much cheaper price. The retail price we are targeting right now is 70 to 80 dollars. Also, we have a half price replacement warranty, so a guy would probably actually pay around 40 dollars to replace his grips after the initial cost of around 135 dollars. The motocross version would be more expensive with the battery and charger and things we have to outsource. The mountain bike version retails for 350 dollars for a complete kit. There are water tight connectors and wiring which the grip must be molded around and a lot of hand work so it's a labor intensive process.
MXA: Tell us about the special grips you made for MXA.
Bob: Those are just regular slip-on grips. The retail for the standard version is $9.95, which is really affordable for a long lasting grip. The grips I made you were about a 40 on the Shore A scale, compared to the 30 hardness of the grips we currently offer. If people call us or dealers and ask for them, we will produce them and make and them available.
For more info visit www.amegrips.com


FREE KTM RIDE DAY AT CAHUILLA CREEK MX PARK ON FRIDAY, DECEMBER 17, BUT YOU HAVE TO HAVE A KTM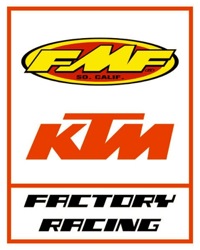 Come celebrate the holidays while riding orange with KTM professional riders and enthusiasts. KTM North America, Inc. would like to extend a Christmas invitation to all KTM riders to come and ride at Cahuilla Creek MX Park in Anza, California, on Friday, December 17, 2010 from 9:00am ? 4:00pm absolutely free. On top of that, KTM will be debuting two new 2011 offroad models!
This marks the second year KTM President, Jon-Erik Burleson, along with the promoters of Cahuilla Creek MX and presenting sponsors FMF, Motorex and Thor have decided to open the invitation to all KTM riders for Free! KTM dealers and presenting sponsors will be on hand to show their new product and give you great gift ideas for your family and friends this holiday season. FMF/KTM GNCC riders Cory Buttrick, Charlie Mullins and Kailub Russell will be on hand spinning laps and introducing the new models. In addition, Red Bull/KTM riders Andrew Short and Ronnie Renner will make an appearance along with KTM R&D rider Michael Sleeter. No RSVP is necessary. Mark your calendar now for this exciting event and show up at Cahuilla Creek MX Park December 17th "Ready to Race."
WANT TO STAND ON AN AMA 250/450 NATIONAL PODIUM; NOW YOU CAN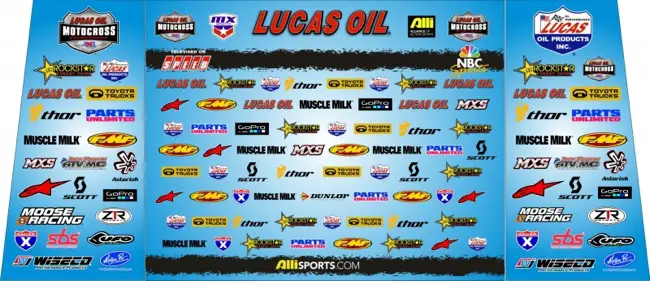 MX Sports is offering to sell the 2010 podium backdrops used in the AMA 250/450 National Motocross Championship and Women's Motocross Championship. The Lucas Oil AMA Pro Motocross funds go to the Road2Recovery Foundation. The Women's motocross backdrop is autographed by Jessica Patterson, Ashley Fiolek and Tarah Gieger. These podium backdrops would look great in your garage or office. There are two days left in the eBay bidding and the prices are hovering around $350. Click the link below to access the auctions:
http://shop.ebay.com/?_from=R40&_trksid=p5197.m570.l1313&_nkw=podium+backdrop&_sacat=See-All-Categories 

A TRIBUTE TO RIDICULOUS MOTOCROSS STUFF
The motocross world is blessed with many passionate people who create, innovate and try to take what they do to the next level. Their passion is expressed in many ways, and sometimes it just seems over the top. Here are some ridiculous people and things that help make our sport entertaining and great.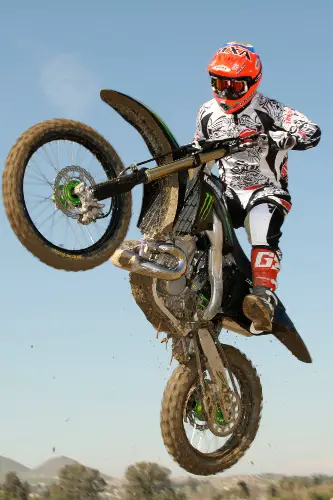 Service Honda puts 500cc two-stroke engines into modern aluminum frames. The quality of craftsmanship and the price are way up there.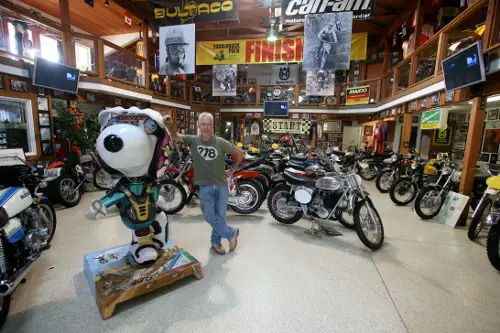 Guys like Tom White keep the history of the sport alive by shining up old clunkers. His personal, 120-bike museum and giant Snoopy (Joe Motocross) statue speak for themselves.

This AXO gear was like a basketball jersey over a compression shirt. It was ahead of its time.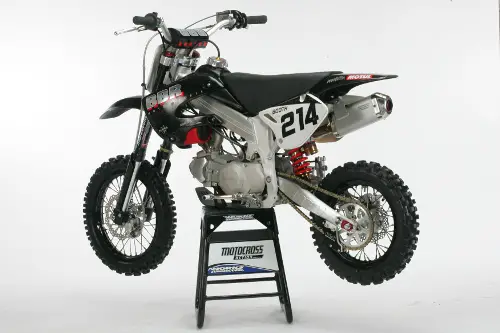 Grown men not only race minibikes instead of full-size machines, but spend the same amount of money on them. BBR's stuff is like cheating at pit-bike racing.



Speaking of which, Langtown was an over-the-top minibike race in a small back yard by invitation only.

Some guys just plain refuse to stop riding in the winter.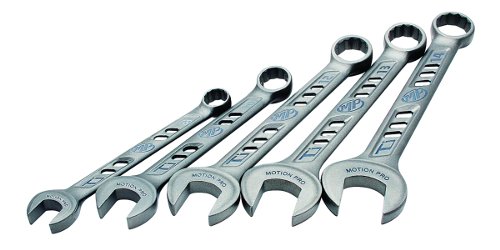 Motion Pro offers these titanium wrenches for sale so you can pack light on trail rides.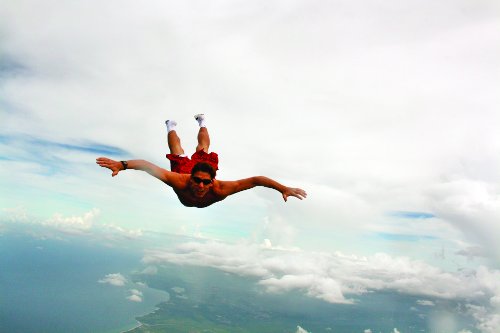 Time and again, Pastrana out-does himself with a more ridiculous stunt.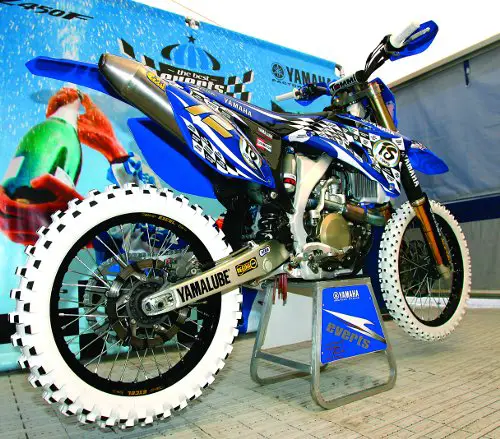 Stefan Everts raced a bike with white tires. Not very functional, but they look cool on the stand.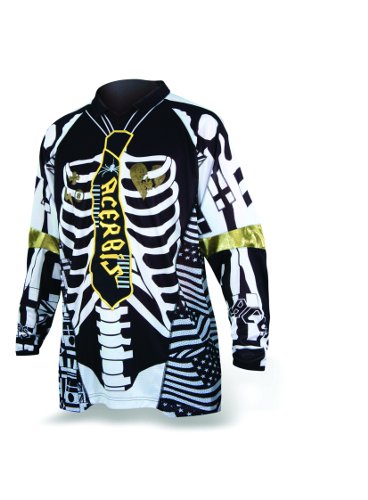 Notice the neck-tie and broken heart. That gold belt isn't just printed on.

Arm pump surgery seems a little drastic. Can't we just work on technique and exercise?

That machine looks heavy. If there was snow, there would at least be a soft landing.

Robbie Maddison decided to jump a football field. He made it.

J-Law single-handedly keeps the motocross rumor mill going through slow times and gives people something to talk about.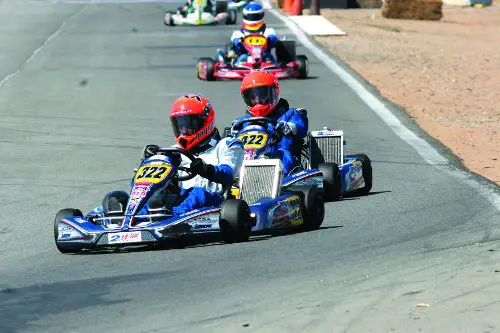 Can moto guys really drive? The MXA kart team, run by Billy (322) and Willy (422) Musgrave, do four wheels in addition to two.

Is it a lazer-light show? A fireworks show? A strip tease? No, just Supercross.

If you are going to be a professional, you had better look the part.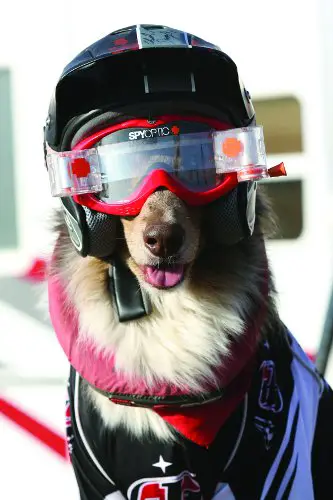 How does he pull the roll-off chord with his paw?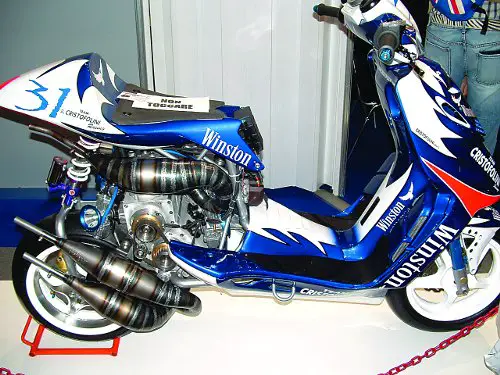 This scooter could be even faster with a few more exhaust pipes on it.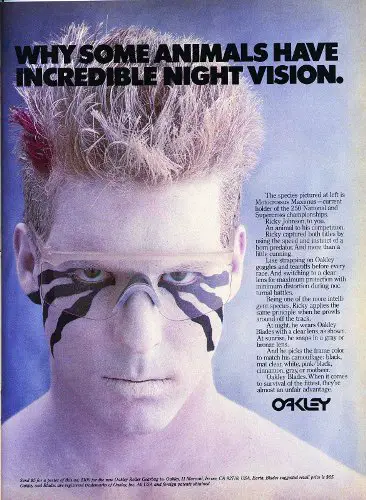 Entertaining advertisements just make a magazine more entertaining. No complaints here.

No, this isn't a Three Stooges reenactment. Remember, do as we say, not as we do.