MOTOCROSS ACTION'S MID-WEEK REPORT: (12/08/10)
MOTOCROSS ACTION'S MID-WEEK REPORT
By John Basher
PHOTO OF THE WEEK


The Europeans sure know how to throw a party! The opening ceremonies at the Geneva Supercross, while long, were full of crazy antics. Need proof? Check out this Cat driver doing stunts for a sold out crowd.
MXA MINI-VIEW: JUSTIN BRAYTON

Calm, cool and collected. Those three words describe Joe Gibbs Racing's Justin Brayton. Now entering his second year with the JGR team, the Iowa native is a true midwest boy at heart. Instead of having narcissistic tendencies or a flashy "Look at me!" personality, Brayton is a consummate professional that every aspiring pro should look up to. Which is why, on Saturday night after he swept the Geneva Supercross (winning six out of six races), he tipped his cap to the Swiss crowd in appreciation, celebrated with his team, and went about his normal business. I caught up with Justin a few days after his European win to discuss racing overseas, managing the mental game, meeting heroes, and figure out how he became so blazing fast over the course of a few months.
MXA: Justin, how did the invitation to race the Geneva Supercross initially come about?
Justin: It started about five years ago. I met Eric Peronnard at the Bercy Supercross and we immediately hit it off and became good friends. I really respect what he has done for our sport. He's a liaison between a lot of European Supercrosses and invited me to Geneva five years ago. I just finished up my fourth consecutive year of racing in Geneva, and every time I have a lot of fun. Going so many times now, I've built up friendships with a few European riders and a number of fans. I enjoy myself in Geneva, and it feels good winning that race this year.
You're turning into Mr. European Supercross!
[Laughter] I don't know if I would say that. I just enjoy racing. The offseason for me is obviously about getting better. Doing laps at the test track is good, but I think there's a time when I need to go and test myself at a race. This offseason worked out perfectly for me, because I went to Australia and raced three rounds, then came back home and tested for a month to try and get better. Then I went to Geneva to test myself once again. I feel like I've made some big strides on the bike side, but I'm also physically and mentally stronger.
"I'm doing a lot of things to improve my mentality, and I've gotten a lot stronger. I'm ready to go into Anaheim and challenge for some wins."
You were riding incredibly well in Geneva. It was probably the best I've ever seen you ride. What do you attribute to your rise in performance?
It's a combination of things. I gelled with the team really well in these past few months. Last year was difficult, because I was changing teams, bikes, and locations. A lot of people don't think that it would be hard to make those changes, but it put a lot of stress on me. It showed in my riding. I did the best that I could. I didn't do great, but I managed to finish fifth in the Supercross series. Then through the summer I struggled with injuries. Now it's my second year on the new Yamaha, and the bike is really really good. I've also made huge mental gains and I'm more confident than ever before. I'm ready to go racing.
Is the mental game tough to perfect in motocross?
To be honest, that has been my biggest weakness. I've always been really fast, but I needed to work on the mental side of things. I'm doing a lot of things to improve my mentality, and I've gotten a lot stronger. I'm ready to go into Anaheim and challenge for some wins.
Having raced flawlessly in Geneva, do you reflect on the weekend and pat yourself on the back, or do you pick apart areas where you feel like you could have done better?
There's two sides to it. I won the main event the first night by 10 or 15 seconds, and I came off the track happy. However, I told J-Bone (Jeremy Albrecht, the JGR team manager) that I could have done better at several turns and sections. We talked it over and I came away feeling better the following night. While it's about where you can get better, the reality of it was that I had just won the race by a big margin. I went to Geneva to win, and that's what I did. My mentality has centered around how I can get better on the track, but sometimes I need to take a step back and enjoy it.

Check out the chain torque on the drive system and the flattened rear tire.
It's a big deal for you to win the Geneva Supercross in part because you had never won it before, but Geneva was also celebrating its 25th anniversary of holding the race.
It was definitely cool to win, especially because it was the 25th anniversary. The promoters flew over Ronnie Lechien and Guy Cooper for a bit of a curtain call during the opening ceremonies, and I thought that was pretty neat. I had never met Lechien or Cooper before, and I always looked up to those guys growing up. It was cool to have those guys hanging around the pits and telling stories at dinner. On the flight home I reflected back on the weekend and had a big smile on my face. It's cool to come where I came from and meet guys that I have looked up to.
"A lot of people say that they are living the dream, but I really do think that I am. I go to bed at night thinking how lucky I am to do what I love."
The weekend started off rocky, because a snowstorm socked you in at Frankfurt, Germany. Then your works suspension was delayed in transit and your race bike didn't come together until after the first practice on Friday. Were you freaking out?
In the past it would have been tough for me to deal with, because my bike wasn't ready to go. I missed the first practice and half of the second practice, but what can you do? Things were out of my control, and you can't sit there and try to control what's going on. I stayed really calm and I told my mechanic, Patrick, that if we had to go straight into the heat race then I would learn the track as the race progressed. It ended up working out great, because I managed to set the fastest lap time of the whole afternoon on my last lap of practice. It all worked out in the end.
What was your overall impression on the weekend?
Any race is good, whether it's Anaheim 1 or Geneva Supercross or even a local Arenacross race. It's always good to line up on the gate and race with people. The track was smaller than a U.S. Supercross, which was an obvious difference. Also, the competition wasn't as tough as it is in the U.S., but there were a few good guys racing. It was a bummer that Davi Millsaps and Kyle Chisholm were hurt and really couldn't ride, but there were still some good European riders that raced. I think that a lot of Americans go over to Europe underestimating the talent. Even Davi said after the first night that there were some good Europeans. It was fun to race against different guys, and also to visit a country like Switzerland. Not many people get to do that, and for me to race motorcycles and also travel is pretty cool.
You seem very appreciative of what you have. Where does that personality trait come from?
I guess it comes from not having much when I was younger. I don't want to say that I didn't have much, because my parents gave me everything I needed to do well in racing. However, I wasn't given any bikes or parts. I remember the first time that I got sponsored by a gear company. The sponsorship consisted of getting 50 percent off one set of gear, and I was so pumped! Now to work with guys like Jeremy Albrecht, ride a factory bike and be on a great time is amazing. I don't take things for granted like a lot of the top pro's. I've worked really hard to get where I'm at, and while I do think that I deserve those things, I'm not going to take them for granted. I'm going to keep going. A lot of people say that they are living the dream, but I really do think that I am. I go to bed at night thinking how lucky I am to do what I love. I get to ride for a team like Joe Gibbs Racing and I have great sponsors. I definitely will never take any of it for granted.
RED BULL CATALINA ISLAND GRAND PRIX REPORT


Racers take to the course during the Red Bull Catalina GP on Catalina Island. Photo: Garth Milan/Red Bull Photofiles.
History was made this weekend as the Red Bull Catalina Grand Prix, one of California's most renowned motorcycles races, made a triumphant return after a 52-year hiatus. The famed race, which was held on the island between 1951 and 1958, was widely considered one of the most unique and prestigious races of the era. The weekend's cloudy skies and chilly temperatures didn't stop the more than 800 riders from tackling the newly minted 6-mile course, which featured a variety of terrain including a challenging motocross section and a fire road that took racers up winding turns and around steep bluffs high above the port city of Avalon.
The rebirth of the race brought some of the riders who had competed in Catalina in the 1950s back to ride the island track once more. This included Homer Knapp, who took to the course on Saturday on the same 1920s Harley Davidson he rode in the Catalina race in the 1950s. Bob Sandgren, who won the race in 1957 and 1958, also returned to serve as Grand Marshal. Other Catalina race veterans included Preston Petty and John Rice. The festivities kicked off with a parade lap of the racers through downtown Avalon, where hundreds lined the streets to cheer on their favorites from both yesteryear and today.

Travis Pastrana clears a mud hole on the course during the Red Bull Catalina GP on Catalina Island. This was the first time the race had been run in 52 years. Photo: Garth Milan/Red Bull Photofiles.
Other noteworthy racers included Hall of Famer Malcolm Smith, motocross and off-road champion Rick Johnson, Los Angeles Police Chief Charlie Beck and Olympic skier Daron Rahlves, who won his race. Many notable "young" racers showed up as well, including Travis Pastrana, Kurt Caselli, Ronnie Renner, Jessy Nelson, Johnny Campbell and Quinn Cody. Pastrana's Nitro Circus pals Andy Bell, Gregg Godfrey and Kurt Nicoll also lined up. The event culminated in the final Pro Race, where Kendall Norman, coming off his fifth Baja 1000 win and the 2010 AMA National Hare & Hound championship, took first place, besting young EnduroCross ace Colton Haacker. Caselli had a mechanical issue and had to drop out, as did Pastrana, who was running in the top-three when his bike seized.
Norman joins Bud Ekins (who performed the famous fence jump in "The Great Escape" for Steve McQueen) and Bob Sandgren (the race's only two-time winner) as champion of the island spectacle. "The race was awesome today – it was pretty heated, and people were really battling it out," said Norman. "The whole experience was amazing: the island, the course, the vibe, everything. I've won a lot of races this year, but this is definitely one of my favorites. I'm honored that I was able make a little history today."
"I'm just so excited to be back on a bike, and I couldn't believe how many legends came back for this event," said Pastrana. "I really enjoyed the whole experience – I couldn't believe the enthusiasm of the fans here on Catalina. People were cheering all the way around the track! This really is an amazing place."
The festivities also included a special screening of the film Nitro Circus Greatest Hits, held at the famous Catalina Casino's theater. The screening raised $5,000 and all proceeds went to the Island Motorcycle Club (IMC), which organized the Catalina Grand Prix in the 1950s and is now a charity supporting young riders on the island. Red Bull Catalina Grand Prix followed its 1950s open class tradition by providing races for a wide variety of engine displacements and skill levels. There were 12 races over the two days, with an average of 50 riders per race. The Red Bull Catalina Grand Prix was AMA-sanctioned, and all AMA rules were followed.

Kendall Norman rides on the fire road section of the course overlooking Avalon during the Pro Race of the Red Bull Catalina GP. Norman went on to win the race. Photo: Garth Milan/Red Bull Photofiles.
CATALINA GRAND PRIX RESULTS
PRO
1. Kendall Norman
2. Sean Collier
3. Colton Haacker
VET PRO
1. Ryan Dudek
2. David Pingree
3. Ronnie Renner
OVER-40 PRO
1. Kurt Nicoll
2. Tod Sciaqua
3. Rick Johnson
125 A
1. Tracy McIntyre
2. Sam Gaines
3. Phil Holcomb
250 A
1. Jessy Nelson
2. Jesse Cabe
3. Michael Allen
450 A
1. Kurt Caselli
2. Kendall Norman
3. Jimmy O'Neal
OVER-50 450
1. Jeff Kaplan
2. Larry Gross
3. Colin Macdonald
OVER-50 250
1. Randy McIntyre
2. David Wells
3. Keevan Acevado
OVER-60
1. Michael Drews
2. Jim O'Neal
3. Steven Snider
OVER-70
1. Ross Termin
2. Roy Watson
3. Don Voyer
WOMEN
1. Brook Hodges
2. Bonnie Warch
3. Nadalie Logan
Past winners of the Catalina Grand Prix: Walt Fulton (1951), Nick Nicholson (1952), John McLaughlin (1953), Jim Johnson (1954), Bud Ekins (1955), MXA test rider Chuck "Feets" Minert (1956) and Bob Sandgren (1957 and 1958).
MXA MINI-VIEW: MARTY SMITH

The biggest heart throb in American motocross during the 1970's was Marty Smith. However, Marty had more than just surfer looks. A dominant 125 racer, Smith soon built a reputation not only for his charm, but also for his raw speed. It seemed that winning the 1974 and ?75 125 National championships were just the beginning of a long and celebrated career. After suffering a career hiccup in the form of a sub par Honda 125 while doing double duty in the U.S. and Europe in 1976, Marty was back to his winning ways in 1977. Having won the ?77 500 National title over nemesis Bob Hannah, Smith was on top of the world. Yet as quickly as success came, it vanished in one night. The specific night came during the Houston Supercross in 1979. As Marty lay on the track for over an hour in agonizing pain from a dislocated hip, doubt and second thoughts crept into his mind.
Not able to deal with the mental anguish caused from the major injury, Marty's heart wasn't into racing and he retired after the 1981 season. Forever a fan of riding, Smith turned his attention to riding clinics and teaching schools, which he started doing in 1983. Now, 30 years after he left the sport as a racer, he is back as a team manager of the upstart Slaten Racing team. I caught up with Marty to talk about his past, present, and future.
MXA: After struggling on the Honda 125 in 1976, how much did it mean for you to win the 500 National title in 1977?
Marty: I was so proud of winning the 500 class in 1977, because I always had a reputation as being a fast 125 rider and only fast on a 125. In 1975 Honda put me on a 250 and 500 for practice, and I personally felt like I rode the larger displacement bikes better than a 125. I had more control, but I was still riding the wheels off the bigger bikes. In 1976 I was able to do a few 250 races, and I was pretty dominant. Tommy Croft and I had several great battles at the Trans-AMA events. We rode the support classes and I won quite frequently. When 1977 came around Honda put me on a 500 full time, and I realized that I had to prove to everyone that I could ride an open bike with rigor. When I won the 500 Nationals I couldn't have been prouder. It was a great year and everything went well for me.
"The Type 2 had more power than any other bike I had ridden, but the powerband was usable and rider friendly. If Bob Hannah would have been on that bike, even if I was riding for Honda, I would have been in trouble."
What has been the greatest bike that you have slung a leg over?
To this day that 1977 Type 2 Honda 500 is the best bike that I have ever ridden. That bike was so incredibly easy to go fast on. I think that anyone with a modicum of talent and skill could have won a National on that bike! It was that good. The Type 2 had more power than any other bike I had ridden, but the powerband was usable and rider friendly. If Bob Hannah would have been on that bike, even if I was riding for Honda, I would have been in trouble. I had a huge advantage on everyone in 1977 specifically because of that bike.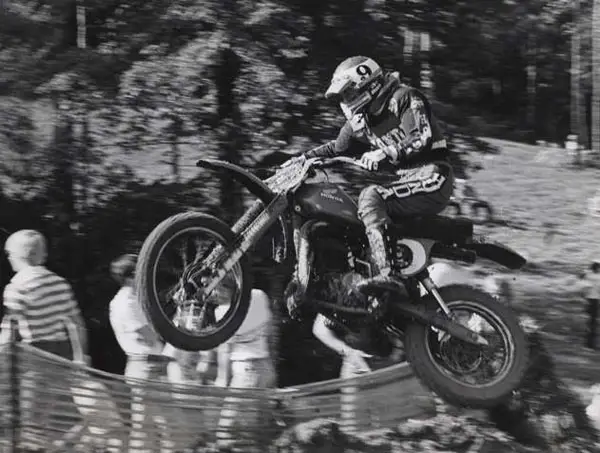 Marty's best years were with Honda.
Was winning the 1977 500 National title the biggest highlight of your career?
I don't want to say that it was the crowning achievement of my career, but it was one of my fondest memories. I also remember the first year that I went over to Europe to race a 125 Grand Prix. I finished second in the first moto behind Gaston Rahier. In the second moto I won and Gaston finished second. When we went up to the trophy presentation I stood on the top step of the podium. As it came time for the presentation, Gaston pointed at the second place step of the podium and said in a thick accent, "Marty, you need to go over here, because I am first place." I no doubt had a shocked look on my face and replied, "What do you mean? I won today. Stop messing with me." Just about then my team manager, Steve Whitelock, informed me that I hadn't won the overall. Apparently in the GP series they calculated the overall times of both motos and the rider with the lowest overall time in the event of a tie won the GP. I was a little bit bummed out, but I was happy to discover that I was competitive in Europe. I felt like I could win the GP championship. Unfortunately we had a lot of bike problems in 1976, and although I won a few 125 GPs, I didn't ever win the title.
Were you happy about Honda's decision for you to not only race the 125 Nationals, but also contest the 125 Grand Prix championship across the pond? That must have spread you pretty thin.
Reflecting back on it now, of course I was spread too thin. However, at the time I was 19 years old and I was on top of the world. I wasn't afraid of anybody or anything. Honda didn't actually make me go race in Europe. They kindly asked if I was interested, and I said yes. There was nothing that I felt I couldn't do. Besides, the schedules didn't conflict with one another. I chose to go.

Initially not a fan of Supercross, Smith began taking a liking to indoor racing after a few years in the sport – that is, until his crash at Houston.
So ultimately the bike issues derailed your year of potential success in 1976?
We had to spend a lot more time testing during the week in Europe and in the U.S. just trying to get the bike to work here or even there. We spent so much time testing that after a while it dragged me down. I had to test each day, then hop on a plane and travel around the world to race on a bike that I didn't feel comfortable on. Things didn't go as planned.
"My dad and I drove to Honda and agreed to a contract. It seemed like right from there I got hundreds of thousands of dollars coming my way, along with new bikes, and cars as bonuses. I was flying across the country every weekend, driving rental cars, staying in hotels, and there were groupie girls at all of the hotels that I stayed at. I went from being a kid to a rock star overnight!"
Describe those first years as a pro. It seem like you skyrocketed into the pro ranks and your popularity was off the charts. You also didn't have any problems with the ladies back then.
Everything was happening so fast. I did well at the 125 National in 1973 an Arroyo (which is now Glen Helen) on a Monark, and the very next day I stayed home from school and Honda called me. They asked to have a meeting with them, and they wanted to know if I was interested in campaigning the following year. My dad and I drove to Honda and agreed to a contract. It seemed like right from there I got hundreds of thousands of dollars coming my way, along with new bikes, and cars as bonuses. I was flying across the country every weekend, driving rental cars, staying in hotels, and there were groupie girls at all of the hotels that I stayed at. I went from being a kid to a rock star overnight! The next thing I know I'm at the first AMA National and I smoked everyone. It all seemed so easy to me. Then I become the number one rider in the nation and I win the first 125 U.S. championship. My life was swirling around me so much that I didn't have enough time to stop and think about it. I'm glad that I didn't, because then I probably would have been screwed up.
Was it hard to focus? You had a bunch of girls chasing you around and other distractions, which must have been tempting.
A lot of guys had problems with getting nervous before the races. It was fortunate for me that back when I was a teenager the thing that kept my mind off things and helped with nerves was girls. There were a lot of them hanging around, but it worked right into my train of thought. I didn't have time to get nervous at the races, because my mind was filled with a bunch of pretty girls running around! I rode really well just because I thought that the girls were watching me. I got hyped up with all of the girl fans that I had.
Did you ever skimp on training?
Nobody trained like I did. I rode my bike every single day. I felt like nobody did more during the week to train than I did. I was confident in that area, and the training helped me maintain a mental edge and keep from getting hurt.
"I was laying on the side of the track for an hour before the medical staff could cart me off. Then I laid on a gurney inside the emergency room for three hours before I was attended to. That took it all out of me. My life of motocross drained out each minute that I laid there in agonizing pain."
Leading up to your severe hip location that you suffered in 1979 you had a clean bill of health. How life changing was that injury for you?
When I dislocated my hip at the Houston Supercross it was definitely a major moment in my life. It marked the beginning of the end of my career. I didn't want anything more to do with racing at that point. Before that Houston race I was on top of the world. I had won the Anaheim Supercross and the 500 Championship in 1977. I was starting to like Supercross, because in the beginning I wasn't able to adapt to Supercross. Interestingly enough, I didn't have any physical issues with adapting to Supercross, but instead a mental block. I thought that racing in stadiums was a bad idea and was a fad that would die off in a couple of years. Little did I know, though! As it turned out I started liking Supercross, but then I got hurt. I was laying on the side of the track for an hour before the medical staff could cart me off. Then, I laid on a gurney inside the emergency room for three hours before I was attended to. That took it all out of me. My life of motocross drained out each minute that I laid there in agonizing pain.

Marty was dominant on the 125 and later had a great 500 National title bout with Bob Hannah in 1977.
Did doubt as a professional racer seep into your mind?
I started looking at the whole picture. I had bought property and I had enough assets to retire. I also had a beautiful girlfriend that was living with me at the time, who I made my wife, and I was set. The pain of the injury was grueling, and I realized that I didn't want to have to deal with pain like that again. Up until that point in my career I had never been injured. The idea of dealing with an injury was foreign to me.
Why did you continue to race in 1980 and ?81, even after your relationship with Honda ended?
It was purely a money deal with Suzuki. It was no big secret at the time that my heart wasn't into racing. A part of me still had fun riding and winning races, but a larger part of me wanted to quit and retire. I was on the fence about the deal, but Suzuki made me an offer that I couldn't refuse.
Now you're back in the racing fold after 30 years, now as a Supercross team manager. What's the driving motivation to come back?
I have been doing my schools since 1983. I love teaching people how to become riders, and I have a lot of information that can help people. All of a sudden a door opened, where a team formulated that wanted to go Supercross racing. I was offered the job of team manager for Slaten Racing, and after a week of deliberation I decided to take the position. It's something that I have never done before, and I'm going to learn a lot. I'm looking forward to the challenge and I'm not nervous one bit. The idea of helping a few aspiring riders reach their goals and establish themselves in racing is exciting to me.
How many riders are on the team?
We have two riders right now and we're looking to fill two more spots before Anaheim 1. Being that it is a privateer team, two of the riders are on Kawasaki right now, but that doesn't mean that the other riders have to ride green. It's not a big deal these days. Most of the big teams, such as Suzuki, Yamaha and Honda, don't have their riders all wear the same gear. All that matters is that our sponsor logos are in line.
Is it hard to be a team manager after basically being pampered as a factory rider?
I think that the previous experience makes it easier for me. I know what a rider needs. Even though I stopped racing just about 30 years ago, I still know what riders need in order to succeed. It's going to be easy for me to fall right in and get the job done.
How has the news been received about your return to racing?
Oh man, it's all been great! Everybody that has called, emailed or chatted me up on Facebook has been really positive. I have a great reputation in the industry and in doing my riding school. Everyone is wishing me well. The most common comment has centered around people wondering why it took me so long to come back to racing. It has been an overwhelmingly warm reception.
2011 LUCAS OIL AMA PRO MOTOCROSS CHAMPIONSHIP SCHEDULE
The 2011 Nationals start on the same weekend as they did in 2010, only for 2011 the series will head straight to Texas after Hangtown without taking a week off. Aside from that, all of the other Nationals are scheduled for the same weekend as they were in 2010. And should you plan on attending the Pala series finale, make sure to give yourself a two-day head start, because the two-lane road going to the track gets congested quickly.
May 21…Hangtown Motocross Classic*
May 28…Freestone Raceway*
June 11…High Point Raceway
June 18…Budds Creek Motocross
June 25…Thunder Valley Motocross*
July 2…Red Bud*
July 16…Spring Creek Motocross*
July 23…Washougal MX Park
August 13…Unadilla
August 27…Moto-X 338*
September 3…Steel City Raceway*
September 10…Pala Raceway*
*WMX events
MXA MINI-VIEW: DAVI MILLSAPS

Turning pro in 2004, Davi Millsaps has gone through the wringer. A teenage racing prodigy, Millsaps won the 2006 East Coast Supercross title in his first year with Honda. A part of the omnipotent factory Honda team for five years, Davi grew up during that time span. Though he has struggled with injuries and inconsistency, the Georgian has won Supercross races and National motos in the 450 class. Although sometimes unbridled, the talent is there.
For 2011 Millsaps signed a one year deal with the North Carolina-based Joe Gibbs Racing team. It's a drastic change of scenery from what Davi is used to, as he is now living back on the east coast full time, riding a different bike on a new team, and no longer working with his longtime mechanic, Carlos Rivera. I caught up with Davi directly after he bowed out of racing the Geneva Supercross from pinched nerves in his lower back.
MXA: How was it to come back from an injury that sidelined you for so long and hop on a bike that you had never ridden before?
Davi: It was definitely a different feeling after being away from riding altogether for three months because of my injury and then getting on a new bike. It has been a change, but it's a good change. I actually really like the Yamaha. When I first got on it of course it was a little different, but I'm getting used to it and I already feel comfortable on it.
You had been racing for Honda for five years. Has it been difficult adapt to a new team, new surroundings, and all that comes along with really starting a new relationship?
It is pretty crazy that everything is different. Still to this day I'm getting used to the whole program. All in all it's a good bike, and I'm on a good team that's working hard on the bike. They want me to do well, and they are giving me everything that I need. I can't ask for anything more, you know? I'm also really happy to be back living on the East coast, that's for sure!
"You know, Honda is a great team. I will never say one bad thing about that team. Everyone from Erik Kehoe to Shane, Dan, and the rest of the crew was great."
What many people might not know is that you were in contract negotiations with the Joe Gibbs Racing team in 2008 when your Honda contract was up. Why didn't you sign with the JGR team then?
We were talking and had the contract all ready, but then I decided to sign with Honda. You know, Honda is a great team. I will never say one bad thing about that team. Everyone from Erik Kehoe to Shane, Dan, and the rest of the crew was great. It was a good combination, but a change is good sometimes. When the opportunity to ride for JGR presented itself this time around I took it, and I'm glad.
You mentioned about being happy to move back to the East coast. Was that a major deciding factor in signing with JGR, which is located in North Carolina?
Definitely. I like the East coast. I grew up seven hours from North Carolina, in Georgia, and I was born in Orlando. My family and friends are close by, and the East coast feels like home. People have constantly been asking me how I'll be able to adapt to living in North Carolina after living in California. They seem to forget that I only lived out west for a year and a half. I lived on the East coast for every other time in my life. I like living in the middle of nowhere [laughter].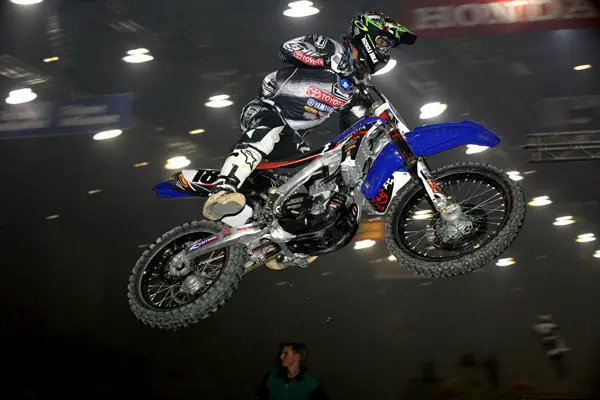 Davi's first race for the JGR team came in Geneva. Unfortunately he was dealing with pinched nerves in his back, and he had to retire early for the weekend.
Are you able to live in Georgia and make the commute to North Carolina? I know that last year Michael Byrne was staying in Georgia while racing for JGR.
No, I live in North Carolina. I do go Georgia quite often though. For example, I drove to Georgia from North Carolina and spent two days there before flying out to Switzerland for the Geneva Supercross. I love my place down in Georgia, and I have four of my own tracks to ride while there, but Gibbs just bought new property in North Carolina and he's going to build more tracks. The tracks that the team has now are pretty good. I like the JGR program because it has a lot of structure, which I need. I'm hoping for the best.
Aside from the new team, new bike and new place, you also have a new mechanic. Was it hard to leave Carlos? For as long as I can remember the two of you have been teamed up.
We worked together for 12 years. He's actually at KTM now working for Ken Roczen. Carlos has been like my dad for the last 12 years. He's a good guy, and his wife, Thelma, has been like my mom since we started. It's like losing part of my family, but we still talk almost every day about everything. Carlos knew that coming here was the best thing for me. He came up to me before I made my decision and told me that if he couldn't go to JGR with me then he still wanted me to go. He told me that I needed to do what was best for my career. That took all of the pressure off me, because I didn't want to go anywhere without Carlos. It was hard to lose him, but he's still one of my best friends and always will be.
"People were saying that I lost both kidneys and that I was hooked up to machines. I did Tweet that I lost three-quarters of my kidney, but I never said that I lost both kidneys. It's pretty crazy what people come up with nowadays on the Internet."
Please talk about the extent of your injury from Budds Creek. I've heard everything from how you completely lost a kidney in the crash to being completely fine and healthy. What gives?
I broke a bunch of ribs, bruised my lung, broke my back, broke my thumb, and lost three-quarters of my kidney. It was a big ordeal. It's funny that you say that, because I heard those rumors as well. People were saying that I lost both kidneys and that I was hooked up to machines. I did Tweet that I lost three-quarters of my kidney, but I never said that I lost both kidneys. It's pretty crazy what people come up with nowadays on the Internet. I didn't actually find out until a week later that I had broken my back. Aside from that I have 20 percent of the function in my one kidney back. I still won't ever get all of it back. My ribs are healed and my thumb still hurts every once in a while.

Millsaps jumped out to a great start in the first moto at Budds Creek this year, but then his fate changed later on in the race. The ensuing crash left him with several broken bones and, most seriously, nearly one less kidney.
Do you actually remember the crash?
No, not at all. I do remember going off the lip and jumping off. It was the steep double right before the finish line tabletop. It was in the exact spot where Blake Baggett crashed and broke his arm on the same day. When I jumped off the bike I know that I landed straight at the bottom of the pit, which is a long way to fall. The trainer for JGR, Tim, was there by the jump when it happened, and he said it was one of the worst crashes that he had ever seen on a dirt bike. Other people have come up to me and asked me why I would even want to ride again, much less race, after a crash like that.
"Will I ever be able to ride if I lost my other kidney? No. I would have to get a transplant. Then once I get a transplant then I'll be able to ride again [laughter]."
I'm one of those people that wonders why you're back racing. You have to think about your underperforming kidney and should know the possible grim results of damaging your other kidney.
The kidney that was damaged performs well enough that it will keep me off of having to use machines. The doctors have said that the kidney is still growing, and the best case scenario is that it will function at 50 percent. If that happens then that kidney alone could run my whole body if something happens to my good kidney. Will I ever be able to ride if I lost my other kidney? No. I would have to get a transplant. Then once I get a transplant then I'll be able to ride again [laughter]. They say that the chances of losing my other kidney are about the same as losing both kidneys at once. It's hard to do what I did, because while I didn't know how I landed, doctors have told me that I must have landed directly on the kidney. It was a freak accident, and the weird thing is that when I went to the hospital I didn't have any pain in my kidney. After running a few tests it was discovered that there wasn't any blood flow to my kidney.
Were you losing your mind at that point?
I really didn't know what to think, because I can't say that I know completely how a kidney works, other than basic information. So they told me that a kidney only has a life span of three or four hours maximum without blood flow, and it took them 4-1/2 hours to get me on the operating table. Whether or not they saved it, they said no. However, I think that they could have tried a little harder.
How did you find out that you broke your back?
The doctors at the first hospital didn't catch it. A week later I found out, and actually just last week when I went into the doctor to have an x-ray on my back they told me that my back was completely healed and that there wasn't anything to worry about.
Is there any correlation between breaking your back in June and suffering from a back issue now?
No, I don't think so. I pinched nerves in two of the vertebrae's [note: initially I reported that Davi compressed three vertebrae, but that's not actually the case.]. The reason it happened is because I hadn't ridden for so long, and then getting back into riding I was out of shape. My body wasn't ready to handle the rigors of riding hard, which is how I hurt my back. Things should get better though. I'm seeing a chiropractor a lot and working to get stronger. I should be good by Anaheim.
PHOTO OF THE WEEK: PART 2


Now that's a whip.
MXA MINI-VIEW: NORTH DAKOTA'S TANNER REIDMAN


Tanner Reidman.

MXA: Where are you from and how old are you?
Tanner: I'm 19 years old and I'm from Bismarck, North Dakota.
How is the motocross scene in Bismarck?
Bismarck is a lot different than California, but the tracks are getting better and the NDMA is doing a good job. Near Bismarck there are two tracks that hold races and a public riding area on government land. The hard part is that you don't have a lot of good guys to push each other so they can get better. Most of the time when I go out to practice I'm the only guy riding.
Would we know any famous racers from North Dakota?
No. There have been a couple guys who raced at the Minneapolis Supercross and some of the other close rounds, but there aren't any North Dakota racers on the AMA circuit full-time.
You raced the 250 West last year, how did you do?
I raced six rounds of the 250 West. It was okay, but I didn't do as well as i would have liked. I made all of the night programs, but only made two main events. I finished 18th at both Anaheim II and Anaheim III. I raced a CRF250 last year and was sponsored by U Motors in Fargo, RBR and Enzo suspension.
Who is helping you this year?
I still have the help of U Motors, RBR and Enzo, but have added Excessive. They are a great company from Canada that is helping me.
What are your plans for 2011?
I've been on a 250 for awhile, but I think it is time to move to the 450 class. It is cheaper to race and the bikes are closer in performance. Even a stock 450 is competitive in the 450 class, but a stock 250 is underpowered against the Pro Circuit and Geico bikes.
Are you racing a stock bike?
Basically, yes. My Honda CRF450 has a Yoshimura pipe and Enzo suspension. Even on a stock 450 I feel that the power is more than enough if I use it right.
How many Supercrosses do you plan on racing in 2011?
I doing everything on the West Coast, probably the first seven races, and then I hope to get enough funding to do some of the East Coast rounds.
TRAVIS PASTRANA BREAKS ANOTHER RECORD?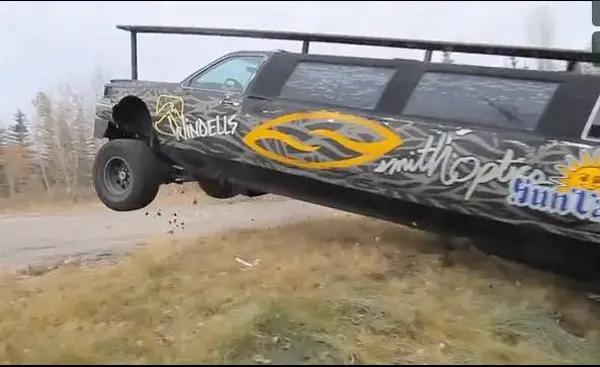 Click on the photo above to watch Travis Pastrana jump the Smith limo.
DO YOU RIDE A KTM? RIDE FOR FREE AT KTM'S CHRISTMAS PARTY!


Come celebrate the holidays while riding orange with KTM professional riders and enthusiasts. KTM North America, Inc. would like to extend a Christmas invitation to all KTM riders to come and ride at Cahuilla Creek MX Park in Anza, CA on Friday, December 17, 2010 from 9:00am ? 4:00pm absolutely FREE. On top of that, KTM will be debuting two new 2011 off-road models!
This marks the second year KTM President, Jon-Erik Burleson, along with the promoters of Cahuilla Creek MX and presenting sponsors FMF, Motorex and Thor have decided to open the invitation to all KTM riders for FREE!
KTM dealers and presenting sponsors will be on hand to show their new product and give you great gift ideas for your family and friends this holiday season. FMF/KTM GNCC riders Cory Buttrick, Charlie Mullins and Kailub Russell will be on hand spinning laps and introducing the new models. In addition, Red Bull/KTM riders Andrew Short and Ronnie Renner will make an appearance and KTM R&D rider Michael Sleeter.
No RSVP is necessary. Mark your calendar now for this exciting event and show up at Cahuilla Creek MX Park December 17th "Ready to Race."
AP BRAKES PRESENTS "THE LIFE: PART 1" WITH ROBBY BELL AND JUSTIN SEEDS


AP Racing takes you into the lives of two of their Pro team WORCS Racers Robby Bell and Justin Seeds, as they persevere towards victory. Watch behind the scenes footage of their daily lives as well as them live on the track. Full online documentary series coming soon.
Chapter 1 – In the Life from bike spray on Vimeo.
HERE'S WHAT'S HAPPENING AT GLEN HELEN THIS WEEKEND