MOTOCROSS ACTION'S MID-WEEK REPORT: (12/14/11)

By John Basher
PHOTO OF THE WEEK


    As part of the omnipotent factory Honda team for 2012, Justin Brayton is looking to make waves on the red rocket. Here, he takes flight at the factory Honda Supercross test track.
VIDEO MINI-VIEW: THE ALESSI BROTHERS

LARRY BROOKS SIGHTING!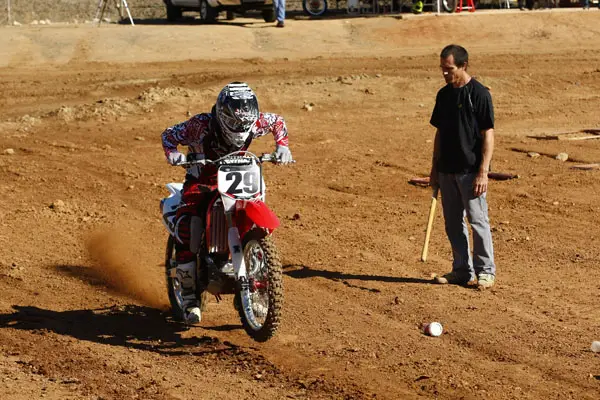 While out at the Honda Supercross track this past week, I spotted Larry Brooks, the racer turned manager turned owner. Larry and Jeremy McGrath have teamed up to field Andrew Short in the 450 class. It appears as if the team, which doesn't seem to have an official name yet (Team L&MC?), will stick with one rider for 2012 and ramp up their efforts in 2013. Look for an interview with Brooks very shortly.
VIDEO MINI-VIEW: TY DAVIS AT MXA'S RIDE DAY

SUPERCROSS TEST TRACK PHOTOS


Justin Brayton.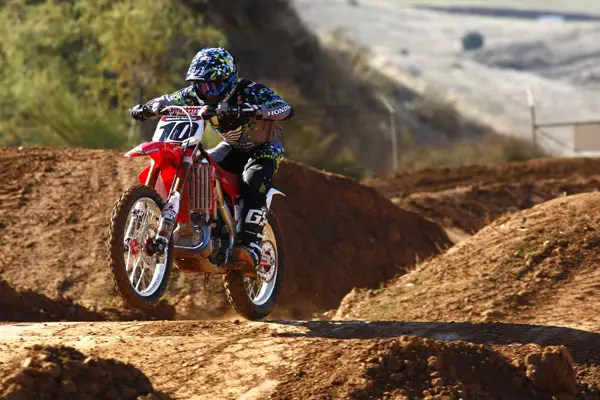 Justin Brayton.

Nick Wey.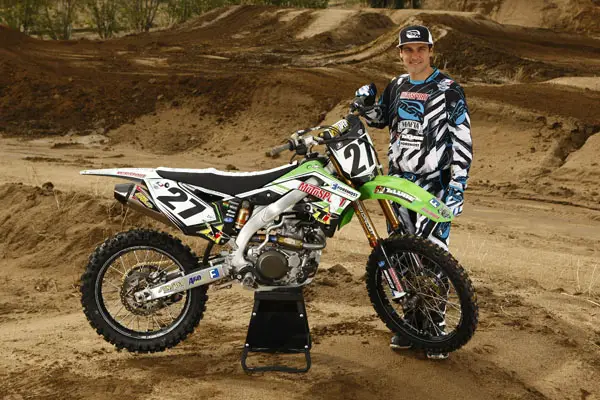 Nick Wey.

Nick Wey.

Nick Wey.

Andrew Short.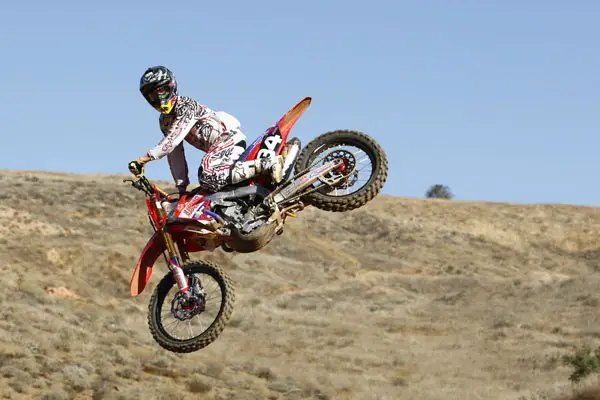 Cole Seely.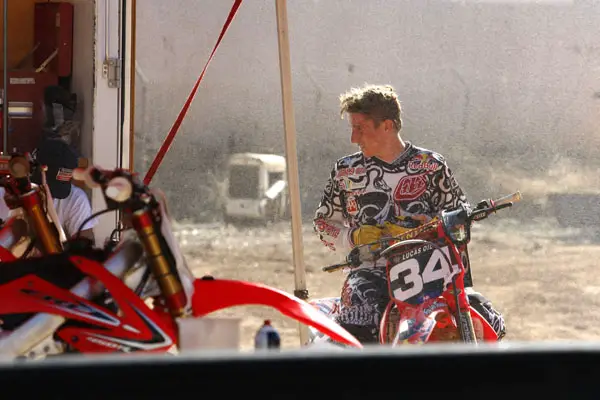 Cole Seely.

Cole Seely.
VIDEO: BUBBA, DAVI AND THE BOMBER GETTING WILD

RIDE A SMOKER? BEL-RAY H1-R TW0-STROKE OIL
Bel-Ray H1-R Racing 100% Synthetic Ester 2T Engine Oil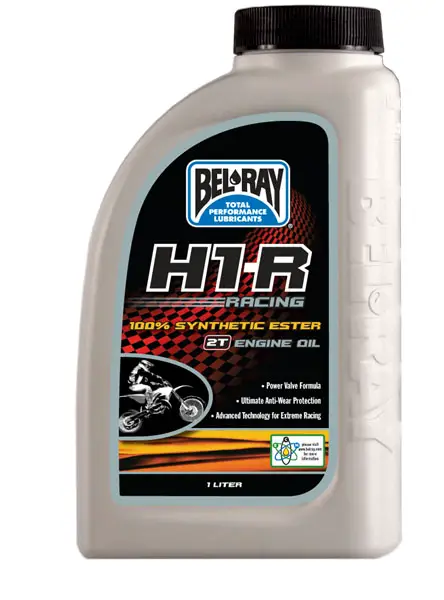 Flex Your Engine with Bel-Ray H1-R Racing 100% Synthetic Ester 2T Engine Oil, the ultimate 2-stroke racing engine oil formulated for all power valve 2-stroke engines.
     Advanced 100% synthetic ester base oils cling to metal, preventing wear in all 2-stroke applications. It is clean burning to prevent carbon build-up in combustion chambers and power valve mechanisms while producing a low smoke performance that eliminates spark plug fouling.
The superior anti-wear properties extend bearing life and reduce cylinder and ring wear while deposit control properties reduce ring sticking and provide greater throttle response and better performance.
     Available in 379ml, 1 liter, and 4 liter bottles.
MXA AROUND THE WORLD: PHILIPPINES UPDATE
    In our continuing quest to take over the world, MXA test rider Dennis Stapleton is traveling near and far to spread the good word of motocross. This past week Dennis was in the Philippines, along with MXA Assistant Editor John Minert, to race around palm trees in sweltering heat. Look for a story on the event in an upcoming issue. For now, take a look at these photos from their time overseas.


Tiger Lacey was the big winner in the Philippines.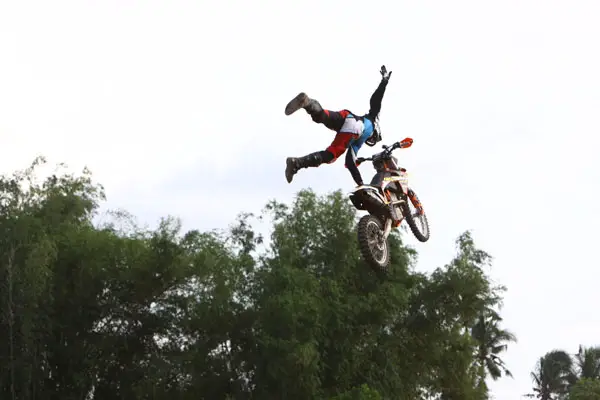 Freestyle action.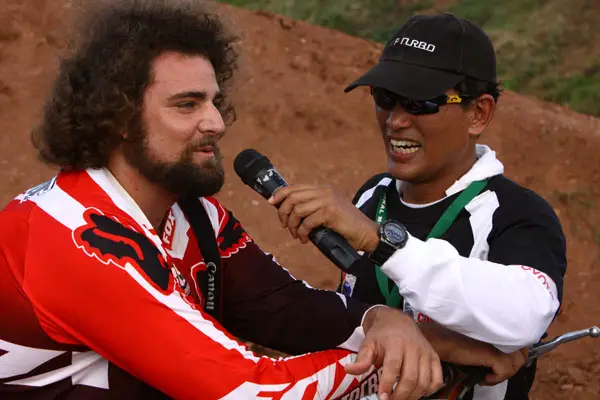 MXA Assistant Editor John Minert (no relation to Moses) had a blast in the South Pacific.

The action unfolds on the hardpack track.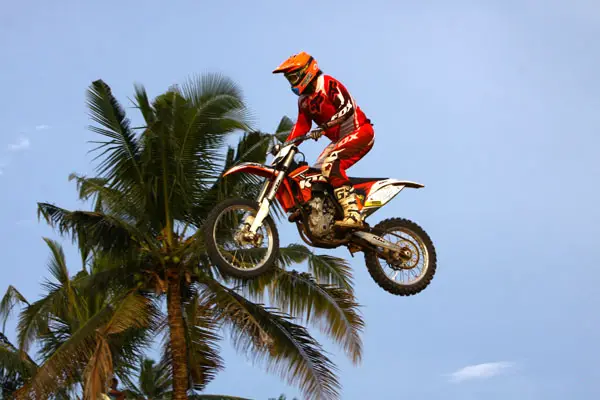 John Minert flies high.

Dennis Stapleton finished second overall.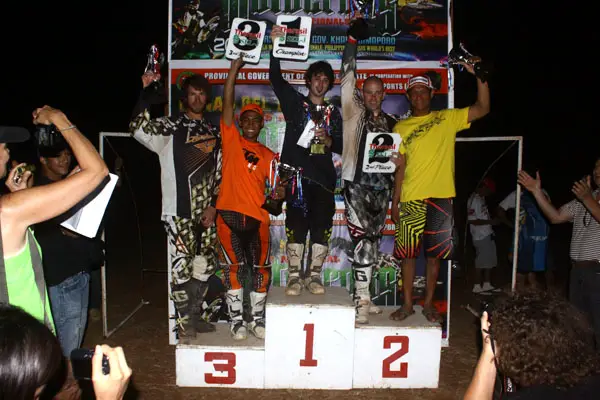 The podium.

Glenn Aguilar (on the microphone) suffered from a first turn crash and went down in the second moto while in third place. He won his 13th title in the Philippines.  
Thanks to the SEL-J Sports!
PHOTO OF THE WEEK: PART 2


    How's that for a sprinkler?
VIDEO MINI-VIEW: LANCE COURY AT MXA'S RIDE DAY

2012 SUPERCROSS PREVIEW TO AIR ON CBS CHRISTMAS DAY
 
    Feld Motor Sports announced that CBS Sports will showcase the highly anticipated Monster Energy AMA Supercross, an FIM World Championship, preview show Sunday, December 25 at 2:00 p.m. ET. The one-hour season preview show will foreshadow what's to be expected when the gates drop on the 2012 Monster Energy Supercross Championship from Angel Stadium in Anaheim, Calif. January 7. The depth of talent in this year's field is the deepest the sport has ever seen as it enters its 37th season. Nine different riders ? Chad Reed, Ryan Villopoto, Ryan Dungey, James Stewart, Trey Canard, Kevin Windham, Josh Hill, Josh Grant and Davi Millsaps ? have earned Supercross Class wins during their careers. Among them, Stewart, Reed, Dungey and Villopoto have captured the coveted Supercross Class championship.
 
    CBS Sports will give an insider's perspective on the multi-faceted season that lies ahead and provide an update on the developments of Stewart and Dungey's camps as the season draws near. Once the season gets underway, CBS Sports will provide a Monster Energy Supercross special on February 26 at Noon ET and a Monster Energy Supercross season recap show on May 6 at Noon ET. "Network coverage on CBS Sports is the perfect platform to showcase the highly anticipated 2012 Monster Energy AMA Supercross, an FIM World Championship," said Charlie Mancuso, president, Feld Motor Sports.
 
    Beyond the competition, 2012 is being tabbed as a significant season of change for many of the sport's biggest names. Most notably are the respective moves of both Stewart and Dungey. After three years with San Manuel Yamaha, Stewart made a high-profile move to Joe Gibbs Racing and the Toyota/Yamaha/JGRMX stable, while Dungey will compete professionally on a machine other than Suzuki for the first time in his young career, rejoining his mentor and team manager Roger DeCoster at Red Bull KTM.
LEVI LAVALLEE ON TONIGHT SHOW…TONIGHT!

    Snowmobile star Levi LaVallee will be a guest on the Tonight Show with Jay Leno this Wednesday, December 14 at 11:35 p.m. ET/PT (10:35 p.m. CT) on NBC.
    Levi will follow comedian Louis C.K., starting off on the couch and an interview with Jay Leno, and then proceeding to become the first person to jump a snowmobile in the Tonight Show's illustrious history.
    On Saturday, December 31, Levi will be jumping his snowmobile alongside fellow Red Bull athlete Robbie Maddison and his motorcycle at Red Bull: New Year. No Limits. in San Diego, live on ESPN. Both athletes are aiming to break the distance jumping world records in their respective disciplines. Levi holds the existing snowmobile jump record at 361′ and Robbie is looking to take back his motorcycle jump record by exceeding 391 feet. For more event information, visit www.redbullnewyearnolimits.com. Here is the latest pre-event video:


PHOTO OF THE WEEK (IF THE WEEK WAS 31 YEARS AGO)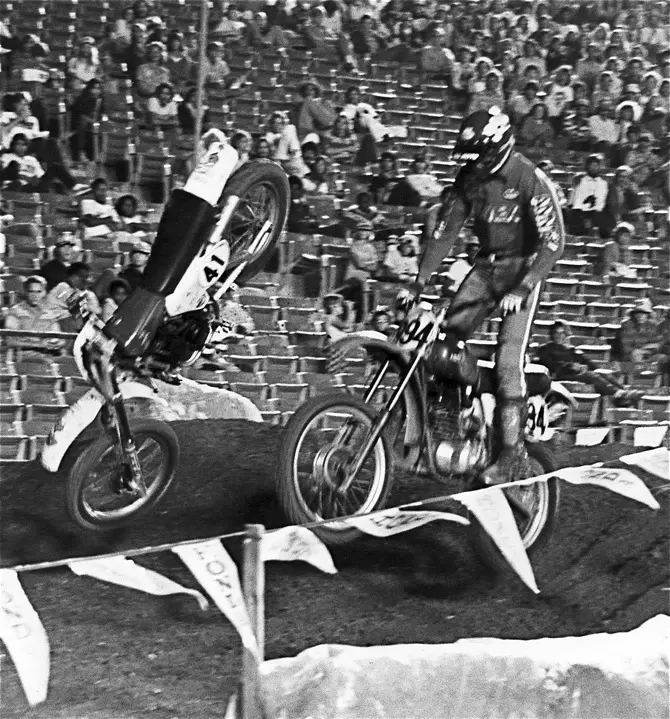 This is cool motocross photo, but not because it is a typical Superbowl of Motocross crash from 31 years ago, but for another completely different reason. Can you guess why? The answer is at the bottom of this page.
NMA PONCA CITY GRAND NATIONAL CHAMPIONSHIP ARE NOT GOING TO BE IN PONCA CITY


    Don't waste your time making travel arrangements for the NMA Ponca City Grand National Championship, Pala AMA 250/450 National or the Glen Helen USGP in 2012?because those races won't be there. Although NMA hasn't made an official announcement about where they will be moving the NMA Grand National Championships to on July 22 through July 28, 2012?it won't be in Ponca City, Oklahoma. Breakups are always messy. In the case of the Pala National it is allegedly about who made money, who lost money and who tried to take all the money. The USGP couldn't get the support of American riders, which meant that it wasn't supported by American fans. As for Ponca City, the AMBUC charity organization sent out a press release saying that they were looking for a new promoter and had severed ties with NMA. Of course, we expect an NMA press release announcing a new location soon.
IT SCRAPES, IT PICKS & IT SCOOPS! MEET THE MUD AX


   For more info on the $19.95 Mud Ax go to www.riskracing.com
GET YOUR BLAKE BAGGETT T-SHIRT & HOODIES NOW


    Blake Baggett has a new lone of merchandize available through his website at www.blakebaggett.com. The T-shirts (in black or gray) are $18.00 (plus shipping).

KAWASAKI RIDE DAY AT PALA ON DECEMBER 19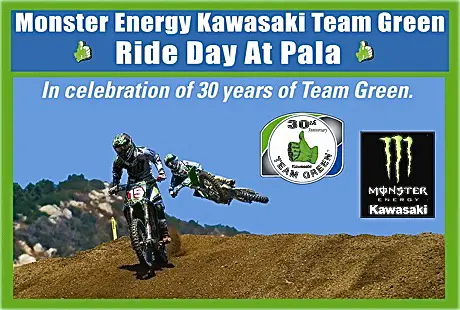 Mark your calendars for the upcoming Team Green Ride day at Pala Raceway on Monday, December 19, 2011. The event hours are 10 a.m. to 4 p.m. Bring your Kawasaki KX and ride for free on three different tracks (there will be a $20 donation to Road 2 Recovery for any other brand of bike). Plus, the first 200 Kawasaki bikes that enter will receive a free liter of Maxima oil and a Pro Filter air filter. There will be demo rides on the 2012 KX250F and the KX450F for rider over 18 years old. Free admission for all spectators. For more info go to www.kawasaki.com/Racing_news/Article.aspx?id=1747 

GET PRO CIRCUIT'S UMBRELLA BEFORE THE MONSOON SEASON STARTS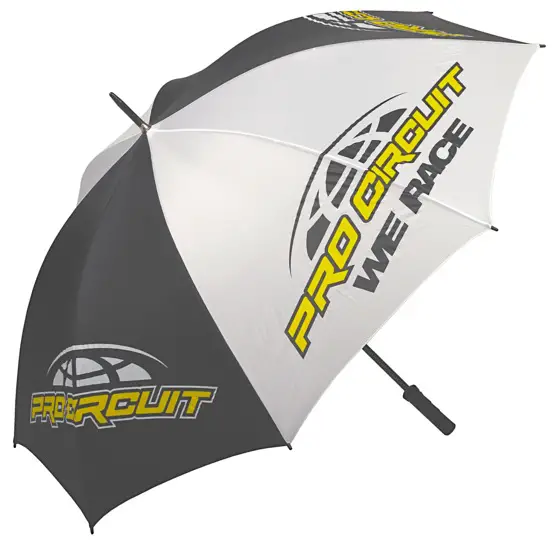 Used by the Pro Circuit race team and approved by Mitch Payton himself, the Pro Circuit umbrella may be handy on and off the track in rainy situations.  It opens to a diameter of 60″ and features black and white backgrounds with the Pro Circuit logo and "We Race" tagline. It is 100 peercent nylon and measure 60 inches across. The price is $32.95. For additional information on this and other Pro Circuit products, please visit www.procircuit.com.
MATRIX CONCEPTS GIFT OFFER! THREE MAGNETIC STACKING TRAYS FOR A $75 PURCHASE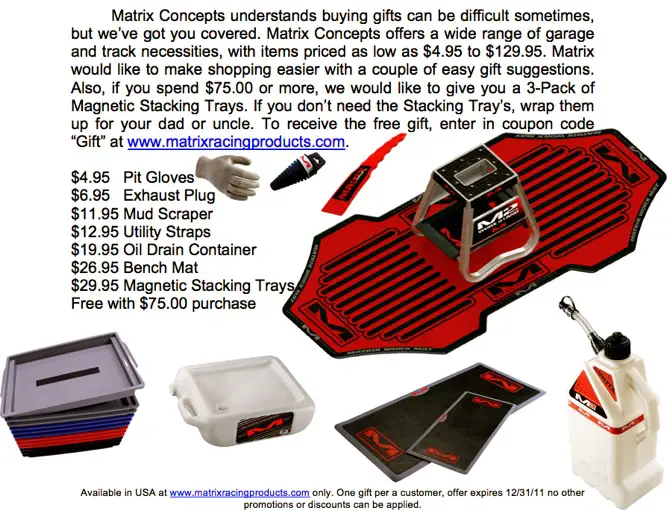 For more info go to www.matrixracingproducts.com

BUBBA AND DAVI TO RUN PIRELLI TIRES IN 2012

    Pirelli and JGRMX will continue their technical partnership through the 2012 AMA Supercross Championship season. With the recent addition of supercross rider James "Bubba" Stewart, team owner Coy Gibbs believes that the JGRMX/ Toyota/ Yamaha Team of Stewart and veteran Davi Millsaps, who will race exclusively on Pirelli's Scorpion MX tires, has the potential to be a championship contender. "We are excited to continue our partnership with JGRMX," said Pirelli North America Off-Road Manager, Josh Whitmire. "Working with a first class team and organization like Joe Gibbs Racing will allow us to continue the success of the Scorpion MX family of tires in the USA." Millsaps echoed Whitmire's sentiments: "Pirelli has been working really hard to develop for us the best possible tires. 2012 is going to be a great season." Whitmire continued, "Pirelli has won 56 World Championships to date, making us a leader in off-road tires worldwide." This legacy of success has led to an expertise in engineering and optimum tires to support the Toyota/ Yamaha/ JGRMX Team at each of the 17 rounds next season. Stewart, a multiple championship class winner commented, "I was really impressed with the commitment that the guys at Pirelli [showed] during testing, including bringing engineers over from Italy. I am looking forward to the 2012 racing season."
ATLAS BRACE LAUNCHES NEW WEBSITE!


   Atlas Brace Technologieshas launched it new wordwide website at www.atlasbrace.com. It contains all the info about the product, pricing FAQ's, Team Atlas, and much more. Atlas will be accepting online pre-orders (USA only) starting December 20, 2011, through the website, once the store is enabled for consumers on that date.
ANSWER: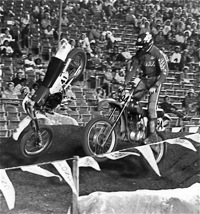 The rider on the right is four-time 250 National Champion Gary Jones racing an Ammex. Jones is the only rider to ever race a Supercross on a motorcycle brand that he owned, but that is not what's so cool about this Jody Weisel photo from the night portion of the two-day 1980 L.A. Coliseum race. The cool part is that the Husqvarna flying past Gary Jones belongs to Clark Jones (and is sponsored by Mitch Payton's Pro Circuit Husqvarna shop). Gary and Clark aren't brothers, they are brothers-in-law. Clark, who is married to Gary and DeWayne Jones' sister Lois, can always claim to have passed Gary at the Superbowl…well, at least his bike did.