MOTOCROSS ACTION'S MID-WEEK REPORT: (12/15/10)

PHOTO OF THE WEEK


Jeremy McGrath has been retired for years, but that doesn't stop "Showtime" from riding frequently. And, yes, he can still do the nac-nac.
DO YOU RIDE A KTM? RIDE FOR FREE AT KTM'S CHRISTMAS PARTY!


    Come celebrate the holidays while riding orange with KTM professional riders and enthusiasts. KTM North America, Inc. would like to extend a Christmas invitation to all KTM riders to come and ride at Cahuilla Creek MX Park in Anza, CA on Friday, December 17, 2010 from 9:00am ? 4:00pm absolutely FREE. On top of that, KTM will be debuting two new 2011 off-road models! This marks the second year KTM President, Jon-Erik Burleson, along with the promoters of Cahuilla Creek MX and presenting sponsors FMF, Motorex and Thor have decided to open the invitation to all KTM riders for FREE!
    KTM dealers and presenting sponsors will be on hand to show their new product and give you great gift ideas for your family and friends this holiday season. FMF/KTM GNCC riders Cory Buttrick, Charlie Mullins and Kailub Russell will be on hand spinning laps and introducing the new models. In addition, Red Bull/KTM riders Andrew Short and Ronnie Renner will make an appearance and KTM R&D rider Michael Sleeter.
    No RSVP is necessary. Mark your calendar now for this exciting event and show up at Cahuilla Creek MX Park December 17th "Ready to Race."
WHAT YOU'RE MISSING BY NOT GETTING THE JANUARY 2011 ISSUE OF MXA?ON SALE NOW


The January 2011 issue is on the news stands now, but it could be in your mailbox if you subscribe. Isn't it time you started reading a motorcycle magazine about motorcycles?


Even if you think you know who won the 2011 MXA 450 Shootout, you don't really know until you read all of the facts.


What did Honda change on the CRF250 for 2011? You'll be surprised.


There are only two 250cc two-stroke available from the Big Five, which for two-stroke lovers means that there is really only a Big Two. We test the all-new KTM 250SX.


Not everybody can afford a brand-new bike, but don't despair?there are lots of good used bike out there. We tell you which one to look for and which ones to run away from.


Definitely not a bike to run away from is the 2011 Suzuki RM-Z250.  Read this test to see how Suzuki turned their fortunes and their performances around.


MXA paired a physics professor with a cartoonist to tell you why bikes endo…and more importantly, how to avoid it. You don't need to read this?do you?


What's new on the 2011 Yamaha YZ450F? The white radiator wings and one other part. We don't dwell on the changes, but rather on the fixes.
KTM GETS A CANADIAN LEGEND: JSR


JSR + SXF + KTM = CAN $$$

KTM Canada has signed Jean Sebastien Roy to be the ambassador for its new SX-F line in Canada. JSR holds an impressive motocross background, including five Canadian National championships, five Montreal Supercoss wins and five years of representing Canada on the world stage at the Motocross des Nations, among many other accomplishments. He brings to the table an immense amount of experience, talent and knowledge, and is a household name in the world of motocross.
As ambassador, JSR will focus a large part of his energy on mentoring young riders Jeremy Medaglia and Kaven Benoit. When he is not mentoring the Royal Distributing/Thor/Dragon Fuels race team, Roy will spend his time touring and demonstrating the all new KTM SX-F line of motocross bikes as well as teaching some motocross schools.
BAD NEWS: PETE FONDA'S CAPTAIN AMERICA CHOPPER BURNS DOWN


Toast.
The only remaining original "Captain America" Harley Davidson driven by Peter Fonda in Easy Rider was destroyed along with other bikes and classic cars in a fire at a collector's warehouse in Austin, Texas. The bike was one of two identical choppers originally built by Cliff Vaughn for use in "Easy Rider." The first one disappeared. The bike that burned could well be the one that was wrecked at the end of the movie (starring Peter Fonda, Dennis Hopper and Kack Nicolson). Of course, replicas and fakes do exist.
After the filming, the wrecked bike was procured by actor Dan Haggerty (Grizzly Adams), who began rebuilding it but never finished. It was then sold, the restoration being completed by Dave Ohrt. The Captain America bike started life as a 1951 Harley- Davidson FL. The frame was chromed but is otherwise virtually stock. So is the engine. Added were extended forks, ape-hanger handlebars, upswept fishtail mufflers, "peanut" gas tank, and tall sissy bar, all of which grew to define an early chopper.

Dennis Hopper, Peter Fonda and Jack Nicholson.

The cause of the fire at Gordon Granger's warehouse, which also claimed the first car owned by Tejano superstar Selena, has yet to be determined, but there's currently a dog sniffing around for gasoline or another accelerant according to KVUE. The cost of the damage is pegged at $100,000 for the warehouse and $1 million to 22 cars and 8 bikes.
MXA'S ANNUAL RIDE DAY OUTTAKES


Every time the MXA gang rides they are testing suspension, engine, gear or components?even at the annual MXA Ride Day.

KTM's Andrew Short (right) not only came out in his pickup truck to ride, but he even took the time to make a video for Fly while he was out having fun.

Danny LaPorte and Chuck Sun were among the factory riders that made JT gear so popular in the 1980's?both riders are back in JT 30 years later.

Yoshimura has a wild new end cap. The dual-port RS-4D was spotted on an MXA test bike and Suzuki team manager Mike Webb's bike. The Yosh muffler is available in either titanium ($1050) or carbon fiber ($1095). Mike say that Ryan Dungey is back in Florida pounding out laps in anticipation of the Supercross season starting in four weeks. Yep, four weeks.

Josh Hansen? MXA? Together? My how the world turns.



It isn't Glen Helen if Doug Dubach isn't there. Doug and Terry Beal brought out a bevy of bikes and pipes to test on a warm SoCal 75-degree December day.

Andy Jefferson (above), Michael Leib, Corey Eastman and Ty Davis represented Husqvarna. Husky has opened a new office in Corona (so you know they are serious) and Jefferson, the first black motocrosser to ever qualify for an AMA Supercross is their aftermarket parts manager. Andy is giving the camera his serious look?which still can't hide his trademark smile.

MXA invited 300 of it closest industry friends and gave them the complete a super-prepped Glen Helen GP track to ride on. Oh yeah, we fed them also.

Vance & Hines sent out their new motocross team, led by former AMA Mechanic of the Year Alan Olson. This is Preston Tilford.



In case anyone needed a tire, Maxxis came loaded for bear.

MXA test rider Dennis Stapleton flew back from a race in the Philippines to make it to the annual ride day.

Motorex was pitted with the KTM guys and set up a display of their products. No one is manning the booth because they were too busy riding.

Kurt Caselli likes to ride. We can't remember an MXA ride day where he didn't show up at 9:00 a.m. and ride until we shut the Glen Helen track down at 3:30 p.m.

TROY LEE DESIGNS HOLIDAY HOURS AND CUSTOM PAINT CHARITY EVENT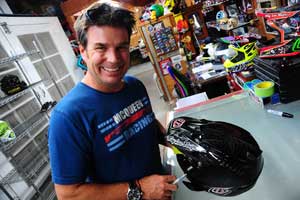 "Grab your helmet and come join Troy Lee this Thursday, December 16th, for their Holiday Hours and Custom Paint Charity Event. The Troy Lee Designs showroom hours will be extended from 4pm-7:30pm on this day only. Troy Lee himself, along with TLD's Jay Stemska, will be hand lettering helmets that are brought in during these hours. 100% of the proceeds from the event will go to Doug Henry and his family who recently lost their home to a fire.
"Out of town Customer's will also be able to call in during that time to place a helmet order with free one color lettering with proceeds going to Doug Henry as well. These orders will be painted on a first come, first serve basis. Celebrity guests will be answering phone calls to take customer orders during the extended hours, 4pm-7:30pm. These guests will include Jeff Ward, Travis Baker, Cole Seely, Christian Craig, and David Pingree.
"Troy and Jay will only be lettering 25 helmets that night in the showroom on a first come, first serve basis. The lettering will be done in one color of the customer's choice for $50 with 100% of the proceeds going to Doug Henry. This event will take place in the TLD showroom located at 155 E. Rincon Street Corona, CA 92879. Come check out our Showroom/Museum, watch Troy work and support the Henry family!"

Doug's house post fire.
"It has been cool to see such an outpouring of help from the motocross community. For Troy Lee, his staff, Wardy, and those guys to step up like this is just unbelievable; I can't thank them enough." – Doug Henry

PRESS RELEASE: NEW VERTEX SUPERMINI PISTONS

"Vertex is proud to announce the release and availability of our new Supermini class pistons. These pistons will help you stay competitive in the Supermini class by increasing the displacement on your RM 85, YZ 85, and KX 100 as much as 107cc. With prices ranging from $137-$155, Vertex Pistons will get you to the front of the pack without damaging your wallet. Check out our new updated applications at www.na.vertexpistons.com or give us a call at 515-270-2302."
ADRIAN CIOMO INTRODUCES RIDE ENGINEERING'S NEW KTM EQUIPMENT


A little red for your orange.

"I built two brackets that bolt onto the KTM and allow it utilize the Honda steering damper. A Scotts or another stabilizer goes around the steering stem and places a damper or post right in front of you. This goes around the stem and puts the small dampener behind the front number plate. Then, there's a little bracket that bolts onto the stock triple clamp. You don't have to purchase an entire aftermarket triple clamp to get the damper, so it's very cost effective. We will sell the bracket kit for $149.95 and a damper is $245 from a Honda dealer.

The rubber is in the little gap at the bottom.

"These new bar mounts have a rubber cushion underneath them. They hold oversize handlebars, have plus or minus three millimeters of adjustability and they are the same height as the stock bar mounts. The retail for $99.95." Ride Engineering's Adrian Cuomo

DR.D 2011 CRF450 RESONANCE CHAMBER EXHAUST

Mark Tilley and the new hardware.

"This is our 2011 spec exhaust. The bike changed a little bit, so we change our exhaust. We have added the PHD chamber (which is what we call the resonance chamber) to some the exhaust systems in our line. Depending on the bike, the PHD Chamber good for one or two decibels of noise reduction, a little more throttle response off the bottom and a stronger pull through the mid. The PHD Chamber will only be available for select applications. The applications that didn't see a real benefit from the PHD in our development and testing don't get feature in production. Doug isn't into gimmicks or trying sell pipes based on unnecessary features.
The Doctor has a PHD. DR.D calls their resonance chamber a PHD Chamber.
"The part number for this pipe is 7247, it's a stainless steel and aluminum system and retails for $619.99. Even though we added the PHD Chamber to some systems, we didn't increase the retail prices. Plus, we have a 20 percent off promotion going on right now for the holiday season so it's a really good deal."-DRD's Mark Tilley
SIMON SMART BODY KX250F THROTTLE BODY

The Simon Smart Body.

At MXA's Industry Ride day, Dave Simon of Simon Smart Body showed us some of the technology of his KX250F throttle body and let take a spin on his throttle body-equipped bike as a precursor to test in the future. Dave showed us a dyno chart that showed about a one to two horsepower increase across the board. We didn't make any comparisons but the bike ran crisply.


This isn't actually where the device is mounted.

Technical guys like Dave have to focus on one product at a time in their business, but that doesn't mean they aren't tinkering with a lot of other ideas. In addition to his throttle body Dave is experimenting with intake tract modifications to smooth out airflow, special coatings for internal engine parts that he has become familiar with in developing his throttle bodies and even his own rubber engine mounts. He may build a project bike so MXA can help test some of these ideas.
For info on the throttle body visit simonsmartbody.com
DANNY LAPORTE TALKS ABOUT JT RACING'S COMEBACK


Dannyt LaPorte in his new, old gear.

"The JT stuff is great. I raced with the gear back in the day, so it has sentimental value. I'm glad the brand is coming back, they were really innovative. They were the first guys to build gear from head to toe that was really one integrated design. The design element of the back of the gloves, helmet and chest protector were all similar. Their designs are very simple and classic. They were the first guys to have nylon pants in the US, and they have a lot of history with a lot of great riders.
"John and Rita Gregory have nothing to do with the company anymore, the company is run by three guys, two of them French. These guys are really passionate and they are bringing back the brand. I'm endorsing and helping them a bit with a few designs and ideas. They are smart and have a lot of great ideas and want to keep the original JT Style together."-Danny LaPorte
BOLT IT ON TRAILER AND TRUCK RACKS

The Truck Kit.

Bolt it On offers these support racks for securing bikes in a truck or trailer. The company is a father and son team. The son lives in Paso Robles, California, and designed and developed the kits, while dad lives in Downey, California, and handles the manufacturing.

The Trailer Kit.

The Trailer Kit can be removed and installed with no tools and has an adjustable track system for positioning chocks and tie downs. It is laser cut out of carbon steel and powercoated wrinkle black. It is available is sizes ranging from 67 inches to 96 inches. The Truck Kit has similar features. There are multiple wheel chock options for different bikes and extended chocks for staggering loading positions.The wheel chocks are interchangeable from the Trailer Kit to the Truck Kit.
For more info visit www.boltiton.com or call (805) 975-6820

PRESS RELEASE: SMITH OPTICS SELECTED AS OFFICIAL EYEWEAR OF AMA MONSTER ENERGY SUPERCROSS CHAMPIONSHIP

"Smith Optics and Feld Motor Sports are pleased to announce the signing of a multi-year partnership bringing Smith Optics on as the exclusive eyewear of the AMA Monster Energy AMA Supercross, an FIM Championsip, and the Arenacross Series.

"Supercross is a global stage, and provides a captive audience for our broad product offering. We're truly excited to join a much respected family of sponsors and Feld Motor Sports to engage the AMA Supercross community. We will be on site at every race with a large, user friendly display area to have fun and interact with the fans with giveaways, promotions, and product displays featuring our 2011 moto goggle collection as well as sunglass line," said Smith motorsports general manager, Mark Phares.

"Smith will be present at all AMA Supercross Races with a large expo space in the center of the pits. Fans will have the opportunity to meet Smith athletes like Travis Pastrana and Ashely Fiolek at select rounds. Not only will Smith be serving up fun and games but also giving attendees the opportunity to touch and feel all of the latest products from the brand. Additional promotions are in the works as well."