MOTOCROSS ACTION'S MID-WEEK REPORT: (12/21/11)
MXA INTERVIEW ZACH WHITE
The venerable Pro Circuit KX250 race bikes' reputation precedes themselves. Before anyone sees the the newest generation of race bike, they know it will be strong among the top 250 teams. But for 2012, Kawasaki has released a fire-breathing stock KX250F with a powerband that blows last year's model out of the water. If that's what the stocker did, how about the Pro Circuit bike? We were very curious about their development, so we called Pro Circuit R&D man Zach White and crossed our fingers that it wouldn't all be top secret info.



Pro Circuit doesn't wait for the bike to start testing a new model, they get new components before complete bikes are available.
MXA: Would you tell us a little about your position and what you do?
Zach: I don't exactly have a real job title, but basically I'm in charge of dynoing and testing for the race team here at Pro Circuit.

When do you start development on the newest model year bikes?
Actually, as soon as we can get some of the parts and pieces, even sometime before we can get a whole bike we start looking at things, trying to find the direction that Kawasaki has gone with the bike. A lot of times that mirrors the direction we want to go. They are pretty good about taking our input and vice versa. It starts as early as July, looking at some of the pieces. We start hitting it hard around October.

What were some of those first pieces this year.
It's pretty exciting, considering that this is only the second year that the KX250 is fuel-injected. Twin injectors, up-stream and down-stream, similar to a lot of high-performance cars and street bikes were big. I don't know of any other dirt bike that has it. It's a good advantage on the 250F because they have such a broad rpm range that they are expected to perform on. It enables you to keep all the bottom-end that you would ever want, and then still have really good top-end as well.

The KX250F's up-stream injector is a new facet for race teams to dissect and tune.
What about overall horsepower?
Yes, especially on the stock bike. It's not as dramatic, but it definitely adds peak power. It also improves feel. It runs cleaner throughout the range because the air/fuel stays consistent.

What other parts of the bike have you had to change your modifications to work with the dual injectors?
Previously we would change the intake duct, or airboot, and that has changed for us. Also, throttle bodies, cam timing. Of course our whole exhaust system changed with the two-meter-max rule. One thing effects the other, and we had to re-look at the complete system.

What has been the most complicated/challenging aspect?
There was a learning curve with the twin-injector system and the mapping software to change it and tune it. For the customer, I don't think the software is much different, but [with the programming tools we have] there was some learning curve to achieve what we wanted to get out of it. We are still learning actually. Everybody that has ridden the bike, from our guys to Team Green riders, absolutely love the bike.
What different parameters of mapping are there, can you adjust how and when the upstream injector comes on?
In that respect, it does add quite a bit of complication, but I think Kawasaki did a very good job on the stock bike, it's close to being as much as you can get out of it.

A bone stock 2012 KX250F makes more power than Pro Circuit's 2004 race bike.
How much has the two-meter-max rule hurt the power of the bikes?
Well, our guys want the bikes to be as loud as possible. They don't like a quiet bike because they can't hear their own bike over the bikes around them in a race. So, we always try to run it very close to the limit, which it kind of a pain for us. We go to sound check and fail all the time, because we are constantly trying to stay on the edge. It's more tedious for us because we are sound checking lots of mufflers to figure out which ones are going to pass that week. Sometimes the area where they do sound testing is different [enough to influence the test]. Sometimes the person conducting the test is different. Atmospheric conditions affect sound quite a bit. We're always trying to be on the limit. With the new sound rules it's more complicated. You absorb sound by absorbing the pressure wave that's making noise. The more of that pressure you absorb, the more restrictive the muffler is and the worse it runs. Our goal is to make the pipe run as well as last year, but be quieter. We have learned a lot, and we have had two years of practice because with work with CLS Kawasaki in Europe and they have been on the two-meter-max system for two years. Basically it's been a battle of finding the right balance. Generally, in the beginning you tend to lose bottom-end, which all the riders are sensitive to, especially for Supercross. In their current form, we are the same as we were last year, and we have actually increased top-end with our pipe.

Does the intake start to play a factor?
Definitely, when you get down to a certain decibel the intake plays a role because everything contributes to the overall sound. You start to have worry about intake noise, and that's something that the manufacturers are starting to look at as well.

What else is beneficial about the stock KX250F?
The cylinder liner in new this year, and it's less susceptible to nicks and more durable than previous years. The new crank for 2012 was a big deal for our riders… and the Team Green riders could tell the difference right away. On the track, they noticed a big difference in torque. Bones and Showa are continuing to refine the Separate Function Fork (SFF). That has been a big learning curve because it's a new deal. But those guys are making progress weekly. If you go out and buy a 2012 KX250 off the showroom floor, it makes more power than our race bike did in 2004. The bikes have gotten quite a bit better.
THREE-TIME AMA ARENACROSS CHAMPION JOSH DEMUTH RETIRES AFTER LONG CAREER


Josh Demuth.
Three-time Arenacross Champion Josh Demuth, 32, has announced that he will retire from the sport in which he has achieved so much success. Demuth currently sits fourth in the 2012 Arenacross Class standings, and posted seventh and sixth-place finishes following two nights of action two weekends ago from Wilkes Barre's Mohegan Sun Arena at Casey Plaza.
"Over years I've been beat up with a lot of injuries," said Demuth. "It came to a point where I was struggling to get out of bed and race to where I thought I was capable. I was doing all I could (on the track) and couldn't win. I felt like it was a good time to walk away before I ride over my head and get hurt.
"I want to thank all my fans, my family my friends and everyone that's supported me, whether I was hurt or riding well. I'm so thankful for everyone who was there for me ? all my sponsors and those people who have helped me achieve so much success. They, along with the fans, made my career what it is, and they know who they are. I've gone longer than a lot of other riders out there, and it's hard to swallow at the end of the day. You never want to quit something you've done your whole life, but I'm happy with my decision. I've got a good job lined up with some friends and they ride dirt bikes, so I'll still enjoy riding. I'm going to keep at it, but I'll just be taking care of my family in a different way now. I'm looking forward to everything the future has to bring."
MERRY CHRISTMAS FROM RYAN DUNGEY, MARVIN MUSQUIN & KEN ROCZEN


THE MAN BEHIND THE MAN WITH THE WINNINGEST TEAM IN MOTOCROSS?DRINO MILLER


Drino Miller at his desk at Pro Circuit. His job? Thinking.

Ever heard of Drino Miller? Probably not, but many of the old timers in the offroad world will recognize the name immediately. For the youngsters in the crowd, Drino is the engineer and designer behind Pro Circuit's most creative engine developments. But, Drino is more than the slide rule guy at Mitch Payton's right hand?he is a true offroad legend. Need Proof? Drino Miller developed the first single seat racing buggy, which he co-drove to victory in the 1969 Mexican 1000 and to further victories in 1970 at the Mint 400 and Baja 500. The vehicles he engineered or developed changed the face of offroad racing and would eventually lead him to a career that his seen victories in Indy cars, F1, Pikes Peak, Baja, GTP sports car racing and Supercross.

There is no way to measure the impact that Drino's ideas have had on Pro Circuit's engines, but the success ratio is undeniable.
Born July 30, 1941, at age ten Drino purchased a 1929 Model A Sport Coupe for $10 and began his life long pursuit of understanding how vehicles work by trial and error. Later in life, Drino went to UCLA and attended law school after graduation. His brother was a friend of Bruce Meyers (of Meyers Manx fame) who introduced Drino to the wilds of Baja?with a record setting attempt in a Myers Manx. From this experience, Miller got offered a job in General Motors' pickup truck division and, even though GM had a ban on racing activities at the time, Drino and GM manager Vic Hickey decided to build an Baja offroad race truck?with financing by Hurst shifters?the truck was the famous "Baja Boot."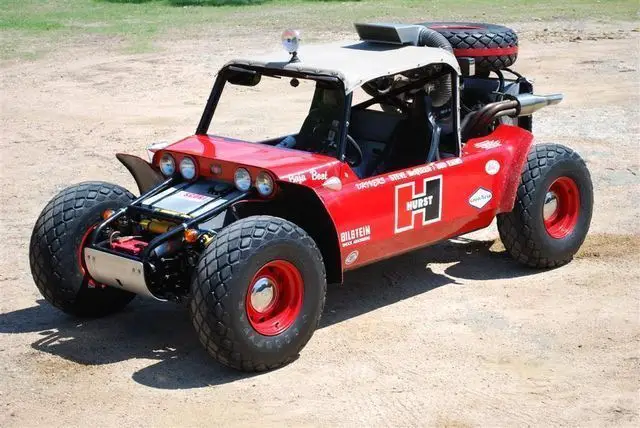 The Baja Boot was a backdoor General Motors project that GM didn't know about. It was raced by Steve McQueen.
The Baja Boot used a Corvette rear drive assembliy, Olds Toronado axleshafts, collapsible steering column, 11-inch Hurst-Airheart disc brakes, and the 350ci V-8 was installed backward in the chassis, in front of the rear axleshafts. Drino Miller and Al Knapp raced the GM truck in Baja, but suffered mechanical problems with the rear suspension struts. The men had to drop out of the race. Eventually, Steve McQueen raced the "Baja Boot" to fame (fame because McQueen raced it), while Drino turned his focus to building a purpose-built single-seat race car for offroad racing (something that up to this time had never been done).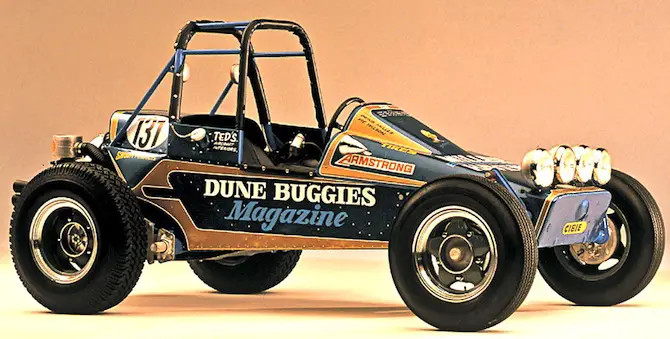 With a 84-inch wheelbase and double roll cage, the single-seat offroad race buggy was pioneered by this Drino Miller design (which he raced).
Back in the day Baja race buggies carried a driver and co-driver and raced against the big Stroppe Broncos and his original Baja Boot. Drino's idea was to do away with the co-driver. To get rid of the extra mass, he built a tube frame single-seater. He got sponsorship from Dune Buggies Magazine and went out and changed the offroad racing world. When Drino finished second in the Mint 400 in his hand-built single-seater the first time out, the competition protested that it was "unfair." The sport was changed forever by Drino Miller.


The Toyota DTP Eagle was the product of Drino's team at TRD. Drino stayed at TRD for six years and left when they closed down the racing program.
With a successful offroad racing career, Drino started Drino Miller Enterprises where he built off-road vehicles, sports cars, midgets and Indy Cars. Then, he would move to the Andial team to work on their sports cars, which attracted the attention of Toyota. Miller went to Toyota and managed the Toyota Racing Development (TRD) Program for six years. At Toyota Drino's projects won in Grand Prix, Indy Cars, NASCAR, Sports Cars and Pikes Peak. When Pro Circuit switched to four-stroke engines from their KX125 two-strokes, Mitch Payton hired him to design engine parts and come up with creative ideas for the team's engines. Now you know!
YOU CAN'T GET THROUGH TECH WITHOUT THE PROPER AMA/FIM ADVERTISING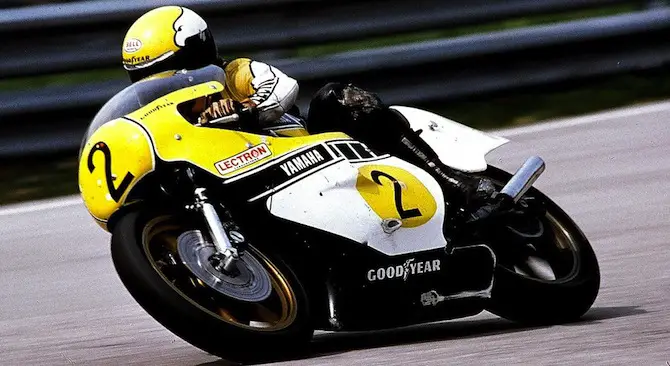 The world needs more King Kenny's and less bureaucrats.

When the AMA told World Road Racing Champion Kenny Roberts that he had to run an AMA Pro Racing logo on his bikes to be allowed to race, Kenny told them, in not so polite language, that the space on his bikes was for reserved sponsors…and if they wanted their logo on his bike they could pay him for the honor. That didn't fly so well. Under AMA Supercross rules a rider must run specific AMA logos on his bike, one on the front number plate, one on his jersey and one on each side panel. Here are the required 2012 logos, which differ by class.


In the 450 class, this logo must run across the top of the front number plate. It has both the AMA and FIM logos on it.

In the 250 class, this logo must run across the top of the front number plate. It only has the AMA logos on it because the 250 class is not FIM sanctioned.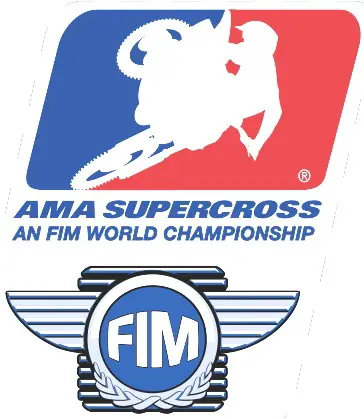 In the 450 class, the riders get a double whammy because they have to run this dual logo monstrosity on their jersey and on each side panel.


In the 250 East/West the rider has to have this logo on his jersey and on each side panel.
WHERE DID MAX ANSTIE END UP?


Max is a good kid and we wish him well in this year's 250 GPs.

After a high-profile blow-up by his father Mervyn Anstie, Max Anstie was let go from the CLS/Pro Circuit Kawasaki team at the end of the GP season (even though Max had finished a credible sixth in his first season on the GP circuit in the 250 class). For 2012 Max will race Honda CRF250's for the Italian-based Gariboldi team. Sponsors of the team are Esta Motorsports, Progrip, Kayaba, Ipone, Pirelli, Airoh, Gaerne, Easton, Newfren, Twin-Air, Racetech, Blackbird, X-Trig, Haan Wheels, Hinson, Matrix, Profilter, Moto Tassinari and Carat. Good news for American fans, Max will race the Anaheim 1, Phoenix, Los Angeles, Oakland, Anaheim 2 and San Diego Supercrosses, before returning to Europe for the start of the 250 GP season?where his teammate will be Russian Aleksandr Tonkov.
SPECIAL PRO CIRCUIT CHRISTMAS OFFER: TOTALLY WIRELESS HOUR METER FROM GET


This offer is good until January 7. To order call (951) 738-8050
RED BULL & NBC TOP PARTNER ON SPORTS ANTHOLOGY SHOW: RED BULL SIGNATURE SERIES

NBC Sports Group, Alli, and Red Bull Media House have agreed to develop  35 hours of action sports programming for NBC and the NBC Sports Network. Called the Red Bull Signature Series it will include snowboarding, mountain biking, freestyle motocross, ice cross downhill, skiing and BMX events showcased on custom courses. The series features some of Red Bull's top events including X-Fighters, Supernatural, Crashed Ice, Dream Line, Rampage and Cold Rush and other third party action sports competitions. The Red Bull Signature Series kicks off on NBC with Crashed Ice on Saturday, January 21. For more information, visit www.redbullsignatureseries.com.
Red Bull Signature Series programs will include:
    Red Bull X-Fighters: The world's best freestyle motocross riders travel the globe to compete in the premiere FMX series in front of thousands of fans at some of the most iconic locations on the planet?including Glen Helen raceway in May.
    Red Bull Rampage: Free-ride mountain biking on a sandstone ridge in the brutal landscape near Virgin, Utah. The riders choose whatever line they dare between an established start gate and the finish line 1,500ft (500m) below.
    Red Bull Supernatural: A first-of-its-kind back country snowboard competition designed to showcase the skills of the best all-around riders on the planet.
    Red Bull Crashed Ice World Championship: A combination of ice hockey, downhill skating and boarder-cross, the official Ice Cross Downhill World Championship takes place on a freezing downhill ice canal course full of mind-and-body-bending twists, turns and chutes.
    Red Bull Dream Line: 16 of the world's best BMX dirt riders meet at Anthony Napolitan's private training facility in Minnesota, riding an un-restricted trails-style course that sends riders to the skies and back down again.
    Red Bull Cold Rush: Held on Silverton Mountain in Colorado (North America's highest and steepest ski area). The three disciplines will be Big Mountain, Cliffs, and Slopestyle.
WHAT THE 2012 BIKES REALLY WEIGH


Although there have been time frames where light weight was a selling point, the advent of fuel-injected four-strokes wiped that idea off the face of the earth (except for the CRF450).

The MXA wrecking crew wanted to end the mystery of what the 2012 bikes really weigh?by taking each bike into our hermetically sealed weighing chamber for the ultimate test. We used the tried-and-true AMA Pro racing method of weighing the bikes with full running gear, but the gas tanks empty. Here is what the 2012 bikes, that MXA weighed, tipped the scale at?in order of pork. If you don't like our weights, go out and buy 17 brand-news bikes (with stock components) and weigh them for yourself.
2012 BIKE WEIGHTS   
Yamaha YZ125……….199
KTM 125SX……………202
TM MX144…………….204
KTM 150SX……………204
KTM 250SX……………217
Yamaha YZ250F………218
Yamaha YZ250……….218
Honda CRF250……….222
Kawasaki KX250F…….224
Suzuki RM-Z250……..224
KTM 300XC…………..230
KTM 250SXF………….231
Honda CRF450……….231
Yamaha YZ450F……..238
Kawasaki KX450…….242
KTM 450SXF………….243
Suzuki RM-Z450…….244
VILLEGAS WINS, BUT YOU GET THE PRIZE!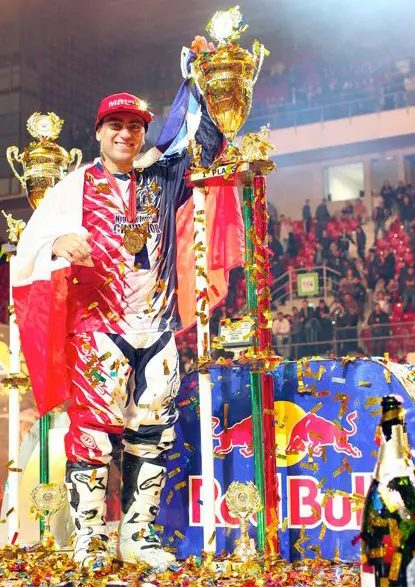 Javier Villegas
Matrix Concepts would like to congratulate Javier Villegas for taking the FIM FMX World Championship last Saturday in Bulgaria. In Honor of Javier's FMX domination, Matrix would like to give away a FREE product this Wednesday on the Matrix Concepts Facebook page. visit www.facebook.com/matrixconcepts to take advantage.

NEW PRODUCT: REC MX CRF250 BILLET OIL FILTER


The REC billet oil filter cover that has been available for the CRF450 and will be used by the HDI MX Honda team in the FIM 450 World Motocross Championship in 2012 is now offered for the CRF250 too. This is the same cover that you will see in the AMA 250 East and West Series on the bikes of Michael Leib, Alex Martin, Brad Ripple, and Nick Click in 2012.
Here are some of its features:
-"S" shape cooling fins direct air flow over larger surface area.
-CNC machined from 6061 T6 aluminum.
-Stronger than OEM cover.
-Billet has better heat transfer than cast aluminum.
-Anodized and laser marked logo to look sharp and for longevity.
-Uses OEM bolts, oil filter and O-ring (new O-ring included)
-Available in red or black finish for $54.95
Visit www.rec-mx.com for more info.

MXTREME RENTALS WINTER SPECIAL


Here's the limited time offer: $800 Per Rider December 1 ? March 31, 2012 ? includes 3 days riding, a SX ticket & pit pass. Be a factory rider for three days, fly-in and have your CRF450 waiting for you at the track. A lot of riders would like to fly out to So Cal for Supercross events, but they don't have a way to get their bikes to So Cal. MXTremeRentals will rent you a perfectly prepped Honda CRF450, with a lot of accessories that no other company offers. Each of our bikes is set up for an individual riders, and the entire fleet covers everyone from Beginner to Expert level. MXTremeRentals will provide Transportation and Hotel accommodation for an additional fee.
For more info go to www.mxtremerentals.com, send an email to [email protected] or call (805) 915-8286.

SCIENCE OF THE WORLD RECORD JUMP


KAHUKU RIDE DAY WITH ADAM CIANCIARULO AND ASHLEY FIOLEK
Alpinestars flew in Adam Cianciarulo and Ashley Fiolek for an exclusive ride day at Kahuku MX track on Oahu, Hawaii. They signed autographs and hung out with riders and fans before getting competitive with some lucky locals for a Moto Relay.
Kahuku Ride Day with Adam Cianciarulo and Ashley Fiolek from Alpinestars USA on Vimeo.