MOTOCROSS ACTION'S MID-WEEK REPORT: (12/26/11)
By John Minert

MXA INTERVIEW: ANDREW SHORT


Even though he's coming from KTM, Short is a veteran on Honda and the professional circuit.
Andrew Short is on a newly formed team: L&M has become L&Mc, with Larry Brooks and Jeremy McGrath. He is recovering from perhaps the worst injury of his career and he is back on the brand that he was on for six years as a pro. We knew Shorty would have plenty to report on, so we called him up for insight on the team and his progress.

MXA: How did the deal come about?
Andrew: I had a really good relationship with Honda in previous seasons. This thing came about with Larry and I already knew McGrath and what he had to offer. I thought it was an exciting opportunity. I knew Larry had been instrumental in some other riders' careers with a hands-on approach. So I was interested, even though didn't know exactly where the business side of the team would go. It all went through pretty quickly. I was happy to get hooked up with them and happy to be reunited with the Honda guys as well.

What is Larry's hands-on approach?
He goes to the track every day and he is more in touch with what's going on day-to-day. It's hard for a manager to do that, their plate is already full. Larry's specialty is dealing with the riders and he stays up late to get things done. I'm very fortunate to have someone who is passionate and dedicated. He is wide-open, especially this time of year before the season starts… he definitely doesn't get much sleep. I'm really happy that he is able to go to the track with me and help me with the mental, physical and the riding technique side. He might not always have the answer, but to have someone there who has been there and seen it, and has the experince. He's been a rider and a manager and he's been successful, so it's pretty cool.

Short will look much like he did in 2010: same personal sponsors, and factory-backed L&Mc Honda.

Is it different, being on a brand new team versus the established factory KTM or Honda teams?
I rode for Honda for six years, and that team had been around for a ling time. It has been one of the most successful teams ever in motocross. Transitioning to KTM was similar to this year. The race team has been around but it was being rebuilt from the ground up because Rodger was coming on board, there was a lot of new personnel, a new bike and they were starting with a blank sheet of paper. So, I got a glimpse of how this year was going to be. KTM has a lot of support from Austria and they were full-throttle, but they were also realistic in knowing that it wouldn't happen overnight. They had a long term plan too. I saw them create a race shop, get the test trucks and get the bikes ready from the development end. So, I kind of knew what I was getting myself into with Larry. He allied himself with Honda who already had the bike and technology handled. It would be a lot harder to start with a brand new bike and test without Honda's resources. Jeremy was so familiar with the bike from his testing that we could really depend on him. I've seen the team form with the truck, personnel and race bike. I've ridden the bike before so the harder thing I've had to deal with has been my two broken elbows, and the wrist.

How are your injuries coming along?
It's been one of the most difficult injuries for me to overcome with my elbows. It's been a test of patience and everything else. But I feel like I've grown from it. I may not be a hundred percent on my riding abilities going into Anaheim I, but I feel confident that I'm coming into the season fresh and strong and I'll be able to build throughout. I think that's a good position for me, and with the people we have I think it will only get better. It wasn't an easy off-season, but I think we dealt with it the best we could. I'm really happy with the transition, because it could have been really ugly. We're sitting in a good spot. I'm feeling really good on the bike. I've just got to let everything come in it's own time and not try to force something that's not necessarily there.

Have you been able to take advantage and give any input about the formation of the team?
I don't have much input. I think it's really cool how Larry structured it. It's really athlete-oriented. It's centered around me and not a company or their goal's and visions. Larry's only vision is success on the racetrack and the image that that builds. When you ride for a manufacturer the results matter but there is also the research and development, and different aspects that they want to push that aren't necessarily won or lost on the racetrack. Larry pretty much only cares about results, and I pretty much just test for myself. My focus is narrower that than the roles I've had on other teams. I've enjoyed it, it's good for me. So, there is not much I can say or add, Larry has been there and seen it. He has a plan of attack on what he wants to see accomplished.

Short didn't complain about a lack of power with the 350, just a lack of bottom-end torque.

What have you been testing and working on with the bike to get it dialed in?
We basically started with a factory bike that Honda developed. There was a few companies that we have worked with, the one with the biggest modification is FMF exhausts. Those guy work hard, have open minds and have learned a lot. I think they learned a lot working with their teams and Weimer and Villopoto last year and that their product is a lot better. The R&D guy, George works hard and is really smart. But there is not a whole lot that has changed on the bike since I rode it. We're running ODI grips and Vortex sprockets and those companies are fun to work with. The biggest change since I rode the bike in 2010 is the fork internals. The motor is always changing with more options for the tranny, other parts and fuel mapping. They have got the bike set up with the balance that I was looking for. I think we are in a good spot to go race. You never know until you are on a track with 20 guys.  I feel confident that we have the best bike to race. When you are confident, and  not wanting to make big changes week-in and week-out, I think it benefits you as a racer. You know your machine and how it's gonna react.

How happy are you to have an extra 100cc?
I don't think it's so much the extra 100cc's as much as how the power was delivered. I struggled with a bike that didn't have a lot of torque and didn't go through the RPM very fast. It took a long time for the bike to accelerate. I struggled with it and I felt like I had to open up my lines more, and you become vulnerable when you leave the inside lines open. The first couple laps when you are dicing with people, and people are cutting under you it's really tough to race. It was an adjustment that didn't quite suit me. I am pumped to be on a bike with a lot of torque and that I'm familiar with and ridden in the past and done well on. Back in my mind, I know I can do good on this bike, and when a racer's head is in the right place it's a big thing to go to the line like that. I think I'm at a point in my career where I'm older, and have more experience.
I've been working with a coach down in Texas named Seiji. It's really helped, especially with my elbows and my rehab. Without him this off-season would have been extremely difficult. With my age I think I'm in a good spot. I can learn from Larry, and I've picked Jeremy's brain for so many years. I have all the key people to point me in the right direction, I just have to execute on race day and make the best of the opportunity I have in front of me.

Do you have any new sponsors you want to call out, are you still a Fly guy?
Yeah, I'm a Fly guy for life. I love those guys: good people and good product, I'm proud to be associated with them. Same people for me, Scott goggles, Leatt brace, Alpinestars boots. I feel like I've surrounded myself with the best and I'm thankful for the support.

GOOD NEWS! THERE IS A BIG AMA SUPERCROSS POINTS FUND FOR 2012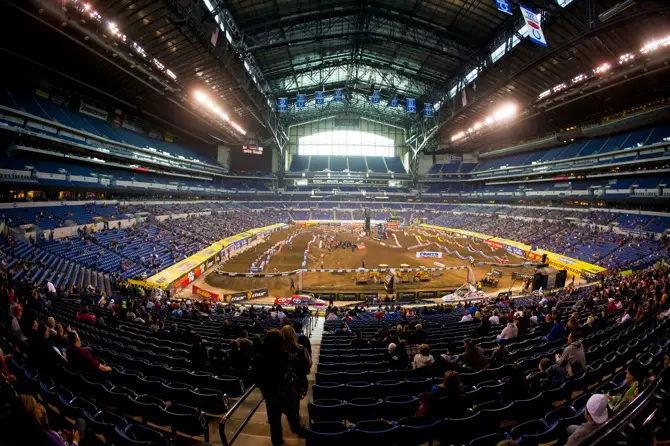 The big-name sponsors of race series share the blame for the lack of points funds. Before they hand money over to a promoter they should stipulate that a percentage of the money should be used for a points fund. Photo: Hoppenworld
In the sport of motocross many of the high-profile sanctioning bodies are greedy. They don't share the wealth with the riders who are making them the money. No need to name names, because most people know who the takers are. Let's leave it at this?if a race series does not have a points fund that pays out bonuses to the riders at the end of the series?it is cheaping out. Now, you might be tempted to think that the AMA Supercross series would be a prime candidate to make the list as a organization that takes, but doesn't give. Not so! Here is the 2012 Supercross points fund for the 450 class. Kudos to Supercross for paying $350,000 back to the riders!
450 POINTS FUND
1. $100,000
2. $35,000
3. $25,000
4. $21,500
5. $16,550
6. $12,550
7. $11,550
8. $11,300
9. $11,050
10. $10,800
11. $10,550
12. $10,300
12. $10,300
13. $10,050
14. $9800
15. $9550
16. $9300
17. $9050
18. $8800
19. $8700
20. $8600
MICHAEL BYRNE INJURED WITH LESS THAN TWO WEEKS TO GO 


Michael Byrne crashed on Christmas Day and cracked a vertebra. He is wearing a neck collar now and will have to wait for a doctor's release before he can race.
WHY ROGER DECOSTER WANTED TO PUT BOTH MUSQUIN AND ROCZEN IN THE 250 WEST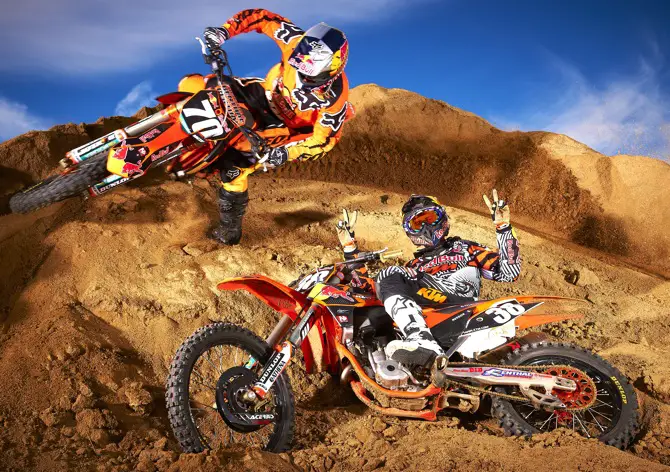 Roger's 250 riders will have new numbers for 2012 (see below for a full list), but under Roger's original plan, numbers 70 (Musquin) and 38 (Roczen) would have been starting side by side in the 250 West. Photo: Hoppenworld
Up until Ken Roczen broke his arm over Christmas, Roger DeCoster wanted both Roczen and Marvin Musquin to race the 250 West together. Why would Roger put both eggs in the same basket? Because it is an incredibly smart marketing move. It is amazing that no team manager every thought of it before. The 250 East Supercross series is a vast wasteland with minimal publicity. It is no secret that the 250 West races get all of the publicity (for obvious reasons). The first six races of 2012 are in the West. There isn't a 250 East race until February 18?by which time West guys have garnered all of the publicity. Then, the final three races of the season (Seattle, Salt Lake and Las Vegas) are West races again. So, from a publicity point of view, racing the 250 West gives you exposure when there is the highest interest in Supercross?at the beginning and at the end. Last year MXA, by page count, did three times more coverage of West rounds than of East rounds?and manufacturers race for publicity. Plus, 250 West coverage comes out in the magazines in the middle of the 250 East time period. It is trump, double-trump.

Ken Roczen (70)?250 East.                                                                      Photo: Hoppenworld
Plus, on a logistics basis, the 250 West riders can race the first five rounds with minimal driving (five of the first six are in California?and the other one is in Arizona). The teams can be back in the race shop between each round. By comparison, the East riders have to travel from Texas to Georgia to Florida to Indiana to Toronto to Houston to Louisiana to Nevada. The 250 West's six straight weeks of racing are followed by a nine-week break. This means that the 250 West riders can concentrate on outdoor testing before their final three Supercross rounds (one of which is the Vegas East/West challenge).
P.J LARSEN JOINS ROCZEN IN THE EAST
One day after Ken Rcozen broke his wrist, JDR KTM rider P.J. Larsen broke his right hand. Larsen will now move the 250 East also.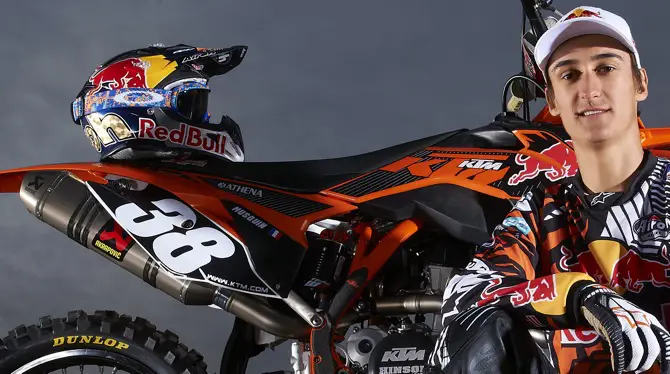 Marvin Musquin (38)?250 West.                                                                      Photo: Hoppenworld
It is true that you can't win the 250 East if you don't race it, but KTM has other riders and other teams that can contest the East?while Musquin and Roczen prepared for the 2012 AMA 250 Nationals. And, although the 250 East/West is a very competitive and entertaining, Roczen and Musquin want to get to the 450 class as soon as they can?which means that they planned to race selected East events in the 450 class (on KTM 350SXF's…which Roger thinks will help them make the eventual transition to a 450SXF). Unfortunately, Ken didn't make it to the opening round and will now move to the later starting 250 East.
WHEN YOU JUMP 400 FEET YOU NEED TO PICK YOUR WHEELS CAREFULLY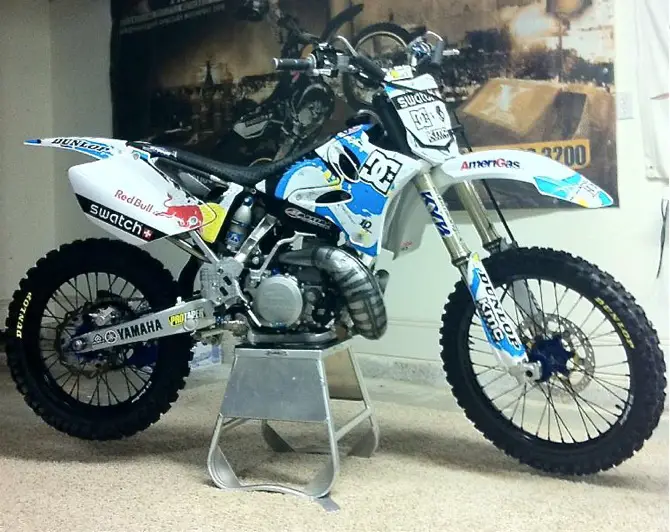 Australian FMX star Robbie Maddison will be using custom wheelsets and a Brembo braking system provided by Dubya USA in his spectacular New Year's Eve jump at the Embarcadero Marina Park in the downtown area of San Diego Bay. Maddison's custom wheelsets will be composed of Kite billet aluminum hubs, and D.I.D Dirt Star STX rims.
The jump will be televised as part of Red Bull's New Years. No Limits. 2011 event at approximately 11 P.M. (Eastern) and 8 p.m. (Pacific) on ESPN, ESPNHD and ESPN3. For more info on Robbie's wheels and brakes go to www.dubyausa.com.
CROWD ATTACKS RACE PROMOTER, BEATS HIM, DAMAGES HIS CAR AND BARBECUES HIS COW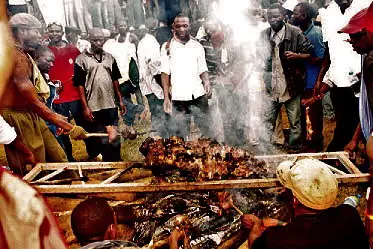 When was the last time that an angry American motocross crowd ate the trophy in protest?
At a recent Uganda motocross race, an unruly crowd got angry when the riders advertised on the race poster did not show up. Southern Motor Club president Ponsiano Lwakataka was roughed up by the crowd?who eventually cooked the bull that was to be the winner's prize for the race. Lwakataka is considering legal action against the Uganda Motocross Club for sabotage (claiming that they scheduled another race in Maska opposite his Mukono, Uganda, event). Ponsiano Lwakataka is the 2005 and 2007 Ugandan Rally Champion. Lwakataka told the Ugandan media that after the incidents in Mokono he is quitting motorsports completely, not because of the action of those who attacked him, but because the rest of the crowd cheered them on.
JODY CORNERS WORLD MARKET ON THE RAREST MOTOCROSS COLLECTIBLES EVER!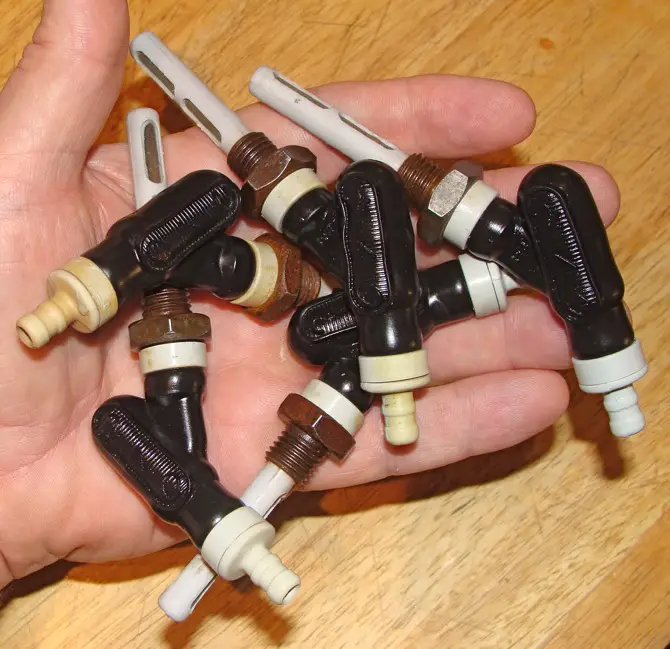 The rarest motocross parts ever made, but what are they?
The rich spend their time and energy collecting Picasso paintings, homes in Aspen and antique Delayaye's, but not MXA's Jody Weisel. He has cornered the world market on 1970-style Montesa fuel petcocks. With the help of his Grand Prix friends in Spain, who went down dark alleys and frequented questionable night spots, where money changed hands (some of it might have been counterfeit), Jody has managed to get his hands on the last known supply of Montesa rubber petcocks.
Two questions immediately come to mind. (1) Why is a guy who has never raced a vintage motocross race in his life interested in Montesa parts. (2) What makes Montesa petcocks rarer than any other 40-year-old motorcycle part?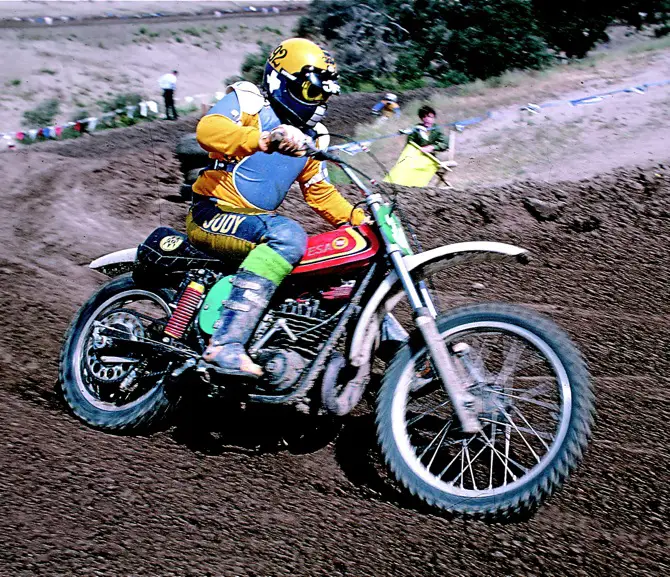 This is Jody on a 1977 Montesa 250VB at Saddleback Park in, what else, 1977.
Answer (1): Jody may not race vintage races, but for a guy who has been racing nonstop since 1968, he has raced virtually every vintage bike ever made?when it was brand-new?and he raced a Montesa for a season at Saddleback back in 1977.
Answer (2): The Montesa petcocks were made out of rubber. Inside the rubber bulb was a steel ball bearing. When you wanted to turn the gas on, you squeezed the rubber bulb and shot the ball bearing out of the way. To turn the gas off, you squeezed the bulb to push the ball bearing into the way of the gas flow. The problem? Spanish rubber from the 1970s wasn't very good. Over time, every Montesa petcock rotted away. These petcocks are extremely rare and, knowing Jody, he has no plans of parting with them. Instead, he'll put them in a drawer and forget that he has them…and then, someday in the distant future, he will open the drawer and discovered that the SoCal smog has rotted the rubber. Then, he will call his operatives in Spain again…and send them into harm's way again.
FIRST LOOK AT PRO CIRCUIT'S 2012 RACE BIKES, PLUS THE GRAPHICS KIT IS FOR SALE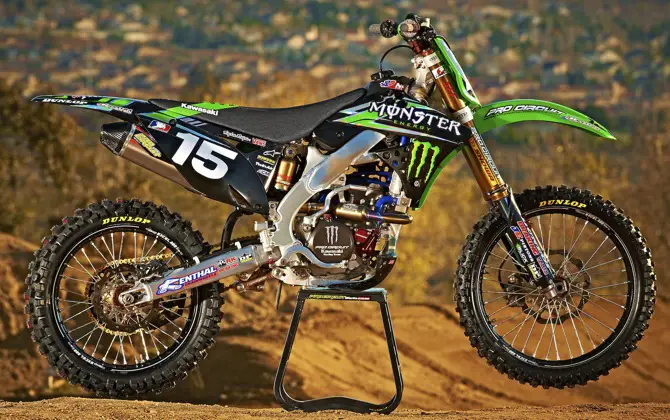 This is what the 2012 Monster Energy/Pro Circuit Kawasaki's will look like when they hit the track for the first time on January 7, 2012, at Anaheim Stadium. Your KX can look just like the race bikes of Dean, Blake, Tyla, Darryn and Broc. Each graphics kit fits the KX65, KX85, KLX110, KLX 140, KX250F and KX450F and contains: Front and rear fender stickers, tank shroud graphics, fork protector stickers, swingarm stickers, airbox stickers, seat cover, backgrounds for front and side panel number plates. The retail price is $199.95. For more info see you local Kawasaki dealer or go to www.procircuit.com.
MICHAEL LEIB TO RACE THE 250 WEST FOR ELEVEN 10 MODS 


Michael Leib and his Rocket Exhaust, Eleven 10 Mods, On Track, Factory Connection Honda CRF250.
Michael Leib's racing career is interesting. Straight out of the amateur ranks, he skipped racing AMA races to take a gig racing the 250 GPs, first on a Kawasaki and later on a Husqvarna. It might be noted that Michael suffered more DNF's, on both brands, than any other 250 Grand Prix rider. He came home at the end of the 2011 GP season and set his sights on starting his AMA career (Michael has never raced a Supercross or an AMA National). Originally, he was going to privateer it with support from Rocket Exhausts (his dad's company), but just this week, Chad Sanner of Eleven 10 Mods agreed to support Michael with a race spec engine, engine rotation plan, Ti Bolt Kit and various other Eleven 10 Mod Honda parts.
According to Chad, "It makes more sense for Michael to race the 250 West Coast and helps Eleven 10 Mods have a strong presence there too. Rocket Exhaust has come up with a pipe that works incredibly well with our engine package and I'm looking forward to seeing Michael mix it up with the factory teams. In addition we plan on supporting Michael for the Outdoor 250 MX Series where he will be pitted out of our flat black box van alongside Alex Martin."

PRO TAPER VIDEO INTRODUCES GEICO HONDA TEAM 

PONCA CITY DIARY                                                                                



There has been a battle of press releases over the NMA leaving Ponca City or Ponca City leaving NMA or Brad leaving Angie ? here is the rundown:
#1. Ponca City land owner ABC Race Association announced that they were cutting ties with the NMA. ABC Board Chairman Tom Burg said, "It was time to move forward. We had no choice but to sever our ties with NMA."
#2. The NMA sent out a press release announcing that the Ponca City race was moving to "a bigger, better and a more convenient location." That location is the Oklahoma Motorsports Complex in Norman, Oklahoma.
#3. The Ponca City ABC announced that it had found a new organization to run its races in Ponca City…but by that time nobody cared.
In simple terms, major races move all the time (just ask the owners at the Pala AMA National, they'll tell you), but what was important about the NMA Ponca City Grand National Championships was never Ponca City?it was the "Grand National Championships." If the NMA takes the race to Norman, Oklahoma, that is where the riders who want to race the Grand National Championship will go. Think about the NMA World Mini Grand Prix for second. It has been at Indian Dunes, Saddleback, Escape Country and two different tracks in Nevada. As for Ponca City, its new race and its new promoters, we wish them well?because as everyone knows that what this sport needs is another Amateur Championship event.
MEXICAN GRAND PRIX TRACK MOVED…HOPEFULLY TO SOME OTHER COUNTRY



Didn't the FIM learn anything from trying to hold the ISDE in Mexico in 2010. The lessons learned were blatantly obvious to all but the FIM. First, many riders refused to come to Mexico out of fear of drug cartel violence (including the complete British and Australian teams). Second, the Six Days had to be shortened to five days because of threats of criminal activity. Now, the good news! There will be an FIM Mexican 250/450 Grand Prix on May 13, 2012. The location has been changed to Guadalajara (from wherever it was originally scheduled to be held). This is just another FIM mess. There has been ample warning that Mexico is not the best choice for an international event in the midst of their ongoing violence and drug war issues. Any chance that next year Afghanistan will get a GP?
BRETT METCALFE IS THE SOLE SURVIVOR AT SUZUKI?THANKS TO YOSHIMURA 


Brett.
When A1 rolls around Brett Metcalfe will be on the Yoshimura Suzuki RM-Z450?and he will be the only factory 450 rider on a Suzuki in 2012. Metcalfe said, "I'm really excited about Anaheim 1. Last season, I had a tough time and I made some mistakes that took me out of the 2011 Supercross Championship, but I learned a lot. We really hit some points in the off-season testing and, right now, I think I'm riding the best Supercross I ever have. I'm excited about that and I can't wait until January 7th comes around and we get to go racing."
PHOTO OF THE WEEK (IF THIS WEEK WAS 33 YEARS AGO) 


Valentino Ribi checks the linkage on DeCoster's works Suzuki.
There are those who think that motocross was a much more inventive sport when every new idea wasn't run by a microprocessor. Take Valentino Ribi's unique Quadrilateral forks for example. Roger DeCoster raced the 1979 500 World Championships with them. To see more of the wonderful world of inventors and crazy ideas check back on Thursday to read "Jody's Guide to Wild, Weird and Wacky Motocross Inventions."

TWO-STROKE OWNERS ARISE! MAXIMA SUPER M IS DESIGNED JUST FOR SMOKERS 


Super-M is a high performance racing two-cycle lubricant incorporating the latest technology. Super-M is a blend of clean burning petroleum base oil, synthetic polyolester, polybutene, anti-scuff/anti-wear compounds and a new additive that keeps rings, power valves and the exhaust tract "carbon free". Another newly developed additive 2000 Centistoke Ester provides additional anti-scuff protection as well as enhanced rust & corrosion protection. This environmentally friendly "smokeless" formula is in a class by itself. It retails for $8.50 per 16 ounces. For more info go to www.maximausa.com.
CLIP THIS OUT AND TAKE IT TO A1: TOP 100 AMA NATIONAL NUMBERS  


Who is the best all-around racer? The man who earns the most points in the 17 Supercrosses and 12 AMA Nationals combined.

1. Ryan Villopoto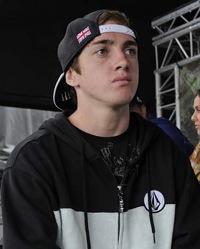 1. Dean Wilson (250 MX)
1. Broc Tickle (250 West)
1. Justin Barcia (250 East)
2. Ryan Villopoto (will not be used in 2012)
3. Mike Brown
5. Ryan Dungey
7. James Stewart
9. Ivan Tedesco
10. Justin Brayton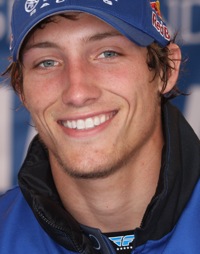 11. Kyle Chisholm
12. Blake Baggett


14. Kevin Windham
15. Dean Wilson
16. John Dowd
17. Eli Tomac
18. Davi Millsaps


18. Davi Millsaps
19. Kyle Cunningham
20. Justin Barcia
21. Jake Weimer
22. Chad Reed
23. Gareth Swanepoel
24. Brett Metcalfe
25. Broc Tickle
26. Michael Byrne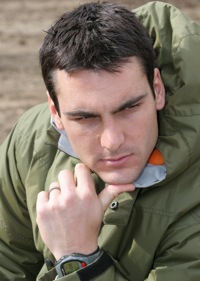 27. Nick Wey
28. Tyla Rattray
29. Andrew Short
30. Alex Martin
31. Martin Davalos
32. Tommy Hahn
33. Josh Grant
34. Cole Seely
35. Darryn Durham
36. Kyle Regal
37. Malcom Stewart


38. Marvin Musquin
39. Tye Simmonds
40. Gannon Audette


41. Trey Canard
42. Ricky Dietrich
43. Christian Craig
44. Jason Anderson
45. Nick Paluzzi
46. Les Smith
47. Chris Blose
48. Jimmy Albertson
49. Justin Bogle
50. Nico Izzi
51. Travis Baker
52. Ben Lamay
53. Ryan Sipes
54. Weston Peick
55. Lance Vincent
56. Austin Stroupe
57. Jake Canada
58. Will Hahn
59. Vince Friese
60. Matt Lemoine
61. Austin Howell
62. Travis Sewell
63. Colton Facciotti
64. Matt Boni
65. Ryan Morais
66. Jason Thomas
67. Scott Champion
68. Shane Sewell
69. Jimmy DeCotis


70. Ken Roczen
71. Kevin Rookstool
72. Jarred. Browne
73. Joshua Clark
74. Tyler Bowers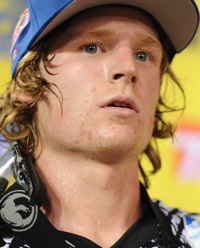 75. Josh Hill
76. Calle Aspergren
77. Lowell Spangler
78. Tommy Weeck
79. Tyler Medaglia
80. Kyle Keylon
81. Robert Kiniry
82. Justin Sipes
83. Kyle Partridge
84. Killy Rusk
85. Robert Marshall
86. Taylor Futrell
87. Matt Goerke
88. Ben Evans
89. Tyler Bright
90. Bryce Vallee
91. Dalton Carlson
92. Hunter Clements
93. A.J. Catanzaro
94. Cole Siebler
95. Chris Plouffe
96. Kyle Peters
97. Jeremy Medaglia
98. Tye Hames
99. Sean Hackley
377. Christophe Pourcel


800. Mike Alessi
Note: (1) The following riders had enough AMA points to get a top 99 number, but were bumped out by tie breakers: Dean Porter, Ricky Renner, Dan Reardon,  Tevin Tapia, Johnny Moore and P. J. Larsen. (2) Eli Tomac earned number 13, but requested a different number and was given 17…this bumped Dean Porter out of the two-digit numbers.

PRESS RELEASE: SO CAL MX HAVEN MOTO LODGING 


The Supercross season is upon us and getting geared up for 2012 is the name of the game when it comes to getting the jump on the competition.  If you are planning on visiting Southern California soon to attend one of the Supercross events and need a place to stay, why not check out our place?
At So Cal MX Haven, we provide a Moto-Friendly, Family feel with security to boot.  We have full and econo package deals to fit everyone's budget. You can also sign up for one of the Donnie Hansen Motocross Academy schools and camps at the Piru MX Park and Glen Helen Raceway (perk for signing up for the Glen Helen Camp is a FREE Supercross Ticket & Pit Pass to Anaheim I for first 10 sign-ups).   Donnie also does private lessons if you prefer, so get your race face on and give him a call/email today. We book up quick, so if you are interested in our moto-friendly lodging and need more information, just  give us a shout and we'll be happy to help. For more info visit www.SoCalMXHaven.com or call (951) 313-0380.

MY NEW YEAR'S RESOLUTIONS FOR MOTO
by John Minert


Honda Transalps were only imported to the U.S. in '89 and '90. Gary and Spencer Worbec have one from each year and they lent MXA's John Minert one for the day.
Train harder, get in better shape, go to the track more, win more races. These are cliche for motocross racers: get on a good routine and work hard. "Staying on track" is what motocross racers do best, but sometimes it's good to get off track and try new things, for example getting together with an old friend for a dual sport adventure. Nothing beats the bar dragging, high-flying thrill of motocross because unless you go around in circles on a track, you'll never know how fast you can go. But, changing it up once in a while keeps things fun and uses different skills that still apply to moto. New Year's Resolution number one: Change it up once a month by going to a different track or riding area, ride trials or ride trails, street or dual sport. Hey, maybe I'll even try flat-track again.
New Year's Resolution number two: Introduce at least two new people to motorcycling by taking them out and teaching them to ride. As an industry insider, there is always buzz about "growing the sport." Sure it would be nice if the stands were full and every MX business was prosperous, but I think it comes down to getting rear-ends onto the seats of motorcycles. It's a participation sport first and foremost, not a spectator sport. As successful as NASCAR is, I wouldn't want to see motocross become NASCAR and sometimes I resent the comparisons. I've taken people to watch their first Supercross or AMA National and it is fun experience. I have also run beside people while they figure how to operate a clutch on their first ride. Nothing compares to that ear-to-ear grin on somebody's face after their first day on a dirt bike.