MOTOCROSS ACTION'S MID-WEEK REPORT: ARE YOU READY FOR MILLVILLE? TRACTION CONTROL SECRETS
TAKE A LAP OF THIS WEEK'S MILLVILLE NATIONAL TRACK DIGITALLY…AND THEN TAKE A LAP WITH THE MXA WRECKING CREW IN REAL TIME

THE DOWD & BROWN EXPEDITION: TWO MEN WITH THE SAME MISSION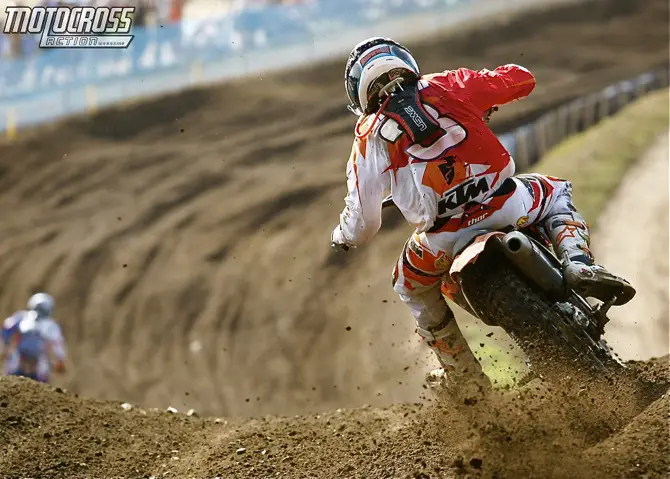 Mike Brown.
John Dowd and Mike Brown are both over 40 years old. Both are icons in American motocross. Both want to keep their assigned AMA National numbers. As a former AMA National Champion Mike Brown holds National Number 3 (only former National Champions can get numbers below 10) and John Dowd is National Number 16 (riders who finish in the top ten in overall combined points can choose whatever number they want). But there is a catch. To keep numbers 3 and 16 both riders have to earn 25 AMA National points every year (it used to be 1 points, but was changed a few years ago to free up numbers). If they don't earn 25 points, their numbers go into the pool of available numbers (although there are circumstances where a rider can keep his number even without the points; injury or no one else wanting it).

John Dowd.
Both Dowd and Brown showed up at the Red Bud 450 National to try to earn either all 25 points or some of them…with Dowd obviously figuring he could get the majority of the points in the sand at his home track of Southwick on August 18. It would take two eighth place or better finishes to get 25 points at one race. Sadly, Mike Brown ran out of gas in both motos (while in the top ten) and went 32-33. KTM says that Brown had the exact same gas tank as Red Bud winner Ryan Dungey. John Dowd went 22-24, but points are only paid to the top 20 spots. With six races left you can expect to see Brown and Dowd again.
WHAT'S LEFT: TIME IS RUNNING OUT ON THE 2012 AMA NATIONAL CHAMPIONSHIPS


There are six races left, but it will take nine weeks to run them. Photo: Hoppeworld
Date                        Track                    State
July 14               Millville…………Minnesota
July 21               Washougal……Washington
July 28               No race
August 4            No race
August 11          Southwick……….Massachusetts
August 18          Unadilla………….New York
August 25          No race
September 1      Steel City…………Pennsylvania
September 8      Lake Elsinore….California
MXA PRODUCT PROFILE: GAERNE SG12 BOOT


"Due to the popularity of the SG12, we have added three new colors: orange/white, red/white/blue and red/white. The SG12 is a well-made, Italian-crafted product that is popular because more and more riders are finding out about its durability, comfort and features. Yes, SG12s are not cheap, but they last three times longer than other boots," Gaerne's Bob Rathkamp. $579.99?www.gaerne.com or (800) 426-0213.

MXA MINI VIEW: BROC TICKLE


Broc Tickle.

Broc Tickle has been like a locomotive building steam this season with better and better results, culminating with a 2-2 finish at Budds Creek. Pretty good for a rookie in the 450 class. Confident from his last finish and heading to his favorite track of the outdoor series, we talked to Broc before last weekend's race at Red Bud to get his recipe for success. As a side note, Broc went 5-9 at Red Bud and holds down fifth place in the season points standings.

MXA: What have you been doing with the recent breaks in the race schedule?
Broc: The last two months I've been working with the Rockwell Training Facility with Johnny Louch. We've been doing a training program and I've slowly been noticing my fitness improve. It's been working and I've been confident so I haven't changed anything with that program. I've just been riding, working on starts trying to stay mistake free and just keep having fun.

What happened in your motos at Budds Creek?
In both motos I got fourth place starts, passed into third, passed into second and then just rode my own race. Honestly, in the first moto I didn't feel like I rode that great. But in the second moto I feel like I rode better after having made a couple changes with the bike. I think getting good starts really helped me a lot. That's my main focus right now, because I think my fitness is there, and my bike is good. I can run the 30 minutes, but good starts are important.

Broc is happy with his fitness… his main focus is good starts.
But you have finished inside the top three in an individual moto.
At Colorado I got third the second moto. I went to High Point and finished 6-9. I crashed in the second moto, but still got ninth. I was a good weekend, I rode well and got decent starts, I just made a couple mistakes. It all about being mistake free and being smooth. I think a lot of guys get ahead of themselves at the beginning of the moto and they probably wear themselves out a little bit. I just try to stay steady and not make any mistakes.

It seems that you have been steadily improving, was that your game-plan from the beginning?
Outdoors has been really good. Ever since Hangtown I've been feeling good, my bike has been good and I'm confident. I've been working on my starts and working on my fitness. I have been trying to improve all-around every week. At this point with my last race having a 2-2 finish…I've never got on the podium overall before so I accomplished a big goal. Now I need to duplicate those results. It's hard, but I've done it once, so I can do it again.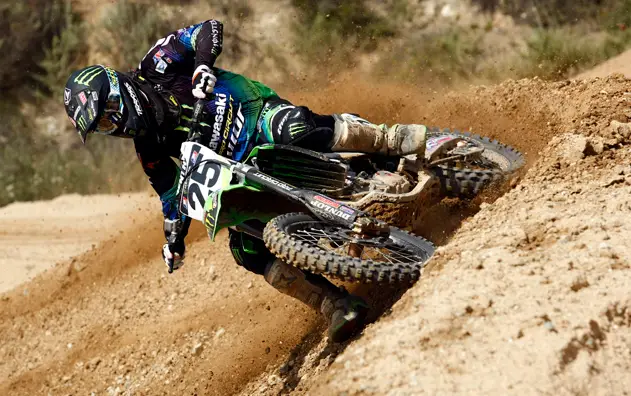 Broc is hoping to finish well enough to convince potential sponsors that Pro Circuit should field a 450 team.
How have you had to change your riding technique and strategy in switching from the 250 to the 450?
Just in general, you can't ride a 250 the same way that you ride a 450, or you'll wind up on your head pretty easily. I think riding smoothly and carrying momentum on a 450 is almost effortless if you do it right. I'm practicing that when I practice during the week, and I think it's becoming easier and easier for me. Last year on the 250 I don't think that I was riding the 250 like it should be ridden. I think my riding style is better suited to the 450 than the 250. But I'm happy where I'm at and hopefully I can maintain.

Has there been any talk from Mitch about continuing to field 450s?
He was really happy after Budds Creek. I heard a rumor that if he can line up some more sponsorship money that he will possibly have a 450 program, but I'm not sure and I haven't heard anything official.
WHAT THE STAR WARS IMPERIAL STORMTROOPERS DO ON THEIR DAY OFF… IS THAT JEFFREY HERLINGS DRESSED AS ONE OF THE SAND PEOPLE?


HAVE YOU HEARD ABOUT THE MINOR LEAGUE MOTOCROSS DES NATIONS? THERE IS ONE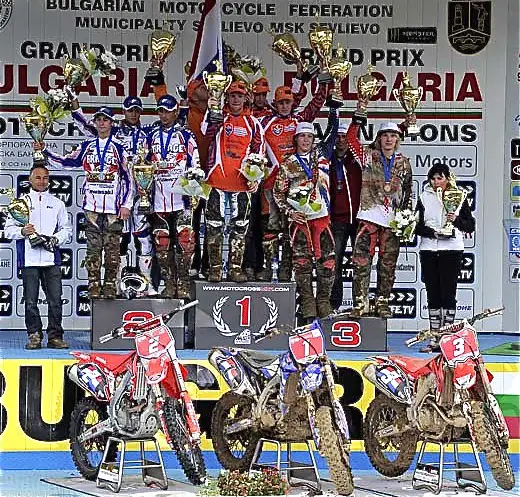 Last year's EMDN podium.                    Photo: Youthstream
Youthstream has announced that the 2012 UEM Motocross  of European Nations (MXEN) will be held in Kiev,Ukraine, on October 14. The UEM (Union European de Motorcyclisme) is best known for holding the 125cc support races at the FIM World Championships. The Netherlands has won the last two MXEN last two editions of the European Motocross des Nations and are the favorites to win again. Last year's Dutch team was Herjan Brakke, donny Bastemeijer and Ceriel Kromhof. France was second with Milko Potisek, Jordi Tixier and Dylan Ferrandis. The Slovakian team of Martin Kohut, Josef Kulhavy and Tomas Simko rounded out the podium. Teams from Moldova, Greece, Romania, Croatia, Germany, Poland, Ukraine, Czech Republic, Bulgaria, Slovenia and Slovakia are expected to compete. The actual Motocross des Nations (MXDN) will be held in Lommel, Belgium, on September 30, 2012.

POWERTYE PICKUP TRUCK TIE-DOWN KIT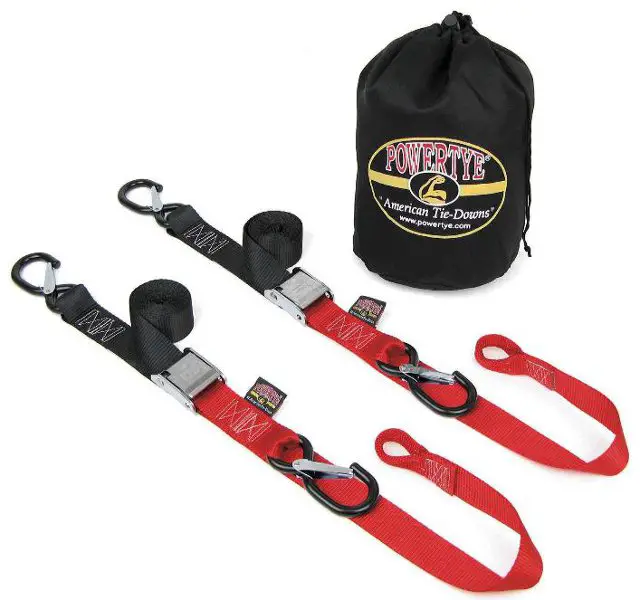 Powertye's Pickup Kit pairs a dynamic duo of Fat Strap tie downs with a storage bag for the ultimate in motorcycle-hauling control and convenience. The kit's burly straps are 50% wider than conventional tie downs, have integrated Soft Tyes and come in an array of two-tone color options. American made, the 5-1/2 ft.-long tie downs are constructed of abrasion-resistant nylon webbing secured with double-stitched thread in a box-x pattern that give a working load of 500 lbs. per strap. Their integrated Soft Tyes never get lost. For easy adjustment when cinching down bikes from ground level, their pull straps have built-in hand loops. They also have fat, rolled ends for additional strength that safely anchor the vinyl-coated, no-mar S-hooks, which are bent from 3/8-in. steel and come with innovative, auto-locking safety latches.
The Fat Straps have 1-1/2 in.-wide cam-buckle fasteners built from heavy-duty steel that are closed with burly springs. Their thumb-actuated tension releases have raised bottom edges that offer a positive, no-slip grip and tenacious teeth in the buckles for a good bite on the webbing, offering additional piece of mind. To keep the tie downs together and protect them from damage, Powertye's Pickup Kit comes with a nylon storage bag. Its pair of tie downs are available in a black, as well as black & blue, black & orange and black & red two-tone designs. Combining the finest quality components with class-leading features and superior workmanship, Powertye stands behind its entire line with a lifetime warranty. For more information about Powertye's tie downs and other vehicle-hauling accessories visit Powertye.com call (800) 659-0575.

MXA INTERVIEW: THEO LOCKWOOD


Theo.
Theo is the engine development/data specialist for the Factory Kawasaki team. He works with EFI settings, data acquisition and engine development on Jake and Ryan's bikes and helps give feedback to Kawasaki Japan for future production specs. We figured Theo has his hand on the pulse of some cutting edge moto tech, so we cornered him and asked him about some of the cool gizmos that are currently in use and what's in store for the motocross bikes of tomorrow.
 
MXA: How do you develop fuel injection settings?
Theo: It involves having a relationship with Japan, understanding their concepts and trying to implement those concepts as they come on board. We try to give them feedback and help them move forward with their production stuff. Our goal is to be an R&D facility for them in addition to our program. Up until this past Supercross season we used to the logger supplied by KHI but in our opinion, it is a little bit slow in acquiring data. We would used it to figure out any issues with the bike and pinpoint ares that can be improved. If Ryan has a comment we can look at the data and match it up to the time and location of the issue and use it help us figure out what's going on.

MXA knows from personal experience that Villopoto's engine is very usable. Data aquisition helped the team hone the power.
What's a specific example of a situation using data?
For instance, we were spending a lot of time trying to figure out what part of the engine Ryan wants to be improved. At the track, he'll say this is the spot where I could could use some more. We'll look at the data and figure out exactly what part of the track he is at, what his throttle position and rpm it is. Then we can identify that spot with our dynos to see where we are lacking or what improvement we have made. It drives in the direction of improvement. I use the engine as an example because that's what I work with, but it could be any number of things, hard-parts, gearing or whatever.

What's the next step for data acquisition in motocross? Real-time data monitoring?
No, telemetry is a very touchy subject with the AMA, everybody's worried about it. I don't think it's something the AMA should have to control, it would take a huge number of people to try to police the whole system. In general, that is way off in the future. I think what's coming next is more controls. By controls I mean various power deliveries based not on track position but on how the rider rides. In other words we cant control how the rider applies the throttle right now, but I think that is something coming in the future.

How would you do that?
If you you look road bikes they are a bit more advanced, and some of that technology will come to motocross. Fly by wire is now very popular. I think it will be coming but there will be some durability issues, since landing from a ten story building doesn't help electronics. So we will have to make sure that stuff works. From our point of view, packaging is big issue. We have to make sure it still fits into a small package compared to a four-cylinder road bike.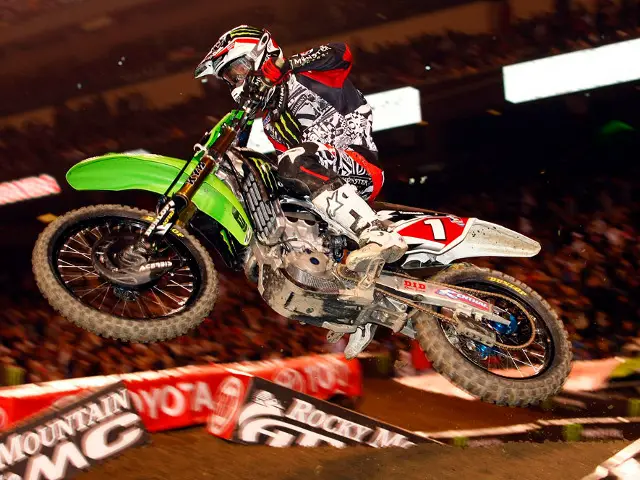 Ryan doesn't use traction control, he just looks like he's on rails.
What's the difference between road and dirt?
Road racing is more advanced that point of view, but dirt is a lot more challenging than pavement in a lot of ways. Pavement stays relatively consistent, but dirt is constantly changing. If you try to make a setting just for that particular condition and they water or change the track or it develops a rut or dries out it's different. So controls like traction control will be very hard fought and difficult to implement into racing.

Rumors are always flying about the race teams having traction control. What's the truth?
The truth is, with the dirt condition changing so much we can't. It would be very difficult. Even if you had all the sensors available: if you knew where you were on the track, the wheel speeds, and all these things when guys jump through the air it throws a huge wrench into things. Guys want wheels to spin in the air, but with traction control they won't because the wheel don't know whether they are in the air or not.  That's going to be a huge challenge in the industry. It's going to happen, everybody's going to do it, but it's going to take a long time and it's not something we'll just be able to bolt on.
JUSTIN BRAYTON TALKS ABOUT HIS MEMORIES OF LAROCCO'S LEAP, HIS SEASON SO FAR, TRAINING & WANTING TO GO TO MILLVILLE


TARGET AND RYAN DUNGEY HOST THE MINNESOTA MAJOR RIVER-TO-RIVER RIDE THIS SUNDAY

Motocross champion Ryan Dungey will host the "Minnesota Major River-to-River Ride with Ryan Dungey" on Sunday, July 15. The ride benefits the St. Jude Children's Research Hospital. The event features bicycle rides of different lengths for all skill levels, Twin City residents are invited to bike for a cause with Dungey and Target along the St. Croix River and Mississippi River. The Minnesota Major offers two different lengths ? a 100-kilometer (62 mile) "Major" and a 25-mile "Minor." Both will start at Bielenberg Sports Center in Woodbury, Minn. and follow a route through the St. Croix and Mississippi River valleys. Both rides are timed events and, there will be a timed hill climb for cyclists to test their skills. During the event, there will be a Kids Ride featuring a mile-long loop on the paths of the Bielenberg Sports Center.
To join in the fun and register for The MN Major River-to-River Ride please visit www.MNMajor.com and follow the event at www.facebook.com/themnmajor.

MXA PRODUCT PROFILE: PACIFIC CREST EXHAUST PIPE REPAIR


Before.

After.
"With our service, you get a pipe that's just as good as new for half the price. We remove the dents and straighten the pipe so it fits right, then we polish it up to look good. If there are any cracks or holes, we weld them at no extra charge. Turnaround is one or two days. If you don't like our work, we'll refund your money," Pacific Crest Pipe Repair's Bret Mitchell. $60.00?www.piperepair.com or (541) 664-0400.

RACE TECH ANNOUNCES MIDWEST TOUR


The Race Tech team is packing up and driving East to support their riders, dealers, and Centers from California to the Midwest. Through late July and early August, keep an eye out for the Race Tech Suspension crew at a track in your area. They'll be visiting dealers, Centers, and most importantly, testing with their riders at various tracks and events throughout the entire journey. "This is a great opportunity for us to show support to those outside of the west coast region," stated Rob Brown; Race Tech's General Manager/Head of R&D. We want to continue to grow our base of both support riders and dealers, and the best way to do that is to support them in their backyard. We have a lot of top talent in the Midwest region. It's important for us to test and tune with these riders on the tracks they ride year round. Different dirt and track styles cause different challenges for suspension tuners, we want to develop the best product and settings no matter what the track is."
THE RACE TECH TOUR SCHEDULE
July 23-24….Ride Day at a location TBD in Illinois .
July 25-26….Lake County Fair MX – Graylake, IL
July 29-Aug. 4….Loretta Lynn's Amateur Nationals – Hurricane Mills, TN
For more information about Race Tech's tour, products, seminars and rider support program, please visit www.racetech.com call (951)279-6655.

MATRIX CONCEPTS INTRODUCES THE M40 CARPETED MAT


Matrix Concepts' M40 Carpeted Mats are now in stock in all factory colors. The large 7′ X 3.5′ Carpeted Mat is great for under your bike, work bench, or in front of the door. The Carpet is made of a gas, oil, and contact cleaner resistant nylon and features a durable non-slip rubber backing. The carpeted mat costs $189.95.
To find out more information or to purchase, visit www.MatrixRacingProducts.com

BIKE LINK HELMET INTEGRATED SAFETY LIGHTING


FLY RACING 2013 GEAR PREVIEW


MOTORCYCLEINDUSTRYJOBS.COM LAUNCHES NEW SITE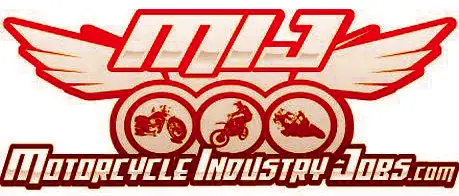 MotorcycleIndustryJobs.com is proud to launch a superior job board and upgraded website. Already the leader in the field, the new site incorporates state-of-the-art computer software to cater specifically to the powersportsindustry. More features, enhanced listings and direct links to social mediachannels are just some of the upgrades.
"We are confident that employers and job seekers alike will love the increased resume exposure, time-saving features and the updated look of the site," says MIJ founder, Alex Baylon. "In addition to the facelift, employers and job seekers will enjoy some great new features." According to Baylon, the job seeker accounts have had the biggest upgrades.
Foremost among these upgrades is the ability to build resumes online by filling out a simple web form. Add photos, upload videos and attach files? all with a click. Job seekers can also upload their resume straight from LinkedIn, as well as now having the ability to control who can view his or her resume. Further enhancing the experience are the instant job notifications via e-mail immediately when a job is posted that matches the desired category and location. The "Priority Resume" feature places a job seekers' resume above all others. "We encourage everyone from the powersports industry to create a free account and upload their resume to MotorcycleIndustryJobs.com," says Baylon. "MIJ helps create opportunities for everyone? Even if you are currently not looking for a new career, a new career could be looking for you!"

GALFER TO PROVIDE SUPPORT AT WORCS RACING EVENTS


WORCS announces "Galfer Braking Systems, a long time leader on brake systems innovation and performance, has joint forces with the Rocky Mtn atv/mc WORCS RACING series to provide their racers with trackside support and product support at all their racing events. Galfer's technicians will be on hand at all events to help anyone with brake maintenance and technical support as well as on site product if needed."
Sandro Milesi, General manager for Galfer Braking Systems, was quoted saying: " We are glad to be a a part of this racing program and we are looking forward to servicing everyone's brake needs, its a blessing to be given this big opportunity and responsibility, we hope to satisfy everyone with our knowledge and services" Sean Reddish adds "Brake systems are a important factor in WORCS and Galfer will definitely be that factor.
for more info on Galfer visit www.galferusa.com
BUDDS CREEK KAWASAKI RECAP VIDEO: WATCHING BLAKE BAGGET RIDE AT THE END OF A NATIONAL MOTO IS EPIC