MOTOCROSS ACTION'S MID-WEEK REPORT BY DARYL ECKLUND (12/11/13)

KURT CASELLI MEMORIAL RIDE AT GLEN HELEN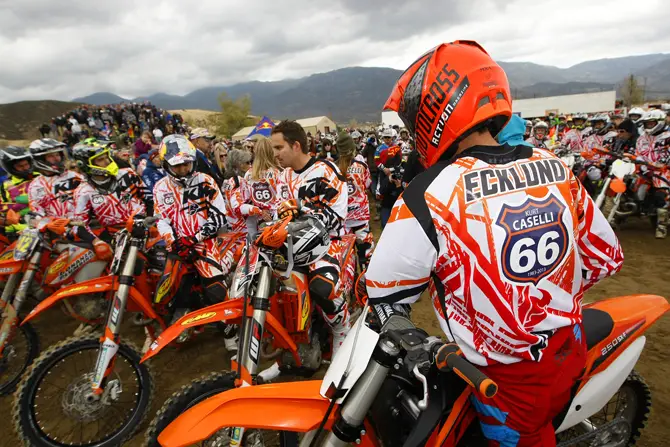 KC's memorial ride day was amazing. The camaraderie and the amount of people who came to honor Kurt was surreal.


WHO IS READY FOR SUPERCROSS 2014!
MXA MINI-VIEW: DEAN FERRIS


Dean Ferris and his new bike and AMA number.
By Jim Kimball
We first spoke with Dean Ferris at the 2013 Motocross des Nations, where he impressed everyone by setting some very impressive lap times and keeping pace with Ken Roczen and Eli Tomac. At that time the 23-year-old Australian planned on moving up to the MX1 (450) class (because GP rules state that riders over 23 must race the MX1 class) and remain with his current Dixon Yamaha team. Of course that's now in the past, because Ferris signed on the dotted line with Red Bull KTM to contest 250 Supercross and also the Nationals. We wanted to find out all about his new deal. 
MXA: Dean, tell us how you got to where you are now getting ready for AMA Supercross. 
Dean: Well, I already had a deal going to Dixon Yamaha for 2014 to race the 450 in the World Motocross Championships. But after my success in Germany at the Motocross des Nations, KTM USA was interested in me. I had always wanted to come to America anyway. It wasn't easy, because I had the agreement with Yamaha. But after many discussions they agreed to release me from my contract with a compensation fee. After that was all done I was able to secure my ride with Red Bull KTM to race the AMA series aboard the 250SXF.
Had you wanted to stay on a 250?
No. Originally I had wanted to keep racing a 450 as I had done for the three years prior to 2013. But then after my success this past season on the 250, I felt that it was a shame that I had to step up due to the age rule where when you turn 23, you have to move up to the 450 class. I felt that I could have been a hot property if I could have remained in the 250 class, because there wasn't as much interest in me in the 450 class. I've always felt that I'm a better 450 rider, and I still believe that I am better on a bigger bike, but now that I have a very competitive 250 I am content to stay on one for another year or two. 
What is your take on the current state of World Motocross GP's?
The GP's are struggling to fill out the gates, but the level of competition is pretty high. We go to some pretty gnarly tracks, and race 18 rounds of two full days of racing. Even though it's not as long of a race season as in America, it's still tough because of the two-day format. I did like racing the GP's, and I believe that it's been a good steppingstone for me to reach my ultimate dream of racing in America. 
You are racing the 250 West Coast Supercross series. That doesn't leave you very much time to prepare!
Yes, there is not a lot of time, but I don't feel like I am under too much pressure. The bike is already good enough to win on. I'll just do as much work now that I possibly can and hope that the level that I reach is high enough to do well on. 
Any final thoughts on your move to America?
Moving to the U.S. is easy for an Aussie. I love it here. The weather is always good, and it's not that different to Australia. I am very impressed with my KTM 250SXF and everyone involved with the team. I feel that the KTM chassis really suits me, and we all know how fast the bike is. Supercross will be a new challenge. I can get around the practice track really well, but I know that racing can be different. I don't have that much experience in Supercross. Hopefully everything will go pretty smooth and that I can do okay in my first season over here. 
SAVE OF THE WEEK!
MXA FITNESS TIP OF THE WEEK
Invest in a foam roller and learn how to use it. It is a heck of a lot cheaper then getting massages and with comparable results. When you exercise or ride your muscles become tight and overworked. Knots can form shortening the length of the muscle which won't allow the muscle to function properly. Using a foam roller is just like rolling out dough. It is simple to use and can by used to massage you entire body if used properly. It is worth its weight in gold.
COULD RED BULL'S STRAIGHT RHYTHM BECOME A SPORT?
ROBBY BELL'S "BEST IN THE DESERT" RACE REPORT

December 7th, 2013 in Jean, Nevada. Photos: David Burson

By Robby Bell
There's little in this world that can simulate the feeling of being in top gear, tucked in behind the front number plate, throttle adjusted to the maximum, asking the motor to deliver just a little bit more, but that description makes up over half of the Best In The Desert Henderson 250 experience. The forty-five mile racecourse is comprised of fast sand washes, a few faster power line roads, one mile-long whoop straight and a couple rocks just to make sure the racers are paying attention. Talladega Nights sums it up best: Henderson "?is all about speed. Hot, nasty, bad*** speed."
Just to make the race a little more exciting, the weather was going to be sub thirties with thirty-plus mph winds. It was time to break out the wool long johns, the Fox jacket and Antifreeze gloves, layer up in an effort to not lose all feeling in the extremities, and head to the start line first thing in the morning for a borderline darkness start.
Ricky Brabec and the Beta team of Nick Burson and Justin Morrow would start ahead of me as we were scheduled to complete three loops for a total of 135 miles. Ricky's teammate Ty Renshaw and my own teammate David Pearson couldn't make the race so we would be racing solo, but with the lack of physically demanding terrain that wasn't going to be too challenging.
The first two bikes had left the line and as the green light burned brightly I accelerated into the still dim terrain. I've never been a big fan of starting at the Best In The Desert events; the start usually goes off before the sun is making much of a mark in the sky, leaving it very dim for the first few miles and slightly risky to push the pace. I was riding as fast as I could see, but based on the tracks in the dirt ahead of me it looked like I was losing a bit of time. After a few miles, the sunlight was starting to make a difference and I picked up the pace.
I felt decent, but even with how smooth the terrain was on the first lap I could tell I wasn't at my best physically. It had been three weeks since my crash in Baja but my body still wasn't quite back to one hundred percent, especially my ankle, and the lack of strength was making it difficult to maneuver the bike the way I wanted. At the end of the first loop I came in to the pits about even on adjusted time with the Beta, but Ricky Brabec was on fire and had pulled about three minutes on us; he was flying.
The second and third laps were pretty taxing on my ankle as the sand washes that were so smooth on the first loop had become chopped up from the other motorcycles, quads and UTVs. My ankle had swollen up inside the boot and the resulting pressure was making it painful and weak and I was forced to back my pace down. I lost time both loops to the two leaders and I ended up finishing a pretty distant third. It was very frustrating not to be able to ride to my potential. I truly felt I was going to be able ride well enough to compete for the win, but it quickly became apparent that I wasn't ready to race quite yet. Even still, the Beta team rode really well, and Ricky was riding like a madman; I don't think anyone was going to beat him on that day.
It wasn't my preferred way to close out the year, but on the whole it's been a fantastic year for me and I'm truly grateful to all of my sponsors and supporters who have made it possible. Thank you to the team: THR Motorsports, Monster Energy, Precision Concepts, Kawasaki, my personal sponsors: Fox Racing, USWE hydration systems, Alamo Alarm, Northland Motorsports, ATP Mechanix supplements, FMF Racing and Ryan Abbatoye Designs, and all of the team sponsors who have done so much throughout the year. Thank you to all the THR Motorsports, Monster Energy, Precision Concepts Kawasaki team sponsors: FMF Racing, IMS Products, Hoosier Precision Machining, BRP, Renthal, Dunlop, AME Grips, AP Brakes, LAPC, VP Racing Fuels, Kalgard, DT1 Filters, Hinson, Matrix Concepts, ZLT, RK/Excel, Acerbis, Works Connection, Zip-Ty Racing and SealSavers.
As I look ahead, my first priority is to let my body get back to full fitness so I can start to build and come out swinging next year. In the mean time, I'm looking forward to spending my favorite time of the year (Christmas time!) with my beautiful wife, family and friends. I truly hope everybody has a fantastic holiday, an exciting new year, and I'll see you at the races in 2014!

Robby Bell
www.robbybellracing.com

www.facebook.com/rbell32
www.twitter.com/robbybell32
www.youtube.com/robbybell32
ON BOARD WITH ROBBY BELL 
FIVE IN FIVE WITH DAVI MILLSAPS

MXA: Davi, with the Anaheim 1 right around the corner it must be frustrating that your injured once again. Can you tell us what happened?
Davi: I was only riding for about four weeks after my last injury till this happened. It was nothing big, I just washed out in a corner and my leg got stuck in with the bike twisting my knee.
Did you have an MRI to see the extent of the injury? 
Ya I got one but I have to keep the details under wraps for right now. It's not the greatest news I have heard but I am confident in making a full recovery, it just depends when that will be. I have already started physical therapy and I am doing everything possible to get my knee better. 
So Ivan Tedesco is your fill in rider, how do you feel about that?
We were teammates back when we were both on Factory Honda, we have always got along good. He is good for the team and he is a veteran rider that brings a lot of experience to the table. 
The KTM is still pretty new to you how was testing coming along?
It was going good and we are still progressing with Ivan on the bike. What is cool about Ivan is that he knows what I like. I am a lot bigger then him, so what we like is different but he can progress in the direction that is good for me. I might not be able to ride right now but I have a lot of confidence in Ivan to make progress in testing.
So is there still a possibly that you will race the Supercross season?
There is still a chance that I will be able to. Only time will tell.
HUSQVARNA MOTORCYCLES JOIN FORCES WITH FMF EXHAUST SYSTEMS
Looks like the Husky's will be coming on strong for 2014.
THE WRECKING CREW DOING DAMAGE
The MXA Wrecking crew was out in full force this week calling in all our heavy hitters for the MXA 250F shootout. We had five experienced testers, five bikes, with each rider putting each bike through the paces. Each manufacture was nice enough to come out and help with our every need and desire. If we broke something, they fixed it. If we didn't like something, they changed it. They were even nice enough to bring us out drinks and food in hopes to butter us up, but we kept focused at the job at hand?at least until the job was done. We have not rushed into doing our 250 Shootout?we got the Yamaha YZ250F late and decided to step back and take the time to learn all of its ins-and-outs before throwing it into a shootout. Had we done the Shootout when we first got the YZ250F, we might have only had time for six days of riding on it, while the other 250s had several months of probing and prodding. We decided to delay the shootout in roder to be accurate and fair.
The MXA wrecking crew tried every option of couplers, an array of suspension settings and mapping changes till our fingers were on the verge of getting frost bite! It was a cold one in the high desert on Tuesday with a high in the mid 40's! Then, we were off to balmy Glen Helen on Wednesday for a private test day with our closest friends and then back again on Saturday for a hopefully warmer day of racing. We want to be thorough.
All I can say is this year's shootout is closer then ever. The Yamaha and Honda have been revitalized for 2014 as our six-time shootout winner was been left virtually unchanged. Will the Kawi still be able to take the top spot again, or will there be a new Sheriff in town? MXA's shootout video is coming soon as a bisual teaser and the you can find who won the shootout in the March issue of MXA. Be sure to pick it up!