MOTOCROSS ACTION'S MID-WEEK REPORT BY JOHN BASHER
PHOTO OF THE WEEK
The second annual Kurt Caselli Ride Day is this Friday, December 5th, at Glen Helen. This event is open to the public and raises funds to benefit the Kurt Caselli Foundation. This is a great cause for a great person. We hope to see you on Friday. For more information, please visit www.kurtcaselli.com.
MXA VIDEO REVISITED: 2015 YAMAHA YZ125 & YZ250 TWO-STROKE
A few months ago we got our hands on the new 2015 Yamaha two-strokes. I have been hoarding the YZ125 ever since, while Daryl Ecklund refuses to give up the YZ250. Look for a 250 two-stroke shootout in the January issue (on newsstands next week!), and a 125 two-stroke shootout in the February issue (you'll have to wait a bit longer for that gem). Until then, listen to the sweet sound of two-smokes singing throughout the hills of Glen Helen.
MEANWHILE, IN SPAIN…
Click on the image below to watch Ryan Villopoto go quasar fast through the whoops in Bellpuig, Spain.
MINI-VIEW: ZACH OSBORNE
I have known Zach Osborne for over a decade. That's a perk of my job, considering that I've been at MXA in some way, shape or form since back in 2002. In fact, one of my first assignments was to interview all of the up-and-coming racers. Not surprisingly, Osborne was on the short list. Back then he was KTM's factory hotshot, and he played the part. As you'll read in the interview, Zach was a cocky young kid. In the year since he has grown into a great racer; more importantly, he's an even better human being.
Osborne has been busy these past few months. He joined the Rockstar Husqvarna factory team, raced the International Six-Days Enduro (ISDE) for Team USA, and just this past weekend raced A Day In The Dirt at Glen Helen. Hear what the grown man from Abingdon, Virginia, has to say.
Zach Osborne looked at home at A Day In The Dirt on his new Husqvarna ride. Photo by Spencer Rathkamp.
MXA: How was A Day In The Dirt for you?
Zach: It went well. It was my first time racing the event and I didn't know what to expect, but I had a lot of fun. What's super cool about the event is that it brings together a lot of people from a lot of different genres of dirt bike racing.
Did you immerse yourself in the experience by camping and taking part in the shenanigans that take place after the racing is over?
No, I didn't camp, which is something that I would like to do next year. The fact that I didn't camp made for some early mornings waking up and getting to Glen Helen. Next year I'd like to camp and also compete in more races.
What was your favorite event at A Day In The Dirt?
It was definitely the Coupe de Grace. I squandered my chance of winning in the beginning of the race, because I needed to make a goggle change. From there on out I was trying to catch up. In the beginning I did battle for an hour with Toby Price and Taylor Robert, but Taylor jumped on a lapper going into the canyon and I had to stop for goggles.
The Coupe de Grace is grueling, but what makes it very interesting is how the race starts. This year they made the riders run to their bikes before taking off. What did you think of that?

It was sketchy! Everyone was kind of hanging out and then they waved the green flag, so everyone started sprinting toward their bikes. I got second off the start, so I was pumped on that. I wanted to let someone else set the pace and deal with the lappers. It worked for a while, but then it backfired on me, because I had to burn through all of my tear-offs. Next year I'll have a different plan.
Osborne has been busy this off-season, racing in Argentina, testing in SoCal and racing whenever possible.
Talk about the switch to Rockstar Husqvarna.
Things have been going well. I'm really happy with the team and the bike. They have made it a really easy and seamless switch for me. We have a good handle on things so far, and we have a month before we go racing. Overall I'm happy, except that today it's raining, so I won't be able to ride.
It doesn't rain much in SoCal, so when it does what kind of damper does that put on your training/testing schedule?
When it rains hard I'll spend my time indoors, working on the trainer bicycle and in the gym. It changes the week up a little bit, but that's okay. I took Monday off since I raced all weekend. I already have plenty of time on the bike, so I'm not too concerned when it rains.
You mentioned that you have about a month left to dial in the bike. Does this officially mean that you're racing 250 West?
I wouldn't say that it's a definite, but most likely I'll be racing 250 West. I have the opportunity to race some East coast events on the 450, so I'd be happy to race 250 West.
Switching gears a bit, the results show that the ISDE, held in Argentina this year, didn't go so well for you.
It was a bummer. Looking back, last year Team USA finished second. We were over the moon about it. This year we finished second again, but it was more of a disappointment than anything. We all felt that we should have won. Taylor [Robert] had a bike problem. Obviously my bike was done on the first day. Charlie [Mullins] had a few big crashes, and with my scores needing to be dropped we couldn't have any other problems. Instead we had to take some scores that weren't our best. In hindsight, it's good to get second place given the circumstances, but we went there to win. We want to win the ISDE.
It's admirable that your bread and butter race events are the Nationals and Supercross, but that you can switch gears and compete off-road in GNCC's and the ISDE.
Thank you. I love racing and riding. That's why I do events such as A Day In The Dirt. I have fun racing with guys like Toby [Price] and Taylor [Robert]. To me, those guys are really underrated for what they do. They don't get enough credit. It was an honor to be on the ISDE team and represent my country.
Mike Brown told a story the other day about you, about how when you were in the 85cc class you told him, "You just wait until I get on big bikes…" or something to that effect.
Timmy Weigand tells that story to everyone, I swear! That's his favorite story to tell about me, but you know what? I really don't ever remember saying that. I think that Timmy and Brownie are making up things. That is, without a doubt, their favorite story of my childhood [laughter].
Well I do recall interviewing you about ten years ago, and you were bit cocky. You were the hotshot kid.
I guess I was. I never really thought that I was, but I guess that was the case.
Back then you were a KTM factory minicycle racer, and you were the only kid I knew your age that had a cell phone. I thought to myself, 'This kid is pretty legit.'
[Laughter] I started traveling really young. My first trip to Europe was when I was 12, so I had a cell phone from an early age.
Friday is the second annual Kurt Caselli Ride Day at Glen Helen. It's incredible to see the lasting impact that Kurt has made on so many lives. What role has he played in your life?
On the anniversary of Kurt's passing I told a story about Kurt on my Instagram account [note: Zach's message written on his Instagram account is published below this answer]. I spoke about how he was selfless and such an outstanding person. Kurt was a great racer, but as everyone can see now, he had such a huge impact on a lot of people. That's the main thing. He has taught me to be the best person that I can be every day.
"One of my best Kurt stories is from when I was about 16. I couldn't drive yet and at that time Pole Position Karting had just opened. We were at the shop in Temecula and I really wanted to go but had no plan to get all the way to corona just to go go karting. Not to mention it was like 3 in the afternoon which would have been perfect timing for some rush hour traffic on the way back. Kurt caught wind of it and offered to take me but I said no way man, you have to go all the way to corona all the way back to temecula and then all the way back to Palmdale to get home tonight (about 150 miles). Needless to say he convinced me to let him take me. We went enjoyed a few hours of Karting and sure enough we sat in traffic for like two hours on the way home. Point being… He was about as selfless as they come. Not a selfish bone in the guy. He will always be remembered and I'm thankful to have known him and his influences. #ripKC66 #legendonmyleftlegendonmyright"
THE ARNAUD TONUS CHRONICLES
Arnaud Tonus took a tumble, but his wrist should be good to go in no time. Photo by Massimo Zanzani.
Injury is always the danger of hiring a somewhat unproven Supercross rider. And so it goes with Pro Circuit Kawasaki rider, Arnaud Tonus. The pride of Switzerland, Tonus recently hurt his wrist while testing on the Supercross track. Fortunately Arnaud didn't break anything and, since he is destined for the 250 East anyway, it will not affect his Supercross debut. It will, however, cause Tonus to miss the Geneva Supercross. Pro Circuit boss, Mitch Payton, will undoubtedly give his pupil a St. Christopher medal for Christmas.
A DAY IN THE DIRT PHOTO GALLERY
Spencer Rathkamp was on the scene all weekend covering the racing for A Day In The Dirt 17. Take a look at some of the happenings through Rathkamp's camera (some of the race results are posted at the bottom of the gallery).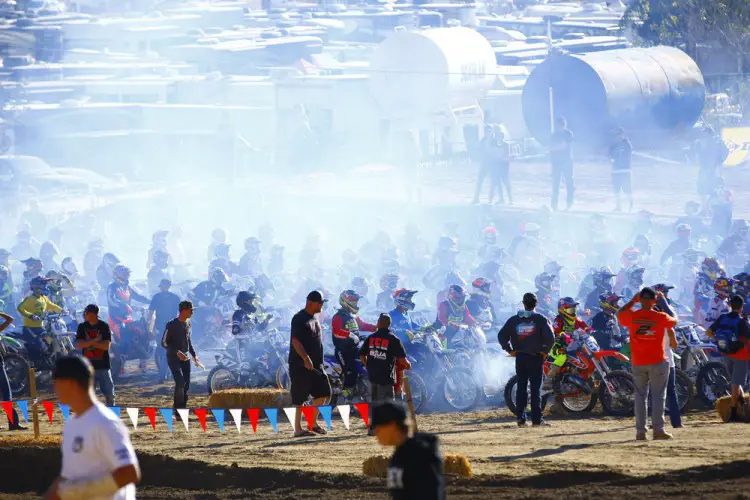 Behold the smoke that became the fury, as hundreds of avid motorcycle racers took part in the annual DITD held in the days following Thanksgiving.
DITD brings out star power. That's Josh Grant (33, Kawasaki) leading Taylor Robert (33, KTM), Zach Osborne (16) and a host of other Pro's through Glen Helen's famous Talladega first turn.
Sean Collier made a name for himself in the amateur ranks and later by racing for Star Racing Yamaha (and nearly winning the Phoenix Supercross). These days he works a 9-to-5 job and races in special events like DITD on his trusty Kawasaki KX500. By the way, he still goes blazingly fast.
Taylor Robert came out to support the event. He had some of the fastest lap times of the weekend and took home several race victories.
If this dog doesn't make your heart melt then I don't know what will.
DITD competitor, Brian Palmer, melds old technology with new (but vintage looking) gear. How cool is that?!
Husqvarna off-road team manager, Timmy Weigand, grabbed a handful of throttle in the Moto-A-GoGo team race.
Although X Games gold medalist Lance Coury (left) and renowned stuntman Riley Harper (right) weren't even born when the bikes they're sitting on were introduced to the market, they still loved racing the classic iron in the vintage race.
THE WINNERS
FMF Two-Stroke Revival Race
1. Taylor Robert
2. Sean Collier
3. Colton Udall
Stunt GP Team Race
1. Toby Price/Zach Osborne
2. Taylor Robert/Ivan Ramirez
3. Justin Hoeft/Tyler Hoeft
Moto-A-GoGo GP Team Race
1. Taylor Robert/Ivan Ramirez
2. Toby Price/Zach Osborne
3. Brad Lionnet/Sebastien Tortelli
Coupe de Grace GP
1. Toby Price
2. Taylor Robert
3. Zach Osborne
ATLAS: REIMAGINED FOR 2015
[Press Release]
Here at Atlas we never stop innovating. Reimagining our entire product line for 2015 allowed us to refine every single aspect of what was already the best neck brace experience on the market.
Every 2015 Atlas Brace features a beautiful new sleek frame shape to better hug your body, an all new Easy Open system, are up to 20% lighter and rest on up to 27% more of your body than the competition, all while the overall size of the product is smaller and more flexible to greater enhance the feeling of freedom. Chest suspension has been increased from 10mm to 30mm of travel, and our new Smart Mounts add the ability to refine the angle of each back support. All new padding material is extremely tough, incredibly lightweight, and best of all, produces vibrant colors. We have paired 4 bright colors of padding with creative new graphics throughout the range of products, and they cater to any style or personality.
Rebranded for 2015, our Atlas Original is now known as the Atlas Air – And for good reason – As it weights in at an incredible 599g (1.25 lbs). It's amazingly unnoticeable, and still just $299.99.
New to the line for 2015 is the Atlas Broll – Half neck brace, half neck roll – And tailor made specifically for low level impacts. Small children just starting out are going to love it.
And parents are going to love the price – Just $99.99.
Atlas Carbon, Prodigy, and Tyke have also been completely re-done, and are better than ever.
Visit the completely revamped atlasbrace.comfor more info, and pre-order today.
HEALTH CORNER: ESSENTIAL EXERCISE PROGRAM COMPONENTS
By Brandon Reina
To weight train or not to weight train? That is the question.
Fitness and health could be argued as one of the most important factors for quality of life. If this is the case, then why is America one of the unhealthiest countries in the world? One hypothesis could be there is a lack of knowledge. Here are a few main components to include when designing an exercise program.
Cardiovascular training:
Let's start with cardiovascular training. The cardiovascular system primarily involves the heart and lungs. Improving this system is important for general health and sports conditioning. Being consistent with a regular cardio routine helps reduce heart disease, lowers cholesterol levels, improves circulation and lowers blood pressure. In addition, there are many other physiological changes that happen to the body as a result of cardio training; enhanced oxygen exchange in the lungs, increased cardiac output, increased blood volume, increased red blood cell count, and increase in capillary density are all benefits. What does that translate to? This means that you can go faster, longer and perform work at a higher intensity before you have to slow down or stop. Change and progression are essential to developing an effective cardio program. The easiest way to monitor those variables are to use the F.I.T.T principle. Changing your Frequency (how often), Intensity (how fast), Time (duration), Type (exercise type) can help progress, improve health and performance.
Resistance training:
The second component is resistance training. Resistance training doesn't necessarily mean lifting heavy weights. It means giving your body some form of resistance to movement. Resistance training can help increase strength, connective tissue strength and muscle fiber size. Similar to cardio vascular training, resistance training progression is important. Changing the number of repetitions, sets, weight, rest periods and tempo are common ways to progress. When designing a resistance training program, one of the most important concepts to remember is to train the body with balance. This means equally training push and pull movements. Whatever you do to one side of your body, you must do to the opposing side. Another good tip is to move in all planes of motion. We often get stuck in one or two planes. Incorporating these concepts into a resistance training program will help prevent muscle imbalance, injury and postural deviations.
Flexibility:
The next component is flexibility. This is probably one of the most overlooked areas when exercising. Maintaining a healthy range of motion is important for everyday activities and performance. There are many types of stretching; static (hold), ballistic (bounce), dynamic (controlled movement), and Proprioceptive Neuromuscular Facilitation (passive/active). Consistently stretching can help prevent injury, postural deviations and even alleviate pain. I recommend a warmup before stretching to help prevent injury.
Nutrition:
The final component is nutrition. Nutrition breaks down into a few groups: carbohydrate, protein, fat, vitamins and minerals. There are many misconceptions and fads out there. I recommend balanced meals. Combining a quality grain source, lean protein, vegetable or fruit is a good way to create a heathy meal. I recommend eating as much fresh and unprocessed food as possible. Eat smaller meals more frequently throughout the day. Minimize fat and salt intake. Drink more water and less soda, juice and other beverages.
In conclusion, there are many ways to set up a training program. Specificity of training is important. This means setting up a program that mimics the movements of the sport or hobby you may be training for. Have built-in progressions and check your progress. Set big and small goals along the way to ensure you are on track. Most importantly, educate yourself. If you are unsure about something then ask a qualified individual. Lastly, always check with your doctor before beginning an exercise program.
Contact Brandon to learn more at [email protected]
HAVE YOU SEEN THIS? BUD RACING KAWASAKI KX125
Click on the image above to check out this aluminum perimeter framed Kawasaki KX125 done up by Bud Racing. Yes, that is a YZ125 engine..