MOTOCROSS ACTION'S MID-WEEK REPORT BY JOHN BASHER
PHOTO OF THE WEEK
A collective crowd of nearly 14,000 spectators rose to their feet as Marvin Musquin (25) and Justin Hill (32) put their KTM throttle cables to the test at Red Bull Straight Rhythm this past weekend. In the end, it was the crafty Frenchman that won the race and collected the lucre in the 250 class.
MXA VIDEO: WE MAKE THE 2015 KTM 150SX & 250SX SING
MATRIX CONCEPTS GOES PINK
Press release: In honor of Breast Cancer Awareness Month, Matrix Concepts will donate 10% of all online web order sales to Sheila R. Veloz Breast Imaging Center, a local facility and service of Henry Mayo Newhall Memorial Hospital. All PINK Graphics will also be 25% off! By making any type of purchase on the Matrix website during the month of October, you will be helping us contribute to a great cause that many of us have been directly affected by. Please visit www.matrixracingproducts.com to order your pink products.
AN ODE TO TRAVIS PASTRANA
Travis flips out at Red Bull Straight Rhythm, much to the crowd's delight.
I don't like to name drop, but I'm going to right now because Travis Pastrana and I are acquaintances. We're not friends, but we do go way back. I've been to Pastrana's house. He has talked me into jumping a go-kart into his foam pit. He's even goaded me into doing a tandem backflip with "Mad" Mike Jones. I acquiesced, because heck, it's Travis Pastrana!
I've missed the guy these past few years. He went from racing motocross to competing in freestyle to Rally cars to NASCAR and back again. Granted, I did follow along as he jumped out of an airplane without a parachute, landed the first ever double backflip, flipped cars and hung out with the stars. When he tied the knot to his professional skateboarder girlfriend and had a daughter I thought that family life might tame his wild side. Wrong. A few months old, his little girl was getting toed on water skis. Surely Pastrana's daughter is going to be as tough as nails, just like dad.
The best part about Red Bull Straight Rhythm this past weekend wasn't the race or the course or the fact that James Stewart won. Nope. Travis Pastrana stole the show. It's what he has always done. Although TP didn't make it past the first round, he did manage to win the second race against Josh Hansen. He celebrated by floating a huge backflip on his custom built Suzuki RM500–using a Suzuki RM-Z450 chassis with a Honda CR500 engine. His excitement nearly got the best of him, because Travis overjumped the finish and nearly landed on the tarmac, but his rickety wrists somehow stayed in one piece.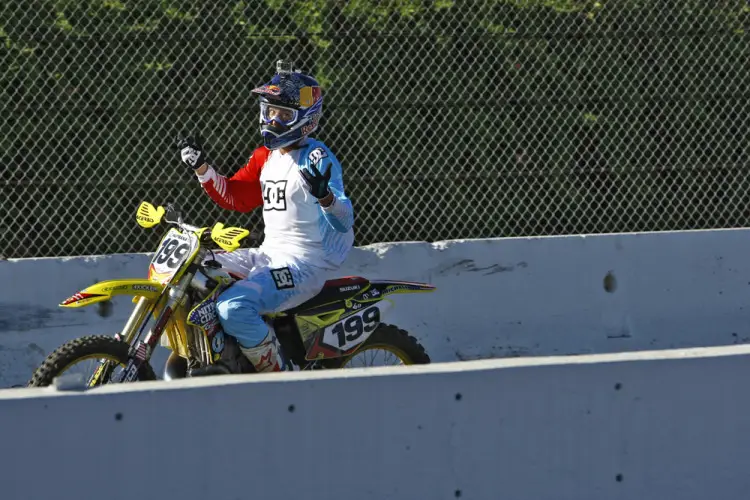 Pastrana gives an "Aw, shucks," to an adoring crowd.
Naturally the crowd went ballistic, overjoyed at being in the presence of such an awesome moment. A Pastrana moment. Travis has wowed fans before with his maniacal riding, but it had been a long time since he captivated a two-wheeled audience. Saturday was his day to shine, and shine he did. And as Travis Pastrana wouldn't be, well, Travis Pastrana without a hint of goofiness, he shrugged off a near-death experience of overjumping the finish line. It was as if he said to the crowd, "Oops! Oh well, I'd do it all over again."
Travis Pastrana brought the crowd to life on Saturday, because he has chosen to live a life without fear. In a way, we should all aspire to live like Travis.
RED BULL STRAIGHT RHYTHM OUT-TAKES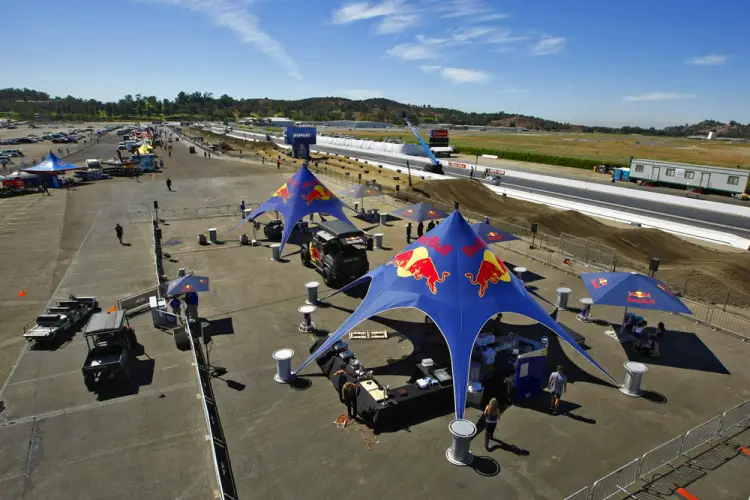 A bird's eye view of the Straight Rhythm course.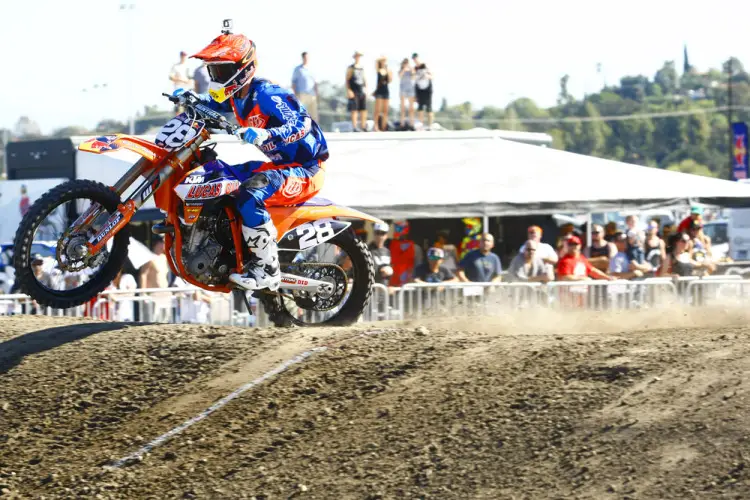 Jessy Nelson looked great in his KTM debut.
Justin Brayton can blast through the whoops with high velocity, regardless of the color bike that he's on.
Justin Bogle throws out a celebratory nac-nac for the fans.
Marvin Musquin's scrub game was on full display at Straight Rhythm.
Stewart vs. Stewart–the older brother won.
Shortly after this photo was taken Justin Brayton (10) flew past Dean Wilson (15) for the win.
Look at that form. Malcolm Stewart, aboard a privateer Honda CRF450, finished third in the Open class.
Jessy Nelson takes a look back at Justin Bogle after besting him for third place honors.
VIDEO: FACTORY CONNECTION'S SHOWA SFF-TAC TUTORIAL
Here's a closer look at Showa's new air fork
HEAR RYAN VILLOPOTO'S THOUGHTS ON EUROPE
Photo courtesy of Ryan Villopoto
Would you like to know what's going through Ryan Villopoto's head? Click on this link HERE to read about RV2's plans for Europe and why he chose to go across the pond. It's a very good read, and I hope that Ryan continues to provide updates on his website.
BIKES OF STRAIGHT RHYTHM
Malcolm Stewart's privateer Honda.
Travis Pastrana's Suzuki/Honda contraption.
Ken Roczen's RCH Racing Suzuki didn't get dirty. Kenny isn't racing until Anaheim 1.
Justin Brayton's new BTO Sports KTM 450SXF.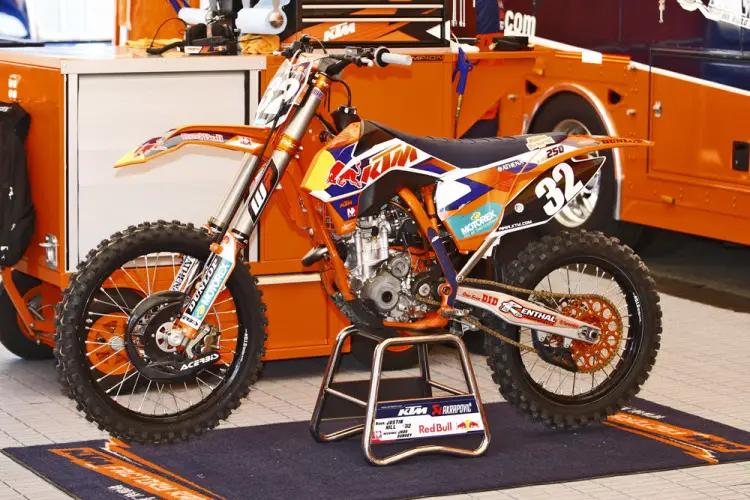 Justin Hill's Red Bull KTM factory 250SXF.
VIDEO: BACKFLIP WITH TRAVIS PASTRANA
VIDEO: RIDE ON BOARD WITH ROBBY BELL
WE RIDE AHM FACTORY SERVICES' HONDA CRF250
This past week the MXA wrecking crew met up with Brandon Peterson and Justin Lewis, co-owners of AHM Factory Services (www.ahmfactoryservices.com). The duo built a pristine 2014 Honda CRF250 with all of the bells and whistles. While it wasn't overdone with garish trinkets, the AHM boys pumped serious money into making a CRF250 that's competitive in the professional ranks. Peterson spared no expense–tumbled transmission, titanium valves, high-lift camshaft, etc.–which equated to a hefty price tag for the consumer. The FS1 kit suspension carries a cost of $2200.
Fortunately, the proof was in the pudding. The AHM Factory Services CRF250 was a rocket ship. It performed the way a CRF250 should in terms of the powerband, but also in handling and soaking up bumps with the suspension. Not only that, but AHM Factory Services offers engine packages starting at $799.
Freeriding extraordinaire, Doug Parsons, moves some dirt at Glen Helen on the AHM Factory Services Honda CRF250.
Peterson and Lewis treated us well, and our eyes were open to the possibilities of the Honda CRF250. And if money is tight, AHM Factory Services does offer packages that are more in line with what the average guy, responsible for feeding his family and paying the mortgage, can afford. Be sure to check out what AHM Factory Services has to offer by visiting www.ahmfactoryservices.com
COOL T-SHIRT WITH AN MXA TEST RIDER ON IT
If you're in the Ohio area this weekend, be sure to check out the 12th annual Kevin McCarty Memorial Turkey Run. Not only will it be a great time, thanks to KTM demo rides, a prime motocross track and a handful of moto legends, but you'll also be given this super cool Turkey Run t-shirt. Perhaps you recognize the photo? That's Daryl Ecklund tearing up North Carolina soil on a FTI/Cycra Racing KTM 350SXF, shot by yours truly. Very cool.
VIDEO: SEE MOVIN' MARV TAKE THE WIN
BEATING A DEAD HORSE: RCH RACING SIGNS KEN ROCZEN!!!
For those counting, this is the third announcement that Ken Roczen has signed with RCH Racing
Press release: RCH Factory Racing – the Supercross and Motocross team co-owned by Freestyle Motocross visionary Carey Hart and 15-time AMA National Champion Ricky Carmichael – has signed 20-year-old superstar Ken Roczen to pilot the team's No. 94 Suzuki RM-Z450 for the 2015 season.
In addition to landing Roczen, RCH has signed Jimmy John's Gourmet Sandwich Shops as co-primary sponsor for the team's campaign in both the Monster Energy AMA Supercross and the Lucas Oil Pro Motocross Championships. The new relationship will compliment the team's current marketing partnerships with Soaring Eagle Casino and Resort, Sycuan Casino and Dodge while marking Jimmy John's first foray into Supercross and Motocross competition. The Jimmy John's livery will also be featured prominantly on Carmichael's and Hart's motorcycles and riding gear.
"Everyone at Jimmy John's is looking forward to teaming up with RCH Factory Racing and participating in one of the world's most exciting forms of motorsports," explained Jimmy John's CEO Jimmy John Liautaud. "This is uncharted marketing territory for Jimmy John's so we're thrilled to get the season started and see what motorcycle racing is all about. We have a great opportunity to work with Ricky Carmichael and Carey Hart. To be able to combine their standing in the sport with Ken Roczen, one of the hottest riders in the world, is a win-win for Jimmy John's, our franchisees and team members across the country."
Roczen stormed the outdoor scene in 2014 by winning the 450 Pro Motocross Championship during his rookie season and, by virtue of the title, will campaign the sport's coveted No. 1 plate in 2015. His extraordinary outdoor year was foreshadowed by an outstanding third-place finish in the 2014 Monster Energy Supercross championship point tally where the German-born freshman rider picked up two wins and eight podium finishes.
"I am really excited to be back on a Suzuki and especially as a part of the RCH Factory Racing Team'" said Roczen. "With the help of Ricky (Carmichael) and Carey (Hart), two of the sport's most accomplished owners, and the great technical team they have assembled to take care of my RM-Z450s, I can't wait to get started. We've got a great group of sponsors and when you look at the entire program, from top to bottom, RCH was the best package for me. I already eat at Jimmy John's and own a Ram Truck so we've got a great head start!"
The RCH Factory Race team has seen steady progress since Hart and Carmichael joined forces in 2013 and achieved the pairing's first podium finish in April at Metlife Stadium in East Rutherford, N.J. Always trendsetters in the paddock, RCH continues to show the way with unique marketing initiatives and partnership activations, consistently influencing the feel and dynamic of the pit area.
"I am stoked to have a blue-chip company like Jimmy John's come on board to support RCH," commented Carmichael, a five-time Supercross and 10-time Motocross champion. "Jimmy John's has a great brand and a quality product. We're excited beyond words to work with such a forward-thinking company and tempt the loyal Supercross and Motocross fan base with the best sandwiches anywhere.
"Ken looked great at the test track and I'm amazed with how quickly he is adapting to his new Suzuki RM-Z. It's a testament to the team's hard work and the quality of talent we're committed to surrounding him with."
"Having Jimmy John's on board with RCH is an important signal that our sport is continuing to grow and be recognized by high-profile companies who want to reach our fans," added Hart. "We're looking forward to collaborating with their marketing department and having them be a focal point of our activation in the pits this season."
A PHOTO THAT WILL NEVER BE USED IN THE MAG
While walking under the Pomona Fairplex bleachers on Saturday I took this photo. I thought it was cool and artistic.

VIDEO: DENVER ENDUROCROSS RECAP
NEW PRODUCT: MAINLINE COFFEE COMPANY
Press release: The Mainline Coffee Co is a small production coffee roaster focused on providing quality organic fair trade handcrafted coffee for the active lifestyle.
The Mainline Coffee Co, is a brand only available direct from the team here at The Mainline Coffee Co and only available in weekly batches which are roasted freshly every time. We hand label every bag so people know they are getting a truly fresh product every time.
Motocross athletes:
Weston Peick
Ryan Villopoto
Jeremy Stenberg
Carey Hart
We have been activating at a few local Moto and Mountain Bike events and look forward to this fall where will be attending the Quick N' Dirty Mountain Bike Series in North San Diego County, select SoCal motocross races and some farmers markets. If you would like to get your hands on some of our fresh roast you can visit us at www.themainlinecoffeeco.com, and all of our social media direct from our site.