MOTOCROSS ACTION'S MID-WEEK REPORT:

By John Basher
PHOTO OF THE WEEK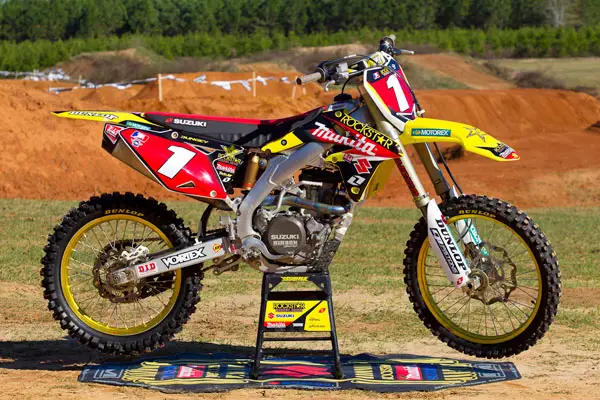 Ryan Dungey has a semi-permanent number…at least for 2011. Can he follow up his freshman 450 season with another tremendous year and be number one all year long in 2012? It's a tall order to fill, but RD will tell you that he's up for the challenge.
THE ANALYSIS: WHO'S GOING TO WIN A1?
    After scouring online message boards, I've learned some interesting news. Many people already know who is going to finish in the top five at Anaheim. Amazing! How is this possible? I guess a lot of people either turned psychic or were given crystal balls for Christmas. From what I understand Ryan Dungey is going to win, James Stewart will finish second, followed by Ryan Villopoto, and then Chad Reed. Ricky Johnson will round out the top five (I thought he retired?). My my, isn't that something.
    Who is going to win at Anaheim 1? I'll take an educated guess and say that the rider to win first in 2011 will be someone who gets a good start, stays up, and goes fast. Quite a revelation, huh? Through deduction I compiled a list of riders with a shot at winning Anaheim. Here goes.

Ryan Dungey – He's the champ. He's obviously fast, and he rarely crashes. And, according to Wil Hahn, Dungey's corner speed is "ridiculous."

Ryan Villopoto – He won the most Supercross races in 2010, so obviously he knows how to turn the throttle. Sources close to the Kawasaki test track gush about his fitness and preparation for the series. However, he hasn't finished a 450 Supercross series yet. But Anaheim is a race and not a series. Hopefully RV2 stays healthy.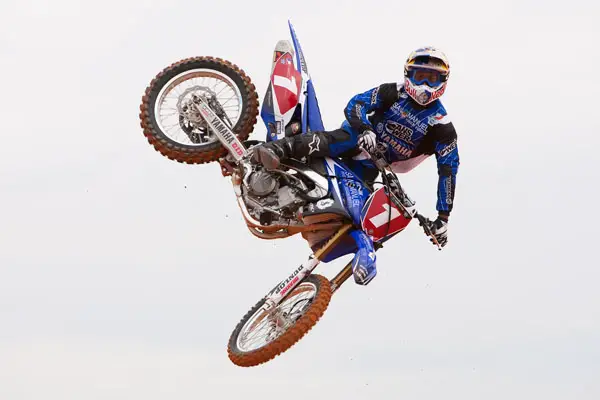 James Stewart – Who? That TV show guy? Oh, James Stewart the racer. There's no doubt that he has speed, but he has a knack for falling off the injury tree and hitting every branch on the way down. Still, in the last four years he has won the Anaheim opener twice. That's a pretty nice winning percentage.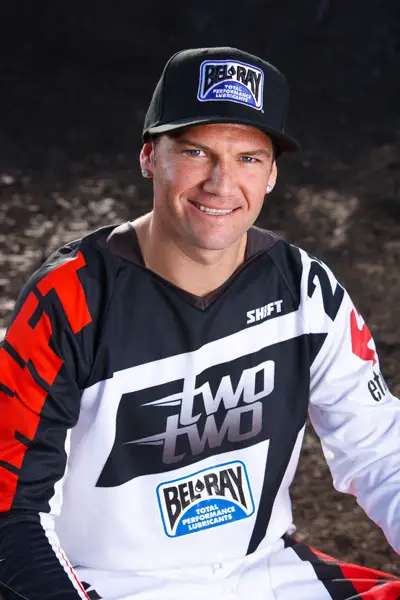 Chad Reed – The forgotten man! Never count out Chad Reed. He's smart, fast, and quick to adapt. The question is, has he adapted to running his own team? How about a new bike? It could be a rocky road for CR, but you can't count him out.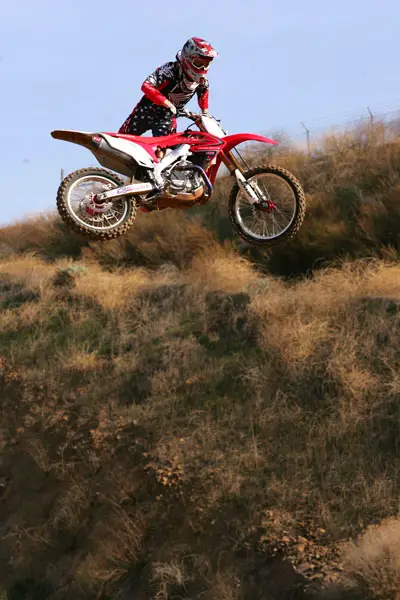 Trey Canard – Mr. Podium Pie earned his keep last year racing the 450 Supercross class when he strung together five straight podium finishes as a fill-in for the injured Andrew Short. He's a serious threat to win. If he does win, I predict a nac-nac in celebration.

Kevin Windham – K-Dub is just like the Beatles, Ford Mustangs and Steve McQueen? timeless. Kevin's a wily veteran with enough speed to embarrass anyone else on the track. He won the Anaheim mudder in 2005. It shouldn't be a quagmire come Saturday, but that Windham magic might be in the air.
Outliers – Who also has a shot? Every rider that qualifies for the main event would be a smart guess, but I'm going to say Andrew Short, Justin Brayton, Josh Grant, Davi Millsaps, Kyle Regal, and Brett Metcalfe have a shot.
KEN ROCZEN IS READY FOR SUPERCROSS
RYAN DUNGEY FEATURED IN "ESPN: THE MAGAZINE"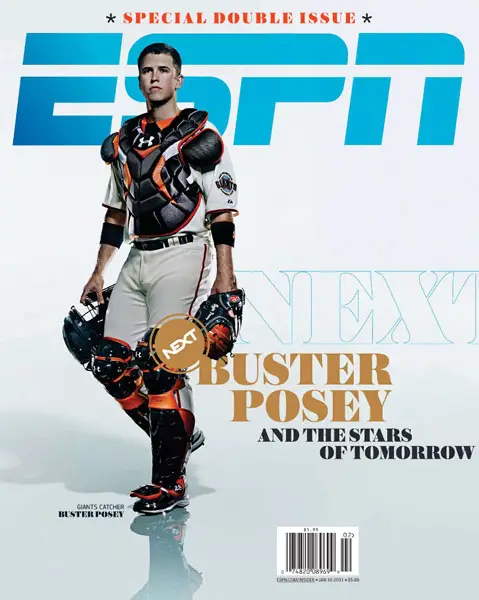 Ryan Dungey is featured in the January 10th issue of "ESPN: The Magazine." The feature (Stars Next Door) is part of ESPN "NEXT" which highlights those athletes who, according to ESPN, "is a future leader or trailblazer in their sport." In this feature, close friend Ricky Carmichael says, "Dungey is gifted genetically. He's the future of our sport."
ALL YOU NEED TO KNOW ABOUT A1
Tickets: Visit www.ticketmaster.com or call (800) 745-3000. Prices range from $20-$75 (tickets are $5 more day of show). Order soon, as tickets might sell out.
Schedule: The show starts at 7:00 p.m., but the doors open for practice and qualifying at 12:30 p.m.
Weather: Sunny with 0% chance of rain; high of 61 degrees; low of 44 degrees
Address: 2000 Gene Autry Way, Anaheim, CA 92806
Pit passes: Bring an empty can of Monster Energy to the pit entrance for free admission to the Pit Party.
Race coverage on TV: January 8th (Live) on SPEED Channel at 10:00 p.m. EST
A1 Track layout:

250 WEST: MEET THE RIDERS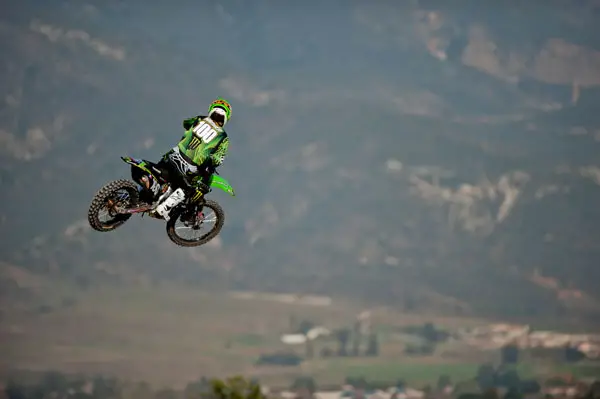 Look for Josh Hansen at A1.

Josh Hansen…Pro Circuit/Kawasaki
Broc Tickle…Pro Circuit/Kawasaki
Tyla Rattray…Pro Circuit/Kawasaki
Wil Hahn…Geico/Honda
Eli Tomac…Geico/Honda
Kyle Cunningham…DNA Shred Stix/Star Racing/Yamaha
Nick Paluzzi…DNA Shred Stix/Star Racing/Yamaha
Cole Seely…Troy Lee Designs/Lucas Oil/Honda
Christian Craig…Troy Lee Designs/Lucas Oil/Honda
Travis Baker…Troy Lee Designs/Lucas Oil/Honda
Martin Davalos…Rockstar Energy Suzuki
Ryan Morais…Rockstar Energy Suzuki
Ken Roczen…Red Bull/KTM
P.J. Larsen – JDR Motorsports/KTM
Ben Evans…Truth MX/MB1/Kawasaki
Bryce Vallee…Truth MX/MB1/Kawasaki
Austin Howell…Violation1.com/Shea Racing
Casey Hinson…Violation1.com/Shea Racing
Jason Langford…Violation1.com/Shea Racing
Parker Eckman…Rockwell Time/Fire Police MX
Jason Potter…Rockwell Time/Fire Police MX
Landen Powell…Rockwell Time/Fire Police MX
Alex Millican…Rock River Powersports
Topher Ingalls…Experts-Exchange.com/Fly Racing
(Most, but not all of these riders are confirmed. Expect last minute changes)
250 EAST: MEET THE RIDERS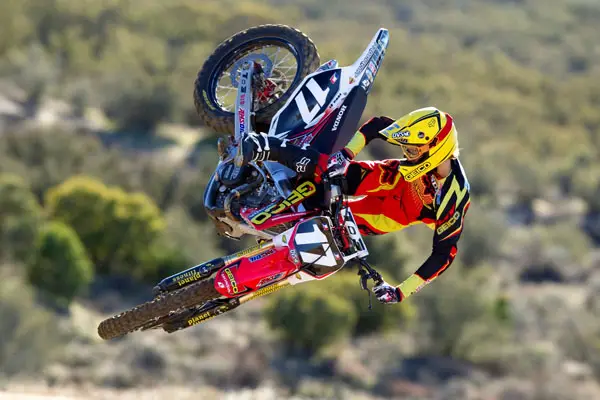 Justin Barcia will ride East again.
Dean Wilson…Pro Circuit/Kawasaki
Blake Baggett…Pro Circuit/Kawasaki
Ryan Sipes…DNA Shred Stix/Star Racing/Yamaha
Gannon Audette…DNA Shred Stix/Star Racing/Yamaha
Gareth Swanepoel…DNA Shred Stix/Star Racing/Yamaha
Justin Barcia…Geico/Honda
Blake Wharton…Geico/Honda
Levi Kilbarger…Kilbarger Racing
Nico Izzi…Kilbarger Racing
Ian Trettel…Rockstar Energy Suzuki
Jason Anderson…Rockstar Energy Suzuki
Darryn Durham…Eleven 10 Mods/Renegade Fuels
Alex Martin…Eleven 10 Mods/Renegade Fuels
Brandon Mays…Eleven 10 Mods/Renegade Fuels
Tevin Tapia…Violation1.com/Shea Racing
Ricky Renner…Violation1.com/Shea Racing
Vernon McKiddie…Violation1.com/Shea Racing
Hunter Hewitt…One Industries/Xtreme Pro Lites
Drew Yenerich…Rock River Powersports
Joey Rossi…Rock River Powersports
Phil Nicoletti…AG Motorsports/KTM
Killy Rusk…AG Motorsports/KTM
Ricky Winters…AG Motorsports/KTM
(Most, but not all of these riders are confirmed)
2011 YAMAHA YZ125 VIDEO
    Last week Dennis Stapleton and I ventured out to the desert near Victorville, California, to shoot action photos of the 2011 Yamaha YZ125. While at it we played around with a GoPro Hero wide angle video camera. With photos and video clips I thought it would be cool to make a short video on the bike. Take a look if you haven't already seen it on the MXA website.

PHOTO GALLERIES: REVVING UP FOR SATURDAY
Click on the images below to be directed to the appropriate photo galleries.
PRESS RELEASE: MOTOREX USA EXTENDS PARTNERSHIP WITH KTM
 
    MOTOREX USA is proud to extend its long-standing partnership with Factory Red Bull KTM SX/MX team and the Factory FMF/KTM Off-Road Racing Team.  We are also proud to announce our support for the JDR Motorsports/J-Star KTM Team.  For the 2011 season, all KTM Factory Supported Racing Teams will use and endorse MOTOREX products exclusively.
 
     The Red Bull/KTM Factory Racing Team, managed by Roger Decoster includes, Andrew Short, Mike Alessi, Ken Roczen and Marvin Musquin.
     The Factory FMF/KTM Off-Road Racing Team managed by Antti Kallonen includes Russell Bobbitt, Charlie Mullins, Cory Buttrick, Kailub Russell, Mike Brown, and Kurt Caselli.
     The JDR Motorsports/J-Star/KTM Racing Team managed by Nate Ramsey includes PJ Larsen and Tye Simmonds.
     MOTOREX is used by factory teams worldwide, by independent pros and by top amateurs who demand the best performance from their race machines. The complete MOTOREX line includes a broad range of synthetic engine oils, lubricants, aerosol sprays, cleaners and care products for bicycles, motorcycles and ATVs. MOTOREX is available at dealerships nationwide.
 
www.motorexusa.com
www.facebook.com/motorexusa
PRESS RELEASE: MATRIX CONCEPTS INTRODUCES FACEBOOK RAFFLE CONTEST



    The MATRIX CONCEPTS "you guess the top 3 A1 AMA Supercross Facebook raffle/contest" ($450.00 Value!!!!).
    Matrix Concepts Facebook Raffle Contest: Guess who will finish in the top 3 spots (1st, 2nd and 3rd riders) at A1 in 450 cc main event class and win a spot in a raffle for a Matrix "Pro Kit" Free! All entries whom guessed right will be put into the final raffle and (1) one lucky winner will be randomly picked by the computer and receive a (Free M2 Stand, M9 Worx Mat, M6 Ramp, M3 Can and M1 Worx Tie down set). A $450.00 value.
    Better your chances to win: Click LIKE and then SHARE button and if any of your friends win then You will also win a FREE Matrix "Pro kit". Check our Facebook Sunday after noontime PST after the Race and we will post the lucky winner! We will do 10 of these this year so check back for the next contest soon.
    Limit one entry per person. To enter, visit www.facebook.com/matrixconcepts
    To learn more about Matrix Concepts visit: www.matrixracingproducts.com
PRESS RELEASE: PIT POSSE MAKES LIFE EASIER
    Pit Posse Motorsports is the cutting edge leader in dirt bike tools and motorcycle trailer accessories that Make Life Easier. This Supercross season, we also look forward to making it more FUN!
    Returning as an Official Sponsor of ProMotoFan.com and the 2011 PMF Fantasy SX Series, Pit Posse has stepped up even bigger this season to give fans a chance to get their hands on some of the tools that Make Life Easier!
    Of course, we know it's not always fun wrenching on bikes, but it sure makes it better when you can get the tools and accessories you need for free! So, if you have the same skill as a race fan as you do setting the sag on a race bike, then it's time to Get in the Race and play Fantasy Supercross!
    Barrett Smith, Pit Posse Motorsports: "We may have Trey Canard in our court, but he really doesn't need to use our tools anymore! It's the everyday rider that we hope to make life easier for, and the weekend warrior who makes our sport so much fun. We look forward to giving them a fun experience this Supercross season, and being a part of Fantasy Racing does just that!"
    If you're into riding, having fun, and you still wrench and load your own dirt bike, then you need to play and win the best tools and accessories from Pit Posse Motorsports! Sign-up at ProMotoFan.com for the 2011 PMF Fantasy SX Series today!
MXA PHOTO OF THE WEEK (IF THE WEEK WAS 1977)


Can you name the Karsmakers brothers? There were six of them. Five of them raced successfullly?most notably AMA Supercross and National Champion Pierre and three-time Dutch Champion Toon. From left to right: Theo, Paul, Frans, Martin and Toon. Pierre kneeling in the front. Theo was the only Karsmakers not to race motocross.