MOTOCROSS ACTION'S RICH EIERSTEDT MEMORIAL: SAYING GOODBYE TO OUR FRIEND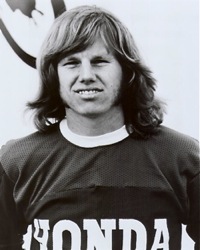 Rich Eierstedt was one of the first wave to teenager American motocrossers. He was on the cutting edge of the sport and with his quick smile, good looks and cool manner?riders like Rich Eierstedt are the reason that motocross became a smash hit in the 1970s. Unlike dirt track or road racing, teenagers like Marty Smith, Gaylon Mosier, Marty Tripes and Rich Eierstedt made motocross the sport of the young. It was a new sport, it had new heroes and there was nobody who came before to tell American teenagers how to act. Rich Eierstedt was a graceful and effortless rider. He never looked out of shape and he made motocross look like a fluid ballet of graceful motions. He could ride a motorcycle like it was a feather. Rich raced for Team Honda, Team Bultaco, Team Harley-Davidson and Team Can-Am.
Sadly, he passed away suddenly at the age of 56.
As MXA's Jody Weisel said at the memorial, "What we do and who we are as motocrossers we owe to the first generation of racers?they are why we race today. We wanted to be like them. We wanted to look like them. We wanted to ride like them. They were our heroes. And if it wasn't for the impact that these young men had on the first generation of American motocrossers the sport would have died on the vine. Now, with the sad passing of Eyvind Boyesen and Rich Eierstedt, we are coming to a time when the early pioneers of American motocross are starting to leave us. As with the World War II generation that is vanishing at a rate of 1130 veterans a day, we are beginning to lose the men who defined our sport when no one knew what it was. We will lose more of the greats in the future, but for me Rich Eierstedt was very personal. He was a hero of mine, a friend and a fellow MXA test rider. I want to remember him by doing what he loved the most?by racing motorcycles."
Other speakers at Rich's Memorial were his Honda teammate Marty Tripes, Women's Motocross Champion Sue Fish, Stuntman and preacher John Alden, race team manager Phil Alderton, friend Kristen Anderson and Miss California 1976 (and former girlfriend) Michelle Mouron."
RICH EIERSTEDT MEMORIAL PHOTOS


Just a few months ago Rich Eierstedt was fishing around on the Internet and found these shirts bearing his image as a factory Honda rider at Saddleback back in the '70's. One of Rich's best friends, Phil Alderton, was proud to wear the shirt in Rich's memory.



"Rocket Rex" Staten (left) was an early Maico teammate of Rich (along with Gaylon Mosier) before all three got signed to the Factory Honda team in 1974. With his gift of gab and admiration for the sport, Tom White (right) acted as the master of ceremonies for the Eierstedt Memorial.



Rich graced the cover of Motocross Action three times in his career. This was a shot of him testing a new 1977 Bultaco at SaddleBack Park wearing his Motocross Action jersey.



The Eierstedt display includes several vintage bikes, photos, memorabilia, his Unadilla Trans-AMA silver plate, the jersey his mother made for him for the 1972 Superbowl of Motocross and other artifacts that made all in attendance miss Rich.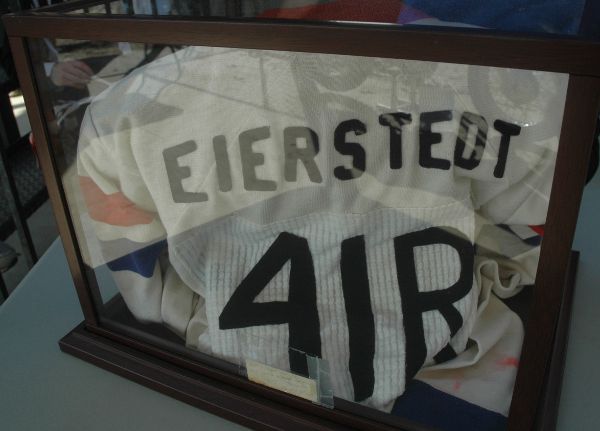 Here's the jersey that Rich's mom made for him by hand back in 1972.



Besides his factory ride with Honda, Rich also rode for Bultaco, Harley Davidson and Can-Am. This is his Team Harley jersey.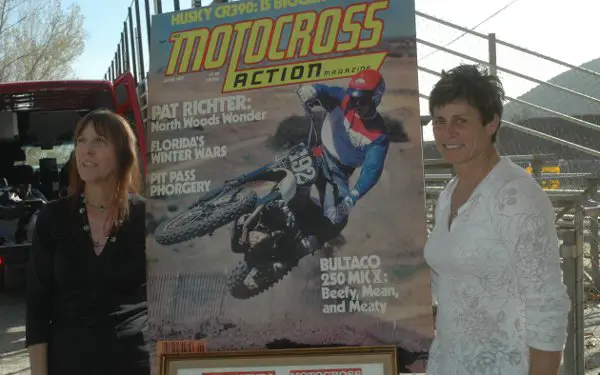 Sue Fish (right) and Paulette Napoleon (left) were both good friends of Rich as well as two of America's fastest women racers back in the day. They were on the Motocross Action Women's Motocross team.