MOTOCROSS ACTION'S SUNDAY NEWS ROUND-UP: THIS WAS THE WEEK WHERE THE FORTUNES OF WAR SHIFTED DRAMATICALLY
OAKLAND SUPERCROSS: BIG CRASHES CHANGES THE FORTUNES OF STEWIE, BAM BAM AND ELI
A happy Ken Roczen. Photo: KTM
Although Ryan Villopoto and Ken Roczen were worthy winners in Oakland, the night was damped by Eli Tomac crashing out of the 250 West main event and then Chad Reed taking out the pack at the start of the 450 main. Justin Barcia and James Stewart got the worst of it and retired to the pits. With Tomac, Barcia and Stewart earning minimal points that math of the title chases has changed considerably.
OAKLAND RESULTS: 450 CLASS
1. Ryan Villopoto
2. Davi Millsaps
3. Ryan Dungey
4. Trey Canard
5. Mike Alessi
6. Andrew Short
7. Matt Goerke
8. Broc Tickle
9. Vince Friese
10. Justin Brayton
Other notables: 11. Jimmy Albertson; 12. Chad Reed; 16. Josh Grant; 17. Cedric Soubeyras; 18. Matt Lemoine; 19. James Stewart; 20. Justin Barcia.
CURRENT AMA 450 SUPERCROSS POINTS
(After 3 of 17 races)
1. Davi Millsaps (Suz)………….85
2. Trey Canard (Hon)…………..78
3. Ryan Villopoto (Kaw)………73
4. Ryan Dungey (KTM)………..68
5. Chad Reed (Hon)……………65
6. Andrew Short (Hon)………..58
7. Jake Weimer (Kaw)…………47
8. Justin Brayton (Yam)………..42
9. Justin Barcia (Hon……………41
10. Matt Goerke…………………..39
Other notables: 11. James Stewart (36); 12. Josh Grant (37); 13. Broc Tickle (35); 17. Weston Peick (22); 18. Kevin Windham (21).
OAKLAND RESULTS: 250 WEST
1. Ken Roczen
2. Cole Seely
3. Jason Anderson
4. Martin Davalos
5. Malcolm Stewart
6. Joey Savatgy
6. Christian Craig
7. Kyle Cunningham
8. Austin Politelli
9. Christian Craig
10. Zach Osborne
Other notables: 11.Tyla Rattray; 13. Jessy Nelson; 17. Kade Mosig; 16. Josh Cachia; 19. Jake Canada; 20. Eli Tomac.
CURRENT AMA 250 WEST SUPERCROSS POINTS
(After 4 of 9 races)
1. Ken Roczen (KTM)…………..91
2. Cole Seely (Hon)……………..80
3. Eli Tomac (Hon)……………….76
4. Zach Osborne (Hon)…………58
5. Jason Anderson (Suz)………52
6. Kyle Cunningham……………..49
7. Martin Davalos (Kaw)………..48
8. Christian Craig (Hon)…………47
9. Malcolm Stewart……………….45
10. Tyla Rattray (Kaw)…………..45
Other notables: 11. Jessy Nelson (38); 13. Ryan Sipes (31); 14. Austin Politelli (26); 15. Max Anstie (26); 16. Travis Baker (23).

MEANWHILE, ON THE OTHER SIDE OF THE GLOBE, BEN TOWNLEY WINS WOODVILLE GP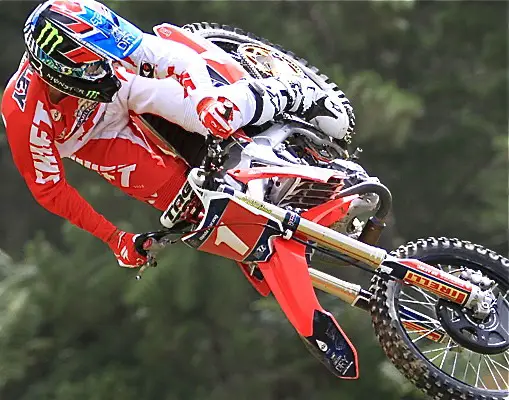 Ben Townley. Photo: Madmax
Ben Townley won the Woodville GP in New Zealand by setting the fastest lap of each race and winning thee of the four moto's, including the 20-minute feature race. The former World Champion, who was badly injured last season (well, almost every season), was happy to be back in the saddle. "We definitely made some gains today and we come away knowing what we need to work on. I am looking forward to the first round of the New Zealand Motocross Nationals, as my speed improves so does the need to change the bike," said Beny. Townley will contest the opening round of the New Zealand Motocross Nationals at South Canterbury Motorcycle Club on February 10.
WOODVILLE RESULTS: 450 CLASS
1. Ben Townley
2. Cody Cooper
3. Justin McDonald
4. Michael Phillips
5. Alex Snow
6. Todd Waters
7. Nick Saunders
8. Jared Guthrie
9. James Ainworth
10. Kirk Gibbs
WOODVILLE FEATURE RESULTS
1. Ben Townley
2. Todd Waters
3. Kirk Gibbs
4. Michael Phillips
5. Jake Nicholls

KEVIN STRIJBOS DOMINATES MANTOVA STARCROSS WITH A 1-1-1

FIRST MOTO RESULTS:
1. Kevin Strijbos……………..Suz
2. Clement Desalle…………Suz
3. Gautier Paulin…………….Kaw
4. Jeremy van Horebeek….Kaw
5. Max Nagl……………………Hon
6. Tanel Leok………………….Hon
7. Davide Guarneri………….KTM
8. Jens Getteman……………Hon
9. Sebastien Pourcel……….Yam
10. Glenn Coldenhoff………KTM
Other notables: 13. Evgeny Bobryshev; 14. Xavier Boog; 21. Rui Goncalves.
SECOND MOTO RESULTS:
1. Kevin Strijbos…………….Suz
2. Tanel Leok…………………Hon
3. Evgeny Bobryshev………Hon
4. Clement Desalle…………Suz
5. Xavier Boog……………….KTM
6. Jeremy van Horebeek…Kaw
7. Gautier Paulin…………….Kaw
8. Max Nagl……………………Hon
9. Romain Febvre……………KTM
10. Jens Getteman………….Hon
Other notables: 13 .Glenn Coldenhoff; 15. Marc DeReuver; 44. Sebastien Pourcel.
THIRD MOTO RESULTS:
1. Kevin Strijbos…………….Suz
2. Evgeny Bobryshev……..Hon
3. Xavier Boog……………….KTM
4. Jeremy van Horebeek…Kaw
5. Gautier Paulin…………….Kaw
6. Tanel Leok…………………Hon
7. Glenn Coldenhoff………..KTM
8. Kenny Van Dueren……..KTM
9. Jeremy Seewer…………..Suz
10. Pritt Ratsep………………KTM
Other notables: 11. Jens Getteman; 44. Sebastien Pourcel; 41. Max Nagl; 42. Clement Desalle; 43. Marc DeReuver.
MANTOVA SUPERCROSS: TOP FIVE
1. Kevin Strijbos…1-1-1
2. Evgeny Bobryshew…11-3-2
3. Tanel Leok…6-2-6
4. Jeremy Van Horebeek…(4-6-4)
5. Gautier Paulin…(3-7-5)

SEE THE SECOND MOTO FROM MANTOVA AND BRUSH UP YOUR ITALIAN AT THE SAME TIME


MXA PRODUCT SPOTLIGHT: A CLOSE-UP LOOK AT THE ALL-NEW UTOPIA GOGGLES


JUST IN CASE IT RAINS IN OAKLAND (WHICH IT DIDN'T): SUPERCROSS MUD PREP REGIME


JUSTIN JONES SIGNS WITH FMF/RPM/KTM RACING TEAM MAXXIS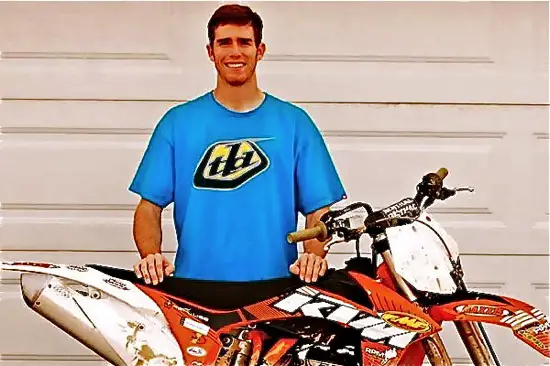 Justin Jones is the son of four-time 250 National motocross champion Gary Jones.
Justin Jones has signed to race both WORCS and Baja on a KTM 450XC for the FMF/RPM/KTM Racing team . Jones conquered four WORCS Pro 2 podiums in 2012, impressing team owner Mike Hurlbert with his performances.
"I got the call from Mike Hurlbert asking if I would like to race WORCS Pro and Baja for the team in 2013. I said yes in about 3 seconds." stated an ecstatic Jones. "KTM had a practice bike all fixed up for me to pick up. While I was there I got to meet Roger Decoster, who my father, Gary Jones, raced with in the early years. I am so happy to be a part of the KTM family now. Mike Hurlbert, KTM and all the great team sponsors are giving me a great opportunity, and I am going to work hard to win races and championships for them in the future."

DOUG HENRY WINS FIFTH X GAMES MEDAL: SILVER THIS TIME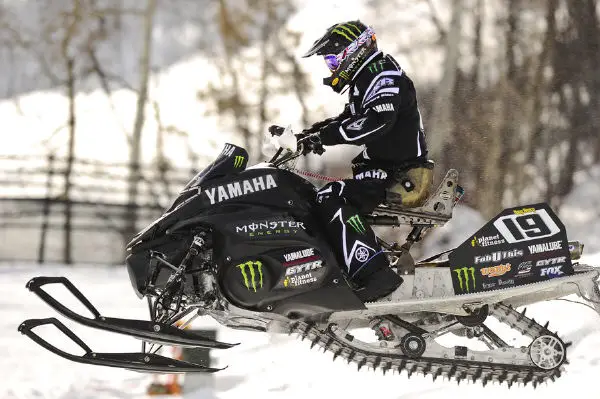 Yamaha motocross legend Doug Henry returned to the ESPN X-Games Aspen Snocross event to eartn a gold medal. It was his fifth X-Games medal. Doug already has a SuperMoto gold from 2005, and a bronze from 2006. Four years later, Henry returned to race Snocross Adaptive, earning a bronze in 2010 and gold in 2011 in the paraplegic class. "It feels great to go out and compete on a world-class track against a field of talented riders like Paul Thacker, Mike Schultz and Jim Wazny who did not let their circumstance keep them down," said Henry.
As the name implies, Snocross Adaptive rules allow riders to mod their sleds to adapt to their particular physical abilities, with separate classes for amputees and paraplegics (racers with a spinal injury resulting in lower body paralysis).

THE PEE-WEES ARE BACK AT ANAHEIM III: THE KTM JUNIOR SUPERCROSS CHALLENGE STARTS UP AGAIN AT A3


BROOKS/McGRATH TEAMS GOES DOWN THE TUBES BEFORE ROUND FOUR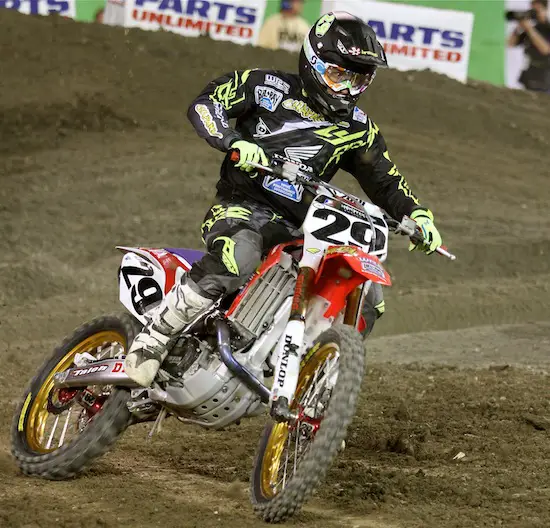 Andrew Short.
The McBrooks team, officially known as the L&Mc team, which is sponsored by Chaparral and owned by Larry Brooks and Jeremy McGrath, will fold this week and Andrew Short will have to find a new ride. This news has been coming for quite awhile, starting when the hoped-for deal with the San Manuel Indian Casino didn't materialize last year. But, now it is official. Meanwhile, read the next story.

THE JDR J-STAR TEAM TO FOLD BEFORE WE EVEN FIND OUT WHAT J-STAR IS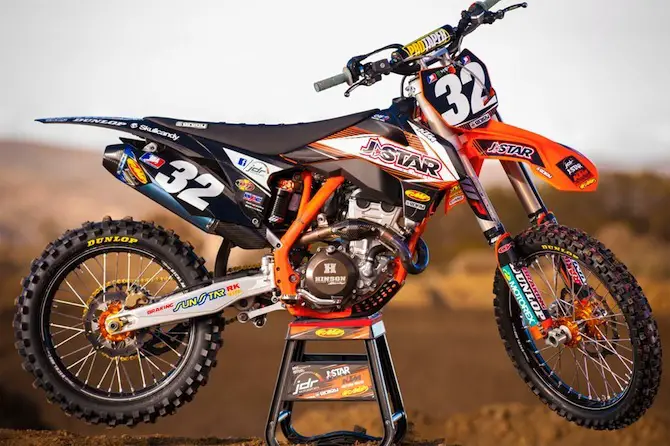 JDR KTM Motorsports team will fold at the end of the Supercross season. Although the team is still looking for additional funding their is not a lot of time for the riders to find new rides before the AMA Nationals start. At the end of the 2012 season, JDR announced that they were ceasing their racing efforts in Australia to concentrate on their U.S Pro team. Malcolm Stewart and Joey Savatgy are JDR's two top riders in the USA. Nathan Ramsey is the team manager.

BEHIND THE SCENES AT THE CHAPARRAL TEAM: ACTUALLY, THE TEAM FOLDED AFTER THEY SHOT THIS VIDEO


DON'T FORGET! WORLD TWO-STROKE CHAMPIONSHIP ON APRIL 7


For more info go to www.glenhelen.com


MOTO BREW IS BACK AFTER FIVE-YEAR HANGOVER: NEW SPONSOR FOR TROY LEE HONDA TEAM

Troy Lee Designs is pleased to announce that Moto Brew Pale Ale, brewed by Sequoia Brewing Company, has signed on to be a sponsor of the TLD / Lucas Oil / Honda Race Team for 2013 and beyond. After a five-year hiatus, Troy Lee, Greg Primm and Scott Kendall, have teamed up to bring back the Pale Ale-style Moto Brew beer. Troy Lee, who designed the beer's new label, is proud to have Moto Brew on board as a race team sponsor once again. 22 ounce bottles are available for purchase by the general public at www.beeronthewall.com. Visit www.troyleedesigns.com/company/partners/moto-brew for more details.

GLEN HELEN SEASON PASSES AVAILABLE NOW!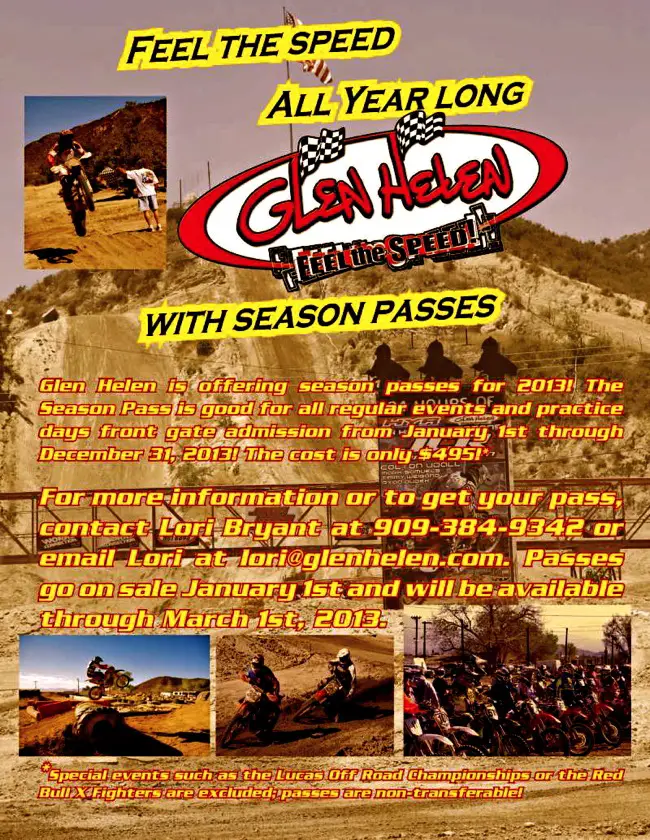 Glen Helen Raceway is offering season passes for all of 2013. The passes cost $495 and are good for regular Thursday practices, plus regular Saturday and Sunday practices or races (not good for Lucas Oil Offroad Truck races or the Red Bull X Fighters). If you come to Glen Helen twice a month you will save money. If you come 4 times a month you save $465. If you come 8 times a month, you save $1425. For more info call (909) 384-9342 or email [email protected]

MXA PRODUCT SPOTLIGHT: L.A. SLEEVE TWO-STROKE REBUILD KITS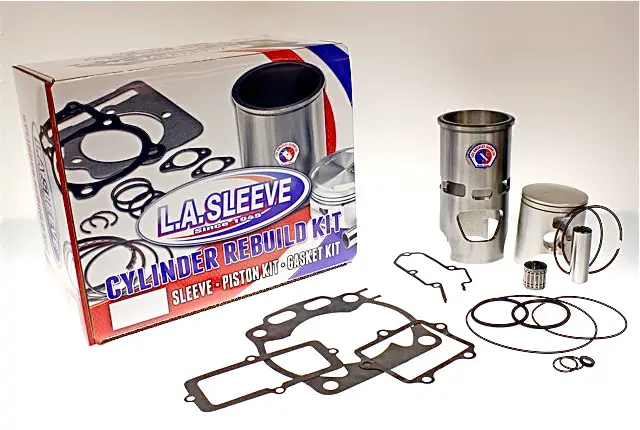 Maintain the fun! Keep your popular two-stroke 250cc and 125cc running by rebuilding the top end with a cylinder rebuild kit from L.A. Sleeve. L.A. Sleeve Cylinder Rebuild Kits are supplied with a two-stroke cylinder sleeve liner, piston kit, top end bearing and gasket kit. Kits are available for all the most popular bikes and even for your favorite dawg! L.A Sleeve also provides full sleeve installation services, along with a complete parts warehouse. Cylinder Rebuild Kits offer a great value and are priced beginning from $240.00 for 125cc and $270.00 for 250cc. All the parts, All the value, All in one kit! Contact L.A. Sleeve at (562) 945-7578 or visit www.lasleeve.com

MXA'S INSIDE THE PRO'S BIKE: ELI TOMAC'S HONDA CRF250



PHOTO WITHOUT A CAPTION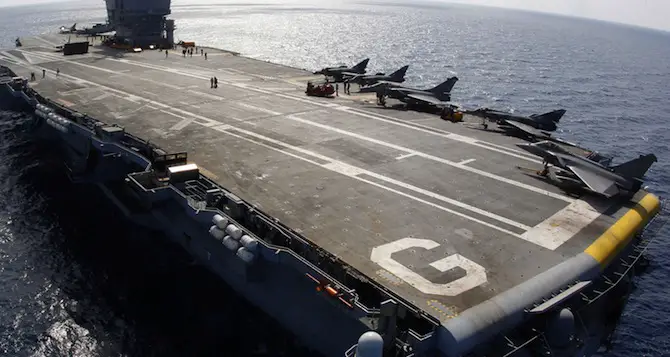 MXA PRODUCT SPOTLIGHT: ALL-NEW RYAN SIPES T-SHIRT FROM PANIC REV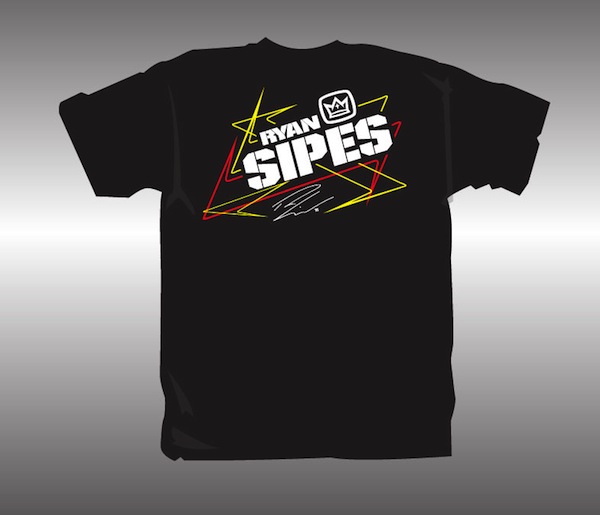 PanicRev is excited to announce the release of their all new Ryan Sipes Signature T-Shirt. Scott Parkinson, President of PanicRev states, "Ryan has been a PanicRev supporter for a while now. We are excited to partner with him on this project. We want to give Ryan a big thanks for having the heart to support the work that God is doing through PanicRev by helping make this project happen. We hope this T-shirt design is something that Ryan's fans all over the country will enjoy." $19.95 from www.panicrev.org


TV COMMERCIAL FLASHBACK: THE ORIGINAL "ON ANY SUNDAY" MOVIE COMMERCIAL


ASK THE MXPERTS: MXA'S HONDA TWIN PIPE OPINION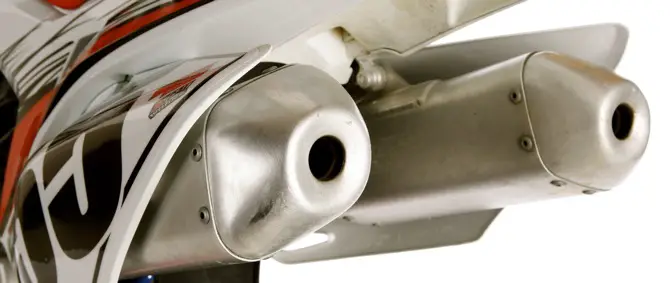 Dear MXA,
What is MXA's opinion of Honda's twin pipe design on the 2013 Honda CRF450?
The 2013 CRF450 isn't the first time that Honda has outfitted a CRF with twin mufflers. Way back in 2006, Honda put twin mufflers on the CRF250. It lasted a few years before consumer resistance brought back the single-sided exhaust. Our opinion hasn't changed much over the years, here is a sampling of quotes about CRF twin pipes from 2006, 2007, 2008, 2009 and 2013.
2006 MXA CRF250 TEST:
"Even though we don't believe all of Honda's marketing messages, we do like how the twin-pipe looks. In the fashion conscious world of motocross that sells motorcycles. The back story on the twin pipes has taken on a life of its own. Originally, the twin pipes were designed to reduce the sound level. Then, at the initial introduction, sound was downplayed and power was named as the reason for the dual-muffler system. Now, there is no mention of sound reduction or added power in Honda's press kit. Instead, Honda is stressing that the twin pipes were added to improve handling. So, was it for sound, power or handling?"
2007 MXA CRF250 TEST:
"We don't see the twin pipes as a performance enhancer. And, if they don't work better, aren't lighter and cost more to replace, what is the point? On a personal note, we'd like to see Honda return to the more economical and better performing singleexhaust."
2008 MXA CRF250 TEST:
"Does the 2008 CRF250 still have twin pipes? Sadly, yes. Maybe it's just us, but we can't help but think of Honda's twin pipes as little more than a marketing gimmick. Honda claims that the twin pipes increase power, decrease sound and balance the chassis in roll mode. We don't see those benefits in our testing. Our best CRF250 power has come with single-sided aftermarket pipes. The CRF's sound level is no more or less than the competition at full tilt. And, while twin pipes might make a small dent in equalizing the weight between both sides of the machine, they also add more weight to the overall package than a single-sided pipe."
2009 MXA CRF250 TEST:
"The twin pipes look cool, but are mainly a fashion statement."
2013 MXA CRF450 TEST:
"What is MXA's opinion of the CRF450's twin pipes? We think they are stupid, redundant, restrictive, heavy, expensive and vanity engineering for someone in the Honda R&D department. And they aren't all that quiet. Our 2013 Honda CRF450 failed the 115 dB two-meter-max test at 116.1. Plus, one touch of the subframe or shock body after a race will reveal a disturbing heat sink effect from all that hot tubing snaking around the shock and airbox. How do we really feel? When Honda first tried this idea on the 2006 CRF250 they just bolted an extra muffler on an existing design and made up reasons for why it was better. It took a few years of consumer resistance, but Honda finally gave up on it. For 2013 the twin pipe idea is better thought out. The subframe and muffler canisters have been redesigned so that they can be sucked up under the body work and moved forward. This gives them centralization of mass credibility. Maybe it is just us, but a motocross bike doesn't need more parts to fail, get damaged in a crash or fall off. Thumbs down…the same thumbs that we used back in 2006."

NEW CYCRA RACING KXF FORK GUARDS ARE REINFORCED TO BE TOUGHER THAN STOCK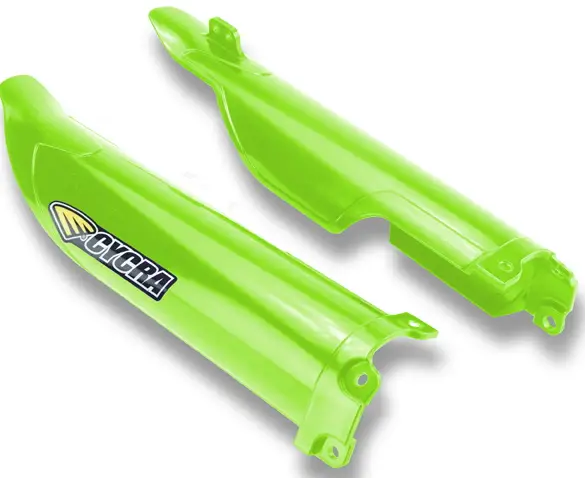 Press Release: The brand new KXF Fork Guards from Cycra Racing may look like stock Kawasaki fork guard on the outside, but that's where the comparison stops. Cycra has redesigned the inside for a better fit with stronger mounts, which makes these Fork Guards tougher, more durable than OEM stock. Great for use with aftermarket Start Buttons.
Fork guards traditionally are disposable items, but riders want to get as much use out of them as possible. Lasting longer means saving money. These KXF Fork Guards were designed for pro level protection using Cycra High Performance Plastic, injection molded for a precise fit and high-gloss finish that customers have come to expect from the premier plastic manufacturer in the motorcycle industry. Retail price is $39.95. For more info go to www.cycraracing.com.

MXA'S INSIDE THE PRO'S BIKES: RYAN VILLOPOTO'S KAWASAKI KX450F


USED IT, ABUSED IT, TESTED IT: MAX TECH TOYS PSYCHO CYCLE


Psycho Cycle is a two-channel remote control, full-suspension, motocross bike that comes with a 9.6V rechargeable battery, charger and back flip ramp. MXA testers found that the bike was easy to keep upright on hard surfaces, but that dirt would catch the tiny outrigger wheels and cause high-sides. Plus the Psycho Cycle didn't have enough power to get through any real dirt. It was also very tricky to steer at speed and often the challenge was to hit the back flip ramp at all. Run time was around 30 minutes, but the charge time was four hours.


VERDICT: We logged hundreds jumps, with only half of them being successfully landed, yet the damage to the Psycho Cycle was only superficial…so far. We think that the Psycho Cycle is a fun toy for a young kid, but an experienced RC aficionado wouldn't like it. $89.99 ? www.maxtechtoys.com or (800) 843-6292.

TV COMMERCIAL FLASHBACK: THE 1986 YAMAHA BIG WHEELS



THIS WEEK'S BIRTHDAY BOYS: BLAKE BAGGETT'S BIG DAY


Jan. 28…Tim McAdams
Jan. 28…Dave Prater
Jan. 30…Michael Blose

Jan. 30…Kevin Crine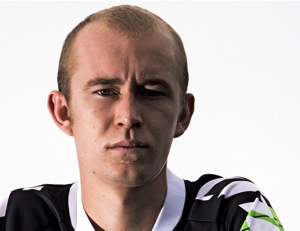 Jan. 31…Blake Baggett

Feb. 1…Gaston Rahier

TAKE A LAP THE CANYON, ARIZONA, WORCS COURSE WITH ROBBY BELL… A 7-MINUTE LAP


2013 AMA SUPERCROSS SCOREBOARD
DATE CITY 450SX 250SX
Jan. 5 ? Anaheim 1………..Davi Millsaps…….Eli Tomac
Jan. 12 ? Phoenix………….Justin Barcia……..Eli Tomac
Jan. 19 ? Anaheim II………Ryan Villopoto…..Eli Tomac
Jan. 26 ? Oakland………….Ryan Villopoto…..Ken Roczen
Feb. 2 ? Anaheim III………??
Feb. 9 ? San Diego………..??
Feb. 16 ? Arlington…………??
Feb. 23 ? Atlanta……………??
Mar. 2 ? St. Louis………….??
Mar. 9 ? Daytona……………??
Mar. 16 ? Indianapolis…….??
Mar. 23 ? Toronto…………..??
Apr. 6 ? Houston……………??
Apr. 13 ? Minneapolis…….??
Apr. 20 ? Seattle……………??
Apr. 27 ? Salt Lake………..??
May 4 ? Las Vegas………..??
Points leaders: 450?Davi Millsaps, 250 West?Ken Roczen

MXA'S INSIDE THE PRO'S BIKE: DAVI MILLSAPS' SUZUKI RM-Z450



2013 AMA SUPERCROSS TV SCHEDULE: THANKFULLY WE ARE THROUGH WITH CBS FOR AWHILE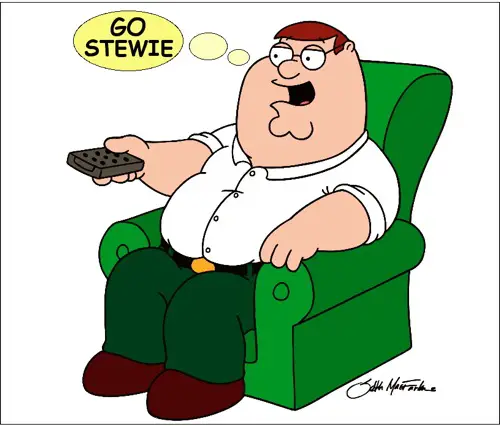 Speed will air live coverage from a record 11 races and CBS will have nine hours of next-day coverage of Anaheim II, Oakland, St. Louis, Minneapolis) and Seattle. The CBS shows will be reshown on Speed after CBS's initial viewing (check your local listings for those times). All CBS shows are on Sunday. Yeah, yeah, yeah, we know that you think CBS's coverage is weak, but what's your other option?
2013 SUPERCROSS TV SCHEDULE
Date………..Event…………………TV network…………..Time
Feb. 2…..Anaheim III……..Speed……………10:30 p.m. (Eastern)
Feb. 9…..San Diego………Speed……………10:30 p.m. (Eastern)
Feb. 16…Dallas…………….Speed…………….9:30 p.m. (Eastern)
Feb. 23…Atlanta…………..Speed……………..7:30 p.m. (Eastern)
Mar. 3…..St. Louis…………CBS/Speed…….12:00 p.m. (Eastern)
Mar. ?…..Daytona………….Speed…………….7:30 p.m. (Eastern)
Mar. 16…Indianapolis ……Speed…………….7:30 p.m. (Eastern)
Mar.23….Toronto…………..Speed…………….8:00 p.m. (Eastern)
Apr. 4……Houston…………Speed…………….9:30 p.m. (Eastern)
Apr. 14….Minneapolis…….CBS/Speed…….12:00 p.m. (Eastern)
Apr. 21….Seattle……………CBS/Speed…….12:00 p.m. (Eastern)
Apr. 27….Salt Lake………..Speed…………….9:30 p.m. (Eastern)
May 4……Las Vegas………Speed……………10:00 p.m. (Eastern)

TV COMMERCIAL FLASHBACK: ESSO EASYMIX TWO-STROKE OIL TV COMMERCIAL


USED IT, ABUSED IT, TESTED IT: VP RACING VPR OXYGENATED/LEADED RACE FUEL

VPR is designed as a stable and consistent fuel that a racer can depend on. Pump gas varies from summer blend to city blend to winter blend (and contains ethynol). With VPR you are assured that your bike has the same formula every time. This makes it the perfect fuel for racers on the national amateur circuit who might be in Nevada one week and Tennessee the next week.
VERDICT: Thanks to its higher oxygen and octane content, VPR produced more power than pump gas. During testing the MXA wrecking crew ran both dyno and race tests. VPR showed horsepower increases at every rpm. It made anywhere from a quarter of a horse more to a full horse at peak. Test riders reported a noticeable improvement in throttle response and a more stable feel at overrev. $65.00 (average price for five gallons) ? www.vpracingfuels.com or (210) 635-7744.

TV COMMERCIAL FLASHBACK: KAWASAKI LETS THE GOOD TIMES ROLL



MXA'S INSIDE THE PRO'S BIKE: BLAKE BAGGETT'S KAWASAKI KX250F


DON'T FORGET! CARLSBAD RACEWAY MOTOCROSS REUNION ON FEBRUARY 10

There will be a Carlsbad Raceway motocross reunion on February 10, 2013 (the Sunday after the San Diego Supercross) from Noon until 5:00 p.m. Free Admission. Iron Fist Brewery, Vista, California. The brewery is a quarter-mile from the old Carlsbad Track. Don't miss it!

THE AMA HANDS OUT "…OF THE YEAR" AWARDS IN COLUMBUS, OHIO

The American Motorcyclist Association (AMA) honored noteworthy accomplishments from 2012 at the Aladdin Event & Conference Center in Columbus, Ohio, this past weekend. The major awards were:

AMA Sportsman of the Year: The AMA Sportsman of the Year award was presented to World and AMA National Speedway Champion Billy Hamill. Hamill has donated his own time and resources to promote the sport of speedway racing to America's youth.
AMA Athlete of the Year: This year the AMA Athlete of the Year recognizes two riders. Taddy Blazusiak, the overall champion of the 2012 AMA EnduroCross National Championship Series, won the AMA National Championship Series Athlete of the Year award, while Zach Bell won the AMA Grand Championship Athlete of the Year Award.

AMA Female Rider of the Year: Molly Terry was named the AMA Female Rider of the Year. She was the Women's class grand champion at the 2012 AMA Dirt Track Grand Championships.
AMA Veteran Rider of the Year: Kurt Nicoll won this award for winning the Over-35 title the AMA EnduroCross Grand Championships.
AMA Racing Youth Rider of the Year: Adam Cianciarulo won this award for winning two classes at Loretta Lynn's last summer