MOTOCROSS ACTION'S WEEKEND NEWS REPORT: CHAD'S GOT ISSUES BACK HOME, STEWART WANTS TO BE A CLOTHING MAGNATE & WHY THE AMA DISSES TONY D

                                       
CHAD REED IS BACK IN THE LOCAL FLORIDA NEWSPAPERS… THIS TIME IT'S HIS KART TRACK

From Tampa Bay Online: International motocross star Chad Reed has a new hobby, and anyone who follows him on Twitter knows about his supercool backyard go-cart track. His neighbors didn't need to see his Instagram photos or read the tweets. They've been complaining to Pasco County code enforcement since August that Reed and his friends have been racing go-carts ? a violation of his conditional-use permit ? on his 63-acre spread off Duck Lake Canal Road. Neighbor Jacque Klein is not amused. "He didn't build it at his house ? he built in my backyard," she said. "He doesn't live here. He lives in a gated community."
The permit restricts Reed to using the track for motocross training and limits the hours of use. Klein said he frequently violates the conditions by racing after 5 p.m. and on weekends. For months, Klein filed complaints with code enforcement, but the investigator marked each one "duplicate" and took no action. She filed another complaint on Dec. 3, after the Reeds raced go-carts on the track until 5:55 p.m. "Is anyone ever going to do something about this problem?" she asked.
The department finally swung into action after a dozen neighbors signed a petition asking the county to revoke Reed's conditional-use permit ? complete with more than 40 photos of go-carts on Reed's paved track. "This is clearly beyond the scope of the initial approval," zoning director Carol Clarke wrote in a memo to county commissioners. It's the second time Reed has been in hot water with county code enforcement, and this time it might cost him dearly. Clarke will ask county commissioners next month to revoke the permit that allowed Reed to keep his motocross track after he illegally expanded it in 2010.
Reed originally was granted a conditional-use permit in 2004 for a 4-acre training track on his property, but six years later he expanded it to 24 acres without a permit. The expansion included a paved track. Pasco County commissioners granted a new conditional-use permit in 2010, giving Reed 30 days to submit the new site plan and study. The decision infuriated neighbors, who said Reed flouted county zoning laws by building the track. He met the deadline and was fined $1000 for the code violation.
Now Clarke says the permit was approved "as a result of materially misleading or inaccurate information." Commission Chairman Ted Schrader said he's disappointed because he met with Reed in 2010 before agreeing to let him keep the conditional use. He said Reed assured him he would follow the conditions. "It's pretty tough to defend someone if they continually violate the conditions they agreed to," Schrader said. "I had no idea he had built such an extensive track until I saw the video."
The board was scheduled to hold a public hearing on the revocation January 8, but the hearing will be postponed until February because the zoning department has not been able to locate Reed to serve him with the violation. The Tribune's attempts to reach Reed through his attorney were unsuccessful.
                                      
PHOTO WITHOUT A CAPTION

                                      
DUBYA LINES UP A STAR-STUDDED TEAM FOR 2013


Chad Reed.
Dubya USA has lined up a powerhouse of teams and riders using their racing wheels and services for the 2013 motocross and Supercross seasons. Dubya is the exclusive importer of Talon and Kite products (inclduing hubs, rims, spokes and wheel building. To learn more about Dubya, or to find a dealer near you visit us at www.dubyausa.com.
   RED BULL KTM: Ryan Dungey, Ken Roczen, Marvin Musquin
   TWO TWO MOTORSPORTS HONDA: Chad Reed
   JGR TOYOTA YAMAHA: Josh Grant, Justin Brayton
   RCH DODGE SYCUAN SUZUKI: Broc Tickle, Josh Hill
   MCBROOKS CHAPARRAL HONDA: Andrew Short
   BTO SPORTS KTM: Michael Byrne, Matt Goerke
   ROCKSTAR ENERGY SUZUKI: Davi Millsaps, Jason Anderson, Nico Izzi, Ryan Sipes, Blake Wharton
   TROY LEE DESIGNS LUCAS OIL HONDA: Cole Seely, Christian Craig, Jessy Nelson
   JDR J-STAR KTM: Malcolm Stewart, Josh Cachia
   VELOCITY 3 YAMAHA: Kyle Chisolm, Bobby Kiniry
   N-FAB TI-LUBE YAMAHA: Phil Nicoletti, Chris Blose
   VALLI MOTORSPORTS YAMAHA: Travis Baker
   L&M KAWASAKI: Josh Hansen
   ELEVEN 10 MODS YAMAHA: Alex Martin
   JAB KAWASAKI: Matt Lemoine, Gannon Audette, Vann Martin
   51-FIFTY HONDA: Preston Mull, Chris Plouffe
   TEDDER MONSTER KAWASAKI: Dakota Tedder
   HRT MERGE HONDA: Jimmy Albertson
   ROCKET EXHAUST HONDA: Michael Leib, PJ. Larsen
   ROCKY MOUNTAIN HONDA: Landen Powell, Bracken Hall
   MB1 HYPER X SUZUKI: Weston Peick, Kyle Partridge
                                     
THIS IS NOT MOTOCROSS! WELCOME BACK VALENTINO

                                      
ASK THE MXPERTS: DOES JODY DO THE VINTAGE CIRCUIT?


This is as close as Jody Weisel has ever come to racing a vintage bike. This is Jody's production-looking 1983 Husqvarna 250CR with a CZ engine. The photo was shot at the the 1983 CZ World Championships at Saddleback Park.
 
Dear MXA,
I've been to lots of big vintage races, including Diamond Don's, Mid-Ohio and Hodaka Days and I get to see lots of racers from the good old days. I always expect to see Jody, but I never have…not even in Athena. I read all of his stories about the glory days. Does Jody do the vintage circuit?
No. Jody has never raced a vintage race in his life, but he did found and promote the CZ World Championships from 1980 until 1984. This was the first vintage-style motocross race ever held in the USA…even if it was a no-rules, no-limits event based around a single brand. It wasn't a vintage race as much as an ode to CZ (and Jody's CZ was in a modern, for the times, Husqvarna frame). So, the answer is no, Jody has never raced a vintage bike in his life. And when we asked him why not, he said, "I love all of the old brands and bikes, but for my racing purposes anything older than this year's model is vintage. I don't want to race my 2012 KX450F in 2013, just as much as I didn't want to race my 1972 CZ in 1973. I'm glad to look at it, willing to talk about it, but I think I'll keep the romance of the era alive…rather than killing my fond memories with reality."
                                       
JAMES STEWART'S NEW VENTURE: HOW THE "SEVEN" BRAND CAME TO BE

                                       
CHECK IN WITH BAM-BAM AT WWW.JUSTINBARCIA.COM


Go to www.justinbarcia.com
                                       
CHECK IN WITH THE RED BULL KTM TEAM

                                      
CHECK IN WITH THE THOR FAN EXPERIENCE WHEN YOU GET TO A1

Thor MX will launch a new fan experience display at the Monster Energy Supercross Party in the Pits. Starting this Saturday fans will be treated to a unique race-pit style display that will contain replica race bikes with rider graphics, along with real mechanic pit carts that will feature some of Thor's very best in helmets, boots, and protectors.
 
In addition to the unique race pit experience, Thor has also brought back the popular Supercross podium display where fans can get a photo with a trophy and a beautiful Thor girl. A variety of giveaways and rider autograph sessions will also be available at the race pit experience. The Thor fan experience is open during the "Supercross Party in the Pits," held from 12:30 p.m until 6:00 p.m.

                                       
6D HELMETS TO SPONSOR PRO RACING CONCUSSION "IMPACT" PROGRAM


The Geico Honda team will debut the new 6D helmet on Saturday night.
6D Helmets will underwrite baseline imPACT concussion testing for AMA Pro riders…and these services will be provided free of charge (at selected sites). Follow-up, release testing and review will also be available in Southern California, by appointment with Eddie Casillas, Program Coordinator at ICHOR Sports Medicine or Paul R. Reiman, M.D. of Alexander Reiman Orthopedics. Detailed information about the program is offered www.themedicrig.com.
6D Helmets is a new company with an innovative helmet design that they hope will reduce concussions from both high- and low-threshold crashes. "We're extremely pleased to support the Asterisk Mobile Medical Center and the ?ImPACT' concussion testing program. This is a very important program designed to protect the well-being of our athletes and help preserve the future of our sport." said Bob Weber, President and CEO of 6D Helmets. Visit www.6Dhelmets.com for more information about their helmet.
                                       
ANAHEIM 1 TRACK MAP…WHERE'S THE RICKY CARMICHAEL MEMORIAL BOAT PARKED?

                                       
DP BRAKES TO SPONSOR PRO CIRCUIT, MUNN, AM-PRO YAMAHA, FAR HUSKY, WMR KTM & MORE IN 2013


Larry Mills, president of DP Brakes said, "We are very proud to once again be sponsoring an impressive list of high profile teams, and individual riders, for the upcoming racing season. The lineup is proof our commitment to the sport." The teams and riders are Monster Energy Pro Circuit Kawasaki Team, Munn Racing, Am-Pro Yamaha, David Pulley Racing, Team American Beta, Team FMF/RPM, Garrahan Racing, plus Paul Whibley, Bobby Prochnau, Josh Strang, Jimmy Jarrett, Jason Thomas, Andrew DeLong, Aaron Plessinger, Ryan Lojak and many more. For more information on the complete line-up of DP brake pads, brake shoes, clutch kits and brake rotors contact DP Brakes North American Headquarters at (716) 681-8806 or visit them on the web at www.dp-brakes.com.
                                       
KYLE CHISHOLM AND BOBBY KINIRY TO RUN DR.D EXHAUSTS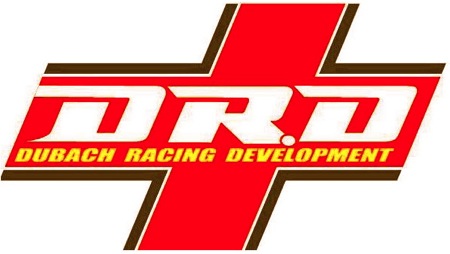 Dubach Racing Development (DR.D) has joined forces with Velocity 3 Racing Yamaha for the 2013 racing season. The newly formed Velocity 3 team will make its debut in the upcoming AMA Supercross Series with riders Kyle Chisholm and Bobby Kiniry aboard Yamaha YZ450's. Doug Dubach is no stranger to the Yamaha YZ450F, having been instrumental in its development and Doug looks forward to working alongside Chisholm and Kiniry. "I'm really excited for the opportunity to share my knowledge with two great riders like Kyle and Bobby. I feel that DR.D has a lot to offer in performance parts for their bikes," said Dubach. For more info go to www.dubachracing.com.
                                       
ANAHEIM SUPERCROSS WINNERS…58 OF THEM (WELL, ACTUALLY 59)


Ryan Villopoto.
January 5, 2013………Davi Millsaps
February 4, 2012……… Ryan Villopoto
January 7, 2012………. Ryan Villopoto
February 5, 2011……… James Stewart
January 8, 2011………. Ryan Villopoto
February 13, 2010……… Ryan Villopoto
January 23, 2010……… Ryan Dungey
January 9, 2010……….. James Stewart
February 7, 2009……… James Stewart
January 17, 2009……… James Stewart
January 3, 2009……….. Josh Grant

February 2, 2008……… Chad Reed
January 19, 2008……… Chad Reed
January 5, 2008……….. Chad Reed
February 3, 2007……… James Stewart
January 20, 2007……… James Stewart
January 6, 2007……….. James Stewart
February 4, 2006……… Ricky Carmichael
January 21, 2006……… Ricky Carmichael
January 7, 2006……….. James Stewart
February 5, 2005……… Ricky Carmichael
January 22, 2005……… Ricky Carmichael

January 8, 2005……….. Kevin Windham
January 31, 2004……… Kevin Windham
January 17, 2004……… Chad Reed
January 3, 2004……….. Chad Reed
February 1, 2003……… Ricky Carmichael
January 18, 2003……… Ricky Carmichael
January 4, 2003……….. Chad Reed
February 2, 2002……… Ricky Carmichael
January 19, 2002……… Mike LaRocco

January 5, 2002……….. David Vuillemin
February 3, 2001……… Ricky Carmichael
January 20, 2001……… Jeremy McGrath
January 6, 2001……….. Jeremy McGrath
January 15, 2000……… Jeremy McGrath
January 8, 2000……….. Jeremy McGrath
February 6, 1999……… Ezra Lusk
January 9, 1999……….. Ezra Lusk
January 27, 1996……… Jeremy McGrath
January 28, 1995……… Jeremy McGrath
January 29, 1994……… Jeremy McGrath
January 23, 1993……… Jeremy McGrath
January 25, 1992……… Damon Bradshaw
January 26, 1991……… Jeff Stanton
January 27, 1990……… Damon Bradshaw
January 28, 1989……… Rick Johnson
January 31, 1987……… Jeff Ward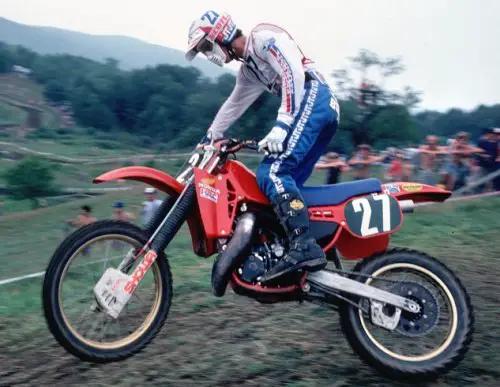 January 18, 1986……… David Bailey
February 2, 1985……… Broc Glover
January 28, 1984……… Johnny O'Mara
January 29, 1983……… David Bailey
January 30, 1982……… Donnie Hansen
January 31, 1981……… Kent Howerton
Nov. 17, 1979……………Kent Howerton
Nov. 11, 1978………….. Gaylon Mosier

Nov. 12, 1977………….. Bob Hannah
Dec. 4, 1976…………… Marty Smith

Will the real first Anaheim Supercross winner please take a bow ? Tony D.
FOOTNOTE: Although the AMA likes to list Marty Smith as the first winner of the Anaheim Supercross in 1976, the actual first winner was three-time 250 National Champion Tony DiStefano, who won in December of 1975. The reason Tony's name does not make the list is because Anaheim Supercross promoter Mike Goodwin was engaged in a battle with the AMA over money and a few days before the race he dropped the AMA sanction and held the race without the AMA. The riders showed up and Tony D took the victory. So, in reality, there are 59 Anaheim Supercross winners.
                                       
ONE WEIRD SPONSORSHIP DEAL: JDR KTM & THE TILTED KILT SPORTS PUB

JDR Motorsports formed a sponsorship deal with partnership with the Tilted Kilt Pub & Eatery for the 2013 AMA Supercross season.  As part of the partnership, Tilted Kilt will cater food for the JDR/J-Star/KTM Racing Team at all west coast Supercross rounds. "We are excited to partner with Tilted Kilt," remarked JDR Motorsports owner Jay Rynenberg. "We feel the good time atmosphere and non-stop action sports entertainment offered on their big screen is a perfect fit for our team and our fans and we are looking forward to great food that will be provided at the west coast rounds."
                                       
THE TOP FIVE WINNINGEST ANAHEIM SUPERCROSS RIDERS


Jeremy won in 1993, 1994, 1995, 1996, twice in 2000 and twice in 2001.
1. Jeremy McGrath…..8
2. Ricky Carmichael…8
3. James Stewart…….8
4. Chad Reed………….6
5. Ryan Villopoto……..4
                                       
ASK THE MXPERTS: C12 IN A 450 FOUR-STROKE?


Dear MXA,
I have some C12 race gas left over from riding a two-strokes. Can I put it in my new KTM 450SXF? Will it make more power?
You can put it in your KTM 450SXF, but it will most likely make less power. Your new KTM 450SXF is setup to run on 91 octane pump gas?and more octane won't help it (unless you have had serious work done to it). If you are just trying to get rid of the C12, add a gallon or two to every five gallons of pump gas. It will fresh up the pump gas, but not overcooked the octane. If, however, you are looking for a race gas that your 450SXF will like and can make more power, considered an oxygenated fuel like MR12 or U4.4.
                                       
FOREIGNERS PRE-ENTERED FOR ANAHEIM 1: THE PROUD, THE BRAVE, THE FEW


Chad is the top-ranked foreigner…although he is an American citizen since last year.
There are 16 foreign riders entered in the opening round of the 2013 AMA Supercross series. Most notable are Chad Reed, Tyla Rattray, Martin Davalos, Ken Roczen and Max Anstie. Here is the complete pre-entrylist.
        450 CLASS       


Akira Narita (982)…Japan
Antonio Balbi (903) …Brazil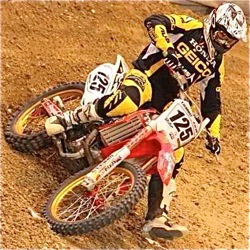 Guillaume Darriet (525)…France
Daniel McCoy (656)…Australia
Chad Reed (22)…Australia
        250 CLASS       


Josh Cachia (205)…Australia
Kade Mosig (948)…Australia
Tyla Rattray (28)…South Africa

Jean-Baptiste Marrone (973)…France
Martin Davalos (40)…Ecuador
Max Anstie (74)…England
Ken Roczen (94)…Germany
Matas Inda (256)….Lithuania
Jean Carlos Ramos (992)…Brazil
                                       
HOW DID THEY DO ON SATURDAY NIGHT?

450 FOREIGNERS:       
1. Chad Reed………….Australia…..4th
2. Antonio Balbi……….Brazil……….4th in LCQ
3. Daniel McCoy………Australia…..8th in LCQ
4. Manuel Rivas………Spain……….12th in LCQ
5. Akira Narita ………..Japan……….did not qualify
6. Guillaume Darriet…France……..did not qualify
250 FOREIGNERS       
1. Ken Roczen……………….Germany……….2nd
2. Tyla Rattray………………..South Africa…..8th
3. Max Anstie………………….England……….9th
4. Jean Ramos………………..Brazil…………..17th
5. Martin Davalos……………..Ecuador……….20th
6. Kade Mosig………………….Australia………6th in LCQ
7. Josh Cachia…………………Australia……..19th in LCQ
8. Matas Inda………………….Lithuania………did not qualify
9. Jean-Baptiste Marrone…France………….did not qualify
                                       
THIS WEEK'S BIRTHDAY BOYS: GEORGES WILL MISS HIS PARTY THIS YEAR


Jan. 4…Kelly Smith – 1980

Jan. 5…Tom Church – 1982                 Photo: Ray Archer

Jan. 6…Georges Jobe – 1961
Jan. 6…Jake Moss – 1988

Jan. 6…Matt Moss – 1988
Jan. 8…Mike Craig – 1965

Jan. 10…Stephen Sword – 1980        Photo: Tyco Suzuki
                                      
PHOTO WITHOUT A CAPTION



                                      
MOST ANAHEIM SUPERCROSS WINS IN A ROW


There have been 13 streak winners (sometimes in the same year and sometimes spread out across several seasons), divided between eight different riders at Anaheim. Kent Howerton was the first consecutive winner
1. Jeremy McGrath……..4 (1993-94-95-96)
1. Jeremy McGrath……..4 (2000-01)
3. James Stewart……….3 (2007)
3. Chad Reed…………….3 (2008)
3. James Stewart……….3 (2009-10)
6. Kent Howerton……….2 (1979-81)
6. Ezra Lusk………………2 (1999)
6. Ricky Carmichael……2 (2003)
6. Chad Reed…………….2 (2004)
6. Kevin Windham………2 (2004-05)
6. Ricky Carmichael……2 (2005)
6. Ricky Carmichael……2 (2006)
6. Ryan Villopoto………..2 (2011-12)
                                       
BOYESEN LAUNCHES FACTORY RACING RIDER SUPPORT FOR 2013

Boyesen Engineering is now accepting applications to join the Boyesen Factory Racing Team for the 2013 racing season. Our Factory Racing Support is one of the world's most generous rider support programs, and exists to provide riders with direct access to special support offers, all-access tech support, and preferred-treatment tech services at select racing venues. Selected athletes are provided varying levels of support based on an overall appraisal of their ability to showcase the Boyesen Factory Racing brand. Applying for Boyesen's Factory Racing Rider Support Team is simple by going to www.boyesen.com/rider_support.php
LORETTA LYNN QUALIFIER SUPPORT
As a part of Boyesen's Rider Support Team, riders are automatically eligible for support in their quest to compete in the Loretta Lynn's qualifying races. Boyesen's Loretta Lynn's Two-Stroke Support Program is available to all two-stroke mini riders, as well as all riders 16 and older racing motorcycles ranging from 125cc to 250cc. Unlike most Loretta's sponsorship opportunities, Boyesen's Loretta's support program is not restricted by skill level and is designed to connect Boyesen with the heart of the TWO-stroke motocross community. We are excited to offer this level of specialized support to riders who still believe in the performance, fun factor, and overall lower cost of racing that the two-strokes provide. For more information about the advantages of Boyesen's Spectra Series Supercooler, or to receive free technical assistance with engine heat reduction please visit www.boyesen.com or call to speak with their Race Technicians at: (610) 756-6818.
                                      
AMAZING WHAT YOU CAN DO WITH A MOTORCYCLE…IF YOU REALLY TRY


                                       
NEW RULES AND NEW NAMES FOR THE LORETTA LYNN "STOCK" AND "MODIFIED" CLASSES…IS ALL THIS REALLY NECESSARY?


Let's be serious. The idea of having a "stock class" where virtually everything, save for a high-compression piston and an exhaust pipe can be changed, is stupid. In truth, over the years the rules governing the "Stock" class have been weaken so much that you have to believe that the "Stock" class is just a cash cow for the race promoters?designed to get more entry money out of the same riders.
It would make more sense, given the current rule structure to drop the "Stock" class (now known as the "Limited" class) and open up Loretta Lynn to more riders from each region, add a full complement of two-stroke classes (125/250 A/B/C), allow riders to ride more than two classes, beef up the Vet, Over-40 and Over-50 classes with A/B/C divisions and have a modern-style race instead of a throwback to a long ruined rule.
However, that isn't going to happen with the current brain trust. Instead, we get a name change, obviously chosen to disguise the fact that there is very little difference between "Stock" and "Modified…now known as "Limited" and "Unlimited." Do you wonder what the difference is between a Limited and Unlimited bike. Here is a quick synopsis of the 2013 rules.
WHAT CAN'T A LIMITED BIKE CHANGE?
    (1) Engine: High-compression pistons, porting or aftermarket black boxes (although Unlimited bikes can't have aftermarket black boxes either).
    (2) Basics: There can be no changes or modifications to the internal engine components, frame, carburetor, air box, swingarm, rim size, bottom triple clamp, EFI throttle body, hubs exhaust system and metal hand guards are not allowed, but plastic ones are okay
    (3) Components: Gaskets, backfire screens, O-rings or other components may not be removed. Who removes gaskets from their engine?
    (4) Tires: Only production tires readily available to the general public may be used. But, since many works tires come in standard moldings, with only the rubber compound changed, this rule is hard to enforce.
PLUS, THESE ITEMS ARE ON THE LIMITED CLASS BANNED LIST
These are the 16 additional things that you can't change on a Limited class race bike:
  1. Fork Brace
  2. Aftermarket hubs
  3. Aftermarket bottom triple clamp
  4. Fork bleeder
  5. Aftermarket subframe
  6. Boyesen/Moto Tassinari reeds
  7. Radiator fan
  8. Aftermarket water pump/impellers
  9. Exhaust (complete or slip-on)
  10. Exhaust control valve
  11. Adjustable leak jet
  12. Aftermarket float bowl
  13. Intake spacer
  14. Remove backfire screen
  15. Air box vent tubes
  16. Aftermarket air Intake boot
WHAT ISN'T ON THE LIMITED CLASS  BANNED LIST
These are the 40 things that you can change on a Limited class race bike:
  1. Seat (cored out)
  2. Aftermarket footpegs.
  3. Aftermarket throttle tube
  5. Aftermarket  folding levers
  6. Frame guards
  7. Gripper tape
  8. Hand guards
  9. Number plate backgrounds
  10. Vented front number plate
  11. Aftermarket radiator guards
  12. Aftermarket seat foam
  13. Aftermarket Shifter
  14. Steering Stabilizer
  15. Skid/glide plate
  16. Air filter
  17. Thermal gas tank cover
  18. Aftermarket  brake lines
  19. Aftermarket brake master cylinders
  20. Aftermarket brake pads
  21. Aftermarket brake pedal
  22. Aftermarket brake rotors
  23. Brake snake
  24. Adjustable fuel screw
  25. Chain guides/sliders
  26. Chain rollers
  27. Clutch cover
  28. Oil coolers
  29. Anodized oil drain plugs
  30. In-line water coolers
  31. Radiator hoses
  32. Power valve actuator hose kit
  33. Aftermarket top triple
  34. Holeshot devices
  35. Suspension shims
  36. Fork/shock springs
  37. Anodized fork caps
  38. Rim locks
  39. Aftermarket spokes
  40. Aftermarket rims
WHAT CAN'T BE CHANGED ON AN UNLIMITED CLASS BIKE?
  1. ECU: The stock OEM ECU unit can be remapped, but aftermarket black boxes are illegal.
  2. Aftermarket suspension (Ohlins, Showa A-kit) is not allowed, but the OEM front and rear suspension can be altered (with internal modifications only).