MOTOCROSS ACTION'S WEEKEND NEWS ROUND-UP: A CHAMPION PASSES, A CHAMPION IS HONORED & NEW CHAMPS IN THE MAKING

GODSPEED! THREE-TIME 500 WORLD CHAMPION PAUL FRIEDRICHS (1940-2012)


Paul Friedrichs at the height of his career.
During the height of the Cold War, East German Paul Friedrichs won three consecutive FIM 500cc World Motocross Championships (from 1966 to 1968 for CZ). Paul died three days ago in an Erfurt, Germany, hospital. He started his racing career on an East German-built MZ, but would rise to fame as the first racer to win the World Motocross Championships three straight times. Although Friedrichs was a true-to-life motocross star, he never achieved celebrity status in the USA because he was from behind the Iron Curtain and his major victories pre-dated the arrival of motocross in America. He remain, to this day, the most successful German Grand Prix rider of all-time (although his during his era, Germany was divided into two separate nations). He retired from the GPs in 1972. After retiring he worked for MZ, who he had raced the ISDT for after leaving CZ.
BE PREPARED! LAKE ELSINORE WEATHER FORECAST FOR THIS WEEK'S AMA NATIONAL



RICKY JOHNSON INDUCTED INTO THE MOTORSPORTS HALL OF FAME… NOT TO BE CONFUSED WITH THE AMA HALL OF FAME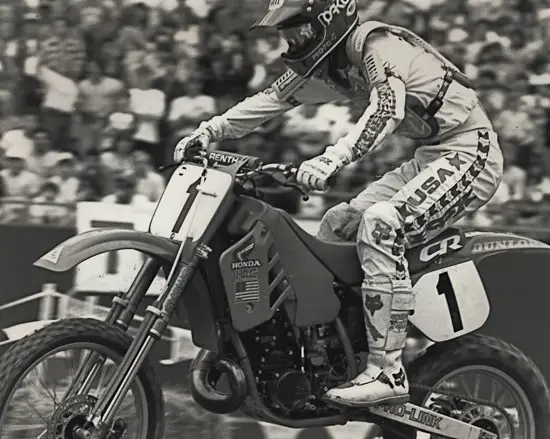 Ricky Johnson.
On Wednesday night in Detroit an illustrious group of seven motorsports icons were inducted into the Motorsports Hall of Fame of America.The class of 2012 included Derek Bell, Neil Bonnett, Pop Dreyer, Vic Edelbrock, Ed Pink Danny Sullivan and Ricky Johnson.
Five-time NASCAR Sprint Cup Series Champion Jimmie Johnson was on hand to induct his old friend Ricky Johnson. "Not often do I think a racer has a chance to induct his hero into the Hall of Fame, and I have that tonight," said Jimmie Johnson. "Rick and I have a long history together; it goes so far back that he actually changed my diapers at one point in time. My grandparents owned a motorcycle shop in California, I grew up on two wheels, our families had so much in common with the two wheels and Rick was even my first sponsor and got me started in motocross. Later, when we were racing teammates, I was able to kind of transition from that stage of looking up to my hero to actually looking into my hero's eyes and competing against him. Some of the best moments I have had in my life in my racing career were racing against my hero Rick Johnson."

Jimmie Johnson inducting Ricky Johnson.
Motorcycle racers in the Motorsports Hall of Fame include Roger DeCoster, Bob Hannah, Eddie Lawson, Joe Leonard, Dick Mann, Bart Markel, Jeremy McGrath, Gary Nixon, Scott Parker, Bruce Penhall, Kenny Roberts, Wayne Rainey, Bubba Shobert, Malcolm Smith, Freddie Spencer, Jay Springsteen among others. For more info go to www.mshf.com
STEEL CITY NATIONAL RESULTS: DUNGEY & TOMAC


Ryan Dungey celebrates at Steel City.      Photo: Hoppenworld
STEEL CITY RESULTS: 250 CLASS
1. Eli Tomac…………….1-1
2. Ken Roczen…………3-2
3. Justin Barcia………..2-3
4. Blake Baggett………4-4
5. Marvin Musquin……6-9
6. Wil Hahn……………..8-8
7. Alex Martin………….5-11
8. Blake Wharton…….11-6
9. Malcolm Stewart….2-32
10. Jake Canada…….12-10
STEEL CITY RESULTS: 450 CLASS
1. Ryan Dungey……1-1
2. Mike Alessi………3-2
3. Josh Grant……….4-4
4. Jake Weimer…….7-3
5. Tyla Rattray………6-9
6. Nico Izzi……………8-8
7. Davi Millsaps…….5-11
8. Phil Nicoletti………11-6
9. Andrew Short…….2-32
10. Justin Brayton…12-10
AMA 250 NATIONAL POINTS STANDINGS
(After 11 or 12 races)
1. Blake Baggett……..472
2. Eli Tomac……………458
3. Justin Barcia……….454
4. Ken Roczen………..427
5. Marvin Musquin…..368
AMA 450 NATIONAL POINTS STANDINGS
(After 11 or 12 races)
1. Ryan Dungey……..530
2. Mike Alessi………..409
3. Andrew Short……..333
4. Jake Weimer………327
5. Broc Tickle…………309
GRAND PRIX OF BENELUX RESULTS: NO SURPRISES AND NO CLINCHERS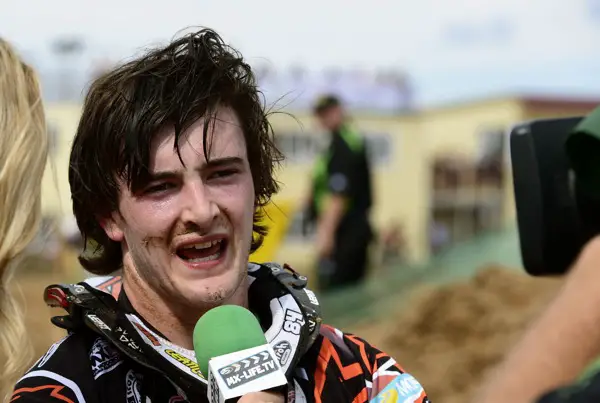 Jeffrey Herlings has a 65-point lead on Tommy Searle with two races and 100 points left.
LIEROP RESULTS: 250 CLASS
1. Jeffrey Herlings……………1-1
2. Jeremy Van Horebeek…2-2
3. Max Anstie………………….3-3
4. Tommy Searle…………….4-4
5. Arnaud Tonus……………..6-5
6. Jake NIcholls………………5-9
7. Glenn Coldenhoff…………9-6
8. Jordi Tixier………………….8-7
9. Zach Osborne…………….7-8
10. Alessandro Lupino……11-11
250 WORLD CHAMPIONSHIP POINTS STANDINGS
(after 14 of 16 events)
1. Jeffrey Herlings…………..622
2. Tommy Searle……………557
3. Jeremy van Horebeek…519
4. Jake Nicholls………………387
5. Joel Roelants……………..367

Christophe Pourcel showed up at Lierop, Holland, with a broken shoulder blade and tried to race. He earned no points in moto one and skipped moto two.
LIEROP RESULTS: 450 CLASS
1. Antonio Cairoli………..1-1
2. Ken DeDycker………..3-2
3. TaneL Leok……………4-3
4. Evgeny Bobryshev…7-4
5. Shaun Simpson……..8-5
6. Clement Desalle…….6-7
7. Gautier Paulin………..5-9
8. Kevin Strijbos…………9-6
9. Max Nagl………………..2-26
10. Rui Goncalves……..14-8
450 WORLD CHAMPIONSHIP POINTS STANDINGS
(after 14 of 16 events)
1. Antonio Cairoli…………592
2. Clement Desalle ……..516
3. Gautier Paulin…………..468
4. Christophe Pourcel…..452
5. Ken de Dycker………….446
YAMAHA'S GP TEAM RE-SIGNS INJURED STEVEN FROSSARD FOR 2013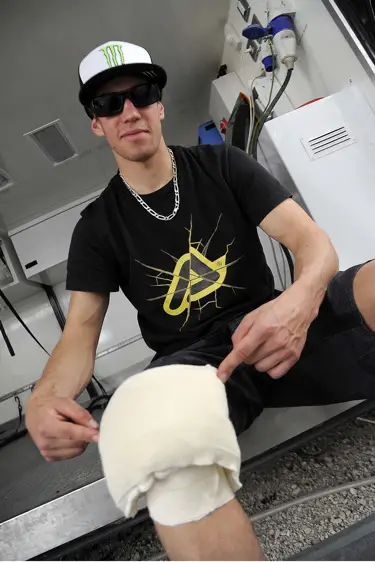 Steven got a new deal for 2013 even though he is is still rehabbing his knee.
Steven Frossard was a revelation of the 2011 FIM 450 GP season with two Grand Prix victories and second place overall the final points standings. Steven started his second year in the 450 class with high hopes, but at round one in Bulgaria he hurt a ligament in his right knee. Frossard soldiered through the injury, and even had the ligament removed so that he could keep racing, but his knee hurt too much…and week after week he tried but failed to finish. He kept racing without a ligament in hopes of saving his Team Yamaha ride. Good kness. Yamaha re-signed him even though he had to stop racing to have knee surgery.
Frossard said, "I'm really happy to continue with Monster Energy Yamaha because I think it is one of the best teams in the FIM World Championship. I'm also happy that Michele Rinaldi  and Yamaha Motor Europe wanted to keep me and they trust me. It was an easy decision to sign another contract…I feel like I have a home here."
RYAN DUNGEY TALKS ABOUT HIS 2012 AMA 450 NATIONAL CHAMPIONSHIP

THERE IS A COMPLETELY DIFFERENT NATIONAL CHAMPIONSHIPS STANDING ON THE SIDELINES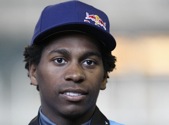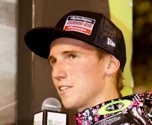 We all know that Chad Reed, Trey Canard, Ryan Villopoto and Dean Wilson have missed the 2012 AMA National Championship season, but there have been some newcomers (and some returnees) to the list of riders who are sitting on the sidelines for the rest of the season.
The most notable injuries are the most current ones. These included the broken tib of Michael Byrne, the compressed T3/T4 of Geico rookie Zach Bell, broken leg of Les Smith and dislocated finger of James Stewart.  All of these riders got hurt at the last round at Unadilla.
They join a host of other sidelined racers, including Cole Seely, Tommy Hahn, Darryn Durham, Matt Lemoine, Nick Wey, Gareth Swanepoel, Brett Metcalfe and Ivan Tedesco.

AN AUSSIE PRIVATEER QUALIFIES FOR THE 250 CLASS AT UNADILLA: THE JACKSON RICHARDSON STORY


SEE THE GREATEST DAY IN TOMMY SEARLE'S LIFE

DAVID PHILIPPAERTS LOOKS FORWARD TO NEXT YEAR…WITH GOOD WRISTS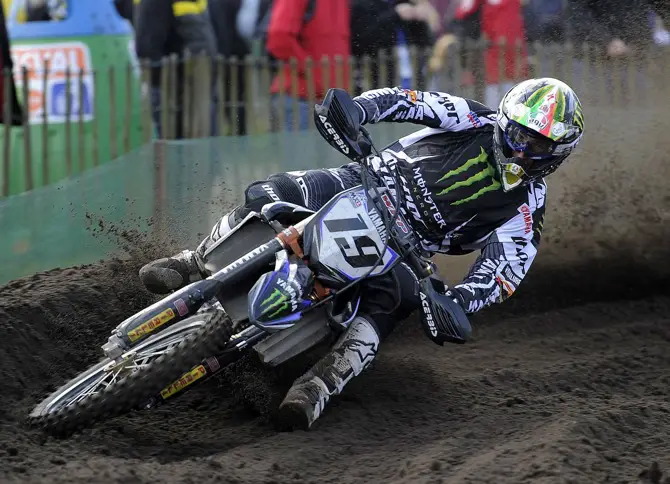 David.
Back in 2008 David Philippaerts won the 450 World Championship ? since then his career hasn't been as rosy. In fact, in 2011 and 2012 he managed to break both wrists. You read that right, Philippaerts broke both arms at the same time…in two consecutive years. Now, he is healing now and itching to start racing again.
DAVID, WHAT'S THE LATEST ON THE STATUS OF THE INJURY?
David: I feel better but now I'm frustrated because it is not possible to get back on the track again yet. I have no pain, I feel strong and the doctor is happy with the work that has been done. He says the operation fixed the wrists and made them stronger even more than the surgery I had last year and of course with my job that is important!
WHAT'S THE NEXT STEP?
I'm due a check-up soon and then together with the doctor we hope to fix a date to get back on the bike and then I'll be taking it easy and slowly to get back to normal speed. I haven't been cycling or working too much because the season is over for me, and it doesn't make much sense to start training at this time. 2013 has to be my focus now. I am doing some light work to stay in shape but I think when I start riding again in September then I will step it up a little bit and do more work on the bike. I am doing physio every day.
SO WHAT HAVE YOU BEEN DOING OVER THE LAST MONTH OR SO?
Some work on the house because I've never had such a long period at home. I'm sorting out some small things and hanging out with some friends. I walk to the bar everyday to see people and have a talk. It is a different life.

David looking moody.
YOU HAVEN'T HAD ANY DOUBTS ABOUT  THE INJURY BEING A REPETITION OF THE ONE FROM A YEAR AGO?
I was happy with the doctor's job last year and the guys in Germany took good care of m,e but the whole process there was not like being at home. I knew the doctor in Italy I needed this time and called him directly from Sweden after the crash. He told me the operation was difficult because he had to take away the old metal work and place new material. There were two options: (1) an easy operation with a long recovery period of six months, or (2) a longer and harder operation with a shorter recovery. The doctor advised me to take the harder operation because he thought it would be better for me. It was a long process but it meant I would be able to look at riding a bike two months afterwards. The doctor was pleased with his work and how it all turned out. Last year after twenty days I could move my hands and this time it was two.

David in Mexico popping the bubbly.
WHAT ABOUT THE FUTURE?
This year I was fast. I did the same training and was pushing the same way in the motos as I showed in Mexico and Brazil. So why not the same next year? The operation wasn't done on a knee joint or a shoulder or any ligaments; it is just the bone and I saw the best specialist for that. I had two different types of plates last time and now they have been switched for the same material in each wrist and it is stronger. My life is motocross and I want to race.
IF YOU CAN RIDE BY SEPTEMBER 30 WILL THE MOTOCROSS DES NATIONS FOR TEAM ITALY BE POSSIBLE?
No. I hope to be on the bike two weeks before and while I think it would be possible to race I won't be at the level I want to be to do a job for Italy. For that motivation I cannot do it this time. I will miss Lommel but I should know if I can make another race this year quite soon.
EVERY PIPE COMPANY IS WORKING HARD ON 2013 CRF450 TWICE PIPES, BUT FMF IS THE FIRST TO SHOW THEIRS…EVEN THOUGH THE BIKE ISN'T AVAILABLE YET



MXA PRODUCT SPOTLIGHT: CYCRA KTM POWERFLOW REAR FENDER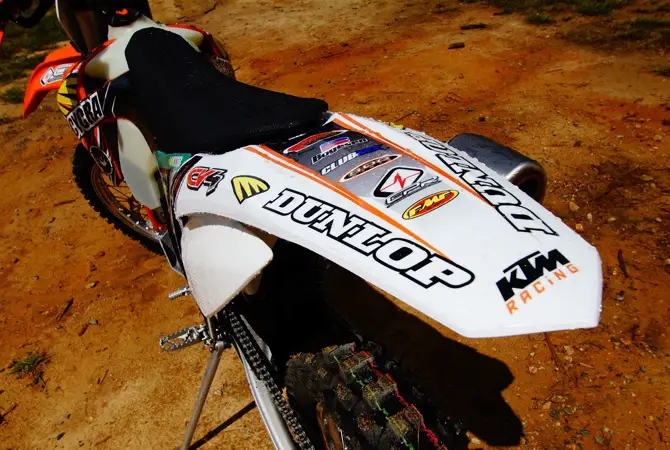 Cycra has a new Powerflow Rear Fender for the KTM 125SX, 150SX, 200XC, 525XC and 450XC. They aretwo inches narrower than stock for a slimmer feel. The rear fender has airflow venting from the top of the fender (the cleanest part of the bike) so the cleanest air is pushed to the air box helping to increase horsepower. Add to that a reinforced back section and an improved, stronger handle that allows for easier lifting and you have a fender that can't be beat. They are availbale in factory KTM Orange, Black or White for $54.95.
Grant Langtson said, "I never liked how wider fenders feel from a racing standpoint. I'm all about minimizing distractions while I'm racing. What Cycra has done with these new KTM Powerflow Rear Fenders, as with all their product, is to listen to the racers who are riding them and provide the best possible product. These fenders make my bike feel thinner and not catch myself on them." For more info go to www.cycraracing.com
MOTOCROSS, MOTHER RUSSIA STYLE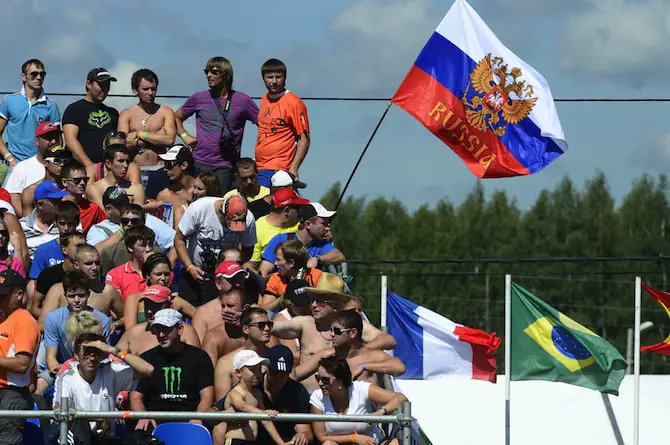 The FIM World Championships haven't been to Russia in many years, but when Youthstream signed a Russian investment bank as one of their major sponsors for 2012, the writing was on the wall. The race itself was a contrast of epic proportions. The Russians, starved for Western entertainment, would show up in droves to see a Paulie Shore comedy show, so they were enthusiastic. The GP riders on the other hand, weren't too thrilled. They were so downbeat that only 19 riders actually lined up for the 450 World Championship class in Semigorje. Think about that for a second. That meant that every rider in the race earned GP points and there was still room for a one Vet Novice to earn a couple GP points, if he could have coughed up the $1200 entry fee (plus a lot of rubles to get through the border and to find a place to stay).

If success is measured by the number of fans, then the Russian GP was a success, but of the 19 riders in the premier Grand Prix 450 class it should be noted that 3 of them were Russians, plus one each of Latvians, Estonians, Ukrainians and Moldavians. Given that Evgeny Bobryshev and Tanel Leok are GP regulars, that meant that there were only 14 actual GP riders on the starting line for the paying fans to watch.

This is the official Russian translator. A translator is required in Russia because English is not spoken by very many in the populace, unlike many European countries, and no one from this side of the Iron Curtain can read the Cyrillic Russian alphabet.

Track workers world-wide are the same. They work like dogs leading up to the event and then they kick back to enjoy the race.

Gone are the machine gun toting guards of the good old days of the Russian GP, but this Russian guard is a far cry from the pretty girls who control the media tents at the rest of the GPs.

Russian rider Evgeny Bobryshev is the first big-name Russian Grand Prix rider in years and he was the hometown hero in Semigorje. However, he still had to share the front of the event tee-shirt with Antonio Cairoli and Christophe Pourcel.

If you could bring one souvenir home from Russia it would have to be one of the snazzy high-brim hats that the Russian police wear. Of course, if you were caught crossing the border with one in your luggage?you wouldn't be crossing the border for many years.

We don't know what "No Motokpoccy" means, but we expect to see it pop up on tee-shirts across the globe. How about a new "Bo Don't Know Motokpoccy" tee-shirt from Decal Works?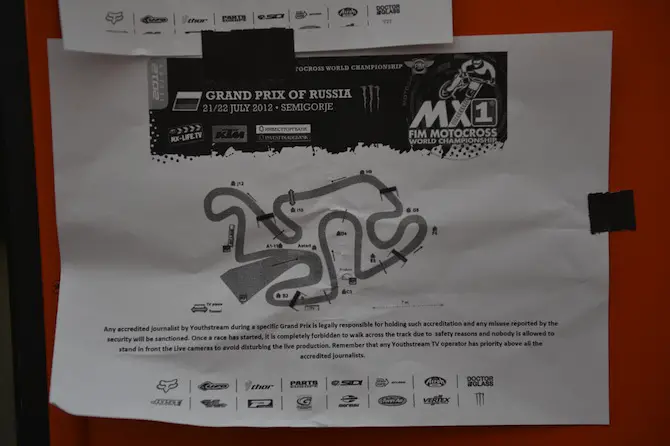 This may look like a track map for the racers, but it is actually a warning to photographers not to cross the track. It shows them were all of the tunnels are located. Oh yeah, there was only one tunnel.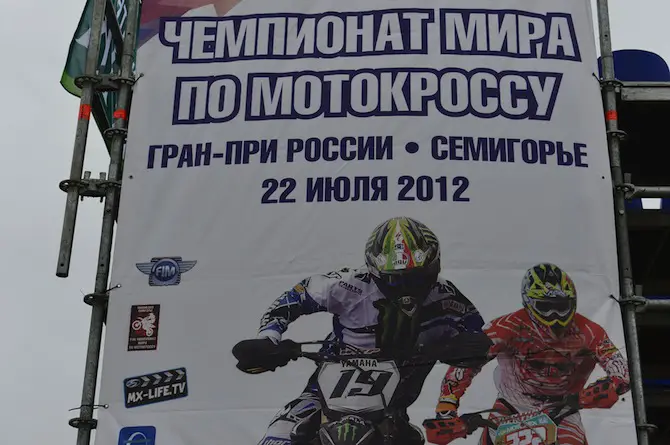 This event poster would have been a excellent opportunity for the Russian promoters to show some love to Bobryshev, but instead they went with David Philippaerts and Antonio Cairoli…both Italians. All photos: Massimo Zanzani
VIDEO: TROY LEE DESIGNS ACTUAL GOLD HELMETS FOR NOTRE DAME FOR THEIR OCTOBER 5 GAME AGAINST MIAMI

USED IT, ABUSED IT, TESTED IT: DRC GYRO WHEEL-TRUING STAND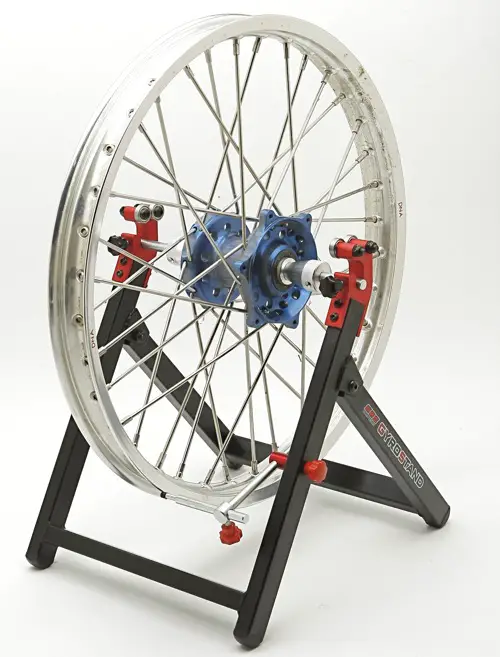 The DRC Gyro wheel-truing stand is an affordable and foldable wheel-truing stand that can be used for lacing wheels, truing wheels, balancing wheels and running bearing checks. Because the Gyro stand can be folded flat, it doesn't take up much space in the home workshop. The Gyro stand accepts rim widths of up to 5 inches, rim sizes as large as 23 inches and axle diameters of more than 15mm. There is an optional axle for bikes with bearings from 10mm to 15mm.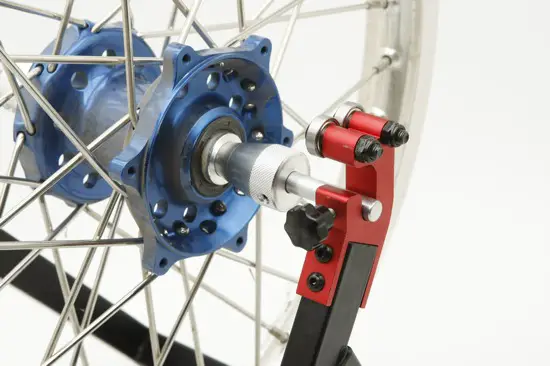 VERDICT: Compared to the old-school wheel-truing stands that most shops use (about $250), which are large cast towers, we preferred to use the Gyro stand. It was more precise and less obtrusive when not in use. Given its reasonable price, the DRC Gyro stand could pay for itself in a couple of do-it-yourself wheels. $127.95?www.drcproducts.com or email [email protected].
USED IT, ABUSED IT, TESTED IT: ACERBIS KTM X-SEAT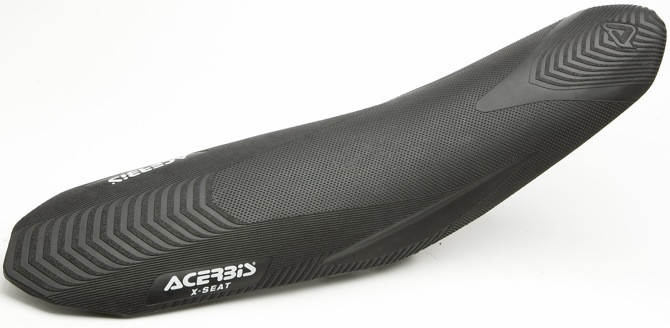 For all practical purposes, the X-Seat is a one-piece unit. Think of the X-Seat as a Milky Way candy bar: a thick outer skin filled with dense closed-cell foam. While not bulletproof, the X-Seat withstood the rigors of MXA's knee brace-wearing test riders without any ill effects. Over time, the exoskeleton suffered some scratches, but no tears. In fact, we punched a hole in it to see what would happen. Nothing happened. The hole did not spread, tear or even show up. The X-Seat is 10 times stronger on the surface than a conventional seat.
VERDICT: Depending on your brand of pants and how tight you wear them, the X-Seat's ripples could pull your pants down when you are sliding fore and aft into corners. Every MXA test rider latched his pants a little tighter when using the X-Seat. It is also on the firm side. KTM owners normally complain about how soft the stock seat gets, so if they switch to the X-Seat they'll never have that particular complaint. It is not soft. We had issues with X-Seats that used outboard mounting brackets, which doesn't apply to the KTM. $199.95?www.acerbis.com or (800) 659-1440.
USED IT ABUSED IT, TESTED IT: BOYESEN SHOKOUT GRIP SYSTEM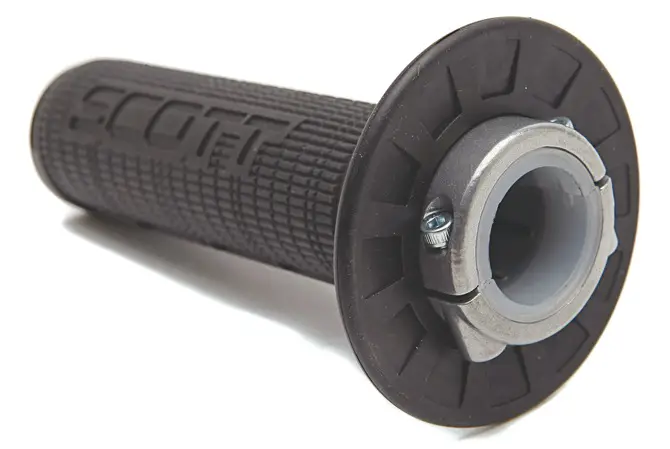 The Boyesen Shokout grip provides a small amount of give for riders with wrist injuries or arm pump issues.
The Boyesen Shokout grip offers a small degree of give to the clutch side when hitting whoops, landing from big jumps or bouncing over berms. Unlike an immovable left grip, the Boyesen Shokout grip allows a small amount of flex to lessen the force of impacts. It is like having a throttle on both sides. There is no doubt that the Boyesen Shokout grip can lessen arm pump, decrease handlebar vibration at the rider's hand and decrease microtrauma in the whoops. Those are good things.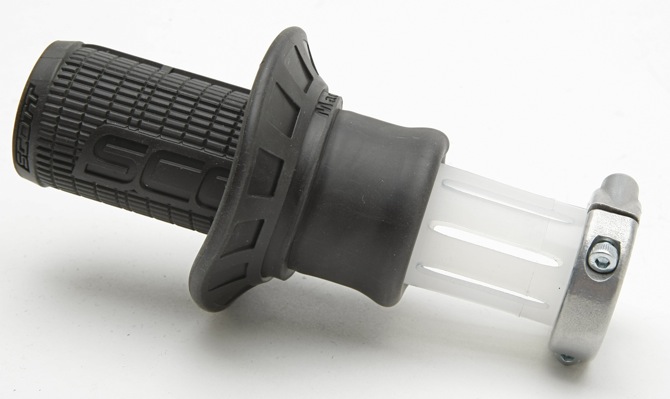 The Shokout grip works when the slotted nylon tube flexes.
VERDICT: If you suffer from terminal arm pump, have a wrist injury or are looking to lessen your death grip on the bars, the Boyesen Shokout is a five-star product. $39.95?(800) 441-1177 or www.boyesen.com.
USED IT ABUSED IT, TESTED IT: PRO CIRCUIT KTM 250SX EXHAUST PIPE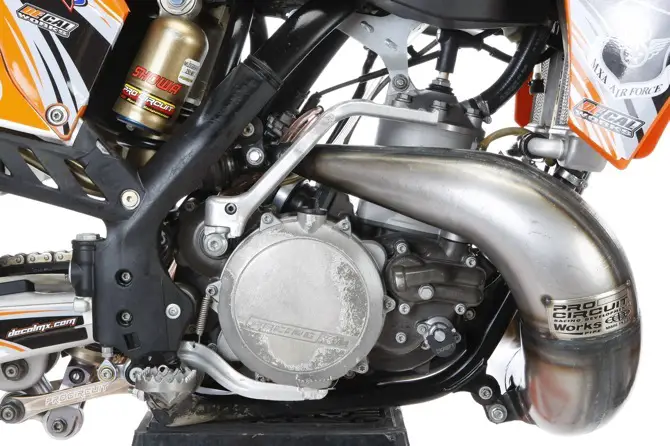 This pipes adds 7 horsepower to the 50-horsepower KTM 250SX. No, that doesn't mean that it now makes 57 horsepower, but that it makes 7 more horses in places where it was weak.
In stock trim, the KTM 250SX two-stroke makes the most horsepower of any 250cc two-stroke sold. It peaks out at 50 horsepower. If the KTM 250SX has a weak link, it is that the power doesn't do much after its 8400 rpm peak. Bolting the Pro Circuit pipe onto the stock KTM 250SX adds a half horse at 8500 rpm, 5-1/4 horses at 9000 rpm and an amazing 7 horses more at 9500 rpm. That power makes an incredible bike even better by broadening out the two-stroke thrust.
VERDICT: The pipe was awesome, but just the Pro Circuit silencer had the ability to add two horses to the powerband from 8600 rpm to 10,000 rpm. $229.95 (pipe only), $119.95 (R304 silencer)?www.procircuit.com or (951) 738-8050.
BLAKE BAGGETT AT SOUTHWICK

THIS WEEK'S BIRTHDAY BOYS


Aug. 31…Ezra Lusk
Aug. 31…Denny Hartwig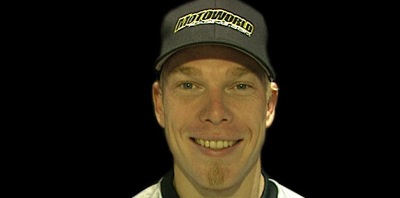 Aug. 31…Greg Schnell

Aug. 31…Ian Harrison
Sept. 1…Sean Hamblin
Sept. 2…Tommy Clowers
Sept. 2…Larry Witmer
Sept. 3…Jeremy Malott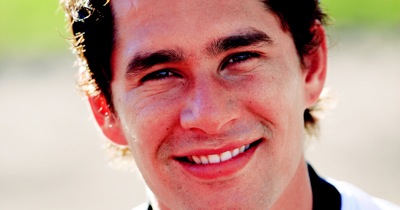 Sept. 3…Ernesto Fonseca
Sept. 4…Ron Tichenor

Sept. 6…Doug Henry
EURO SAND PRACTICE! EVEN THE FRENCH RIDERS ARE PRACTICING IN THE SAND…WHO HAVE THUNK IT?

BUT, THE KTM TEAM ISN'T GOING TO LET THE FRENCH BE THE ONLY ONES TESTING THE GRAINY STUFF ? TONY, JEREMY & JEFFREY JOIN IN


THESE ARE THE 2012 CHAMPIONS…THE DECIDED ONES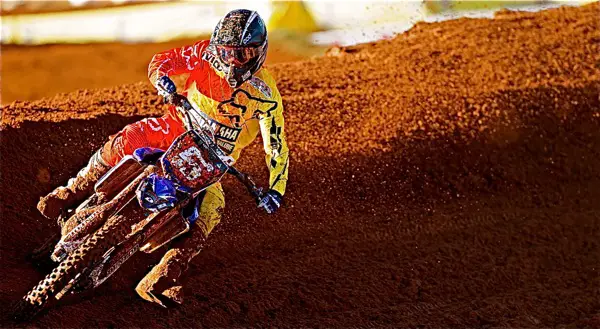 Josh Coppins.                          Photo: CDR Yamaha
FINAL 450 AUSTRALIAN POINTS STANDINGS
(Final)
1. Josh Coppins………618
2. Todd Waters………..607
3. Cody Cooper……….509
4. Brad Anderson…….509
5. Lawson Bopping….506

Ford Dale.                                     Photo: Carlton Dry Honda/Simon Makker/Makkreative
FINAL 250 AUSTRALIAN POINTS STANDINGS
(Final)
1. Ford Dale………………571
2. Luke Styke…………….569
3. Josh Cachia………….565
4. Kade Mosig…………..499
5. Kirk Gibbs……………..441

Matt Goerke.                        
FINAL 450 CANADIAN POINTS STANDINGS
(Final)
1. Matt Goerke…………….442
2. Bobby Kiniry…………….375
3. Dusty Klatt……………….316
4. Gavin Gracyk……………252
5. Tyler Villopoto………….230

Teddy Maier.                                   Photo:Leading Edge Kawasaki
FINAL 250 CANADIAN POINTS STANDINGS
(Final)
1. Teddy Maier…………406
2. Jeremy Medaglia…..386
3. Topher Ingalls………263
4. Jared Allison………..261
5. Brad Nauditt…………230

Ryan Dungey.                      Photo: Hoppenworld
450 AMA NATIONAL POINTS STANDINGS
(Clinched with 2 events left)
1. Ryan Dungey…….480
2. Mike Alessi……….367
3. Andrew Short……311
4. Jake Weimer……..293
5. Broc Tickle……….293


Chiara Fontanesi.                                   Photo: Youthstream
FIM WOMEN'S WORLD CHAMPIONSHIP POINTS STANDINGS
(Clinched with 1 event left))
1. Chiara Fontanesi……….336
2. Natalie Kane……………..264
3. Britt van der Wekken….232
4. Justine Charroux……….202
5. Anne Borchers………….196
OUR FAVORITE RUSSIAN GOES TO HOLLAND: "LAST YEAR IT WASN'T GP WORTHY, BUT THE YEAR BEFORE THEY MAKE SOMETHING DIFFERENT."

FREE MTA RIDE DAY ON MONDAY, SEPTEMBER 10, AT GLEN HELEN RACEWAY

WANT TO SHOW YOUR BIKE AT THE AMA HALL OF FAME CONCOURS d'ELEGANCE? HERE IS THE INFO

TWIN AIR'S 2013 SPONSORSHIP PROGRAM IS NOW OPEN AT HOOKIT.COM



Twin Air has launched its sponsorship program at Hookit. The program will be open to motocross, offroad, ATV, supermoto and dirt track athletes through the 2013 season. For more information and specific requirements about our program visit www.hookit.com/brands/twinair1 and sign up for a free account and submit your application.
2013 ATLAS SPONSORSHIP NOW AVAILABLE AT HOOKIT.COM

Atlas Brace Technologies is now accepting sponsorship applications for 2013. If you want to be an Atlas Athlete just like seven-time Supercross Champion Jeremy McGrath, or former 250 Supercross Champion Jake Weimer, please apply at www.hookit.com/brands/atlasbracetechnologies. To learn more about the revolutionary Atlas Brace, please visit www.atlasbrace.com.