MOTOCROSS ACTION'S WEEKEND NEWS ROUND-UP: ALEX MARTIN'S CRASH, JOSH HANSEN'S FINE, BLAKE BAGGETT'S SECRET INJURY, DORTMUND SUPERCROSS, PLUS, DUNLOP'S PROTOTYPE TIRES

                                                             
PHOENIX SUPERCROSS: BARCIA & TOMAC HAVE A FIELD DAY…A CHASE FIELD DAY


Ryan Dungey had a bad night ? but salvaged an eighth. Photo: KTM
450 CLASS
(After 2 of 17 races)
1. Justin Barcia
2. Ryan Villopoto
3. Davi Millsaps
4. Chad Reed
5. Trey Canard
6. Jake Weimer
7. James Stewart
8. Ryan Dungey
9. Andrew Short
10. Josh Grant
Other notables: 11. Kevin Windham; 15. Justin Brayton; 20. Mike Alessi.
250 WEST CLASS
1. Eli Tomac
2. Ken Roczen
3. Martin Davalos
4. Cole Seely
5. Jessy Nelson
6. Zach Osborne
7. Ryan Sipes
8. Kyle Cunningham
9. J. Savatgy
10. Christian Craig
Other notables: 11. Max Anstie; 12. Tyla Rattray; 13. Austin Politelli; 18. Malcolm Stewart.
CURRENT AMA 450 SUPERCROSS POINTS
(After 2 of 17 races)
1. Davi Millsaps (Suz)……….45
2. Justin Barcia (Hon…………39
3. Trey Canard (Hon)………..38
4. Chad Reed (Hon)…………36
5. Ryan Dungey (KTM)……..33
6. Jake Weimer (Kaw)………31
7. Ryan Villopoto (Kaw)…….27
8. Andrew Short (Hon)………27
9. James Stewart (Suz)…….27
10. Josh Grant (Yam)……….21
CURRENT AMA 250 WEST SUPERCROSS POINTS
(After 2 of 9 races)
1. Eli Tomac (Hon)……………..50
2. Ken Roczen (KTM)…………44
3. Cole Seely (Hon)…………….38
4. Ryan Sipes (Suz)……………29
5. Zach Osborne (Hon)……….29
6. Kyle Cunningham (Suz)…..23
7. Tyla Rattray (Kaw)………….22
8. Max Anstie (Suz)……………22
9. Martin Davalos (kaw)………21
10. J. Savatgy (KTM)…………..20

                                                             
KURT CASELLI WINS STAGE 7 OF PARIS-DAKAR AND JOHNNY CAMPBELL GETS SECOND IN STAGE 8


Kurt can add Paris-Dakar stage winner to his list of accomplishments. Photo: KTM
MXA is all about motocross, but we can't help but admire motorcycle racers of all kinds ? especially if we like them. So, it is with great pride that we report that Kurt Caselli won the 220 kilometer special test as a fill-in rider for Marc Coma, who was injured before the Dakar started. Caselli averaged 117kmh and was the first newcomer to win a stage since 2006. Sadly, French rider Thomas Bourgin lost his life in a traffic accident in Chile during a liaison section of the stage. The next day, Honda's Johnny Campbell finished second in the 183 kilometer eighth stage. Kurt Caselli and many of the rally favorites took a wrong turn and lost time. Caselli dropped to 11th overall at the end of Stage 8. Keep up the good work Kurt and Johnny.
                                                             
DAVI MILLSAPS WASN'T THE ONLY WINNER AT ANAHEIM LAST WEEK: MEET HIS MECHANIC STEVE WESTFALL

                                                             
IVAN TEDESCO'S DORTMUND SUPERCROSS ADVENTURE IS OVER: HE CRASHED THREE TIMES, FAILED TO MAKE THE MAIN, LANDED ON A GERMAN AND FLEW HOME EARLY
Ivan Tedesco skipped Anaheim I and Phoenix to fly to Dortmund, Germany, for a round of the ADAC Supercross series ? really more on an Arenacross. It didn't go well. Ivan crashed three times on Friday night and landed on German rider Robert Sturm during Saturday's practice session. He decided to skip the third day of racing. See a video of night one below.
                                                             
HAVE YOU HEARD ABOUT THE 956 INVITATIONAL IS COMING ON JANUARY 25-27

Jerry Masterpool and Cole Gress have developed a fresh concept for amateur racing and will put it into effect at Glen Helen later this month. Prepare for a revolutionary approach to an amateur track layout as Jerry Masterpool and Cole Gress have developed a fresh concept for amateur racing that incorporates multiple racing lanes for different levels of competition and bike sizes. Plus, in an effort to provide the ultimate and safest race experience the start procedure will be based on timed practice and a pole position format. Racers will also take a parade lap before every moto.
The First Annual 956 Invitational is scheduled for January 25 through January 27, 2013 at Glen Helen Raceway in San Bernardino, California.This is not your ordinary amateur race. Extreme thought and detail has gone into the track layout and race format. Prepare for a true racing experience, Jerry's vision and passion for multiple racing lines and safe competitive racing will inspire all racers to compete at their highest level. All are invited to this special gathering. For further details and registration for this exciting event! Please log on to www.glenhelen.com or go to www.spirit956.com
                                                            
BEHIND THE SCENES: DUNLOP'S TIRE'S BRIAN FLECK TELLS YOU ABOUT DUNLOP'S MX52 AND MX32 PROTOTYPES


                                                             
SUPERCROSS UPDATE! PHOENIX RISES FROM THE ASHES OF ANAHEIM I


Cedric will be in Phoenix.
Europe's best Supercross rider, Cedric Soubeyras, raced Phoenix (and will be at Anaheim II). Cedric is the reigning French and European Supercross Champion. It should be noted that a Frenchmen, Jean-Michel Bayle (1991) and David Vuillemin (2000), also won Phoenix Supercross. Soobs did not qualify for the main event.

Josh Hill. Photo: Suzuki
Ricky Carmichael Suzuki rider Josh Hill, who crashed in practice at Anaheim, will sit out Phoenix and Anaheim II while waiting for a cracked bone in his hand to heal. He plans to return to action on January 26 in Oakland.

Blake Baggett. Photo: Pro Circuit
Blake Baggett also broke a bone in his hand in the first turn mayhem at Anaheim I. Blake had his arm in a cast early this week and Mitch Payton said that if Blake couldn't ride in Phoenix he would pull Blake out of the Supercross series until his hand is completely healed in order to be ready to defend his AMA 250 National Championship. Blake rode practice in Phoenix, but called it a day.

Davi Millsaps.      Photo: AMA
Davi Millsaps has the longest current consecutive start streak among the field at Phoenix. Davi has started 95 consecutive Supercrosses (counting Phoenix).

Chad Reed.      Photo: AMA
The all-time consecutive start record among active riders is held by Chad Reed at 116 consecutive starts without missing a race (which took Chad from 2003 to 2010 to achieve).

Ryan Villopoto.          Photo: AMA
Ryan Villopoto had a bad night at AI, but came back from what could have been a bad night in Phoenix (after falling down) to get a second behind Barcia, but don't forget that in 2011 Ryan failed to qualify in Jacksonville and still won the Supercross crown by season's end.

Maybe Eli can get a part time job during the break. Photo: AMA
This year's 250 West Championship is nine races long (counting the Las Vegas Final). It races Anaheim I, Phoenix, A2, Oakland, Anaheim III and San Diego in a row and then takes an eight-race break while the 250 East starts. The 250 West riders are off from February 10 to April 20 (when they start up again in for Seattle, Salt Lake City and Las Vegas). If the 250 East/West were combined into one 250 Supercross Championship, then every fan at every venue would get to see the best 250 riders…instead of half of them. The time has come for this change.

Josh Hansen's riding style is a product of the AMA lack of enforcement. Finally, they have decided to do something about dirty riding in the twilight of Josh's career.
Josh Hansen was fined $4000 by the AMA for purposely knocking down and injuring Alex Ray on the last lap of the 450 last Chance Qualifier. Not only was it the last lap, but it was the last corner and neither rider was anywhere near qualifying position. Additionally, Josh's team benched him for the Phoenix Supercross.
                                                             
ALEX MARTIN'S COMBO HIGH-SIDE, LOW-SIDE, ENDO SWAP…THE RESULT? 250 EAST

                                                             
DAVI MILLSAPS: "I'M BACK! THE PEOPLE WHO WROTE ME OFF BEFORE ARE STILL GOING TO WRITE ME OFF, BUT I DON'T CARE"

                                                             
RECORD BREAKING YEAR FOR KTM IN THE USA: SALES UP 15 PERCENT


The highlight of 2012 was when Ryan Dungey won KTMs its first-ever AMA National Motocross Championship.
KTM North America  is excited to report another successful year in 2012 thanks to its loyal owners, racing fans and the continued growth of its products across all motorcycle segments. In 2012, KTM retail sales increased by over 15% showing particular growth in its core offroad competition segment. Two models particularly led the charge: the 350SXF in motocross and the street-legal 500EXC in enduro. The latter even won "Bike of the Year" in Dirt Rider, Dirt Bike and Cycle World magazines complementing the 450XCF-W's shootout win awards in Dirt Bike and Dirt Rider.
At the business level, KTM was elected Motorcycle USA's "Best OEM of 2012" while KTM North America President, Jon-Erik Burleson, was named "Motorcyclist of the Year" by the American Motorcyclist Association (AMA).
At KTM, a successful year can only be celebrated on the racing podium. This was accomplished when Red Bull KTM Factory Rider, Ryan Dungey, claimed the first-ever 450 Motocross Championship for the KTM brand. On the offroad side, KTM continued to reinforce its lead position by winning multiple championships:  WORCS Pro 2 Lights – Ivan Ramirez, GNCC XC2 – Jason Thomas; AMA National Enduro – Steward Baylor Jr.; AMA National Hare & Hound – Kurt Caselli; AMA EnduroCross – Taddy Blazusiak; GNCC Women's – Maria Forsberg; AMA EnduroCross Women's – Maria Forsberg
 
In October, KTM announced the return of the popular Supercross intermission show, the KTM Junior Supercross Challenge (KJSC). The program allows rider's 7-8 years of age to race aboard identically prepared 50 SXS motorcycles on the same race track as their Supercross heroes. The program will debut in 2013 at the third Anaheim Supercross. In December, KTM kicked-off its official return to the International Motorcycle Shows where the new range of KTM street and off-road motorcycles are displayed at select key events across the country.
                                                             
PRO CIRCUIT 2013 TEAM GRAPHICS AVAILABLE NOW

The official Monster Energy Pro Circuit Kawasaki team graphics are the hottest selling graphics kits we have ever produced, and we're keeping it going for 2013. Slap on the 2013 team kit and your bike instantly looks like one of the legendary Monster Energy Pro Circuit Kawasaki machines. These high-quality screen-printed graphic kits are manufactured exclusively for Pro Circuit by N-Style. Each kit contains front and rear fender decals, tank shroud graphics, fork protector stickers, air box and swing arm stickers, seat cover and background details. Heavy-duty clear vinyl is used for all sticker components, which will keep your bike looking new for a long time. This is your opportunity to be part of the winningest team in the history of motocross. For more info go to www.procircuit.com
                                                             
WORKS CONNECTION'S SPONSORED RIDERS

Works Connection has an impressive list of AMA Supercross and motocross riders lined up for 2013. Works Connection offers an extensive list of quality products that include: Pro Launch start devices, Elite clutch perches, billet throttle tubes, tach/hour meters and much more. For more information about Works Connection, or to find a local dealer near you, check out our website www.worksconnection.com
YOSHIMURA/SUZUKI
    #7 James Stewart
RCH RACING/DODGE/SYCUAN SUZUKI
    #20 Broc Tickle
    # 75 Josh Hill
VELOCITY 3/YAMAHA
    #11 Kyle Chisolm
    #39 Bobby Kiniry
 STAR RACING/YAMAHA
    #38 Kyle Cunningham
    #77 Jeremy Martin
    Cooper Webb
VALLI MOTORSPORTS/YAMAHA
    #31 Travis Baker
ELEVEN 10 MODS/YAMAHA
    #37 Alex Martin
L&M RACING/KAWASAKI
    #60 Josh Hansen
51FIFTY ENERGY DRINK/HONDA
    #98 Chris Plouffe
    #99 Preston Mull
    #78 Scott Champion
HRT RACING
    #55 Jimmy Albertson
    #76 Austin Politelli
ROCKY MOUNTAIN MC/ATV  HONDA
    #93 Landon Powell
    #792 Bracken Hall
MB-1/SUZUKI
    #46 Weston Peick
    #85 Kyle Partridge
TEAM TEDDER/KAWASAKI
    #72 Dakota Tedder
PRIVATEERS:
    #42 Vince Friese
    #79 Kevin Rookstool                                      
    #83 Austin Howell                  
    #91 Topher Ingalls                 
    #145 Travis Smith                  
    #149 Casey Hinson
    #171 Cole Siebler
    #181 Dustin Pipes
    #252 Kevin Weisbruch
    #314 Alex Ray
    #329 Chad Gores
    #360 Aaron Siminoe
    #383 Brandon Rangel
    #392 Michael Fowler
    #409 Dillon Huddleston
    #429 Richard Rinauro
    #643 Jake Oswald
    #653 Tyler Bereman
    #772 Robert Noftz
    #812 Luke Vonlinger
    #838 Nick Paluzzi
    #918 Michael Akaydin
    #949 Kyle Wolack
    #965 Travis Bright
                                                             
MEET THE TROY LEE 250 WEST SUPERCROSS TEAM BECAUSE IF YOU LIVE EAST OF PHOENIX YOU'LL NEVER SEE THEM


                                                             
KAHUKU MOTOCROSS PARK TAKEN OVER BY THE U.S. ARMY…CLOSED UNTIL THE END OF FEBRUARY

The U.S. Army will take over Oahu's Kahuku Motocross Park until February 28. The island's only motocross track will be closed to motocross riders so that the 25th Infantry Division, primarily the 3rd Brigade, can prepare for possible deployments. The U.S. Army says that it will look into the training schedule to see if it might be possible to give the race  track back tot public on weekends.
Motocross legend John DeSoto, a former Honolulu City Councilman, who rides at Kahuku with his grandson weekly, said, "They're protecting us. They're training. We understand that, but we're trying to make this a win-win situation. In the past, it was never closed for two months." DeSoto worries that, without another place to go, people will trespass to ride illegally.
                                                             
SADDLEBACK PARK FOR SALE! IN VERY SMALL PARCELS

Looking for the perfect gift for a motohead? A paperweight for your desk? For $12.95 you can get certified dirt from the famous Saddleback Park in Orange, California ? lovingly scooped up by former DG mechanic Tim Buck. You can choose your dirt from Banzai Hill, the Magoo Double Jump or the start hill for $12.95 each. Or get a combo pack of all three locations for $34.95. Shipping dirt isn't cheap, expect to pay $10 for one jar or $11.35 for the combo pack. For more info go to www.timbucktuned.com
                                                             
JACK ROUSH SIGNS TRAVIS PASTRANA TO A NASCAR CONTRACT & SEALS THE DEAL IN HIS P51 MUSTANG

                                                             
PHOTO WITHOUT A CAPTION

2013 AMA SUPERCROSS SCOREBOARD


Davi Millsaps (above) struck first. Justin Barcia struck second. Who's next?
DATE          CITY              450SX                   250SX
Jan. 5 ? Anaheim 1………..Davi Millsaps…….Eli Tomac
Jan. 12 ? Phoenix………….Justin Barcia….....Eli Tomac
Jan. 19 ? Anaheim II………??
Jan. 26 ? Oakland…………??
Feb. 2 ? Anaheim III………??
Feb. 9 ? San Diego………..??
Feb. 16 ? Arlington…………??
Feb. 23 ? Atlanta……………??
Mar. 2 ?  St. Louis………….??
Mar. 9 ? Daytona……………??
Mar. 16 ? Indianapolis…….??
Mar. 23 ? Toronto…………..??
Apr. 6 ? Houston……………??
Apr. 13 ? Minneapolis…….??
Apr. 20 ? Seattle……………??
Apr. 27 ? Salt Lake………..??
May 4 ? Las Vegas………..??

                                                             
CURRENT AMA 450 SUPERCROSS POINTS (AFTER PHOENIX)


Davi (18) is first, Ryan (5) fifth and Andrew (29) eighth in points.
1. Davi Millsaps (Suz)……….45
2. Justin Barcia (Hon…………39
3. Trey Canard (Hon)………..38
4. Chad Reed (Hon)…………36
5. Ryan Dungey (KTM)……..33
6. Jake Weimer (Kaw)……..31
7. Ryan Villopoto (Kaw)……27
8. Andrew Short (Hon)……..27
9. James Stewart (Suz)……27
10. Josh Grant (Yam)……….21

                                                             
CURRENT AMA 250 WEST SUPERCROSS POINTS (AFTER PHOENIX)


Jason Anderson (21) didn't qualfiy for the 250 main in Phoenix and dropped out of the top ten. Jessy Nelson (36) crashed in Anaheim, so he is still catching up. Cole Seely (43) is third overall in 250 West points.
1. Eli Tomac (Hon)……………..50
2. Ken Roczen (KTM)…………44
3. Cole Seely (Hon)…………….38
4. Ryan Sipes (Suz)……………29
5. Zach Osborne (Hon)……….29
6. Kyle Cunningham (Suz)…..23
7. Tyla Rattray (Kaw)………….22
8. Max Anstie (Suz)……………22
9. Martin Davalos (kaw)………21
10. J. Savatgy (KTM)…………..20

                                                             
2013 AMA SUPERCROSS TV SCHEDULE: FROM THE COMFORT OF YOUR COUCH



The 2013 Monster Energy AMA Supercross series will have nearly 100 hours of TV coverage on Speed, CBS and Fuel TV. Speed will air live coverage from a record 11 races and CBS will have nine hours of next-day coverage of Anaheim II, Oakland, St. Louis, Minneapolis) and Seattle. Fuel will re-air every Speed broadcast.
2013 SUPERCROSS TV SCHEDULE
Date……..Event……………TV network…Time
Jan.20….Anaheim II………CBS/Speed…….12:00 p.m. (Eastern)
Jan. 27…Oakland………….CBS/Speed…….12:00 p.m. (Eastern)
Feb. 2…..Anaheim III……..Speed……………10:30 p.m. (Eastern)
Feb. 9…..San Diego………Speed……………10:30 p.m. (Eastern)
Feb. 16…Dallas…………….Speed…………….9:30 p.m. (Eastern)
Feb. 23…Atlanta…………..Speed……………..7:30 p.m. (Eastern)
Mar. 3…..St. Louis…………CBS/Speed…….12:00 p.m. (Eastern)
Mar. ?…..Daytona………….Speed…………….7:30 p.m. (Eastern)
Mar. 16…Indianapolis ……Speed…………….7:30 p.m. (Eastern)
Mar.23….Toronto…………..Speed…………….8:00 p.m. (Eastern)
Apr. 4……Houston…………Speed…………….9:30 p.m. (Eastern)
Apr. 14….Minneapolis…….CBS/Speed…….12:00 p.m. (Eastern)
Apr. 21….Seattle……………CBS/Speed…….12:00 p.m. (Eastern)
Apr. 27….Salt Lake………..Speed…………….9:30 p.m. (Eastern)
May 4……Las Vegas………Speed……………10:00 p.m. (Eastern)
                                                             
"THE JOHN PENTON STORY" MOVIE MEETS ITS GOAL! THE MOVIE WILL BE MADE THANKS TO DONATIONS

Good news! As of Friday morning, January 11, funding has been secured for the "The John Penton Story." Todd Huffman wanted to thank Alpinestars for getting the funding over the top (along with KTM, Acerbis, Motion Pro, Matrix Racing, 6D Helmets, Legend & Heroes Tour and hundreds of Penton fans). For more info go to www.kickstarter.com/projects/toddhuffman/the-john-penton-story-narrated-by-lyle-lovett-rela
                                                             
USED IT, ABUSED IT, TESTED IT: GOPRO HD HERO2 VIDEO CAMERA


HD Hero2
 
GoPro is the preeminent action video camera company in the world. The HD Hero2 has high definition capabilities for an incredibly clear and vibrant picture, as well as numerous settings for recording video and shooting photos.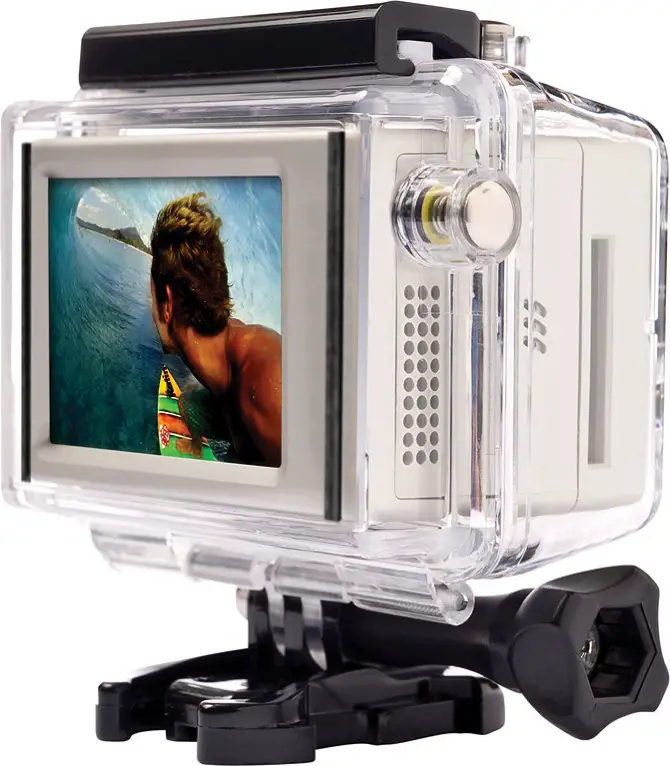 LCD BacPac.
VERDICT: The HD Hero2 records high definition video and stop-action photos photos. The sound quality is very good. GoPro covered all of their bases, with options of 720, 960, 1080 and WVGA resolutions. The field of view can be swapped between a super-wide-angle 170-degrees and a more realistic looking 127-degrees. The Hero2 can shoot a photo every 0.5, 1, 2, 5, 10, 30 or 60 seconds. If that's not enough, it can also shoot a burst of 10 photos in a second. That's fast! Simply put, the GoPro HD Hero2 is the gold standard in the first-person action video camera market. $299.99 (camera), $79.99 (LCD BacPac)?www.gopro.com or (888) 600-4659.

                                                             
IS YOUR TRUSTY TWO-SMOKE READY? A THREE-RACE TWO-STROKE SERIES STARTS NEXT MONTH


For more info go to www.glenhelen.com
                                                             
2013 THOR SPRING CLASSIC AMATEUR MOTOCROSS CHAMPIONSHIP ON MARCH 3-9


The 2013 Thor Spring Classic makes its return to Millcreek Motocross on March 3 through 9. Millville Creek is located in Pell City, Alabama. For more information on the 2013 Thor Spring Classic Amateur Championship can be found by visiting www.rpmsportsonline.com
                                                             
2013 RED BULL X-FIGHTERS TOUR DATES: GLEN HELEN ON MAY 11

The Red Bull X-Fighters World Tour will be going to the four corners of the planet ? plus Glen Helen's cavernous REM track on May 11, 2013.
    March 8…….Mexico City, Mexico
    April 12……..Dubai, United Arab Emirates
    May 11……..Glen Helen, California
    June 1………Osaka, Japan
    July 19………Madrid, Spain
    August 31…Pretoria, South Africa

                                                             
THIS WEEK'S BIRTHDAY BOYS: THE MX KIED IS 44 & CARLA IS 59


Jan. 13…Mike Kiedrowski – 1969

Jan. 15…Martin Davalos – 1987

Jan. 15…Alessandro Lupino – 1991

Jan. 15…Hakan Carlqvist – 1954

Jan. 15…Austin Squires – 1973
Jan. 16…Ryan Mills – 1986

Jan. 17…Donny Schmit – 1967

Jan. 17…Loic Larrieu – 1991
                                                             
CARLSBAD RACEWAY MOTOCROSS REUNION ON FEBRUARY 10

There will be a Carlsbad Raceway motocross reunion on February 10, 2013 (the Sunday after the San Diego Supercross) from Noon until 5:00 p.m. Free Admission. Iron Fist Brewery, Vista, California. The brewery is a quarter-mile from the old Carlsbad Track. Don't miss it!

                                                             
RONNIE RENNER'S TURKISH TRAVELOGUE… PLUS SOME RIDING ON ANCIENT RUINS