MOTOCROSS ACTION'S WEEKEND NEWS ROUND-UP: BREAKING NEWS FROM AROUND THE GLOBE, WITH NAMES LIKE ALEKSANDR TONKOV, MATT BISCELGIA, ROGER HARVEY & MAGOO

JOSH COPPINS CALLS IT A DAY: FINAL RACE OF HIS CAREER AT LOMMEL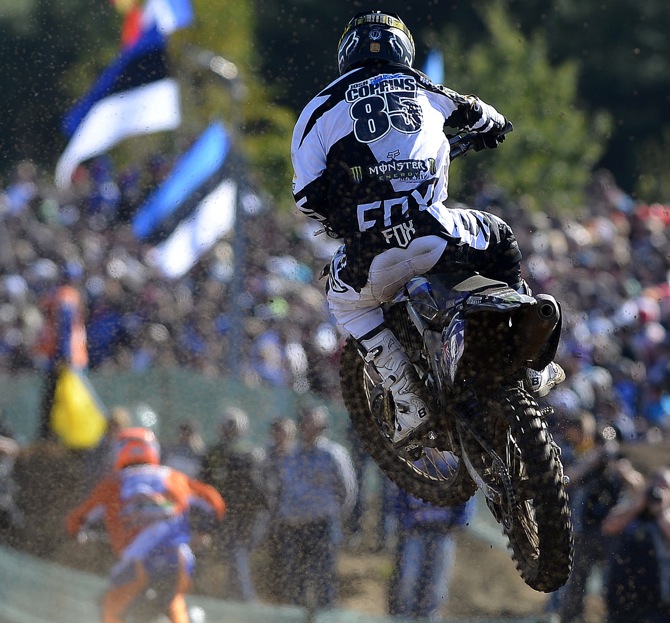 Josh at Lommel.
Josh Coppins retired yesterday after a long career that he capped off in 2012 by winning the Australian National Championship and being the top scoring rider for the New Zealand team at the 2012 MXDN. The highlight of Josh's weekend was battling through the B-Final, where Coppins won and countryman Cody Cooper finished second. From the B-Final Coppins finished 11th in the first MXDN moto, but crashed out of the final moto of his pro career.
Josh said, "It was a tough track, but it reminded me there is no chance of another comeback! After that second race I was so tired I was thinking ?no, never again!'. Three motos was hard today because we had to qualify from the B-Final. There were times when I rode really well today and I'm proud about that. We improved our set-up in the sand in the past week. I feel that if I had been racing more then I would have been able to do more but I'm happy and looking forward to stopping. The next chapter is more work with Yamaha and New Zealand and some different roles."
HONDA'S AMATEUR TEAM SIGN MATT BISCELGIA AND JORDAN SMITH



Geico Honda's amateur lineup for 2013 is set with Matt Bisceglia and Jordan Smith signed to race under the team's banner next year. "They are riders we are grooming with the hopes they'll move up further in our program," said Geico Honda team manager Mike LaRocco. "Matt will move up to the 'A' class that Zach Bell rode this year. Jordan will fill Matt's spot." At the Loretta Lynn National this year, Bisceglia won the 250 B Mod title and Smith won the Schoolboy 1 (12-16) B/C crown.
HOT RODS CRANK AND MAIN BEARING PRIMER…TO STROKE OR NOT


HONDA TO SUPPORT GARIBOLDI HONDA'S 250 WORLD CHAMPIONSHIP EFFORT: PLUS DAVID PHILIPPAERTS SIGNS FOR THE 450 CLASS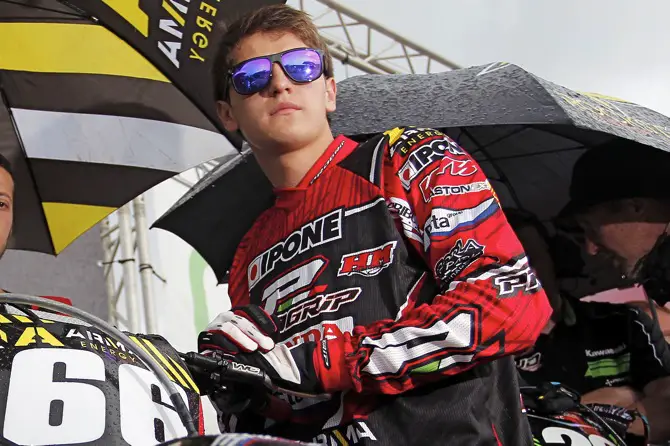 Aleksandr Tonkob…that is Alexander to the western world.
Honda Motor Europe will partner with Gariboldi Honda in the 250 World Championships (Gariboldi helped Max Anstie in 2012). Gariboldi Honda will retain Russian rider Aleksandr Tonkov and it is expected the 19-year-old youngster can improve on his top ten placings in 2012. Although the Honda factory will not support Gariboldi's 450 effort?it will be led by former 450 World Champion David Philippaerts. Gariboldi will also contest the E-MX2 series with 17-year-old Russian Vseva Brylaykov.
FINAL RESULTS: 2012 INTERNATIONAL SIX DAY ENDURO

WORLD TROPHY
1. France (Antoine Meo, Rodrig Thain, Johnny Aubert, Pierre Renet, Sebastien Guillaume and Christophe Nambotin)
2. Australia (Glenn Kearney, Daniel Milner, Christopher Hollis, Matthew Phillips, Josh Strang and Toby Price)
3. Italy (Maurizio Micheluz, Deny Philippaerts, Alex Salvini, Oscar Balletti, Manuel Monni, Mirko Gritti)
4. USA (Mike Brown, Destry Abbott, Kurt Caselli, Taylor Robert, Charlie Mullins, Russell Bobbitt)
5. Finland
6. Spain
7. Sweden
8. Great Britain
9. Germany
10. Netherlands
JUNIOR WORLD TROPHY
1. France
2. Great Britain
3. USA
4. Australia
5. Portugal
6. Czech Republic
7. Finland
8. Spain
9. Sweden
10. Germany
DAY SIX VIDEO

FINAL RESULTS: 2012 MOTOCROSS DES NATIONS STANDINGS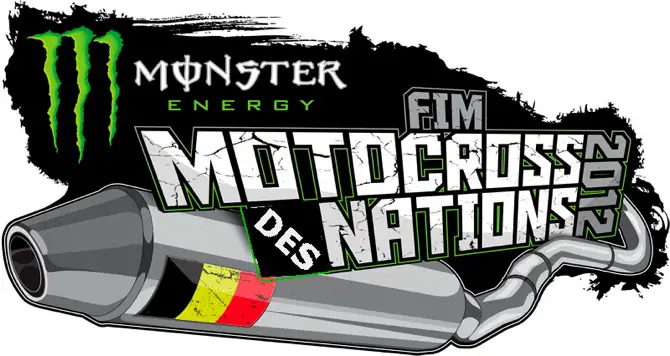 1. Germany………25
2. Belgium……….29
3. USA…………….39
4. Holland………..44
5. Italy……………..45
6. France…………47
7. Estonia………..56
8. Great Britain….56
9. Portugal………..80
10. Australia……..83

HONDA ANNOUNCES EUROPEAN CRF150 SUPPORT SERIES AT 2013 GRAND PRIX RACES


Honda's Roger Harvey shakes hands with Giuseppe Luongo.

Honda has announce that it will sponsor a Honda CRF150 European championship in 2013. The new series will run in conjunction with eight of the MX1/MX2 World Championship rounds. The riders will be limited to ages 11 to 14. This is a one-make series and riders will be provided with Honda CRF150R four-strokes. Honda will take care of all the details including transportation, maintenance and organization of the bikes. Honda will offer the winner of the Honda 150 European championship the opportunity to race in the EMX250 championship the following season with a supported place in a Honda team. Thus, in 2014, a Honda 150 European Champion will join the EMX250 series from the youth series, which is a first in the Motocross community.

Roger Harvey, Honda Motor Europe Off-Road Manager, said, "This is a great opportunity for youngsters to compete at Grand Prix tracks from a young age, while learning how to race a four-stroke bike, which is in synergy with the MX1 and MX2 series at the highest level. We will be offering mentoring and coaching to the riders, along with an easily accessible chance to race on similar machinery, so competition should be fierce and totally down to the rider ability."
GLEN HELEN TO GET 2015 MOTOCROSS DES NATIONS…THAT MUST BE A TYPO, THEY MUST HAVE MEANT LAKE ELSINORE


Looking down from the top of the Glen Helen track across the valley to the other side.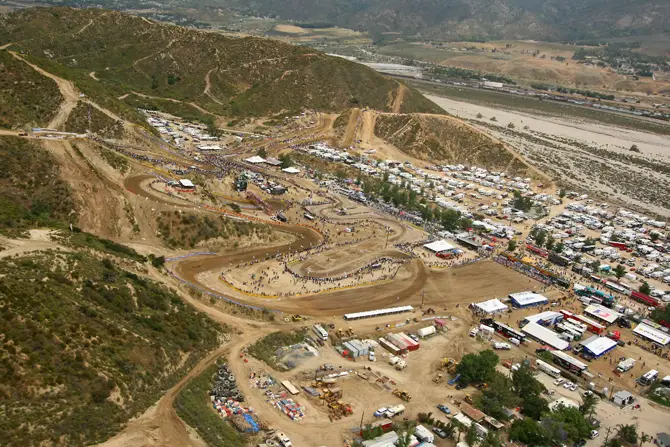 From way above.
"The Motocross of Nations has a great value in motocross because it takes place in the best venues in the world with the best riders in the world, so in order to keep this value and to continue developing the event we cannot consider not to bring the MXoN back in the USA,' said Giuseppe Luongo. "I'm very please to announce that we found an agreement to go back to Glen Helen, one of the best tracks in the world, and I believe that all the motocross fans will like the idea."

The Talladega first turn.
The news was announced during the opening press conference of the 66th Motocross of Nations in Germany on Friday.

Marvin Musquin at the USGP back in 2010.
Dr. Wolfgang Srb, FIM/CMS Director, added, "For all of us Glen Helen is a magic name and it is so important to be back in the States to celebrate the MXoN. I'm sure that the event will be outstanding, because we know very well the promoters and all the fans in USA, Canada and the surrounding countries will be able to go and feel part of this fantastic event."
TROY LEE TO PLAY FOOTBALL FOR NOTRE DAME: WELL, ACTUALLY TROY LEE DESIGN'S HELMETS WILL BE IN THE SHAMROCK BOWL

WORLD VETERAN MOTOCROSS CHAMPIONSHIP… 33 DAYS AWAY


For more info go to www.glenhelen.com
MATT GEORKE WINS MONTREAL SUPERMOTOCROSS IN CANADA…INSTEAD OF THAT OTHER MONTREAL

Matt Goerke won the Monster Energy Grand Finale and the 450 class at the Montreal Supercross (or Supermotocross). In the separate 450 class, Goerke ran away from the field to win his second successive title. Bobby Kiniry ran second most of the race, but was passed by Tyler Bowers on the last jump before the checkers. Kiniry was third with Teddy Maier fourth, Dusty Klatt fifth and Tyler Medaglia sixth.
In the combined 250/450 Grand Finale, Goerke led all 13 laps to finish eight seconds ahead New Yorker Bobby Kiniry. Third place went to Teddy Maier. The first 250 rider was Cole Thompson in fourth, in front of Tyler Medaglia and Dusty Klatt. In the Canadian-only 250 class took the victory over last year's winner Jeremy Medaglia. Third place went to Tim Tremblay with Kaven Benoit fourth and Dylan Kaelin fifth.

PHOTO OF THE WEEK: THE LONELIEST MAN IN MOTOCROSS


The glamor of being an MXA test rider doesn't always jive with the reality of being the only man on an empty track, in the middle of a vast wasteland, with only a lonely yucca tree to appreciate that you are hucking the big step-over. Photo: John Basher

TEAM PUERTO RICO DOWN A MAN ? JIMMY ALBERTSON INJURED
Puerto Rican patriot Jimmy Albertson was injured practicing for the MXDN and will be replaced on the island team by that great Puerto Rican hero Kyle Chisholm. It was rumored that Mike Alessi was considered for the team, but that is preposterous because Mikey is not a Puerto Rican citizen.


JB IS BACK AT JG ON THE YZ… THAT'S BRAYTON, GIBBS AND YAMAHA (PHOTOS BY SPENCER BLOOMER)



MOTOCROSS DES NATIONS TICKET PRICES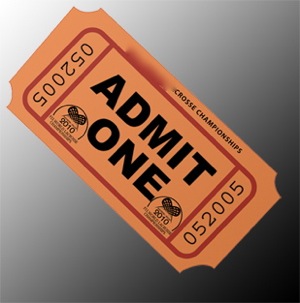 Weekend ticket adult (Sat-Sun)……90 euro ($116.00)
Weekend ticket (12-15 years)………45 euro ($58.00)
Sunday only adult……………………..70 euro ($90.00)
Sunday only (12 to 15 years)………35 euro ($45.00)
Pit pass (Sat-Sun)……………………..30 euro ($39.00)

CHRISTOPHE POURCEL CAN NOW PURSUE HIS DREAM … PLEASE SUBMIT SUGGESTIONS


Where to now? Another GP team? America? Road racing? Photo: Sarah Gutierrez
Christophe Pourcel has been let go from his CLS Kawasaki 450 Grand Prix contract. It was obvious that Christophe didn't want to stay there anyway, since he was trying to make a deal to return to the USA. It should be noted that even though Pourcel rode half-heartedly at some GPs and missed one with an injury, he still finished fourth in the 450 World Championships. Pourcel won two GPs (Italy and Brazil) and tied for the Bulgarian GP win with a 1-2 to Cairoli's 2-1. What's next for Christophe Pourcel? We don't know and we doubt if he has a clue either.
SEE IT HERE! THE FINAL ROUND OF THE DANISH NATIONAL CHAMPIONSHIPS AT THE NICELY LAID-OUT MORS TRACK

THIS WEEK'S BIRTHDAY BOYS…WE MISS YOU MAGOO


Sept. 28…Erik Kehoe
Sept. 28…Danny Massie
Sept. 28…Gregory Aranda
Sept. 29…Dave Thorpe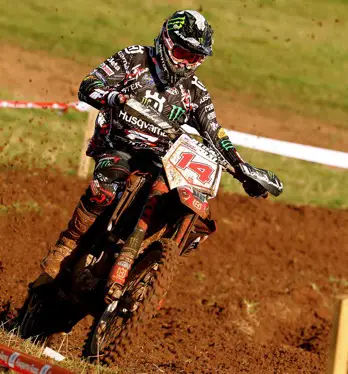 Sept. 29…Ricky Dietrich
Oct. 1…Dana Wiggins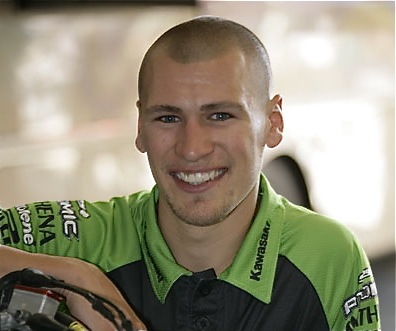 Oct. 1…Bobby Kiniry
Oct. 2…Victor Sheldon
Oct. 2…Jim Neese
Oct. 3…Grayson Goodman
Oct. 3…Kinney Jones

Oct. 4…Ryan Sipes
Oct. 4…Jeremy Garges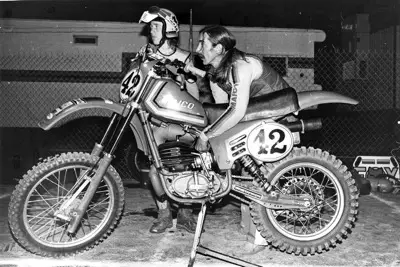 Oct. 5…Danny "Magoo" Chandler
Oct. 5…Johnny Marley

Oct. 5…Ake Jonsson
Oct. 5…Randy Valade

Oct. 6…Andrew Short

Oct. 6…Brian Gray
SEE IT HERE! RICKY CARMICHAEL UNVEILS HIS LAS VEGAS MONSTER CUP RACETRACK… TALLADEGA? REALLY?

USED IT, ABUSED IT, TESTED IT: ALPINESTARS TECH 8 LIGHT BOOT


The Alpinestars Tech 8 has undergone a plethora of changes since its inception. The latest version, labeled the Tech 8 Light, boasts three major upgrades: it's over a quarter-pound lighter (per boot), it features a revised built-in bootie system and the buckles have been improved to make them easier to open and close.
VERDICT: The Tech 8 is Alpinestars' best-selling boot, but it was getting long in the tooth. Alpinestars successfully tackled three of the boot's four problem areas (the sole could still be more durable). The Tech 8 Light is a better boot than its predecessor. $459.95?At your local dealer.

WHAT'S LEFT TO DO IN 2012? MONSTER CUP, OCTOBERCROSS, WORLD VET, PARIS SX & MINI O'S


MAXXIS BRITISH CHAMPIONSHIP
October 7…………………………………….Little Silver, Exeter
MONSTER ENERGY CUP
October 20……………………………………Las Vegas, NV
REM OCTOBERCROSS CHAMPIONSHIP
October 27……………………………………Glen Helen, CA
AMA ENDUROCROSS
October 27……………………………………Boise, ID
MTA WORLD VET CHAMPIONSHIP
Nov. 3-4………………………………………Glen Helen, CA
PARIS SUPERCROSS
November 9-11…………………………….Paris, France
AMA ENDUROCROSS FINALE
November 17……………………………….Las Vegas, NV
WINTER OLYMPICS
November 19-24…………………………..Gatorback, FL
2012 AUSTRALIAN SUPERCROSS CHAMPIONSHIP
October 13…………………………………..Dubbo, NSW
October 27-28………………………………Phillip Island, VIC
November 10……………………………….Toowoomba, QSL
November 17………………………………..Newcastle, NSW
SEE IT HERE! HOW BLAKE BAGGETT DID IT… FROM THE BEGINNING TO THE TITLE

MXA TECH SPEC: YOUR INSIDER'S GUIDE TO THE 2013 KTM 450SXF


Engine. The 2013 KTM 450SXF engine does not share any parts with the carb-equipped 2012 KTM 450SXF. The previous engine was a double-overhead-cam, finger-follower engine with a 97mm bore and 60.8mm stroke. The 2013 engine is a single-overhead-cam, rocker-arm engine with a 95mm bore and 63.4mm stroke. Plus, the 2013 engine cases are die-cast with more precision and less weight than last year's sand-cast cases. The complete engine weighs 4.4 pounds less than the 2012.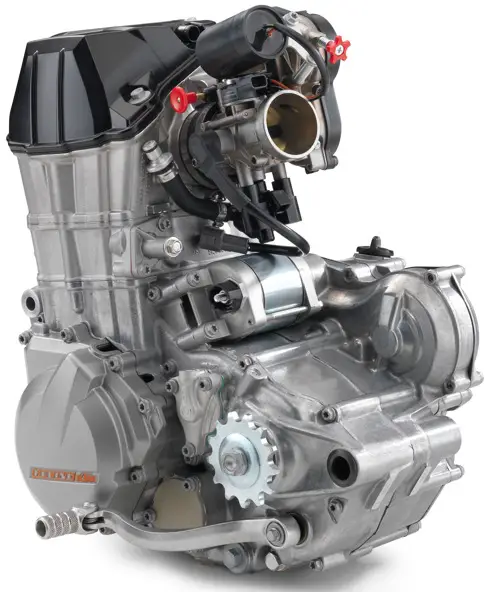 Fuel injection. The new throttle body features a bore of 44mm (the Keihin carb had a 42mm bore). The 12-hole injector sprays upwards from the bottom of the throat's venturi for a more efficient spray pattern. There are in-line fuel-filter screens on the quick-release fuel-line fittings, and the idle adjuster is now separate from the cold-start button (and located on the back of the throttle body).
Electrics. The wiring harness has a longer lead, and all of the critical connectors are protected by rubber caps. The Throttle Position Sensor (TPS) is tucked in better and comes with its own rubber cover to keep it safe from roost and water.

High-end parts. The 2013 KTM 450SXF is equipped with some very high-end parts. The bridge-box, forged piston is made by Konig. The complete crank, not just the rod as on other 2013 KTM models, is spec'ed from Formula 1 supplier Pankl, and comes stock with pressure-lubricated plain bearings (not needle bearings). The four titanium valves come from another Formula 1 supplier?Del West.
Power. In MXA's dyno runs, the 2013 KTM 450SXF produced 56.98 horsepower?that is the most horsepower of any production 450 motocross bike in history. Because of the reduction in reciprocating mass of the single cam engine, the 2013 450SXF revs quicker and faster than its predecessor.
Frame. The chromoly steel frame has a stiffer head tube (for more torsional rigidity), thinner-wall downtubes (for weight reduction), a reinforced swingarm (for more vertical rigidity), lighter shock-linkage bolts (for weight reduction) and a 25mm rear axle (for more torsional rigidity). The frame geometry is the same as the previous model, but has been modified to accept the all-new engine cases.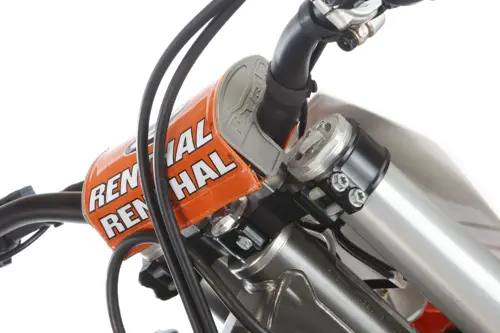 Handlebars. Last year the Renthal 672 FatBar was considered too low by most MXA test riders. For 2013, the KTM 450SXF comes with Renthal's new 827 FatBar, which is approximately 12mm taller than the 672. On a side note, last year's Renthal grips have been replaced with private-labeled dual-compound KTM grips by Domino. Also of interest is the new thread-on gas cap.
Exhaust. The 2013 exhaust system does not have a resonance chamber?although the 250SXF and 350SXF, which didn't have resonance chambers last year, have them now. The exhaust still meets AMA/FIM two-meter-max sound standards (and still cannot be removed without taking off the shock).
Electric start. Unlike the 2013 KTM 250SXF and 350SXF, which do not have kickstart bosses in their cases, the 450SXF can still be equipped with a manual kickstarter. We don't think anyone would want to do that.
Suspension. Although the front and rear spring rates remain unchanged, WP increased the midstroke damping to the great relief of every KTM racer.
SEE IT HERE! ATLAS BRACE'S 2013 PRODUCT INTRODUCTION

USED IT, ABUSED IT, TESTED IT: RXR STRONGFLEX ASA PROTECTOR


The RXR Strongflex chest protector's key feature is its labyrinth air bladders in the front and back panels. The bladders are designed to maximize the cushioning effect of the air moving from one chamber to the next. The air bladders are separated from the rider's body by a vacuum-molded foam liner (like those on most chest protectors) and the new Strongflex outer cover. Strongflex uses a "soft touch" rubber cover that mimics hard plastic, but is made of Styrene Butadiene Rubber (SBR). It is strong enough to ward off hard hits, but flexible enough to allow the air bladders to be activated at the exact spot of the impact.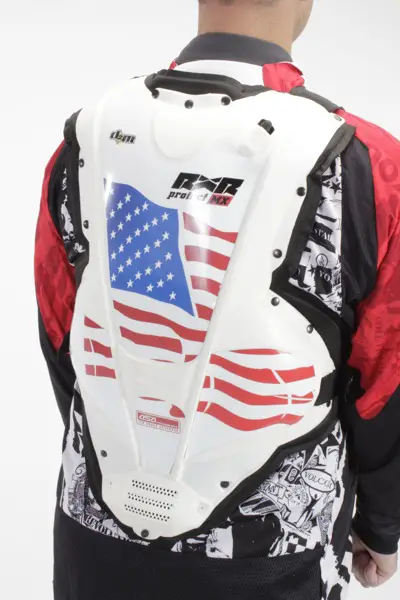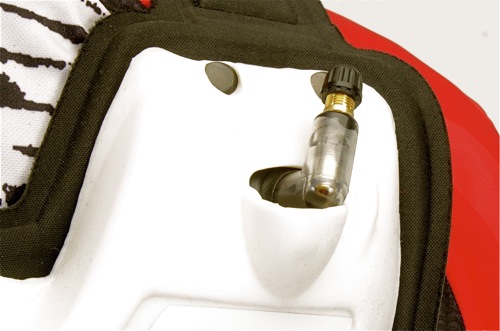 VERDICT: In MXA's opinion, this is the most protective chest protector made. Unlike a hard shell protector, which only has a few millimeters of foam padding between a rock and a soft place, the RXR Strongflex has a cushion of air. $289.99?www.rxrprotect.com.

THIS IS NOT MOTOCROSS: MXA SENDS ZAP TO THE LAS VEGAS INTERBIKE BICYCLE SHOW…LOTS OF PRETTY BIKE PARTS

THE RING IS THE THING…WILL RYAN DUNGEY HAVE ENOUGH FINGERS BY THE END OF THIS CAREER?


AMA Hall of Fame inductee ring (Ryan will eventually make it, but this year Nobby Clark only gets a cufflink).

2012 Australian Supercross Championship ring…Ryan could buzz Down-Under for a quick vacation.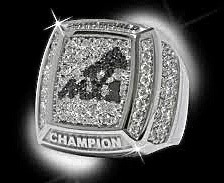 This ring only comes in Antonio Cairoli's size.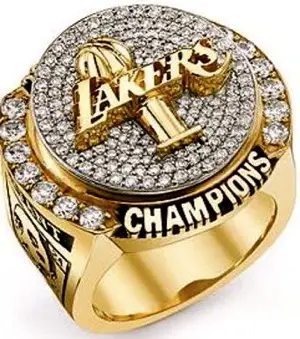 Ryan Dungey is a lot younger than Kobe, so he still has time to play for the Lakers.
FIRST LOOK! THE ALL-NEW 100% AD



TEXAS SERIES WINNERS GET TO RIDE WITH JAMES IN NOVEMBER… IN FLORIDA


Riders who won the Freestone County Raceway Spring Championship (JSSC) have been invited to ride at James Stewart's private testing track on Friday, November 16, 2012. Named the "James Stewart Champions Ride Day" it was an incentive to all riders that participated in the Freestone series.
The riders who are invited to the Stewart compound in November include Justyn Wilder, Cooper Webb, Mike Jones, Conner Mullennix, Brock Papi, Dakota Alix, Don Bisceglia, Mark Braden, Jennifer Burton, Tom Dretzka, Addison Emory IV, Ariel Fletcher, Nathan Hale, Carter Halpain, Justin Hoeft, Kennedy Lutz, Jeremy Martin, Brandon Matula, Cody McDonough, Max Miller, Mitchell Oldenburg, Andrew Pierce, Luke Purther, Jett Reynolds, Anthony Rodriguez, Mike Sleeter, Ryan Surratt and Brock Walker.

USED IT, ABUSED IT, TESTED IT: DR.D YZ450F ENGINE RELOCATION KIT



Every MXA test rider complained about the YZ450F's tendency to get loose on the entrance to turns. The search for solutions led MXA to longer shock linkages to lower the rear end, which allowed us to lower the front end, and eccentric motor-mount inserts that allowed the engine to be moved forward (to put more weight on the front wheel). The only sources for these kits are LightSpeed or DR.D. The YZ450F's front-end problem is a byproduct of the new frame, which steepened the head angle and relocated the weight farther rearward. By moving the engine forward 2.5mm, a racer could get more bite on the front tire at turn-in.
VERDICT: Since all of MXA's complaints revolve around the way the YZ450F front end felt at turn-in, we can gladly report that moving the engine forward 2.5mm is a big improvement. This is not a bolt-on project?it requires considerable work. $149.95?www.dubachracing.com or (800) 382-2241.