MOTOCROSS ACTION'S WEEKEND NEWS ROUND-UP: CRAWFORDVILLE, INDIANA, MAKES THE NEWS AND MOTOCROSS GETS THE BLAME?
                                                  
EVERYTHING THAT INVOLVES A MOTORCYCLE ON DIRT IS NOT MOTOCROSS: CRAWFORDSVILLE MAKES THE NATIONAL NEWS

There were 55 arrests over the weekend at an ATV, UTV and motorcycle cross-country race in Crawfordsville, Indiana. Most of the arrests were for underage drinking. Crawfordsville has been linked as the possible site of an AMA 250/450 National for 2014, but that is mostly conjecture.

                                                  
CODY WEBB WINS WASHINGTON ENDUROCROSS AS BROWNIE & TADDY HEAD FOR A TWO-RACE SHOWDOWN


Cody Webb is on a roll on his Beta.           Photo: Endurocross
Cody Webb won his second race in a row when he beat Mike Brown and Colton Haacker for the top step of the podium at the Everett, Washington, round of the 2013 Endurocross series. With points leader Mike Brown second and multi–time Champ Taddy Blazusiak fourth, only 7 points separate Brown and Blazusiak with two races left. The next round is in Boise, Idaho, on November 9.
ENDUROCROSS RESULTS:
(Round 5 of 7)
1. Cody Webb
2. Mike Brown
3. Colton Haaker
4. Taddy Blazusiak
5. Cory Graffunder
6. Taylor Robert
7. Kyle Redmond
8. Gary Sutherlin
9. Geoff Aaron
10. Justin Soule
                                                  
MORE CHANGES TO THE 2014 WORLD MOTOCROSS CHAMPIONSHIP SCHEDULE


We told you when the last updated Grand Prix schedule was released two weeks ago, not to take it too seriously because it would change again and again before the season got here. Sure enough, here is the new schedule. Most of it stays intact, but both the second Brazil race and the Mexican Grand Prix was been moved back a week (the changes have been highlighted in red).
TENTATIVE 2014 GRAND PRIX SCHEDULE
March 1……Qatar (Women support)
March 9…….Thailand
March 30….Brazil
April 13…….Italy (Women & 125 support)
April 20…….TBA (250EMX & 300 two-strokes)
May 4………Holland (Women, 125 & 150 support)
May 11……..TBA (250EMX & 300 two-strokes)
May 25……..England (250EMX & 300 two-strokes)
June 1………France (Women & 125 support)
June 15…….Italy (250EMX & 300 two-strokes)
June 22…….Germany (Women, 125  & 150 support)
July 6……….Sweden (Vets, 250EMX & 300 two-strokes)
July 13……..Finland (65, 85, 250EMX & 300 two-strokes)
July 27………Czech Republic (Women, 125  & 150 support).
August 3……Belgium (125, 250EMX & 300 two-strokes)
August 17…Ukraine (125 & 250 EMX)
Sept. 7….Brazil (was originally on August 31)
Sept.  15……..Mexico (was originally on September 7)
                                                  
MXA PRODUCT SPOTLIGHT: MATRIX CONCEPTS M35 TOOL MAGNET


Matrix Concepts' new magnetic tool bar is perfect for mounting above your workbench to keep tools within easy reach. The strong magnets hold tools, bolts, nuts or any steel pieces within an arms reach away. It cuts down work time and lost parts. The black powder coating resists rusting. $24.95. For more info go to www.matrixracingproducts.com.
                                                  
AMAZING AND AGELESS AKIRA NARITA WINS 2013 JAPANESE NATIONAL CHAMPIONSHIP AGAIN


Akira Narita pulled the Japanese 450 National Championship out of the bag at the very last round in Sugo. It is his 9th 450 National Championship.
FINAL ALL-JAPAN 450 NATIONAL POINTS STANDINGS
1. Akira Narita…………….350
2. Makoto Ogata ………..349
3. Yu Hirata………………..340
4. Yohei Kojima…………..338
5. Yoshitaka Atsuta……..313
6. YuI Hoshino…………….241
7. Yutaka Hoshino……….216
8. Takuya Mihara…………210
9. Hiroaki Aria……………..203
10. Koh'ichi Fukaya……..199

Toshiki Tomita easily won the 250 National ChampionshIp, but check the points between fifth and ninth.
 
FINAL ALL-JAPAN 250 NATIONAL POINTS STANDINGS
1. Toshiki Tomita…………..372
2. Kei Yamamoto………….361
3. Jun'ya Takenaka……….339
4. Ryo Satoh………………..225
5. Nozomu Yasuhara…….214
6. Kouhei Ogawa…………..213
7. Jun Suda………………….212
8. Masami Tanaka…………211
9. Yusuke Watanabe……..209
10. Shin'ichi Inoue………...190
                                                  
AMA HALL OF FAME: MARK BLACKWELL


                                                  
2013 AUSTRALIAN WOMEN'S MOTOCROSS CHAMPIONSHIP CANCELED

According to Motorcycling Australia, the sanctioning body of Aussie racing: Due to lack of entries, and despite the efforts of the Lake Macquarie Motorcycle Club, the 2013 Australian Women's Motocross Championship has been canceled. The event was scheduled to take place on 27 October 2013 at Awaba in New South Wales.
Motorcycling Australia's Sport and Event Coordinator Matt Kearsley said he was extremely disappointed the event failed to launch this year. "We have some amazing women's MX talent in this country and this event is their showcase. "We know the women who entered the event are disheartened and our thoughts go out to those who have made travel arrangements in anticipation of the event." Kearsley said. The lack of rider numbers in the championship class were reportedly the reason the event was canceled. In 2014, Motorcycling Australia will look at alternative ways in which the event can run with higher competitor numbers and look at positioning the event as one not to miss on the Australian motorcycle sport calendar.
                                                  
THIS WEEK'S BIRTHDAY BOYS
Oct. 24…Teddy Parks 1989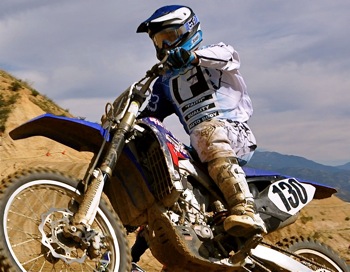 Oct. 25…Tony Amaradio 1973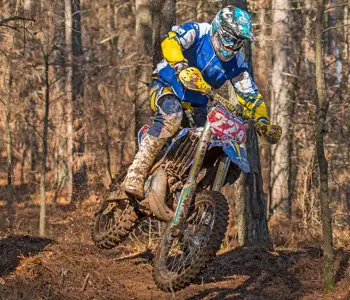 Oct. 25…Mike Lafferty

Oct. 27…Kenny Zahrt
Oct. 27…Jimmy Jarrett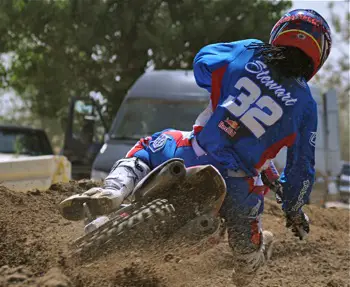 Oct. 27…Malcolm Stewart 1992
Oct. 28…Alex Martin 1989
Oct. 29…Takeshi Kolkeda 1977
                                                  
SUZUKI RECALLING 210,228 GIXXERS

Suzuki is recalling 210,228 motorcycles because the front brakes might not work properly. The recall involves GSX-R600 and GSX-R750 motorcycles from the 2004 through 2013 model years and GSX-R1000 motorcycles from the 2005 through 2013 model years. Suzuki says there have been no injuries related to the defect.
The company says older brake fluid and corrosion of the brake piston inside the front brake master cylinder can form a gas that reduces fluid pressure transmission to the front brake. That can reduce braking power and increase the risk of a crash. Suzuki Motor of America Inc. will notify owners starting next month. Dealers will replace the front brake master cylinder for free.
                                                  
AMA HALL OF FAME: RICKY CARMICHAEL

                                                  
HONDA TO SELL ATV'S IN INDIA…



Honda plans to launch their high-end ATVs (All-Terrain Vehicles) in India. Amazingly, only about 1200 ATV's are sold in India in a year?compared to 15 million motorcycles. Honda is the second largest player in the ATV segment. Polaris is numbe rone globally and already have a subsidiary in India. All the motorcycle smanufacturers thin that India has tremendous growth potential, and many of them are building factories there or siging cooperative agreemenets with existing India brands.
                                                  
YAMAHA TO BUILD FACTORY IN PAKISTAN



Yamaha plans to build a motorcycle plant in Karachi, Pakistan, and will invest $150 million over the next five years. Operations will start in December of 2014. The factory will build 22,000 bikes a year, mostly 125 and 150cc street bikes.

                                                  
WHAT'S NEXT ON THE 2013 RACE CALENDAR?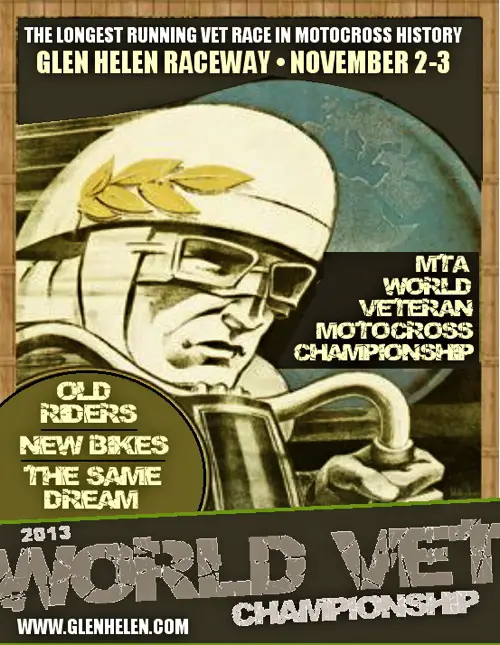 2013 WORLD VETERAN MOTOCROSS CHAMPIONSHIP
    November 2-3………….Glen Helen, CA
PARIS SUPERCROSS
    November 8-9………….Paris, France
2013 AUSTRALIAN SUPERCROSS CHAMPIONSHIP
    November 16…………..Toowoomba, Qld
2013 THOR WINTER OLYMPICS (MINI O'S)
    November 25-30……….Gainesville, FL
2013 DAY IN THE DIRT 16
    November 29-Dec. 1…Glen Helen, CA
                                                  
PHOTO OF THE WEEK: MORE THAN MEETS THE EYE


Take a close look at this works Honda RC125. You can't help but notice the CNC-machined Ribi Quadrilateral forks, but did you notice the twin-cylinder two-stroke engine. This was the first Honda motocross bike with twice pipes?but not the last.
                                                  
AMA HALL OF FAME: TORSTEN HALLMAN

                                                  
IS KTM GOING TO MAKE BIKES IN CHINA?



Chinese sources claim that KTM may partner with a Chinese firm (CFMoto) to build 20cc and 390cc Dukes in China. A Chinese plan would help defeat China's high traiffs on motorcycles. The 200 and 390 Duke is produced in India at the Bajaj factory. Bajaj owns a large share in KTM. Although KTM has not confirmed this rumor, the sources insist that Baja will send knock-down kits to China (from India) and have the Dukes assembled locally.
                                                  
RESPECTING THE PAST


Unlike many modern racers, Valentino Rossi has a lot of respect for the men who came before him, so when he visited a Japanese motorcycle museum this week and saw Kenny Roberts' World Championship Yamaha two-stroke, he hopped on and had a friend shoot of photo of him on it. That's cool.