MOTOCROSS ACTION'S WEEKEND NEWS ROUND-UP: "EIGHT STRAIGHT" FOR SOCAL'S LOCAL TALENT
                                                   
REM GLEN HELEN TO DO "EIGHT STRAIGHT" STARTING NEXT SATURDAY


REM already holds the longest running points paying series in the sport with 40 races a year, but they just announced that they will extend the 2013 series by racing every Saturday in December and start the 2014 season by racing every weekend in January. For more info go to www.remsatmx.com
                                                   
POLICE AND FIRE CHRISTMAS GRAND PRIX ON DECEMBER 10


www.policefiremx.com
                                                   
DON'T FORGET THE DATE, NEVER FORGET THE MAN


December 6, 2013?Glen Helen Raceway? 10:00 a.m.

                                                   
BIRTHDAYS OF THE STARS: JOEL ROBERT TURNS 70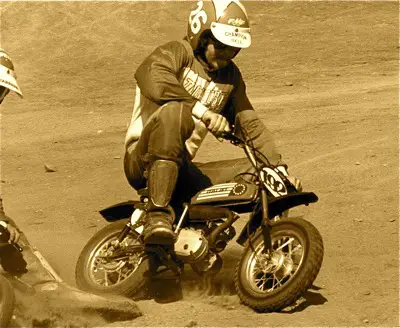 Nov. 22…Ron Turner
Nov. 22…Trevor Vines 1972
Nov. 23…Mike Katin

Nov. 23…Joel Robert 1943
Nov. 24…Joel Albrecht 1972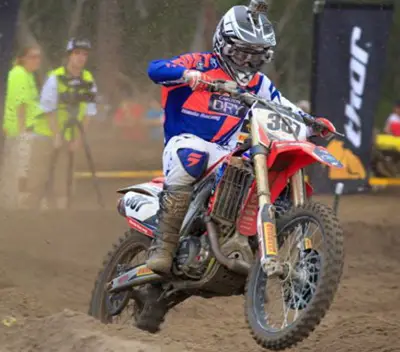 Nov. 24…Gareth Swanepoel 1984
Nov. 25…Michael LaPaglia

Nov. 25…Stefan Everts 1972
Nov. 26…Travis Hodges 1971

Nov. 26…Steve Boniface 1982
Nov. 26…Kyle Partridge 1986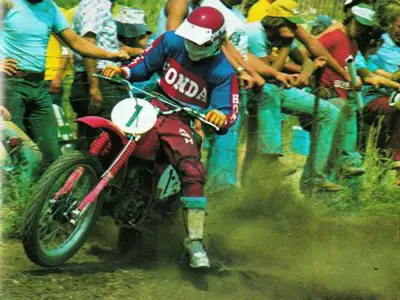 Nov. 26…Marty Smith 1956
Nov. 27…Karsten Butler
Nov. 27…Brent Brown

Nov. 27…Ricky Carmichael 1979
Nov. 27…Casey Lytle 1978

Nov. 28…Andrew Short 1982

Nov. 28…Jeremy van Horebeek 1989
                                                   
$10,000 USA CHAMPIONSHIP AT CYCLE RANCH IN FLORESVILLE, TEXAS, ON NOVEMBER 29-30

                                                   
MEMORIES OF THE WAY WE WERE


If you were around in 1971, you might have made it to NorCal's Fremont Raceway for the Bob Grossi Benefit race, Mail entry was $7 and you could go to a Mark Blackwell motocross school for $6. Turkey Visa with MEX now at 20% OFF.

Escape Country was located exactly where the ritzy Cota De Caza gated community is located today (home of the "Real Housewives of Orange County"). It had a hang gliding park, two motocross tracks, BMX course, downhill skateboard run and held AMA Nationals in 1978 and 1979. Escape Country raced the Beginners and Novices in the morning and Pros and Intermediates in the afternoon. Escape Country closed when its owner was killed in the 1978 San Diego airliner crash.

The 1981 NMA World Mini Grand Prix was held at Saddleback Park. This was after it left Indian Dunes, but before it moved to Las Vegas. In 2014 it will come back to SoCal and be held at Glen Helen. Saddleback closed in 1984 and is still sitting vacant to this day.

Back in 1982, you could have raced the Indian Dunes Amateur Supercross. Entry was $10 (mail) and $15 (post). The purse was $1500.
                                                   
GODSPEED! RYAN LONGSTRETH


Ryan Longstreth.
Ryan worked as the Brand Manager for Cycra Racing for 18 years. Sadly, on Saturday, November 16, Ryan was killed in a traffic accident. He is survived by his wife Harmony and daughter Morgan. The Harmony J. Longstreth and Morgan E. Longstreth Benefit Fund has been set up to help care for Ryan's family, as he was the sole supporter, while his wife and daughter are both pursuing an education at Ohio State University. To make a contribution please contact Park National Bank 50N 3rd Street Newark, Ohio 43055; (740) 349-8451).
                                                   
ASK THE MXPERTS: THE DOT QUESTION


Dear MXA,
I have seen brake fluid in DOT 3, DOT 4, DOT 5 , DOT 5.1. Which is best?
As a quick rule of thumb, all modern motocross bikes work well with DOT 4. First and foremost, you should not use DOT 5. Repeat: Do not use DOT 5. Your motorcycle most likely came stock with low-cost DOT 3 fluid. After break-in, replace the stock fluid with new DOT 4. Be forewarned that mixing new fluids with old fluids lowers the boiling point of the new fluid, so flush the complete system. It's never smart to run brake fluid longer than six months.
                                                   
LOOKING FOR A FULL-RACE CR125 KART: TRY MUSGRAVE RACING'S FACTORY MRC 2013 TONY SHIFTER KART

For more info go to www.musgraveracing.com
                                                   
MXA PRODUCT SPOTLIGHT: AFX FX-17 FACTOR HELMET


This is the new FX-17 Factor graphics from AFX Helmets. The FX-17 features an aerodynamic, strong, lightweight, advanced poly-alloy plastic shell with removable hypoallergenic  liner and cheek pads. Fully molded eye port trim with incorporated goggle grabber provides a fit grip for your goggles. There are 11 points of ventilation to keep you cool when things heat up. A space in the ear cavity allows for easy and comfortable installation of a communications system to keep you connected to the pits on the track, or to buddies on the trail. A removable screw on vented visor is also included. Available in nine colors ranging in sizes XS to XXXL and youth sizes S-L. Suggested retail price is $89.95 at www.afxhelmets.com.
                                                   
AMA VINTAGE MOTORCYCLE DAYS WILL BE JULY 18-20, 2014



The 2014 AMA Vintage Motorcycle Days will take place on July 18-20 at  the Mid-Ohio Sports Car Course in Lexington, Ohio. A fundraiser for the AMA Motorcycle Hall of Fame, AMA Vintage Motorcycle Days features classic motorcycles of all makes and styles, and activities that include the AMA Racing Vintage Grand Championship, which features road racing, motocross, hare scrambles, trials and dirt-track; North America's largest motorcycle swap meet; bike shows and awards; stunt shows; demo rides of current production bikes; and seminars on a number of topics by noted motorcycling experts. For more information, call (614) 856-2222, or at www.motorcyclemuseum.org.
                                                   
WESTERN POWER SPORTS RIDE DAY FROM DURHAMTOWN PLANTATION


                                                   
STEVE McQUEEN'S 1938 HARLEY UP FOR AUCTION


Steve McQueen's 1938 Harley-Davidson WLD.
Steve McQueen was a motorcycle fanatic. he loved to ride and he loved bikes. Which is why you see so many auction houses selling off former Steve McQueen owned bikes. This time it is the 2013 Mecum Anaheim auction on November 21-23 at the Anaheim Convention Center in California. The 1938 Harley-Davidson WLD is original and unrestored motorcycle that was actually ridden by Steve. It was first sold back in 1984 at the McQueen Estate sale. This piece of McQueen history will sell again on Saturday, November 23. McQueen memorabilia is hot and recently his driving suit from the movie "Le Mans" sold for $984,000 the Porsche 911 he drove in the film got $1.375 million. For more information go to www.mecum.com.
                                                   
NOT MOTOCROSS: JODY JUST LIKED THIS SONG, SO WE THOUGHT WE'D PLAY IT FOR HIM

                                                   
RIDE ENGINEERING RUBBER-MOUNTED KTM TRIPLE CLAMPS

Ride Engineering's KTM triple clamps have been used by KTM's offroad team and Canada's factory motocross team. They come in 19mm and 20.5mm offset (stock is 22mm). Stock KTM clamps do not have rubber-mounted bars and adding them is a nice touch by Ride Engineering. These $529.90 clamps are available for 2013 and 2014 models and come with the polyurethane cones. A $99.95 one-piece bar mount is sold separately and required for motocross applications. Desert riders can purchase a BRP Sub Mount directly from Scott's to install a Scott's Steering Damper onto our clamps. For more info go to www.ride-engineering.com
                                                   
WHERE ARE THEY NOW? ROGER "MOLEMAN" GUARD


One of the most memorable things about Roger Guard's racing career was that after he broke his wrist, he modified the cast so he could keep racing. He was still wearing a cast one year later because his wrist didn't heal. But, he never stopped racing.
One of the original Pro Circuit Husqvarna gang, Roger "Moleman" Guard disappeared from the SoCal racing scene in the 1980s. Where did Moleman go? To NASCAR. Roger is currently the shock technician for the Turner Scott Nationwide team and works on the race cars of Justin Algaier, Nelson Piquet and Kyle Larson.
                                                   
IMPLEMENTATION OF E15 FUEL MAY BE STALLED IN 2014…THANKFULLY

In a reversal of sorts, the EPA now wants to reduce the total amount of ethanol required in transportation fuel for 2014. This could slow the introduction of E15 fuel in the USA. This is good news for motorcyclists since the 15% ethanol mix is not approved for use in most current models of bikes. Under the federal Renewable Fuel Standards program fuel producers must blend 18.15 billion gallons of renewable fuels (such as ethanol) into their fuel sales. But federal law also allows the EPA to reduce the required volume of renewable fuels in any year. On Nov.15, they reduced the amount of renewable fuel from 18.15 billion gallons to 15.21 billion gallons.
                                                   
YAMAHA PES1 ELECTRIC SPORT BIKE: THE GAS PROBABLY LEAKED OUT OF THE HOLE IN THE TANK