MOTOCROSS ACTION'S WEEKEND NEWS ROUND-UP: SEE THE BIG CRASH; VIEW THE TSUNAMI BIKE; LEARN HOW TO PASS & HEAR JUSTIN BARCIA TALK ABOUT THE FUTURE

           SOMETIMES CRASHES HAPPEN…AND SOMETIMES THEY DON'T HAVE TO HAPPEN


At Saturday's REM Octobercross at Glen Helen, riders came from across the country for a chance to race on a version of next week's World Vet Championship track. Every rider wanted to do well. Paul Fitz-Gibbon (38) falls at the base of a big hill and Randy Skinner (383) passes him in the Over-50 Intermediate class. Photo: Dan Alamangos

Fitz-Gibbon tries to remount as Greg Groom (12) and Greg Iorio (127) squirt by him. Photo: Dan Alamangos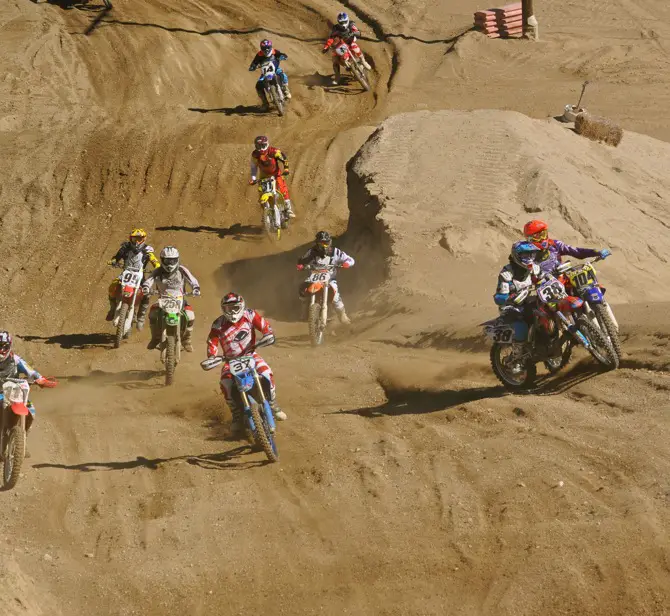 Fitzgibbon (38) gets going, but because the hill is so steep, he starts swerving up the hill as the pack bears down on him. Paul swerves over into the path of Durango, Colorado's John Perry. Photo: Dan Alamangos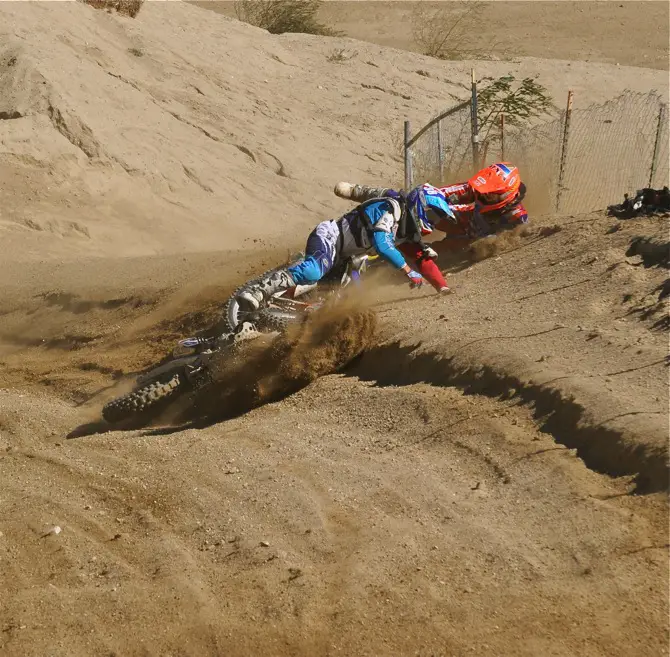 Fitz-Gibbon and Perry go down in a heap. Photo: Dan Alamangos

John Perry remounts and re-enters the race to end up 12th in the moto, while Paul Fitz-Gibbon compounds his mistake by riding backwards down the track as Ray Poltack (223) starts up the hill. Photo: Dan Alamangos
           CHAD REED & GAVIN FAITH WIN PHILLIPS ISLAND SUPERCROSS

Chad Reed made a triumphant return to Australia with a victory in round two of the Australian Supercross Championship. What was unique about this round of the Aussie series was that it was run in conjunction with the Australian MotoGP road race at Phillip Island…and fans could switch back and forth between Supercross and road racing on the same day.
PHILLIP ISLAND RESULTS: 450 CLASS
1. Chad Reed…………Hon
2. Jay Marmont……….Kaw
3. Daniel McCoy……..Yam
4. Lawson Bopping …Yam
5. Jake Moss ………….Hon
6. Todd Waters ………Suz
7. Tye Simmonds ……Hon
8 . Ben Townley………Hon
9 . Cheyne Boyd………Hon
10. Billy Mackenzie…..Kaw
450 POINTS STANDINGS
(After 2 of 4 rounds)
1. Jay Marmont……….47
2. Daniel McCoy……..42
3. Lawson Bopping….36
4. Jake Moss………….36
5. Todd Waters……….30
6. Tye Simmonds…….30
7. Chad Reed…………25
8. Cheyne Boyd……..25
9. Billy Mackenzie…..25
10. Jacob Wright…….22
PHILLIP ISLAND RESULTS: 250 CLASS
1. Gavin Faith……………Hon
2. Geran Stapleton…….Hon
3. Ryan Marmont……….KTM
4. Steven Clarke ……….Suz
5. Luke Clout ……………Yam
6. Scott Coloumb……….Suz
7. James Booth-Elliot….Hon
8. Taylor Potter …………KTM
9. Tristan Cachia………..KTM
10. Kade Mosig………….Kaw
250 POINTS STANDINGS
(After 2 of 4 rounds)
1. Gavin Faith……………..50
2. Geran Stapleton………37
3. Ryan Marmont………..36
4. Steven Clarke………….36
5. Kade Mosig…………….33
6. Scott Coloumb…………28
7. Luke Clout………………23
8. Nicholas Sutherland…22
9. Luke Styke………………20
10. James Booth Elliott…18
           TADDY AGAIN…ONLY THIS TIME IN BOISE


KTM rider Taddy Blazusiak claimed his fourth consecutive win of the 2012 AMA EnduroCross Series at the seventh round of the circuit in Boise's Idaho Center. Taylor Roberts is in a close battle for second in the points with Cody Webb. Roberts leads Webb by 3 points.
RESULTS: BOISE ENDUROCROSS
1. Taddy Blazusiak
2. Cody Webb
3. Cory Graffunder
4. Justin Soule
5. Kyle Redmond
6. Geoff Aaron
7. Colton Haaker
8. Bobby Prochnau
9. Gary Sutherlin
10. Jamie Lanza
AMA ENDUROCROSS POINTS STANDINGS
(After 7 of 8 races)
1. Taddy Blazusiak…189
2. Taylor Rober……….132
3. Cody Webb…………129
4. Mike Brown…………114
5. Cory Graffunder……105
           JUSTIN BARCIA TALKS ABOUT THE 2013 SEASON & MOVING TO THE 450 CLASS

           THE FINAL CHAPTER OF AN AMAZING STORY…THE TSUNAMI HARLEY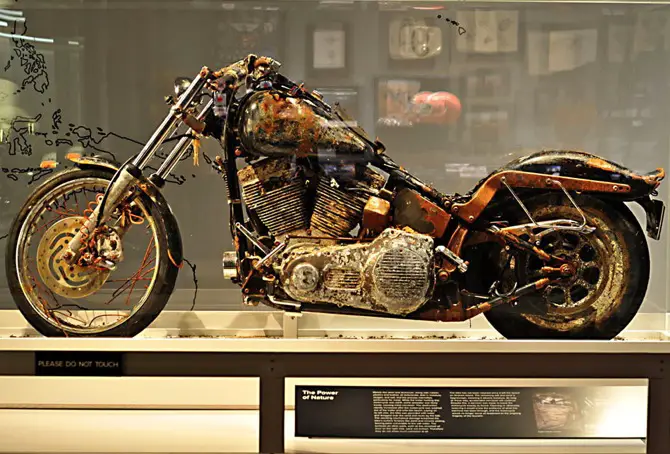 Do you remember the Harley that washed ashore on a Vancouver beach one year after the 2011 Japanese tsunami. It was a  2004 Harley-Davidson Softail Night Train that belonged to Japanese Harley fan Ikuo Yokoyama. Even though Harley-Davidson offered to replace the bike for him, Ikuo refused, saying that he preferred that it stay in the condition it was found in and  be placed in a museum as a memorial to the thousands who lost their lives. The bike is now on exhibit at the Harley-Davidson Museum in Milwaukee.
           MARCO MELANDRI CONVICTED OF TAX EVASION IN ITALY… JOINS ROSSI ON THE BAD SIDE OF THE TAX MAN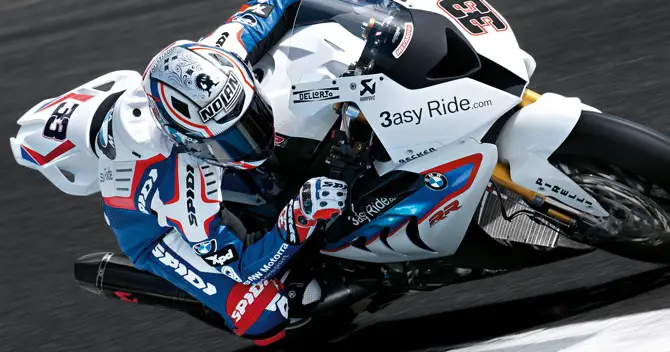 Marco rides for the BMW team.
World Superbike road racer Marco Melandri was found guilty of tax fraud in Italy this week. Melandri was given a 19-month suspended jail sentence and will have to make payments to the Italian tax authorities. What did Melandri do? He moved to England back in 2003 and 2005 to live near the Donington Park road race circuit in Derbyshire. By living in England Melandri thought he could take advantage of the British non-domiciled resident status, which allows wealthy non-UK citizens with large incomes from sources outside Great Britian to avoid paying tax on that income.The Italian authorities felt that all of his assets were still in Italy, so his tax burden remained in Italy. Melandri isn't the first Italian road racer to move to England to avoid paying taxes, Valentino Rossi was fined 35 million euros in 2008 for the same thing. Italian authorities hope that by going after high-profile sports stars, they will discourage other Italians from skipping out on their taxes.
           YAMAHA TO GO WITH YOUNG SQUAD FOR THE 2013 FIM 250 WORLD CHAMPIONSHIPS


Mel Pocock.
In a surprise move, The Steve Dixon Yamaha team will race the 2013 FIM 250 GP's with Brit Mel Pocock, Aussie Dean Ferris and French teenager Maxime Desprey. This pretty much ends an speculation about Michael Leib returning to the Steve Dixon-run Yamaha team in 2013. Mel Pocock won the  2012 European MX2 Championship, a support class for the 250 World Championships. Dean Ferris hasn't won anything in Europe, but raced for Kimi Raikonnen's Ice1 team last year before getting hurt. Maxime Desprey is also a transplant from the European MX2 support Championship. Desprey is a former French Junior motocross and Supercross Champion. To see Yamaha's 450 GP squad and official factory 250 rider?jump down one story.
           CHAD REED AT MEDIA DAY AT PHILLIP ISLAND SUPERCROSS

           YAMAHA'S 2013 GRAND PRIX TEAM WILL BE JOEL ROELANTS, STEVE FROSSARD AND CHRISTOPHE CHARLIER


Joel Roelants.
Joel Roelants, previously with the CLS Kawasaki team will join the factory Yamaha rider as a 450 rider for 2013. Roelants turned 23 and is no longer allowed to stay in the 250 class. Roelants had three podiums in 2012 in the 250 class, but was hit by another rider in practice at the British GP and suffered a dislocated hip. He had surgery and should be able to start riding in late December.

Steven Frossard.
The 2013 Yamaha team will be Joel Roelants, Steven Frossard and Christophe Charlier in the Rinaldi-run section of the Yamaha works squad.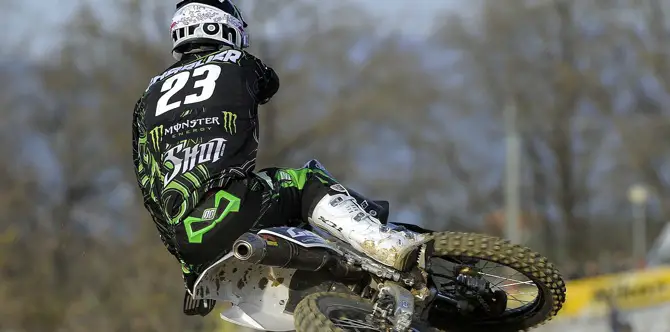 Christophe Charlier.
Christophe Charlier is 21 years old and will race the 250 class on the Rinaldi-developed YZ250FM fuel-injected prototype. Steven Frossard is a certified star?and sadly suffered a knee injury that kept him from living up to his 450 potential in 2012.
           USED IT, ABUSED IT, TESTED IT: RISK RACING SEAL DOCTOR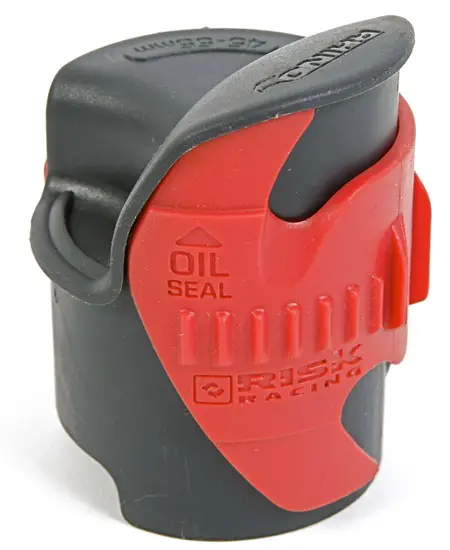 In their normal life fork seals don't wear out. Instead, their integrity is compromised by small pieces of grit that get by the oil wiper and lodge in the lips of the fork seal. The grit either lifts the edge of the seal's lip or it cuts through it. The result? A leaky fork seal.The Risk Racing Seal Doctor is a cylindrical plastic device that is designed to slip under a fork seal and eject dirt as it is rotated around the fork leg. You don't have to remove the fork guards, but you do need to pry the dust wiper down to get access to the seal.
VERDICT: Every rider should have a Seal Doctor, or at the very least a strip of 35mm film, in their toolbox. Replacing fork seals is a lot more expensive than the $26 Seal Doctor. $25.95?www.riskracing.com or (704) 658-9332.
           THE THIRD REVISION OF THE FIM WORLD CHAMPIONSHIPS SCHEDULE…EXPECT MORE TO COME


What's new? The 18-race season is new. Qatar and Thailand are new. Plus, the women's series will race with the MX3 series all the time, but MX3 and the Women will join the big stars of MX1 and MX2 at Valkenswaard, Holland (April 1), Maggiora, Italy (June 16) and Matterly Basin, England (August 25). There will be five CRF150 races with the MX1/MX2 events in Italy, France, Germany, Belgium and the TBA race on April 21. There will also be 125cc two-stroke support races at six GPs. On a sad note, the Vet World Cup has bee reduced to a single race in England on August 25 as part of the big British event that includes MX1, MX2, MX3, Women, Vets, 125 two-stroke and CRF150 classes.
2013 250/450 WORLD MOTOCROSS CHAMPIONSHIP SCHEDULE
March 2……..Qatar
March 10……Thailand
April 1………..Holland
April 14………Italy
April 21………TBA
May 5…………Portugal
May 19……….Brazil
May 26……….Mexico
June 9………..France
June 16………Italy
June 30………Sweden
July 7………….Latvia
July 14………..Russia
July 28………..Germany
August 4………Czech Republic
August 18…….Belgium
August 25…….Great Britain
September 8…TBA    
2013 MX3 WORLD MOTOCROSS CHAMPIONSHIP SCHEDULE
March 31…………Holland
May 5……………..TBA
June 2…………….Croatia
June 9……………Slovenia
June 16………….Italy
July 7…………….Ukraine
August 25………Great Britain
September 1…..Czech Republic
September 15…France
September 22…Portugal
2013 WOMEN'S WORLD MOTOCROSS CHAMPIONSHIP SCHEDULE
March 31………..Holland
June 2……………Croatia
June 9…………..Slovenia
June 16…………Italy
August 25………Great Britain
September 1….Czech Republic
September 15…France
September 22…Portugal
2013 MOTOCROSS DES NATIONS    
September 29…Teutschenthal, Germany
           HOW TO PASS: EVERTHING YOU NEED TO KNOW

           WHEN VALENTINO GIVES AN INTERVIEW HE ACTUALLY SAYS SOMETHING


Valentino.
When Valentino Rossi gave an interview to the BBC, he said.
(1) That MotoGP was in it "worst period since 2000."
(2) That current MotoGP racing is "boring."
(3) Valentino said that the "races are quite bad and it is very difficult to stay awake" watching them.
(4) Rossi said that the Moto2 and Moto3 races are fantastic, but as soon as the irders get to Moto GP they become "too serious."
(5) He said that it was his "dream" to race for Ducati, but that he is leaving for Yamaha because he doesn't want to "struggle every weekend. I am at a certain age and I don't know how many years I will continue in MotoGP, so I have to race with the best bike that I can."
           THE LAST AND FIRST CHANCE TO RACE ON NEXT WEEKEND'S WORLD VET CHAMPIONSHIP LAYOUT


For more info about the Octobercross on Saturday, Otcober 27 go to www.remsatmx.com
           MXA IS PUTTING THE FINISHING TOUCHES ON OUR 2013 450 SHOOTOUT: COME WITH US FOR A DAY OF TESTING

           WHAT'S LEFT TO DO IN 2012? THE COOL DOESN'T END JUST YET

REM OCTOBERCROSS CHAMPIONSHIP
    October 27……………………………………Glen Helen, CA
AMA ENDUROCROSS
   October 27…………………………………….Boise, ID
2012 AUSTRALIAN SUPERCROSS RD. 2
    October 27-28……………………………….Phillip Island, VIC
MTA WORLD VET MOTOCROSS CHAMPIONSHIP
    Nov. 3-4……………………………………….Glen Helen, CA
2012 AUSTRALIAN SUPERCROSS RD. 3
    November 10………………………………..Toowoomba, QSL
PARIS SUPERCROSS
    November 9-11……………………………..Paris, France
AMA ENDUROCROSS FINALE
    November 17………………………………..Las Vegas, NV
2012 AUSTRALIAN SUPERCROSS RD.4
    November 17………………………………..Newcastle, NSW
WINTER OLYMPICS
    November 19-24……………………………Gatorback, FL
DAY IN THE DIRT
    November 23-25……………………………Glen Helen, CA
           KAWASAKI'S 2013 250 GRAND PRIX TEAM: SEARLE & ROELANTS OUT, ARNAUD TONUS AND ALESSANDRO LUPINO IN


Team CLS Kawasaki for 2013.
With Tommy Searle and Joel Roelants both having to move to the 450 GPs in 2013 because of the FIM age rule in the 250 class, CLS Kawasaki has signed Swiss rider Arnaud Tonus and Italian Alessandro Lupino as their replacements. There was some controversy over this deal because it had been announced earlier that the CLS team would be Michael Leib and Alessandro Lupino. It was also reported that Tonus had signed with the Bike-It Yamaha team of Steve Dixon.
However, the official word is that Arnaud Tonus is in at CLS Kawasaki and Leib is out, while Bike-It Yamaha has to find a replacement for Tonus…which could easily be Michael Leib since he filled-in for Zach Osborne for the team early in 2012. Tonus and Lupino are both 21 and can stay in the 250 class through 2014.
Arnaud Tonus said, "It's been my dream for a long time to join the Kawasaki CLS team, as I've always been interested in the U.S. series and know how good the Pro Circuit Kawasaki bikes are. I have been talking with Jean Jacques Luisetti for several years now; he has always pushed really hard to sign me but this is the first time that I have been available. Last year I felt that I owed something to Steve Dixon who helped me when I had no ride a couple of years back, so I stayed in his team for one further year. I have signed a two-year deal with Kawasaki CLS."
As for Alessandro Lupino, who has struggled on the Husqvarna TC250 for several years (and Michael Leib was his teammate for two years), he said, "This is a dream come true for me to sign a contract for two years with Team Kawasaki CLS. My very first motocross bike in 2003 was an 85cc Kawasaki. I know that the bike has a huge potential, and I think that my move will be a big step in my career."
           HONDA GP RIDING SCHOOL: HOW TO DEAL WITH OFF-CAMBER TURNS BY RUI GONCALVES

           USED IT, ABUSED IT, TESTED IT: MOTION PRO TITAN THROTTLE TUBE    


Motion Pro tested many different materials by hitting them with hammers and dropping weights on them before a deciding on the exact recipe for the Titan's plastic. The secret formula had the right combination of strength and flexibility, plus low-friction properties for easy twisting.
VERDICT: Motion Pro didn't want to settle for a better-than-stock throttle tube, they wanted to build the most crash resistant throttle tube on the market. How can a piece of plastic be more durable than a CNC'ed piece of aluminum? If aluminum is bent or dented in a crash it will deform and not return to it's original shape. The Titan Tube is more rigid than OEM plastic throttle tubes, but more flexible than aluminum. That flexibility may make a material seem weak, but it adds resilience. The result is an amazingly durable throttle tube. $24.99?www.motionpro.comor (650) 594-9600.
           THIS WEEK'S BIRTHDAY BOYS: LET'S ALL MEET AT THE DART'S HOUSE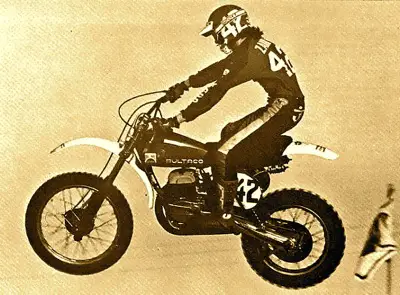 Oct. 27…Kenny Zahrt
Oct. 27.. Jimmy Jarrett


Oct. 27…Malcolm Stewart
Oct. 28…Alex Martin


Oct. 29…Takeshi Koikeda
Nov. 1…Ryan Terlecki

           MALCOLM SMITH PARKING LOT SALE ? NOVEMBER 3


For more info go to www.malcolmsmith.com
           MXA TECH SPEC: YOUR INSIDER'S GUIDE TO THE 2013 HONDA CRF450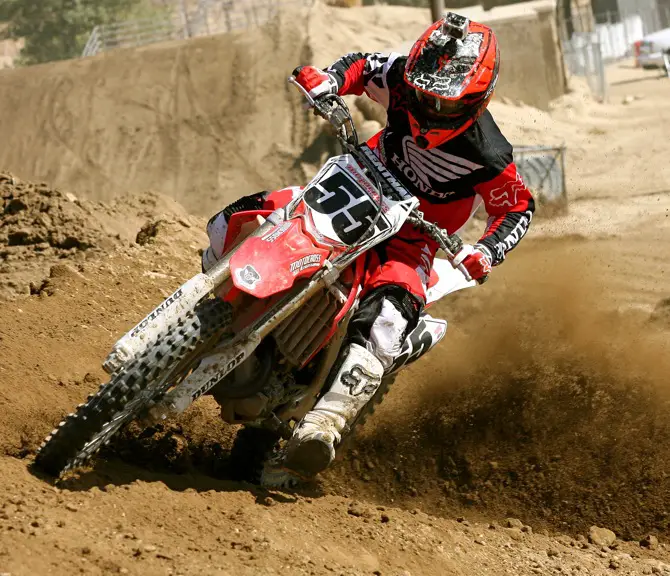 Overall: Most of the 2013 Honda is totally new, with only the basic engine, front wheel and triple clamps being hold overs.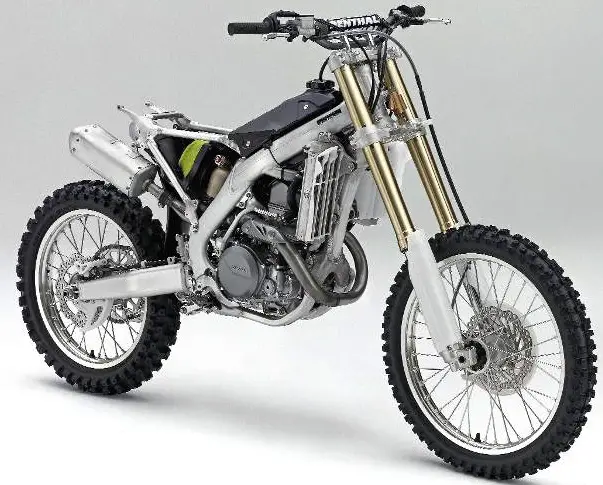 Frame: Deemed the "Ultimate Triangle Proportion" by Honda's marketing team, the CRF450 has minimal plastics yet maximum ergonomics. The plastic thickness has been lessened in some areas to decrease weight, although the 2013 CRF450 is three pounds heavier than the 2012 model..

Radiators: The shrouds were designed to flow more air and improve radiator efficiency. Note: the radiators are now slightly smaller. The gas tank's capacity has been increased from 1.5 gallons to 1.66 gallons. The plastic front disc cover is now attached by two bolts instead of by the axle collar. The radiators are mounted lower in the chassis than last year's CRF450.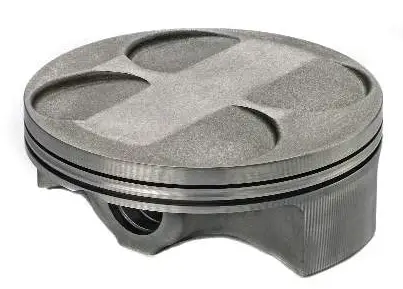 Compression: Honda increased the compression ratio?from 12.0:1 to 12.5:1.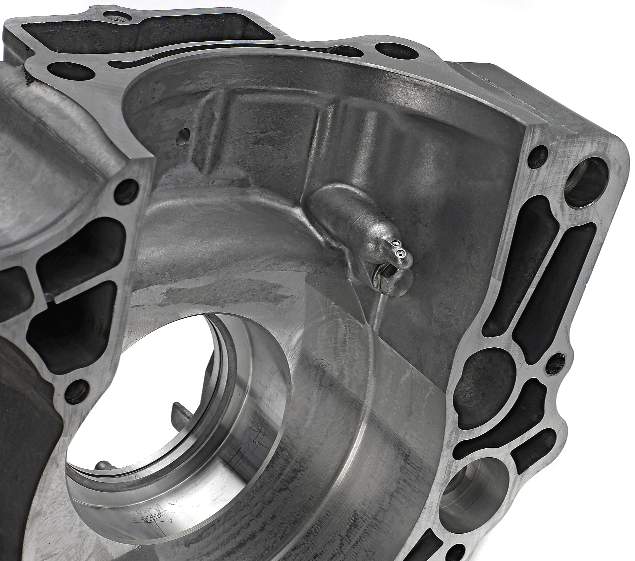 Lubrication: New two-hole oil mister jet adds extra cooling to the piston's underside.

Cam: On Honda's Unicam engine the cylinder head has revised porting and larger exhaust valves (from 30mm to 31mm). The cam has new valve timing (not a new cam, just different timing).

Engine: Honda aimed at improving low-to-midrange power and torque without sacrificing top-end power in the Unicam engine. They did this by upping the piston compression (from 12.0:1 to 12.5:1), revising the cylinder head design (1mm-larger exhaust valve size), changing valve timing, adding an additional piston jet (for misting), and using a new intake air boot for optimized airflow.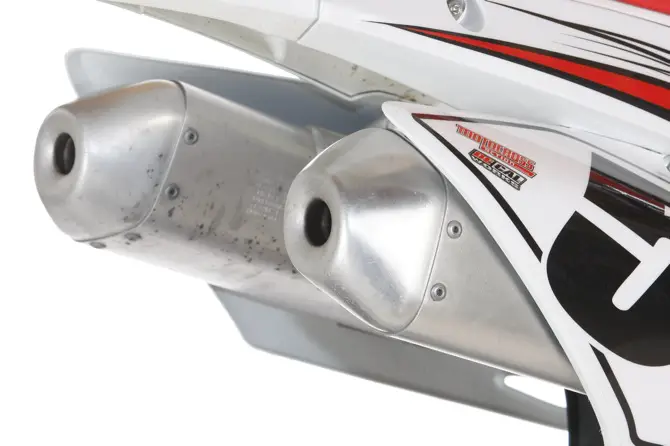 Twice pipes: Honda patented a dual-diamond-shape muffler design, and they say that this design offers several advantages: (1) Two shorter mufflers improve mass centralization and the center of gravity, and creates a lightweight feel to improve cornering and easier side-to-side transition. (2) The twin pipes are said to increase engine performance while still meeting the (old) 94-decibel limit. (3) The dual mufflers have allowed Honda to redesign the subframe. This allows for a straighter air intake and easier filter access. Remember, Honda used a twin-pipe design on the CRF250 for four years (2006?2009).


Transmission: Honda also redesigned the transmission, revised the electronic fuel injection and ignition settings, and used a heavier flywheel for improved traction and low-end torque.


Clutch: Realizing that their previous four-spring design wasn't working, Honda went back to the pre-2009 six-spring clutch design. The six-spring clutch has eight plates, plus two chatter springs at the end of the pack.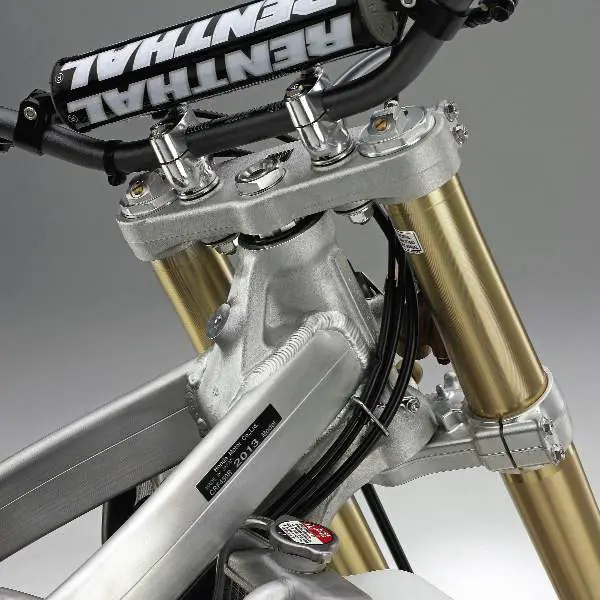 Head tube: Honda's engineers lowered the junction point of the head pipe and frame tubes to optimize rigidity and lower the center of gravity. Honda still uses their own HPSD steering damper.

Shock: The rear shock mount is 14.5mm lower. The goal was to improve front and rear traction, cornering performance and stability.

Frame geometry: Although the CRF450 has the same frame geometry as the previous-generation CRF, the mass is lower on the bike and the swingarm is new.

Kayaba PSF forks: Air replaces the main springs, making it easy for a rider to easily adjust the stiffness of the fork by adding or dropping air pressure by way of a Schrader valve on top of the fork cap. Adding or dropping 2 psi equates to a different spring rate. The air fork is significantly lighter since both main springs have been removed, which allows for the incorporation of a larger, more sophisticated 32mm cartridge damper piston that resets traditional thinking for front-suspension performance. It's worth noting that the PSF that comes on the Honda is developed specifically for the CRF450 (meaning that it's not the exact same fork as what comes on the 2013 KX450F).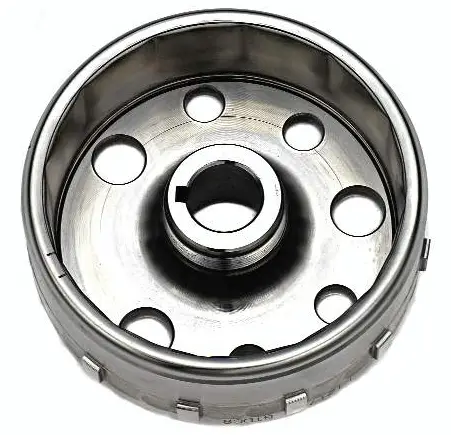 Flywheel: More flywheel weight is added to give the engine more chug at low rpm?and less tendency to flame-out or stall.

Miscellaneous: The footpeg mounts feature a patented debris-shielding design to keep mud from clogging the pegs. Additionally, the bike gets all-new front and rear disc-rotor covers. The front tire is a Dunlop MX51, not the old MX51, but the new MX51FA (in an 80/100-21 size).
           RYAN HUGHES & DOUG DUBACH TO TEACH MX SCHOOL AT GLEN HELEN ON THE DAY BEFORE THE WORLD VET


For more info go to www.rynoinstitute.com