MOTOCROSS ACTION'S WEEKEND NEWS ROUND-UP: SUPERCROSS PURSE MONEY, TONY C IN SARDINIA, MORE HUSKY NEWS & FREE STUFF

CHAD'S HONDA CRF450 BRISTLES WITH DATA ACQUISITION DEVICES


Chad Reed has been working on his bike and setup since the opening round five weeks ago, but at A3 he added data acquisition electronics (front and rear). The fork device is similar to the Race Tech stuff that was around a decade ago. It measures fork stroke, shaft speed and peak loads. Photo: Mark Chilson

THIS IS NOT MOTOCROSS, BUT IT IS CRAZY PART 1


THE ITALIAN NATIONAL CHAMPIONSHIP IN SARDINIA IS AN IMPORTANT WARM-UP RACE..BECAUSE IT'S WARM IN SARDINIA

Tony Cairoli won a clear victory in the opening round of the Italian National Championship in Riola Sardo, Sardinia where the only real competition in the field of top riders came from hisKTM factory teammate Ken De Dycker. The KTM duo went one-two in front of Honda riders Evgeny Bobryshev and David Philippaerts. Yamahas Joel Roelants was fifth. Cairoli said, "It was a sandy track and that's quite unusual for Italy, but it was very good for my training. I had a great fight with Ken in the first race, but he made some small mistakes in the second so it turned out to be a bit of a lonely race for me."
RIOLA SARDO RESULTS: 450 CLASS
1. Tony Cairoli……………KTM
2. Ken De Dycker……….KTM
3. Evgeny Bobrychev….Hon
4. David Philippaerts…..Hon
5. Joel Roelants…………Yam
6. Steve Frossard……….Yam
7. Davide Guarneri……..KTM
8. Chicco Chiodi…………Hon
9. Klemen Gercar……….Hon
10. Christian Beggi..…...Hon

AMA PURSE MONEY SCORECARD: WALKIN' AROUND MONEY AFTER 5 RACES


Chad is sixth on the 2013 purse money play list.
With five races down and 12 to go in the Supercross series, Ryan Villopoto has earned $34,760 from the AMA purse. The maximum a rider could make, by winning all 17 rounds, is $204,000. If Villopoto won the remaining 12 rounds his series take could still be $178,760. Of course, Ryan also gets a $100,000 per race win bonus and a $1 million dollar bonus for the Championship ? so the purse money is just chump change (at least according to the Euro GP pundits). Below is the purse money for the one-third of racing. It goes without saying that the Supercross promoters should be paying more to the riders.

1. RYAN VILLOPOTO (16-2-1-1-8)
A1……$2230
PHX….$6000
A2……$12,000
OAK…$12,000
A3….$2530
Total…..$34,760
2. DAVI MILLSAPS (1-3-4-2-2)
A1……$12,000
PHX….$4250
A2……$3250
OAK…$6000
A3…$6000
Total…..$31,500
3. RYAN DUNGEY (3-8-6-3-1)
A1……$4250
PHX….$2530
A2……$2780
OAK…$4250
A3……$12,000
Total…..$25,810
4. JUSTIN BARCIA (7-1-20-20-3)
A1……$2630
PHX….$12,000
A2……$2135
OAK…$2135
A3….$4250
Total…..$23,150
5. TREY CANARD (2-5-2-4-7)
A1……$6000
PHX….$3010
A2……$6000
OAK…$3250
A3……$2630
Total…..$20,890
6. CHAD REED (4-4-3-11-5)
A1……$3250
PHX….$3250
A2……$4250
OAK…$2400
A3….$3010
Total…..$16,160
7. ANDREW SHORT (6-9-7-6-6)
A1……$2780
PHX….$2480
A2……$2630
OAK…$2780
A3……$2780
Total…..$13,450
8. JAMES STEWART (8-7-12-19-4)
A1……$2530
PHX….$2630
A2……$2380
OAK…$2155
A3……$3250
Total…..$12,905
9. JOSH GRANT (11-10-10-16-18)
A1…..$2400
PHX….$2430
A2……$2430
OAK…$2230
A3…..$2155
Total…..$11,645
10. JAKE WEIMER (5-6-5-DNS-20)
A1……$3010
PHX….$2780
A2……$3010
OAK…$0000
A3…..$2155
Total…..$11,043

KTM TELLS THE INNERMOST SECRETS OF RYAN DUNGEY'S WP AIR SHOCK…BEFORE IT BROKE


BEHIND THE SCENES AT THE KTM JUNIOR SUPERCROSS PROGRAM


BUY A PRO CIRCUIT EXHAUST AND THEY WILL GIVE YOU A BRAND-NEW DUNLOP REAR TIRE FOR FREE


For more info go to www.procircuit.com or call (951) 738-8050.


MUCH MORE ON THE BMW SALE OF HUSQVARNA: THE PICTURE CLEARS UP

A deal has been confirmed that BMW has sold Husqvarna to Peirer Industrie AG. Most people are confused as to what they may mean because of all the parties involved. Here are a few names; BMW (which owns Husqvarna), Husqvarna (which is already on its fourth owner), KTM (which is mostly owned by Stefan Peirer's Cross Industries AG), Bajaj (the Indian motorcycle manufacturer that owns a stake in KTM through Cross Industries) and Stefan Peirer (who runs both Cross Industries AG and Peirer Industrie AG). Cross Industries AG owns shares of KTM, Pankl Racing Systems, Wethje Carbon Composites, Peguform plastics, Durmont carpet, WP suspension/radiators and Kiska design). But Cross Industries didn't buy Husqvarna, Stefan Peirer did.

Stefan Peirer.
Why Stefan Peirer would want Husqvarna is not quite clear, but why BMW would want to sell it to him is clearer. BMW's return on investment, since finalizing the deal to buy Husqvarna in 2007 for an estimated $130,000,000, has not been very profitable (with plant updates, the recession and new models eating into income). Plus, BMW was ill-suited to the dirt bike market in the first place and seemed to be trying to turn Husqvarna into a street bike company with the Nuda 900, Terra 650, Baja Concept and Strada 650. What Husqvarna does have is a proud heritage in dirt bikes, dating back to 1960, and a wide product line of offroad machines (most of which compete in the same market segments as KTM's offroad lineup). The deal will take about one month to be finalized. The new owners will be responsible for service and warranties on all Husky product. And, when the deal is final, BMW will no longer supply any BMW parts or engines to Husqvarna. Additionally, all BMW employees at the Italian Husqvarna plant will stay on BMW's payroll and return to Germany.
What plans does Peirer have for Husqvarna? Can he repeat the success of KTM with Husqvarna? Stefan Peirer left the impression that he would run KTM, Husqvarna and Husaberg at the same time. "I want to see Husqvarna sales double in five years time to 20,000 motorbikes," he said. Peirer also left the impression that he wouldn't blend KTM and Husky together (as he did with Husaberg), but would manage them as separate entities, but use "common engineering platforms to develop a variety of models that have completely different characteristics for each brand."
When asked whether he was concerned that the two brands might steal sales from each other, Peirer said that there would be some crossover, but that a revitalized Husky would also take market share from the Japanese brands. "It's never 1 plus 1 equals 3, but it's certainly 2.7, and there are still four Japanese brands from which there's plenty to grab."

The success of KTM is amazing since Peirer took command. KTM sold 107,142 motorcycles in 2012. They grew 32 percent worldwide and increased their market share by 7.5 percent. KTM also worked closely with part owner, India's Bajaj, who hold a 47.18 percent stake, to make headway in the massive Indian motorcycle market. KTM sold 8000 Duke 200 models and have a Duke 390 (coming out in March 2013) and Duke 125 versions also. By comparison, Husqvarna sold approximately 10,000 bikes in 2012.
MORE FROM STEFAN PEIRER FROM THE DUTCH "NEW ENGINE" SITE (NIEUWSMOTOR.NL)
"The brand (Husqvarna) has a wonderful history, but a completely wrong model lineup and is on completely the wrong track. The dealer network was not ready to sell two-cylinder street models."
"We will work with Husqvarna to go back to its origins. We'll soon be back in motocross and then in supermoto, both sports in which Husqvarna previously dominated. Within the next year, we will make an appropriate motorcycle developed with the specifications and character Husqvarna needs."
"The brands will remain self sufficient in terms of brand perception, models and sales networks, but as I mentioned earlier, there will be a lot of behind the scenes cooperation in the field of R&D, purchasing, components and more. We're not sure if production will remain in Varese, Italy or move to Mattinghofen, Austria."
"Initially, Husqvarna was bought by my private company, Pierer Industrie AG, but in the future this may change and possibly involve our Indian partner Bajaj."
KTM'S OFFICIAL PRESS RELEASE
"The new Pierer Industrie AG company has taken over in full Husqvarna Motorcycles (Husqvarna Italy and Husqvarna US) from the BMW Group. A relaunch of the Husqvarna brand, with new product range, is planned for the international motorcycle exhibition at EICMA 2013."

WHERE IN THE WORLD IS RYAN SIPES? HERE IS THE LATEST PHOTO OF HIM (WELL, HIS HAND ANYWAY)


THIS IS NOT MOTOCROSS, BUT IT IS CRAZY PART 2


SUZUKI'S ALL-NEW ZERO PERCENT A.P.R. FOR FIVE YEARS OFFER

Suzuki's "Shift Into Spring" sales promotion, running from February 1- March 31, 2013, offers zero percent A.P.R. financing for five years, on all Suzuki motorcycles, ATVs and scooters, plus customer cash offers up to $500 off select models (none of the select models are RM-Z's). For more information on Suzuki's "Shift Into Spring" promotion, please visit: www.suzukicycles.com

ROGER DECOSTER GETS A THREE-YEAR CONTRACT EXTENSION AT KTM…WHICH KEEPS HIM AWAY FROM HUSKY'S HEAD HUNTERS


Ryan Dungey closes his eyes and says a prayer of thanks that Roger will be around for the next three seasons.
After Roger signed a contract extension through 2016 to run the KTM motocross team he said, "The job continues to be fun for me and to work with KTM is very refreshing. It's easy to get things done, decisions are made quickly and I can have a lot of influence on the team and the bike. It is our goal to fight for the title in both Supercross and Motocross ? ideally in the future also with two factory riders per class."

ATLAS TO GIVE FREE NECK BRACES TO AMA PRO RACERS

Press release: Atlas Brace Technologies, LLC would like to offer a free Atlas original neck brace to all active professional racers competing in the 2013 250 or 450 AMA Supercross and/or National Motocross series more than six times a year.
All of us at Atlas believe so strongly in rider safety, and we are very concerned for riders who choose not to wear neck protection. We want to give all the riders an option to wear a safety item that won't affect their riding, yet will contribute to their prolonged safety in the sport they love, and we love. The Atlas family of braces is unlike any other neck brace on the market… You may have tried a neck brace, but you haven't experienced the simplicity, comfort, or mobility of an Atlas Brace.
To receive support, please email [email protected] with a copy of your 2013 AMA license, 2013 race schedule and your race resume to be considered for a rider contract. Mention "free Atlas original neck brace" and access to our ongoing Atlas Brace support program.

ASK THE MXPERTS: LOOKING FOR MY KTM FUEL FILTERS



Dear MXA,
I have looked everywhere for the in-line fuel filter on my KTM 350SXF, but I can't find it. I thought it was a really cool feature when I read about it before I bought the bike, but it's not cool that I can find it to clean it.
It is a little hard to find the first time. Disconnect the quick release fuel line on the left side of your 350SXF and look inside the aluminum quick release fitting and you will see an off-white nylon insert. Using an awl or pick, remove the nylon filter. You can hold it up to light to see if it has trapped any dirt. It can be back flushed with gasoline or replaced ($8.00).


STRAP THIS BABY ONTO YOUR MOTOCROSS BIKE AND GO LOOKING FOR SNOW…IT'S NOT HARD TO FIND


COME WITH SHERMAN AND MR. PEABODY TO THE MAICO FACTORY: GONE BUT NOT FORGOTTEN


PHOTO OF THE WEEK: RYAN DUNGEY-INSPIRED KTM SHIFT LEVER


THIS WEEK'S BIRTHDAY BOYS: SEL'S HAVING A BIG BASH, BUT IT'S IN INDIA


Feb. 1…Gaston Rahier
Feb. 2…Matt Buyten

Feb. 2…Selvaraj Narayana
Feb. 2…Erv Braun

Feb. 2…Tyler Evans
Feb. 3…Jake Windham

Feb. 3…Guennady Moissev

Feb. 3…Vito Ippolito
Feb. 4…Johnny Jump

Feb. 5…Julien Bill
Feb. 5….Bryan Johnson
Feb. 5…Jimmy Lamastus
Feb. 5…Emily Blood

Feb. 6…Tony DiStefano

Feb. 6…Travis Preston

MXA PRODUCT SPOTLIGHT: O'NEAL SERIES 9 HELMET


The O'Neal Series 9 helmet features a composite carbon fiber and Kevlar shell with a Snell/DOT certified rating. It has an ultra plush, removable and washable liner. The Series 9 has multiple vents on the forehead and chinbar, plus exhaust vents. The retail price is S299.99 at www.oneal.com

WOULDN'T IT BE NICE IF EVERYONE ROOTED FOR THE UNDERDOG? WATCH ANDREW SHORT'S OAKLAND RACE


ASK THE MXPERTS: HUSABERG TE125 OR KTM 125XC?


Dear MXA,
I know you aren't an enduro magazine, but I use my bike for trail riding, cross-country racing and the occasional motocross so I thought you might help me. I've been racing a beater 125 for three years and I'm ready to buy a new bike. I have narrowed my choice down to a 2013 Husaberg TE125 or a KTM 125XC. Which one would MXA recommend?

We think we can help you, but we might also confuse you. First, KTM does not make a 125XC for 2013. They do make a 150XC, plus 125SX and 150SX motocross models. Second, Husaberg does make a TE125, but they do not have a TE150. Third, Husaberg does not import the TE125 to the USA. Fourth, a Husaberg is a KTM?with the only major differences being in color, plastic, accessories and price. If it was us, we'd buy a KTM 150XC, but you would have found that out soon enough.

BROC TICKLE INTERVIEW


Broc Tickle.
Do you feel that you are starting to settle in after a top ten in Oakland?
"Definitely. I've felt that we're making progress every week that we go to the track with our Dodge/ Sycuan Casino/ RCH Racing/ Bel-Ray/ Suzuki Z450. I feel like we've been making big strides during the week in practice, understanding what I like with the Suzuki and making gains on setups. I'm really just focusing on staying comfortable on the bike, having fun and ride. We'll work on a few things this week in practice, but our focus is the weekend. We have a lot of racing to do and you don't want to burn yourself out early in the season. We're making a lot of progress. I'm going to work hard this week in practice and try to knock-out another top-10 finish."
What changes did you make to your bike at Oakland?
"We actually changed some stuff after the first eight-minute practice. I felt that my Suzuki was too high so we actually pushed the forks up and it made the bike worse. We went back to our original set-up and made some smaller changes that really helped in the heat race. We made a good choice in our change to the bike and we're actually going to try some more stuff today in practice. We're gaining on it."

Broc is on the RCH Dodge Suzuki team.
Has there been a specific area of focus that you are working on during race-day?
"Not really. My mechanic Tony Berluti goes off what I'm feeling and we've been able to make some great changes to the bike. Our communication is great. If I think that we need to go a certain direction, he's all for it. Working with him has been easy and we really are starting to understand what I like on the bike. I'll give Tony my input, he'll give me his; and we'll make the best decision we can."

In time qualifying you were top-six and only a one-tenth slower than third quickest?
"That's cool. I know that we've had speed in the Suzuki all year. Our bikes are fast. We've made changes that have helped and I feel like I've been able to get into a good rhythm during the race. Our results are starting to show on race day. I just want to stay loose on the weekend, have fun and ride like I know I can. Results will come. I feel like I'm starting to get into a really good rhythm and we'll just keep working on our race starts, breaking from the gate clean and keeping the bike off the ground early in the race."
You are back at Anaheim this weekend for the third time in five races. Does that bring any specific challenges to a rider?
"Not really. The dirt is probably going to be hard. The dirt was good for A1 and then they had a Monster Truck event at Angel Stadium. When we came back for A2, the dirt was really different. This weekend, I think that the dirt will be even harder than it was for the first two races in Anaheim. We have a tire set-up ready to go, anticipating how the conditions will be on Saturday. We're ready to go. I was nervous to try some tires early in the season because I hadn't really run them before. We've been testing and right after A2 we had a Dunlop day at the track and found a set-up that I like when the track is hard and slippery."

USED IT, ABUSED IT, TESTED IT: VIRUS STAY COOL COMPRESSION V-NECK

The Virus Stay Cool compression V-neck shirt is designed to keep muscles warm while keeping the body cool. Virus uses a stretch nylon material for compression; however, what separates this compression shirt from others is the use of what Virus calls "Cool Jade." By incorporating shavings of jade stone into the fabric, this material is supposed to keep the skin cool and dry.
VERDICT: The upper rear section of the Stay Cool Form v-neck contains a cross-pattern of Spandex. This X pulls the shoulders back in an effort to support back muscles. We could feel it more in short sleeve shirt, as opposed to the sleeveless shirt. The Virus shirt won't make a 100-degree summer riding day feel pleasant, but it's cooler than a normal compression shirt. The Virus Stay Cool Form works. $58.99 (sleeveless), $63.00 (short sleeve)?www.virusintl.com or (800) 691-3314.


KIWI INFOMERCIAL: BEN TOWNLEY FOCUSES ON HIS NEW SHIFT GEAR


MORE FROM THE OTHER SIDE OF THE GLOBE: JOSH COPPINS' NEW YAMAHA TEAM…HE'S THE MANAGER


PHOTO WITHOUT A CAPTION


CURRENT AMA 450 SUPERCROSS POINTS

(After 5 of 17 races)
1. Davi Millsaps (Suz)………….107
2. Ryan Dungey (KTM)………..93
3. Trey Canard (Hon)…………..93
4. Ryan Villopoto (Kaw)………903
5. Chad Reed (Hon)……………81
6. Andrew Short (Hon)………..71
7. Justin Barcia (Hon……………61
8. James Stewart (Suz)……….56
9. Justin Brayton (Yam)………..53
10. Jake Weimer…………………48
Other notables: 11. Matt Goerke (47); 12. Broc Tickle (47); 17. Matt Lemoine (26); 19. Kevin Windham (21).

STEFAN EVERTS, JORDI TIXIER & JEFFREY HERLINGS TALK ABOUT 2013 WINTER TRAINING


CURRENT AMA 250 WEST SUPERCROSS POINTS

(After 5 of 9 races)
1. Ken Roczen (KTM)…………..116
2. Eli Tomac (Hon)……………….96
3. Cole Seely (Hon)……………..89
4. Martin Davalos (Kaw)………..70
5. Jason Anderson (Suz)………68
6. Zach Osborne (Hon)…………68
7. Kyle Cunningham……………..67
8. Christian Craig (Hon)…………54
9. Joey Savatgy (KTM)…………..52
10. Jessy Nelson (Hon)…………49
Other notables: 11. Malcolm Stewart (45); 12. Tyla Rattray (45); 13. Austin Politelli (39); 15. Max Anstie (38); 18. Josh Cachia (20).


2013 AMA SUPERCROSS SCOREBOARD

DATE CITY 450SX 250SX
Jan. 5 ? Anaheim 1………..Davi Millsaps……..Eli Tomac
Jan. 12 ? Phoenix………….Justin Barcia………Eli Tomac
Jan. 19 ? Anaheim II………Ryan Villopoto……Eli Tomac
Jan. 26 ? Oakland………….Ryan Villopoto……Ken Roczen
Feb. 2 ? Anaheim III……….Ryan Dungey……..Ken Roczen
Feb. 9 ? San Diego………..??
Feb. 16 ? Arlington…………??
Feb. 23 ? Atlanta……………??
Mar. 2 ? St. Louis………….??
Mar. 9 ? Daytona……………??
Mar. 16 ? Indianapolis…….??
Mar. 23 ? Toronto…………..??
Apr. 6 ? Houston……………??
Apr. 13 ? Minneapolis…….??
Apr. 20 ? Seattle……………??
Apr. 27 ? Salt Lake………..??
May 4 ? Las Vegas………..??
Points leaders: 450?Davi Millsaps, 250 West?Ken Roczen

2013 WORLD TWO-STROKE CHAMPIONSHIP ONLY TWO MONTHS AWAY


For more info go to www.glenhelen.com

DON'T FORGET! CARLSBAD RACEWAY MOTOCROSS REUNION ON FEBRUARY 10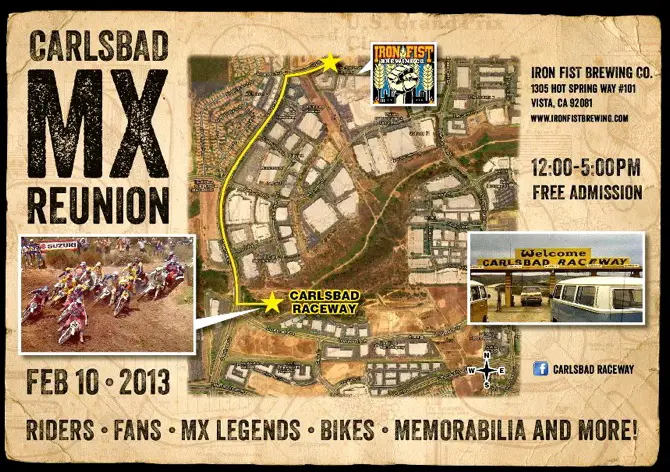 There will be a Carlsbad Raceway motocross reunion on February 10, 2013 (the Sunday after the San Diego Supercross) from Noon until 5:00 p.m. Free Admission. Iron Fist Brewery, Vista, California. The brewery is a quarter-mile from the old Carlsbad Track. Don't miss it!

2013 AMA SUPERCROSS TV SCHEDULE: THANKFULLY WE ARE THROUGH WITH CBS FOR AWHILE

Be forewarned, you can trust the AMA more than you can trust your local TV provider?that's a shocker! Always check the TV schedules before ordering the popcorn. Speed will air live coverage from a record 11 races and CBS will have nine hours of next-day coverage of St. Louis, Minneapolis and Seattle. The CBS shows will be reshown on Speed after CBS's initial viewing (check your local listings for those times). All CBS shows are on Sunday. Yeah, yeah, yeah, we know that you think CBS's coverage is weak, but what's your other option?

2013 SUPERCROSS TV SCHEDULE
Date………..Event………………….TV network…………….Time
Feb. 9…..San Diego………Speed……………10:30 p.m. (Eastern)
Feb. 16…Dallas…………….Speed…………….9:30 p.m. (Eastern)
Feb. 23…Atlanta……………Speed…………….7:30 p.m. (Eastern)
Mar. 3…..St. Louis…………CBS/Speed……..Noon (Eastern)
Mar. ?…..Daytona………….Speed…………….7:30 p.m. (Eastern)
Mar. 16…Indianapolis ……Speed…………….7:30 p.m. (Eastern)
Mar.23….Toronto…………..Speed…………….8:00 p.m. (Eastern)
Apr. 4……Houston…………Speed……………..9:30 p.m. (Eastern)
Apr. 14….Minneapolis…….CBS/Speed……..Noon (Eastern)
Apr. 21….Seattle……………CBS/Speed..……Noon (Eastern)
Apr. 27….Salt Lake………..Speed…………….9:30 p.m. (Eastern)
May 4……Las Vegas………Speed……………10:00 p.m. (Eastern)

THE STRIVE VIDEO: FEATURING KTM'S ALEXAH PEARSON



THIS IS HOW YOU INTRODUCE A RACE TEAM: MCLAREN F1 INTRO